I hope you found a good hosting option for your podcast from our list. You can find details of the podcast hosting platforms in detail below.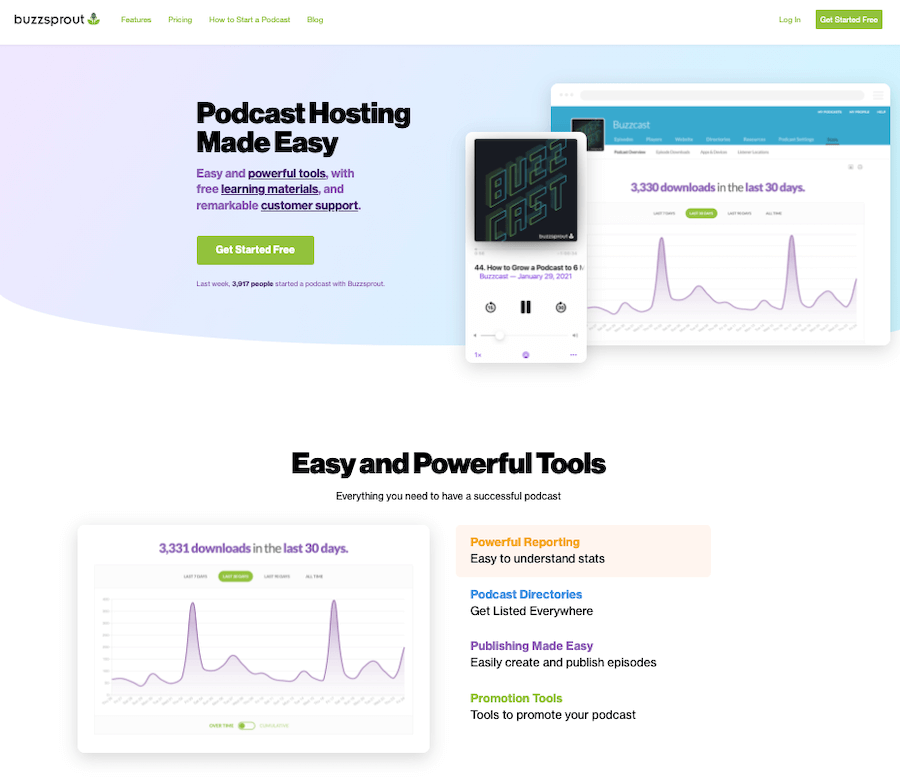 The podcast hosting functionality of Buzzsprout makes for something that you will appreciate for your work. Buzzsprout has been in operation since 2009 and helps people with linking their podcasts to various directories, including Google Podcasts and Amazon Alexa.
People can upload episodes in moments on Buzzsprout. The simple interface makes it easy for you to add your podcast episode name and description.
Photos, links, and other features that can accompany your podcast may also be included. The platform also includes a helpful podcast analytics feature that will identify how well people are interacting with your work.
You can download a separate API if preferred
You can migrate your podcast with ease
No advertising required
Pricing: The base plan of PodBean costs $9/month and the business plan costs $99/month.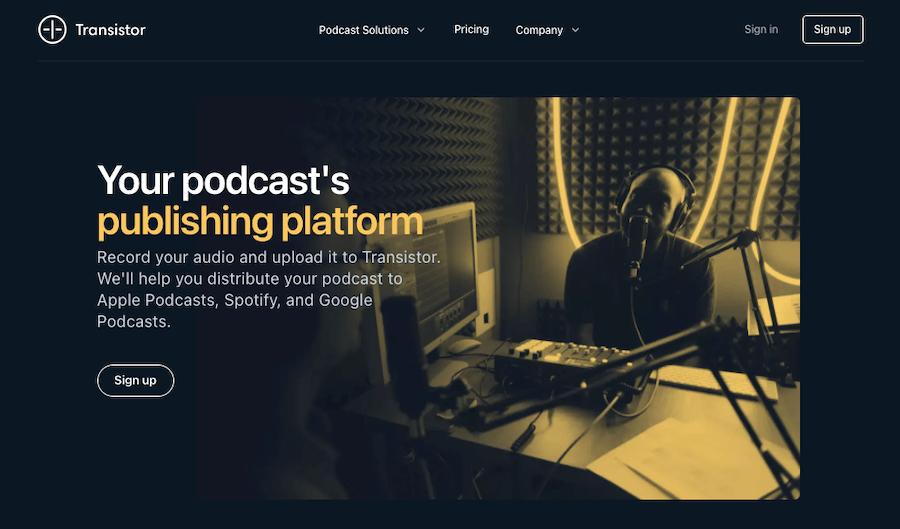 A newcomer to the podcasting field, Transistor features a prominent branding approach. The Transistor platform can help you with creating a unique brand and website for your podcast to make it distinct from the competition.
You can use Transistor to store your MP3 files and create your RSS feed. No technical knowledge is required to host your podcast here.
Includes many membership tiers for different traffic levels
You can host as many shows on the platform as you wish
The team member management feature lets you share your content with others
Pricing: The base plan starts at $19/month for 10,000 downloads.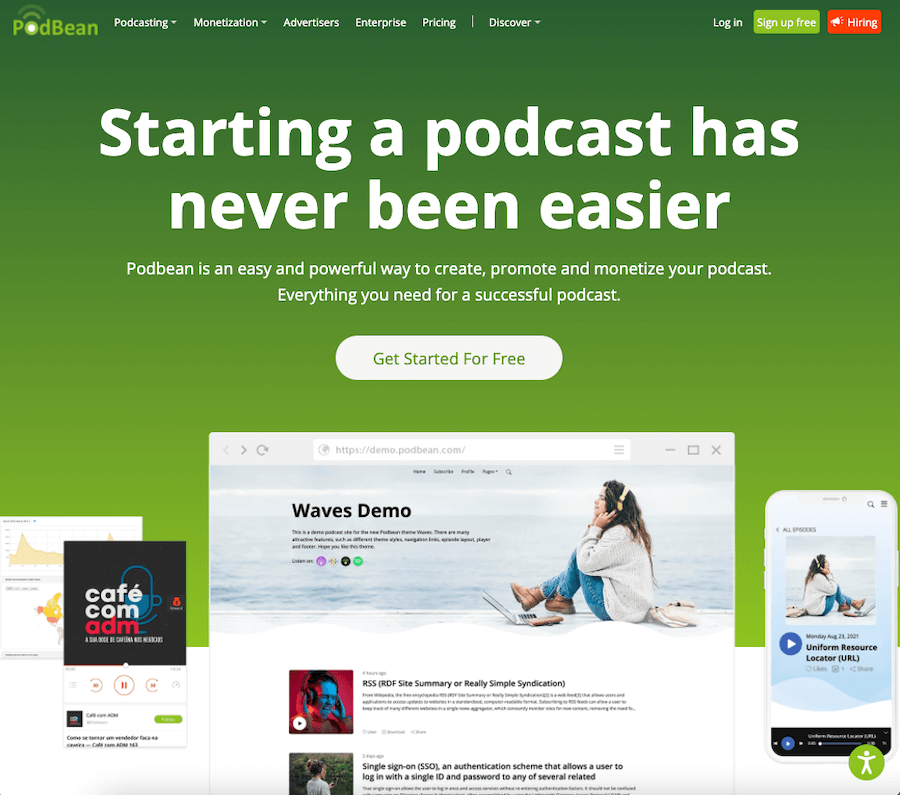 PodBean is one of the most popular podcast hosting platforms. The most prominent feature of PodBean is that it does not have any bandwidth limits.
There are no storage caps either, so you can host your podcast on PodBean no matter how long it runs for or how extensive the program may be.
PodBean also helps you with distributing your podcast to many of the top download sites around. You can use PodBean to reach Google Play, Spotify, Amazon Alexa, and many other prominent podcasting apps you might have a vested interest in.
The PodAds feature helps you with finding ads for your podcast
Helps with SEO efforts for your podcast
You can use your own name and brand
Livestream your podcast
Pricing: The base plan of PodBean costs $9/month and the business plan costs $99/month.
Captivate.fm is one finest podcast hosting platforms that give you freedom and flexibility to make podcasting yours. With Captivate you can easily create unlimited podcasts, get detailed advanced analytics, monetize your podcast, and so on.
Captivate has an easy dashboard where you can easily create and manage your podcasts. While creating your podcast with Captivate you will find a bunch of useful features such as — batch uploading, smart UI, default schedule time, WordPress integration, a custom plugin, and so on.
What's more, Captivate also comes with a robust in-built marketing suite. Using the marketing suite you can easily market podcasts like a pro. They provide websites, sponsor kits, private feeds, and so on.
The best part, you can also migrate your podcast hosting to Captivate easily. Well, you have the one-click submission to all leading directories such as — Apple Podcast, Spotify, Google Podcast, Amazon Music, etc.
Provides private podcasting on each plan
Enables you to add team members
Provides a complete suite of marketing tools
The dashboard is easy to use and intuitive
Simple, responsive podcast websites
Advanced analytics and easy to understand stats
Pricing: The Personal plan of Captivate costs $17/month which includes the base features of Captivate. The Professional plan costs $44/month and the business plan costs $90/month with all essential and advanced features. There is also a 7-day free trial available.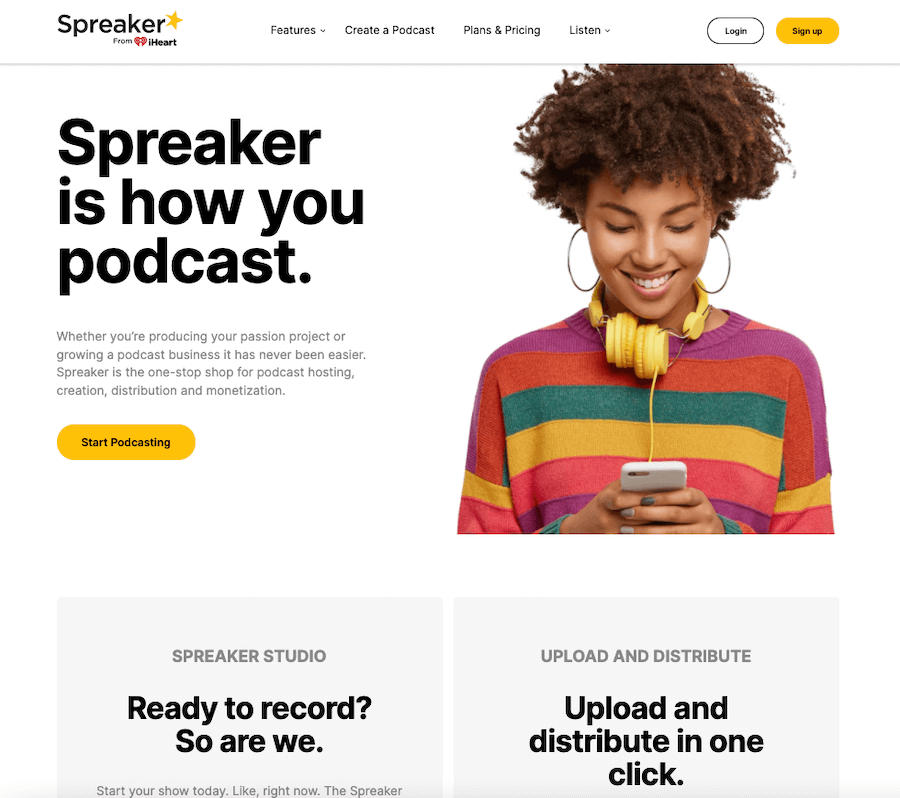 It is easy to make Spreaker helpful for your podcasting work. Spreaker features a design that helps you to get your podcast listed on many directories based on different topics.
You can get a unique podcast set up based on one of many categories, including the arts, technology, music, sports, science, and culture among other things.
The mobile app that Spreaker works with will also help you with keeping your content online. With Spreaker, you can quickly get your content ready in a few minutes while making everything easy for people to search for when online.
The embedded player makes it easy for people to see what's online
Analytics support helps you review how your podcasts are performing
You can chat with others while streaming live on the Spreaker system
Pricing: The base plan costs $7/month with essential features. The Pro plan costs $50/month with all the advanced features.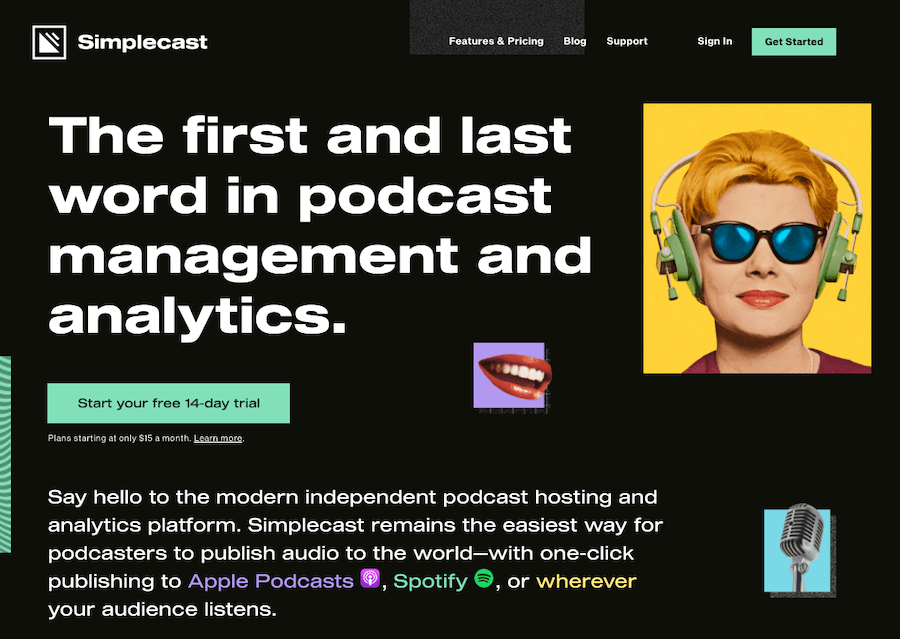 You can also look at Simplecast for your hosting work. Simplecast provides one of the smoothest platforms for your hosting needs that you can try out.
The design lets you assign different people to particular parts of your site for your convenience. The visual analytics features also help you identify when people reach your content and how well they might interact with whatever you are posting.
Includes help for handling images you might upload
Makes sharing podcasts easy with one-click setups
You can create a custom site page with Simplecast
Pricing: Simplecast base plan starts at $15/month and the essential plan costs $35/month.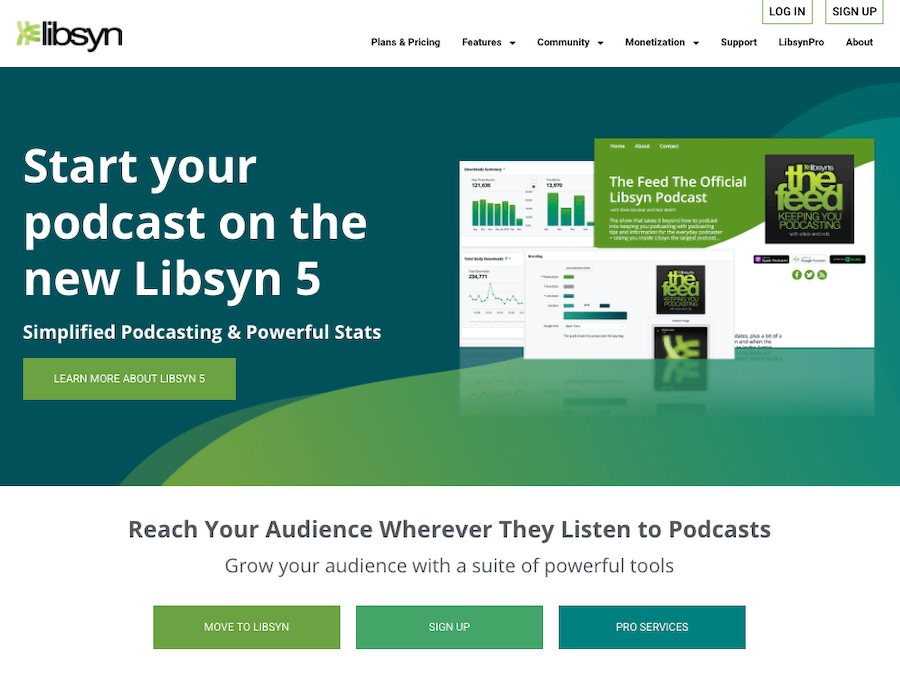 Libsyn is available to help people make the most out of their podcasting experiences. With Libsyn, you can get an RSS to reach for Apple Podcasts and iTunes among other platforms.
You can use a distinct platform for hosting your podcast as well. The analytics feature on your platform helps you identify who is listening and how well people are responding to your work.
The automated tools provided by Libsyn make it easier for you to move your content to the platform. This is perfect for when you're trying to get a podcast going after being with another provider for whatever time.
Includes a dedicated media player for your files
You can offer unlimited downloads to people
The OnPublish system makes it easy for you to publish your content on many sites
Pricing: The classic plan of Libsyn costs $5/month and the high-end advanced plan costs $40/mo.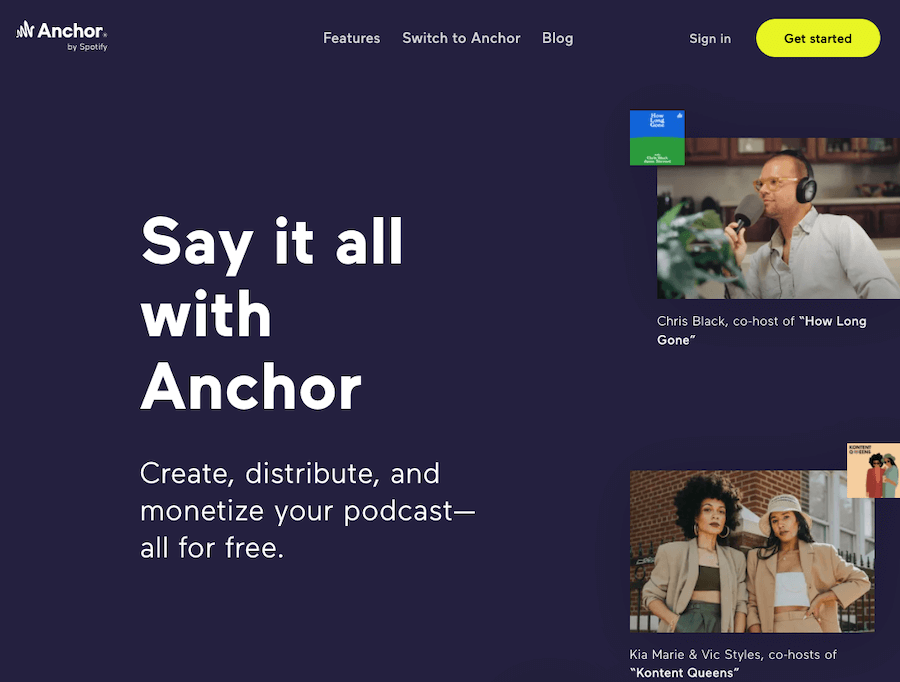 Give yourself the extra help for your podcast hosting needs that you demand with Anchor. A platform by Spotify, Anchor lets you create podcast episodes in moments.
The unlimited hosting support ensures your content will be visible for everyone without limits. The one-click distribution feature also sees that you can get your content uploaded in as little time as possible.
Offers a full monetization system
The analytics feature is very straightforward
You can use the Anchor mobile app to directly record and upload podcasts anywhere
Pricing: Free/Not specified.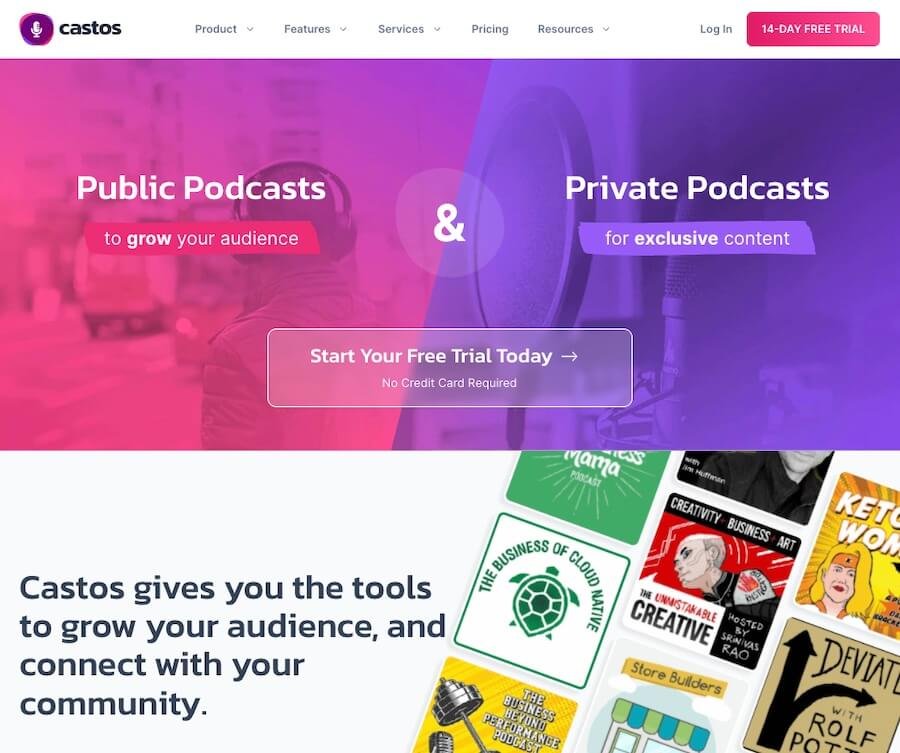 The design of Castos makes it one of the top choices you can use for your podcast hosting needs. You can use the dashboard to schedule when your podcasts will get online. You can also use the YouTuber republishing feature to identify unique ways to highlight your content.
You can produce transcriptions of your podcast if preferred. You can also work on multiple shows within the same account.
The extensive publishing support system also helps you to get your podcast up and running on multiple platforms, including Stitcher and Google Play among other sources.
Includes a WordPress plugin
You can customize your embeddable player
Offers support for many files for upload purposes
Pricing: The starter plan costs $19/month, the growth plan costs $19/month and the Pro plan costs $99/month.
Megaphone is a useful platform whether you're a publisher or advertiser. You can create drafts for your posts and schedule them alongside the appropriate podcasting files at times that you feel are appropriate.
You get your content to be read on directories supported by smart home assistant programs, thus expanding upon your overall reach. The real-time metrics system adds a convenient approach to your work all around.
The platform can take in as many podcasts or episodes as you wish to plan
You can add advertisements at specific spots around your podcast
Works for thousands of podcasts
Pricing: You need to contact the sales team for the pricing.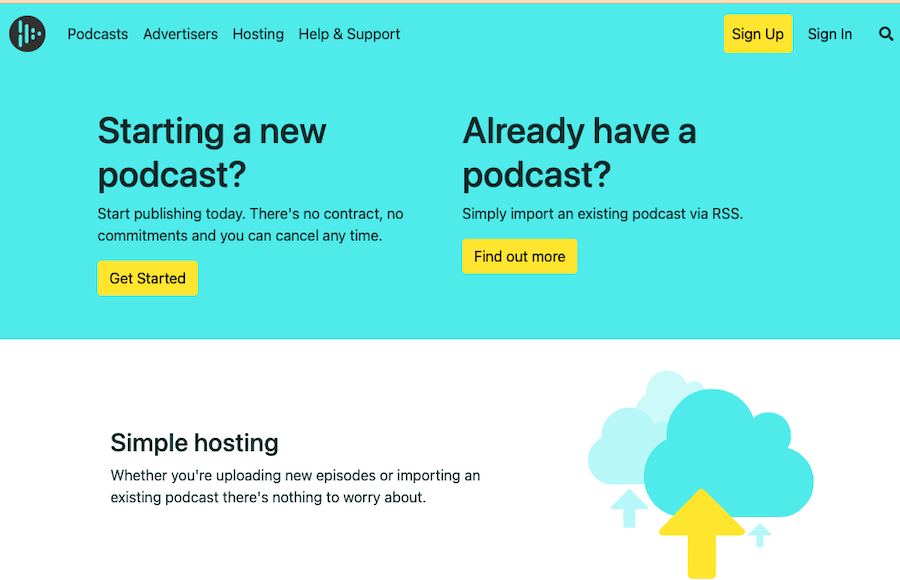 One of the more intriguing things about Audioboom's hosting is that it helps you to incorporate dynamic advertisement insertions for helping you to promote your brand or anything else you wish to highlight.
The Audioboom app helps you with reviewing the quality of the content you want to work within particular. The simple design that Audioboom uses ensures you'll have more out of your content for any purpose.
The advanced analytics features that Audioboom provides can help you to review how many people are coming to your site.
The design of the analytics system helps you review who's coming over from where in the world and how quickly people may download your episodes. Any recurring downloads or visits may also be noted.
Your podcast can move towards many large promotional groups
Can distribute content to iHeartRadio and Spotify
Includes an embeddable player that you can add on your website
Pricing: The base plan — Podcasters costs $9.99 per month or $99 per year.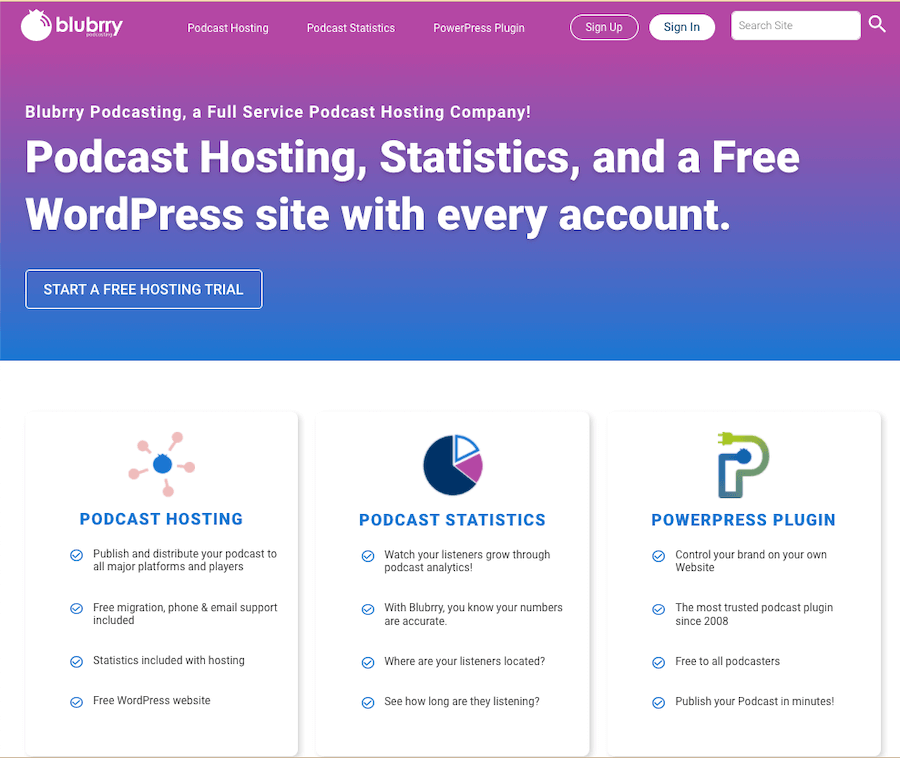 Blubrry prides itself on offering one of the largest podcast databases in the world. You can use Blubrry to host your podcast on a WordPress page. You can get your old archive replaced as needed.
The PowerPress plugin offered by Blubrry helps you sort your content by channel, category, and post type. You can also establish unique SEO settings for your podcasts to make them more visible.
You can link to Stitcher or various online radio streams
You can use the platform for phone and video conferencing purposes
Offers support for podcasts of all genres, platforms, frequencies, and formats
Pricing: The Blubrry standard plan coast $12/month and the advanced plan coast $20/month.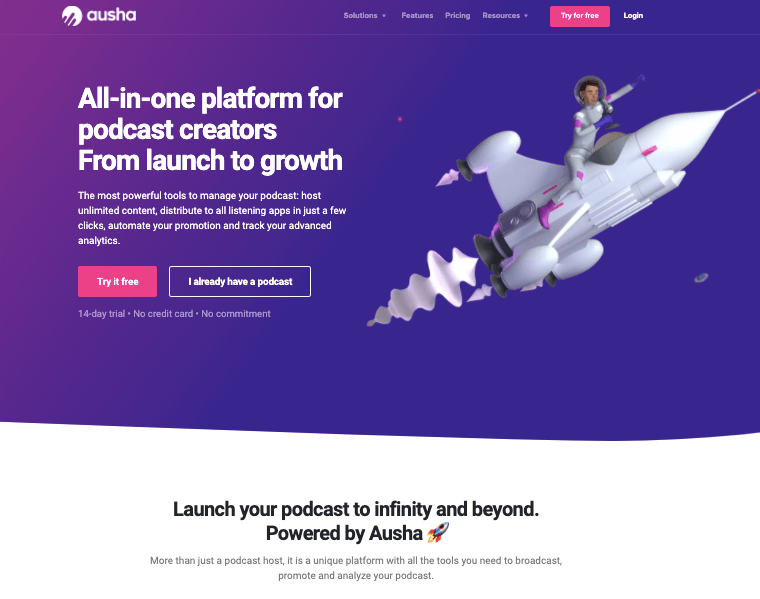 Ausha is a robust platform to host your podcast and distribute them, everywhere. It's an ideal platform for you to — host, distribute and monetize your podcast easily.
With Ausha you can easily manage your podcast — host unlimited content, distribute listening apps, automate promotions, and track performance with advanced analytics.
With Ausha you launch your podcast, you can easily distribute your podcast across all listening platforms such as Apple Podcast, Google Podcast, Spotify, etc. The analytics module of Ausha helps you track listening statistics and provides data and reports in a streamlined interface.
Ausha also has a robust monetizing solution where you can find your own advertisers. Using the tools you can find advertisers or even you can let Ausha ads agency automatically find ads campaigns for you.
Unlimited podcast hosting provided
One-click podcast distribution
A robust analytics and performance module
Automate your promotions
Provides a fully-fledged 14 days trial
Unlimited storage, episodes, and listens
Pricing: The base plan of Ausha costs $13/month which comes with all essential and advanced features.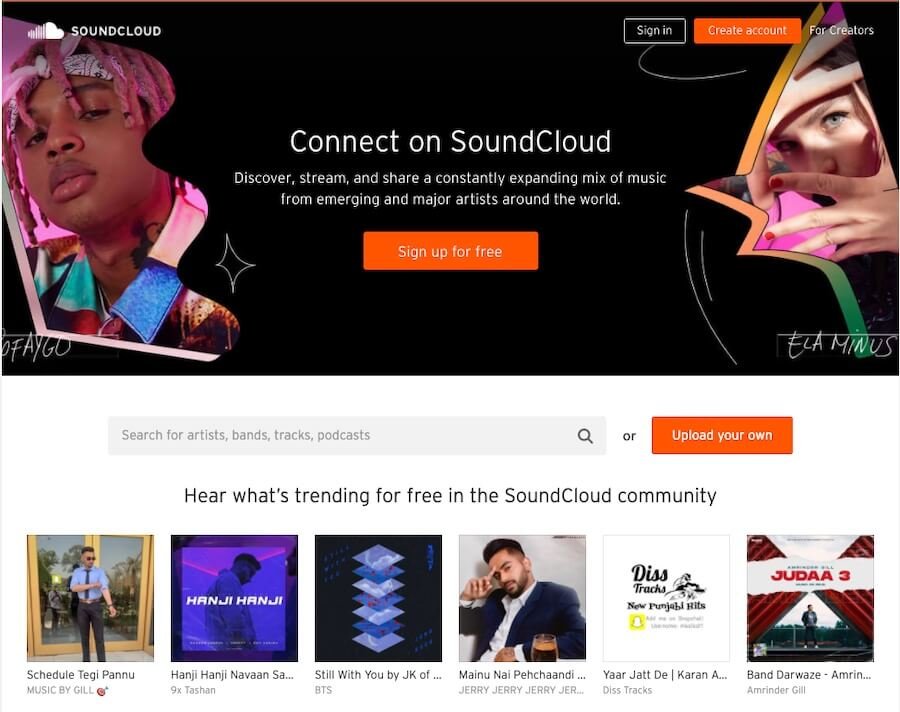 SoundCloud has been noted for being a great place for upcoming musicians to promote their work. But you can also use SoundCloud if you're trying to promote a podcast.
With the SoundCloud platform, you can get people to hear your podcast with an embedded player that works directly on the site. You can create timed comments on your streams to let people interact with you based on specific things in your podcast.
Twitter support is also included for helping you promote your podcasts while online.
You can find podcasts through the SoundCloud mobile app
Messaging makes it easy for you to reach your listeners
You can add distinct photos and other quality points on your app
Pricing: The base plan costs $12/month when billed yearly.
The convenient arrangement of Backtracks makes it a choice for hosting that you will appreciate having.
With Backtracks, you can analyze the quality of your podcast based on when people download it, how long people engage with your podcast for, and how much effort goes into the work.
The secure hosting feature ensures your content will stay safe without being disrupted. You can keep your content stream secured without losing any of your content.
The backup feature provided by Backtracks also ensures that your existing podcast features will stay intact and will not be lost.
You can set podcasting team permissions through the Backtracks app
Includes an API for more detailed or intricate planning efforts
You can get your files served through the fastest server location where you are
Pricing: The Publishers plan costs $99/month, the Publishers plus costs $199/month and the Publisher's Premium plan costs $299/month.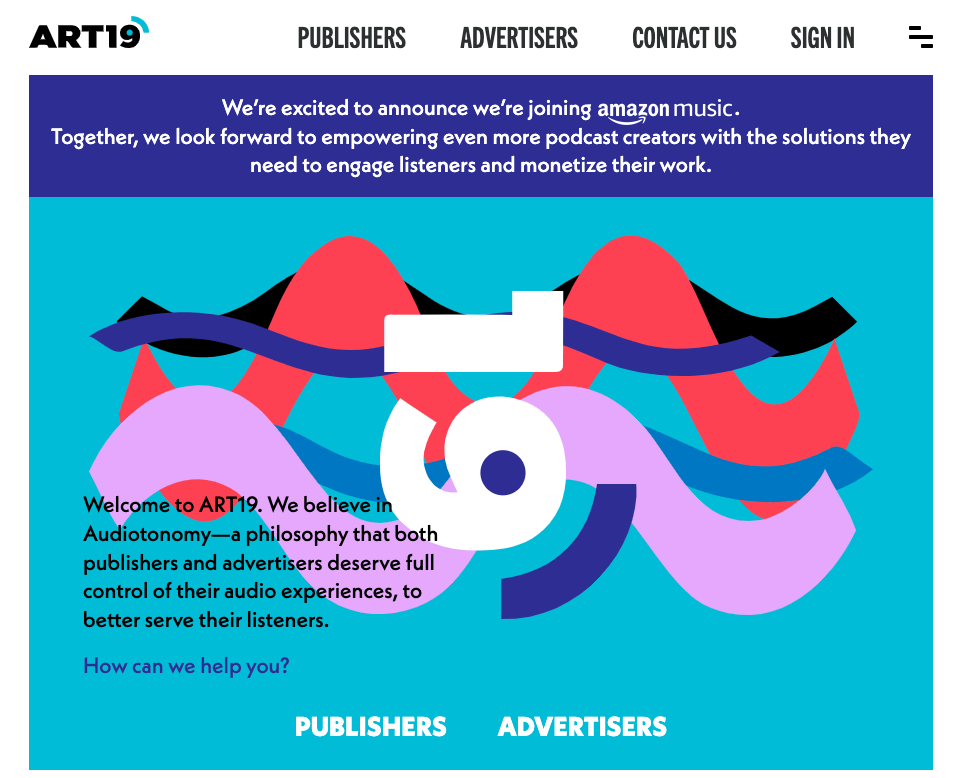 Your last choice for a podcasting host is Art19, a helpful solution that provides you with extra help for your work needs. Art19 works with an intriguing design that helps you publish and monetize off of podcasts.
You can produce a podcast page that can be easy to search through and download files out of. Static advertisement spaces can also be added with new ads being incorporated based on what Art19 receives.
The work ensures your podcast will sound and feel unique every time you work with it.
You can divide up the episodes of your podcast by season
The podcast support system is easy to load
You can embed links to your podcast through the Art19 platform
Pricing: Pricing isn't specified for publishers.
Resonate Hosting is a reliable podcast hosting and comprehensive podcast editing platform. Previously, they started as a podcast production platform, however, they have recently launched a podcast hosting platform.
The benefit of getting started with Resonate is that you can just use a single platform to — create, edit and seamlessly host your podcasts.
Well, if you only want to use the podcast hosting platform, you can also do that with ease. The podcast hosting platform comes with one-click publishing where you can publish your episodes to podcast directories with a single click of a button.
Once you get started with Resonate Hosting you will get — own podcast hosting website, enhanced embed player, and an analytics module where you will all the detailed analysis on the podcast performance.
You can also manage podcasts with Dynamic ad insertion. You can upload podcast ads or time-sensitive announcements right to your account in order to run timed campaigns.
One-click podcast publishing
Track growth of podcast with detailed stats
Provides a responsive podcast microsite
Promote podcasts with their podcast embed player
Upload episode audio, set the publish date and schedule/publish
Pricing: The base plan of Resonate Hosting starts at $25/month which includes unlimited — shows, episodes, and bandwidth.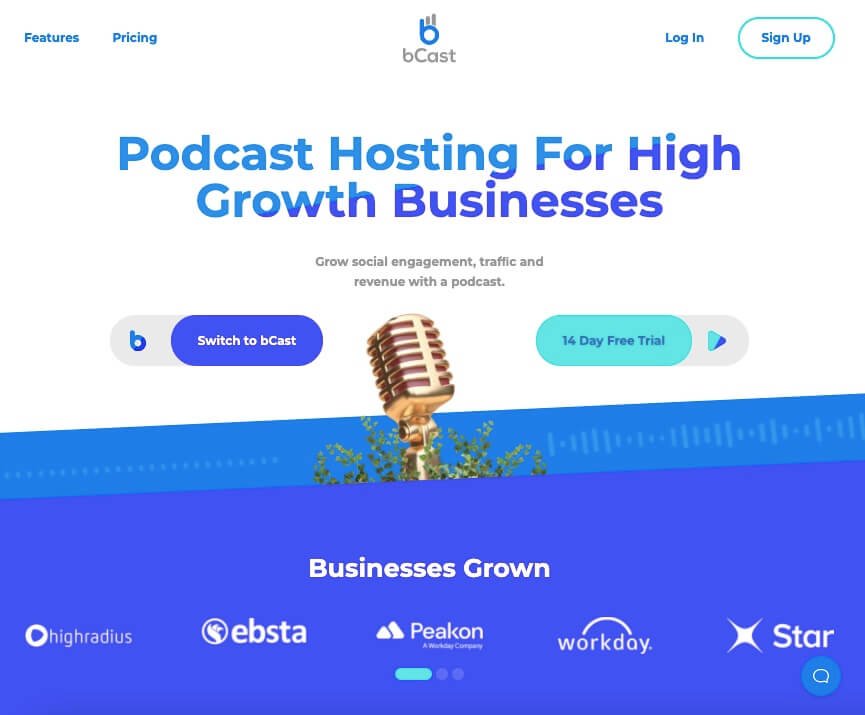 bCast is another reliable podcast hosting platform that is created by marketers for marketers. Trust us, bCast is the best podcast hosting for high business growth, you can easily grow social engagement, traffic, and revenue with a podcast.
bCast comes with some interesting features such as audio insertions that allow you to add CTA (all to action) to sign-up for your — email list, webinar, and other stuff. Hosting the webinar with bCast is easy and straightforward, everything is available in a streamlined interface.
bCast comes with one click submission that means you can distribute your podcast to all the major directories such as — Apple Podcast, Google Podcast, Spotify, Castbox, Podbean, and so on. What's more, bCast also allows you to display your podcast website on your own domain.
One-click podcast submission
A robust email opt-in feature
It comes with powerful automatic transcriptions
Send automatic transcription when the episode is live
Provides custom domains to display your podcast website
Pricing: The starter plan of bCast starts at $15/month with one complete podcast hosting. The Growth plan starts at $35/month which comes with 3 different podcasts hosting and the Legendary plan costs $75/month which comes with unlimited podcast hosting.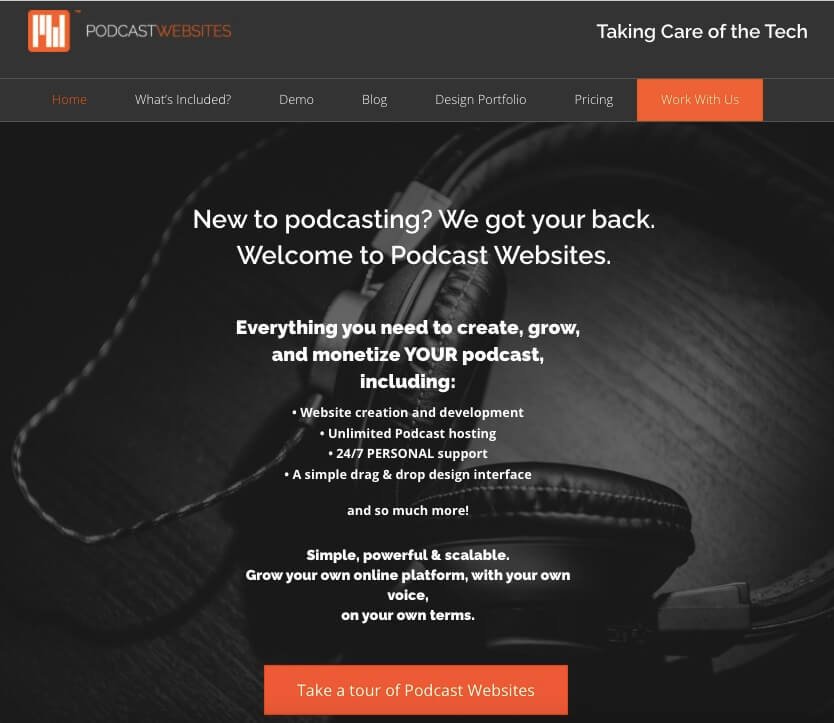 Podcast Websites is the one-stop solution for all your podcast needs. As Podcast Websites, comes with — WordPress website, web hosting, podcast domain, name, unlimited podcast hosting, email address, and so on. What's even they provide 24/7 reliable customer support.
Well with Podcast Websites you can easily create and manage your podcast as it comes with a simple drag and design interface. In addition to podcast building, you can also build your email list, and connect to various email marketing tools.
What's more, they have recently launched their one-stop academy membership to help you learn more about podcasts with video libraries. This all-in-one podcast platform is created by podcasters for podcasters. The founder and co-founder have 7-8 years of podcasting experience.
Simple, powerful, and scalable
Podcast website creation and development
Unlimited podcast hosting provides
It comes with 24/7 personal support
A simple drag and drop design interface
Grow your own podcasts with a marketing suite
Pricing: The base plan of Podcast Website's annual plan costs $77/month and the monthly plan costs $97/month.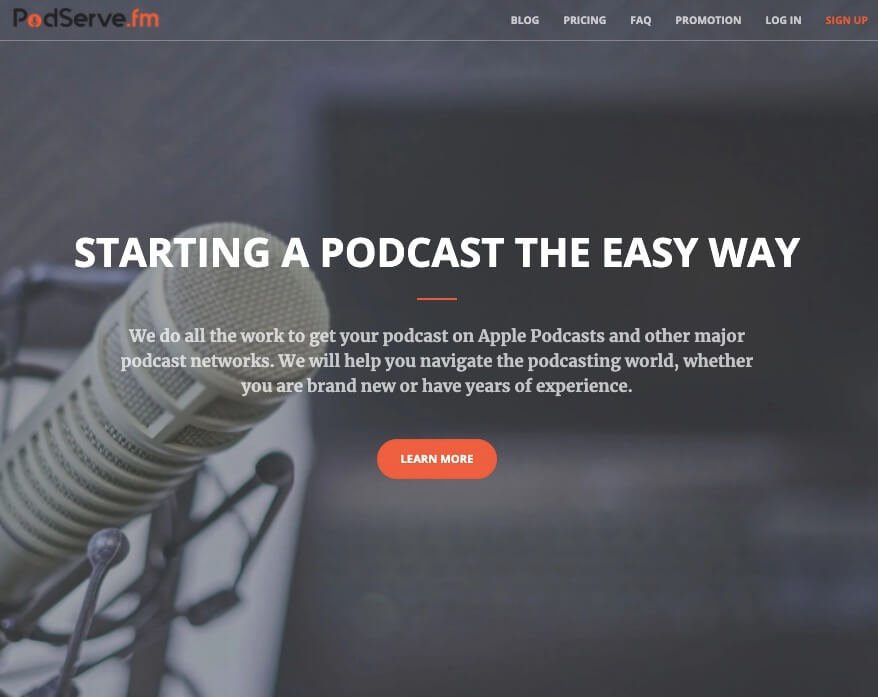 PodServe is a simple yet powerful podcast hosting platform. Yes, the PodServe platform takes care of all of your manual podcast world and helps you grow your podcast audience easily.
The PodServe.fm platform allows you to host unlimited podcasts with over 2,000GB bandwidth. What's more, they also provide free promotion on PodParadise which is a podcast directory that essentially gets thousands of visitors per month.
Launching your podcast with PodServe is easy and straightforward. In the first step, you need to record your podcast episode, then create your podcast and choose where your want to make it available.
In the last two steps, you need to upload your podcast and the PodSever will get your podcast on all the selected networks and start promoting.
Full-service hosting
Unlimited storage and podcast
Free podcast promotions provide
Broadcast your podcasts on all platforms
Provides dedicated download analytics
Comes with 1 on 1 responsive customer support
Pricing: The base plan of PodServe.fm costs $19/month which includes all the essential and advanced features of PodServe. You can also get started with a 14-day free trial, without using any credit card.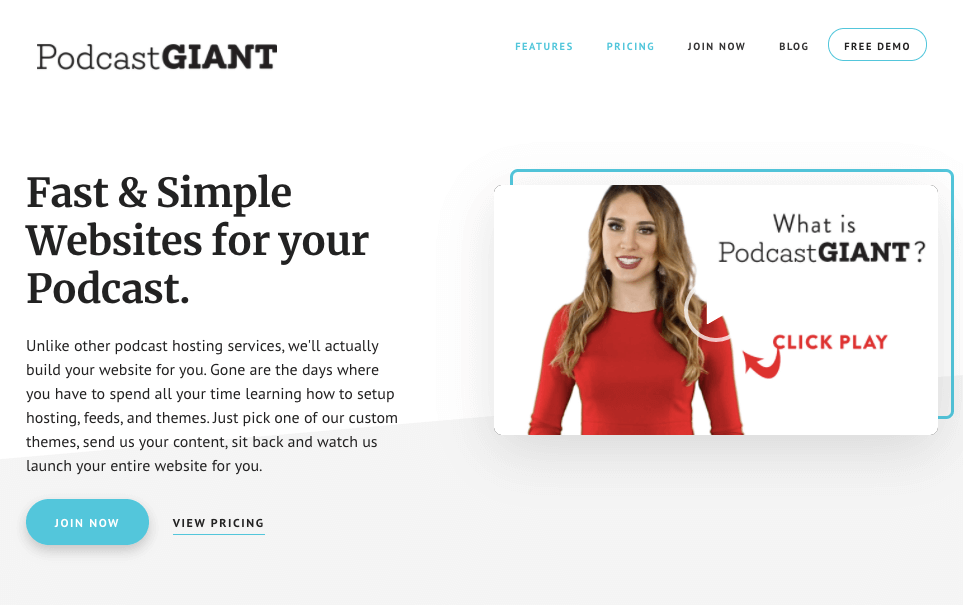 PodcastGIANT is a popular podcast hosting service available out there. In addition to hosting your podcasts to PodcastGIANT, they also build your podcast website for you. They will help you with everything such as — hosting, feeds, themes, and other aspects.
Well, they provide fast and unlimited podcast hosting. With PodcastGIANT you will get — fast-loading websites, nightly backups, SEO optimized stunning themes. They don't set any limits on the podcast bandwidth, so you can easily launch unlimited episodes.
If you're someone with little to less technical knowledge, and you're looking for a platform where you to set things on auto-pilot — PodcastGIANT is built for you.
Personalized podcast website creation
Fast and unlimited podcast hosting
Provides SEO optimized stunning themes
Comes with nightly backups of podcasts and website
Enables you to unlimited podcast episodes
Pricing: The base plan of PodcastGIANT costs $49/month which comes with all essential and advanced features.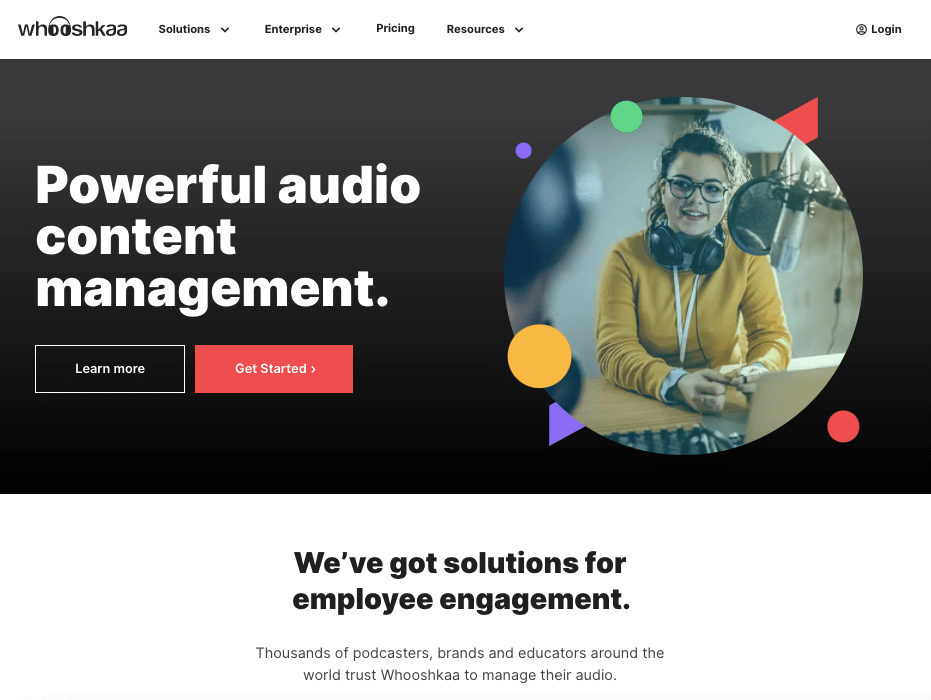 Whooshkaa is one of the finest podcast hosting platforms, a kind of complete platform for podcasters. Whooshkaa is a one-stop solution to — host, manage, distribute, and market your podcast with ease.
Creating and hosting podcasts is easy and straightforward with Whooshkaa. Everything is available in a streamlined dashboard. What's more, Whooshkaa also allows you to securely distribute and measure podcasts for internal communications, and training.
The Whooshkaa Broadcast to Podcast is a popular platform — it's a smart solution to easily capture, edit, distribute, monetize, and measure broadcast to the podcast.
Automated recording
Hands-free editing experience
Distribute podcast to major directories
Easily monetize your podcasts
Powerful analytics to analyze your audience
Pricing: The semi-pro plan costs $29/month, which has everything you need to start and grow your podcasts. The Pro plan costs $99/month and the business plan costs $199/month for all essential and advanced features.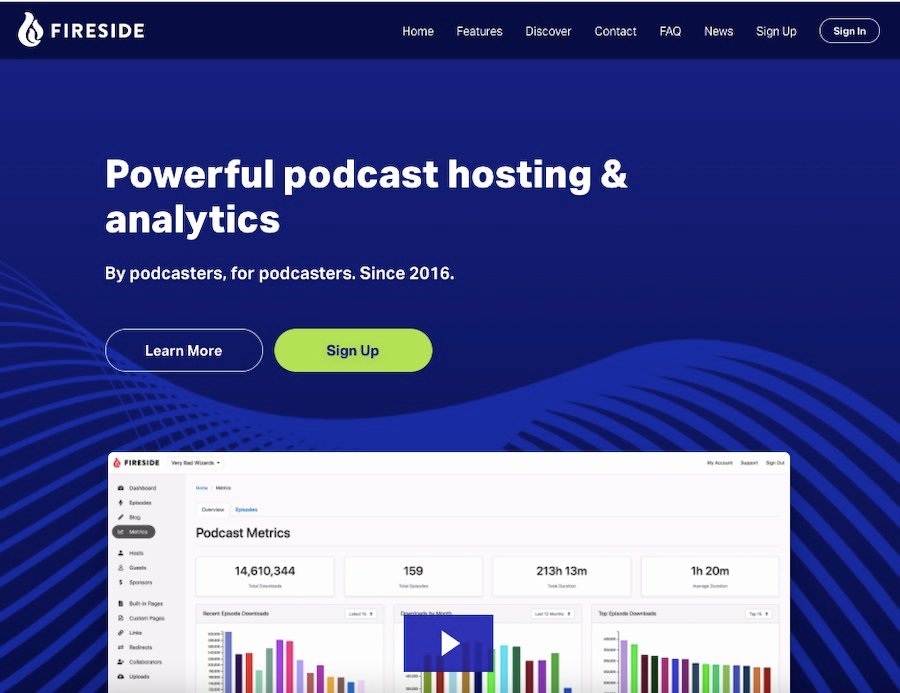 No doubt, Fireside is a powerful podcast hosting and analytics platform. This platform was established back in 2016, by podcasters and for podcasters. The platform comes with all the features that you will need to take podcasts to the next level.
All the podcasts you create with Fireside.fm you will get — responsive, and stunning websites with all episode pages and other stiffs. Everything is done for you, so you don't have to hassle.
Fireside platform also provides a robust analytics module where you get your podcasts — download stats and analytics. It has built-in security, where you get a free SSL certificate for both the domains and the subdomains. They also use CDN to distribute your content around the world blazing fast.
Customizable podcast website
Unlimited podcast hosting
Analytics for podcast download stats
Import your existing podcast with one click
It uses lightning-fast CDN to distribute content
Pricing: The base plan of Fireside costs $19 for a single podcast and it comes with unlimited features.
ZenCast is one of the most comprehensive podcast hosting platforms. You can host your podcast here and distribute it to multiple platforms like Apple Podcasts, Spotify, Google Podcasts as well as your own website.
You can host your podcast website at no extra cost. With ZenCast, you can keep a track of all your podcast ratings and reviews through over 150 different podcast distribution platforms.
ZenCast gives you the option to customize the podcast player so that it looks professional and becomes easier to get more subscribers.
Customizable podcast player
Host unlimited episodes
Host podcast website for free
Distribute podcasts to multiple platforms
Final Word
These are the best podcast hosting platforms that you can use to host your podcasts. You will find a few free podcast hosting options in the list above that you can start with.
We will be adding more options to this list f podcast hosting providers, don't forget to come back and check this list again.