Are you looking for the best podcast hosting platforms? Well, we have listed the top options to host your podcast in this article.
One of the best parts about podcasts is that they are diverse enough to where you can find podcasts about practically anything you might be interested in. Here's an article about the top podcast statistics you should know about.
You might have an interest in hosting a podcast yourself. Considering how many types of podcasts are out there and how there's always an audience for your topic, you should look at what you can do to make your podcast stand out.
Part of what you can do to make your podcast visible is to use the best possible podcasting platform. There are many podcast hosts out there that can help you secure everything necessary for your podcasting needs.
The host will support the MP3 files for your podcasts and an RSS feed that describes the audio feed. The server will help with allowing people to download your podcast, whether it entails a manual approach or through the RSS feed. Some hosts can also support streaming efforts.
You'll need to ensure that you have a podcast host that your production will be accessible and easy for people to find it online. The great news is that you can take advantage of one of many podcast hosting platforms.
You can look at any of these fifteen podcast hosting platforms for your professional work needs. You'll need to ensure you look at how well the podcasts all operate.
Also, remember that while a few of the options are free; you will have to spend money on any of these platforms you wish to hire.
You can check the links included in this report to help you figure out which platforms are right for your work needs and to see what it would cost to use these platforms every month.
Also, don't miss this article about the best podcast name generators that you can use to find an appropriate name for your podcast.
01

. PodBean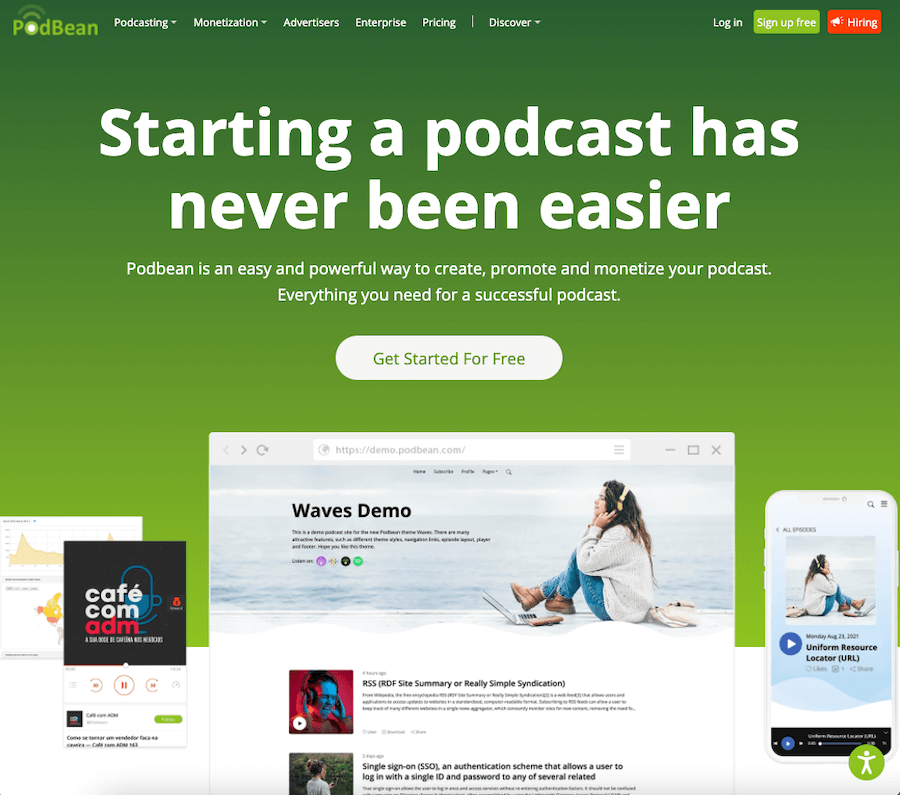 PodBean is one of the most popular podcast hosting platforms. The most prominent feature of PodBean is that it does not have any bandwidth limits.
There are no storage caps either, so you can host your podcast on PodBean no matter how long it runs for or how extensive the program may be.
PodBean also helps you with distributing your podcast to many of the top download sites around. You can use PodBean to reach Google Play, Spotify, Amazon Alexa, and many other prominent podcasting apps you might have a vested interest in.
The PodAds feature helps you with finding ads for your podcast
Helps with SEO efforts for your podcast
You can use your own name and brand
Livestream your podcast
02

. Libsyn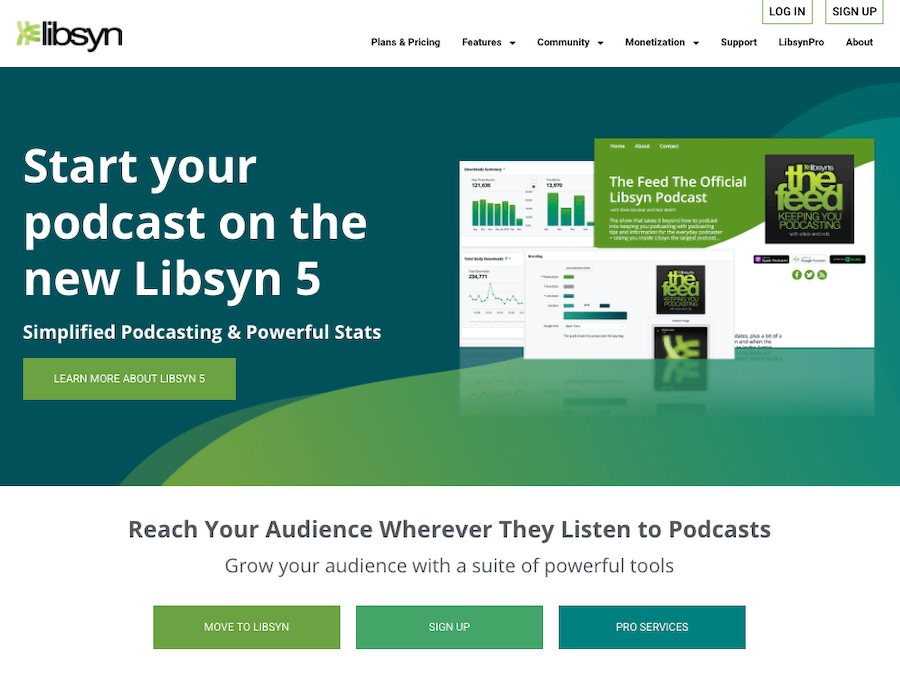 Libsyn is available to help people make the most out of their podcasting experiences. With Libsyn, you can get an RSS reach for Apple Podcasts and iTunes among other platforms.
You can use a distinct platform for hosting your podcast as well. The analytics feature on your platform helps you identify who is listening and how well people are responding to your work.
The automated tools provided by Libsyn make it easier for you to move your content to the platform. This is perfect for when you're trying to get a podcast going after being with another provider for whatever time.
Includes a dedicated media player for your files
You can offer unlimited downloads to people
The OnPublish system makes it easy for you to publish your content on many sites
03

. SoundCloud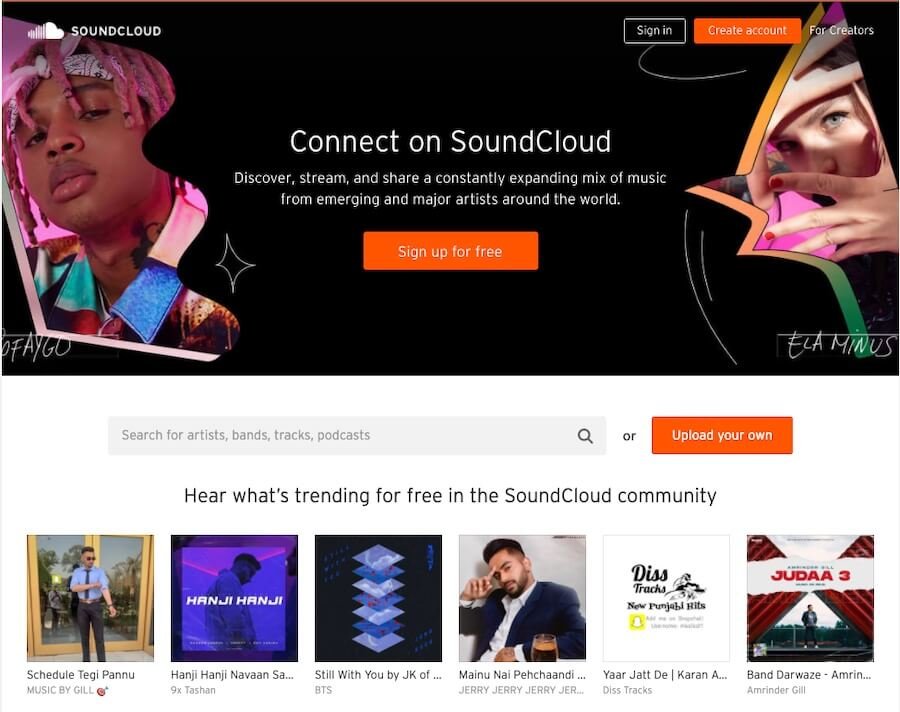 SoundCloud has been noted for being a great place for upcoming musicians to promote their work. But you can also use SoundCloud if you're trying to promote a podcast.
With the SoundCloud platform, you can get people to hear your podcast with an embedded player that works directly on the site. You can create timed comments on your streams to let people interact with you based on specific things in your podcast.
Twitter support is also included for helping you promote your podcasts while online.
You can find podcasts through the SoundCloud mobile app
Messaging makes it easy for you to reach your listeners
You can add distinct photos and other quality points on your app
04

. Simplecast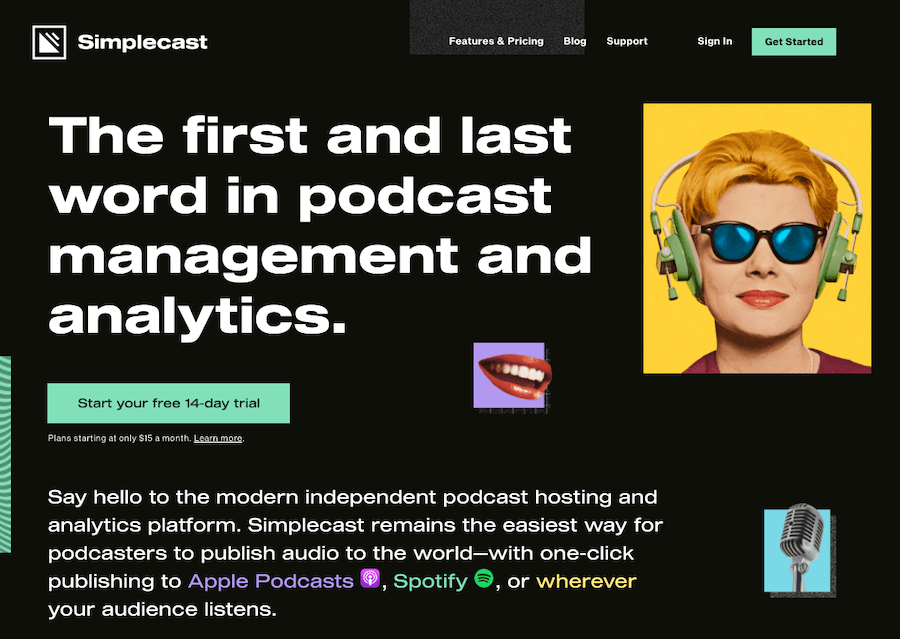 You can also look at Simplecast for your hosting work. Simplecast provides one of the smoothest platforms for your hosting needs that you can try out.
The design lets you assign different people to particular parts of your site for your convenience. The visual analytics features also help you identify when people reach your content and how well they might interact with whatever you are posting.
Includes help for handling images you might upload
Makes sharing podcasts easy with one-click setups
You can create a custom site page with Simplecast
05

. Buzzsprout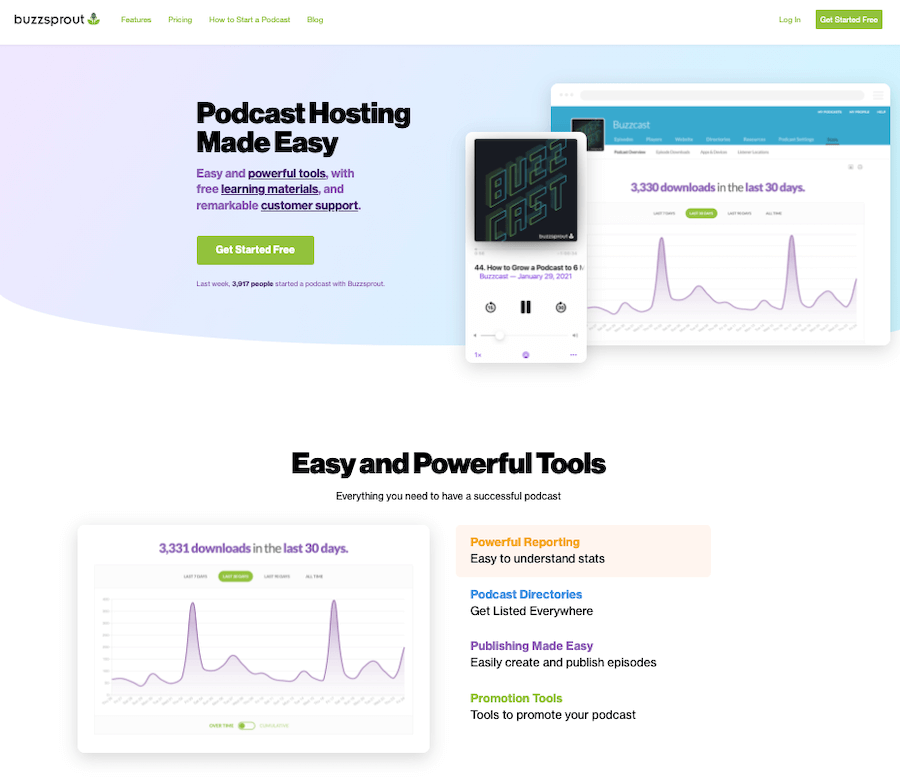 The podcast hosting functionality of Buzzsprout makes for something that you will appreciate for your work. Buzzsprout has been in operation since 2009 and helps people with linking their podcasts to various directories, including Google Podcasts and Amazon Alexa.
People can upload episodes in moments on Buzzsprout. The simple interface makes it easy for you to add your podcast episode name and description.
Photos, links, and other features that can accompany your podcast may also be included. The platform also includes a helpful podcast analytics feature that will identify how well people are interacting with your work.
You can download a separate API if preferred
You can migrate your podcast with ease
No advertising required
06

. Transistor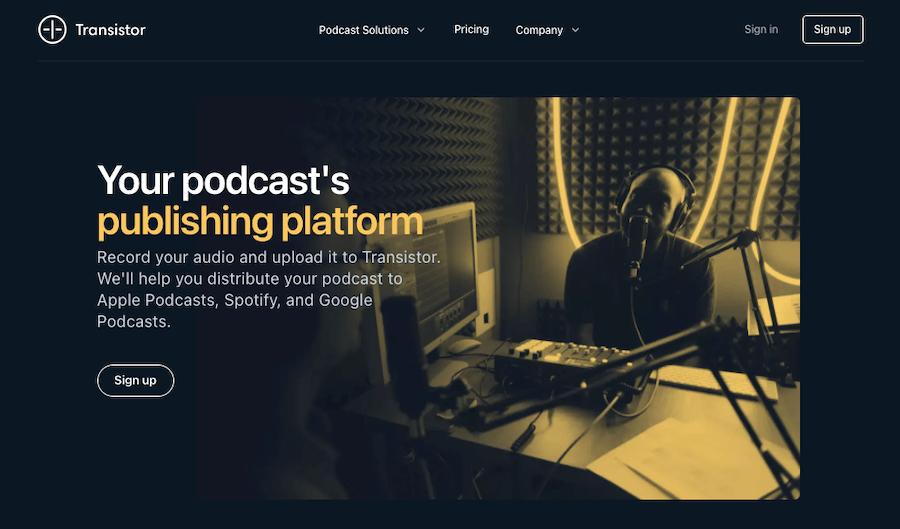 A newcomer to the podcasting field, Transistor features a prominent branding approach. The Transistor platform can help you with creating a unique brand and website for your podcast to make it distinct from the competition.
You can use Transistor to store your MP3 files and create your RSS feed. No technical knowledge is required to host your podcast here.
Includes many membership tiers for different traffic levels
You can host as many shows on the platform as you wish
The team member management feature lets you share your content with others
07

. Anchor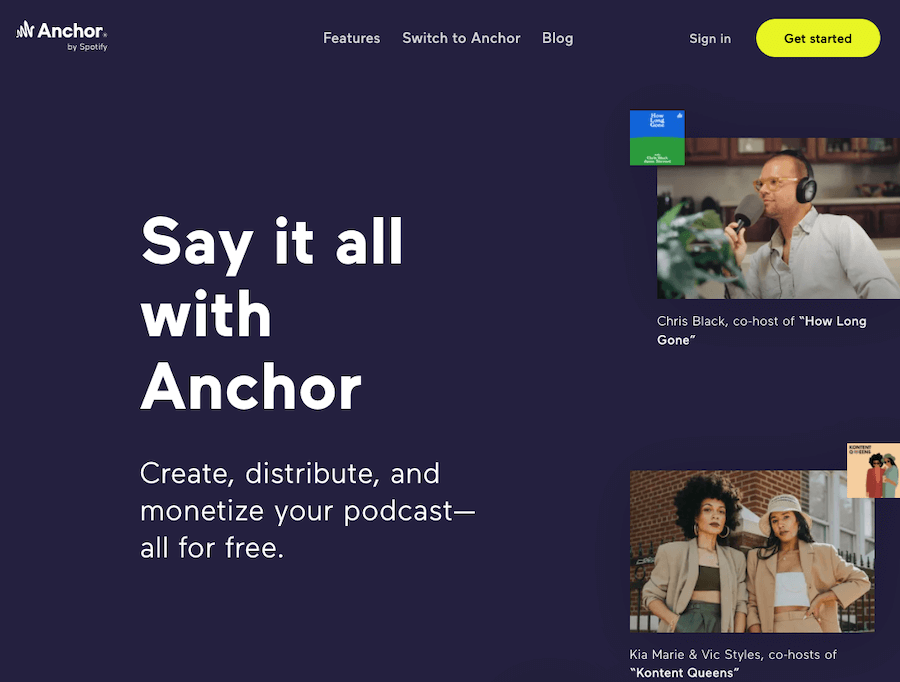 Give yourself the extra help for your podcast hosting needs that you demand with Anchor. A platform by Spotify, Anchor lets you create podcast episodes in moments.
The unlimited hosting support ensures your content will be visible for everyone without limits. The one-click distribution feature also sees that you can get your content uploaded in as little time as possible.
Offers a full monetization system
The analytics feature is very straightforward
You can use the Anchor mobile app to directly record and upload podcasts anywhere
08

. Blubrry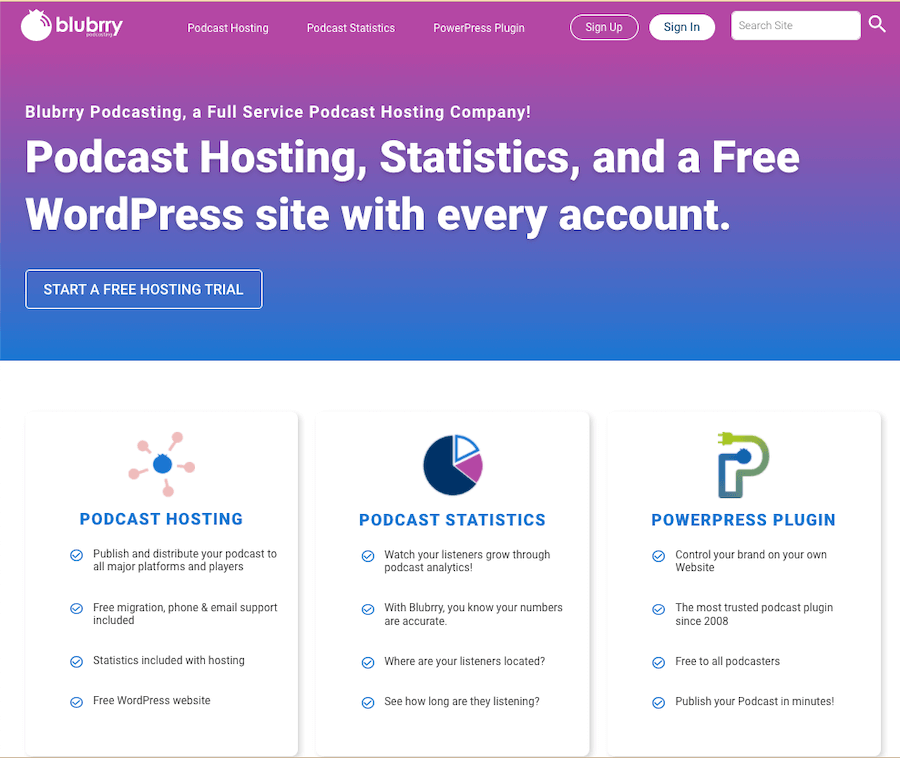 Blubrry prides itself on offering one of the largest podcast databases in the world. You can use Blubrry to host your podcast on a WordPress page. You can get your old archive replaced as needed.
The PowerPress plugin offered by Blubrry helps you sort your content by channel, category, and post type. You can also establish unique SEO settings for your podcasts to make them more visible.
You can link to Stitcher or various online radio streams
You can use the platform for phone and video conferencing purposes
Offers support for podcasts of all genres, platforms, frequencies, and formats
09

. Spreaker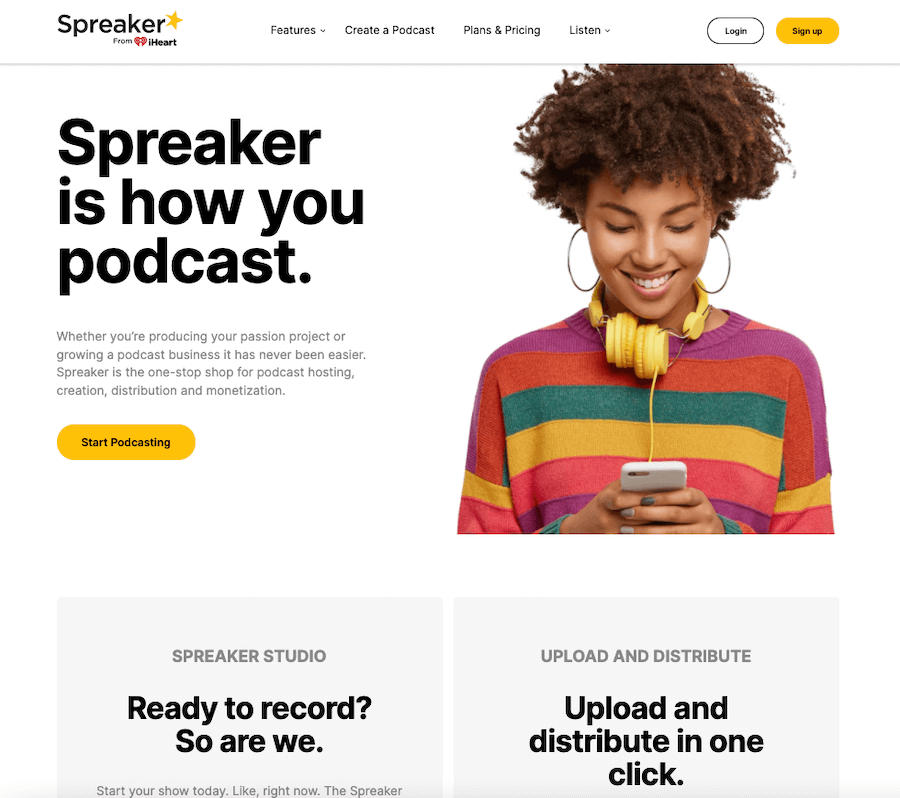 It is easy to make Spreaker helpful for your podcasting work. Spreaker features a design that helps you to get your podcast listed on many directories based on different topics.
You can get a unique podcast set up based on one of many categories, including the arts, technology, music, sports, science, and culture among other things.
The mobile app that Spreaker works with will also help you with keeping your content online. With Spreaker, you can quickly get your content ready in a few minutes while making everything easy for people to search for when online.
The embedded player makes it easy for people to see what's online
Analytics support helps you review how your podcasts are performing
You can chat with others while streaming live on the Spreaker system
10

. Castos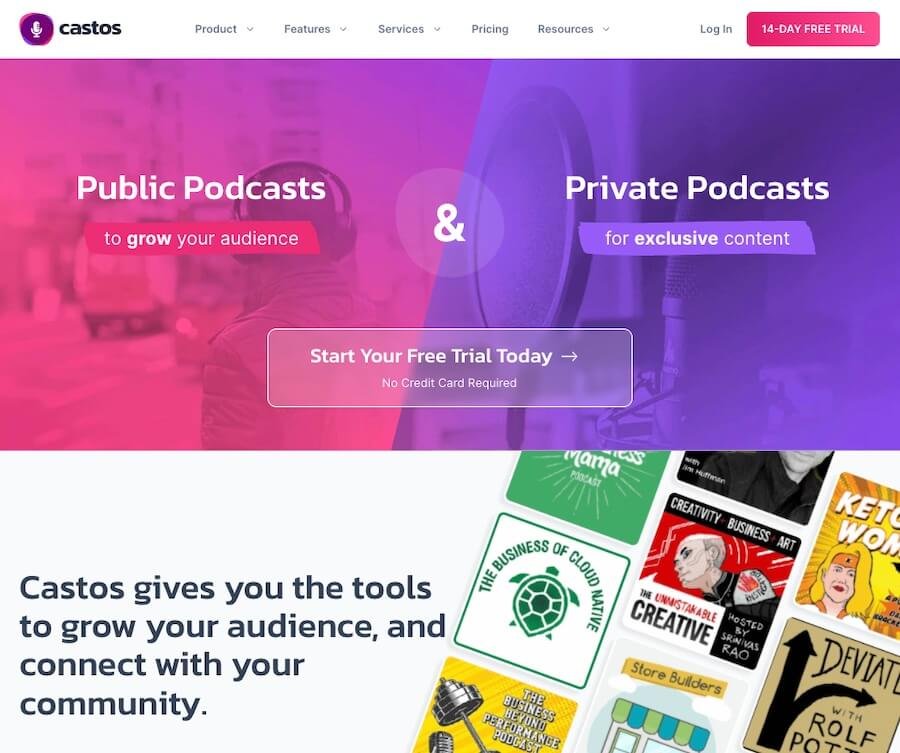 The design of Castos makes it one of the top choices you can use for your podcast hosting needs. You can use the dashboard to schedule when your podcasts will get online. You can also use the YouTuber republishing feature to identify unique ways to highlight your content.
You can produce transcriptions of your podcast if preferred. You can also work on multiple shows within the same account.
The extensive publishing support system also helps you to get your podcast up and running on multiple platforms, including Stitcher and Google Play among other sources.
Includes a WordPress plugin
You can customize your embeddable player
Offers support for many files for upload purposes
11

. Backtracks
The convenient arrangement of Backtracks makes it a choice for hosting that you will appreciate having. With Backtracks, you can analyze the quality of your podcast based on when people download it, how long people engage with your podcast for, and how much effort goes into the work.
The secure hosting feature ensures your content will stay safe without being disrupted. You can keep your content stream secured without losing any of your content. The backup feature provided by Backtracks also ensures that your existing podcast features will stay intact and will not be lost.
You can set podcasting team permissions through the Backtracks app
Includes an API for more detailed or intricate planning efforts
You can get your files served through the fastest server location where you are
12

. Megaphone
Megaphone is a useful platform whether you're a publisher or advertiser. You can create drafts for your posts and schedule them alongside the appropriate podcasting files at times that you feel are appropriate.
You get your content to be read on directories supported by smart home assistant programs, thus expanding upon your overall reach. The real-time metrics system adds a convenient approach to your work all around.
The platform can take in as many podcasts or episodes as you wish to plan
You can add advertisements at specific spots around your podcast
Works for thousands of podcasts
13

. Audioboom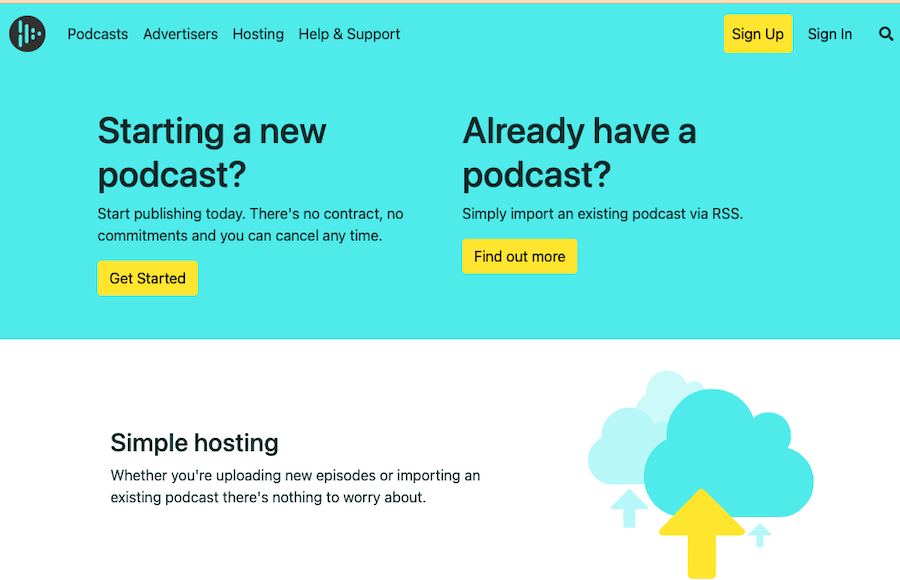 One of the more intriguing things about Audioboom's hosting is that it helps you to incorporate dynamic advertisement insertions for helping you to promote your brand or anything else you wish to highlight.
The Audioboom app helps you with reviewing the quality of the content you want to work within particular. The simple design that Audioboom uses ensures you'll have more out of your content for any purpose.
The advanced analytics features that Audioboom provides can help you to review how many people are coming to your site.
The design of the analytics system helps you review who's coming over from where in the world and how quickly people may download your episodes. Any recurring downloads or visits may also be noted.
Your podcast can move towards many large promotional groups
Can distribute content to iHeartRadio and Spotify
Includes an embeddable player that you can add on your website
14

. Art19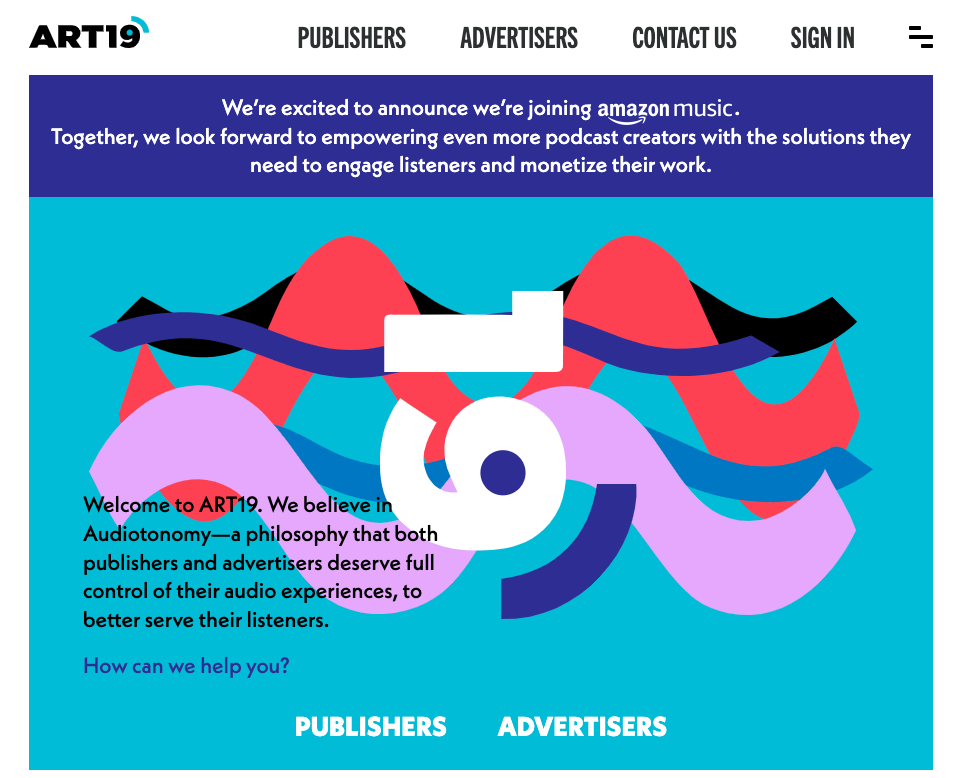 Your last choice for a podcasting host is Art19, a helpful solution that provides you with extra help for your work needs. Art19 works with an intriguing design that helps you publish and monetize off of podcasts.
You can produce a podcast page that can be easy to search through and download files out of. Static advertisement spaces can also be added with new ads being incorporated based on what Art19 receives.
The work ensures your podcast will sound and feel unique every time you work with it.
You can divide up the episodes of your podcast by season
The podcast support system is easy to load
You can embed links to your podcast through the Art19 platform
FAQs About Podcast Hosting
Q1. What is a Podcast?
A podcast is a series of audit files about different topics that you can listen to. You can use podcasts to learn a new skill or just for entertainment depending on your need.
Q2. What is Podcast Hosting?
Podcast hosting is the place where your audio files will be stored and they will provide you the feed that you can distribute to different broadcasting platforms. The hosting providers also give you detailed insight and analytics about your podcast.
Q3. Are These Podcast Hosting Providers Free?
Some of these podcast hosting providers offer a completely free plan that you can use to start your podcast if you have a limited budget.
Q4. Can I Make Money Through Podcast?
Yes, you can. Like you monetize your blog or your videos, you can monetize your podcast by promoting different products and services. There are custom platforms that take care of the monetization of podcasts.
Final Word
These are the best podcast hosting platforms that you can use to host your podcasts. You will find a few free podcast hosting options in the list above that you can start with.
We will be adding more options to this list f podcast hosting providers, don't forget to come back and check this list again.