With over 260K active installations, The7 Theme is one of the most popular and top-selling WordPress themes in the ThemeForest marketplace. The theme has been evolving over the years and adding new features as the design trend is changing.
Let's have a look at some of the important features offered by The7 Theme.
Create a Customizable Online Store
The7 is perfectly compatible with the WooCommerce plugin and comes with WooCommerce Builder to make it easier for the users to create an optimized online store. And it comes with more than 30 widgets that give you the power to customize the online store the way you want. 
Storefronts which mainly play a critical role in an online store can be given a unique touch with The7. Ditch the standard WooCommerce look for your online store with heavy customization of:
Custom Storefront 
Design perfectly optimized product pages and lists 
Comes with a custom checkout page
Very handy product filters
Cross-sale and upsells option to increase revenue
The product filter options will make your store user-friendly and will give a sophisticated look to your store. It offers a good user experience to all the users, irrespective of the device they use to visit your website. 
Additionally, you can form a fancy-looking carousel or product grid on the homepage to leave an impression on all the website visitors.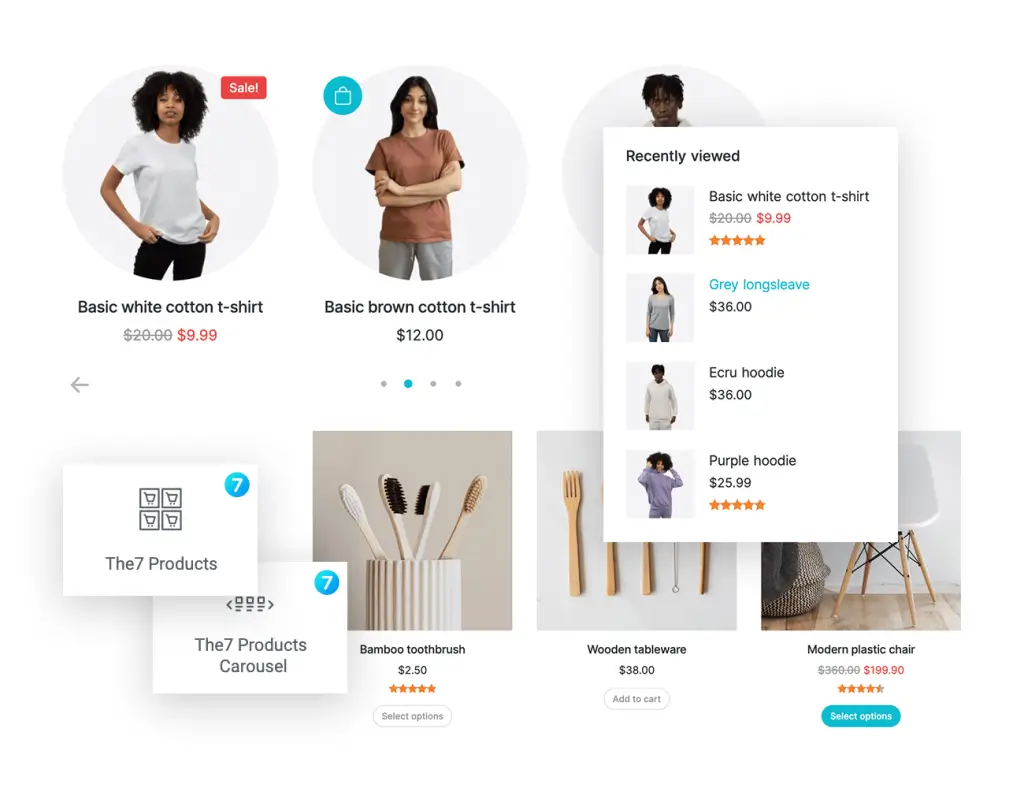 Use The7 Theme With Elementor
It is a known fact that Elementor is extremely powerful and flexible, which is why the makers ensured the compatibility of The7 with Elementor. The7 successfully extends the theme builder feature of Elementor to give its users full power to customize almost all aspects of the website. 
The7 Theme comes with an extended custom version of the Elementor as they have created some fancy features to extend the vanilla Elementor builder.
You can customize every section of your website and make it perfect. You can have a custom design for every section of your site including:
Headers and footers
Hero sections
Mega menus
Single posts
Page templates
Search result
WooCommerce
The7 Widgets and Post Types
The7 Theme team has created a number of custom widgets that you can use on the pages created with Elementor and they have enhanced a number of modules that are offered by the Elementor builder.
Use The7 Theme With WPBakery
The7 Theme supports the WPBakery website builder from day one. It is the first comprehensive website builder for WordPress that was extensively used by popular themes.
The builder comes iwth multiple shortcode options and easy drag and drop website building option. You can use the ready modules while designing your pages using the builder.

The7 Theme is Versatile
If you are working on an online website, you probably have figured out a color theme for your brand. You can use the Design System of The7 to quickly change the color and theme of the typography to match the brand's requirements.
Changing the colors and typography in one place will ensure changes in the entire website. Thus, you can do a lot with less effort and time.
You can use the themes option menu to customize the skin, font, buttons, social icons, contact information, content area, sidebar, image styling, and hover effects. 
Further, with the advanced Theme Style customization, you can set a default style for your website. Elementor does not usually allow the users to customize the forms and button sizes; however, with The7, there are no such limitations. 
1000+ Theme Options and 250+ Page Options 
A lot of premium themes talk about having thousands of theme options. It is only after purchase that the user realizes that either the installation is a nightmare or the themes are just basic and nothing powerful. However, The7 doesn't cheat its users.
When it talks about more than 1000+ theme options, it talks about powerful theme options that are easy to install. The theme options on The7 allow you to adjust different website areas like the menu, images, and content.
You can say the same for the 250+ page options that it provides. These page options again can be customized to create unique pages for your websites.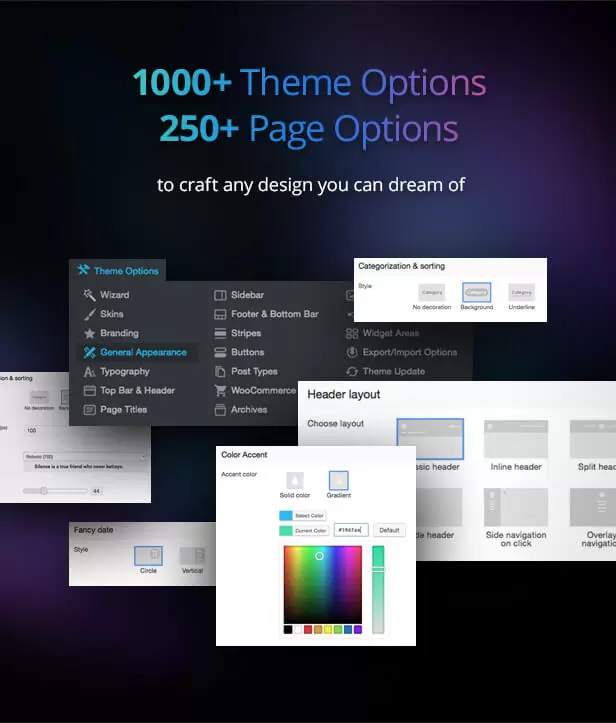 Plethora Of Widgets And Post Types of Options 
Having options is good, and The7 offers you plenty of options in terms of widgets and post types. You can use custom post types for:
Portfolio
Testimonials
Teams
Logos
Benefits
Photo Albums
Slideshows
Adding custom post types will give your website a professional look. Further, portfolios and testimonials are essential to improve a brand's credibility.
The different types of widgets available can be divided into the following three categories:
General content widgets
WooCommerce widgets 
The builder widgets 
Please note that few of the widgets partly intersect the categories.
60+ Pre-made Website Templates
Building a website from scratch can be very time-consuming. Therefore, feel free to browse through the The7 pre-made websites. The theme supports more than 60 pre-made themes. 
The best part is that you can automate these pre-made websites with just a one-click installation. Building a website was never this easy!
Here is a list of a few of the pre-made websites:
Company
Accounting
Retail store
Fashion Store
Business
Logistics
Sales Landing Page
To sum it up, you can categorize the pre-made websites into:
Business
Presentation
Creative
Blog
Parallax
Landing page
One-page website
With the right pre-made websites and proper customization, you can lay a strong foundation for your website.
Comes Packed With Premium Plugins 
The usual and free plugins are good to give a fancy touch to the website. However, premium plugins have its charm. There is a reason why they are not available for free, and people still buy them.
The7 offers its users six premium plugins:
WPBakery Page Builder
The7 Elements
Ultimate Addons
Slider Revolution
Go Pricing
Convert Plus
The combined value of the premium plugin is $174, and you get it for free!
The7 is one of the rare themes that provides so many paid plugins for free. However, it is not rare to find such a trait in ThemeForest products but handing the users six premium plugins for free is not that common either.
Further, all these plugins are quality plugins that are the best in the market for page builders.
White-labeling Tool
Even though white-labeling The7 to your open company name looks like a small thing, it is not. The white-labeling tool of The7 makes things a lot easier for the developers by removing the burden of branding.
Removing The7 branding from the website and swapping it with the company name and logo is easy. The last thing you need on your website is the name of the website developer!
The7 Theme is Optimized For SEO 
The7 runs on HTML5 code and meets the best SEO practices. It is incredibly mobile-friendly and is fully compatible with standard SEO plugins like Yoast SEO and All in One SEO Pack.
Further, if built right, you can use The7 to optimize your website for speed. You can compare the loading time and the score of your website created using The7 on platforms like GTMetrix with other standard WordPress websites.