If you are looking for a popular WordPress theme that thousands of websites are using, OceanWP is an excellent choice. It is packed with features and is easy to use, making it a popular choice for many website owners.
It is among the most downloaded WordPress themes, over 700,000 websites are already using the theme. It has an average rating of 4.8 out of 5 stars from nearly 2,000 reviews.
This article will take an in-depth look at the OceanWP theme and its features. Also, we will have a look at how it can help your business.
What Makes OceanWP theme a Good Choice?
This fully bespoke and highly-responsive WordPress theme offers many features, including:
Ready-to-import theme demos
If you don't want to start from scratch, you can choose from beautiful, ready-to-import theme demos. Whether you are an enterprise or a small business owner, you can find a theme demo that fits your needs.
The best part about the demos is that they are all easily customizable. You can change the look and feel of your website with just a few clicks. Moreover, all the demos are responsive and look great on all devices.
The demo designs are created as per the need of different niche sites and they are well categorized on the home site where you can have a look at each demo design before you choose one for your site.
You can also customize the selected template as per your need to make sure that it looks perfect.
WooCommerce support
While most WordPress themes offer some level of WooCommerce support, OceanWP takes it to the next level. It is fully compatible with the popular eCommerce plugin and offers specifically designed WooCommerce stores.
These include a built-in cart popup, product gallery lightbox, and quick view support. So, if you plan to sell products or services online, OceanWP is an excellent option.
The theme has created a number of custom modules and design elements to make sure that your online store looks attractive and it is user-friendly.
OceanWP theme comes with multi-step as well as distraction-free quick checkout to increase conversion.
It offers you an in-depth styling option and you will be able to enable or disable elements on your product pages as per your need.
Selling products on your WooCommerce site using OceanWP Theme will be a great experience. Here are some of the important features offered by the theme for WooCommerce stores.
Page builder integration
One of the things that set OceanWP apart from other WordPress themes is its integration with popular page builders such as Elementor, Brizy, Divi Builder, Avada Builder and others.
It allows you to create beautiful pages and posts without writing a single line of code. Moreover, OceanWP is a highly-customizable WordPress theme.
It comes with a built-in live customizer that allows you to change the look and feel of your website with just a few clicks. You can also use the Ocean Extra plugin to extend the theme's functionality further.
Here are some of the demo designs created by using the Elementor website builder.
OceanWP Theme is fast and mobile-responsive
OceanWP is a fast and responsive WordPress theme. It is specifically designed to load quickly and look great on all devices.
Moreover, it has built-in AMP support that makes your website load faster on mobile devices. So whether you run an eCommerce store or a simple blog, OceanWP can help you achieve blazing-fast loading speeds.
You also have the option to enable or disable modules as per your need to make sure that your site created with the OceanWP theme loads instantly.
OceanWP is SEO-ready
If you want your website to rank higher in search engines, OceanWP is an excellent option. It is SEO-ready and has several features specifically designed to improve your website's search engine ranking.
These include meta tags, social media integration, and optimized code. So, if you're looking for a WordPress theme that can help you get more traffic from search engines, OceanWP is an excellent choice.
OceanWP Custom hooks
OceanWP comes with a unique feature called 'hooks.' This allows you to add custom code to specific areas of your website.
So, if you're a developer, you can use this feature to customize the theme according to your needs. This feature makes it easier for you to maintain and update your website.
Custom hooks can be a game-changing feature for developers. They don't need to edit the theme's code to add customizations.
Individual post controls
OceanWP allows you to control the layout of each post individually. So, if you want to change the structure of a specific post, you can do it without affecting the other posts on your website.
It is an excellent feature for bloggers who want to experiment with different layouts for their blog posts.
OceanWP premium extensions
OceanWP comes with a number of custom-created extensions that are designed to extend the functionality of the theme.
So, if you need a specific feature for your website, chances are there's an extension for it.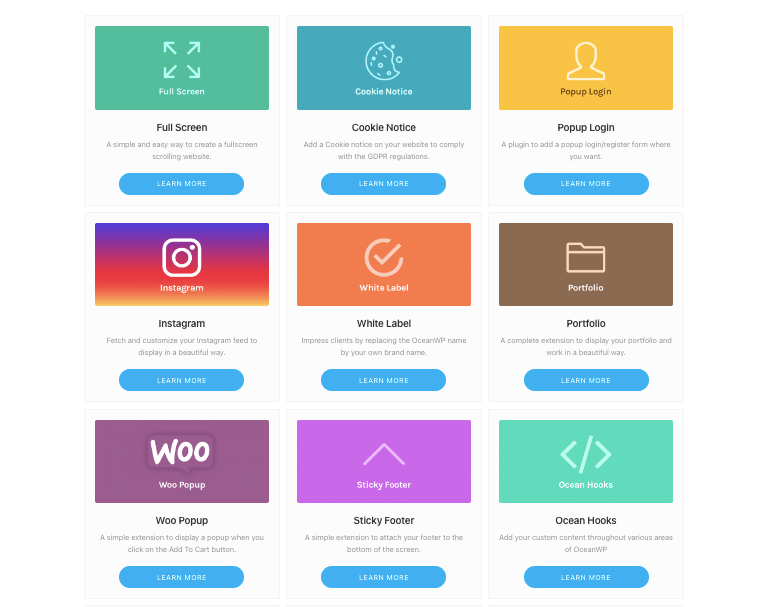 How can OceanWP help your business?
OceanWP can help your business by providing you with a fast, responsive, and SEO-ready WordPress website. Moreover, it is highly customizable and allows you to control each post's layout individually.
It also comes with premium extensions to enhance the overall functionality of your site.
Good for all types of websites
OceanWP is a multipurpose WordPress theme that is perfect for all kinds of websites. be it a simple blog or an eCommerce store, this theme gives you all the features and options you need to create a professional-looking website.
OceanWP is cost-effective
OceanWP theme offers a completely free version that you can install right from the WordPress dashboard. And when you look at the features offered in the free version, it is much better than even many premium themes.
So, if you are looking for a high-quality free WordPress theme, OceanWP is certainly one of the best options.
Extensive documentation
If you're a beginner, you'll find the extensive documentation very helpful. It covers everything you need to know about using the theme, from installing it to customizing it. Moreover,
OceanWP is constantly being updated with new features and improvements. Finally, it ensures that your website always has the latest theme version and is compatible with the latest WordPress version.