If you are looking for a top-quality multipurpose WordPress theme, Jupiter is one of the best options for you. The theme is loaded with tons of features and options to help you any kind of website.
Jupiter theme is completely revamped to make it a great solution to create eCommerce site. It comes with amazing custom features to enhance the overall buying experience for users.
Let's have a look at the top features that Jupiter has to offer.
Visual Layout Builder
The website's layout plays a critical role in the website's look and brand tone. Therefore, before building a website, it's vital to plan the layout.
The layout builder of Jupiter allows you to take complete control of the layout just from one place. With Jupiter, you can tackle the essential task of website designing easily.
Further, you can go for a visual layout that makes designing any WordPress corner a child's play. Also, based on your requirement, you can conditionally show a different layout on different website sections.
For instance, at the first look, you can go for the blog header on the website and then choose another header for the user to view as they scroll down.
You can also use Jupiter theme with websites builders like Elementor or WPBakery builder.
Online Shop Builder: WooCommerce Integration
If you are planning to start an online shop, the Jupiter theme is one of the best options available. You can use its live editor to create:
Product Catalog
Product page
Cart page
Not only can you use Jupiter to create such elements for your online shop right from scratch, but you can also customize it for tablets and mobile.
Jupiter theme comes with a much deeper WooCommerce integration and they have created some amazing features and options to make your online store stand out.
You will have some stunning ready to use WooCommerce shop pages, product pages to make your eCommerce store look very professional.
The product filter option that Jupiter offers to the users for inclusion in their online store is one of the most advanced product filters in the market. The filter supports horizontal and vertical layouts and is highly customizable.
Jupiter Theme Review: Checkout Optimizer
Even though checkout is a big part of the online shop builder, it requires a section of its own. It is because the checkout option offered by Jupiter is that good.
Most cart abandonment happens because of the complicated and slow checkout process.
Jupiter understands the importance of smooth checkout and therefore provides its users with checkout pages that are:
It supports pre-populated form fields to cut down the customers' efforts by automatically filling the details in the fields on their behalf. Also, when the customer types the first few letters of the address, the checkout page automatically fetches the addresses.
Right before the checkout, you can customize the page to show the customers items related to their purchase. Further, customers can quickly add these products, resulting in order bumps.
The user can also increase the average order value by showing relevant upsell right before the customer is about to complete checkout.
Other ways through which Jupiter ensures order bump for your online store are:
Smart alerts for the customers
Personalized discount count
Automated discounts
All these ways are highly effective in increasing your store's conversion rate. Furthermore, the theme supports advanced shop analytics to show the users the report for:
Sales funnels
Performance of coupons, discounts, and alerts
Jupiter also offers checkout expiry, quick product view, skip cart option, and instant form validation.
You can wrap up the checkout page with a customized thank you page that shows the customers their order details and cross-sell items related to their purchased products. Further, you can ensure future sales by giving them personalized coupons that they can use for their next purchase.
In short, Jupiter is compelling not only to build an online store but also to increase its conversion too.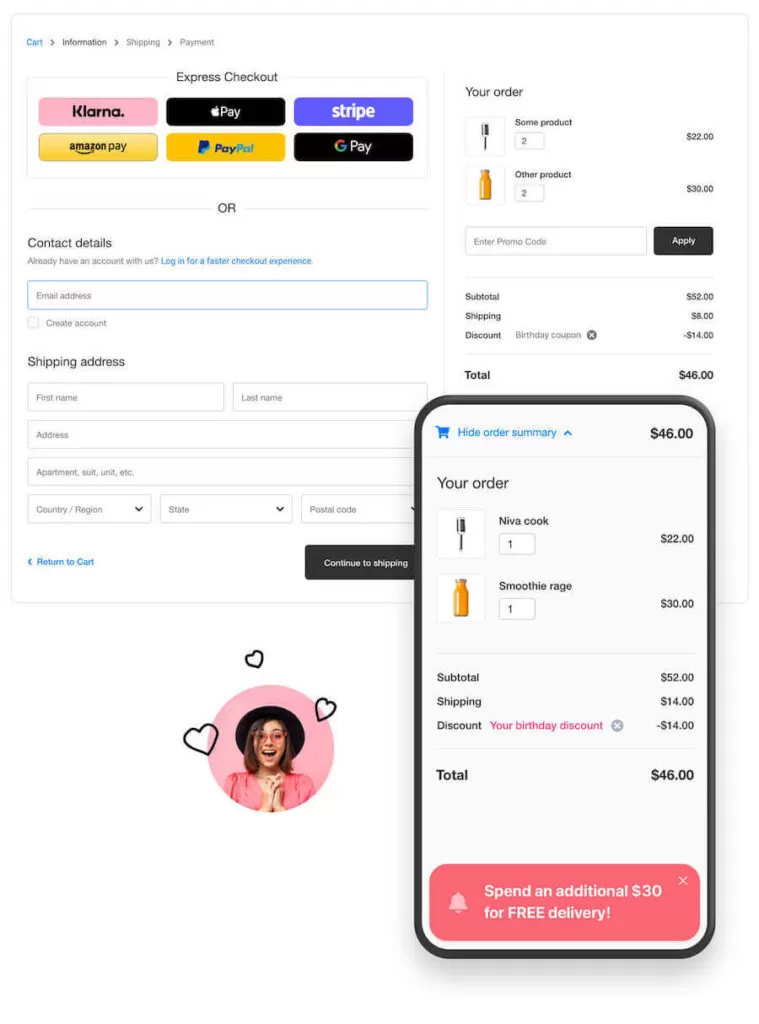 Jupiter Theme: Sales Funnel Builder
To optimize the business's sales, many people use premium sales funnel builders like Cartflows and Build WooFunnels.
However, with Jupiter, you can avoid this extra expense. It is because Jupiter now supports sales funnel builders to boost the sales for your business.
The four main features of its sales funnel builder are:
One-click upsells
Unlimited sales funnel
Pre-built funnel template
In-depth analytics and insights
Thanks to its sales funnel builder, you can easily create loyal customers, and that too automatically.
It is a recently added feature on Jupiter, and we expect more features for the sales funnel builder soon.
Jupiter Theme: Advanced Form Builder
You can use Jupiter's form builder to create membership forms, opt-in for forms, and many other forms. You can edit and customize these forms visually to ensure that the end product is appealing.
The social login buttons, which provide the users with easy login options, can also be included in the forms. It supports more than 12 essential field types to have on the form.
Additionally, the form builder supports widgets like registration and login form widgets and password reset widgets.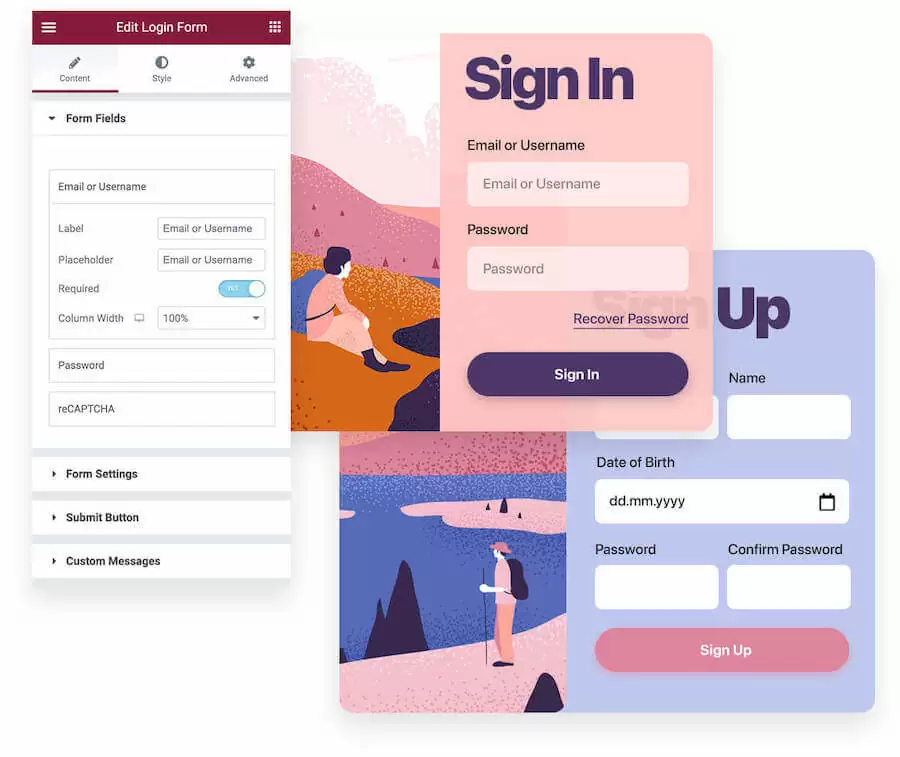 Create a Dynamic Website
While the default WordPress theme is good for a simple website, a product like Jupiter takes it to the next level by making it suitable for all different types of websites.
Jupiter gives you the option to create a website with dynamic content. You can create different taxonomies, custom fields and display it anywhere as per your need.
If you wish to create a business lusting website, an automobile site, a software review site, a job listing sites where you will need location, job type and other fields, it will be possible with the dynamic content options.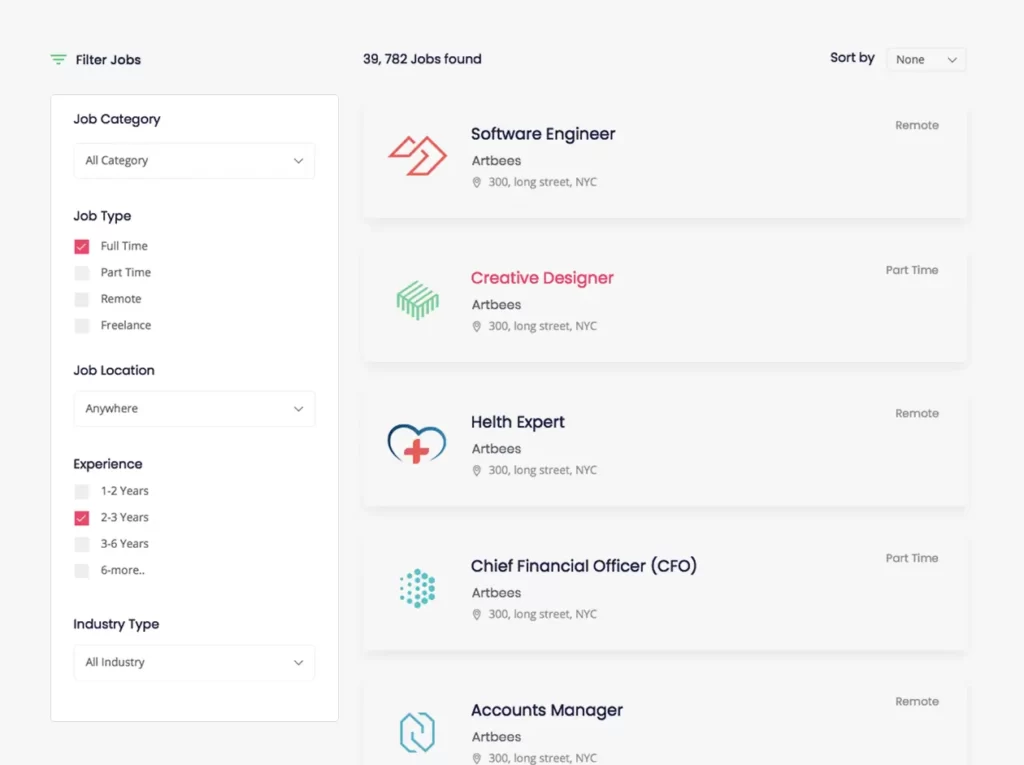 Jupiter Theme is Highly Customizable
You can use the live full-page editor of Jupiter to customize every element and space of your website. Customizing your website using Jupiter is as easy as dragging and dropping different elements.
Also, you can see all these changes happening in real-time, which is extremely handy to avoid any silly mistakes during the customization.
On Jupiter, the user can show the headers and footers in different website sections based on their needs. It supports unlimited header styles, and listed below are a few of its most popular styles:
Block
Transparent
Sticky
Burger
Sidebar
Full-page menu
You can create header and footer of your website using drag and drop interface and add any element that you wish to have on your header or footer section. You can also customize the single-page layouts by dragging and dropping post elements.
450+ Ready Website Templates
If you don't want to spend time customizing your website, the Jupiter theme offers you over 450 ready to use website templates. So, your site will be ready with a great looking design within a few minutes.
The demo templates are created for all different niche sites, starting from hotel listing site to car rental, you will have a ready option for all kinds of sites you can think of.
So, you don't have to spend time designing the important section of your site. You can import any of the designs with just one-click and your site is ready.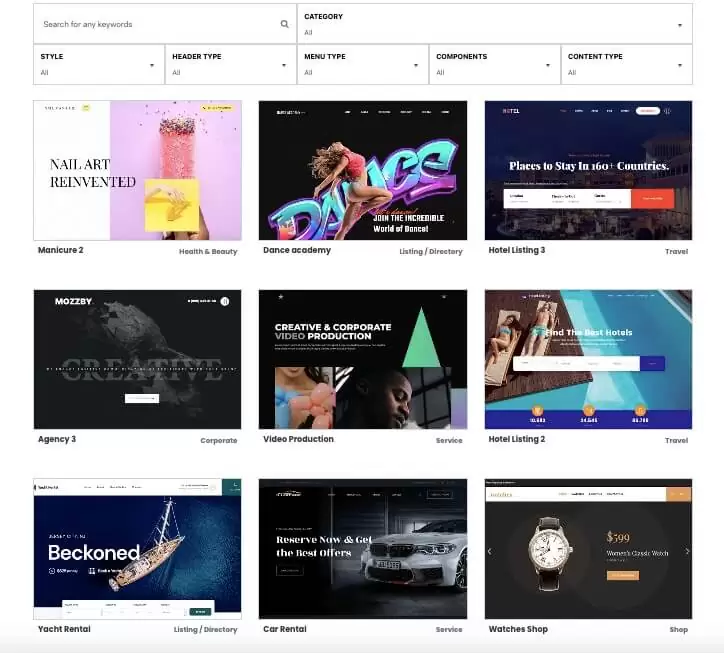 Actionable Insights
It is essential to lay your hands on data and reports that can help you understand the trend and pattern to increase the business profit. Jupiter ensures this through its advanced analytics.
You can go for both holistic analytics or check the performance of specific sessions based on your requirements.
It further provides its users with growth indicators to help them understand what drives their growth. Also, the visual growth charts make it easier to draw a comparison.
The user can further enrich the analytics through in-depth integration with Facebook Pixel and advanced synching with Google Analytics.
Additional Features
Jupiter supports more than 450+ readymade websites. You can explore this list and choose one to lay the foundation for your website. All it needs is one click for installation. Also, its more than 200 ready-made sections and pages are convenient during website designing.
It is compatible with Elementor, Gutenberg, and WPBakery Page Builder. You can go for any page builder of your choice.
Believe it or not, Jupiter offers its users $485 worth of premium plugins for free! It supports the following 12 plugins:
Sellkit
Slider Revolution
Jet Elements
Layer Slider
Jet Blog
Jet Menu
WPbakery
Jet Tricks
Jet Smart Filters
Jet Engine
Jet Tabs
Master Slider
Lastly, it provides its users with lifetime free updates.