Are you looking for the best monday.com alternatives? We've listed the best platforms that are similar to monday.com for managing projects.
Monday.com, formerly known as Dapulse, is a fast-growing business management platform for project managers, developers, and designers. Along with collaboration, Monday.com offers task management features, which is why this project management software is used by businesses worldwide.
Another amazing feature of Monday.com is that it offers good team communication capabilities. You can streamline team communication by integrating your project management tool with other CRM solutions, office communication tools, and more.
Monday.com is a powerful solution for team collaboration and project management that has serious drawbacks. If you are planning to use Monday.com, then it is better to know about some of its alternatives before investing money into the process, because there are several other options with similar functionality but better features.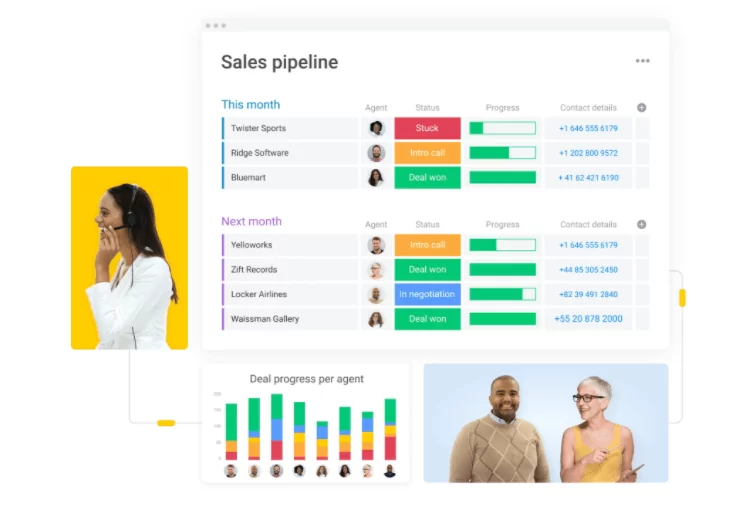 What Are The Best monday.com Alternatives?
A Quick Price Comparison of Top monday.com Alternatives.
| Product Name | Featured Image | Free Plan | Min Price | Mx Price | NitDit Score |
| --- | --- | --- | --- | --- | --- |
| Wrike | | Yes | $9.80/month | $24.80/month | 91.75 |
| Asana | | Yes | $10.99/month | $24.99/month | 92.5 |
| Zoho Projects | | Yes | $3/month | $6/month | 90 |
| Airtable | | Yes | $10 user/month | $20 user/month | 87 |
| ClickUp | | Yes | $5User/Month | $9User/Month | 92 |
| Bitrix24 | | Yes | $0 | $159 | 92 |
| Basecamp | | Yes | $99/month | $99/month | 86 |
| Float | | No | $6/month | $10/month | 90.5 |
| Scoro | | No | $26/month | $37/month | 91 |
| ProofHub | | No | $45/Month | $89/Month | 92 |
| Slack | | Yes | $2.67/user/month | $5/user/month | 93 |
A detailed review of Wrike that you can use to manage your projects effectively. Wrike is one of the most powerful and easy-to-use collaboration and project management software in the market. One of the top reasons for its popularity is that the service is equally flexible for small and large businesses across the globe. This flexible solution allows users to...
Can help boost productivity and organization
Offers a variety of features and tools to help with project management
Flexible and can be customized to fit your needs
Gives you the ability to collaborate with others in real-time
Can be accessed from anywhere, anytime
Can be overwhelming with all of the features and tools
May take some time to get used to
Can be costly if you need all of the features and tools
Asana is one of the most comprehensive and popular project management and team collaboration software with all the features and options that you will need to manage your business. You can improve the communication between your team members so that you can improve the overall productivity of your team. From planning a project to delivering it on time, Asana can manage each...
Complete project management
Different types of project views
Automate routine works
Manage complete workflows
Ready project templates
Complete analytics on any project
Learning curve for newbies
No project time tracking option
Zoho Projects, one of the most comprehensive solutions when it comes to project management and team collaboration software. It comes with all the features and options to help you manage your projects along with your team. Zoho Projects has made its presence rock-solid in small and medium-sized businesses across the globe. The secret to its success has been the ease of...
Zoho Projects offers a wide range of features and tools to help businesses manage their projects effectively.
It is easy to use and has a user-friendly interface.
Zoho Projects integrates well with other Zoho products, making it easy to manage multiple Zoho products from one place.
The pricing is very affordable, especially for small businesses.
Zoho Projects offers excellent customer support.
Zoho Projects can be a bit overwhelming for users who are not familiar with project management tools.
The learning curve can be steep for some users.
Some users have reported occasional bugs and glitches.
Here's a detailed review of Airtable & the best alternatives that you can use to manage all your projects from a single dashboard. Airtable is one of the most popular names among project management software. The database solution works as a web-based collaboration service for all sizes and kinds of organizations across the globe. You can collaborate with your team...
Team collaboration & project management
Different project views
Custom interface for every business
Pre-designed project templates
deep integration with other apps
Learning curve for newbie users
Free plan is very limited
There is a free plan that allows an unlimited number of users, projects, and tasks.
The interface is clean and easy to use.
You can create subtasks, dependencies, and recurring tasks.
ClickUp integrates with many popular productivity tools, such as Slack and Google Calendar.
The company offers excellent customer support.
Some users have reported that the tool can be buggy at times.
So many options can be overwhelming.
Bitrix24 offers a completely free plan with most of the features.
Bitrix24 offers a mobile app.
Number of third-party integrations.
Comprehensive workflow management.
Features like instant messaging & collaboration.
The interface is a bit old and confusing. 
The free version gives a "Bitrix24" reference at the bottom of email. 
CRM lacks an accounting feature.
Basecamp has always been a benchmark tool in the world of free online project management software. Although the current Basecamp version offers a free package, its latest version will not offer any free service to you unless you are a teacher or a student. Basecamp is one of the best collaboration software that allows you to easily collaborate and complete...
Float is packed with time-tracking and reporting tools. Users can easily log working hours for all kinds of scheduled tasks, estimates, and real-time working hours. Float allows users to easily make accurate estimates and to fully utilize the potential of bulk resources effortlessly. Also, the integrated time tracking features enable users to log in during working hours and give them...
Scoro is a complete solution for project and business management, especially for small and medium-sized business organizations across the globe. This end-to-end business management solution not only gives you a single-screen control of various business processes but also streamlines your entire business process. Users can access data in a very transparent and cross-platform manner. The software automatically takes care of...
Feature-rich software
User-friendly interface
Manage business from single dashboard
Project planning & management
Automated billing management
Team collaboration
Integration with popular apps
Learning curve for newbie users
Limited integrations
Costlier than some of the alternatives