Are you looking for the best graphic designing software? We've listed the top options that you can use in this article.
As people say, "First impression is the last impression." This may be a small quote. But for graphic designers, it is the Hippocratic Oath.
A firmly built graphic design is the key to building a professional brand. It solely optimizes your efforts across all formats. Whether you need to create a high-quality logo for business or need to edit photos for your blog, powerful graphic design software is necessary.
An ideal graphic design tool must provide a flexible workspace, image database, templates, customizable user interface, and standard tools for editing (such as brushing, drawing, zooming, and finishing).
It is hard to find such features in every graphic designing software. That's why we brought you a list of the Best Graphic Designing Software for 3D, vector, illustration, and animation designing. We have listed both free and budget-friendly software.
Let's get started.
Adobe Photoshop is undoubtedly the most popular graphic designing and photo editing software in the world. The reason behind its reputation is its robust design tools and simple user interface.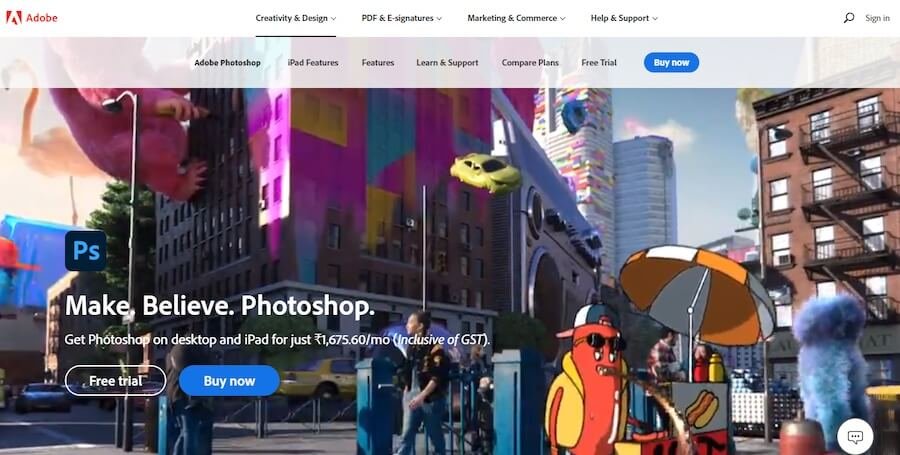 The software offers various workspace layouts that include 3D, Motion, Graphics, Web Design, Professional Photography, and Painting. It also offers custom layout options where creators can create their own workspace, windows, and panels.
Whether you want to do small edits or looking to create logos, posters, and banners, Adobe Photoshop has it all. Apart from that, the software is synchronized with Creative Cloud so you can save your files and start from where you left.
Adobe Illustrator is another popular graphic design software, but it is focused on vector graphics and designs this time. The software is ideal for illustrative artworks, website logos, page layouts, mockups, and anything related to vector graphics.
It offers various customizable layouts that you can use to draw, refine, and mix designs to create sensational artworks. You'll also leverage the In-Panel editing feature to work on multiple artworks simultaneously with efficiency.
The software generates graphic-based equations instead of stored pixels to make sure you can print designs with crisp and sharp ends. On this platform, you can get access to 90+ million images, templates, graphics, and videos. The software is compatible with multiple devices.
Sketch is a digital design hub for Mac devices. It is also a vector-based design software best suited to create interactive prototypes for UX/UI purposes.
The designs you create are saved in .sketch format that can be opened in Adobe Photoshop, Adobe Illustrator, and other programs. It offers a smart layout feature that automatically resizes designs as per your content required.
In the software, there are tons of plugins that'll help you design and edit with precision. Unfortunately, Sketch doesn't offer print design features. And since it is only available for Mac, you might need third-party software to view Sketch designs on other devices.
CorelDRAW is a suite of design tools, this software is one of the most comprehensive options in this list that is your complete solution for any kind of graphic design requirement.
No matter if you are a newbie or a highly skilled professional, it can help you to take your designing skills to the next level with the right kind of tools.
You can start with this tool suite as a trial with the 30-day money-back guarantee offer and then take it from there. I believe once you get introduced to the tools it offers, you will never have to look for any other tool for any kind of graphic designing and photo editing requirement.
You can create top-quality vector graphics on this platform and it can perfectly take care of the need for every kind of project be it for marketing materials, blog images, YouTube video graphics, advertising materials, banners etc.
Another best part of the CorelDRAW suite is that you can collaborate with your clients or your team so that you can plan and work together to keep everyone on the same page as the work progresses.
It comes with an advanced photo editing tool that will help you to enhance any photo in a few clicks. It is a lot easier than most of the photo editing software available at the moment.
CorelDRAW is available for every design, you can use it on Windows, Mac, web, iPad, and other mobile devices.
Adobe InDesign offers you industry-leading page layout and design software. This innovative graphic design software is mainly used to publish for business and industry purposes. Here you can design eye-catching posters, magazines, books, info-sheets, brochures, PDFs, etc.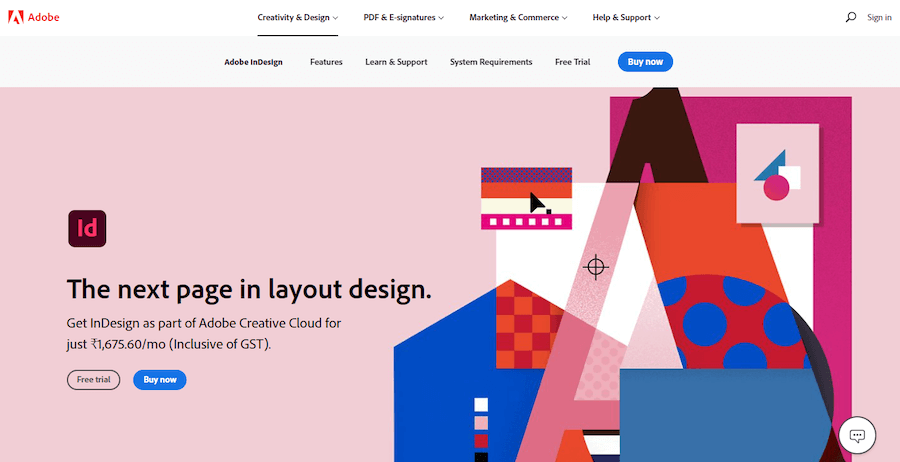 The best part is that the software requires a basic learning curve so beginners can easily learn and start doing graphics design with precision. InDesign offers you easy-to-manage design elements and tools that can be delivered in various formats.
For infographics, the software offers an Adjust Layout feature where you can change text templates. It also automatically adjusts and resizes designs since it has AI Sensei technology.
Inkscape is a free-to-use and straightforward graphic design software. The software comes with handy tools that will help you create scalable vector and graphic designs that won't blur or stretch during resizing.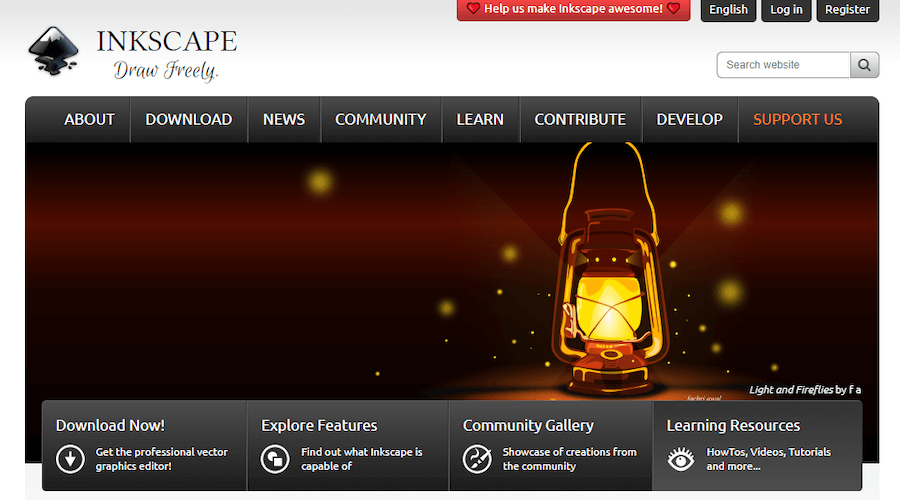 The UI of the software is quite impressive for free software. Beginners might face difficulty in the beginning but after using it for a little time, they can quickly adapt the flexibility and technique of the Inkscape. The software prefers the method of illustrations, logo creation, and artworks that require high scalability.
Inkscape offers two layouts for creation and manipulation. Creation includes drawing, shape, text tools, and embedded bitmaps for objects. Where manipulation includes transformations, reshaping, Z-order operations, and alignment tools. You can convert designs into multiple formats with various options to export.
Visme is complete graphic design software that offers multiple platforms for individuals. It's much more like a workshop where you learn and adapt exceptional design techniques. Its simple drag & drop editor lets you create stunning visual presentations, infographics, and printable content.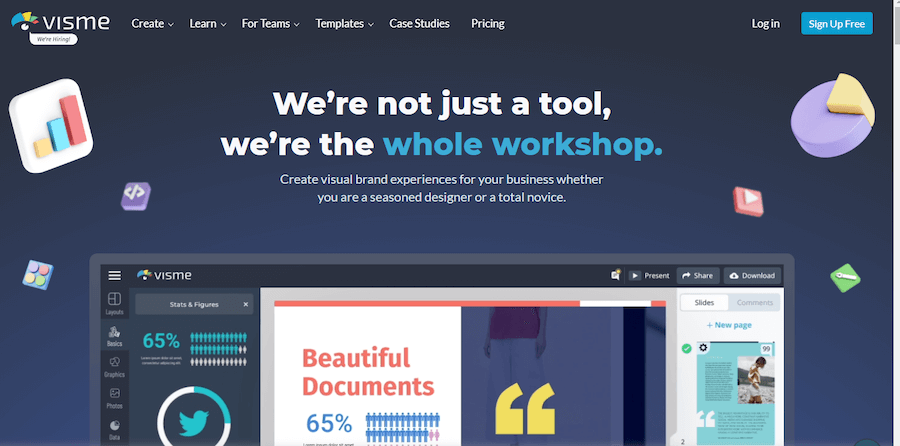 Visme offers free learning resources such as video tutorials, live webinars, online courses, and Ebooks that can help you enhance your designing abilities. You can also get access to video & animation-related educational resources where you can learn basic animation-related stuff.
In this software, you'll get to choose from 1000+ layouts and themes. And browse templates for each product or use pre-animated templates on videos. Visme offers a free subscription for 5 projects which is the best way to try out the software.
Vectr is another free designing software for vector graphics. This simple yet powerful desktop and web cross-platform software don't compromise with the quality while being scaled.
With Vectr, you can create professional presentations, stunning business cards & logos, header images, posters, and cover albums. You won't need to be very skillful to design artwork. Vectr has tutorials about almost all topics.
Vectr offers a workspace on a white surface that is hinged between the toolbar and editing panel. You can turn any imaginary 2D graphics or vector drawings into reality.
Affinity Designer is best known for creating UI designs, concept artworks, logos, icons, and mock-ups. The software offers a combination of raster design and vector tools to create beautiful designs. It is a capable alternative to Adobe Illustrator that offers some easy-to-use features and a smoother workflow.

Affinity Designer has a flexible grid system that enables users to create isometric game icons and graphics. The software thrives on the latest hardware which makes it incredibly fast and responsive. Live effects, 60fps zooming, and adjustments give your designs a new life and look.
The software also gives you full control of your workspace. You can switch between raster to vector with just a click. You can handle hundreds of objects simultaneously with no lag. It is also available as an app for iPad users.
Canva is one of the best graphic design software that offers some premium designing tools for free of cost. The software is mainly used to create presentations, social media graphics, business cards, posters, and visual content.

On this platform, you'll get more than 100 design types with 250,000+ templates to choose from. Work freely with your own graphics or find one from the list of thousands of free graphics and photos. Customize your workspace as you prefer. Collaborate with friends and work on a single project in real-time.
New users can take virtual classes and video tutorials from the website for free to learn the basics of graphic designing. Canva also offers a budget-friendly Pro version with beyond imaginable services. New users can try the Pro version for free for 30 days.
Read Canva review.
Xara Designer is a robust graphics software that offers powerful illustration and vector editing tools. With its versatile page layout, you can create fantastic web designs, illustrations, DTP, and high-quality 3D vectors.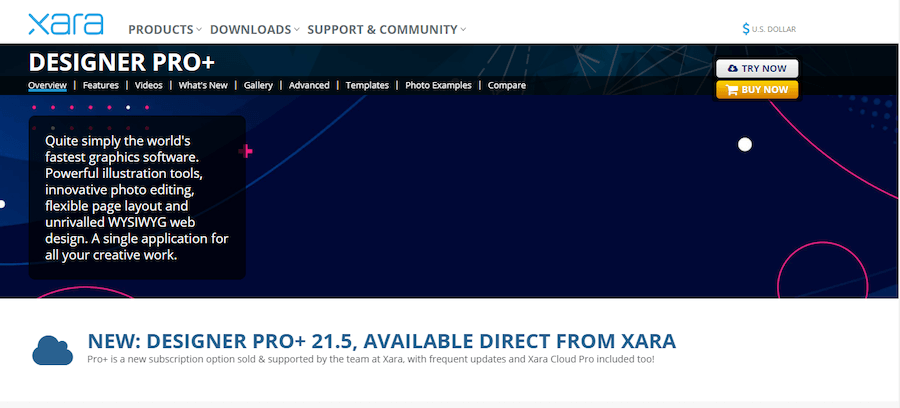 With Xara Designer, you can benefit from its drag and drop features that help you save time while editing. To fill the tiniest details into your artworks, Xara offers up to 25,000% zooming magnification.
With Xara Cloud, you can easily view, update, and edit your project from any PC. It also allows collaborative editing for commercial purposes. Xara offers thousands of pre-made templates for multiple business types.
Crello is a boon for visual graphic designers. Here you can explore more than 50K animated and static design templates. Whether you're a rookie or professional designer, you can easily download and create designs.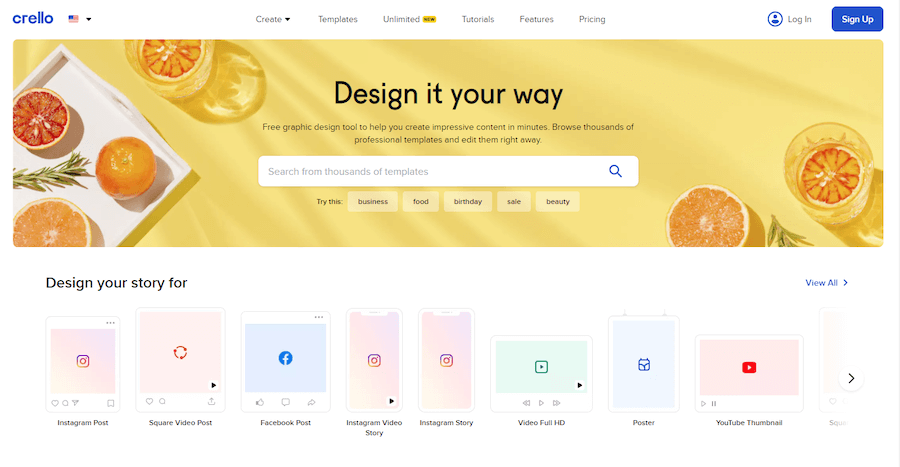 Beginners can easily watch and learn from Crello tutorials. Whether it is removing background or creating thumbnails for YouTube, you can learn everything for free.
Crello offers both free and premium subscriptions to their users. With the premium plan, you additionally get collaboration options for commercial purposes.
Conclusion
Earlier using graphic design tools wasn't a child's play. It still isn't but with these software, it became a little easy for designers to show their creativity. These tools can help you express your imagination into reality. So choose the best according to your project.
Tools like Canva makes it super simple for the users to create a completely custom graphic design for blog posts, YouTube videos to any other project. The user interface is simple and you can create your graphic just by dragging the available icons, pics, and other elements.