If you ever wanted to create your own platform like Fiverr, Pricerr is the cost-effective solution for you that you can use to create a similar site with a similar set of features.
With changing times, freelancing has become one of the most demanding professions. You can become a freelancer for something that you are good at and start making money from home.
You can create a site where users can come and sell their gigs and you can be the middleman connecting the ones who needs freelancers to get job done.
As the admin of the site, you can start making handsome revenue by facilitating the service and making it easier for freelancers to get a new job.
As far as the design of the theme is concerned, the demo looks like the Fiverr site. However, you are free to create a complete custom design for your site by using the Elementor website builder without writing a single line of code.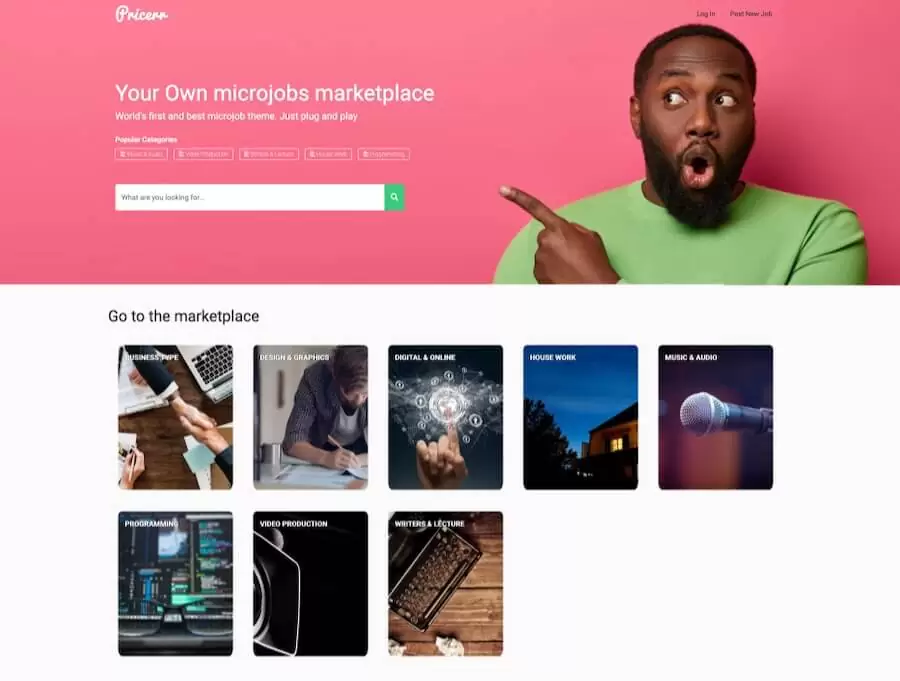 Create a Multi Seller Marketplace
Pricerr Theme is a great option to create a multi-seller marketplace. Think of Amazon, it is a site where users can sell their products. While Amazon is for physical products, you can use a site to sell digital products using this theme.
Users can come to your site and start selling their digital products. User can sell products like ebooks, any technical gigs while you can charge them for allowing to sell on your site.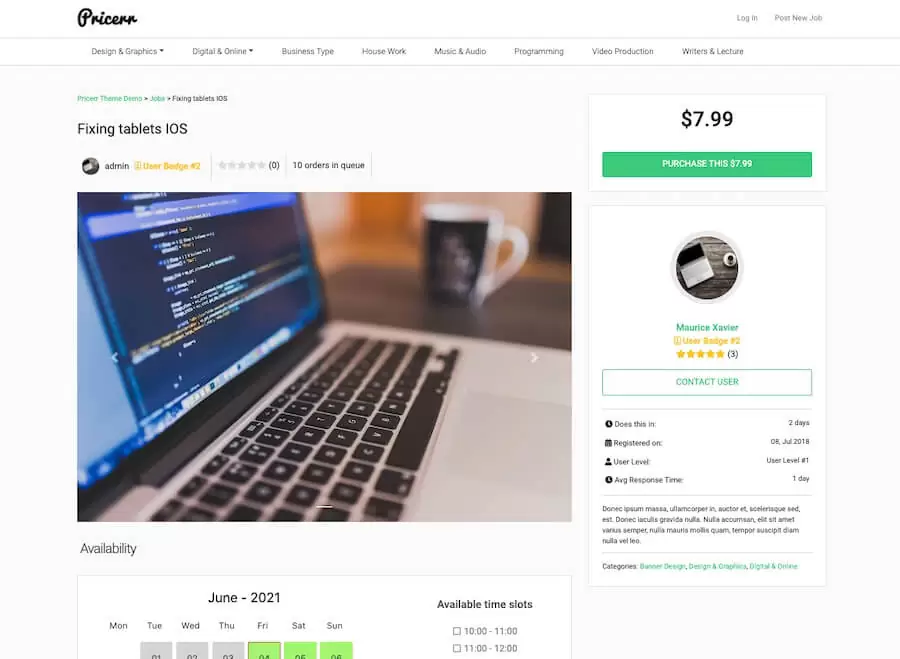 Fully Responsive Design
It is very important for sites to load perfectly on mobile devices. If your site doesn't work well on small screen devices, it will not only impact the user experience but also the ranking of your content.
So, the first thing you need to check while selecting the theme for your site is how well it performs on mobile devices. Check the demo on the mobile, tab, and then make your decision.
The Pricerr theme is a fully responsive design to make sure that your site works on all modern devices. In fact, it looks great on mobile devices.
And as you can customize the theme using the Elementor builder, you can perfectly setup your site for all different devices.
Your Own Mobile App
Along with the web version, if you wish to have your own mobile app you can get your own app and publish it on App Store and in Google Play Store.
You get the app when you go for the entrepreneur package of the theme. The team will also help you to publish the app on the app stores.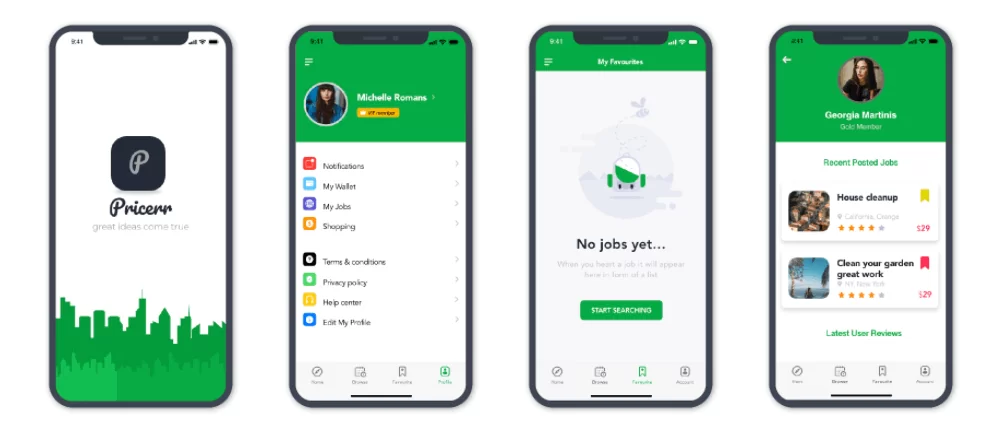 Detailed User Profile
As the Pricerr Theme is a user-oriented theme used for multi-store or user-driven content. It is important to have the option to create a user profile where they can manage all the details of their account.
The Pricerr Theme comes with a clean and comprehensive user profile page where a user can keep a track of everything around their profile.
All pending messages, purchases, sales, requests can be tracked from the profile page.
Pricerr Theme Front-End Submission Option
Another important feature for a user drive site is the option to submit content from the front-end of the site. The Pricerr Theme comes with this option to submit content using the front-end content form.
The user can submit a new job, select a category, add all details, add media files and submit the content for review. There is another option to allow users to feature a job with an additional fee that you can add. So, this will become another revenue source for your business.
Edit With Elementor
The Pricerr Theme is fully compatible with the Elementor website builder, so you can customize each and every section of your site as per your need.
You can use the free version of the Elementor and if you need all the premium features, you can go for the pro version. Here're the available Elementor Pro discount deal offers.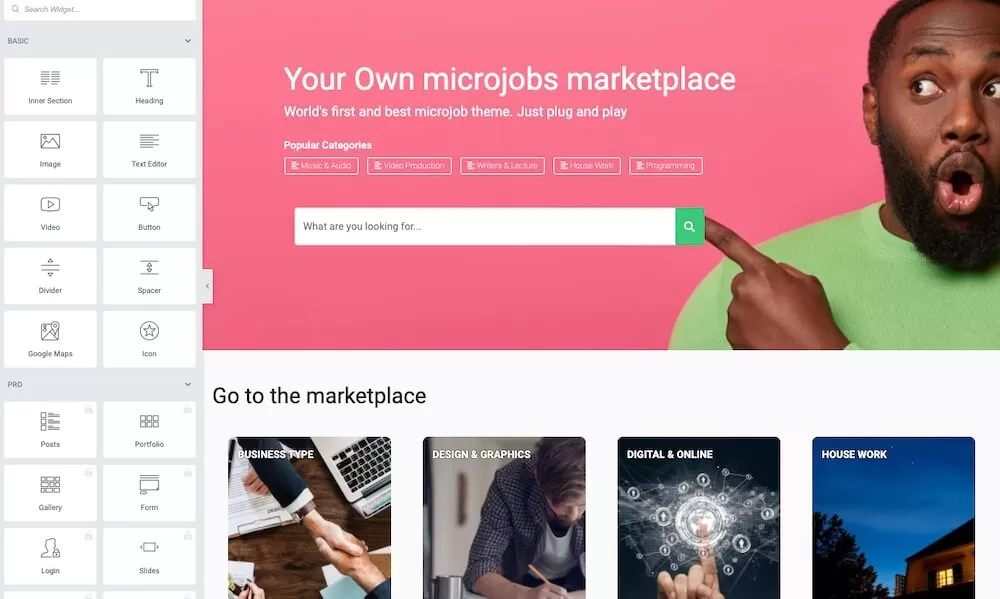 Private Messaging & Notifications
If you have used top freelance marketplace platforms like Fiverr, you probably know that you get an option to contact freelancers and discuss your project before you finalize a gig.
You get the similar option to privately chat with any user on the site and discuss everything before you buy any gig or a product. You also get live notifications if any user sends you a message.
The theme comes with a very simple and clean interface to get on with a chat with the freelance you wish to hire.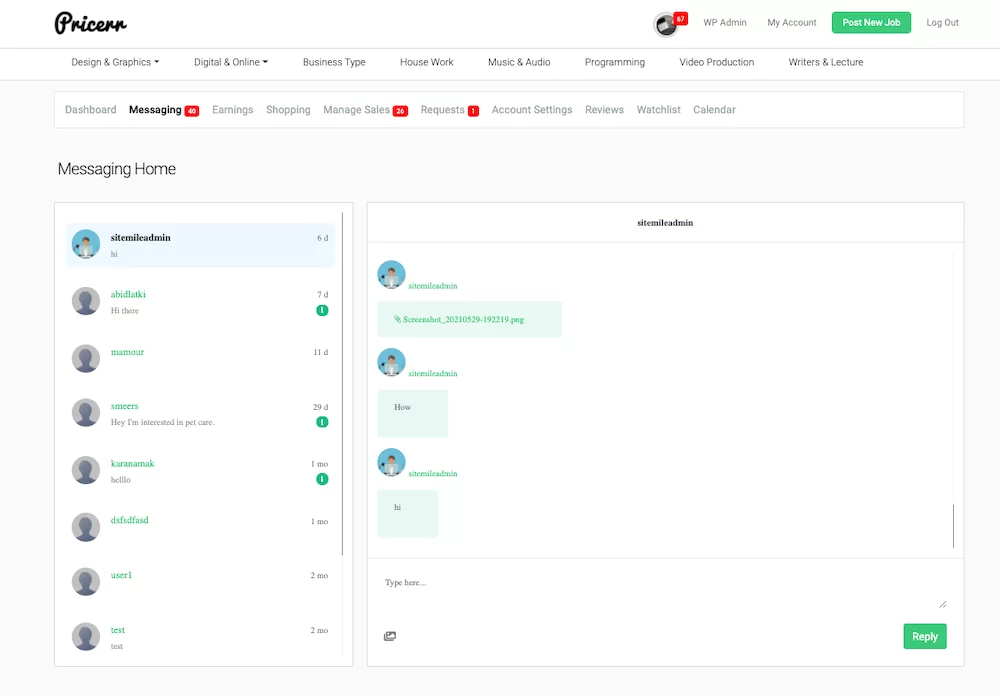 Multiple Payment Gateways
As a marketplace site, you will need to have the payment gateways integrated on your site to make sure that your users can make payments easily on your site.
While, integrating popular payment gateways like PayPal is relatively easy, not every ember likes to use this service. So, to offer a comprehensive solution to use, the Pricerr theme comes with multiple payment gateways.
You can integrate your site with PayPal, Skrill, Payza, CCAvenue, Stripe (simple or marketplace), Pesapal, Quickpay, Braintree, Bitcoins, Coinpayments.net , Payu Latin America, MangoPay, Paystack, Sagepay, Voguepay (Nigeria market), Payfast(for South Africa market), iDeal Mollie, iDeal Sisow (for the Dutch market), Instamojo, Flutterwave (rave payment gateway for African countries) and others.

Advanced Theme Options Panel
The Pricerr Theme comes with an advanced theme options panel where you can set up everything for your site. There are multiple options tab and under each option, there are multiple features that you can enable or disable.
Overall, the theme makes it easier for the users to create a comprehensive freelance marketplace site with all the important features and options ready to use.