Are you looking for the best WordPress theme for your freelance marketplace/website?
If you're looking to create a freelance marketplace similar to Fiverr and Upwork. Bingo! You've reached the right place.
FreelanceEngine is the answer to your question. This is a premium WordPress theme developed by Engine Themes. The FreelanceEngine theme lets you create a highly professional freelance marketplace. The concept of the theme is to connect job providers and freelancers.
In this post, we are going to review the FreelanceEngine theme that includes detailed insights into this product such as key features, homepage design, templates, and ease of use, responsiveness, etc.
Let's get started. 
FreelanceEngine Theme: Design & Ease of Use
FreelanceEngine really outshines other WordPress themes when it comes to design. The theme has a modern style but it isn't overly fashionable. Just to make sure it lasts very well in the future.
The design of the theme is consistent and usable across all the pages. Each template included two-sided functionality where employers can register to post their projects and freelancers can register to apply for a project. 
Apart from posting the project, freelancers can easily submit their project after completion. There are 10+ extensions available on the FreelanceEngine. You add to your website to make it more advanced and get more engaging freelancers.
The Dashboard of FreelanceEngine offers some easy customization without any prior coding knowledge. You can manage members, payment settings and all other details from the theme dashboard. Have a look at it. 
Once you install the theme, you can go through the installation wizard to finish the steps and make your site ready. It gives you the option to import demo content so that you can check how your site looks before you actualy have content on your site.
You will get the settings on the dashboard.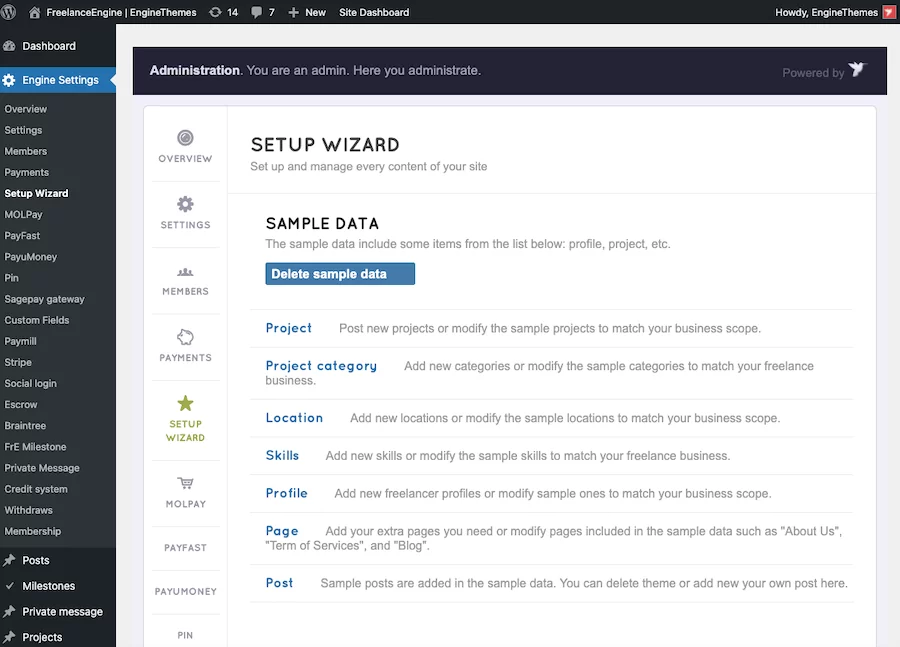 Homepage Details
FreelanceEngine theme offers you a powerful homepage section that includes video-style background to make your freelance website professional. You can choose from various freelance templates with demo and preview options. 
It will help you add important details to the homepage. On the intro block, you can details about your marketplace so that users can familiarize themselves with your portal. 
The homepage came up with a default set up but with the Themes Options panel, you can change it as you prefer. The demo of templates is crystal clear which gives ideas about how you can exhibit links for new registration. 
As this theme is primarily used to create a freelancer job marketplace. It gives all the options to add to the homepage of the theme. You can have the top freelancers on your site, the trending job listing, your pricing plans etc.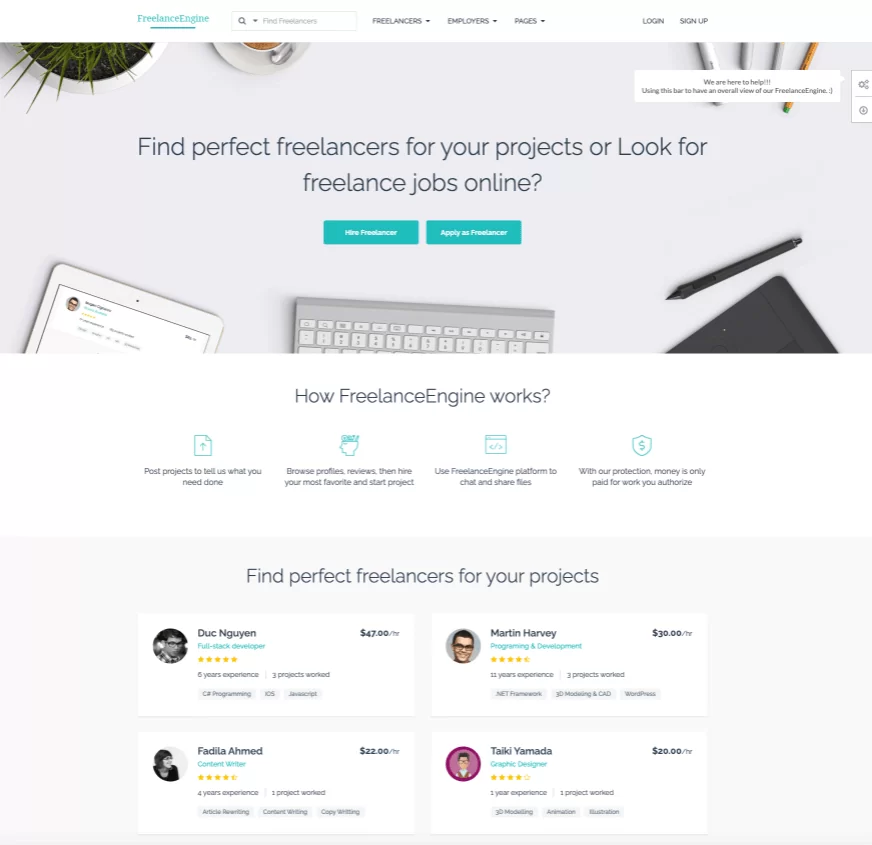 FreelanceEngine Responsiveness
It is very important for the websites to be responsive these days and work perfectly on every device. FreelanceEngine is a perfectly responsive WordPress theme that will make your freelance marketplace look great on all devices.
You can check the demo design to check how the theme looks on every devices.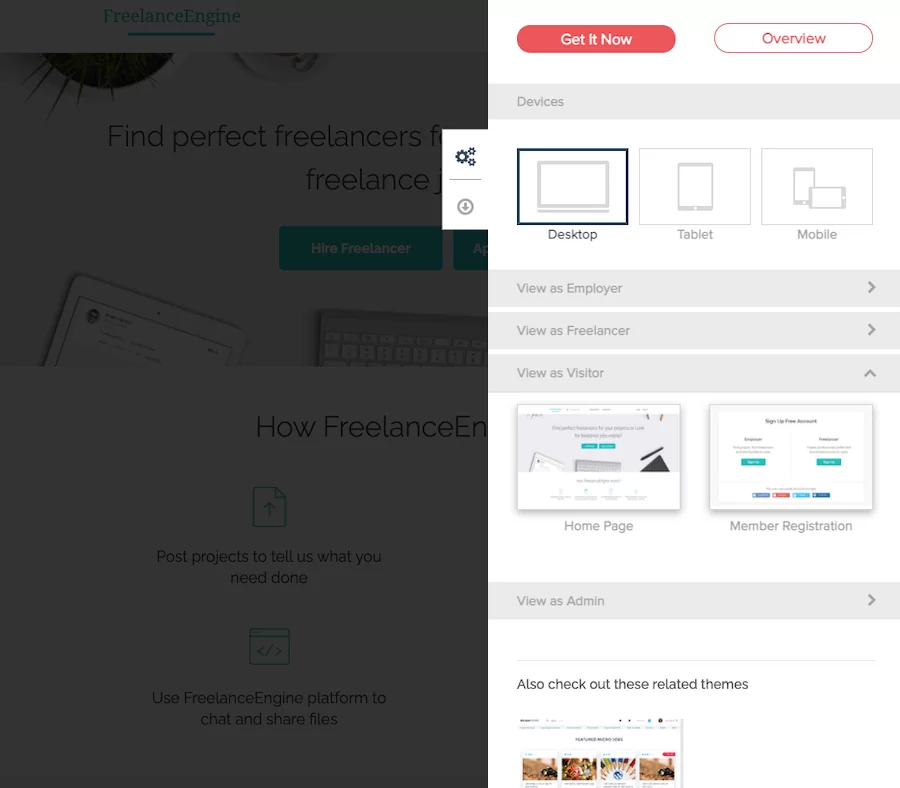 Theme Customization Option
The FreelanceEngine theme has smart customization options. You won't need a coder to manage your bidding website. With flexible back-end customization, you can easily manage bidding, listings, and payments.
If you have any queries, the theme developer will provide you with documentation and support. 
Settings Panel
In the theme settings panel, you can update your website details, payment gateways and update all the other important details for your business so that you can make your site up and running quickly.
Member Registration
As this theme is created to work in the marketplace format for the employers and the freelancers, it is important to have the regiatrstion opions accordingly. And the FreelanceEngine makes this simple by offering different registration option for freelancers and the employers.
Once you registered on the site, you will get further options based on your profile type.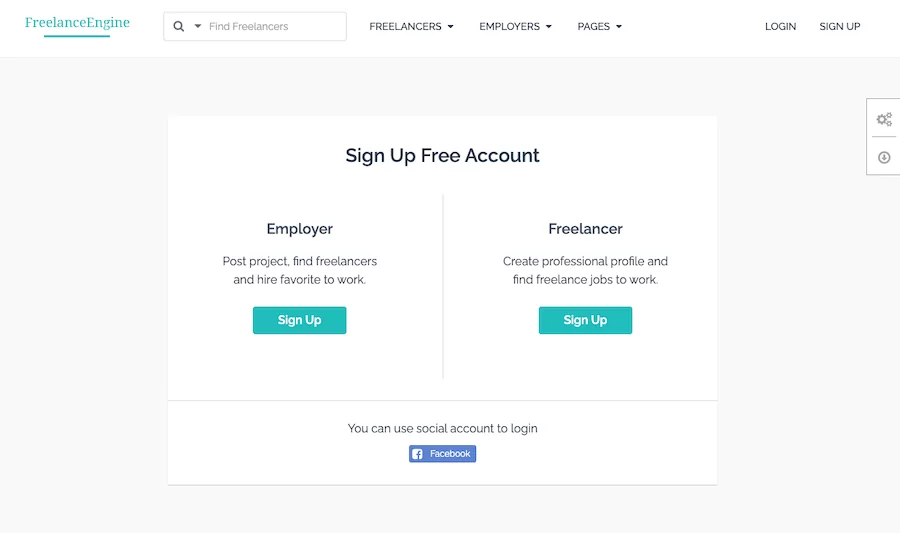 Member Management
As the admin of the site, you will have the option ot manage each member on your site. You can change user profile type and other details as per your need.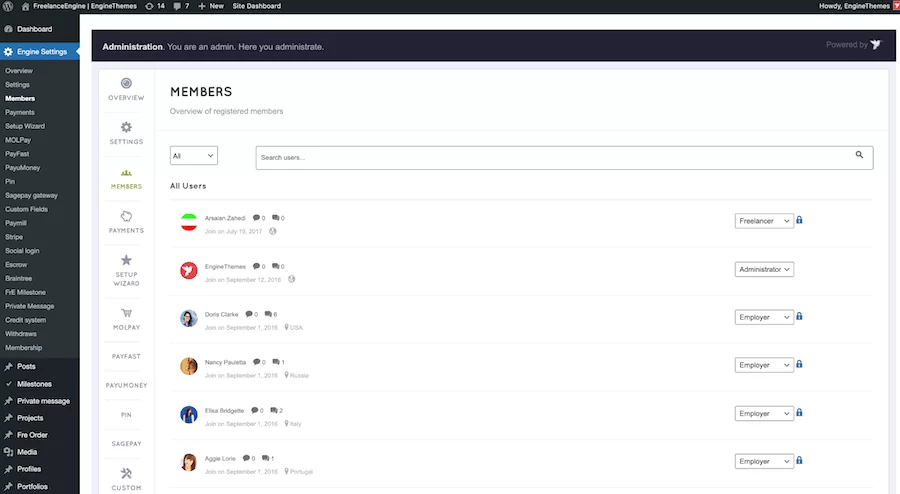 Listing Jobs
The theme offers you a custom listing to add jobs. Here you can also add multiple fields on the basis of your job requirements. It also supports multiple media and DOC formats for file attachments. It offers two search options.
Once the user creates a employer profile, they will get the option to add a new job. You can add the link in the main menu so that the users can quickly click on it and start listing new jobs.
The employers will see the available packages to select. As the admin of the site, you can set up different packages. For example, you can create a free package where you allow 3 job listing in a month and if the employer needs more listing option they can go for the paid package that you offer.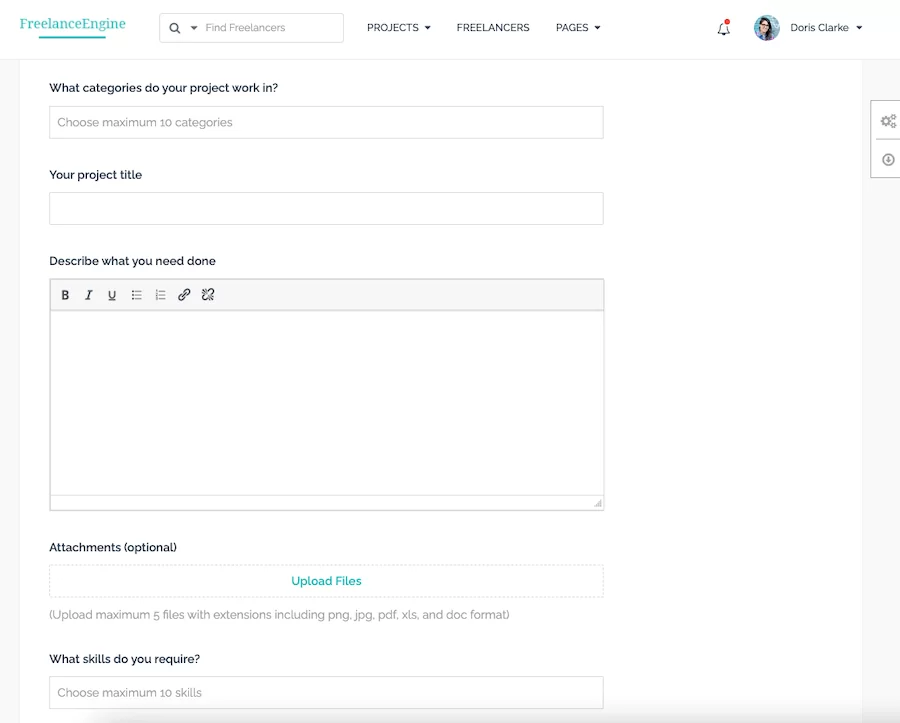 Search Freelancers
FreelanceEngine comes with custom search option. You can design your own search and custom fileds that you need in the search section of your freelancer marketplace.
There are multiple options like location, hourly rate, number of projects worked and so on.
Conclusion
The FreelanceEngine theme offers you various homepage and customization options. It's a robust theme if you're looking to create a stunning and converting freelance marketplace website.
What's more, the theme is feature-rich and responsive on all the screen-size such as mobile, desktop, and tablets.