Are you looking for the best YouTube WordPress Plugins? Well, we have included the top YouTube plugins that you can use on your WordPress site here.
Did you know that nearly 2 billion people log into YouTube every month? Billions of people are looking for valuable content and resources on YouTube.
From those attractive movie trailers to informative tutorials, YouTube has a ton of different content for all kinds of viewers.
If you plan to create and run an attractive and engaging WordPress website for your business, integrating the power of YouTube could be very helpful.
Embedding YouTube videos is not easy as it might seem; besides knowledge and technicality, you also need some assistance. That's where WordPress Plugins come in.
Let's find which of these YouTube plugins might work for you!
01

. WordPress Video Robot
Video Robot is a simple-to-use, yet feature-packed YouTube WordPress plugin that integrates a lot of automation power while adding YouTube content to your WordPress website.
All you have to do is add the type of videos you are planning to show on your website from YouTube. You can also schedule the time interval of your videos that need to be imported to your website. WordPress Video Robot.
Price: $37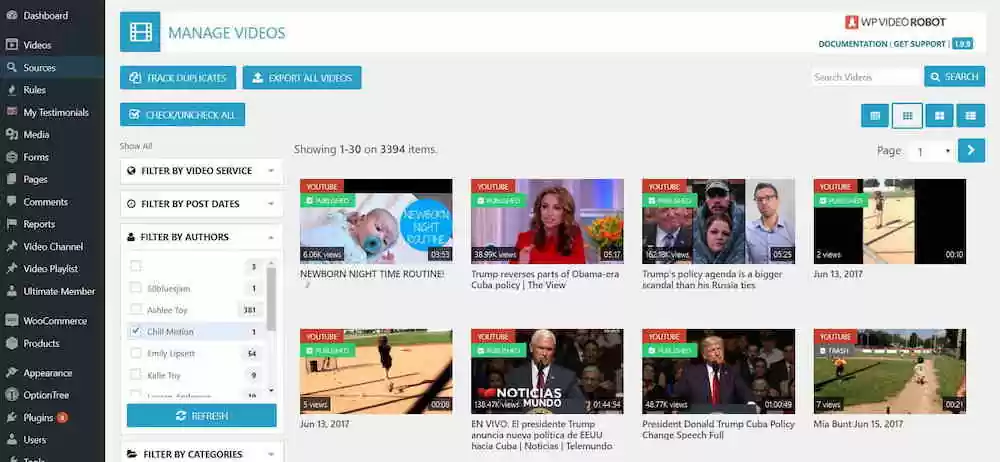 02

. Ultimate Video Player Plugin
Ultimate Video Player WordPress plugin offers an option for website owners to create an unlimited number of custom playlists on their websites. The best part here is that this WordPress plugin allows users to integrate YouTube videos and audio on their website.
You can add an unlimited number of videos and audio files to your website. It's quick, easy, and powerful for all kinds of business needs. This video plugin
Price: $69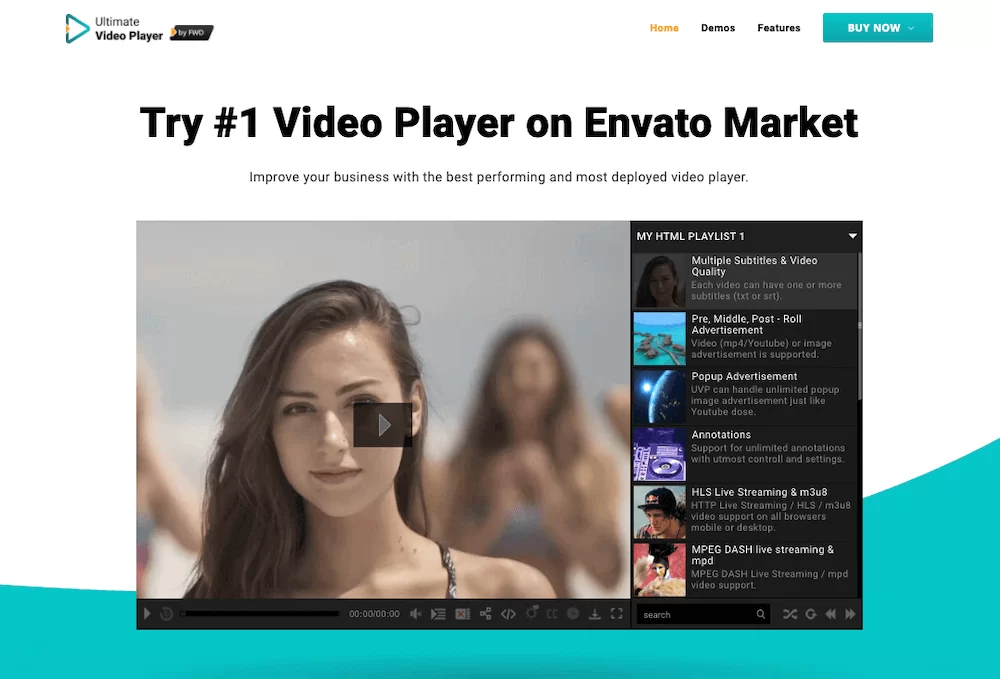 03

. Envira Gallery
Envira Gallery is a premium WordPress plugin that organizations and entrepreneurs can use to give a compelling visual engagement to their websites.
The plugin simplifies creating and accessing YouTube video galleries, even for those who don't have any prior experience with WordPress plugins. Below listed are some of its highlights
Here's is a detailed review of Envira Gallery to help you understand the product better.
Price: $49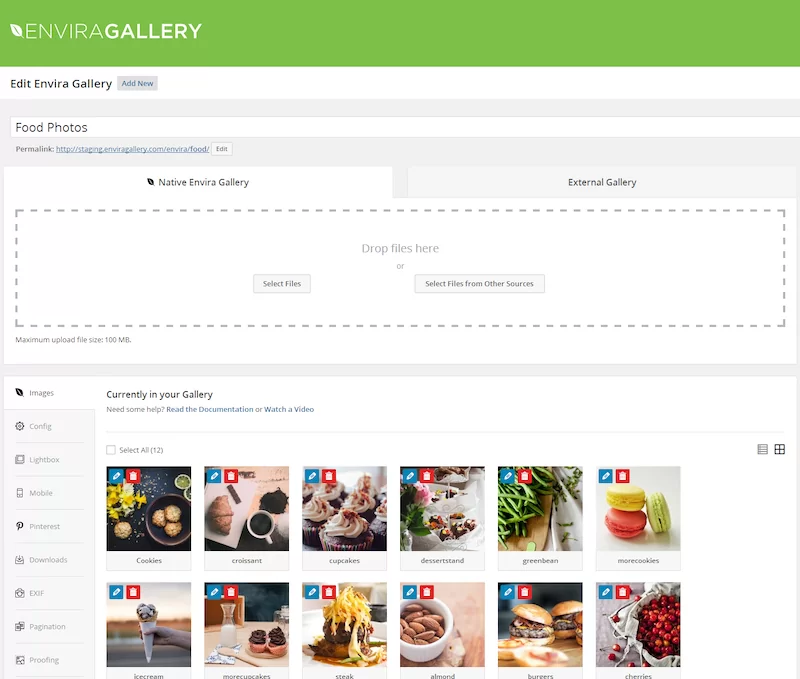 04

. Feed Them Social WordPress Plugin
The core idea of this popular WordPress YouTube plugin was to bring the world of WordPress sites and social media feeds together.
The plugin was designed and developed to empower site owners to showcase their social media platforms, such as YouTube channels and videos, for engaging and attracting audiences as much as possible.
The premium version allows you to create and display all of your responsive social media feeds from not only YouTube but also Facebook, Twitter, and Pinterest.
For the ones looking for complete social media content displaying a WordPress plugin for their website, this one is a good option for sure. This plugin can help you.
Price: Free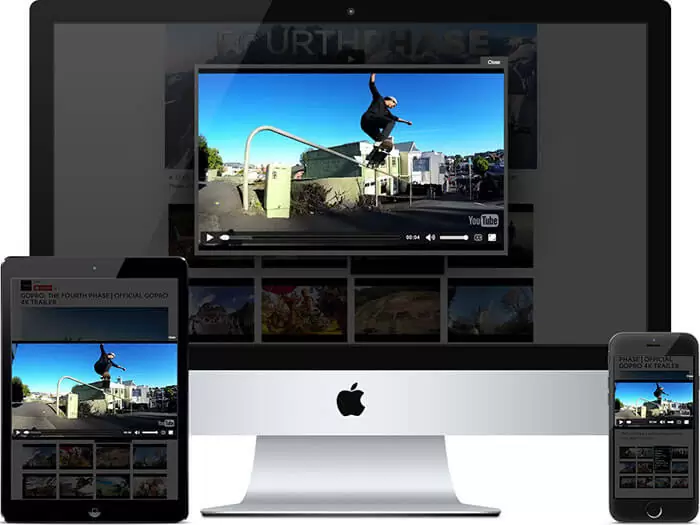 05

. YouTube Plugin from Elfsight
YouTube-Plugin, from the minds at Elfsight, is a leader in the CodyCanyon marketplace of powerful WordPress plugins. The premium version of this plugin allows you to create a playlist on your website. All you have to do is to select your desired YouTube channel or video to create a fully customized playlist.
A major reason for the popularity of this plugin is that it gives the website owners full and in-depth control over the integration of YouTube videos on the web pages. From choosing a play mode to customizing the look, the plugin offers it all. You
Price: Free for 14 days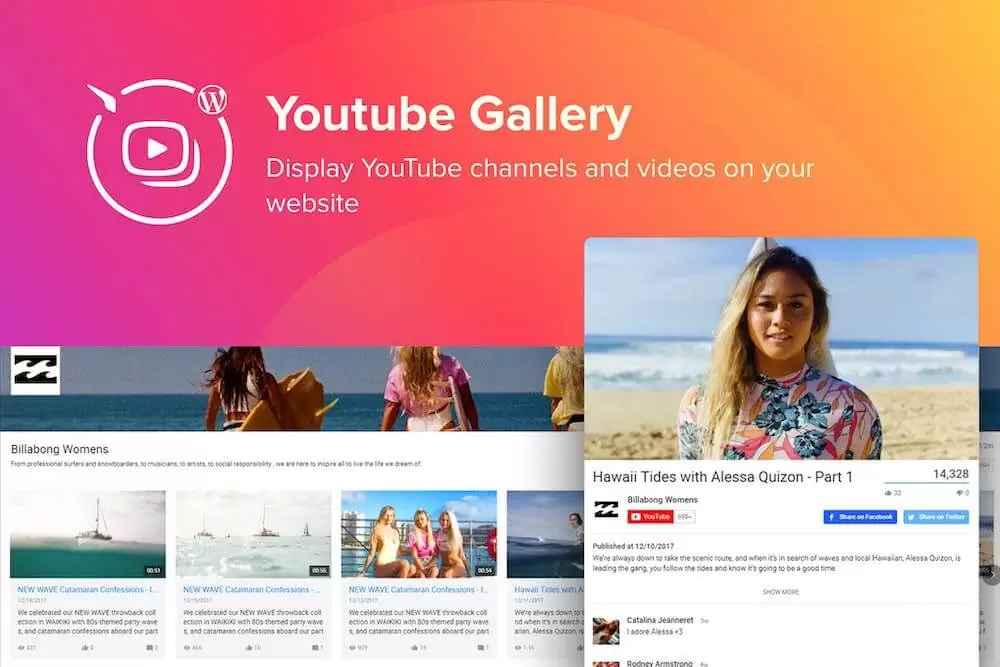 06

. Video Gallery by YotuWP
With over 20,000 users, the team at YotuWP has created one of the best YouTube WordPress plugins of all time. Video Gallery allows all kinds of website owners to add responsive and easy-to-use video galleries on your WordPress websites.
Available both in the free and premium versions, the plugin has something for users under any budget.
The plugin allows you to embed any YouTube videos on your website in the form of a playlist or video, YouTube channel, and URLs. The plugin also offers you three different layouts to choose from such as List Layout, Grid Layout, and a combination of the two. Video Gallery
Price: $49
07

. Embed Plus
This one is truly a feature-rich option for beginners. Embed Plus is available for free from the WordPress plugin directory itself. The plugin allows you to embed not only a YouTube video but also a complete channel, playlist, and live stream. The WordPress plugin
Price: Free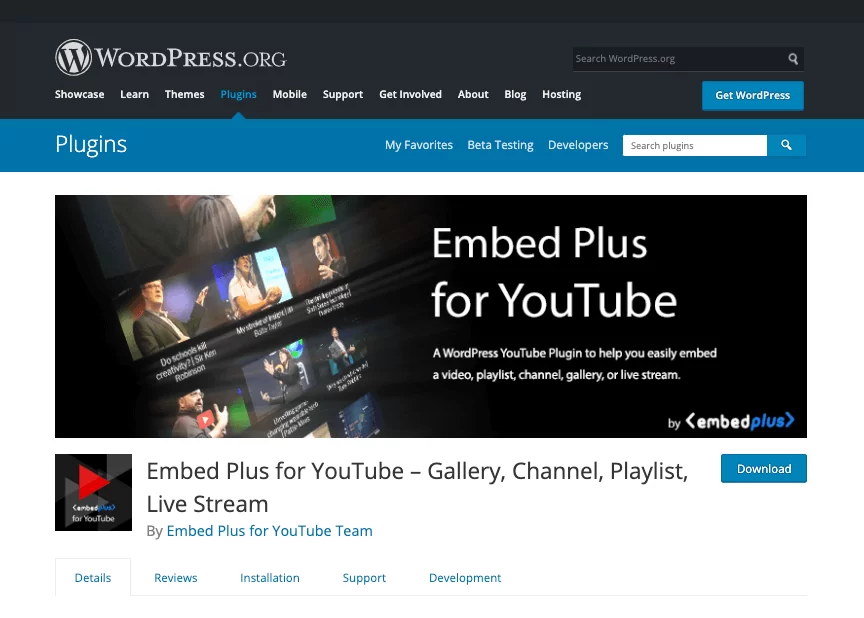 08

. WP YouTube Lyte
WP YouTube Lyte is one of the best automated YouTube video embedding plugins for WordPress websites. The plugin completely automates your process for adding YouTube content on WordPress websites.
This free-to-use WordPress plugin is solely focused on your performance optimization. The plugin eliminates the hassle of getting permission from YouTube servers to play a video and optimizes your complete process of creating playlists on websites.
Price: Free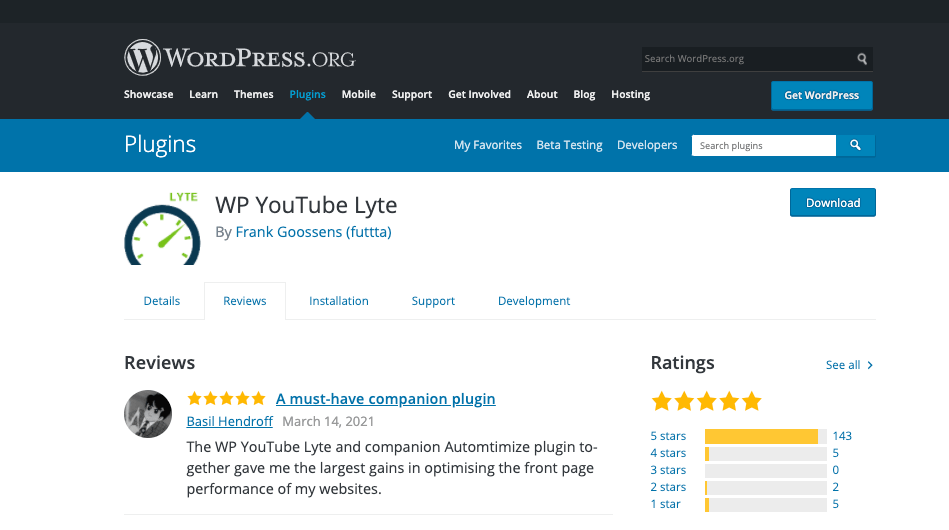 09

. Video Gallery by Total Soft
Video Gallery, a free YouTube WordPress plugin, is packed with a ton of different features. You can create a number of YouTube video galleries on your website. With many different integrated effects and customization options, Video Gallery WordPress plugin by Total Soft
Price: Free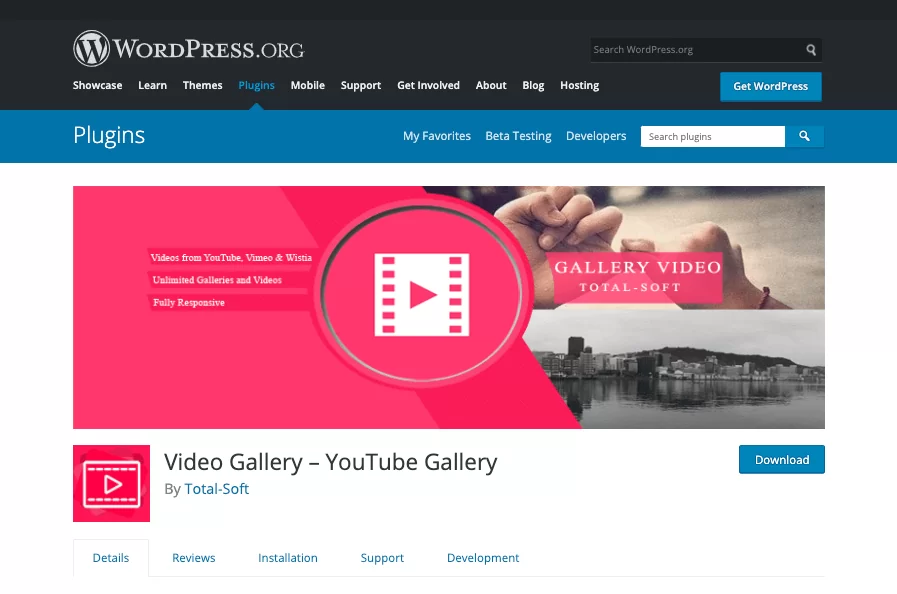 10

. YourChannel
A comprehensive YouTube plugin for WordPress that you can use to engage users on your site. It is a freemium plugin that offers a free as well as a premium version with more features.
You can show a single YouTube video or create a complete channel using this plugin. It offers you a video autoplay option, a sticky and floating option to engage your audience.
Price: Free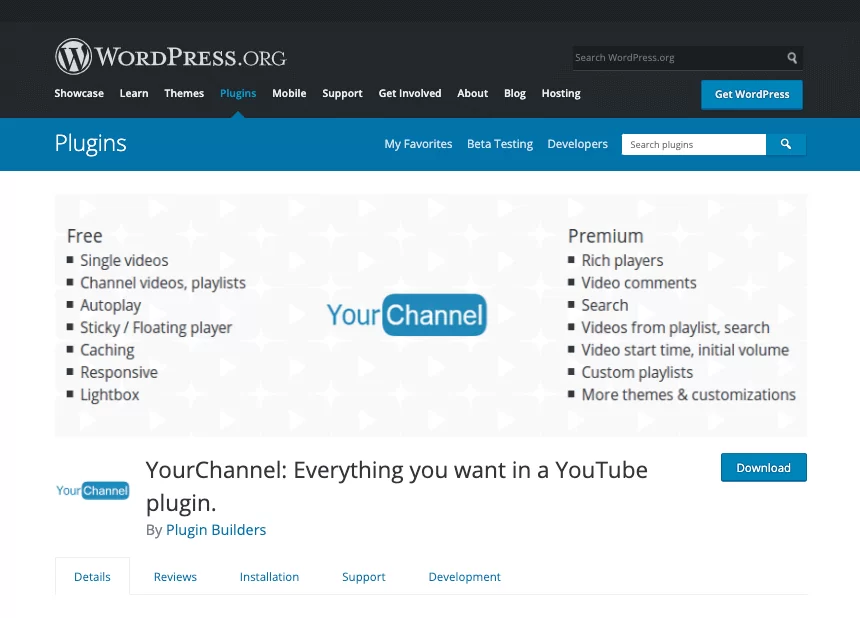 Takeaway
WordPress provides you with numerous YouTube plugins that can fulfill your requirements. You should understand the basic functions and select plugins and modules accordingly.
Ensure you employ secured plugins to make YouTube video downloading easy.
Thanks to all these WordPress plugins, website creators can now create, add, and promote their YouTube videos and channels on any website.
Begin your YouTube embedding right now!