If you're looking for the best Facebook marketing tools? We have got your back!
Facebook is one of the largest social media platforms to market your brand and generate leads. However, you need powerful marketing tools that will take your Facebook campaign a step ahead.
In this article, we have hand-picked the best Facebook marketing tools ideal for small to large business owners based on our personal experiences. 
With these tools, you can optimize and publish your content, analyze your page's performance, and manage your campaigns effortlessly.
So, let's dive into the details to check out the top must-have Facebook Marketing Tools.
01

. Semrush
While Semrush is known more as an SEO analysis software, it offers comprehensive social media management tools that you can use to grow your business with social media traffic.
Like any other good-quality social media management software, Semrush offers a comprehensive post-scheduling option. You can schedule your Facebook posts in advance along with other social platforms so that you have more time for other important activities.
In fact, the scheduling tool offered by Semrush offers more features than many other leading social media software. You can create your posts right on the platform or create posts while surfing the web.
It also gives you the option to import posts from CSV files in order to schedule your posts in bulk.
The tool will suggest you the best timings to schedule your posts so that you get the maximum visibility for your content.
Detailed Analytics
You will get detailed analytics of your posts on the Semrush platform. You will know the posts that are doing well and complete audience insight like Age, Geo Location, when they are most active so that you can plan your activities in a much better way.
Track Competitors
When it comes to Semrush, the feature that makes it much better than any other software is the competitor tracking option. Like organic traffic competitors, you can find the social media activities of your competing businesses.
You can track their social media content, the most active content pieces, etc. You can compare your campaign against your competitors.
Boost Content
You can boost your content with ads right from the Semrush dashboard. You will have complete statistics to help you create a winning campaign.
Overall, the Semrush social media management toolset is comprehensive and you will not need any other software for growing your business with social media.
Don't miss our detailed Semrush review and get an extended free trial for Semrush using our link.
Pricing: $119.95/month.
02

. Missinglettr
Missinglettr is one of the most comprehensive social media management software that you can use to grow your Facebook following.
This software comes with a number of handy features making it simple and easy for the users to manage the account and constantly update it with fresh content.
It comes with a very handy content curation tool that will offer you a lot of new content to share on your social accounts and help you save time.
You don't have to spend hours looking for new content ideas as you will always have the best shareable content ready to post.
The Missinglettr Drip Campaign feature is another very useful and effective option to grow your social following, leads, and traffic with perfectly crafted messaging that will be automated at a specified time for better engagement.
Missinglettr comes with a comprehensive post scheduling option so that you can schedule your Facebook posts in advance focus on other important tasks for your business.
Don't forget to read our Missinglettr review to know more about the software.
Price: Free & $19/month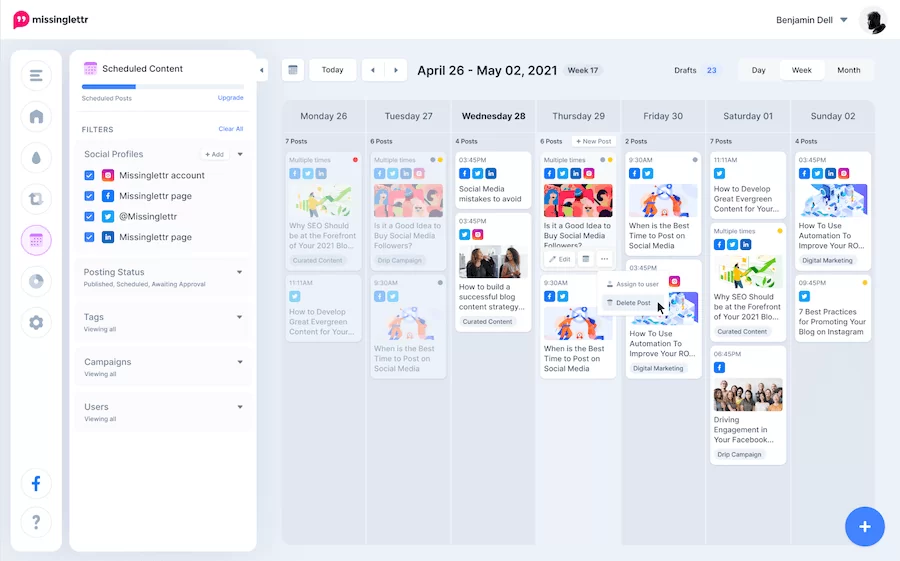 03

. ShortStack
ShortStack is one of the powerful marketing tools for Facebook, especially for holding giveaways and contests.
The tool also allows you to create campaigns and launch them, create emails and websites, and generate landing pages without needing a developer.
In addition, with the ShortStack dashboard, you get real-time insights on your campaigns, including likes, shares, views, traffic sources, and more. Before purchasing, you get a free trial of the plan you pick. You can also scale up the plan as your page grows.
Pricing: $99/month.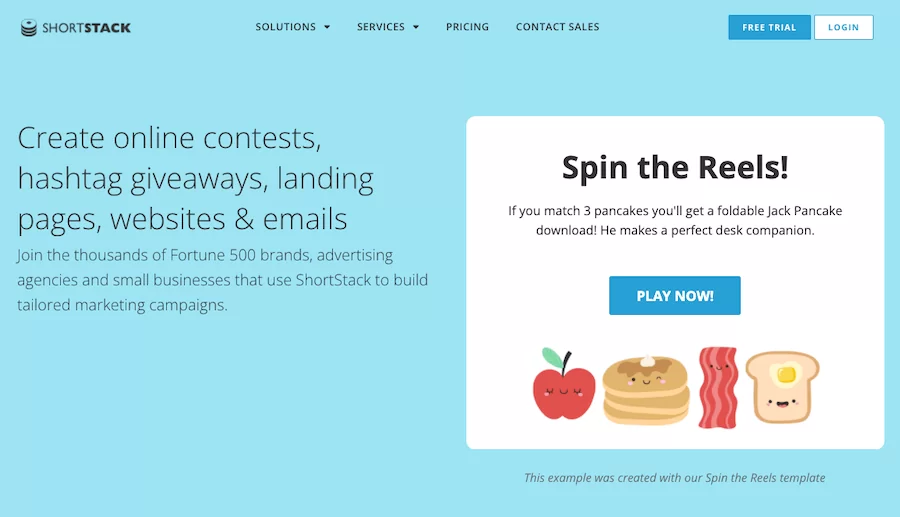 04

. Socialbakers
Socialbakers is an all-in-one social media marketing tool that is AI-powered. The tool provides multiple marketing solutions like social media management, content strategy, influence marketing, and more.
With the Facebook benchmarking tool, you get an insight into the performance comparison of you and your competitors. This way, you can understand where you are lacking.
You can analyze your audience with AI-powered persona mapping. Additionally, the tool also enables you to understand which post is right for you to publish.
Pricing: $200
05

. AgoraPulse
If you are looking for a reliable tool, AgoraPulse is the perfect tool for you. AgoraPulse allows you to manage your engagement and content on Facebook.
You can start campaigns, schedule posts, publish posts, and keep track of your activities through its robust dashboard. You can also analyze your competitors and promote your campaigns.
The campaigns that you can include quizzes, photo contests, fan votes, personality tests, and more. A free version of the tool is available, but you will have certain restrictions.
Pricing: $79/month.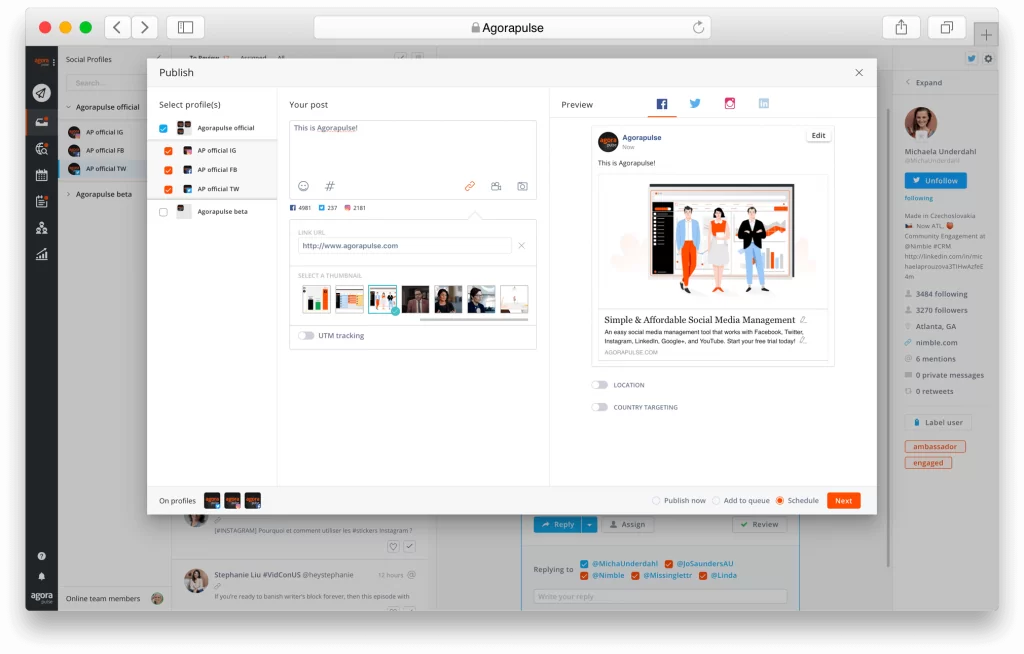 06

. Post Planner
Post Planner is an ideal marketing tool for users who want the 'Perfect' post that reaches their targeted audience.
The tool identifies the content at maximum possibilities for higher engagement to get ideas to create trending content. It further manages your engagements and posts efficiently within affordable pricing.
You can also analyze your performance with the tool. Furthermore, you can automate Facebook content posting with its custom published calendar.
Pricing: $5/month.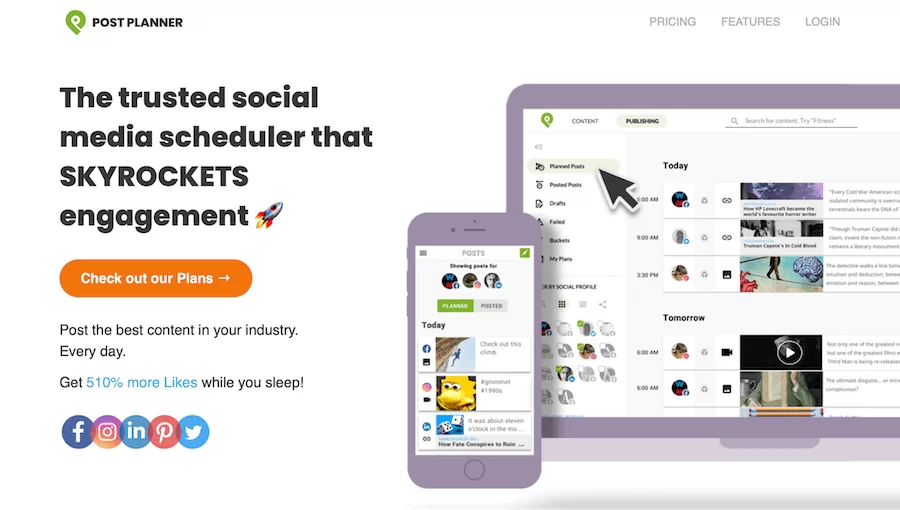 07

. Pagemodo
Pagemodo brings everything you need for powerful Facebook marketing to the table. It allows you to customize Facebook business pages. You can add stunning cover photos, engage with people, and launch a professional, welcoming tab for visitors.
With custom Facebook tabs and contests, you can convert your visitors into buyers. Additionally, it lets you optimize and design Facebook ads, create contact forms, schedule posts, and more.
It is an excellent tool for beginners as you do not need a single line of code to design or customize your business page with lead generation in mind.
Pricing: $6.25/month.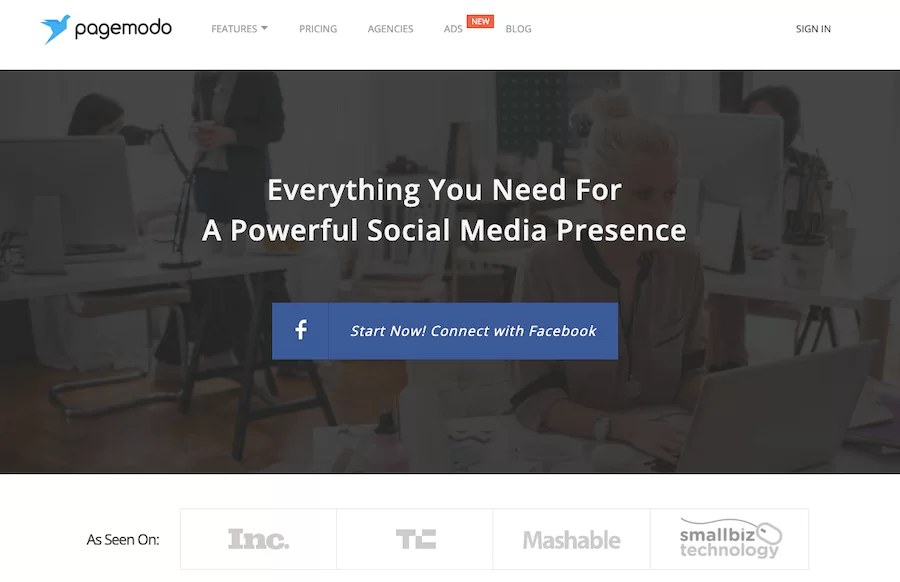 08

. FanPage Karma
Fanpage Karma is a Facebook analytical tool that gives you a detailed overview of your business. You can get an overview and overall score of your page. The best part is that if you are operating a single page, you can dig deeper into insights as much as you want.
This multi-functional management tool also plays a crucial role in providing other features such as monitoring of pages, publishing posts, and more.
Moreover, you can compare your progress with other pages. The dashboard gives you various details like timing, benchmarking, tagging, and more.
Pricing: Free basic version/ 49€ per month.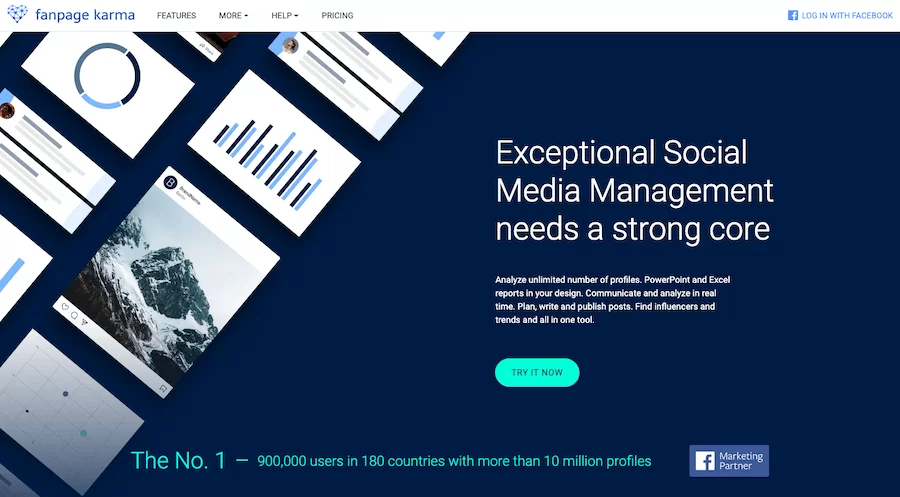 09

. Buffer
Buffer is one of the most affordable, intuitive, and robust social media management tools to reach more people for your business.
With Buffer, you can measure your Facebook page's performance within a few clicks, plan and publish posts, respond to comments quickly for better engagement, and track your growth.
Moreover, the interface is exceptionally beginner-friendly, making it perfect for small to large business owners to efficiently grow their business. You can also try out Buffer for free with the basic version. However, it comes with certain restrictions.
Pricing: Free basic version, $5/per channel a month.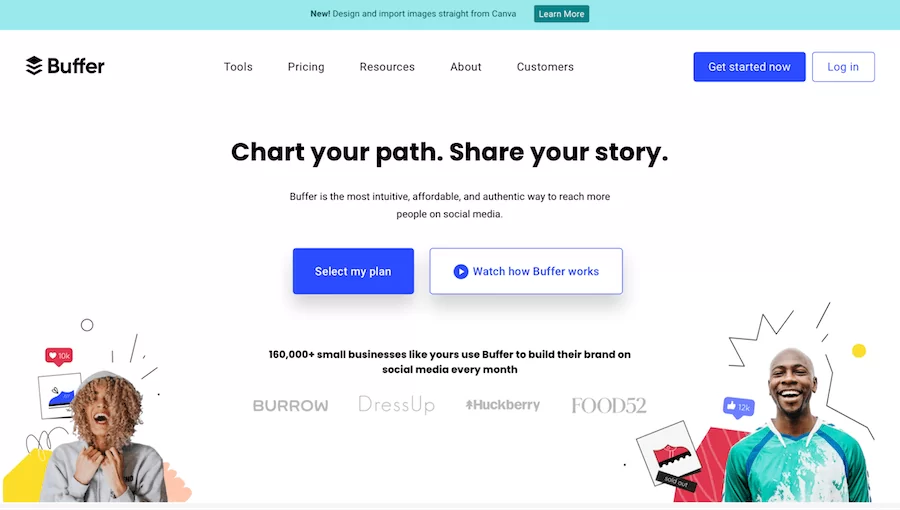 10

. Hootsuite
Hootsuite is a popular social media marketing and management tool that facilitates easy scheduling and publishing of your posts within a few clicks.
For Facebook marketing, Hootsuite plays a vital role by optimizing your Facebook ads and helping you to convert them into your buyers.
Besides, it helps you analyze the right audience for your content and facilitates easy engagement. The tool comes with a 30-day free trial, so you can decide whether it is ideal for your Facebook business or not.
Pricing: $29*/ month
11

. SocialPilot
SocialPilot is an all-in-one social media marketing tool that provides excellent features at an affordable price to grow your business efficiently. The tool offers robust publishing, detailed analytics, and easy collaboration for higher engagement.
If you are handling multiple Facebook pages, the tool comes in handy by letting you publish posts for multiple pages from a single dashboard. It boosts engagement by showing you the best timing to post and optimize your content.
Moreover, you can take advantage of the content curation tool within. With the help of this, you can search the top-performing content using the hashtag, domain, or keyword.
Pricing: $25.5/month.
12

. Canva
If you are looking for the best design tools for your graphics, Canva is the best pick. This designing tool lets you create excellent banners, graphics, posters, logos, and more.
There are plenty of in-built templates divided into various categories. You can pick a template and start customizing it as per your needs. For Facebook marketing, there are over 50,000 templates.
One of the best parts about Canva is that it has a beginner-friendly interface, which means even for users with zero experience, the tool serves the best of the designing world.
Pricing: Offers a free plan to get started.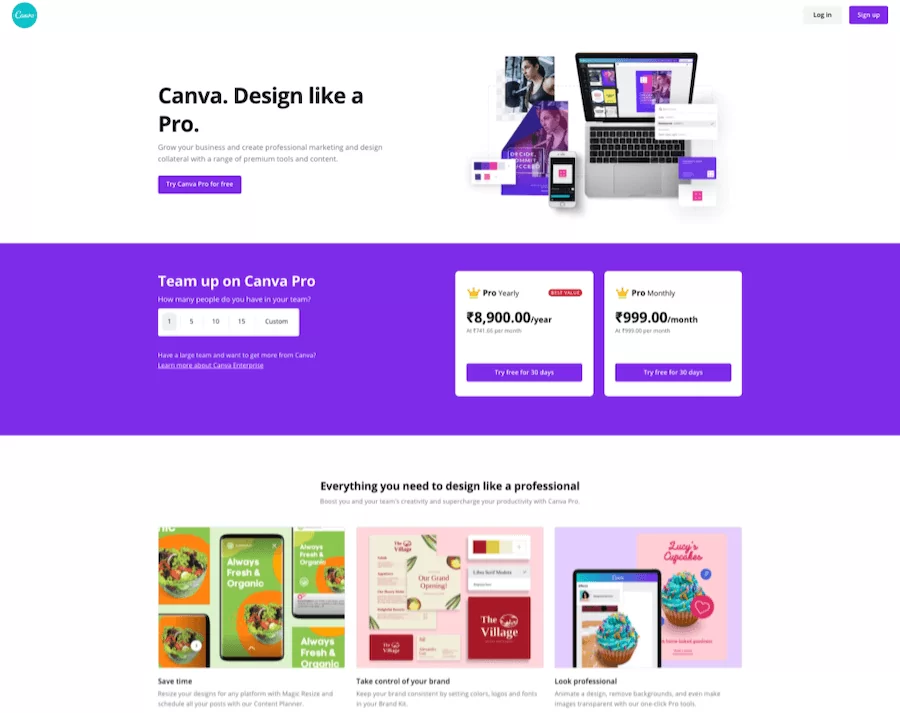 13

. Sprout Social
Sprout Social is an all-in-one social media marketing tool helping you to unlock social media's full potential and boost your business.
Their Facebook data analytics help you track and see your page's insights. Additionally, you can understand the impressions on your pages and segregate them with filters, including age, location, gender, and more.
The tool plays a critical role in helping you understand your audience and create posts based on their demands and interests.
Pricing: $89/month.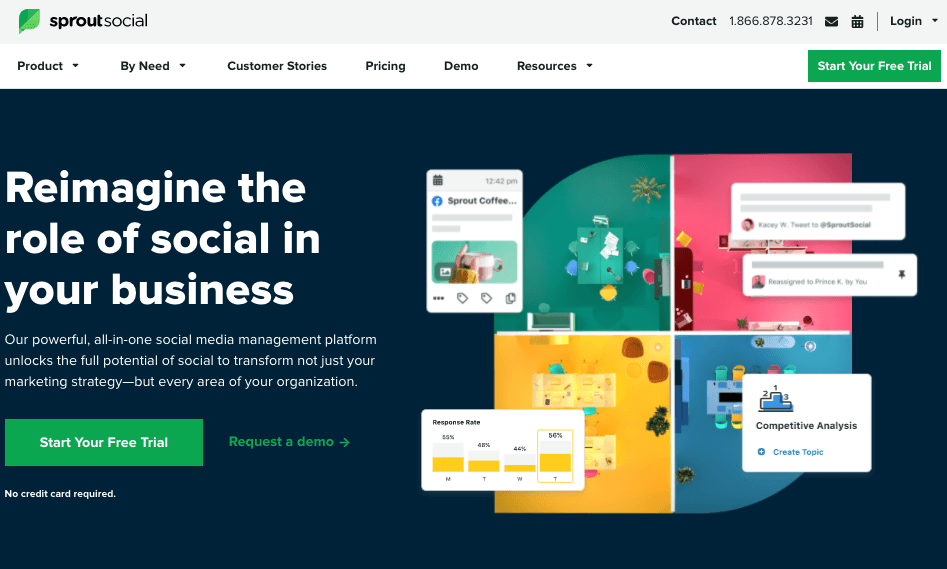 14

. WASK
If you are new to Facebook ads and not getting the ROI you are expecting, WASK is the platform that can help you.
A comprehensive digital ad management platform, WASK can help you to get more clicks on your ad while you spend less.
Starting from designing your ads to optimizing them for better ROI, you can manage everything from this platform. The tool comes with an easy-to-use ad designer that will make sure that your ads look very professional.
You can also manage your audience, create a new smart audience for better conversion right from the WASK interface.
Overall, WASK is one of the best software to increase your Facebook and other digital ads for better ROI and conversion. Don't forget to read this WASK review to know more about the platform.
Pricing: $9/month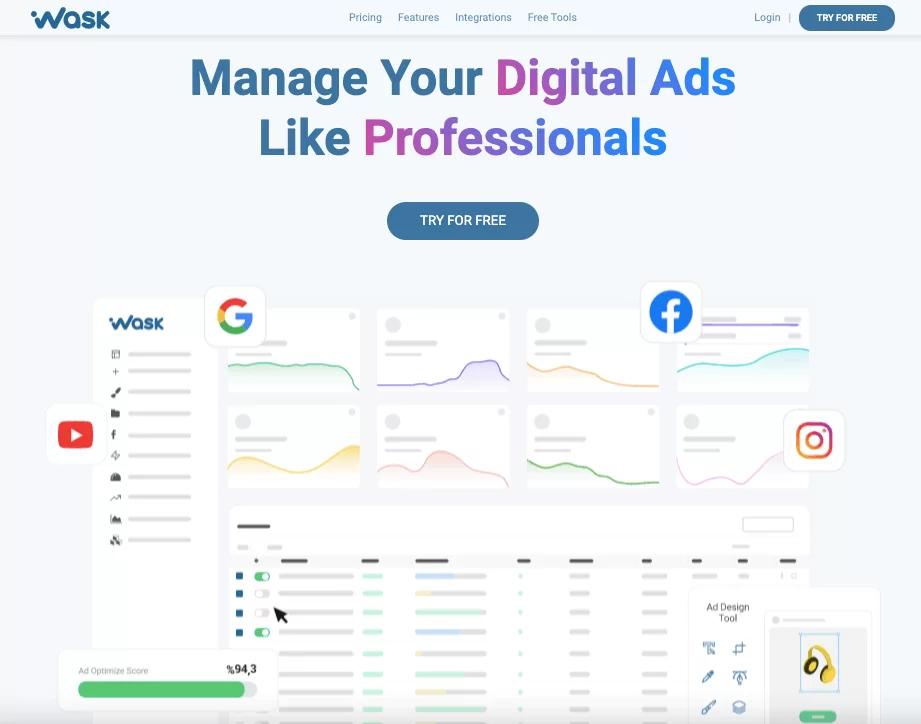 15

. Facebook Ads Manager
If you are using Facebook business pages, you are already aware of Facebook Ads Manager. It is a Facebook-owned tool that allows you to create ads for your page and manage them.
You can set the demographics and targeted audience by location, age, gender, and more. Furthermore, you can also set a budget for your ads. It then creates ads based on your requirements.
If you are a beginner, you can let Facebook Ads Manager run on its own without settings filters manually. It will automatically curate the right targeted audience based on your page and run ads.
Pricing: Customized plans.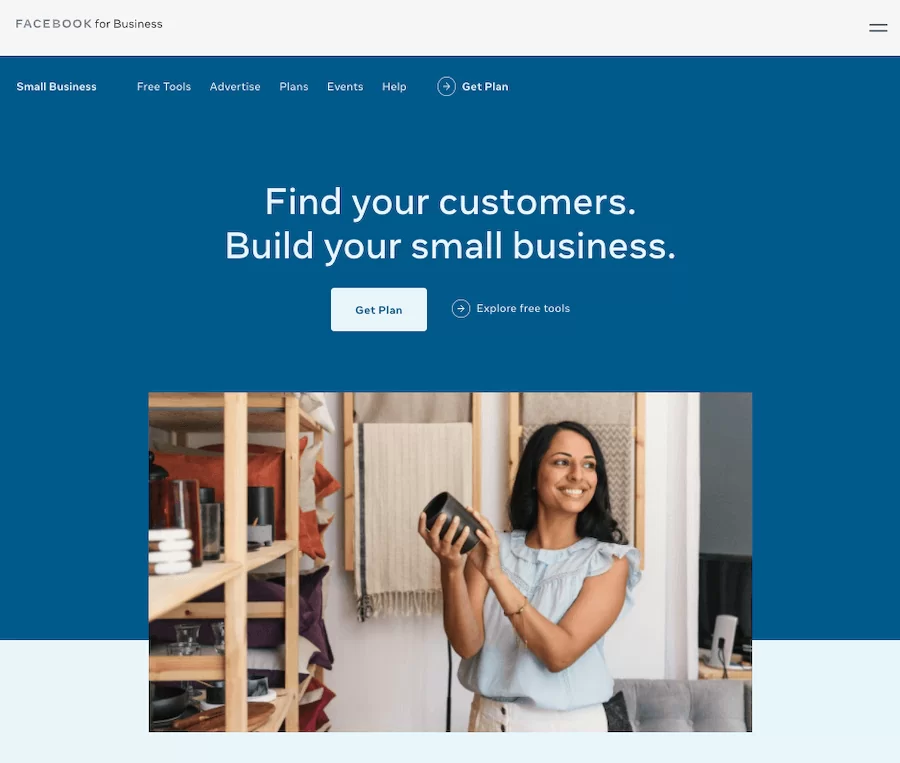 16

. Headline Analyzer
Having a catchy headline that attracts users to your content is essential. This is where Headline Analyzer comes as your savior. This tool helps you analyze your headlines, blogs, posts, and ads.
The tool analyzes the current search hits, traffics, and more and later suggests changes that will drive traffic to your content. The best part? The tool is free.
All you need to do is type your headline, and the tool will automatically suggest what's the best for you with a detailed breakdown.
Pricing: Free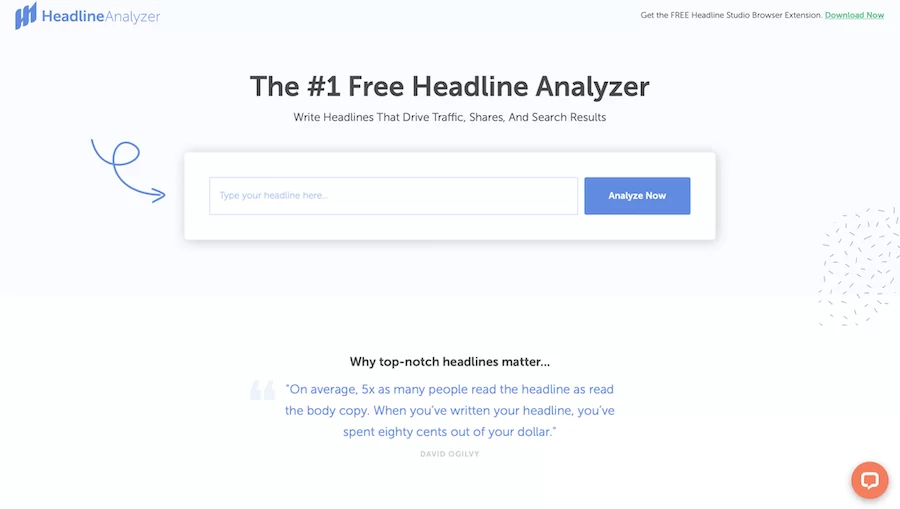 17

. SocialOomph
SocialOomph is another popular social media management software that you can use to schedule your posts for Facebook and other social platforms.
The platform support bulk post upload and so that you can schedule all your posts in advance. You can also create posts from the RSS feed.
You get 30 days free trial option to use the software and understand if it works for your business before you pay.
Pricing: $55/month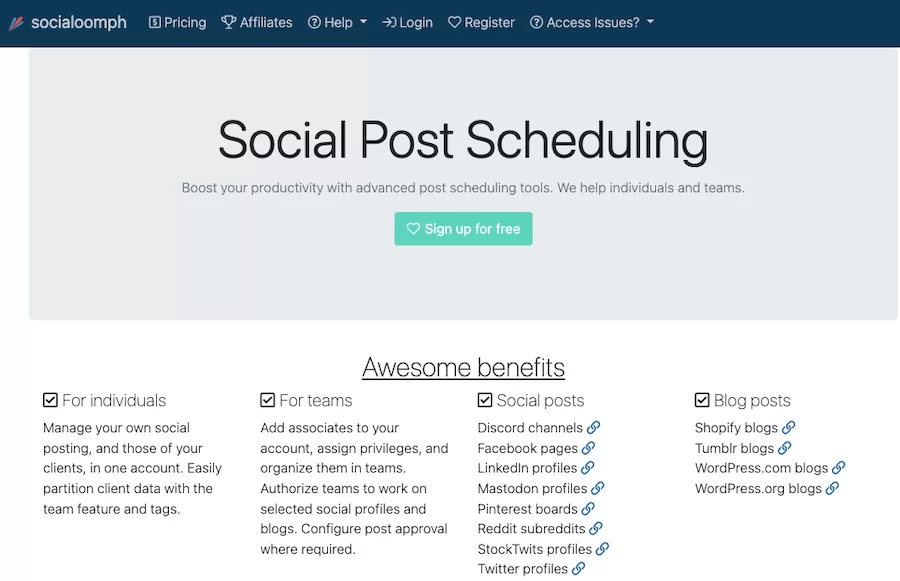 17

. MobileMonkey
MobileMonkey is a popular software for Facebook Messenger marketing that you can use to create an automated chatbot to grow your business.
In fact, MobileMonkey is a multi-platform chatbot builder. So, you can write content once and use it across all platforms to save your time.
The 24/7 instant autoreply system will help you to engage with your potential leads in a better way and convert better.
It is a newbie-friendly software, you can use the ready templates to create your chatbot. The drag and drop interface makes the process simple and easy.
Final Thoughts
Running Facebook campaigns can be time-consuming and challenging, but you can see results quickly with the right set of marketing tools.
All these Facebook marketing tools mentioned in our list work perfectly for Facebook and give your business a kick-start you have wanted for a long time.
You can schedule posts, handle multiple pages from one dashboard, get higher engagement, and more with the tools and get closer to success.
Over to you, which tools are you picking from the list? Let us know in the comments section below.
FAQs About Best Facebook Marketing Tools
01. Which is the Best Facebook Marketing Tool?
Undoubtedly, all the tools mentioned above work the best for Facebook marketing. However, if we have to pick one, we would pick ShortStack and AgoraPulse.
02. Which is the best Free Facebook Marketing Tool?
Various tools offer free plans, including Headline Analyzer, Canva, Buffer, and FanPage Karma.
03. Is It Important to Use a Facebook Marketing Tool?
If Facebook is one of your primary marketing platforms to drive traffic and sales, the tools we listed in this article will surely help you to increase the ROI.
04. Is Facebook a Good Platform for Marketers?
While there is very limited or no organic visibility on Facebook anymore, it is still a leading platform that you shouldn't ignore. In fact, Facebook is still the most profitable platform for many businesses. If you do it in the right way, you can still see good traction.
Don't miss the following articles: