Twitter is one of the most preferred marketing platforms for leading digital marketers. Other than the traffic, Twitter is a great platform to establish authority.
Twitter is not like any other social media platform because the feed is extremely dynamic and posts disappear within a matter of seconds.
So you will have to make sure that you are using the right kind of tools to maximize visibility on Twitter.
The good news is that there are a number of Twitter marketing tools that you can incorporate into your efforts.
Here is a list of the best options you can incorporate in your efforts with many of these options being free for you to utilize in many forms.
Top Twitter Marketing Tools
01

. TweetDeck
Started as an independent app, TweetDeck was acquired by Twitter itself. Won't this be the best app to manage your Twitter account efficiently, then?
With TweetDeck, you can get a customized experience on Twitter. Just by clicking the + present on the sidebar, you can manage:
Collections
Lists
Searches
Activity
Further, the search feature in it can be used to track hashtags, topics, and events. In addition to that, the searches can be filtered too. If you have multiple Twitter accounts, you can use TweetDeck to manage everything.
02

. Social Snap
Social Snap is an all-in-one social media plugin for WordPress sites. This plugin manages everything that you expect to have on your site, be it social media login or auto-posting on social sites.
This plugin makes it possible for your users to share your content on over 30 different social media sites. So, you will have all the leading social sites along with Twitter.
The plugin gives you the option to select the location of your share button. It will help you to increase your social sharing number by helping you place the buttons in the top converting locations of your blog post.
As far as the design of your social sharing button is concerned, you will have complete customization possibilities. You have different shapes of the button, sizes, button labels, animation, and more.
Displaying share count is one of the best ways to encourage other users to share your count as well. Social Snap offers you complete support to showcase the share count of a post.
Also, if you are migrating from another social media plugin, you will have the option to recover the share count of the posts shown on Social Snap.
Beautiful Click to Tweet box is another advantage of this plugin. It will help you to increase the number of tweets a post can generate by offering beautiful ready-tweet boxes on your post.
It also gives you an option to add two Twitter accounts that will be offered by Twitter to follow as a user tweets any of your blog posts.
03

. Bit.ly
The hassle that comes with trying to get certain Twitter lines out there can be a burden for many. But the good news is that Bit.ly is available to help people with shortening their URLs in their Twitter posts.
With Bitly, you can create unique branded links and also track how well those links are working. Your ability to create custom domains that will appear on your Twitter messages is particularly useful.
The simple nature of what Bitly has to offer should be something that you will appreciate using for many intentions as well.
04

. Commun.it
There may be times when you need to look at how well your Twitter community is being handled. Commun.it will help you with reviewing the ways how your Twitter community is functioning while offering many ways to promote your work.
You can use Communi.it to produce automatic follower welcome messages and to track details on all the people who are online.
You can use the points featured on Commun. to help you with interacting with your followers well and for identifying many ways to get in touch with others when you're aiming to promote the work you want to put in.
You can also schedule your Twitter posts using this platform to make the process easier and grow your Twitter following faster.
05

. Hootsuite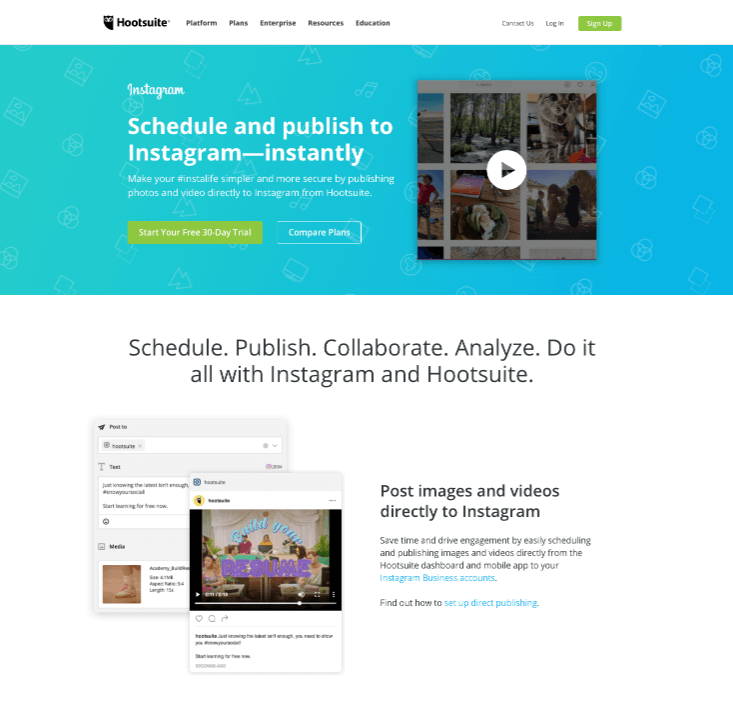 You'll have an easier time managing your followers on Twitter when you use Hootsuite. It helps you to manage your content and multiple Twitter accounts from one platform.
The tool is useful for all social media platforms, but it works particularly well for Twitter needs.
You can use Hootsuite to schedule when your Twitter posts are to get online, which is helpful when you consider how much work you might be putting into your effort.
You can also track your return on investment. The tool can analyze any marketing campaigns you are using and analyze how well people are responding to them, which gives a good point for how well you can move forward with your work in question.
If you need more options, here is a detailed Hootsuite review.
06

. Buffer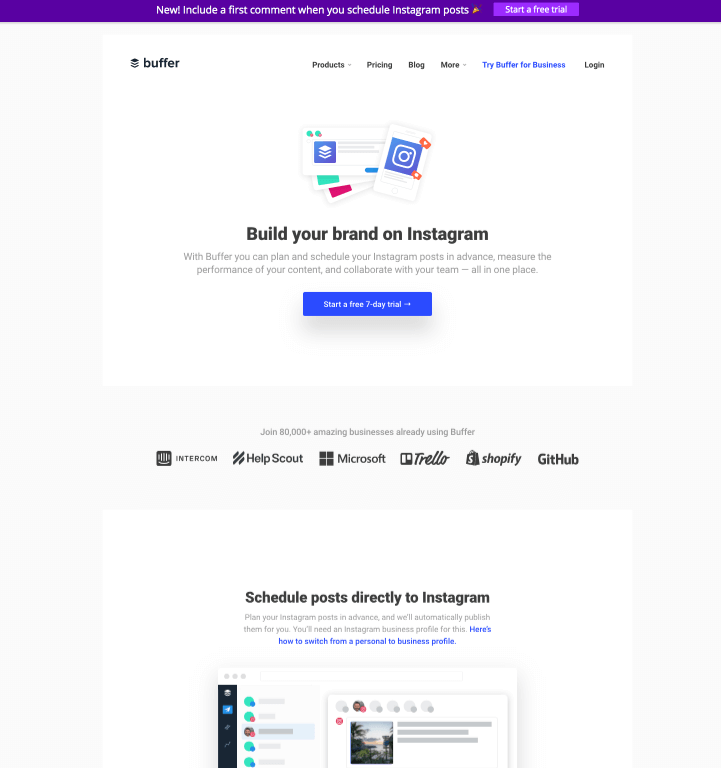 The problem that comes with trying to run Twitter is that you might potentially flood a follower's inbox with lots of messages, thus making it harder for you to convey messages to others.
The good news is that Buffer will help you to keep all that social media management work that you need to do in check so you won't have to worry much about where you are going with it.
With Buffer, you can specify times when you will post messages. You can also use the analytics tool on Buffer to get ideas on what the most popular times for your messages might be.
The full information included here will help you with noticing where you are going with your promotional work and that you have an idea of where you want to go.
Here is a detailed review of Buffer & the best alternatives to Buffer.
07

. Statusbrew
Trust by more than 10,000 businesses, Statusbrew is a reputed social media influencer marketing tool. Along with Twitter, you can also use Statusbrew to many other social media accounts too.
Statusbrew is designed for all size of the business, it's social media marketing platform supports:
Content creation
Management of marketing campaigns
Monitoring of engagement
Performance analysis
The social media ROI gives you an in-depth analysis of user engagements, their demographic information, and the number of impressions generated through the campaign.
08

. TweetReach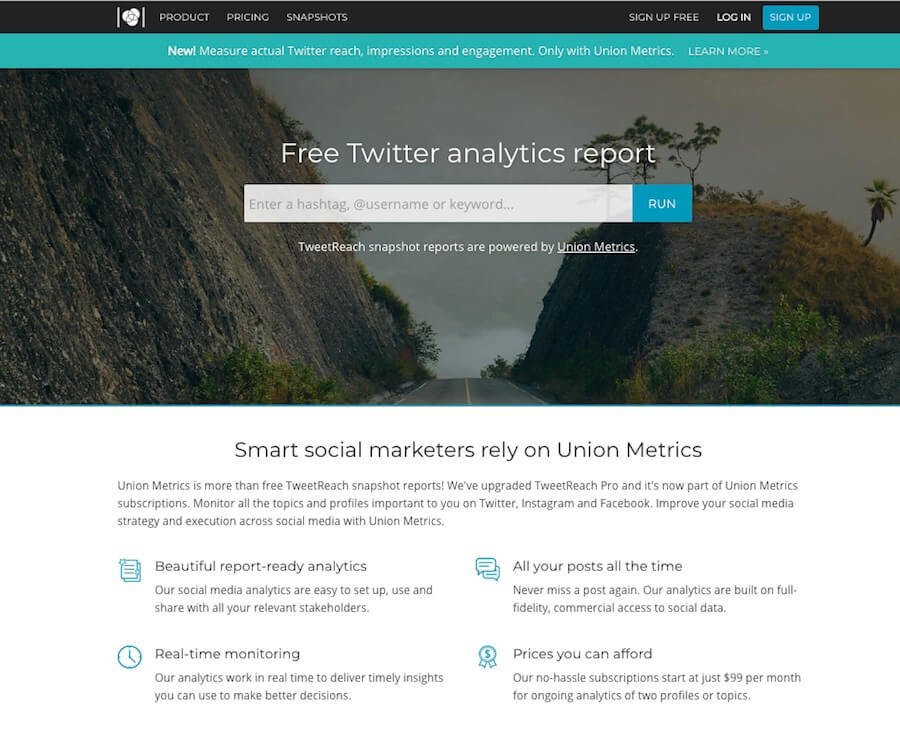 Find details on how well your Twitter posts are working with TweetReach. The tool helps you notice where your tweets are going based on how well your content is moving and how effective the messages might be.
The thorough content offered by TweetReach will help you with noting where your messages are going and how well you are reaching people.
You will not have to worry about missing a post when you use TweetReach for your promotional efforts.
09

. SocialRank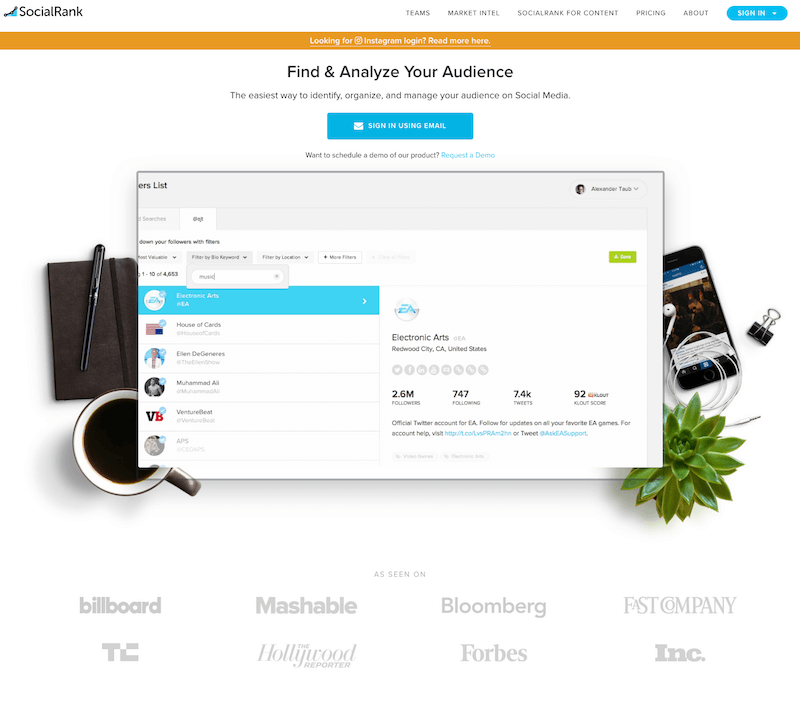 Having an idea of where your work is going on Twitter is critical to your success. SocialRank can assist you in identifying many solutions for marketing that work in moments.
The simple design that SocialRank uses makes it an indispensable option for your use that you are bound to enjoy working with.
The best part of SocialRank is that it makes it easier for people to find their target audiences and to make the most out of the content they are aiming to produce.
10

. Click to Tweet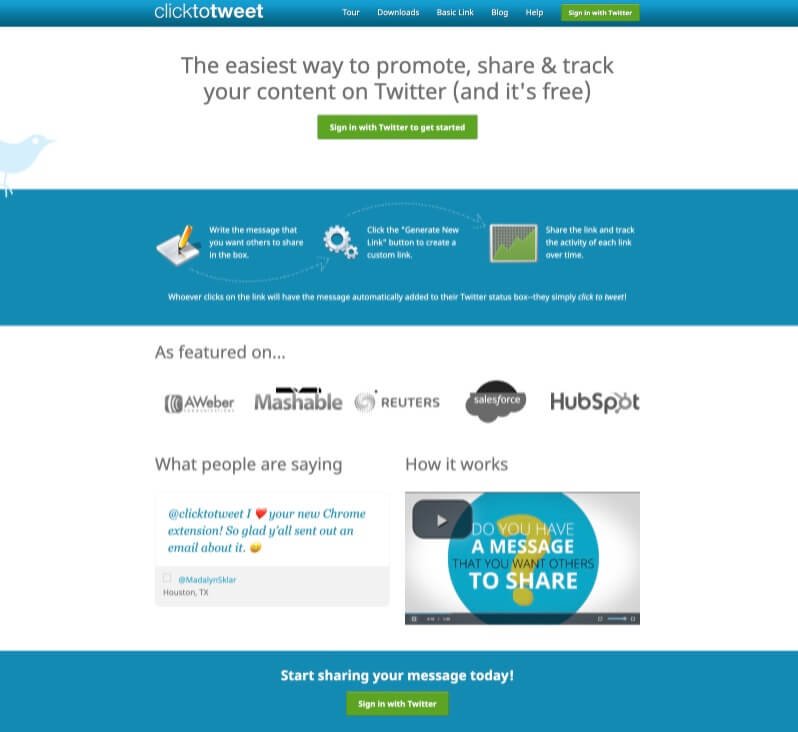 Click to Tweet provides the users with a super-easy way to promote, share and further track Twitter accounts. To get started with it, all you need to do is sign in with Twitter.
For using the Click to Tweet app, firstly you need to jot down the message that you want your followers to share. Then, click on "Generate New Link" which will create a custom button. Now share the newly created link for tracking the performance of your tweet.
11

. Twitonomy
You might need to look at the ways how your competitors are using Twitter for the best results.
You can use Twitonomy to find details on tweets, retweets, replies, and other particular mentions being used on a Twitter page.
You can also analyze the users that are not following you back and details on any hashtags that are leading people to where you are.
The thorough details that Twitonomy produces will help you identify where you are going with your content.
12

. Foller.me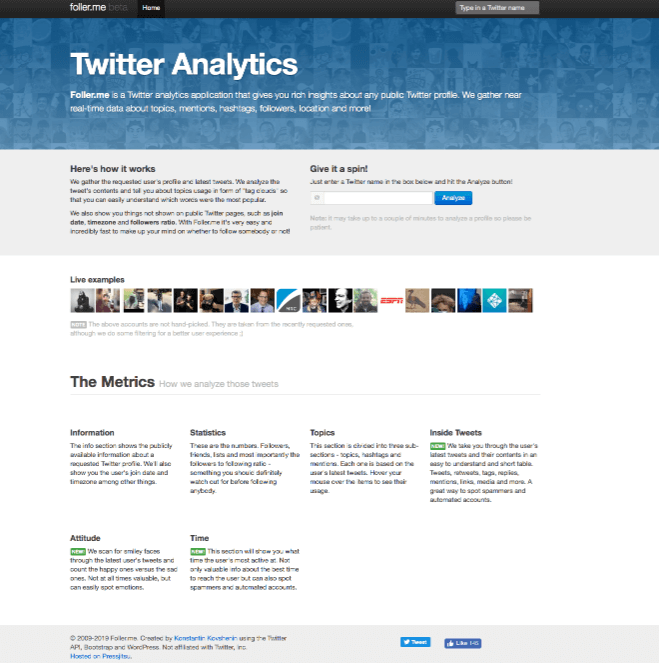 The next option to see here is Foller.me, a tool that helps you to notice many things that you might not find in public Twitter pages.
You'll get details on follower ratios, join dates, and many other metrics. You can get live details on each of these metrics to help you figure out what you should be doing when following people or at least making your work more visible while online.
13

. BuzzSumo
The helpful design of BuzzSumo makes it an indispensable tool for many uses.
BuzzSumo provides a simple interactive layout that offers help for identifying retweets and other common actions within one's work. The content support includes details on the content you're working with.
A unique content discovery tool is utilized in BuzzSumo to help you find details on many things relating to your account.
You can use the discovery features in BuzzSumo to help you with identifying many trends in your work based on what you are doing and how you're going to reach people in many forms.
14

. RiteTag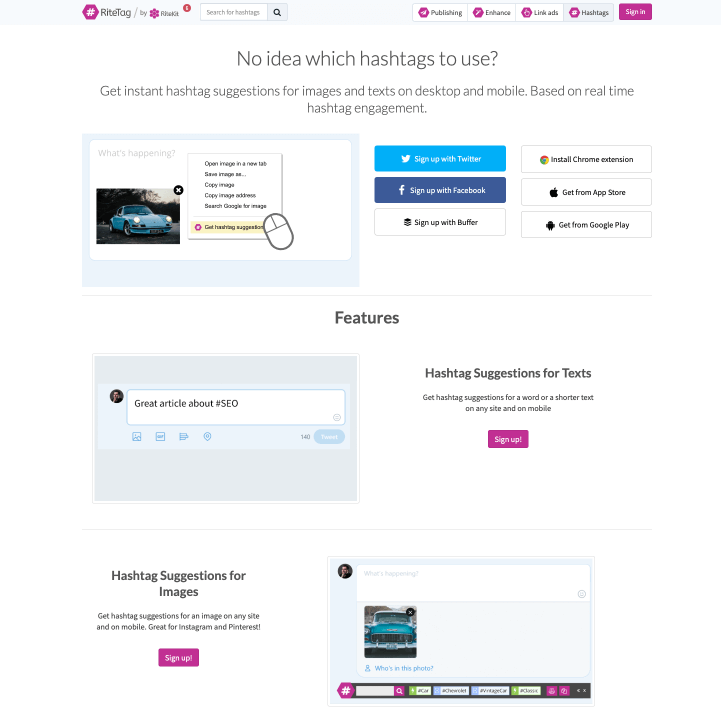 The hashtag support feature on RiteTag makes it a helpful tool for your use. RiteTag works with a design that lets you identify great hashtag ideas for your use.
The design that RiteTag uses focuses heavily on providing people with extra help for managing their content and getting their work arranged.
The layout involved with RiteTag simplifies the process associated with producing your work and with making your efforts managed right.
15

. AgoraPulse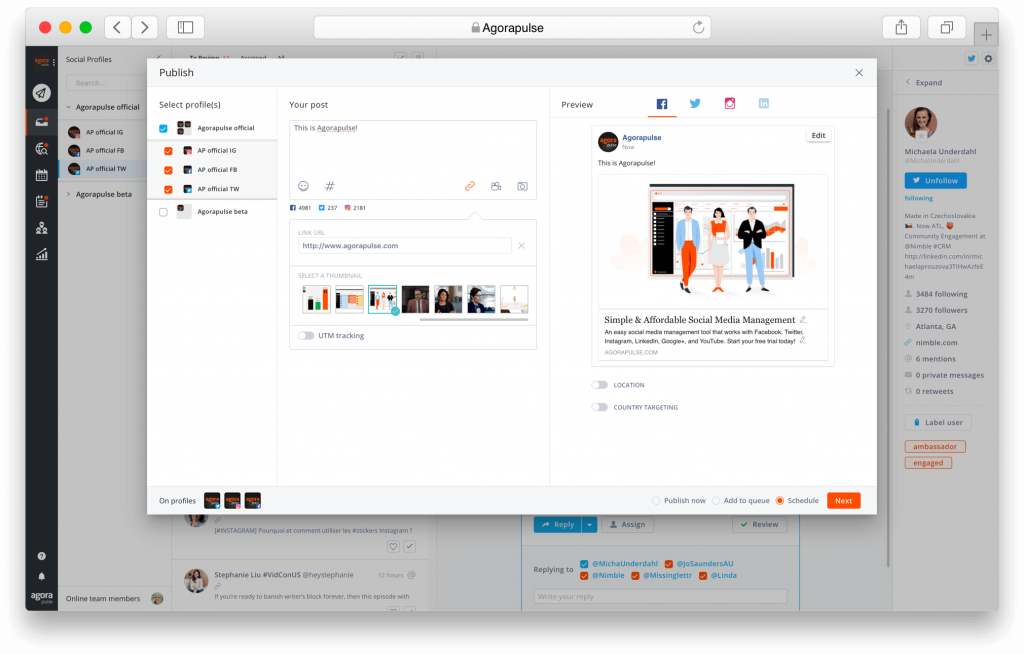 AgoraPulse is your next choice to review for your Twitter marketing needs. AgoraPulse provides a management setup that lets you engage with your followers.
You can post content to Twitter and then time your posts to appear at the right times. You can also restore any bits of content that you might see as evergreen.
The posts for Twitter can also be customized, although you can do this with different post standards for certain social media platforms if you prefer.
The designs included here will ensure you'll make more out of the work you're planning while on AgoraPulse.
Don't miss our detailed review of AgoraPulse
16

. Audiense Connect
Audiense Connect gives you more control over your Twitter marketing work by working with many tweet management tools.
But one unique feature of Audience Connect to see entails the chatbot feature.
You can produce a chatbot that includes unique conversation trees that you can use when getting in touch with people on their mobile devices.
You can use these chatbots to confirm your interest in another person and to make it easier for someone to sign up for different services through Audiense.
17

. Bluenod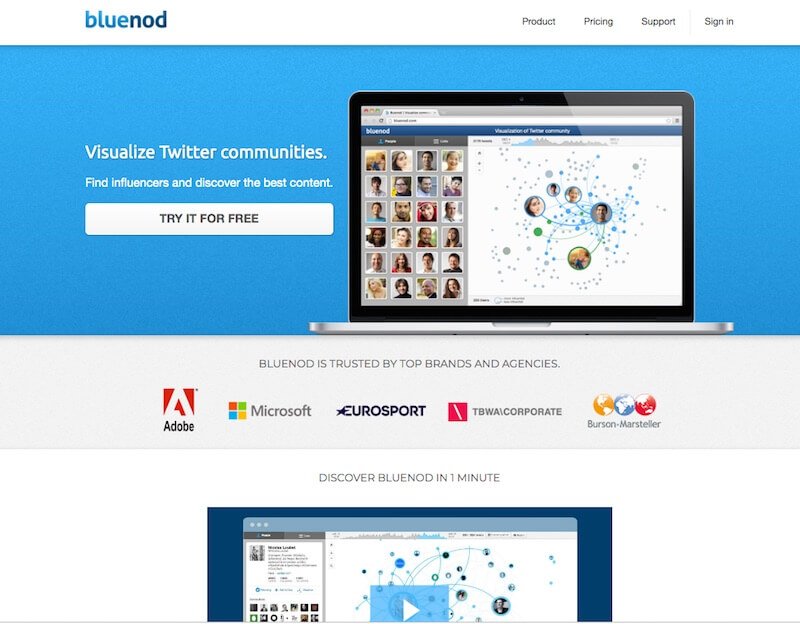 Bluenod gives you a full visualization feature that lets you identify what is happening on the site.
The design helps you to find information on who is following you and what you can do with those people in particular.
The simple layout of Bluenod is important for noting how well you are getting online.
18

. Crowdfire
Seeing how some Twitter posts may be more effective if they are timed at the right points, it helps to see what Crowdfire has to offer.
You can use Crowdfire for helping you to reach people in moments by scheduling the content you're working with.
You can also discover new content through Crowdfire based on the topics of interest that you want to highlight online.
The layout of Crowdfire simplifies how well you're going to reach people while also being convenient for use in many situations.
You can also publish content from your blogs and sites on Crowdfire in moments, thus facilitating a simple layout for managing data.
19

. iTrended
There are often times when certain trends might be more prominent on Twitter than what you would find elsewhere.
iTrended helps you to identify official Twitter trends and will show information on what trends are coming about in certain parts of the world. You can review how a trend starts and how long it might last.
This feature is critical for identifying many ways how unique activities on Twitter are coming about and what might cause people to do certain things online.
20

. Trends24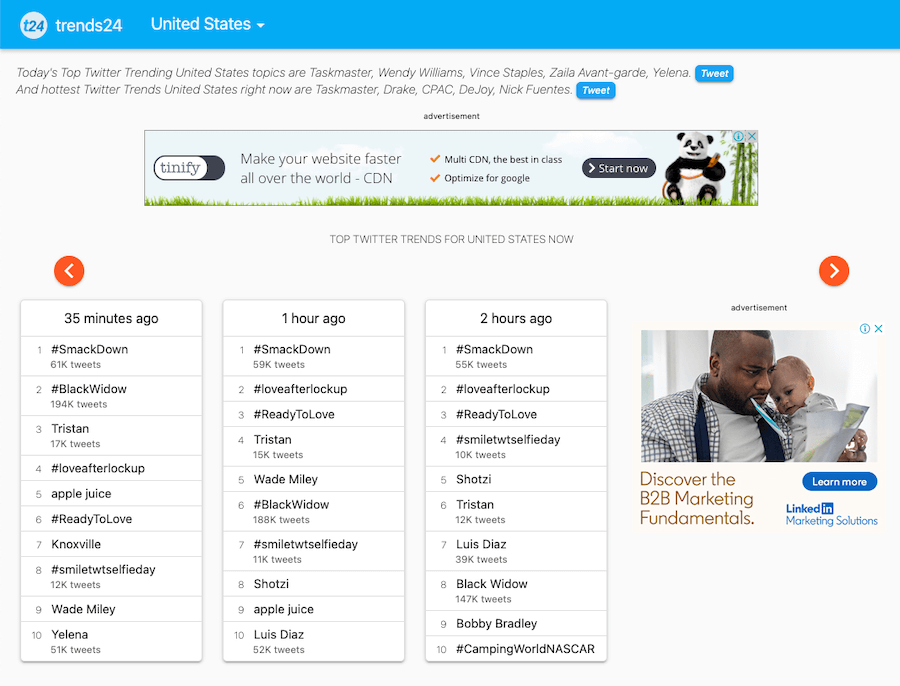 If you can smell the topics that are trending on Twitter, won't it be super easy for you to trend along with the trending topic?
If you do not have to promote anything but want to trend by taking part in the hottest discussion of the topic on Twitter, you can use trends24.
Updated every hour, trends24 informs you about the trending topic on Twitter, both on a global and national level.
21

. ManageFlitter
ManageFlitter has been one of the very handy Twitter marketing platforms that give you the option to manage your Twitter accounts from one dashboard and you can use this platform to schedule your posts when most of your audience is active.
You can track the timing when most of your audience is active on the platform and plan your post timing accordingly. This platform will help you to keep your account active with fresh content while you are busy doing other tasks.
FAQs About Top Twitter Marketing Tools
Q1. Is Twitter a Good Platform for Marketers?
Certainly, it is. Twitter is one of the leading social media platforms and if you do it correctly, you can leverage this platform to build a brand. Other than organic reach, Twitter allows you to promote your business and create a buzz around anything coming up shortly.
Q2. How Can I Post on Twitter Automatically?
We have listed several tools in this article that will help you schedule your important tweets in advance to keep your account active with fresh content around the clock.
Q3. What Are Some of The Best Twitter Marketing Tools?
There are a number of quality tools these days that you can use to grow your Twitter reach. Tools like Hootsuite, Buffer, AgoraPulse are some of the best tools that you can use.
Q4. Can I Grow My Twitter Following Without Any Tool?
Sure you can. However, it will take you more time. Also, you will have to be manually active most of the time to promote your content and engage with other's content which will take away a lot of your productive time.
Q5. How to Market Your Product on Twitter For Free?
Hashtags are very effective on Twitter unlike other social media platforms. So, make the best use of this feature by promoting your content by using the right kind of hashtags. Also, be an active participant on any viral topic around your niche so that other users find your account. Be creative with the tweets, add humor as far as possible (it always works)
Final Word
Each of these tools should be noted when you're planning an effort to enhance your reach on Twitter.
Be sure to notice these tools the next time you need help with finding a way to see where you are going with Twitter and with getting a better audience all around.
Also Don't miss the following article.