Are you looking for the best torrent clients? Well, we have listed the top five options in this article.
Whether you want to stream a movie or want to binge-watch a television series, torrent clients are the solution for everything. Streaming content from torrent clients excuses you for paying hefty premium service. 
Today we will look at the best torrent clients who are available out there. You can use this list for streaming any kind of media content.
What are the best torrent clients?
BiglyBT is a feature-rich BitTorrent client that has been developed in open-source. You can enjoy an ad-free experience on BiglyBT.
The website was first developed in 2003, and since then, it has been maintained regularly by the original coders. The latest version of BiglyBT is the BiglyBT v2.3. The recently launched features in this version include:
Tracker session statistics
Sidebar indicators
Better bootstrapping
In addition to this, the developers have added categories in order to check the archived download view. The sidebar indicator is present for My Torrents and My Shares.
Supported Platforms: Windows, macOS, Linux, BSD, Android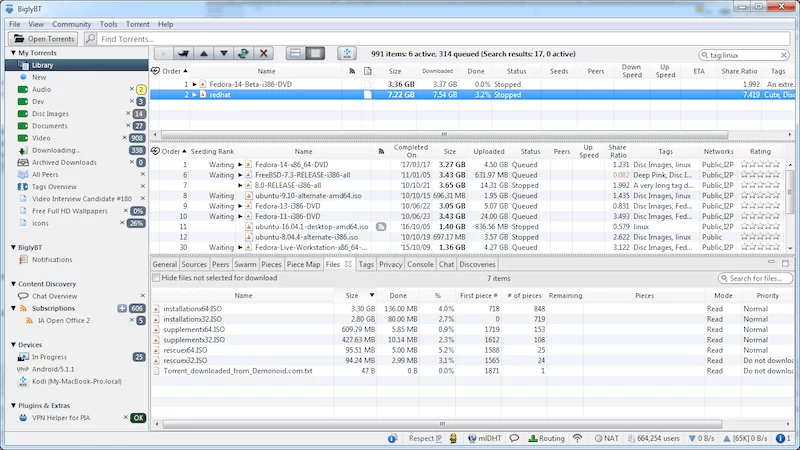 Deluge is a cross-platform BitTorrent client that is fully featured. It is free software. It is licensed under GNU and GPLv3+.
The common features that Deluge shares with BitTorrent are:
Protocol encryption
DHT
Local peer discovery
Peer exchange
UPnP
NAT-PMP
Proxy support
Web seeds
Global speed limits
Pre-torrent speed limits.
One can use Deluge both as a client-server and normal standalone desktop application.
The three primary user interfaces of Deluge includes:
GTK UI for the desktop
Web UI for the browser
Console UI for the command line
The plugins which are included in Deluge are AutoAdd, Blacklist, Execute, Extractor, Label, Notification, Scheduler, Stats, WebUI, and Toggle.
The latest version of Deluge is Deluge v2.0.3, and it is available for Windows, Mac OS X, and Linux.
Supported Platforms: Linux, Windows, macOS, BSD Unix
qBittorent is the best alternative to torrent. It is built on an open-source and runs on the major platforms (Windows, macOS, Linux, and FreeBSD).
The features of qBittorent are:
User-friendly interface
No advertisement
Extensive search engine which is well integrated
Bittorrent extension supports like mango links, private torrents and encrypted connection
Remote control
Sequential downloading
Bandwidth scheduler
IP filtering
Torrent creation tool
qBittorent is available in more than 70 languages. The volunteers develop the site during their free time.
Supported Platforms: Windows, macOS, Linux, BSD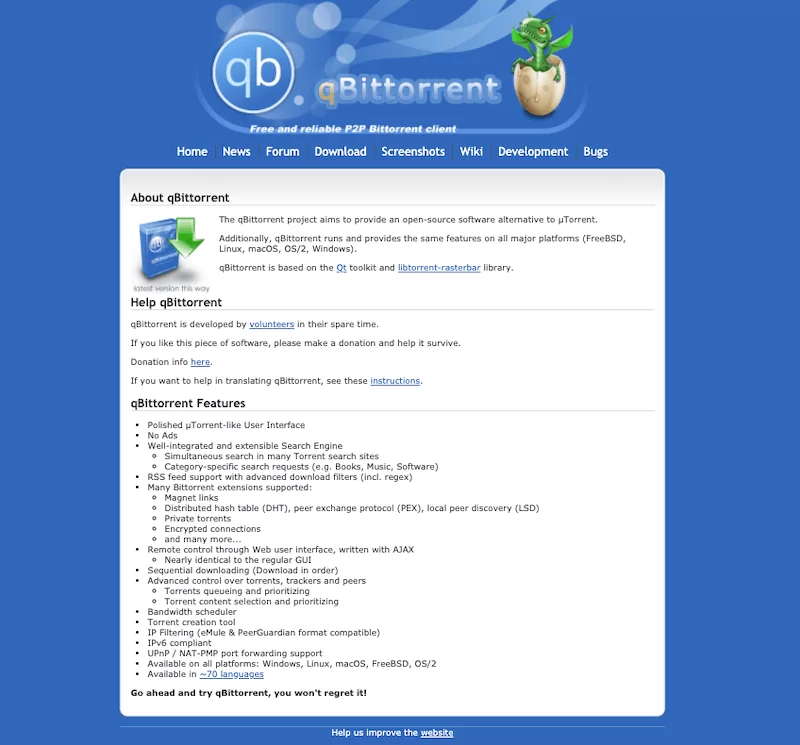 Tixati is a unique torrent client. It is primarily because it says no to both adware and spyware. It is fully independent and is not dependent on any .Net frameworks and Java.
The Tixati can be run on portable media and USB flash drives. The latest version of Tixati is the Tixati v2.71. It has the following features:
New option for sequentially downloading matching files and for orders download
IP location tables are updated
Channel username change rate can now be taken to higher user levels
Like other torrent clients, Tixati supports sequential downloading, prioritization, and magnet links. The USP of Tixati is that it provides the user with the breakdowns of the bandwidth usage, which is a convenient feature.
If you are a beginner, Tixati will be perfect for you!
Supported Platforms: Windows, Linux
Vuze is an end-to-end app for meeting all the torrent needs. It has a lightweight footprint and, therefore, ensures that the computer doesn't slow down while you quickly download the torrents.
Once you find the torrent that you want to download, Vuze makes the entire process easy for you. It automatically sets the download speed to give you an optimized experience.
Features of Vuze include:
Access to Vuze torrent bundles
Magnet link
Media playback
Integrated metasearch for easy content discovery
Access to plug-in library
Remote control via mobile app and web
Swarm discoveries
Device playback
The Vuze torrent client comes with a built-in torrent download manager where you can check the status of the bittorrent downloads.
Supported Platforms: Windows, macOS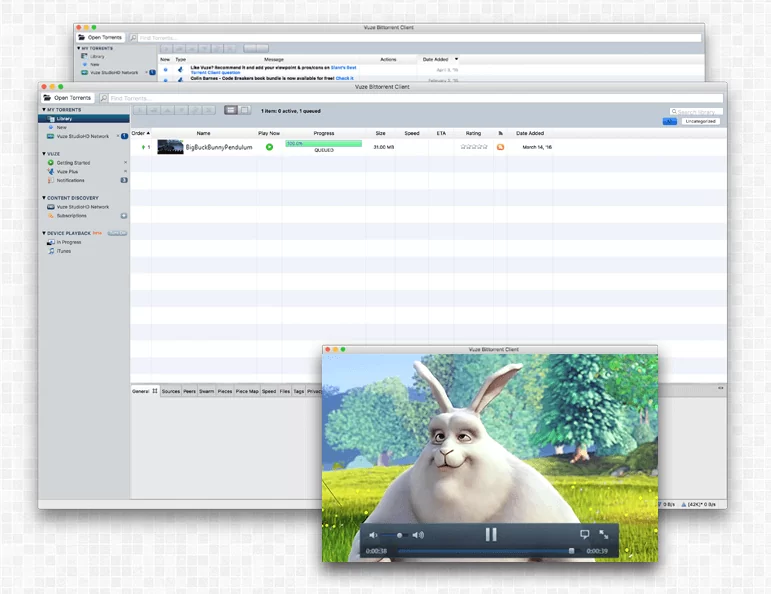 FAQs
---
1. How to search for the right torrent to download?
You can search for the right torrent by following the steps given below:
Go to any torrent site and search for the torrent file that you want to download.
Choose a torrent link that is healthy and download from it. The healthy torrent link is the one that has the highest number of seeders and peers. Few of the torrent sites verify the torrent link as clean with a verified icon.
Click on the torrent link. Click on the magnet to use the magnet link for downloading the torrent. A magnet link is a hassle-free way of downloading a torrent file.
Your download will begin automatically. Initially, the downloading speed will be slow, but gradually, the speed will increase. You do not need to worry about it.
2. How can I become a useful member of the Torrent community?
If you are asking this question, you might have come across the term "leechers." In the torrent community, a leecher is someone who does not download a file completely. A leecher can turn into a seeder when he shares the file that he/she has downloaded with others.
You need to do the uploading part, too, once you have finished the downloading! It is recommended that you keep the Torrent client software going for three hours, even after the download has been completed.
It is not always possible to wait for such a long time! Therefore, you can always download the torrent file before you go to sleep. Once you wake up, the uploading will be done too.
3. How to increase the speed of Torrent downloads?
The torrent files don't get downloaded at lightning speed! However, you can speed up the process of torrent downloads. You can increase the speed of Torrent downloads by:
Maximizing downloading speed and minimizing uploading speed.
Use the right torrent client.
Download only the healthy torrents. The healthy torrents are the ones whose seeder-leecher ratio is high.
Allow torrent downloads through the firewall
Set the bandwidth allocation to "High."
Manage the torrent downloads using a scheduler
4. Why using a VPN for downloading the torrent files is essential?
You need to use a virtual private network (VPN) to encrypt your traffic. The AES encryption cannot be easily decrypted by the Internet Service Provider and keeps you safe.
For using a VPN, all you need to do is download a VPN client, and you are good to go.
5. What are the best VPNs to use for downloading torrent files?
Here is a list of all the free VPNs that you can use to download the torrent files:
CyberGhost
TunnerlBear
OkayFreedom
Opera VPN
In case you want nothing but the best, you can try these premium VPNs:
ExpressVPN
VyperVPN
NordVPN
Windscribe
Proton VPN
Wrap Up
After using all the Torrent clients that we have suggested, we can say that Tixati is definitely the winner! However, if you are a macOS user, you will have to look for some other torrent client from the list.
It has all the options that you will be needing to download the torrent files. Also, it has a user-friendly interface and is light-weight. It serves the perfect balance between minimalism and functionality.