SSL certificate (Secure Sockets Layer) is extremely important for every website these days.
Google has already made it clear that site SSL certificate is a Google algorithm component and sites with good protection will have an advantage over unsecured sites
You'll need to ensure you have the best possible Secure Sockets Layer or SSL certificate for your website so people can trust your site.
The SSL protocol is necessary for producing encrypted links to keep data from being exposed.
You can find many free SSL certificates from different groups that offer these certificates for confirming sites. But you have to look around well to find great groups that will ensure you can get the protection that you might require.
Let's look at ten of the best sources you can work with for free SSL certificates.
Note: You will have to take a look at how well the SSL certificates are offered through these sites. Some of these sites will only work with free certificates for a brief period. This would work through a general trial. Check the links on this report to look at the terms involved with getting SSL certificates.
Where to Get Free SSL For Your Site
01

. Let's Encrypt
Let's Encrypt promotes itself as being the open certificate group that offers the best-automated SSL certificates for people to utilize. Their system has been trusted by Mozilla and Cisco among other groups for years.
What makes the certificates Let's Encrypt offers so useful is that they are options that are fully automated.
You won't have to worry about a CA authority having to sign the certificate. The protection included runs quickly and secures the content well.
The certificates offered by Let's Encrypt only last for about three months on average.
You'll have to get new ones on occasion, although this point ensures that the content you use is secure and will not be stolen by other parties.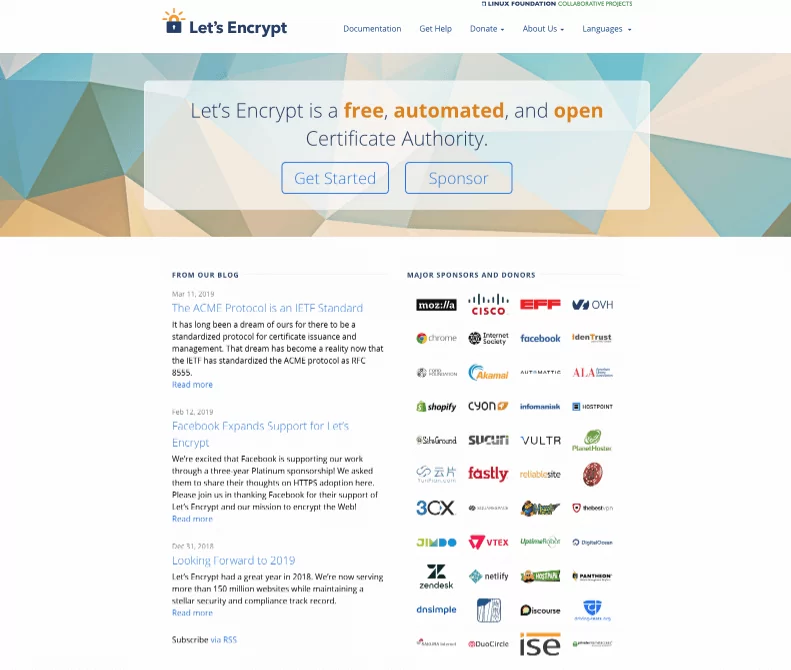 02

. CloudFlare
CloudFlare is a provider of SSL certificates that help enhance how secure your connection may be. With CloudFlare, you can secure your content on all types of connections.
You can particularly use CloudFlare if you're trying to promote a mobile website. The SSL certificates are useful for both Android and iOS devices.
It takes about five minutes for you to get the SSL certificate ready for your site. You don't have to switch hosting providers, nor do you have to change any bits of code in your system.
The arrangement you will get ensures you'll make the most out of the work you are planning here.
Also, the process for implementing the certificate to your site is easy to follow thanks to how simplified the content works.
You can use the design on the CloudFlare platform to produce a firm layout for managing your SSL data the right way.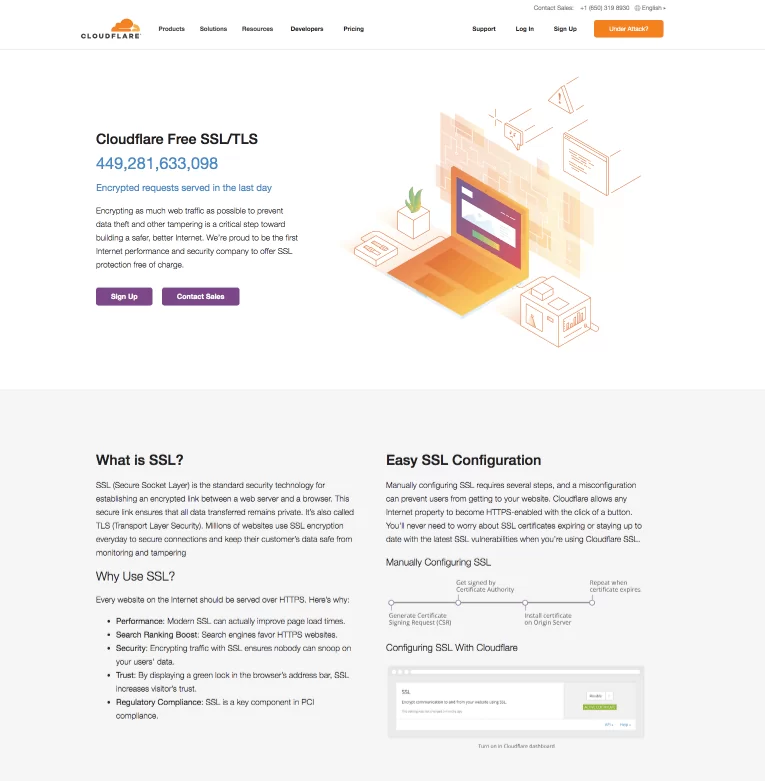 03

. ZeroSSL
ZeroSSL is your next choice to see when finding a quality provider for SSL certificates. The simplified website that ZeroSSL offers helps customers with finding the SSL certificates that they need for specific intentions.
The design works with support for all major browsers and will install in a few minutes on average.
ZeroSSL also offers an option where you can get SSL certificates for your server on your own.
You would use the Domain Knowledge Ltd. software client and then use this to issue and renew certificates automatically. The support helps you to extend the functionality of the system and operates off of the Perl programming language for your convenience.
The system also gives you help with integrating the SSL data with many outside modules.
The conditional renew feature also lets you determine how many days will go before the expiration occurs, thus letting you control how well the user's certificate works before it needs to be renewed.
A longer period may be programmed if you plan on using a certificate for a while or if you don't have any big changes coming soon to your site.
04

. InstantSSL
Compatible with all major browsers, InstantSSL is very similar when it comes to delivering services to the providers mentioned above. It also provides for a trial period of 90 days.
Features:
It requires domain validation before the issuance of a certificate.
It provides a fully secure website through 256-bit encryption.
It offers the same experience of the 2048-bit root as the paid certificate does.
PROs:
The certificate is issued within minutes.
It is fully functional for one domain.
CONs:
It doesn't provide any technical support or warranty during the free trial period.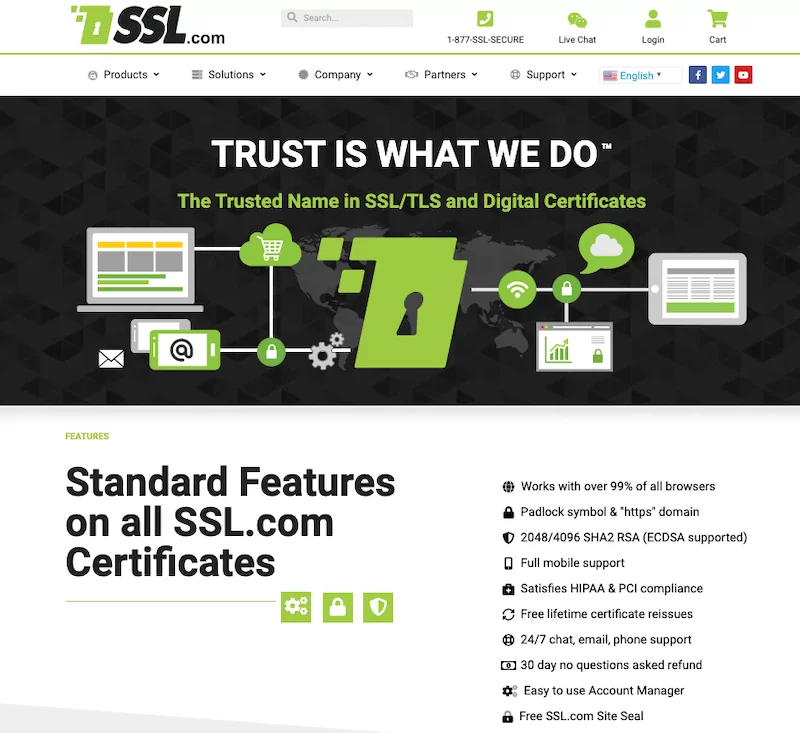 05

. HostGator
HostGator, through its hosting services, provides its users with a free SSL certificate with unlimited support for domains and subdomains. Each hosting plan includes a free SSL certificate. Although you can pay additional fees for additional features of the certificate.
Features:
The certificate is recognized by all the major browsers.
It employs a 256-bit encryption level.
Automatic and easy setup.
PROs:
HostGator provides 24/7 customer support along with a 45-day money-back guarantee.
The certificate covers both domains and subdomains.
CONs:
The free certificate doesn't provide any warranty.
Pricing – The basic hosting plan costs $2.75/month.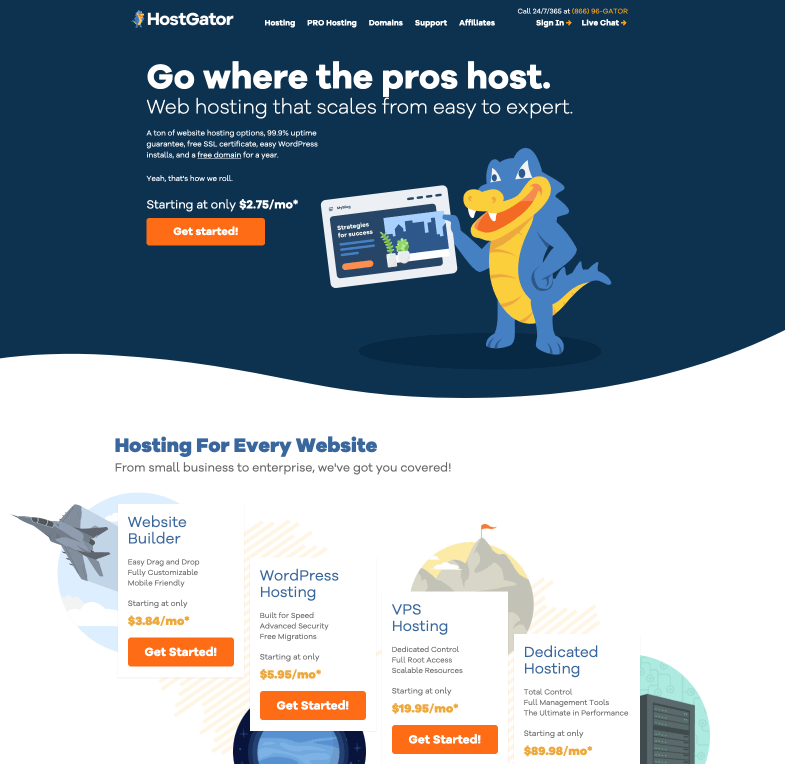 06

. DreamHost
DreamHost, being one of the best web hosting providers on the market, offers a free Let's Encrypt SSL certificate to all its users along with all their plans.
Features:
The certificate helps in fixing any insecure resource or link on your site.
It facilitates automatic renewals.
It doesn't require any validation email.
PROs:
It provides excellent 24/7 customer support.
It employs all the modern security techniques at absolutely no cost.
CONs:
The free Let's Encrypt SSL certificate doesn't display a certificate seal of trust. You have to upgrade to Sectigo ($15/years) for that.
Pricing – The web hosting plans start at $2.59/month.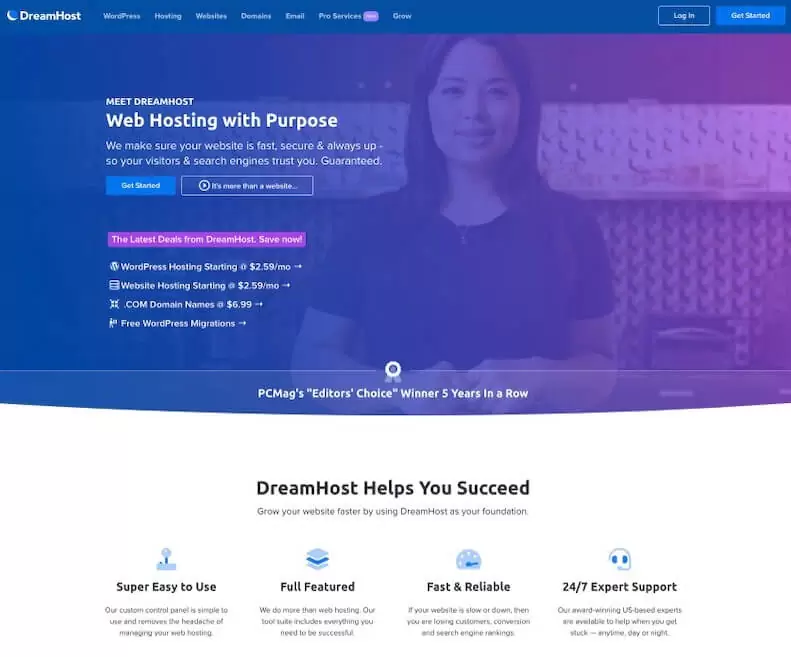 07

. GoDaddy
GoDaddy has been heralded as being a popular solution for handling domain names, but you can also use GoDaddy for your SSL certificates.
GoDaddy offers a user interface for helping you to get SSL certificates for many intentions.
The details 2048-bit encryption used on the GoDaddy SSL is one of the strongest standards that you will find. You can use this to protect practically any site you wish to operate.
Be advised that GoDaddy SSL certificates are available mainly to those who subscribe to the company's domain registration services.
The good news is that GoDaddy gives you a simple setup for handling your data that is very helpful and easy to follow.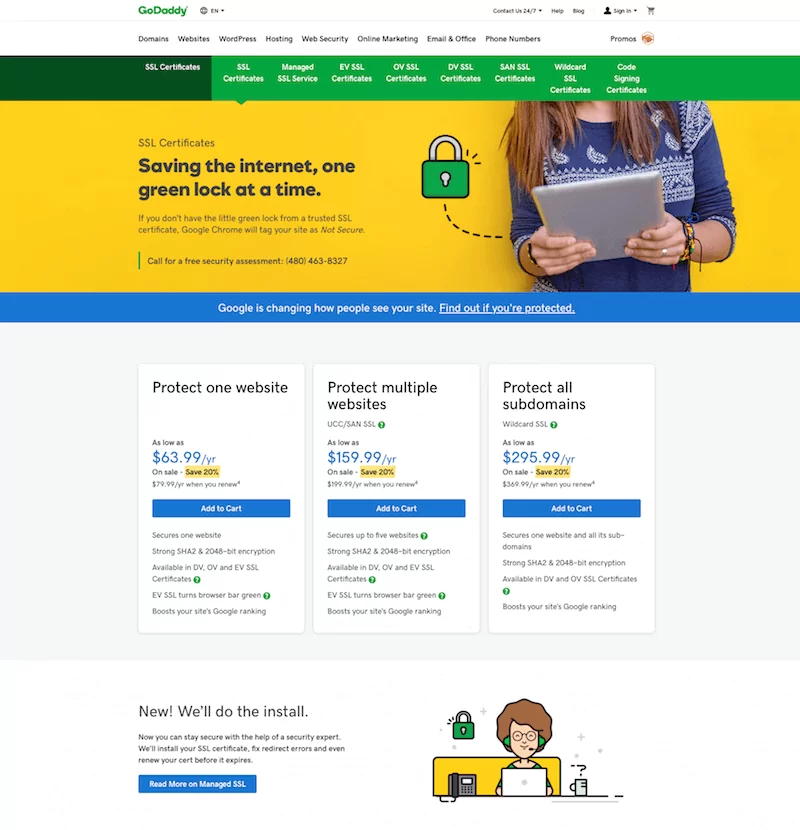 08

. WoSign
Having issued more than 1 million SSL certificates, WoSign provides a free SSL certificate that is valid for a lifetime. The deal is valid for only one domain as you have to pay additional fees for multiple domains.
Features:
A fully functional certificate that doesn't require any coding.
It uses 256-bit encryption to secure online transactions.
It is compatible with 99% of web browsers.
PROs:
The cost of adding an additional domain is only $1.99 / year.
The easy installation process does not require any prior knowledge.
CONs:
The free certificate lacks warranty and technical support.
09

. GeoTrust
You can use GeoTrust to get SSL certificates that last for 30 days. The setup works with an automated domain name validation feature and gives you an easy installation setup for your use.
The design helps you move forward in moments and gives you the control you need.
The support of GeoTrust helps you protect all types of browsers to create a simple setup.
You can even use this with all major browsers and smartphones, thus giving everyone a secure setup for keeping people protected while online.
10

. SSL For Free
SSL For Free provides what might be the simplest interface that you can use for producing an SSL certificate. You can use this by entering your domain and then clicking the button on the screen to produce a new SSL certificate.
Private keys are generated in the process to keep your data in your browser while ensuring the content is never transmitted.
The cryptography feature can also be configured to work with the right amount of content while hiding private information the right way.
You can also get free wildcard SSL certificates through SSL For Free. The system lets you secure a subdomain to your liking.
This works for as many subdomains that you might have provided that they are all linked to the same main domain that your initial SSL certificate is for.
11

. GoGetSSL
The intriguing design of GoGetSSL makes it a helpful solution that you will love using for your connection requirements. GoGetSSL offers free SSL certificates alongside some other options for handling your work.
The 90-day trial period for your certificates will help you identify how well the setup works and what you can get out of your programming needs.
The process of getting one's SSL certificates only takes a few moments to complete. You can get these certificates prepared in about five minutes on average.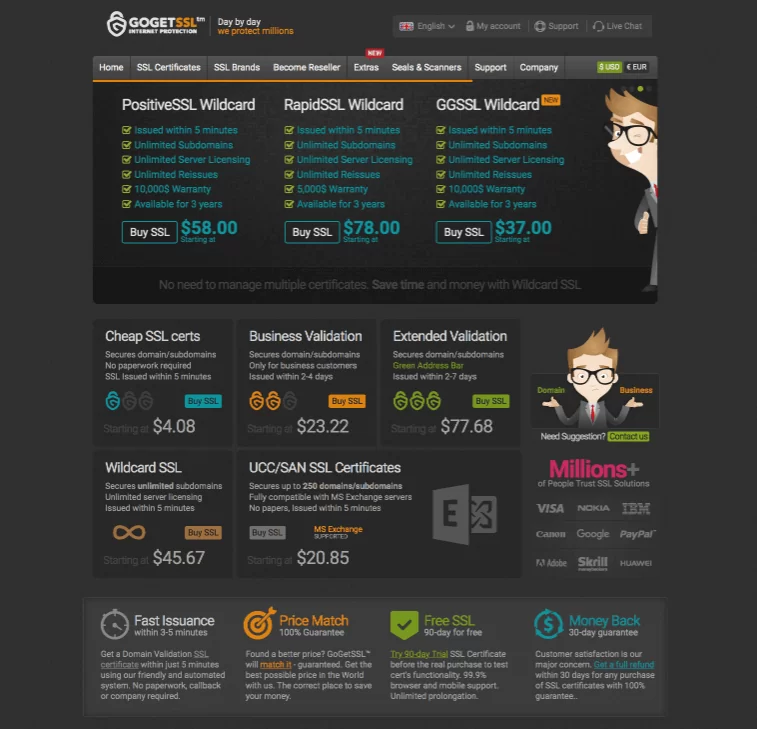 12

. PositiveSSL
You can get a 30-day trial of PositiveSSL to work for you as you attempt to get the most out of your SSL experience. You will get a DV SSL certificate ready so you can manage a detailed encryption setup.
This should help you with protecting your online content, but the most important point about PositiveSSL is that the setup ensures your content is kept secure.
The most important part of the free SSL certificate comes from the domain validation feature that this comes with.
You can confirm your domain name through the setup on the site in moments. The simple design gives you extra help with keeping your content under control.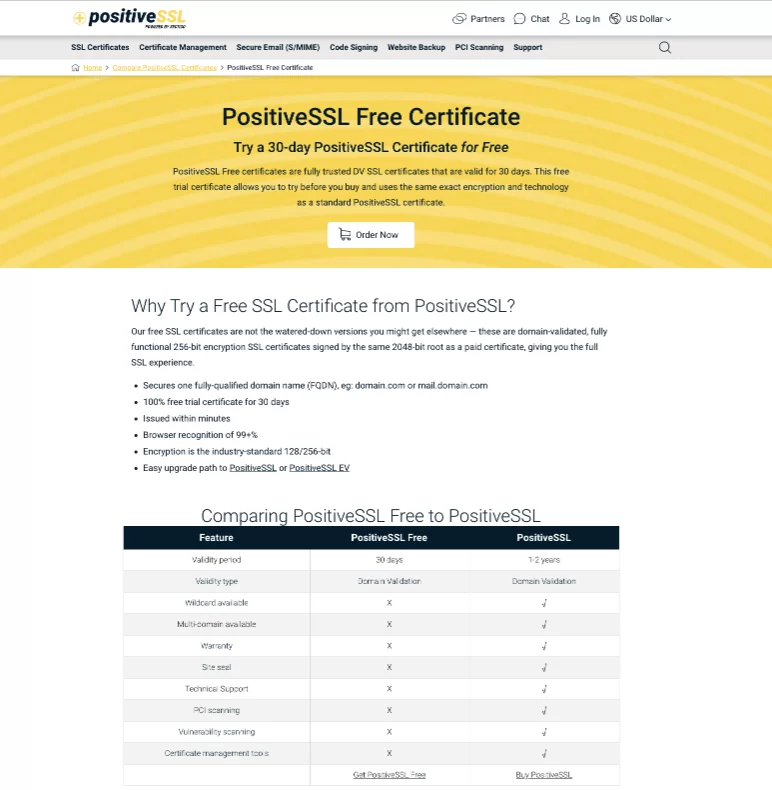 13

. WP Engine
WP Engine not only allows you to add Free SSL Certificate Let's Encrypt but also allows you to add RapidSSL Wildcard Certificates or any third-party SSL Certificate.
Features:
The web host service provider automatically renews the free SSL certificate.
Let's Encrypt SSL certificate expires after 90 days.
It employs a 256-bit encryption level for safe transactions.
PROs:
It provides 24/7 friendly customer support.
You can add both www and non-www versions of the domains.
CONs:
The installation process takes more time than other SSL certificate providers.
Pricing – The startup pack applicable to personal sites or blogs costs $30/month.
14

. Comodo
Although Comodo is not an open-source option like Let's Encrypt, the support that you will get from Comodo is something worth noting.
The prominent cybersecurity group will help you with producing a site that is protected and adds more control over how data is to be transferred between people.
You can use Comodo if you have a professional-grade server to work with. Comodo runs well on MS Exchange and Office servers. You can also use as many server licenses as needed.
The phone support you will get also ensures you can get your SSL certificates running effectively without delay.
The extensive coverage that comes with Comodo SSL certificates is worth noting. You can get Comodo to work with up to a hundred domains on the same certificate.
30 Days free trial
15

. SSL.com
The last option for a free SSL certificate comes from the appropriately titled SSL.com. The site offers a design to help people with getting their SSL certificates ready.
The site offers certificates that are accepted in browsers throughout the world and can work with as many server licenses as needed.
The business class validation system and encryption setup ensure that you will get the protection you need for your site.
The certificates that SSL.com offers are compatible with all major site formats. You can also use your certificate to enhance your search engine ranking.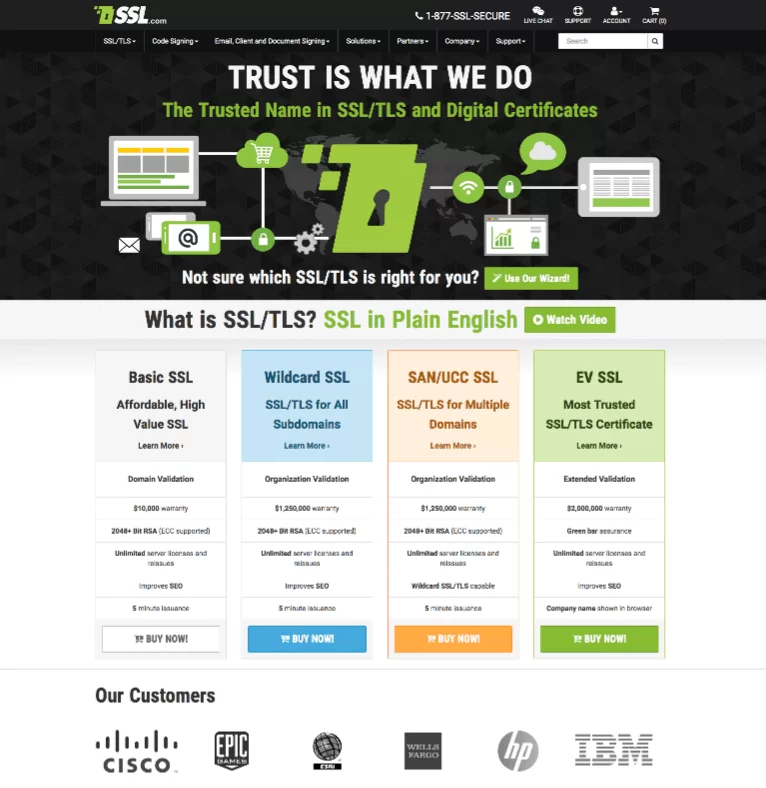 FAQs About Best Free SSL Certificates
---
Q1. What is an SSL Certificate?
SSL certificate (Secure Sockets Layer) is a digital certificate that enables web security with encryption. It is used to protect sensitive information on a website and to make it secure.
Q2. Why Should a Website Use SSL Certificate?
SSL Certificate is used to enable encrypted connections to secure sensitive data on a website. It protects important data and ascertains the users about the security of the website they are using. Search engines like Google take SSL certificates seriously and your content will not rank well if your site is not secured.
Q3. Are These SSL Certificates Actually Free?
Yes, the sources we mentioned in this article offer free SSL certificates. Some of these come with hosting offers and some provide it as a trial, we have mentioned that clearly in the product listing.
Q4. Is SSL certificate safe?
If your website is accepting sensitive data like user credit card details, only SSL Certificate is not good enough. You will need to have more layers of protection on such sites to make sure that your user's data is well protected.
05. Can I Rank Content Without SSL certificate?
While you can rank content with the low competition even without an SSL certificate, it gets difficult when you work on keywords with a good amount of competition. Also, the user will not trust your brand if you don't use an SSL certificate.
Final Word
The performance that comes with your certificate ensures you'll have your data protected effectively and with care.
You'll have to plan your efforts for an SSL certificate accordingly so your site will have the protection you demand.
Take a look at how well these free certificate solutions can work for your site.
If you keep the security concern-related aspect aside for a moment and just think from the branding point of view, the SSL is an integral part of it these days.
No brand will take your business seriously if your site doesn't look protected, as you know when you visit a site using Google Chrome; it will show a not secure tag to your site if SSL is not installed.
You can use any of the above-mentioned free SSL certificates for your site. Let's Encrypt has a good name in the industry, you can go for that.