I hope you are able to find some good options in our list of best alternatives to Copyscape. Now, let's look at some of these in detail.
Best Copyscape Alternatives
Quetext is one of the best alternatives to Copyscape that is flexible and affordable compared to Copyscape. The best part, Quetext has a free version that allows you to check plagiarism for 2500 words monthly. However, the paid plans unlock a plethora of robust features.
Keep one thing in mind, Quetext is a plagiarism checker tool, so you won't be able to use it for Grammar and style checking. Other than that, Quetext is the best way to check plagiarism for your content on the go.
Quetext has deep search features that scan and check the document for rewritten or spun content. Once you're done checking the plagiarism, you can easily export the reports as PDFs and share them with your writers or team members.
Quetext supports languages like French, Spanish, Italian, German, Arabic, Russian, and Portuguese when it comes to language support. The only down part of Quetext is — it doesn't come with any annual plan so you have to buy the monthly subscription again and again.
Key Features:
Pricing: It has a free forever plan; however, you can only check plagiarism for 2500 words only. The premium plan costs $9/month, which allows you to check 200 pages and around 100,000 words.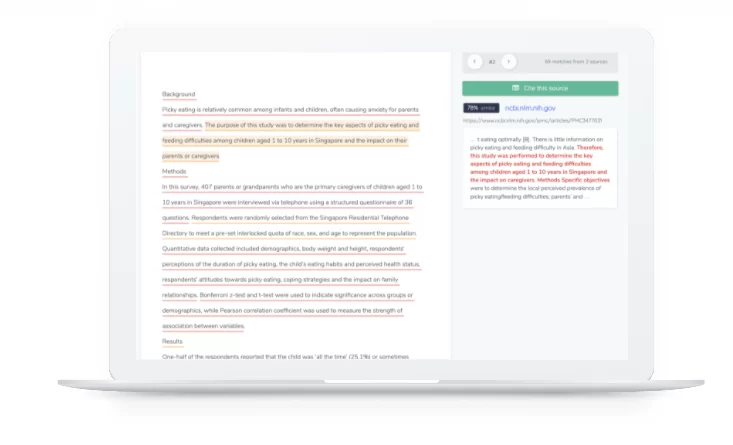 No doubt, ProWritingAid is a popular plagiarism and proofreading tool available. ProWritingAid comes with in-depth reporting features that make it stands apart.
Once you copy and paste your content checking, it analyzes your content styles and helps you improve your content. This tool analyzes the document in real-time, and then it suggests you make changes with the right words suggested. Doing these changes helps the readability of your content.
Moreover, ProWritingAid also allows you to add your writing styles, and guides, and customize the rules according to your needs and requirements. You can disable/enable any rule permanently.
ProWritingAid also comes with a plagiarism checker add-on with the premium package. You have the option to buy plagiarism check in bundles of 10, 100,500, and 1000 as per your requirements.
With each check of ProWritingAid plag check, you can easily check plagiarism of 2500 words. The plagiarism checker is easy to use and has deep search technology. Also, you will be able to generate the reports and get the results in seconds.
The plagiarism checker will check:
It has a freemium tool best suited to students, content writers, and bloggers out there.
Let's check the key features of ProWritingAid:
Key Features:
Pricing: The only subscription to ProWritingAid costs $20/month. The yearly subscription costs $79/month, and the lifetime plan costs $299/month.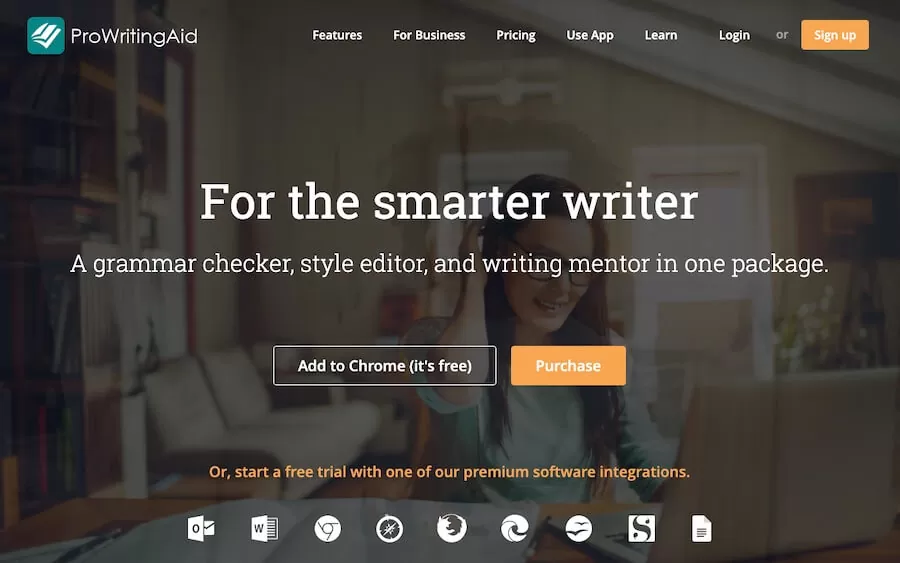 03. Grammarly Proofreader & Plagiarism Checker
Grammarly is the pioneer proofreading tool available out there. The goal of Grammarly is to help you write error-free content without any grammatical issues. It also comes with a robust plagiarism checker allowing you to check plagiarism in real-time.
The plagiarism checker of Grammarly can easily detect plagiarism from billions of web pages and ProQuests' academic databases. The plagiarism checker of Grammarly will tell you whether your content is copied or unique.
If any part of your content detects plagiarism, it will show the plagiarism alert. What's more, you will also get feedback for — punctuations, grammar, sentence structure, and vocabulary.
The plagiarism checker of Grammarly is a part of the robust writing app of Grammarly. In addition to the plagiarism checker, you will also get to know some of the more complex issues and recommendations such as word choice, conciseness, tone, and so on.
Key Features:
Pricing: Grammarly has a free version, but that doesn't have the plagiarism checker. Grammarly Premium version starts at $12/month, and the Grammarly Business plan starts at $12.50/month/member.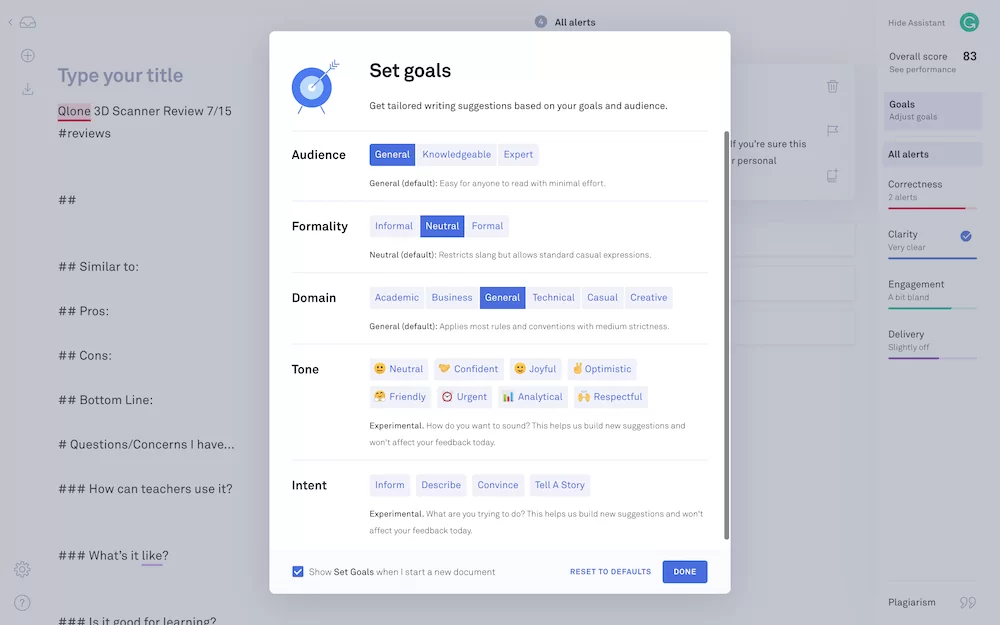 WhiteSmoke comes with a robust state-of-the-art English writing, proofreading, and plagiarism tool. In addition to plagiarism checks, WhiteSmoke detects hundreds of undetected errors. And it also gives writing suggestions to make your content more engaging and digestible.
WhiteSmoke uses NLP (natural language processing), which features robust artificial intelligence and algorithms for text analysis. These features of WhiteSmoke makes help you write error-free and unique content.
The plagiarism checker of WhiteSmoke checks the plagiarism of your blog posts, research pages, articles, websites, and so on. The plagiarism checker is fast, and it scans billions of web pages to check the text for plagiarism.
All in all, WhiteSmoke has all the tools that you will need to write crystal clear, plagiarism and error-free written content.
Key Features:
Pricing: The base plan of WhiteSmoke starts at $5/month, including the Grammar checker, translator, and plagiarism checker. The business plan of WhiteSmoke starts at $11.50 monthly, including all the features and apps for Windows and Mac devices.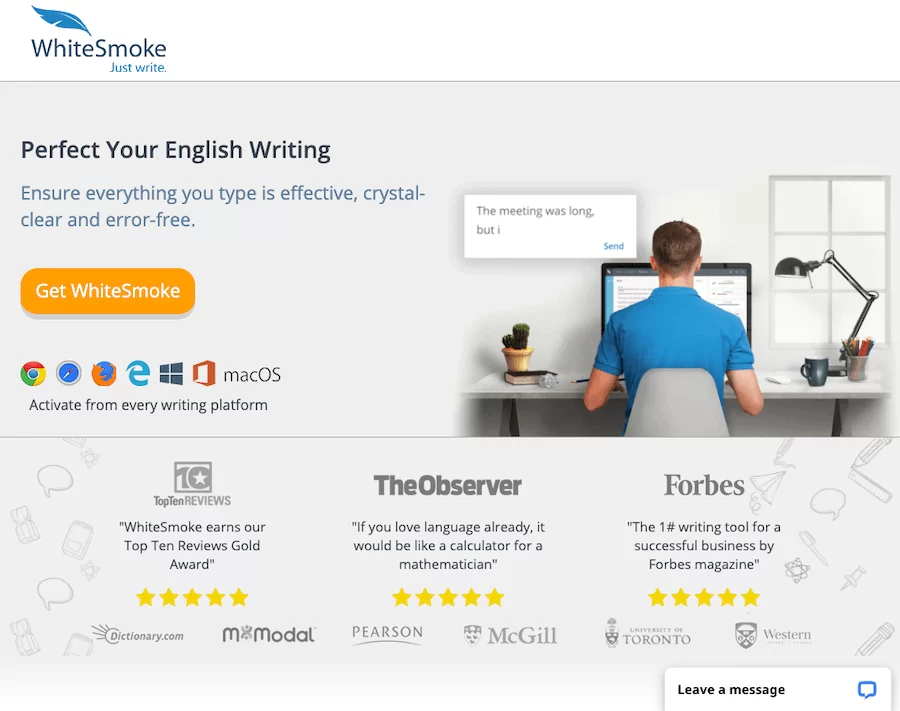 Plagtracker is a reliable tool for checking plagiarism easily. PlagTracker is a one-stop solution for students, teachers, publishers, and website owners. PlagChecker supports different languages such as English, German, Italian, Romanian, French, Spanish, etc.
To start checking plagiarism with PlagTracker, you just need to enter your written content, and then you need to click on the red button.
Once you do this, it will scan your text against billions of web pages available on the internet. Using the freemium version of this tool, it will take around 10 seconds to process the plagiarism checker.
The premium version of PlagTracker allows you to check plagiarism for larger files. With the premium version, you can get instant PDF reports, grammar checkers, reference checks, file upload, unlimited checking volumes, and so on.
Key Features:
Pricing: The premium version of PlagTracker costs 7.49/month, including all the essential and advanced features.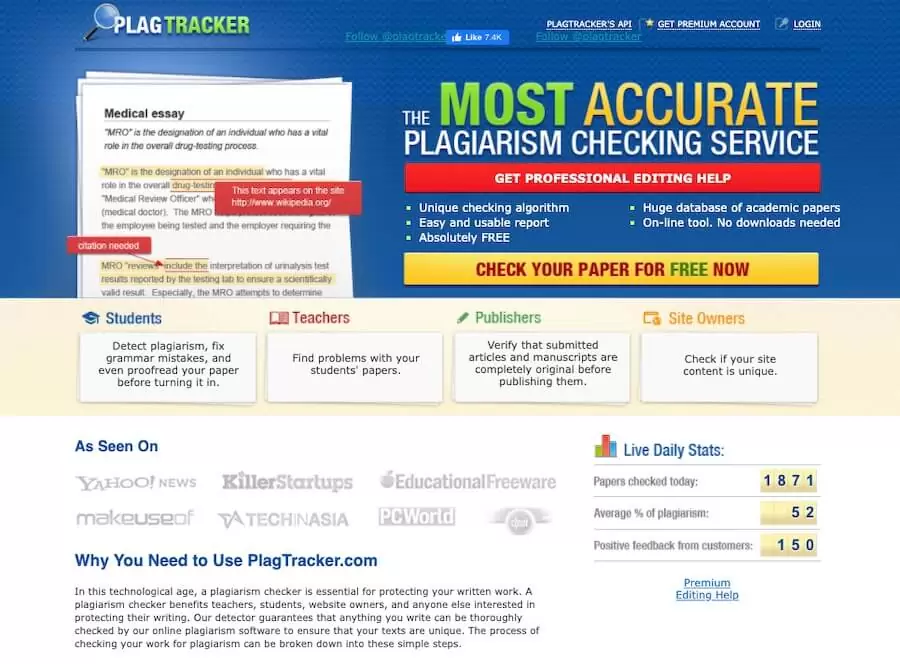 DupliChecker is a freemium plagiarism checker tool. This tool allows you to check plagiarism without even signing up; just copy and paste the text, and you're good to go. Well, to avoid the hassle, we would suggest sign-up before getting started with it.
To check the plagiarism with the free version, you have two options: copy and paste the text there or upload a document in Doc or Docx format. You will find it a bit difficult to find the search button, as it will be hidden with many Google AdSense ads popping up.
If you choose to get started with the premium version, it won't show up any ads, and you will have accurate reports, deep search, customer support, and check plagiarism for upto 10,000 words.
The tools show plagiarism in percentage and have unique content in ratio percentage. Don't worry you content privacy is guaranteed, as Duplichecker trashes the content after checking the plagiarism.
Key Features:
Pricing: There is a free version with a limited set of features. The DeupliChecker Base IV plan costs $20/month for a total number of plag searches of 7200 words.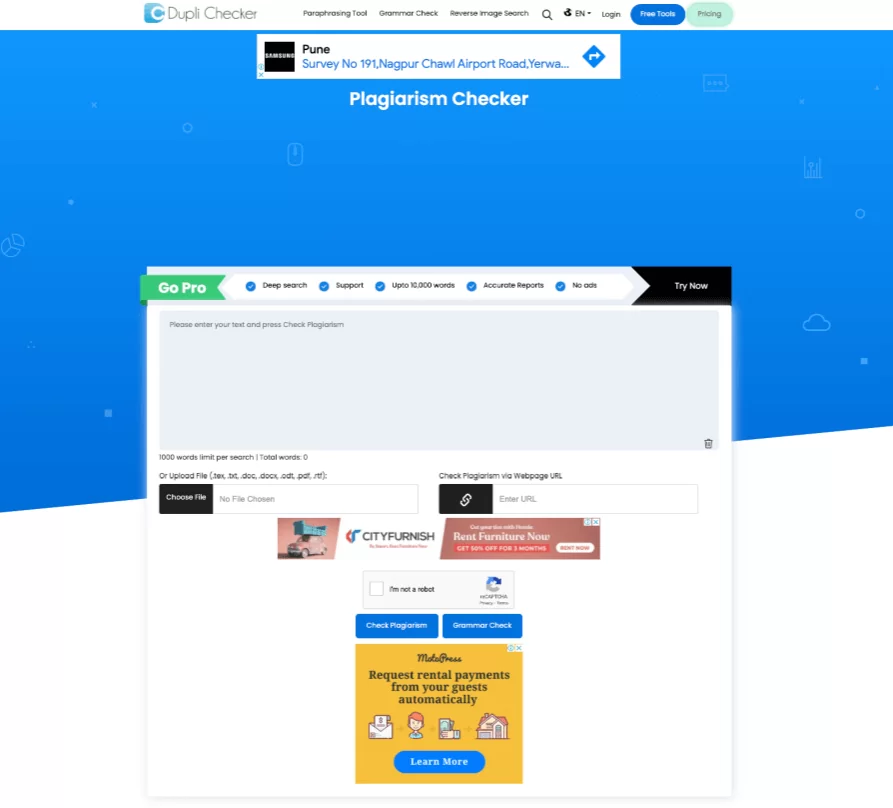 Conclusion: The Best Copyscape Alternatives?
It's a fact, Copyscape is a pioneer plagiarism checker tool. Due to its accurate plagiarism checking, Copyscape doesn't offer any free plan. And needless to say, Copyscape does deep plagiarism checks, but sometimes we should try other alternatives as well.
If we have to recommend the best value-for-money plagiarism tool, we'll go with QueText. The QueText plagiarism tool is affordable and flexible.
On the other hand, if you need more than just a plagiarism checker tool, we would suggest getting started with Grammarly because Grammarly has robust grammar checker tools along with a popular plagiarism checker.
We hope this post helps you in finding the best Copyscape alternative without any hassle.