In addition to the direct plagiarism search, which is also aimed at universities and students, PlagAware offers the possibility of continuously monitoring texts on a website.
We are most interested in this feature, so we deposit our domain right away. It is a little annoying that PlagAware forces us to authenticate our website. You can do so by placing a small, personalized text file in the directory of your website (i.e. where, for example, the index.html file can be found).
With this, PlagAware wants to ensure that only own websites are monitored. Overall, a commendable endeavor, but authentication via a metadata tag or a DNS entry would make things easier.
The reward for the effort: The registration of the individual pages of our domain can be fully automated. The default setting simply adds all pages for monitoring while searching for plagiarism on this page.
PlagAware also supports a small JavaScript snippet, such as that used in Google Analytics, as well as existing sitemaps. However, we have not tested these features as the automated scan worked quite well. As we do not want to monitor non-article pages, we define exclude patterns that prevent PlagAware from capturing these pages.
Here you probably need to tweak settings until the best results are achieved.
Plagiarism Or Not Plagiarism, That Is The Question
After all settings have been completed, the plagiarism check of our web site is being performed in the background. Soon the first possible plagiarisms will appear and will be listed under the option "Monitored Texts".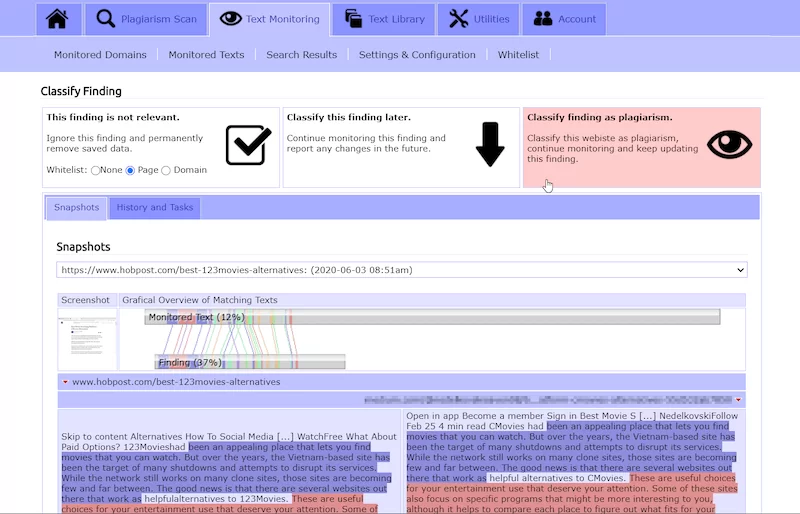 At first glance, it is quite frightening what PlagAware has brought to light in terms of possible plagiarism: Up to 15 sites with duplicate content are reported for individual pages, which is a bit surprising. Clicking on our page allows us to examine the sites in detail.
We randomly select possible plagiarism and look at the result: We have posted a teaser for an article on another page that links to our actual article on our own website. Technically, this is indeed duplicate content and we are committed to revising teaser texts in the future.
But it is not really a plagiarism. We therefore decide not to consider the found text as relevant. PlagAware remembers our decision in its whitelist in order not to warn against this page in the future.
Track Plagiarism From Websites
The situation is different for many other sites that PlagAware has found when searching for plagiarism: For example, numerous articles from other sites adopted our texts more or less unchanged and displayed them as their own content.
PlagAware offers to continue to monitor these pages while we can contact the operator of the website to request the deletion of the plagiarism. Or at least, to prompt him to link to our original article.
PlagAware also supports this with simple task management that automatically reminds you to classify new sites and to work on removing plagiarisms on the web.