Do you have a massive list of errands to run? Or are you engaged in the long-haul task that would require hours on end to finish manually? Then you should have an auto clicker tool to make your work easier and more productive.
As so many clicker tools are available, choosing the best one sometimes becomes overwhelming.
We've hand-picked the top ten tools that you can try today to clear the air.
So, let's get into them:
GS Auto Clicker is a simple and easy-to-use auto clicker tool that will help you perform tasks like opening multiple tabs or windows, switching between them one by one, capturing screenshots, and much more.
The installation process for this particular tool is quite simple, so if you are pressed for time, this should be your first choice! Once installed, GS Auto Clicker places a floating icon on the screen, which helps you set up all the desired actions to perform automatically.
In addition to using it to click anywhere on the screen, gamers can also use this auto clicker software to keep shooting their targets without leaving the game at all!
GS Auto Clicker features:
Offers different functionalities, including opening links in new tabs
Easy to use while playing games to keep clicking on the screen
Allows gamers to automate various tasks within minutes
Price — It's free to use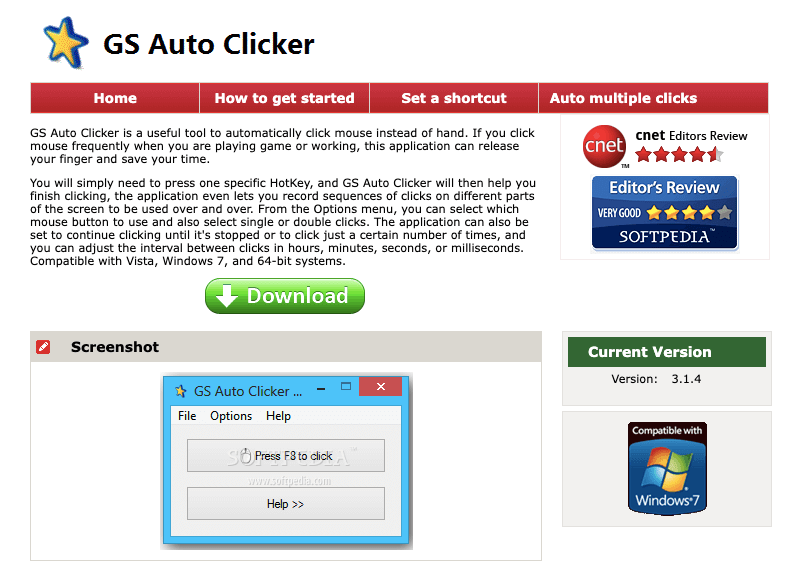 MacroClicker is a simple but effective auto clicker software that allows gamers to automate tasks like completing quests, looting items, and much more quite easily. Once installed, it will place an icon on the screen, easy to use to activate various functions.
For instance, if you want to complete a quest in one click using the MacroClicker tool for PC, all you need to do is create a macro by selecting 'Quest Completion' from its drop-down menu.
Once done, click on the action (in this case 'Quest Completion') and pick the desired quest. Since it's optimized for games like Diablo, you don't have to worry about compatibility issues at all!
MacroClicker features:
Supports all versions of Windows, including Windows XP and others
You can use it to click on objects in computer games automatically
It is a suitable replacement for mouse macros, hotkeys, etc.
Price — License starts from $40.00
MouseClicker is one of the best auto clicker software for Windows that gamers can use to automate various game tasks.
It's completely free to download and doesn't require any installation either. Instead, copy the executable file, run it, select the desired job, set how often you want to perform the actions in seconds, and hit Run!
It is ideal for gamers who find themselves unable to keep up with the fast-paced action in games without some external help. MouseClicker is also relatively easy to use, making it the perfect choice for beginners!
MouseClicker features:
Can perform various tasks like clicking on objects
Enables you to set the interval of time between each automated task
It is free and can be used without installing anything onto your computer
Price — It's free to use
Here is another excellent clicker tool that anyone can use to accomplish simple and complicated tasks.
The best thing about it is that you will never have to worry, even if the web page, file, or image you want to automate is unavailable at the moment. Autoclicker.ai creates a log of previously performed clicks and allows users to replay those clicks whenever required.
If you need something done more than once and don't want to waste your precious time on doing it manually, then this auto clicker tool can help immensely.
So, next time you're feeling too lazy to run an errand, remember — there's always an easy way out! It's ideal for professional web surfers who can't afford to waste time on repetitive tasks.
Autoclicker.ai features:
You can make a list of commands
It can send specific texts & mouse clicks at set intervals
Quick to use setup
Price — It's free to use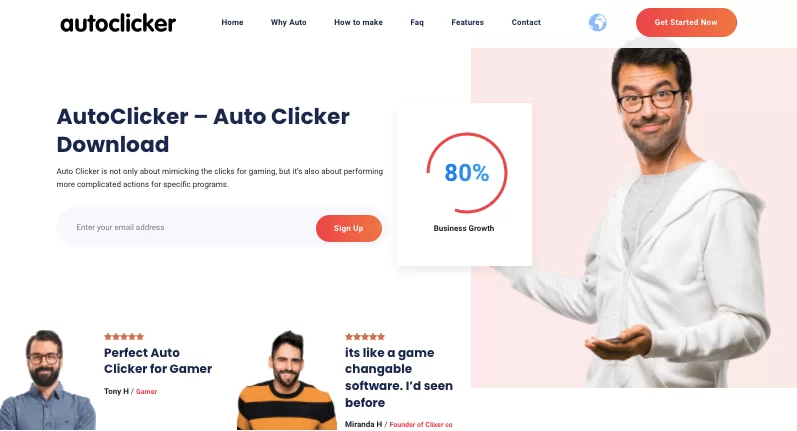 PTFB Pro offers some fantastic features that make it one of the best clicker tools for automation tasks. This particular tool allows you to set multiple events, which will be performed automatically.
For instance, if you are too busy or simply not around, you can automatically schedule PTFB Pro to perform certain actions at a specific time.
This auto clicker tool is also suitable for gamers who want to improve their playing skills by leaving the game once in a while.
However, this doesn't mean they have to switch off their computers as well! With PTFB Pro, gamers can keep clicking even while doing other things on their computer.
All they need to do is configure an event and select the desired action from the list to get started.
PTFB Pro features:
Can be scheduled to perform events automatically
Offers different actions you can take
Compatible with all versions of Windows
Price — Single user license starts from $39.99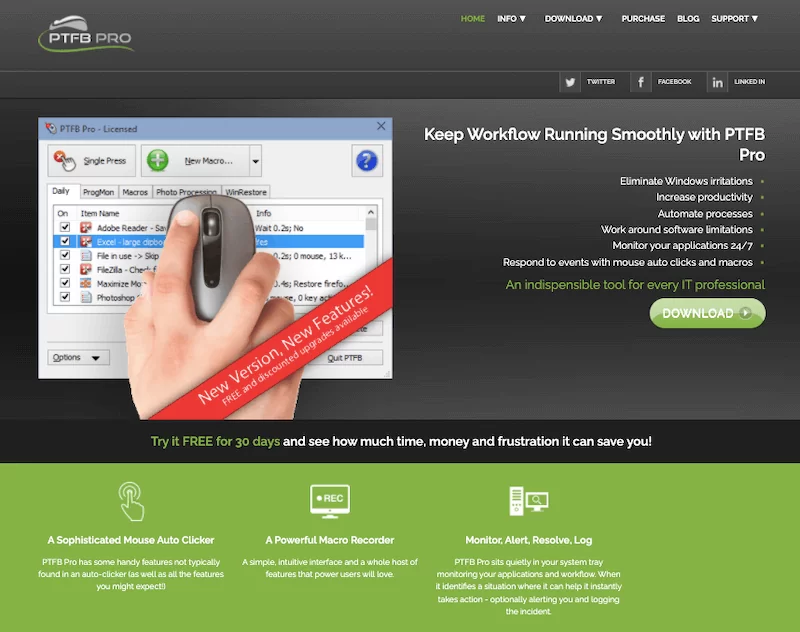 With Murgaa, you can automate just about any computer activity that you want. The best part is that it doesn't matter whether the action involves using your mouse to perform a specific task or not. With this auto clicker tool, you can control any device with ease.
Moreover, since Murgaa works on macros, it's much easier for anyone to master the basics rather quickly. Also, users don't have to pay anything unless they wish to buy pre-made scripts from its store.
Those who are willing to take their automation skills one step further will also love this feature. It's an ideal auto clicker tool for mac OS.
Murgaa features:
Offers different macro types, which come with many benefits
It is easy to use with physical devices also
Quick to set up and use
Price — Single user license starts from $6.54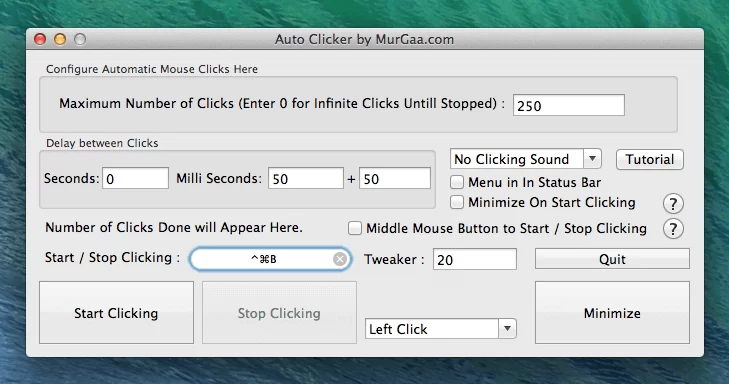 AutoClicker is another great clicker tool that you can use to automate all your tasks quite easily. The best thing about it is that the installation process is not cumbersome.
So, if you are in a hurry and don't have much time to deal with complicated setups, AutoClicker will be an ideal choice for you!
Once installed, this auto clicker tool makes it easy to perform various actions automatically.
For example, you can use it for opening multiple web pages or windows simultaneously, closing applications once they are done running without any delay, screenshotting your screen automatically when needed, transferring files from one folder to another within seconds, among other things.
AutoClicker features:
Offers an intuitive interface
Can be scheduled for automatic shutdowns & more
Allows multiple tasks to run in the background
Price — It's free to use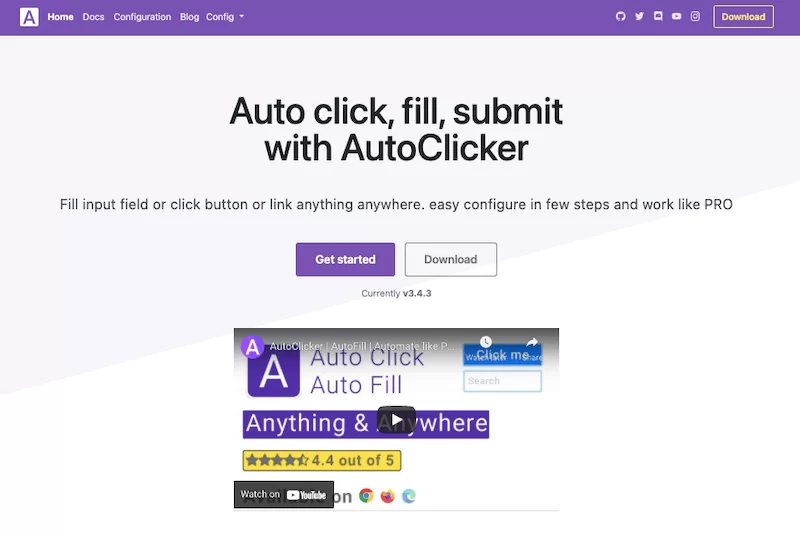 Fast Auto Clicker is a beautiful clicker tool that has some great features. This particular tool works on all versions of Windows and is relatively easy to use.
You need to open the program and decide which application or window you want to close through this auto clicker software to automate tasks.
You can also determine if you wish to Fast Auto Clicker to do it once, periodically, at a particular time every day, or only if available.
On top of that, you can even set a skip count in case one action needs to be performed more than once before shutting down an app or clicking somewhere else. However, this feature is not for gaming purposes!
Fast Auto Clicker features:
Can automate tasks like closing windows or apps
It can be configured to open and close applications at a click of a button
Allows you to skip repetitive functions if they fail
Price — It's free to use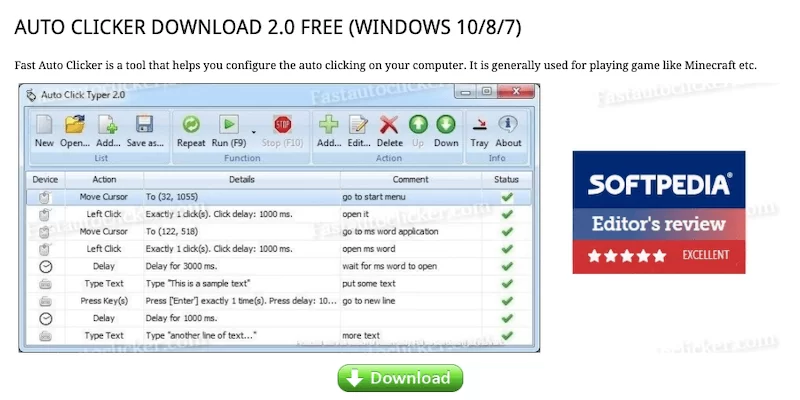 OP Auto Clicker is one of the best clicker tools you can use. With this, you will accomplish more than one task at a time. Additionally, it has an inbuilt file explorer.
So, the next time you need to automate something like opening up multiple tabs or moving files from one location to another, OP Auto Clicker will help you achieve that effortlessly. You can even play a GIF file in a loop or launch your favorite website.
If you are looking for an auto clicker tool that is free of cost and easy to use, OP Auto Clicker should be the one.
This particular clicker tool offers a simple, straightforward interface so anyone can get familiar with it rather quickly. It also doesn't require too much CPU power, which makes it ideal for hassle-free automation.
Op Auto Clicker features:
Has an inbuilt file explorer
Can play GIF files in a loop
Allowing to perform multiple tasks at once with ease
Price — It's free to use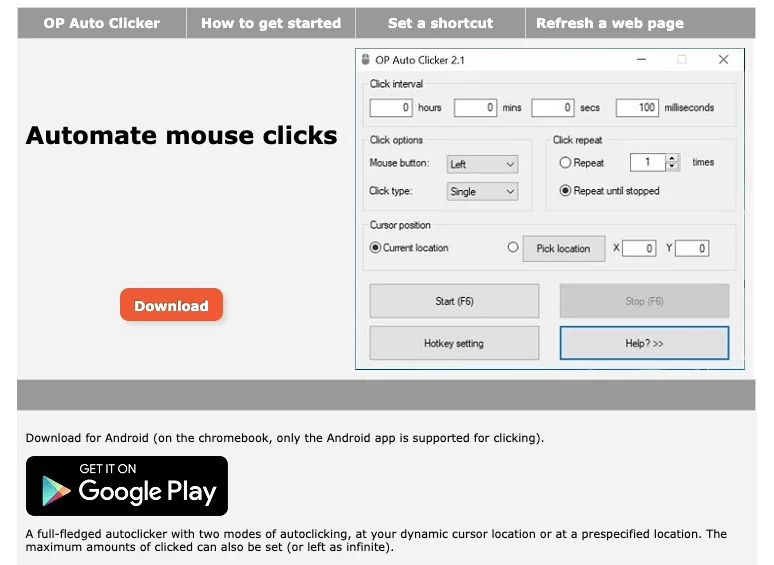 Auto Clicker Pro is another excellent clicker tool that has some great features. One of the best things is that you can export your scripts to edit them further or even import other files.
Additionally, you can download more files on the internet. It makes it easy for anyone to manage different tasks with only a few clicks.
For instance, say you have ten different web pages open in ten tabs on your browser, and you want all these tabs to be closed simultaneously after a certain amount of time? It's not that big a deal anymore if you use Auto Clicker Pro for this purpose.
You need to set the timer, select how many tabs should be left open, whether they should be all closed at once or one by one, and which action should be performed if a tab is unavailable.
Auto Clicker Pro features:
Can export scripts to edit them later
Offers a user-friendly interface
Comes with an inbuilt file explorer
Price — It's free to use.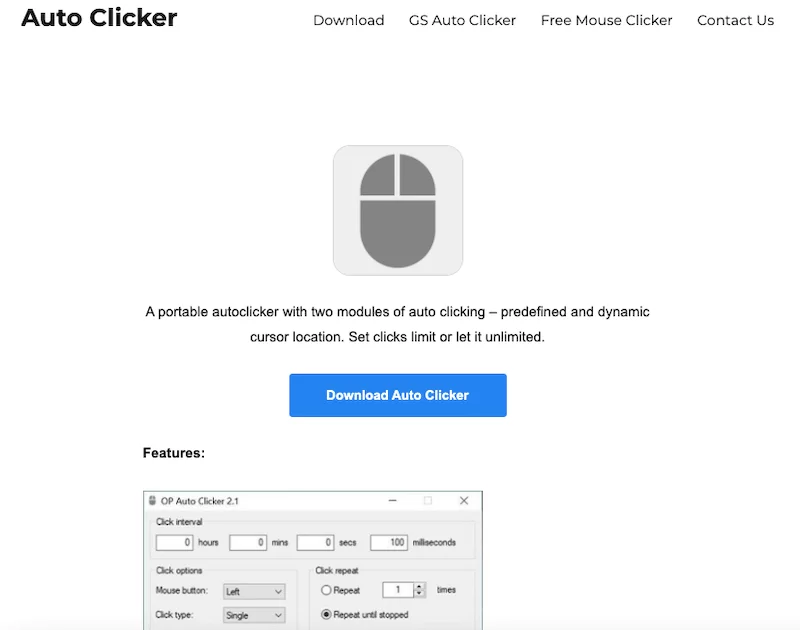 Q1. What is An Auto Clicker?
The Auto Clicker is a software or a program that is created to automate the process of mouse clicking at certain part of the screen. It is popular among gamers.
Q2. Is Auto Clicker Legal?
It depends on the kind of activity that you are doing with the Auto Clicker. While it can be safe to use for your own project, it might get you banned if you use it in any third-party project depending on their regulations.
Q3. Are Auto Clickers Free to Use?
Yes, there are a number of Auto Clicker software that are completely free to use.
Q4. Are Auto Clicker Software Safe for Computer?
Yes, the Auto Clicker software safe to use if you get it from a reliable source.