Twitter is one of the most preferred platforms for digital marketers to establish themselves as an authority in the digital marketing field.
You can follow the digital marketing experts on Twitter to learn more about how to market your brand to increase revenue from your business.
Also, you can use the platform to share your knowledge and establish yourself as an expert.
Now, let's have a look at this list of top digital marketers to follow on Twitter.
Neal Schaffer
Neal Schaffer has written books on social media like Maximize Your Social. He also has a podcast on digital marketing.
Over 220k followers
An expert on influencer marketing
Understands the latest trends
Has unique ideas on how social media can work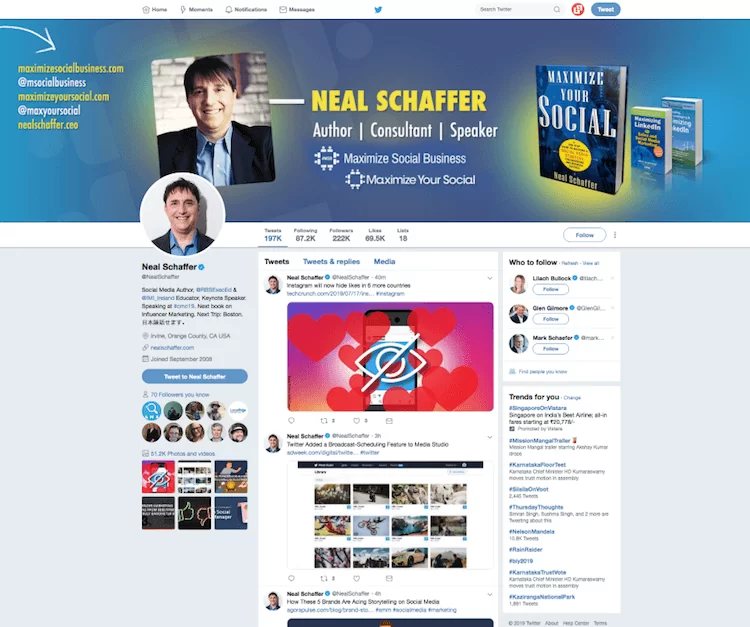 ---
Ann Smarty
The work that Ann Smarty highlights on Twitter comes from her SEO Smarty website. She discusses social media and SEO activities and reviews many ideas on what people can do for their sites.
Over 65k followers
Talks about viral content and how to make it work
Highlights unique ideas on creating websites
Focuses on work for all major social media networks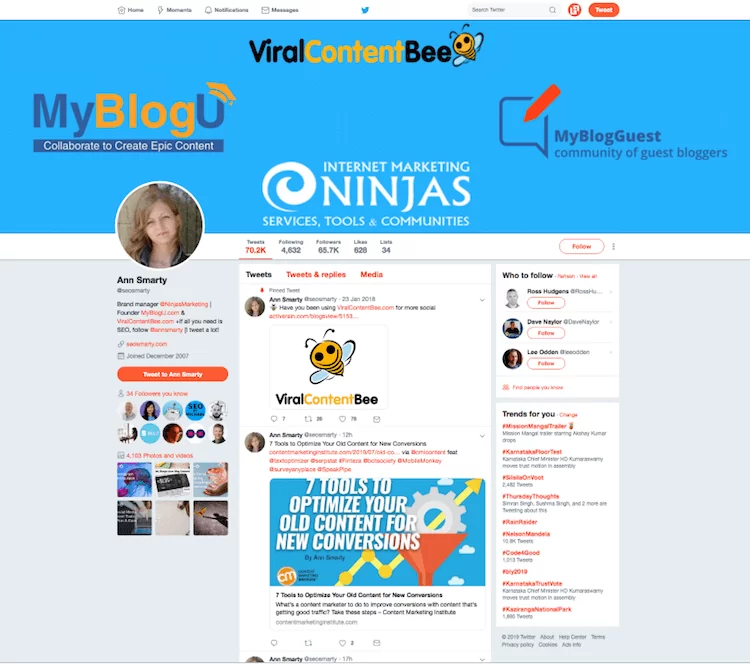 ---
Ryan Deiss
The thoughtful work that Ryan Deiss posts on his Twitter page make him a worthwhile choice to follow. Deiss formed DigitalMarketer.com and regularly highlights his insights to followers.
Concentrates on content marketing
Discusses concepts on principles and methods
Highlights unique philosophies for work
---
Wil Reynolds
Wil Reynolds is an SEO expert and founder of Seer Interactive. Much of what he discusses focuses on SEO and big data functionality.
Focuses on simplicity
Highlights points on creating a unique marketing company
Has plenty of unique ideas on how well businesses can market themselves
---
Danny Sullivan
The Marketingland founder Danny Sullivan, currently Google's public connection. He makes all the Google search related and algorithm updates public. His work often focuses on keyword usage and promotional ideas.
Informs people on new SEO practices
An expert on search algorithms
Offers general tips on how to use keywords well
---
Rand Fiskin
You can follow Rand Fiskin to get the latest details on SEO functions. He is the founder of Moz, one of the top SEO groups in the world.
His Whiteboard Friday videos are very popular
Highlights ideas on how to make startups work
Covers keyword usage points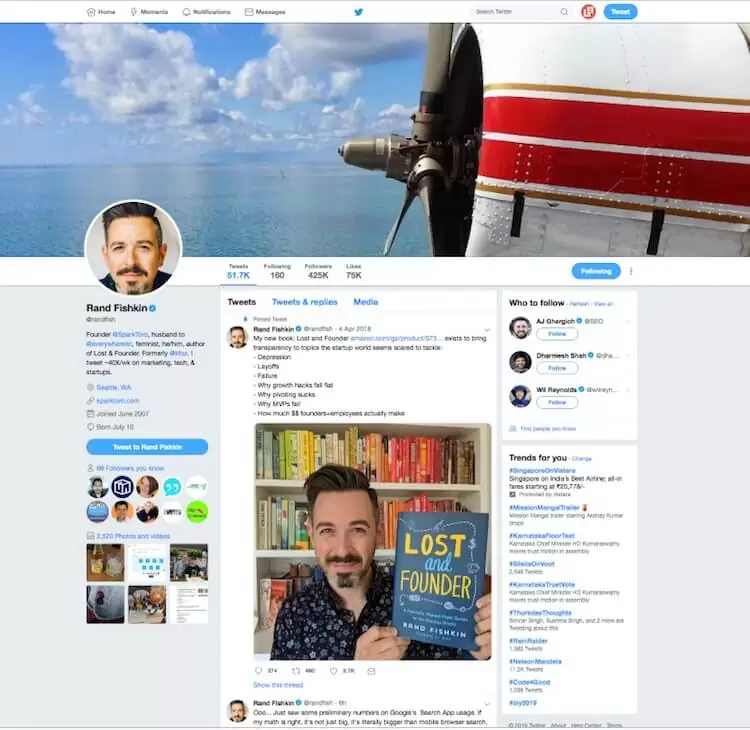 ---
Heidi Cohen
Heidi Cohen operates the Actionable Marketing Guide and has many good things to say about social media marketing. Cohen is an expert at talking about points relating to social media.
Works on B2B and B2C functions
Identifies trends on content creation
Works on fixing social media site problems
---
Jorn Lyseggen
The founder of the Meltwater PR agency, Jorn Lyseggen talks about many insights surrounding social media and digital marketing. He focuses on Twitter for the most part.
Covers the newest digital platforms
Helps people with finding ideas for marketing
Includes many points on the newest trends in social media
---
Marcus Sheridan
Marcus Sheridan has been heralded as one of the top speakers on social media. He recognizes many of the new trends in the field and how they can work with marketing efforts in mind.
Can identify many problems people have with their SEO work
Highlights changes in social media algorithms
Posts many speaking videos on his feed
---
Ann Handley
Ann Handley operates the marketing education service MarketingProfs. Her work focuses on practical ideas for getting social media sites to be more noticeable.
Works on content creation ideas
Highlights ideas on blogging
Podcasting expert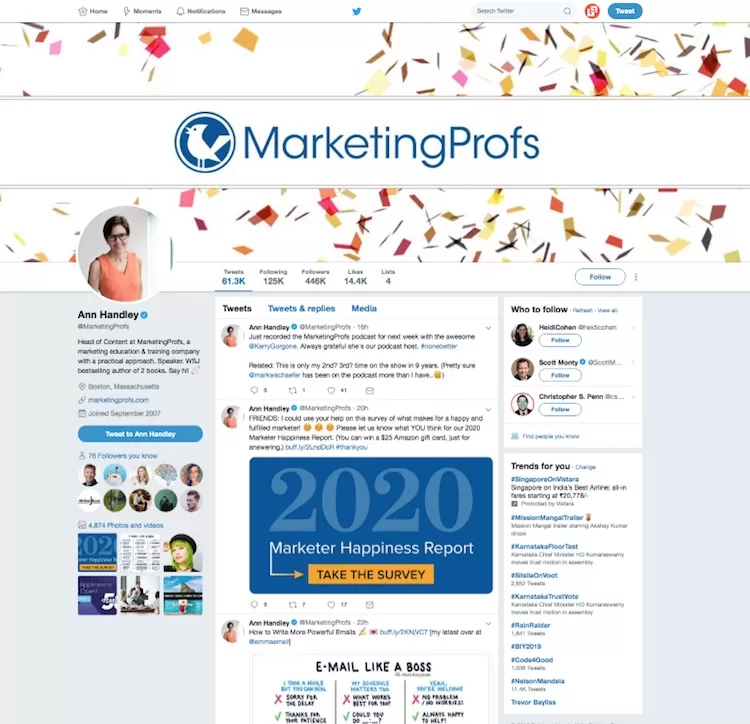 ---
Pete Krainik
The founder of CMO Club, Pete Krainik posts points on both digital and traditional marketing efforts on his Twitter page. Many of his insights are based on personal experiences.
Includes details on new updates to social media sites
Covers multiple topics of note
Includes steps on how to make your marketing efforts work
---
Louis Camassa
The inspirational quotes that digital marketer Louis Camassa posts on his page are always uplifting. The intelligent and thoughtful ideas he has to share surrounding social media marketing are great as well.
Talks about his work with many firms
Has a LinkedIn video series
Includes regular updates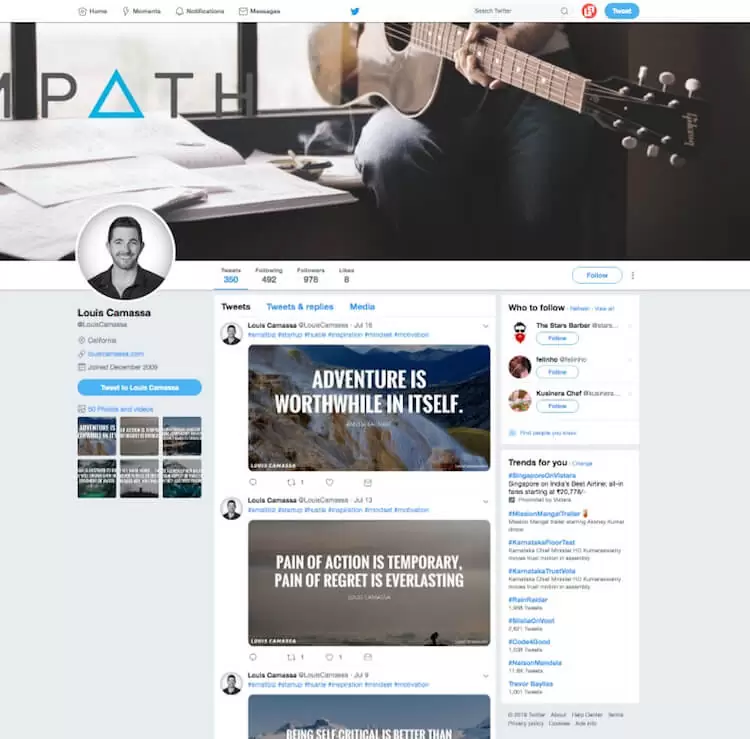 ---
Goldie Chan
Goldie Chan formed the social media firm Warm Robots. She discussed LinkedIn and video promotion the most.
Offers entertaining videos
Discusses regular points on finding new ideas for marketing purposes
Instructs people on how to make unique LinkedIn pages
---
James Carbary
James Carbary highlights unique ideas for marketing on his site. His main focus for work entails podcasts.
Highlights B2B efforts
Concentrates on podcast production
Helps people find ideas on how to make their media work for them
---
Logan Lyles
The co-host of the B2B Growth Show, Logal Lyles concentrates on B2B digital marketing. He highlights new ways of thinking about digital marketing.
His podcast has more than 800 episodes already
Focuses on working with various types of clients
Promotes unique digital marketing methods and strategies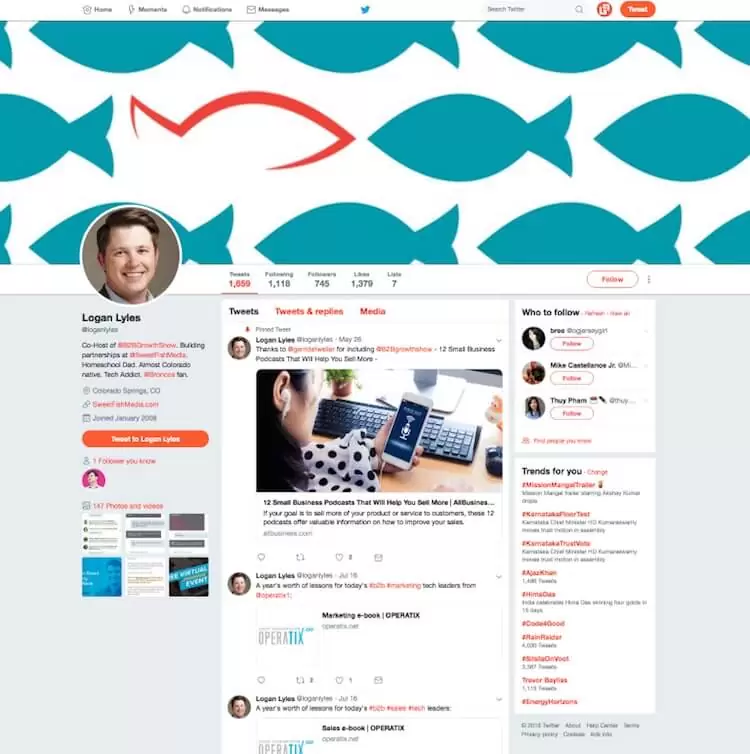 ---
Andrea Jones
Andrea Jones is a strategist who focuses on social media work. She can help people identify what they can do when making their social media sites more visible.
Hosts the Savvy Social Podcast
Concentrates on optimization work
Places an emphasis on engagement
---
Joe Chernov
Joe Chernov focuses on B2B efforts when talking about digital marketing. He always talks about the newest developments in the field.
Discusses Twitter strategies
Highlights LinkedIn ideas
Reviews technology ideas for digital marketing purposes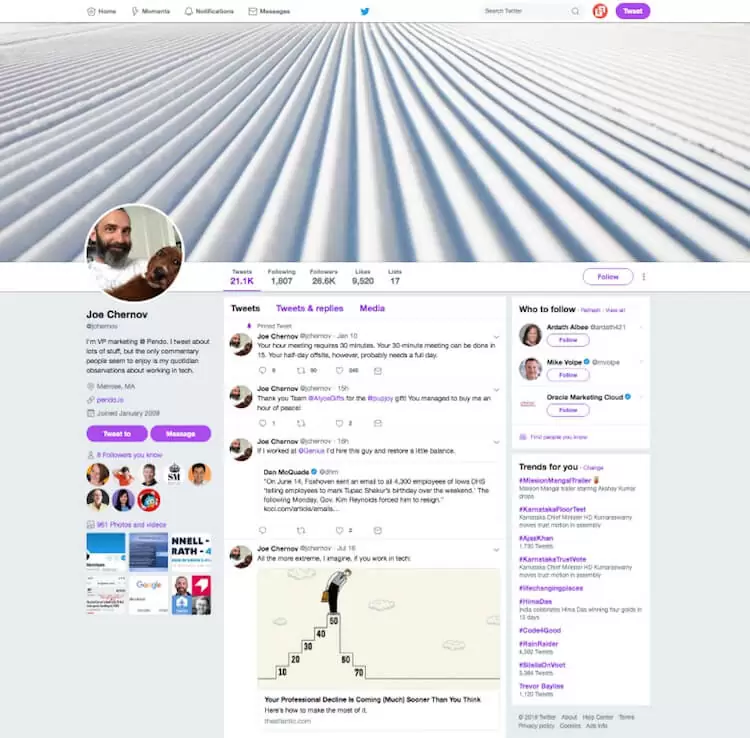 ---
Oli Gardner
Oli Gardner formed Unbounce as a startup that produces landing pages. He focuses on marketing content on his site.
Identifies marketing opportunities
Has smart ideas for how to run businesses
Includes links to relevant posts
---
Mari Smith
As one of the top names in the field of marketing, Mari Smith discusses many things surrounding Facebook marketing on her site. She looks at WhatsApp and Facebook alike.
Identifies paid advertising opportunities
Discusses points for marketing on Facebook
Introduces trends of note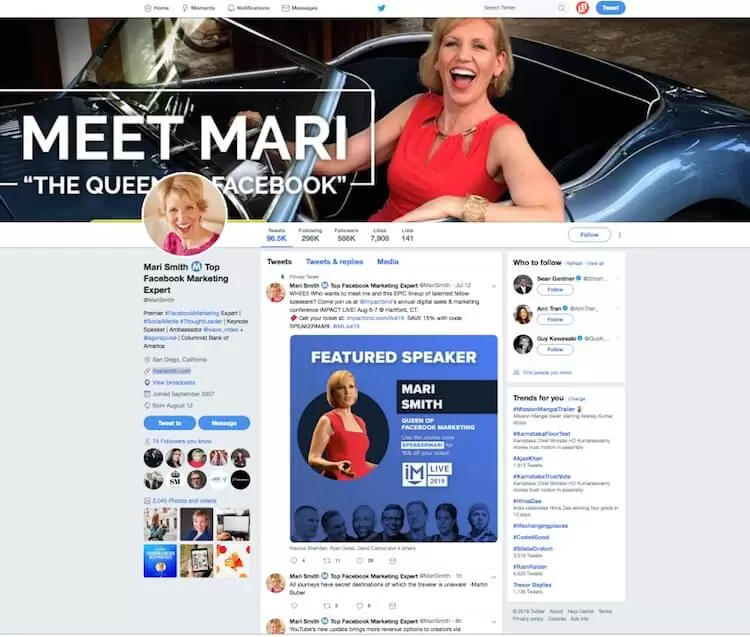 ---
Brittany Berger
The detailed tutorials that Brittany Berger regularly posts are useful for all marketing enthusiasts. She concentrates on productivity above all else.
Highlights intriguing ideas for work
Includes appealing details on how to use Twitter
Offers great examples of how to do things right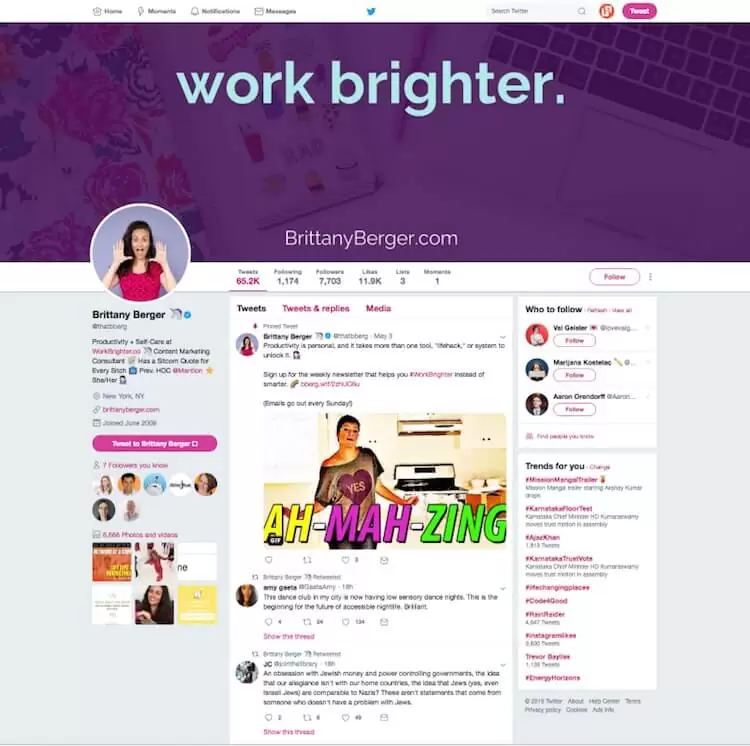 ---
Ashley Faulkes
SEO is the main focus of what Ashley Faulkes talks about on his blog. He works on WordPress, SEO and content writing points on his site.
Works on tutorials for WordPress use
Promotes discussions on content marketing
His advisories are very strategic in nature
---
Darren Rowse
Darren Rowse highlights many things on his site surrounding content marketing and blogging. He highlights many details of value surrounding how well marketing efforts can work.
Includes details on job trends
Concentrates on noting marketing efforts
Enjoys highlighting work on transfers
---
Jeff Bullas
The intrigue of what Jeff Bullas posts on Twitter focuses on how to make social media content more inviting.
Posts many in-depth guides
Contents include points on blog monetization
Identifies opportunities for all parts of social media
---
Chris Ducker
The founder of Youpreneur, Chris Ducker talks on his site about promotion and branding. He concentrates well on discussing how to make one's work visible in many ways.
Adds a smart insight to work
Talks about marketing trends
Highlights entrepreneurial activities
---
Donna Moritz
The thorough points you'll find through Donna Moritz's page include many relating to visual media. This includes looking at good content strategies.
Profiles points for many social media avenues
Offers free tutorials
Includes video and photo details
---
Jasmine Star
The photography experience that Jasmine Star holds is very helpful. She talks well about using Instagram for marketing purposes and highlights unique ways of making sites visible.
Focuses on artistic ideas for boosting a site
Concentrates on Instagram work
Has a fascinating approach to her work
---
Larry Kim
Anyone who needs help with finding unique marketing opportunities should see what Larry Kim has to say. He offers unique insights on how to make the most out of a marketing endeavor.
Discusses testing efforts often
Includes points on social media statistics
Provides details on the latest SEO news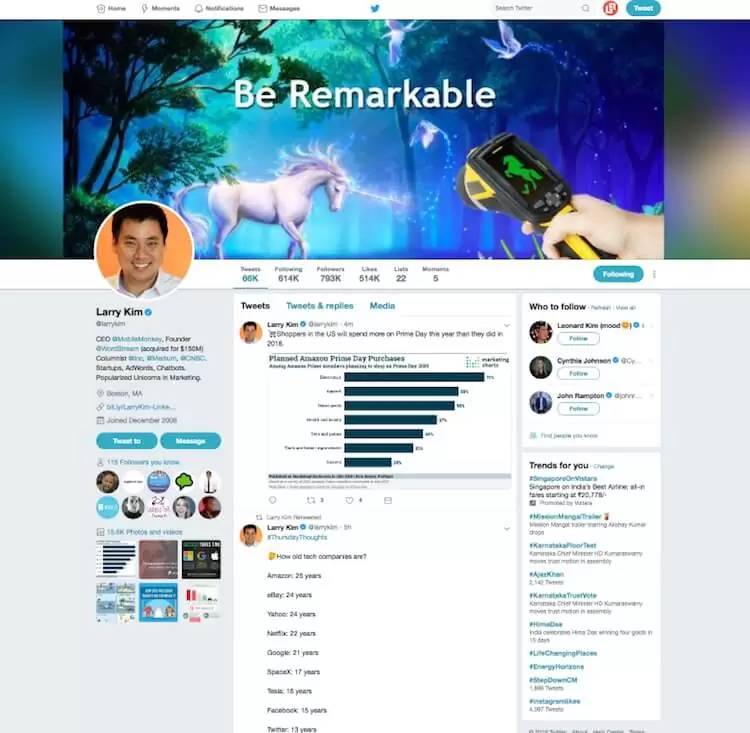 ---
Michael A. Stelzner
The founder of Social Media Examiner, Michael A. Stelzner highlights points on how to make social media posts more attractive. He does well with telling people about unique social network opportunities.
Talks about the newest trends on SEO work
Highlights LinkedIn posts
Includes details on video messages and marketing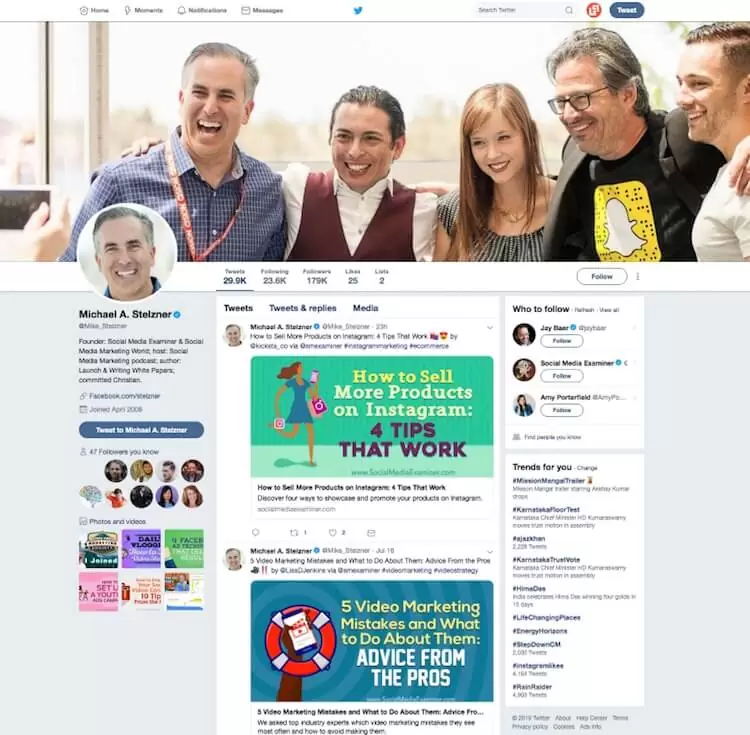 ---
Elena Salazar
Elena Salazar manages digital marketing efforts around the world. Her insights make her a worthy choice to follow.
Highlights ROI opportunities
Includes many points on marketing
Testing aspects for social media are profiled regularly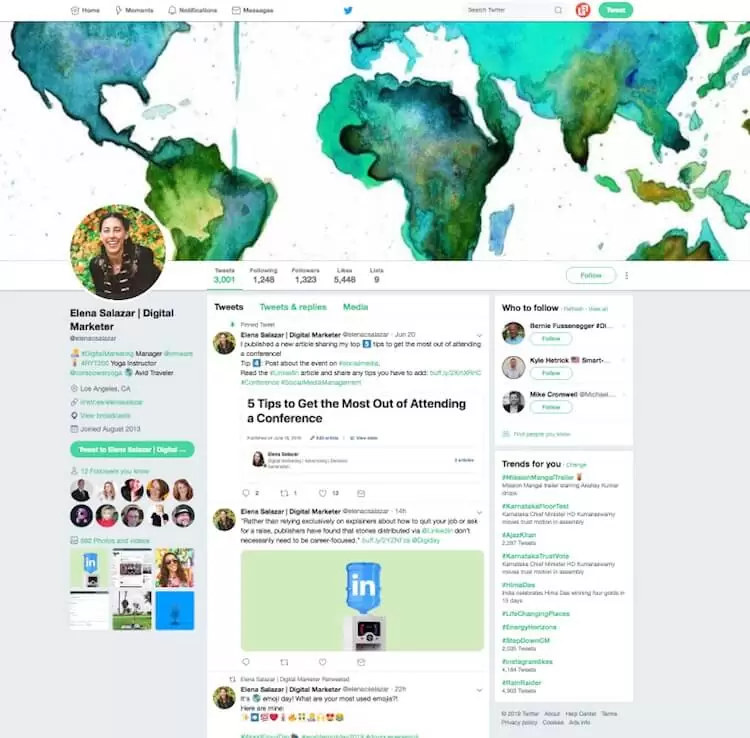 ---
Jen Lehner
The last name to see is for Jen Lehner, an expert in marketing. She works on voice marketing, but her knowledge of Twitter is especially important for today's marketing experts.
Identifies common mistakes on social media sites
Includes details on resources that people can use for marketing purposes
Promotes distinct programs that may work for your marketing purposes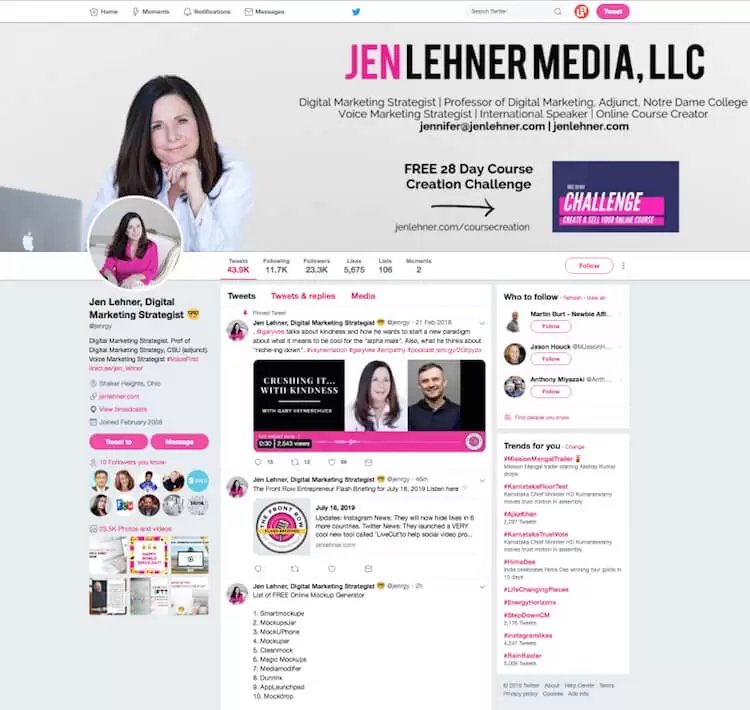 ---
Final Word
You should look at how well these digital marketers on Twitter. These are all intriguing groups that offer great ways for people to make more out of their work. This is especially useful for people who want to establish themselves as experts in the digital marketing field.
Also, don't miss our article about the 30 top social media sites to share your content.