LSI (Latent Semantic Indexing) are the keywords that are closely related to the main topic keyword. The words that are used in the same context create collective value.
When you come across the word for the first time (Latent Semantic Indexing) it sounds like something complex and not for me type.
But, that's not the reality.
LSI is a very simple concept to understand and we all have been using the LSI keywords in our writing without even knowing about it.
When we talk about the process of planting rose, we tend to use words like grass, water, flower, etc. These are LSI keywords for rose as these are the related terms that are used in the same context.
Another popular example could be the iPhone and iTunes. When we start using an iPhone, iTunes becomes part of our life and when we constantly write about iPhones, iTunes will come into the picture naturally.
As we are talking about LSI keywords from the SEO perspective, we will go deep into the topic in a moment. Let's just demystify the term first
Are LSI Keywords & Synonym The Same?
LSI keywords and Synonym are not the same. Though they are closely related, both have a different meaning.
Many tutorials define LSI keywords as the synonym of the main keywords which is incorrect. LSI keywords are just the words that are used in the same context but the word could be entirely different as standalone.
When we check for LSI keywords for phone, we come across terms like camera, battery etc. These are LSI keywords for phone, certainly not synonyms.
What Are LSI Keywords?
We have somewhat described LSI keywords in the introduction already. To understand it even better, let's dig into the word further.
Even the most popular or the common words can be used in different contexts, and how would search engine understand in what context you are using a particular word.
Let's take the example word "water"
Water is undoubtedly one of the most common words that we use every day in our lives and write about it as well.
Now, if you are writing about WATER, how would Google understand in what context you are using the word WATER.
There could be many different objectives to mention this word, for example
Or something else that we don't know at the moment.
So, as you see there are a number of different use of the word WATER in a different context. The LSI keywords that we use around it in our document will help the search engines to understand the context of the word used.
Keywords & SEO
There was a time when the keywords used to be the most important SEO factors.
You must have come across the common SEO related phrase Keyword Density if you are reading about SEO related topics.
SEO was simple and a post published with the right amount of keyword density used to get ranked almost immediately without having to fight with millions of other sites like we need to do these days.
Users have misused this feature to the best possible extent and stuffed keywords just to rank higher in the search results even if it doesn't make sense to the article.
But, things have changed. How we write content have changed and SEO is changing almost every month. The keyword density is not as important as it used to be.
Google Hummingbird Changed Everything

Many websites that used to stuff keywords to trick Google became history after the Google updates like Panda, Hummingbird.
Especially the Hummingbird update (introduced in 2013) was targeted towards the misuse of keywords. Google become interested in the overall context of the article rather than individual keywords.
To keep your site safe from Hummingbird, you need to focus on natural language and not try to over optimize the keywords. In simple words, write your content for human not bots. They will find you anyways.
LSI Keywords & SEO
Google is a machine not a human being, as a content producer you need to make Google understand what is your content all about, without over optimizing it.
The LSI keywords can play a very important role in making Google understand the context of your content so that your content is ranked for the right kind of keywords.
How to Make the Best Out of LSI Keywords?
If you are blogging for sometime and familiar with Google Analytics and Search Console, you might have seen that a single article can help you to rank hundreds of related keywords.
So, make sure to create a piece of content that is perfectly optimized with LSI keywords so that you can make it rank for a number of related keywords in that topic.
Adding Context to Your Content
Though search engine like Google is way smarter than we think, it is still important for us to create the content that is easily understandable for both the human as well as machines.
As already mentioned, the LSI keywords can be extremely effective in bringing context to the content and make it understandable.
The word "apple" is a very popular example of how words can be confusing if it is not represented with proper context.
When we talk about "apple" it could be the fruit apple or it could be the company behind iOS products.
The LSI keywords like iOS, iPhone, iPad etc bring in the context to the word "apple" and make it understandable for us as well as the search engines that we are talking about the company, not the fruit.
Best LSI Keyword Finding Tools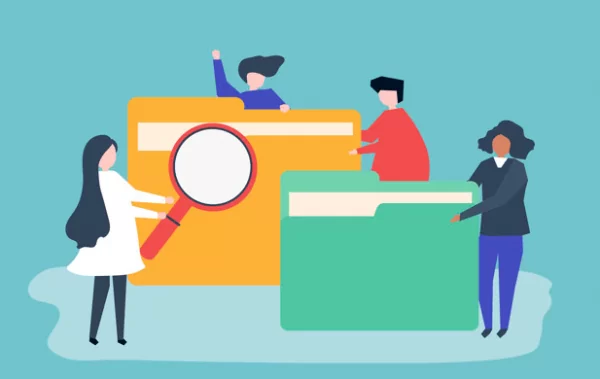 Here are some of the best tools to find LSI keywords to use in your content. We have mentioned some of the best and simple LSI Keyword tools that you can use to find the right keywords around your main keywords.
01. Make a Google Search
The best place to start with is the Google search itself. Make a search with the keyword you wish to find.
Scroll down to the bottom of the page, you will see some related keywords to the keywords that you are searching.
02. Google Keyword Planner
Google Keyword Planner is one of the most popular keyword research tools. Keyword Planner makes it super simple to find LSI keywords.
Login to your Google Adwords account.
Click on tools in the navigation and select Keyword Planner.
As you make search with your keywords, you will get the related keyword options with monthly search volume.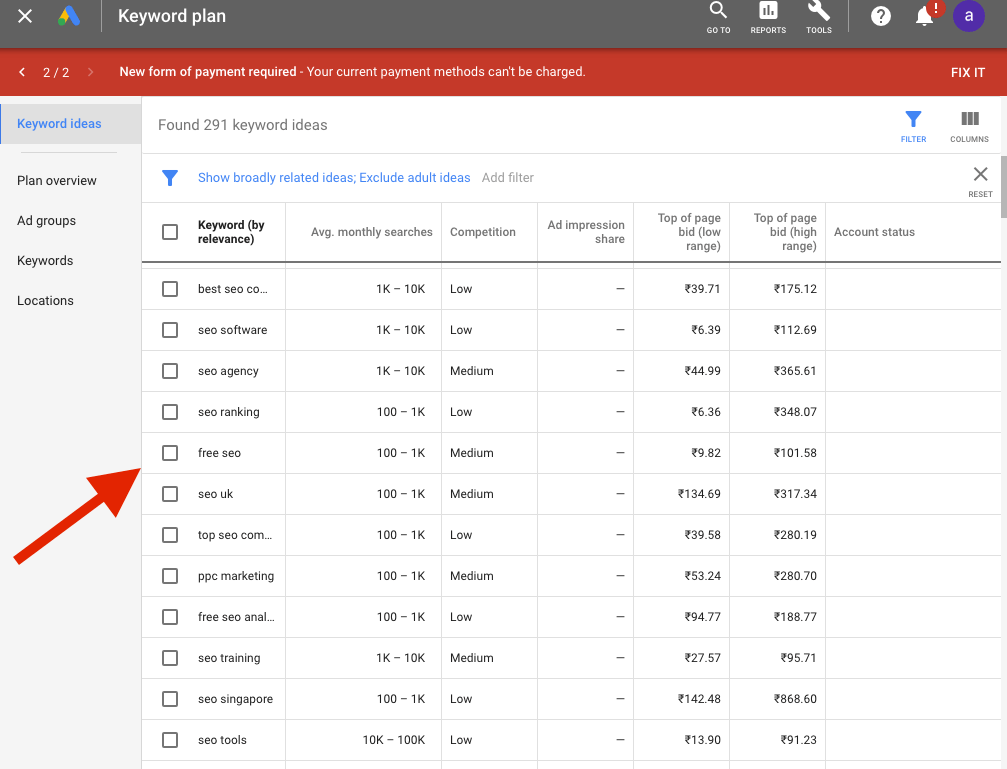 03. LSIGraph
LSIGraph is a simple and custom tool to find LSI keywords. The tool is easy to use, you can simply make a search with your desired keywords find related keywords.
Another advantage of this tools is that you can use it to find long tail keywords.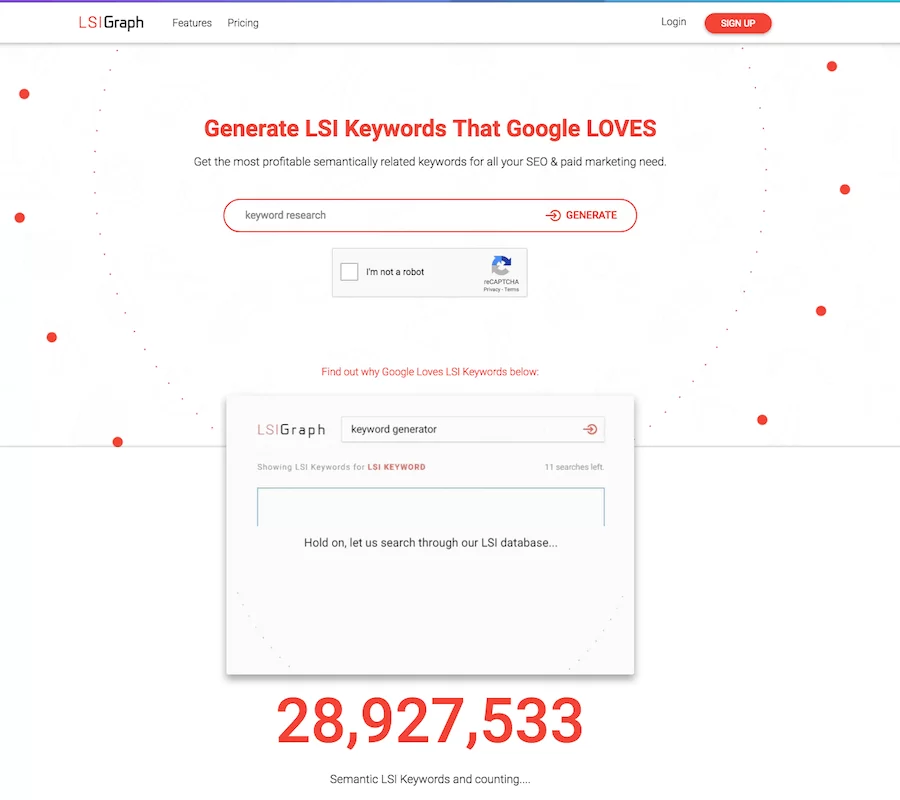 04. LSI Keywords
As the name suggests, this is a free tool to find LSI Keywords. The tool is very simple to use, you can add up to 10 keywords and make a search to find the related keywords.
You will get the options along with the monthly searches, CPC price and the competition level for those keywords.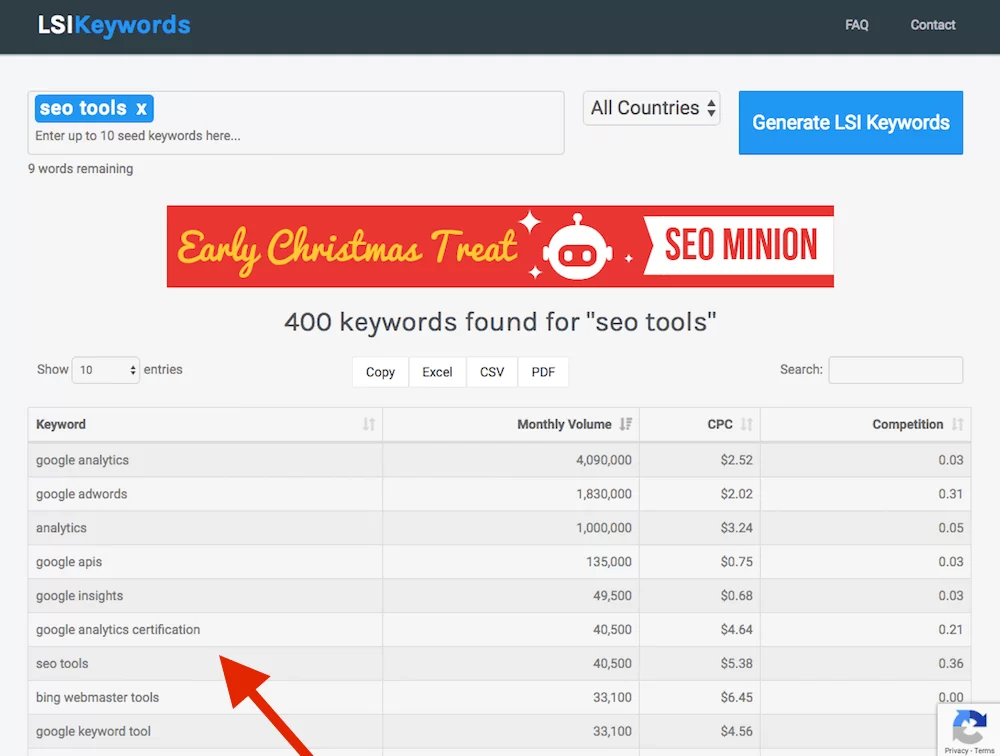 05. Ubersuggest
Ubersuggest is a keyword research tools to find the potential keywords that you can target on your content.
This is a free tool offered by Neil Patel, you can make an unlimited number of searches to find related keywords along with monthly search volume and keyword difficulty.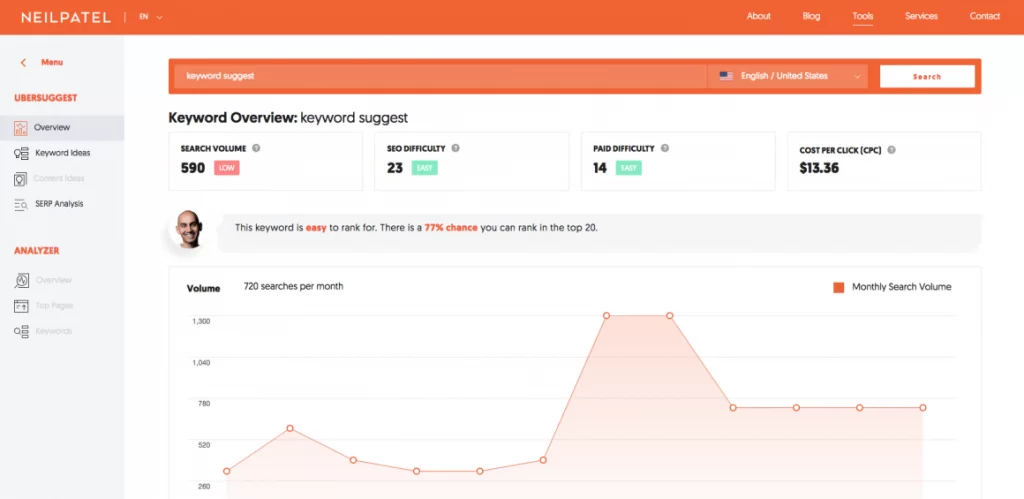 The tool is very easy to use. You just need to make a search with the keyword and you will get the suggestions based on your main search keywords.
The tool will also give you the monthly search volume, CPC, keyword difficulty (how easy or difficult it is to rank for that keyword)
Long Tail Vs LSI Keywords
Many newbie users might get confused between long tail keywords and LSI keywords.
These two terms of commonly used terms in the SEO community. However, these two are different from each other.
A long tail keyword is an extension of the main keyword with added words and phrases to make it more specific.
The long tail keywords can help you to rank for more specified search phrases.
Whereas, the LSI (Latent Semantic Indexing) are the words that are related to the main keyword in context to the document.
Final Word
It is very important to keep the context correct while writing an article otherwise both the users and the search engines will get confused.
For example, if you are writing a document about weight training, stick to the context and not divert to aerobics in between.
The LSI keywords could be extremely helpful in creating a complete document that is perfect from every aspect.
Hope you find this tutorial helpful. If you have any question about the LSI keywords, please use the comment form below.