It is important for the brands to keep a track of all the social mentions. As your brand grows bigger, the image of your that is created around your brand will matter.
How many times are people mentioning you on social media? You might be surprised as to how often people are going to talk about you on various social media platforms.
But it can also be tough for you to keep tabs on all those mentions you get on your site.
The good news is that it is not too hard to make the most out of your social media efforts if you look at your social mentions.
The best part is that there are various helpful tools out there that will assist you in the process of getting your social mentions under control.
Understanding Your Social Mentions
A social mention should be explored based on what the act is about to begin with. A social mention is a time when a keyword, brand, or other references to you is used on social media.
You can get these social mentions reviewed in any way you see fit, which leads to the first point.
Social mentions have to be positive and useful to where people will feel confident in what you are saying or doing.
This could help you with planning the content you've got.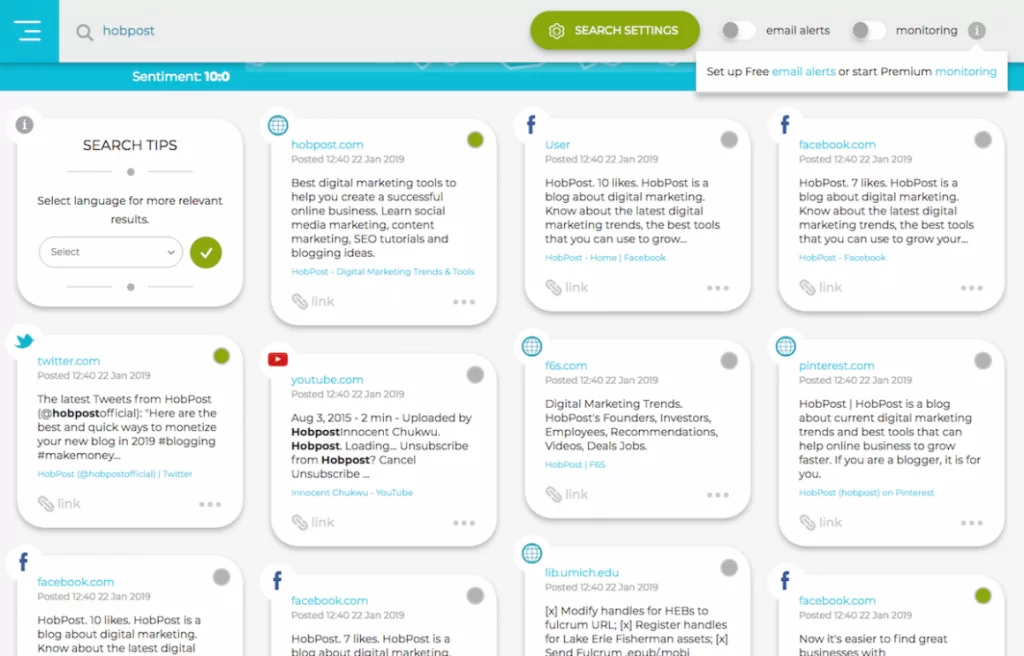 Categorize Your Mentions
The first thing to do is to look at how well the mentions on your site and social media accounts are organized. You can plan out your work based on different types of mentions that you wish to work with.
These include mentions according to sentiment, channel or social network, or engagement form.
You can use many categories to review how well your mentions are handled and that you're getting an idea of what to expect out of your work.
Use Google Alerts For Your Convenience
Your first idea should be to look at how Google Alerts can help you out. Google Alerts is a program that produces a news feed for you and lets you track when you are mentioned online.
The great part of using Google Alerts is that it is free. The program was originally made available only for those who were running businesses and were paying for extensive programs.
But today, Google Alerts is available for everyone.
You would have to check regularly on Google Alerts to see what is working on your site.
You would also have to look at the sentiments of the things people are posting on your site.
You can use this to get an idea of what people feel about you and what they are saying about the efforts you are putting into your work.
Your plans for work can help you with noticing many things surrounding your work and where your site is going.
Settings up Google alerts for tracking your mentions is simple, visit Google Alerts and search for the term you wish to track.
For example, if we need to track the term NitDit; we just search the term and then click on Show Options for further settings.

In the next step, you will have the option to set up the alerts according to your need.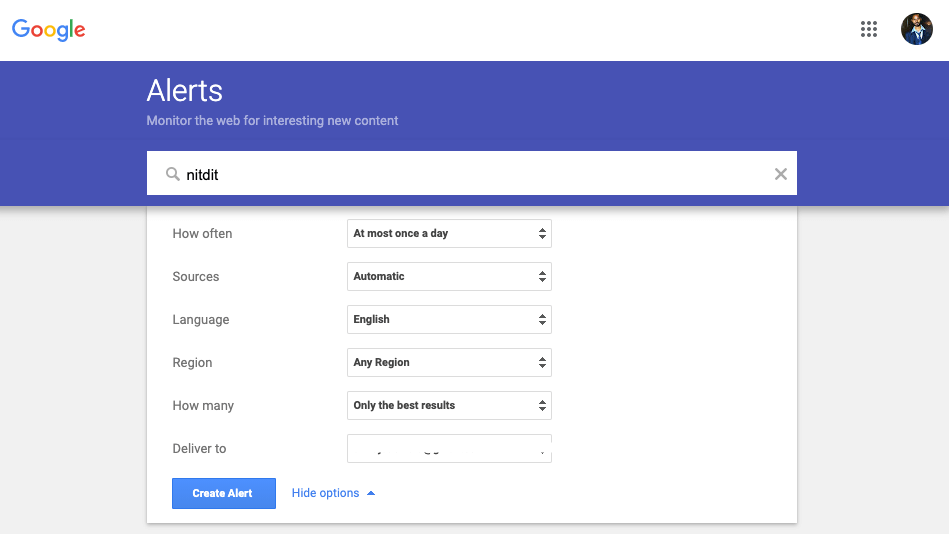 Track Your Hashtags
Any hashtags that you are trying to promote can be traced online with added hashtags involving your business being reviewed too.
Hootsuite offers a program that reviews your mentions and hashtags. You can use this to review what you are getting out of your work with handling social media efforts.
The best part of using Hootsuite is that you can review every single social media point that you want to work with. The comprehensive nature of Hootsuite makes it an indispensable tool for you to work with.
Hootsuite can also help you with tracking hashtags from different websites.
You can use this to figure out how your competitors are working with hashtags and if you need to change some of your plans around with regards to how those hashtags are working.
You can plan these around as you see the requirement.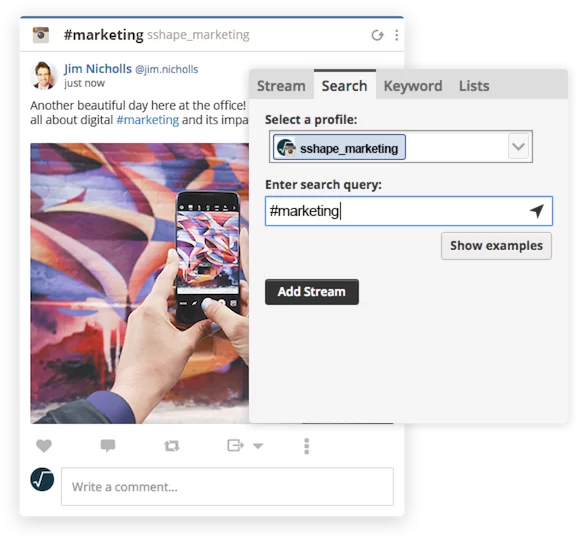 Look At Your Inbound Links
There is always the chance that people will have come on your site through inbound links. These are links that provide people access to your site.
The links provide a simple approach to handling your site's data while being easy to follow.
The best part of having inbound links is that they will show how well people are coming to your site.
You can use different analytics programs of all kinds for your site. Analytics programs should be examined based on how people reach your site.
This includes both links within your site and ones from outside. A program should review IP data versus where people come from when on sites.
You will have to notice how well your site is laid out accordingly and that you are reviewing your analytics to see how well your site runs.
One tool that works for this situation is the Link Explorer from Moz. This is a program that analyzes your inbound links based on the content you are working with.
Try Replying To Your Mentions If You Can
It is always good to get in touch with others who mention you online. Mention is an app that helps you keep track of your social mentions and then allows you to respond to those references in real-time.
The design that Mention offers provides you with a simple layout for making it easier for your responses to be planned out right.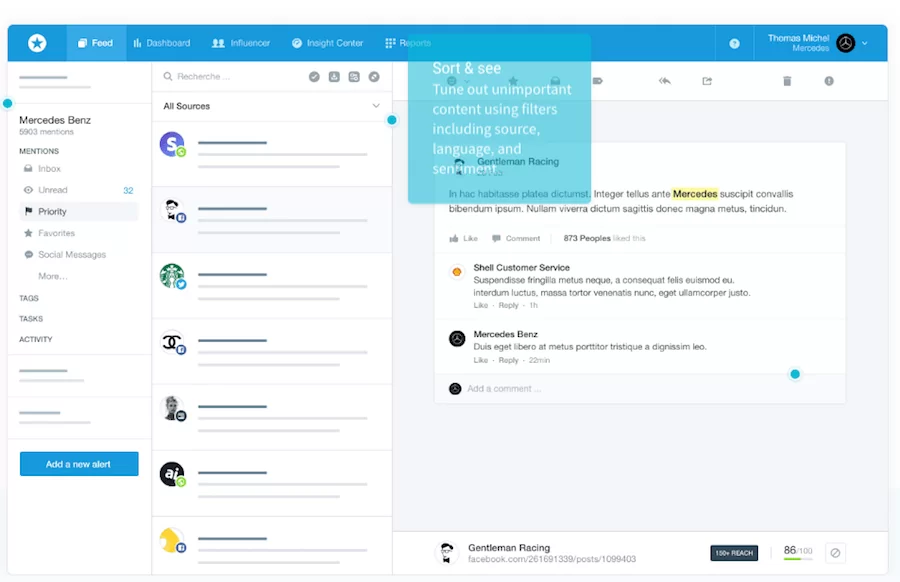 Check Your Statistics
Sometimes a general review of the statistics for your site can make the greatest impact.
You can review your site statistics based on factors like how often people are visiting your site or how many people are liking your page.
You can also look at new connections based on when you started producing new posts or hashtags among other things.
The basic reviews of your work can help you identify how well you are engaging people and what you are doing to make those people pay extra attention to you and whatever you are offering.
Each of these solutions for keeping your social mentions under control are important to note.
You have to look at how well you can get your social mentions managed right and that you can get an idea of what people are saying about you no matter what it might be.
Besides, you need to know what's happening with your site if you want to go places with your work.