Do you have a brand? Have you created its Facebook page? If not, it's high time for you to create a Facebook page.
Facebook is an unavoidable part of every business these days. It can help you to drive traffic to your business as well as create the much-needed brand awareness.
The primary purpose of digital marketing is to drive traffic! An ample number of good content on your blog or the Facebook page won't matter if there is no traffic to take notice of it.
A study has shown that Facebook serves as the highest traffic referral source.
Facebook has been one of the main traffic sources for millions of websites on the internet, especially the viral content sites the geolocation specific sites depend on the traffic from Facebook.
If you are serious about promoting your business on Facebook, it will start by creating a professional-looking Facebook page for your business.
The Facebook ecosystem is as competitive as the search ecosystem. Therefore, you will have to put in effort into building your page.
Like any other platform, Facebook cares for its users. It aims to improve the user-experience by proving them with relevant and high-quality content. But you have to use strategies to ensure that the content reaches the traffic!
In this article, we will cover how can you grow a Facebook page.
Here are 10 tips to boost to grow your Facebook page.
It is almost not possible to grow a small business these days without a good presence on social media. You must use platforms like Facebook, Instagram, and Twitter to reach out to your potential customers.
Here are some of the actionable tips to grow your Facebook Business Page.
01

. Build your presence
When I am talking about building your presence, I am not asking you to increase the number of likes on your Facebook page. In fact, the likes on your Facebook page doesn't indicate your presence.
It would help if you built authority over the Facebook page that drives the audience to take action. This will increase the engagement rate.
And Facebook will realize that you are providing the users with relevant content!
Also, be consistent with the messages that you deliver through your Facebook page. The message should be relevant to your business and should reinforce the idea of your brand.
For example, if you are managing a dental clinic; you must create content around dental hygiene to attract more users who are looking for information around that topic so that you can build your brand as an authority on that niche.
02

. Create a group for the most engaged audience of your page

Facebook page is all about community building. For creating a closely-knit community, I would suggest you create a group of the most engaged audiences on your page. 

Starting your own group has many benefits like:
03

. Post at the right time

When you are posting on Facebook, you need to consider the timing of the post. There is no specific right timing because it all depends upon the audience.

While scheduling your post, you need to consider aspects like:

As per a study done by Hootsuite, the best time to post on Facebook is

Best time for B2B brands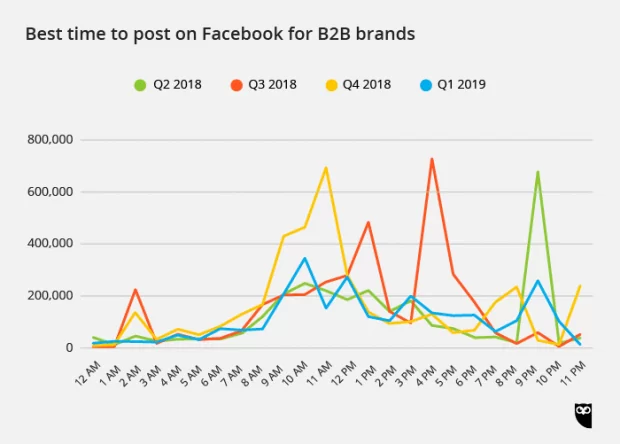 Best days for B2B brands
Best time for B2C brands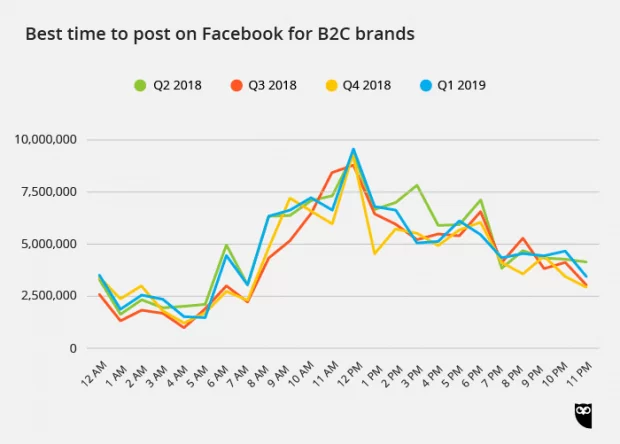 Best days for B2C brands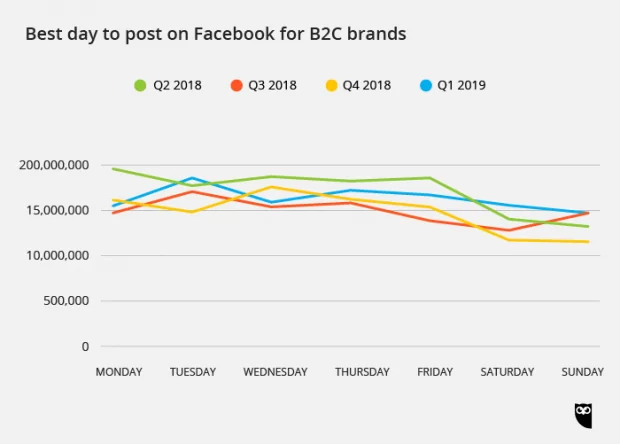 However, do not blindly follow these optimal times. It would help if you worked with your experiments.
Try posting at different times and go for the one that gives you the maximum engagement.
Also, if everyone posts at the optimal time, the feed will be crowded. Posting on off-peak hour gives you the benefit of more visibility.
You can use Facebook Page insight to understand your audience base and when they are more active.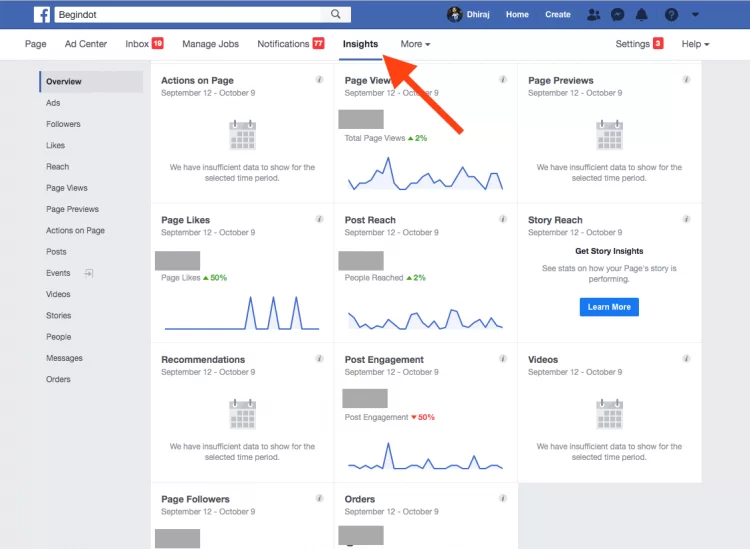 04

. Publish videos on the Facebook page

Recently, people have started shifting to video content. And there's a reason behind it.

Facebook prefers video content in comparison to simple texts or images. As a result, marketers have now started using video content.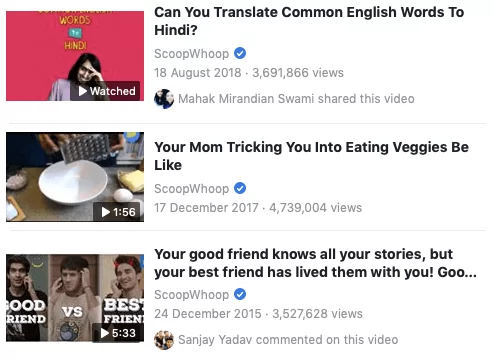 Make sure that the videos that you publish are high-quality and are powerful enough to grab the attention from the very first frame.
Along with the video, you can also include call-to-action like:
Also, you have the option of pinning your video at the top as a featured post.
05

. Three posts in a day will suffice

Popular websites like The New York Time and Huffington Posts publishes plenty of content daily on their Facebook page. However, it is not recommended to push the content aggressively on Facebook pages.

It is because it brings down the engagement level. The higher post will result in lower engagement.

You can safely post for 1-3 times a day, depending upon your target audience.
06

. Share the content from your Facebook page to your profile

You can consider yourself an avid Facebook user if you have more than 1000+ friends. You can use these friends of yours to drive traffic to your Facebook page.

After you publish a post on the Facebook page, feel free to share it on your Facebook profile.

This strategy is not scalable, but it will give you the much needed initial boost!
07

. Know what makes you different from others

No one wants to come across similar types of content again and again.

If you want to get yourself noticed in the flood of posts, then you have no other option but to make your posts different.

In the age of information overflow, you will have to fight for the attention of your audience. Find what makes you different and use it as your weapon.
08

. Run a paid marketing strategy on Facebook 

It is difficult to capture all the traffic for your Facebook post organically. Once you have attracted a good amount of traffic through organic ways, you should do a bit of paid marketing too!

The paid audience might decide to share or engage with the post. In such a scenario, the inorganic traffic generation will lead to organic traffic generation.

After doing thorough research, you need to have a clear picture of your target audience. And then promote your posts among these target audiences.
09

. Get your tone right

When you are communicating with your audience, you need to speak with the right tone. When you are crafting posts for your audience, you need to think like them.

The tone can be formal or informal, depending upon your posts.
10

. Identify the posts that create the most engagement rate

You need to experiment with different content on your Facebook page.

If you are a beginner, I would ask you to post different types of content on each day of the week.

Later, on Sunday, sit down and works on the metrics.

Look, which post type managed to create maximum engagement. Once you have an idea about it, you can post in that format a bit higher in comparison to another post format.

The different types of posts that you can try are:

Don't forget to mix and match!
Wrap Up
Your Facebook page can only grow if you provide value to your audience. If you do not provide value to your audience, they won't think twice before unfollowing your post.
When you are creating a post for your Facebook page, your primary focus should be on providing value to your audience. ROI and conversion should be secondary. Remember, you are a creator first!