Are you trying hard to rank your website or blog in Google? If yes, you will need to pay special attention to content creation.
You will have to ensure that the content that you are creating aligns with the user search intent. When you are talking about managing the SEO of your website, you simply cannot manage to ignore the user search intent. 
If you are wondering what exactly is search intent, we are here to help you with it. Along with the basic knowledge of search intent, we will also tell you how the search intent works and how you can optimize your website for user search intent. 
What is user search intent?
Search intent answers why some are doing a particular search query. When you search for something in Google, you don't simply search absent-mindedly. You have an intention, right? That's what search intent is.
Search intent can be anything, and you should be smart enough to know why someone is searching for something. And on the basis of that, you have to create your content.
Why should you pay attention to search intent?
Google has become the number one search engine for a reason. Google ensures that all the users receive relevant results for the queries.
If you check the mission of Google, you will realize that it wants to organize the information of the world and make it universally accessible and useful. If you want to rank your site this year, you will have to curate content that stands relevant to the search intent. 
For example, if someone wants to know the boiling point of water, they do not want to hear a story or 350 words blog post. All they are seeking is a direct answer in one word!
Types of Search Intent
There are four main types of search intent.:
01

. Informational 
In this case, the searcher is looking to gain information. This can be a direct question like "where is the Statue of Liberty is located?". Or something that requires a broad and in-depth explanation like "How the universe is formed?"
However, it is not necessary that when the search intent is informational, the user will always drop a question. It might be a simple phrase like "Big Bang Theory" too.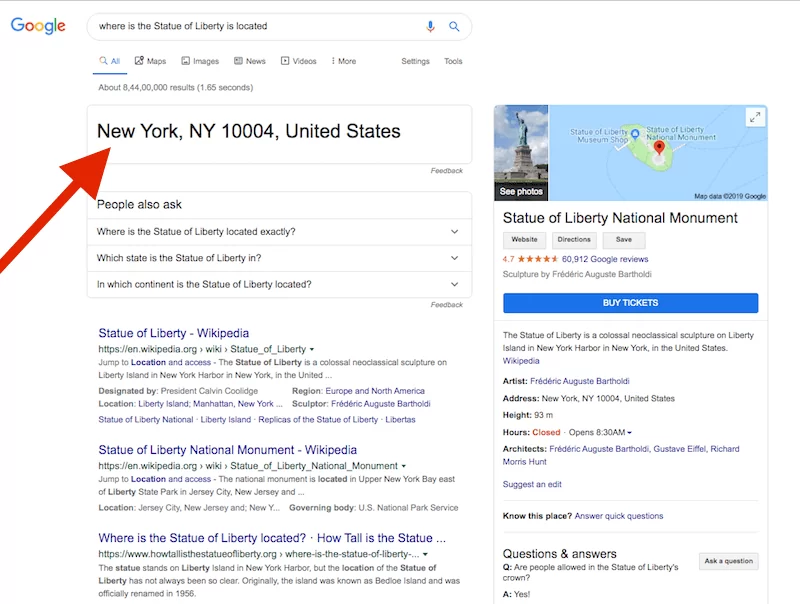 When the search intent is navigational, the user already knows which website they want to visit. They are carrying the Google search because it is easy to navigate the website through Google instead of typing the entire URL in the address bar.
Sometimes, the users also do a navigational search when they are not sure of the right URL. Examples of navigational searches include "Facebook" and "Twitter login."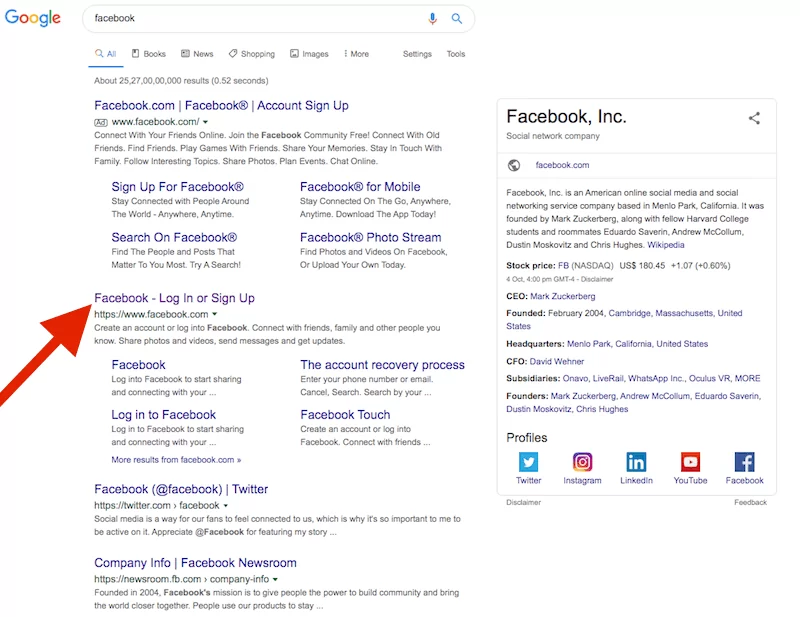 03

. Transactional 
In a transactional search intent, the user is looking forward to making purchases. If the user intent is transactional, the user most probably knows what they want to buy.
The user is merely looking for a website from where they can buy. Examples of transaction searches are "buy Macbook air" and "Samsung Galaxy S10 cheap."
As you can see in the image below, the search shows some of the latest articles from big authority sites as well as promotional links to help you buy. Also, Google gives you ideas around similar search done by other users to get similar kinds of information.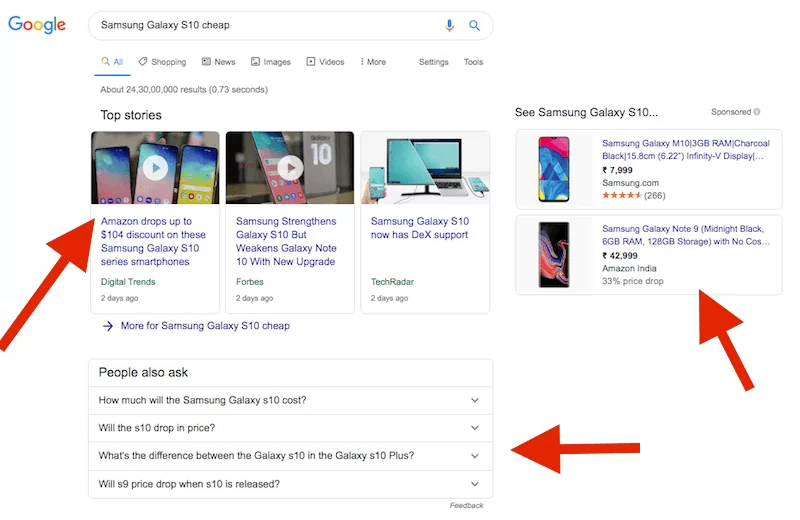 04

. Commercial Investigation 
If the user search intent is a commercial investigation, the user is looking to buy a service or product, but they are deciding the best option for them. In short, they will read the reviews of different products and weigh the options that are available to them.
Examples of commercial investigation user intent include "best smartphones under $20,000", "cheapest hotels in Delhi," and "WordPress vs. eBlogger."
Now that we know about all the four types of search intent, let us shift our attention to know how one infers the search intent.
How to infer search intent?
When you come across any query, it becomes effortless to know about the search intent. For instance, consider the keyword "buy movie coupons." It is clear from the query that the user is looking forward to buying movie tickets and is looking for coupons to do the same.
On the other hand, if some are searching for "how to become confident," they are looking for an informational answer.
One can easily identify informational search intent, when one comes across modifiers like how, what, who, where, and why. Or when the user is searching for a guide, tutorial, ideas, resources, tips, and examples.
Similarly, you can identify a navigational search intent when someone searches for a particular brand name, name of a service, or a name of a product.
Commercial investigates starts with words like best, top, and review and may also include an attribute of a particular product and comparison.
Transactional search intent can be identified with words like buy, coupon, order, purchases, cheap, price, and pricing.
I hope, now that you know the modifiers and the identifying words of different search intent, you will quickly know the reason behind the query made by the user.
However, it is advised that as an SEO expert, you do not solely lie on the modifiers to know about the user search intent. Are you wondering what else you should consider? Well, the answer in the featured snippet.
Have you ever come across any featured snippets? A featured snippet is an example SERP feature that Google shows whenever necessary. Featured snippets may include shopping results, AdWords ads, knowledge cards, video results, and related questions.
Again, it should be taken care of that one should not solely depend on SERP to know about the user search intent. You will have to use the combination of both the modifier and SERP, to interpret the user search query. S for
To explain this, let me give you top-ranking results for "air conditioners." The user intent, in this case, will be transaction if the user is in the buying mode. However, the user intent becomes commercial if they end up ending reviews of different air conditioners.
How to optimize user search intent?
You now have all the basic knowledge of user search intent, and it's time for you to now shift to practical knowledge. Let us now discuss how you can optimize your website to meet the user search intent.
The user search intent should always decide the type of content that you are creating. After all, it is for the users that you are creating the content, right? There are three steps through which you can ensure that your content aligns with the user search intent.
Step 1

: Check the reliability of SERP
If you have been into blogging, you must have realized that Google ranking is dynamic, and it keeps changing over time. It is therefore advised that you do not conclude the user search intent by just having a look at the top ranking websites for a particular frame of time.
In fact, you should check the ranking history of that particular keyword to have a more accurate idea of the user-search intent. It is advised that you consider at least a time frame of six months.
If there is no or little fluctuation, you can rely on the top websites to know about the user search intent. However, if you see plenty of fluctuation, you must know that the user search intent is still not clear, and Google is trying hard to understand the user search intent.
These keywords are risky as the clear intent behind the user search is unknown. You can use tools like Google trend to check how the search volume of a keyword or keyphrase is changing over time.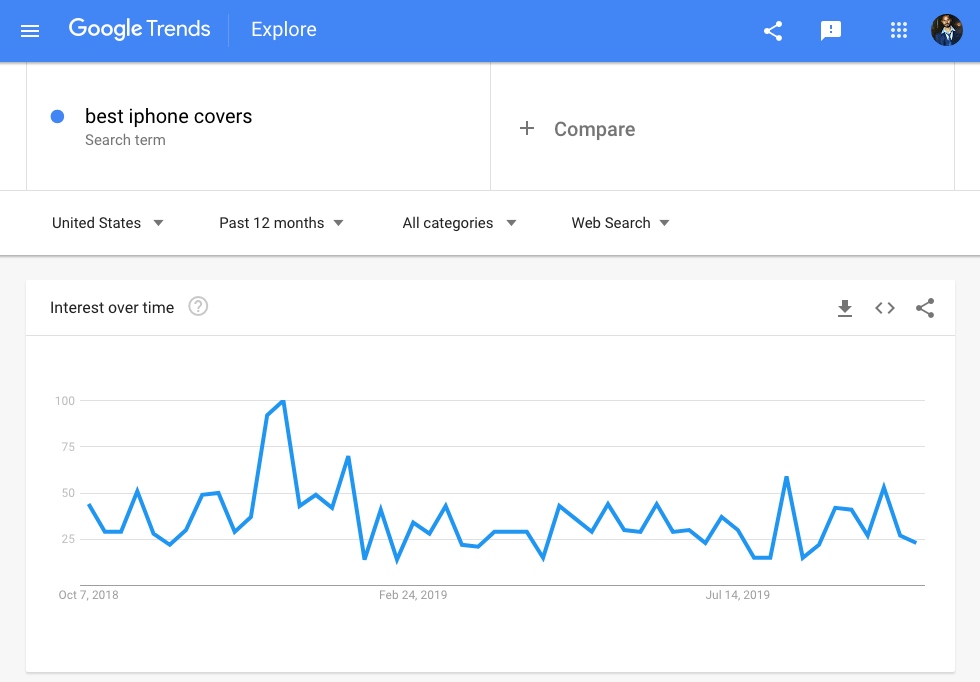 Step 2

: Consider the 3Cs of Search Intent 
When you want to align your content with users searches intent, you will have to take care of three C's:
Content-type includes different ways through which content can be written. It usually includes a blog post, category page, product page, and landing page.
In content format, you will have to have a look at the format of the top-ranking pages. The most common formats are how-to guides, list posts, step-by-step tutorials, reviews, opinions, and comparison.
The content angle refers to the USP of the top-ranked pages and posts. You need to check what content angle has notably ranked the website, and then you need to carry the same content tone.
Step 3

: Take clues from top-rank pages and search results
Google figures most of the user search intent. And therefore, you should consider taking cues from top-rank pages and search results. Take your time to figure out and study both the top-rank pages and search results deeply.
You can instantly check your keyword rankings with the SER Rank Checker tool, complete with helpful keyword metrics like search volume and keyword difficulty.
It would be best if you also considered looking at "People also ask" box for SERPs. Visit the top ranking websites, and you will have a clear idea about the way you should curate the content.
Wrap Up
User search intent is probably one of the most important ranking factors in the recent past, so must give keen attention to how you plan your content. If one fails to give the users what they are looking for, a slim chance will exist that the post will be one of the top-ranked.
If you manage to crack the user-search intent and create content in alignment with it, no one can beat you from getting ranked in various search engines.