Webinar: An Overview and Introduction
The word "webinar" is quite explanatory in itself. You can break it into "web" and "seminar". So basically, a webinar is an online seminar used for online video sessions, presentations, seminars, web-based lessons, training, workshops, and so forth.
Traditionally, a webinar is delivered in a live or real-time shared manner where a number of viewers from all around the world collectively get access to some kind of video feed over the internet.
An amazing feature of modern webinars is that organizations and video streamers can also deliver recorded video lessons or programs in real-time webinar sessions. Webinars in the modern, competitive business era have an ocean of opportunities and one of the highest reaches in the business.
Although there are a ton of different factors involved in the success of a webinar, the core idea remains that a webinar must be very interactive and should involve the viewer as much as possible.
No matter live or not, a webinar must empower the participant to ask questions, register queries, put up doubts, collaborate along with the presenter, and so forth without any technical difficulty or management hassle.
Defining Webinar Software
In the simplest of terms, webinar software has a ton of integrated features and functionalities that completely streamline all aspects and complexities of hosting and management of a live webinar.
The market today is simply packed with a ton of options in all different price ranges and features in the global market. But first, it's important to understand and define what webinar software is.
Webinar Software: The Definition
As mentioned briefly in the introduction above, a webinar is an online or virtual seminar held by a conductor or host for an audience mostly scattered across the globe.
Webinar software are exclusive mediums that make a webinar reality. They allow a host to connect to a hundred and thousands of views across the globe to attend video lessons or interactions easily. The size of an audience can be very small, such as office staff or that of a complete stadium or large-scale TED talk show.
The source, however, mostly and definitively remains common or centralized at a fixed source. Webinars, post the COVID-19 pandemic wave, have been used for virtual presentations, product intros, training, and so on.
A full-fledged and powerful webinar software can allow a marketer or business organization to effortlessly target a huge audience with high-quality video and audio feed. Your organization can leverage the power of webinar software to develop and deliver premium product presentations and for spreading your brand image across the borders.
Modern webinar software are packed with some amazing tools and customization options that allow marketers and brands of all sizes and types to make their webinars more memorable and productive.
Here are a few points that you must look for in good webinar software:
Webinar Software: Top 7 Benefits for Modern Business Workspace
Although different webinar software in the market offer a number of different solutions, here are a few major benefits of traditional webinar software that you must know before investing in a full-fledged membership package.
01

. Content Customization and Personalization
Webinars are nowadays considered to be one of the most unique and profitable methods of brand marketing and product education. Some of the best ones allow you to integrate and leverage the power of different presentation add-ons for enhancing the experience of their audience members.
Some of such tools include slides, chat features, interactive add-ons, etc.
02

. Cost Saving and Budget-Friendly
Webinars are one of the most amazing channels of marketing, as per the cost and budget concerns. Hosting an actual seminar is very costly. From booking a space for your seminars to doing various other arrangements, such as foods, equipment, accommodations, and so on, simply shoot your expenses to the next level.
A webinar software costs almost nothing in comparison with an actual, in-person seminar. Some of the webinar software and vendors also offer free versions of their software. Keeping in mind the rise in work from home and remote working culture around the world, webinar software seems like a legitimate and profitable investment.
03

. Educating Potential Customers and Catching New Leads
Webinars, as compared to many other methods, is extremely easy to use and need no extra technical knowledge whatsoever. You can leverage the power webinar software to educate and inform your target audiences about the power and possibilities of your product.
Some of the top brands have used webinars to explain to their target audience the benefit and perks of their service. You can also take data and information about your target audience's behavior.
04

. Live Demonstration of Your Services and Product
Another amazing advantage of modern webinar software is that brands and various sizes of business organizations can actually give a live demonstration of their product or services through a live webinar via professional webinar software.
Not only will this boost your sales and profits but will also enhance the credibility of your brand in the eye of your target audiences.
05

. Competitive Advantage Over Your Competitors
Webinar, still being a very new technology, has an ocean of opportunities but is still alien in many different niches and markets across the globe.

Brands are still trying to figure out ways to make webinar software a tool and asset for their business. This is the perfect time to leverage the power of webinar software. You can easily become a market leader and top marketer in your industry with the best webinar software.
Regular and highly researched hosting of webinars is beneficial for all kinds of business organizations and teams across the globe. Also, you can gain valuable and important data about your target audience to boost the quality and flexibility of your product or service.
06

. Brand Awareness
Enhancement of your brands' awareness is the biggest perk a webinar software has to offer to you. Audience targeting and region-centric webinars are some of the core features used by brands across the globe to take an edge over their competitors.
Webinar software allows the viewers to easily and quickly share recorded webinars and information about future webinars in a convenient and informative manner.
07

. Skyrocketing Revenues
Webinars are also used for boosting revenues and profits across the globe. A well-established and professional webinar host can ask for some amount of entry fees from his or her audience for accessing the webinar. You can make quick and direct sales from your webinar to your target audience.
A notable feature in modern web-based webinar software is that it allows brands to add some or the other kind of CTA with the webinar, which ultimately enhances your reach and performance.
Best Practices for Webinars and Webinar Software
Here are a few major practices considered best for all kinds and types of webinars:
Top Webinar Software in Detail
Now, let's have a look at some of the top webinar software that we mentioned above in detail.
01

. Livestorm Webinar Software
Livestorm is a one-stop, comprehensive solution for video communication. The platform is easy and convenient to use for all kinds of teams and businesses. Livestorm makes team planning, promotion, and event analysis flawless.
The software is a browser-based solution accessible for all kinds of devices, such as mobile devices, desktops, and tablets. It eliminates the need for downloading any kind of software, tool, or app on your device for the event and video communication.
You get access to real-time video communication solutions on the go with Livestorm. Department and services like marketing, customer success, sales, and HR use Livestorm for easy event management and video conferencing.
Livestorm is highly productive and very adaptable for beginners as well. From video meetings, video conferences, virtual learning to webinars, Livestorm offers it all.
Why Livestorm?
Live streaming is the future and Livestorm is all about making it the new normal. Apps like Livestorm Webinar are proving that video platforms are beyond entertainment. The app is designed and developed to streamline video training, conferencing, marketing, and more.
Though the Livestorm webinar app is very costly as compared to other alternatives, the number of features integrated justifies the price to a very large extent. The fact is that video conferencing technology is still growing and prices will surely go down over time.
If you are one of those people who need video conferencing and virtual meetings on a daily basis, then Livestorm webinar app is a great solution for all. You can adapt to video communication easily with the Livestorm webinar app.
One of the reasons Livestorm webinar is getting such a positive response and critical acclaim from experts across the globe is its easy streaming service. The designers and developers have focused intuitively on simplifying the app for easy video communication.
If the app was priced for a better price tag, it would have been a game-changer in the category. For people who are fine with spending a little more for the best service, Livestorm Webinar is a great option.
Livestorm Webinar: Top Features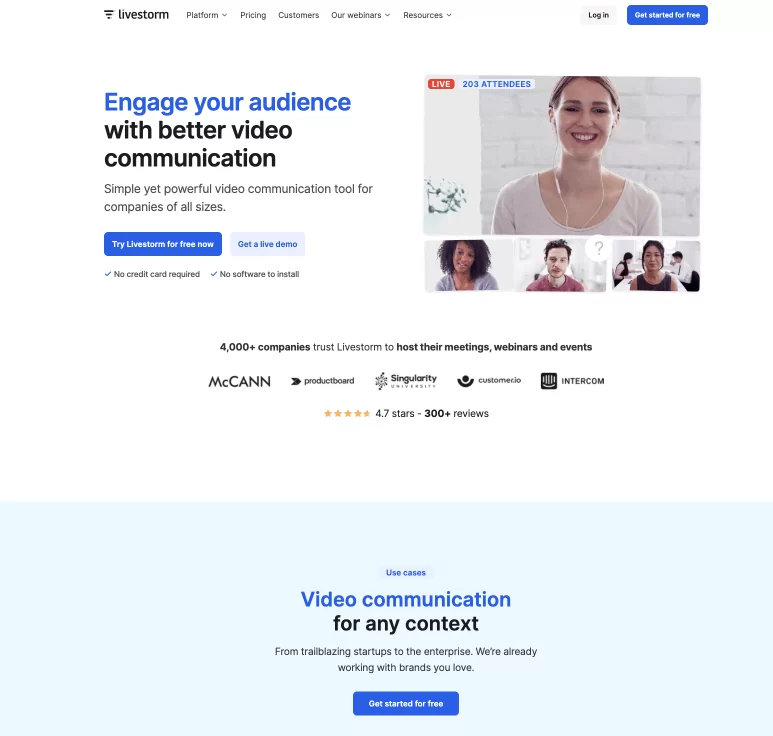 02

. GoToWebinar Software
Unlike any other applications available for webinars, GoToWebinar has received one of the highest appreciations for sure. The app has served over millions of webinars since its inception and is still having a strong base in the market.
Despite its varied applications such as webinars for marketing, communication, or training, GoToWebinar is a true all-in-one solution. The technology used in designing and developing GoToWebinar is reliable and very simple to use even for freelancers.
The app offers you a complete set of intuitive features and integrations for easy audience engagement and personal communication. Overall, GoToWebinar is one to look out for as it is developed for modern business solutions.
Why GoToWebinar?
GoToWebinar is one of the most flexible solutions for all kinds of webinars. The software is open for all kinds and sizes of professional businesses, thanks to its intuitive features and functionalities. For those looking to enhance and extend their professional reach, GoToWebinar is all you need.
The app allows you to engage your audience all across the globe. Businesses can make better decisions and offer better video and audio conferencing. Without having any kind of physical communication, GoToWebinar allows you to spread your content better with webinars and online sessions.
The complete architecture and design of the app is about making webinar a self-service solution for your organization. Freelancers and organizations using GoToWebinar have rated it highly for its amazing self-service solutions.
Setting up GoToWebinar is very easy. You won't need any kind of IT installation support. Business organizations from all around the world have acquired top value from GoToWebinar over the past few years. Also, GoToWebinar is one of the best for lead generation.
Another important feature of GoToWebinar is that it is available on all kinds of devices, such as PC and Mac. The best part is that no user has to worry about their system requirements while attending their webinars online.
The app has also addressed the old and common issue of "need to show" effectiveness. GoToWebinar streamlines the demonstration hassles for the top concerns for learning environments, namely training, knowledge sharing, and educational marketing campaigns.
On the data and analytics end, GoToWebinar is also a complete winner. It offers attendee reports as well as highly informative insights for all kinds of teams and users. You can get the best data about how exactly your webinars performed in seconds.
Businesses can also track the sources driving the most sign-ups using the integrated source tracking feature.
GoToWebinar: Top Features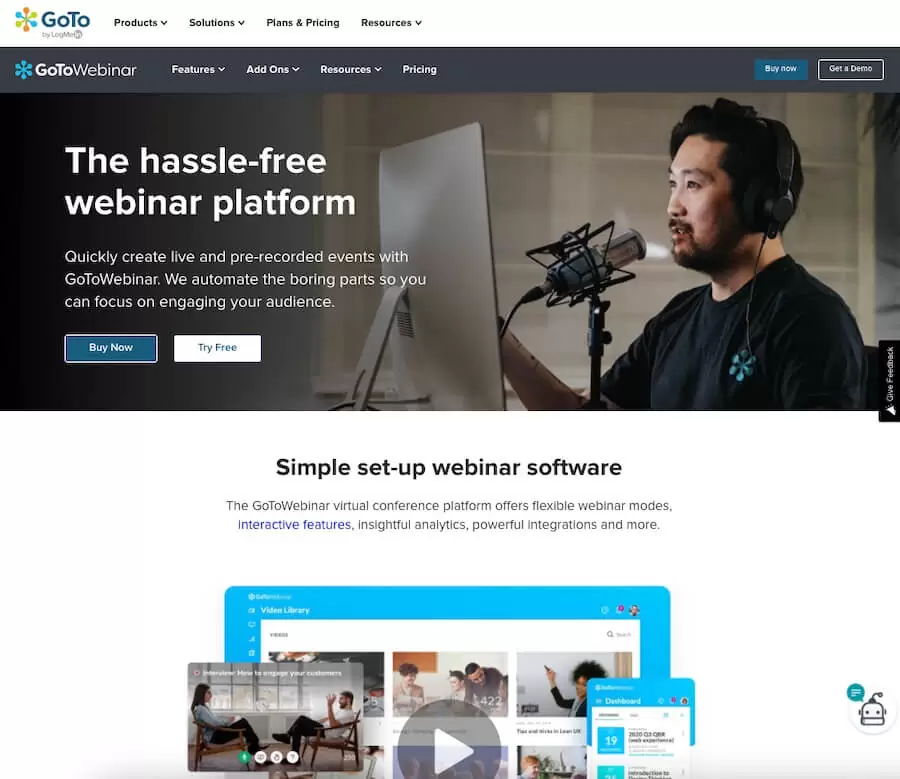 03

. WebinarNinja Software
WebinarNinja is a feature-packed webinar solution in the global webinar marketing platform. The software is considered one of the best in the category for its ease of use, landing pages, and slide templates.
WebinarNinja is a true conversion-centric webinar system that allows you to teach, market, and make sales via your webinar. The team has developed and optimized it for maximum results, irrespective of the size of your business.
The best part about WebinarNinja is that you won't need a team of IT experts to access and create webinars, integrate landing pages, sequence emails, and so forth. Starting at a price tag of only $49.00/month, WebinarNinja is one to look out for.
Why WebinarNinja?
WebinarNinja has a lot of amazing features for all levels and sizes of businesses. The layout offered in WebinarNinja is clean and very simplified. The team has offered a very useful chat bar on the top-right edge of the screen.
You also get a thin panel with a lot of different options, such as screen sharing and display on the very right edge. The main view will show you a view of your webcam, mirror to what your webinar audience will see.
A highly appreciated feature of WebinarNinja is that it allows users to switch between different layout options. This feature is not found in most of its possible alternatives. This feature emphasizes your screen and webcam, in case of multiple presenters in a webinar.
Shifting layouts while being in a live webinar is made possible with WebinarNinja. Not only will this feature help you in enhancing the look and vibe of your webinar but will also help you in attracting your audience in a very easy and quick manner.
Another intuitive feature of WebinarNinja is that it automatically records all your events and live webinars. This recorded footage can be used for making a replay video of your webinar. You can also store all your webinars in a replay room.
Also, the replay room's layout is similar to the integrated live event room. Right from the very beginning, you can see all of your chat and messages in the chat area from your live events.
As compared to its biggest alternative GoToWebinar, WebinarNinja is a pretty average option. Though the price tag is quite, the features offered are quite average and will not give you any astonishing webinar experience.
WebinarNinja's poor video quality is a big deal breaker and has been one of the biggest factors for its criticism since its inception in the market.
WebinarNinja: Top Features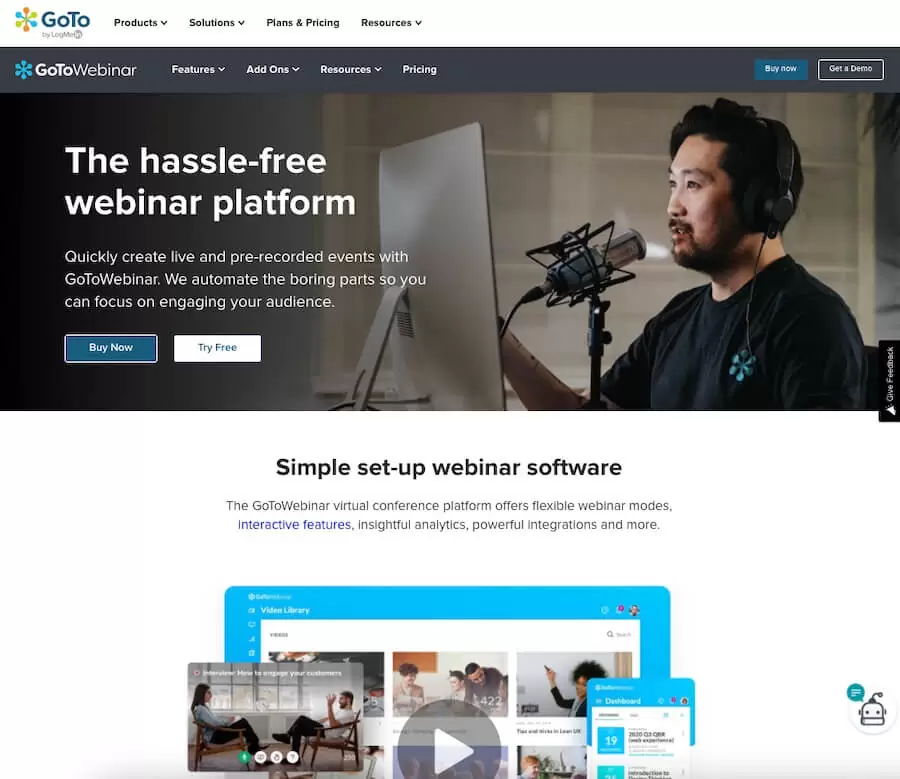 04

. ClickMeeting
Though ClickMeeting is mostly focused on its webinar tool, it offers a great video conferencing solution for all kinds of users. The emphasis of the developers on the webinar helps in lending the best additional quality to video conferences and online sessions.
The all-time USP of ClickMeeting has been its high-quality audio-video experience. ClickMeeting also acts as a general video conferencing solution. The app has been one of the best user controls for the host.
Though the app has a costly price tag attached, it has won tons of editors' choice awards in the past and the recent updates are looking promising as well.
Why ClickMeeting?
For small and medium-sized businesses looking for a reliable and productive video conferencing solution, ClickMeeting has an edge over its competitors for sure. The app prompts you to set up a meeting at the very start, unlike any other solution in the market.
ClickMeeting's UI is user-friendly and non-cluttered. One of the best features of ClickMeeting is that it has no boring and dark corporate-look anywhere in the app. ClickMeeting is very easy to navigate for beginners. The app guides you step by step in setting up and designing your meetings.
ClickMeeting's integrated account panel allows you to see events and conferences that you have created, including the stats for your video conferences, such a meeting length, attendee numbers, and so forth.
Users also get a personalized, dial-in number for further simplifying the meeting setup. You can also choose the number of cities in the US, the UK, and so forth. It also allows you to buy additional, toll-free numbers for easy online conferences. Tons of keyboard shortcuts are available on ClickMeeting's website.
Add-on features like 'How to Mute Yourself and On-hold music' are available in ClickMeeting. Users, specifically the presenters, can use ClickMeeting's exclusive VoIP service to join calls easily.
ClickMeeting offers a unique feature that you will hardly get in any of its alternatives: the meeting space customization feature. This means that you can choose your favorite background skin for all of your meetings. Even features like 'Thank You Page Redirect' are available.
Presenters in ClickMeeting can also upload files into the meeting for all the attendees. This is doable from the computer or directly from your Dropbox account. Any user wishing to share their desktops can do that in a few steps with ClickMeeting.
ClickMeeting integrates YouTube right at the dashboard itself. The YouTube add-on at the dashboard would originally have how-to videos of the app itself. You can easily search for the video or tutorial you want via ClickMeeting itself.
ClickMeeting: Top Features
05

. Demio Webinar Software
Post the 2020 pandemic, the popularity of webinars is simply skyrocketing. The new normal of doing business and work from home is being assisted by the webinar solutions. Demio is a name that has emerged as one of the best in the business in recent times.
Considered as one of the least complicated tools available, Demio can help you in creating the best webinars at the lowest cost, targeting the right audience. All you need to stress is the quality of your content and marketing tools.
Demio is a complete webinar solution. It gives you the right amount of freedom and feasibility to create the type and quality of content that you only wished for. From a serious, full-fledged session to a product or brand-based talk, Demio offers it all.
Also, Demio has been utilized for light, business-centric chat sessions as well. All-in-all, Demio is a comprehensive and powerful webinar solution.
Why Demio?
For professional marketers and budding businesses, Demio offers a lot of amazing solutions. The app is packed with some of the most interesting and productive features found in the category. Demio's powerful webinar solutions allow you to streamline all live events easily.
You can conduct online events, interactive sessions, team collaboration webinars, online training sessions, and so on easily and effectively.
Though the webinar market is jam-packed with some of the top players like Webex and Go-to-webinar, Demio is making a solid name for itself steadily. Demio eliminates a lot of different kinds of webinar fuss, such as installation, attendee management, and so forth.
Initiating your webinar journey with Demio is as easy as it gets. Another core feature of Demio is its amazing lead generation capability. Not only this feature works for the enterprise and established businesses but also makes everything easy for small ones.
Demio is a hassle-free webinar solution, which eliminates the need for users to download or install any kind of heavy software into their device. If any user is trying to attend a webinar via Demio, it would hardly take any effort. Users get to attend webinars on the go.
The powerful one-click process of Demio makes everything frictionless for new webinar users from across the globe. All they have to do is to take out their phones, open their favorite web-browser, and attend their webinars. As simple as that!
Demio: Top Features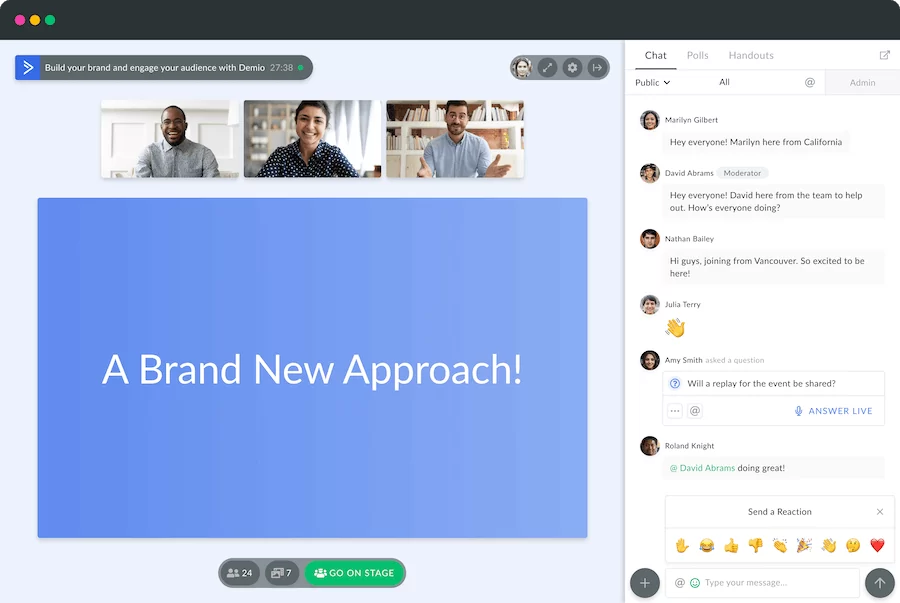 06

. Microsoft Teams Webinar
Teams, or Microsoft Teams, is one of the easiest and highly customizable team collaboration and organization solutions. The service has been used by users from all across the globe and by all businesses.
The interface and overall usage of this popular team collaboration solution serve more like a self-help tool. You can do a lot of your changes without halting the complete project process.
Microsoft Teams is super clean and simple to use. It makes even the difficult workflow a walk in the park for beginners and helps in the easy maintenance of each and everything in the team collaboration system.
Another notable feature that is unparalleled to any other service provider is the list of integrations. You must try Microsoft Teams if you need everything sorted seamlessly.
Why Microsoft Teams?
Microsoft Teams houses a powerful and easy-to-use desktop and web app for team collaboration without a second thought. It does offer a mobile version of the same but comparatively the web and desktop versions certainly have the upper hand.
The navigation options available in this team collaboration solution are unique and very easy to use. The module is packed with different kinds of layers having different functionalities. The activity layer, chat teams, and files are some of the major ones.
Microsoft Teams offers more than enough space for conversion and call connectivity. You can also explore more by choosing the 3 dot icons and opt for screen sharing, video calls, and a lot more into your module.
If you want to use Microsoft Teams for your webinars, it offers you all the features and options to conduct webinars for your business.
It allows up to 1000 attendees for webinars at a time making it a great solution for businesses of all sizes.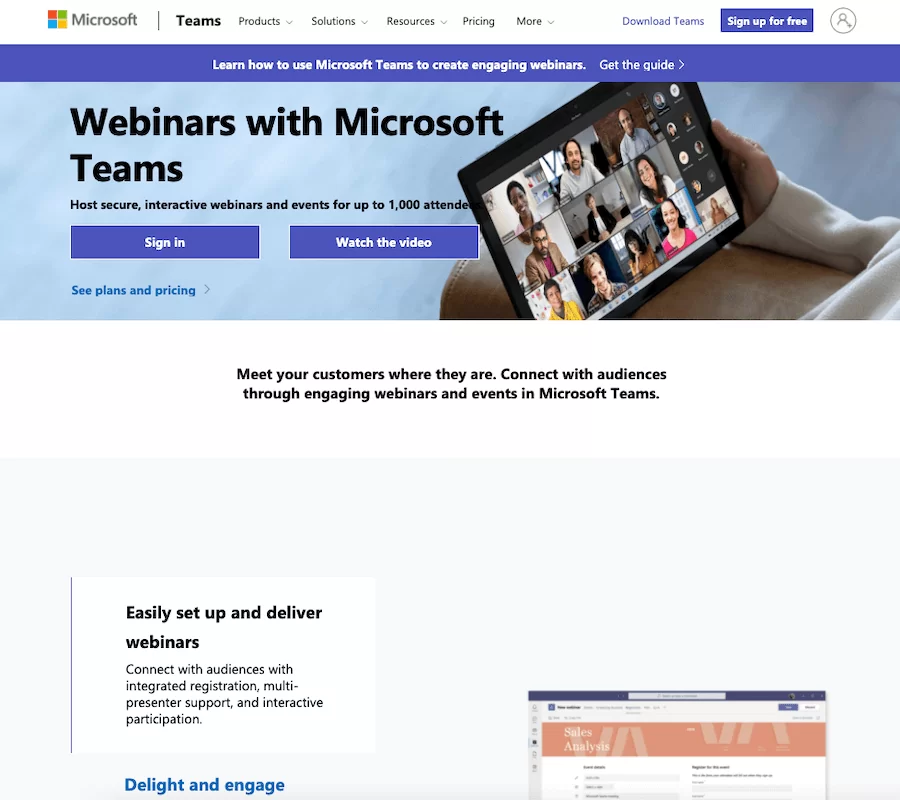 Bottom Line
Make sure you choose the most flexible and easy-to-use webinar software for your brand or service. Try one for your business now before it's too late.
And if you have any other webinar software in mind or have any kind of expertise with modern webinar software, do let us know for sure!