If you are looking for the best social media marketing blogs to learn social media skills, here is a list of some top blogs for you.
Social media is best way to create authority in any topic. If you can share good quality content n social media sites regularly, people will start looking at you as an expert in that niche or topic.
Also, social media is a great source of free traffic. So, as a business owner, you must learn the skills to grow your social media following and engagement.
If you look at any of the general blogging related blogs, you will find nice tutorials about social media. So, there are a number of top-quality blogs around social media and overall online marketing.
We have tried to list the best social media marketing blogs in this article, and we will be expanding this list in the time to come as we come across any mention-worthy blog in the future as well.
Top Social Media Marketing Blogs
If you are managing any blog, a small business, a product or any other kind of online business, you can't ignore social media these days. If you are gearing up to learn more about how to make the best out of social media platforms, these blogs will do the trick for you.
Social Media Lab, By Agorapulse
If you are planning to start your social media promotions and looking for the best social media blogs to learn the aspects of social media branding, Social Media Lab, By Agorapulse is one of the best.
The team at Agorapulse do their own experiments by investing time and money, and you can learn from what they get out of their experiments.
You will get to learn a lot about Facebook, Twitter Instagram marketing by reading this blog.
Learn social media tips
Good in-depth research on social media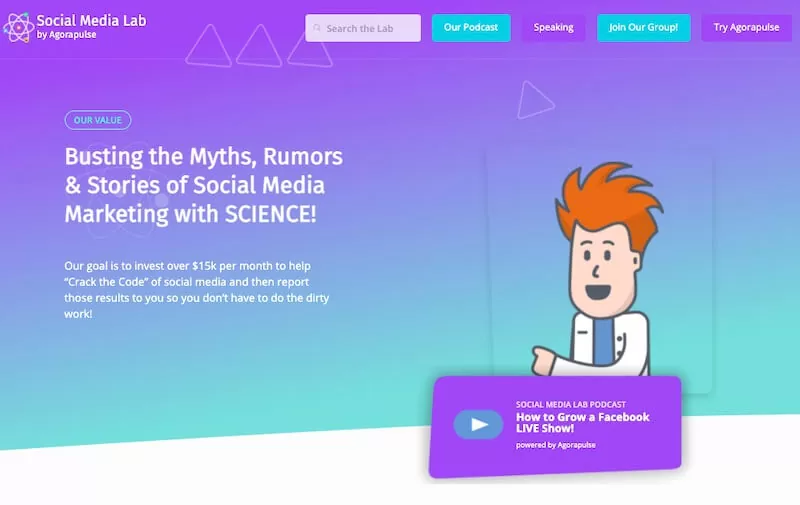 Social Media Explorer
You can use Social Media Explorer to get details on outstanding sources for marketing that can work for your needs. The site offers a thorough approach to identifying many points and tips for going forward with your marketing efforts.
Includes regular tips and tricks on making more out of your work
Provides details on important cases for functionality
You can learn about the various movers and shakers in the social media field here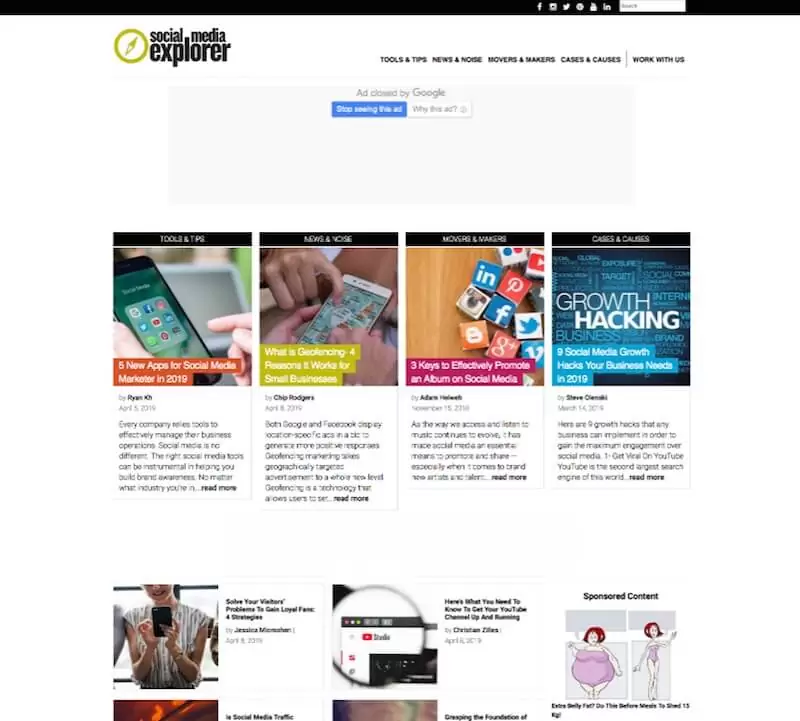 Duct Tape Marketing
Duct Tape Marketing is designed for small businesses that need extra help with their promotional efforts. The content includes details on entrepreneurial efforts that you can handle and points on what to do when aiming to promote your content and make it more visible.
Helps with information on many marketing efforts
Features a full podcast highlighting many details
The tutorials on the site are very easy to follow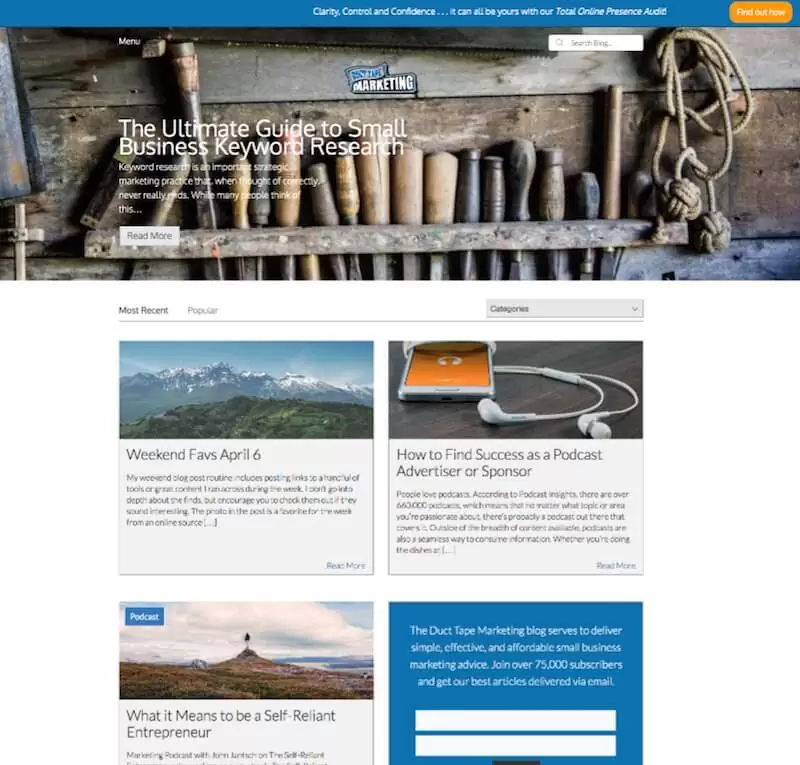 Social Media Today
Social Media Today focuses mainly on new developments in today's social media sites. These include points surrounding how to use hashtags, videos, and other points relating to how well you can communicate with others.
Covers all major social media sites
Includes details on SEO content
Features many helpful infographics for your convenience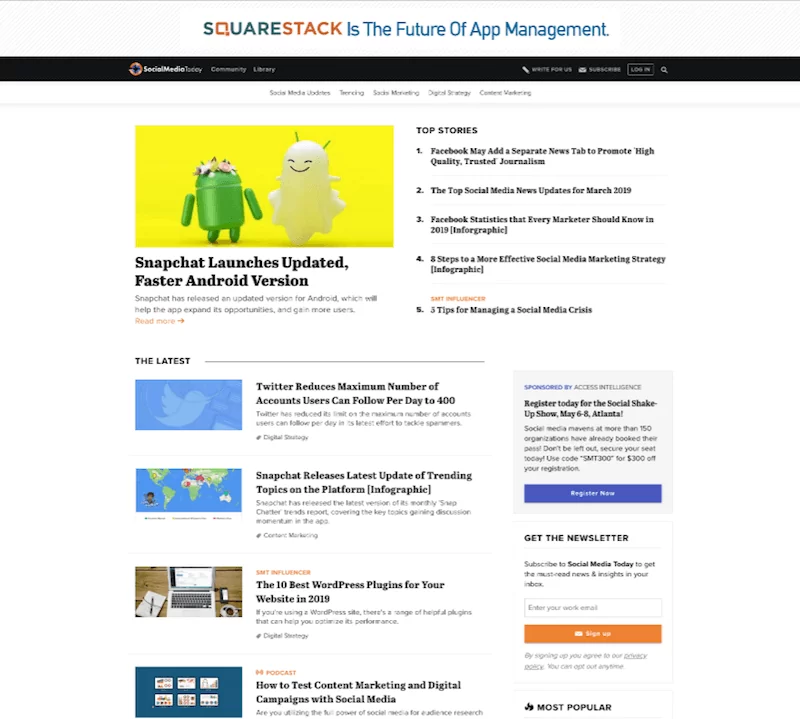 Web Ink Now
Get full information on your communication efforts through Web Ink Now. A site by popular marketing speaker David Meerman Scott, the site includes sensible points for marketing experts, but the content here is particularly helpful for those who have little experience in the marketing field.
Covers details on new things relating to the value of your field
Highlights content on ebooks
Case studies on social media efforts help you note what's available for your work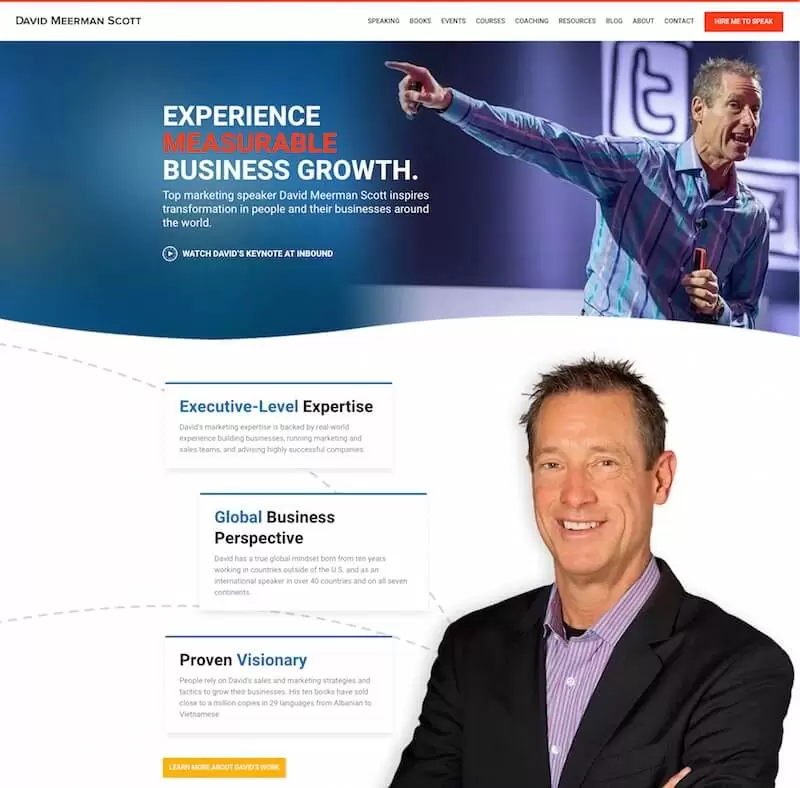 Small Business Trends
The thorough points you will see through Small Business Trends will help you notice many points on what makes your efforts for marketing work.
The content on Small Business Trends focuses mainly on content surrounding how well you can utilize social media content.
The details here focus mainly on business functions, but the details can work well if you've got a personal site that you want to make a bit of extra money off of.
Includes segments surrounding finances for your work
Includes points for Salesforce and Dreamforce content
Gives you up to date information on how small business functions are working where you are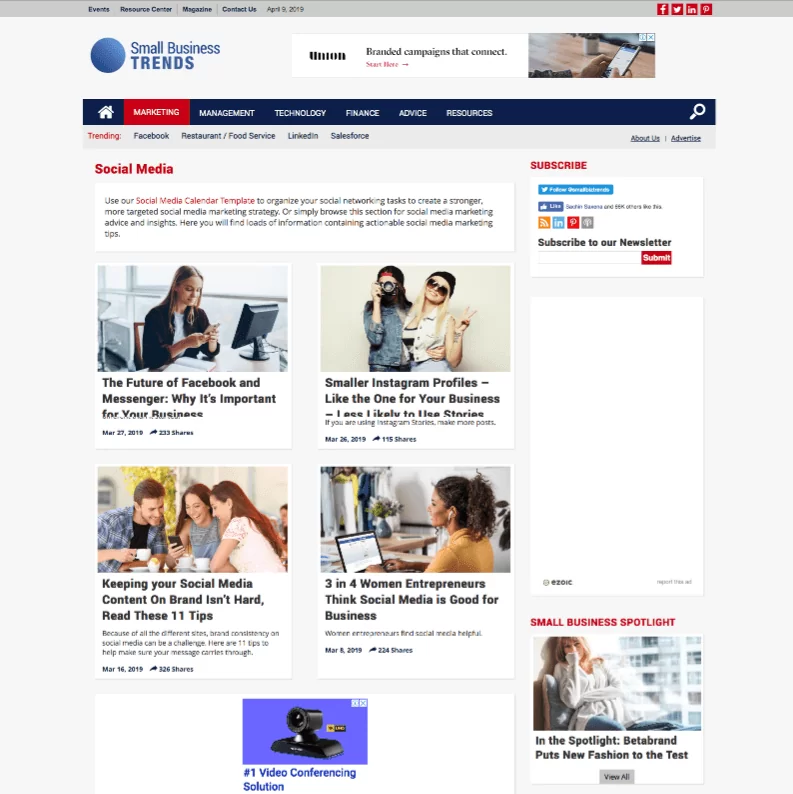 The Social Media Hat
The Social Media Hat is a helpful place that will help you identify many things on where you can go with your social media content. Social Media Hat has details on marketing tools that you can use for marketing needs.
Email marketing is also included as a segment to review on the site. The blogging and SEO details on the site will also help you with making your work move forward.
Covers information on troubleshooting problems you might experience with your social media site
Helps with details on specific types of social media sites
Does particularly well with explaining how multimedia functions can be handled in your workplace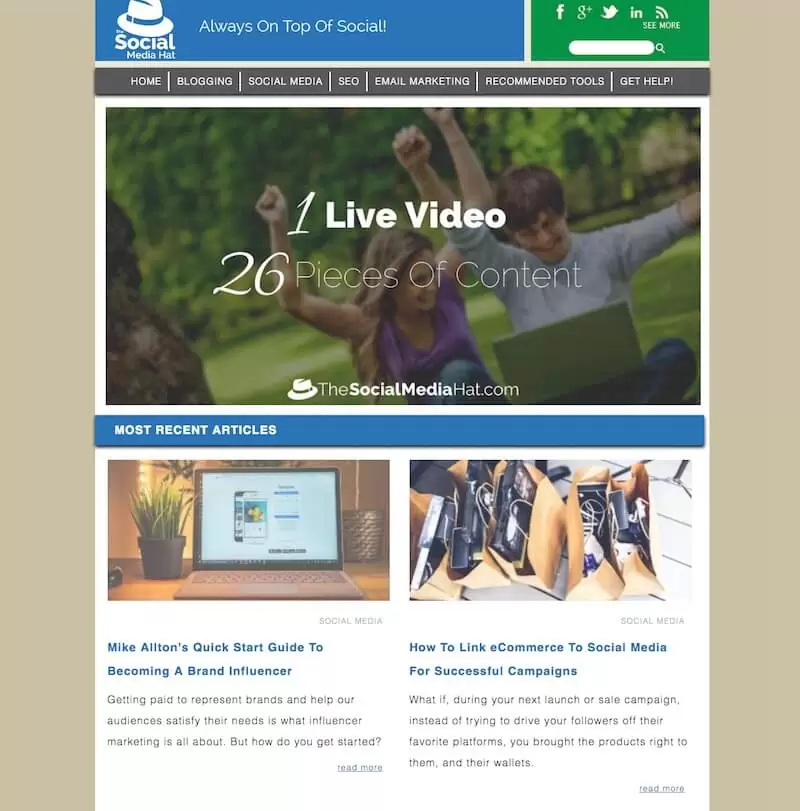 TopRank Online Marketing Blog
The work you can put in for online marketing can be thorough and specific depending on where you go.
The TopRank marketing blog helps you figure out what might work for your marketing needs and how you can go far with your work. TopRank includes details on B2B and B2C marketing efforts alike.
You can also learn about the newest seminars and videos from many people who are experts in the world of online marketing. You'll have support from all the top entities in the field when you use the TopRank blog for your work needs.
Focuses on the newest technologies and how you can use marketing efforts there
Provides details on convenient templates of value
Graphic details help you identify the many ways how you can make your marketing efforts more effective and useful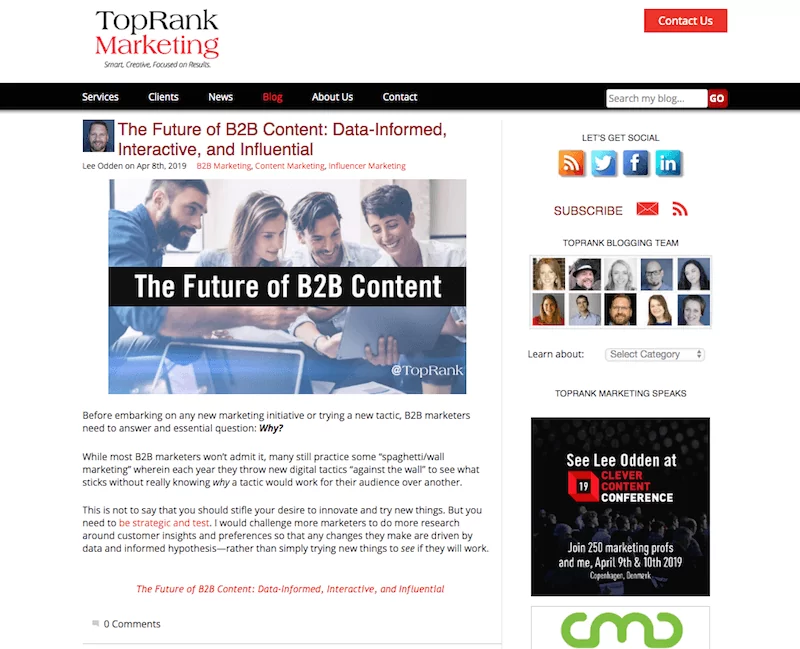 SocialMedia.Biz
SocialMedia.Biz will help you with identifying many opportunities for marketing that you will appreciate utilizing. SocialMedia.Biz has several sections dedicated to things like news, business details, and how-to segments.
You can also review the marketing points that are worth noting the next time you need help in many forms.
Regular updates provide details on the newest trends in the marketing world
The infographics help you identify many things surrounding where you can go with your marketing efforts
The thorough information is sensible for helping you with everything you require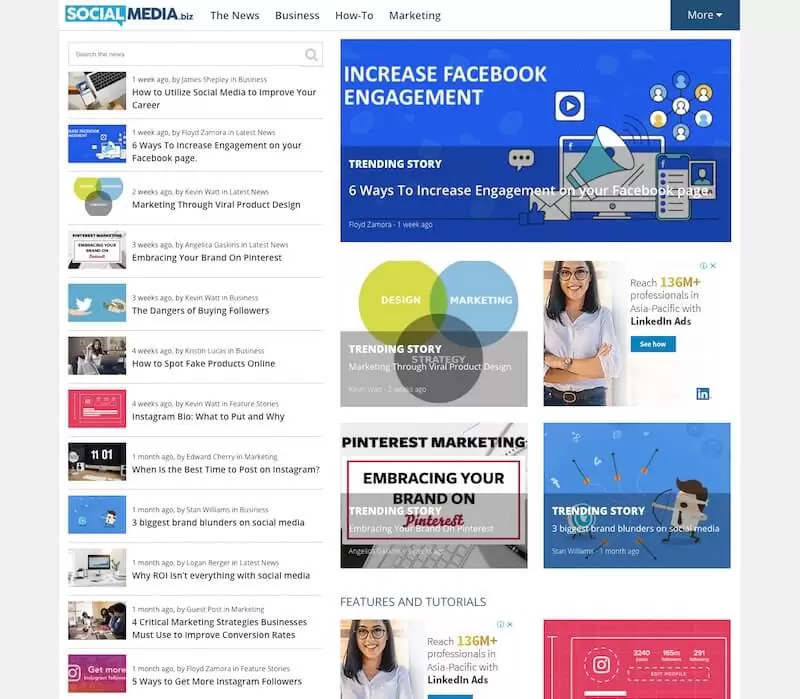 DreamGrow
DreamGrow has an exciting series of features that will be worth noting for your marketing efforts. DreamGrow has several free resources for your convenience.
These include points where you can work on everything from figure out the design for your social media site to identifying your writing needs.
You can also work with a daily writing routine by using the special prompts featured on the site to help you go forward with your work.
Various top ten layouts help you identify many opportunities for your work
You can make product demo videos to help you identify many things of note
Infographics simplify the information you need for working and going far with your site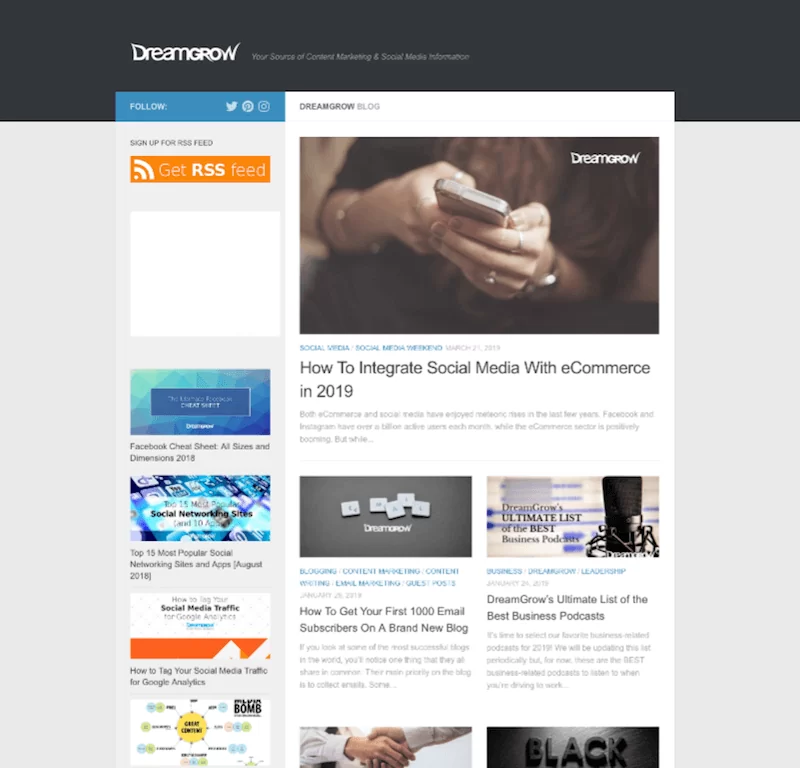 MarketingProfs Daily Fix
It is true that much of the content on MarketingProfs is available for those who pay for it. But the Daily Fix segment is dedicated to providing free information for your use.
The free details highlighted on MarketingProfs helps you identify many ways to go far with your work. This includes information on the latest meetings and reports surrounding how well your social media routines can be handled for your needs.
Focuses on everything from emails to account-based marketing
The information included here is fully digestible and easy to analyze
Every major social media site is covered here for your use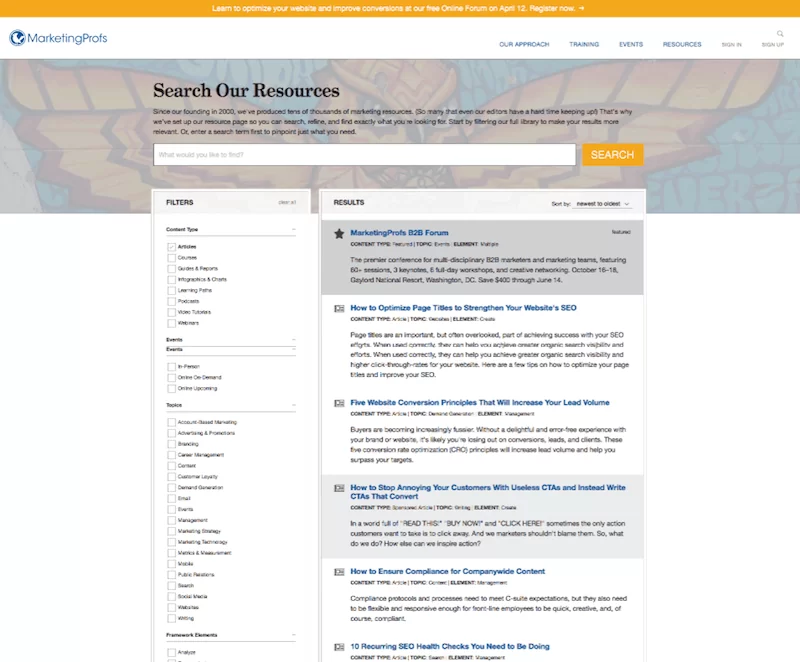 Social Business
The Social Business blog is operated by ZDNet as a place that gives people thorough information on all they can do for their marketing routines.
Social Business is helpful for people who need extra help with managing their promotional efforts and particularly looks at many unique technologies that can work in various situations.
The convenient content here ensures people can move forward with their work while knowing what they have to do for their promotional needs.
Provides details on the newest software programs for your marketing needs
Offers statistics and other helpful bits of content for your promotional affairs
The content is regularly updated with the newest details on the social media field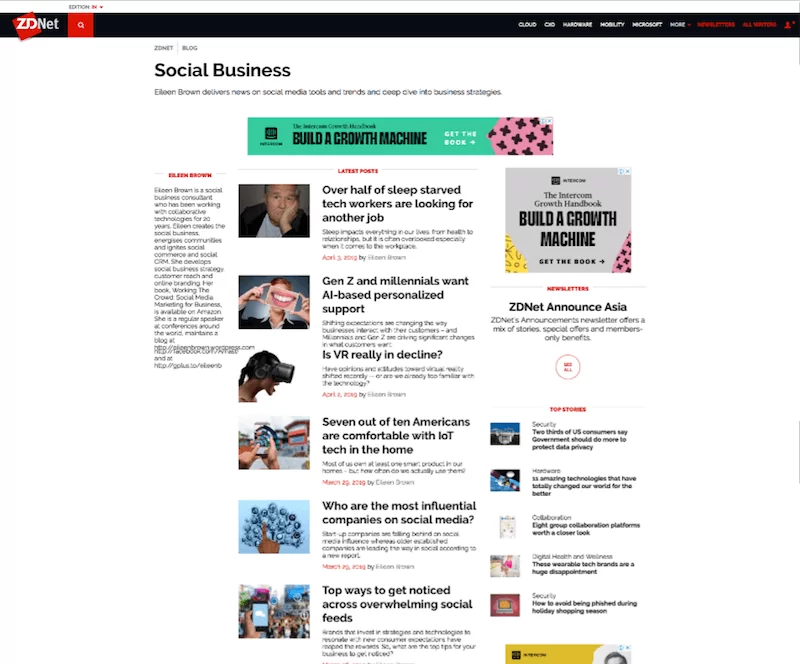 Altitude Branding
The points that Altitude Branding highlights on its site include many aspects relating to how well you are going to handle your marketing and promotional routines.
The content on this site concentrates mainly on identifying ways how you can move forward and make your content more attractive and distinct for marketing purposes.
Offers thorough information on all your branding needs
The site simplifies many of the more complicated details of marketing
You can particularly use this for information on all major social media sites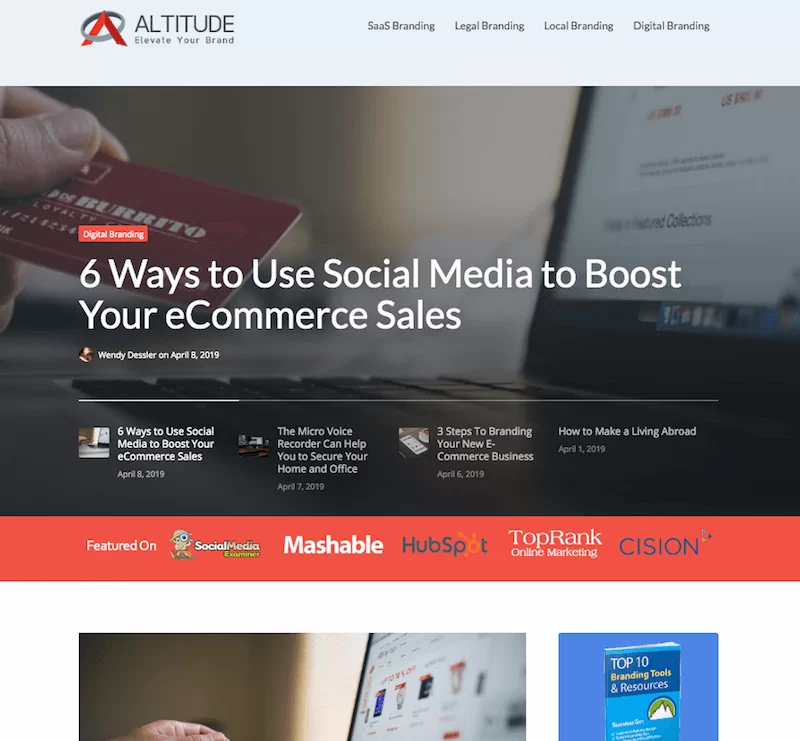 Social Media Examiner
Knowing what is happening with the newest technologies and social media sites can be important for your success.
Social Media Examiner helps you cut through the complicated details that might be hard to manage on occasion. The site lists points on how you can move forward and enhance your efforts and work plans.
The content is also arranged to be easy to read without being conflicting or otherwise tough for you to figure out.
Features dedicated sections that concentrate on specific social media sites
Get expert reviews on different programs and websites that can help
Various podcasts and shows are on the site to help you review many strategies for use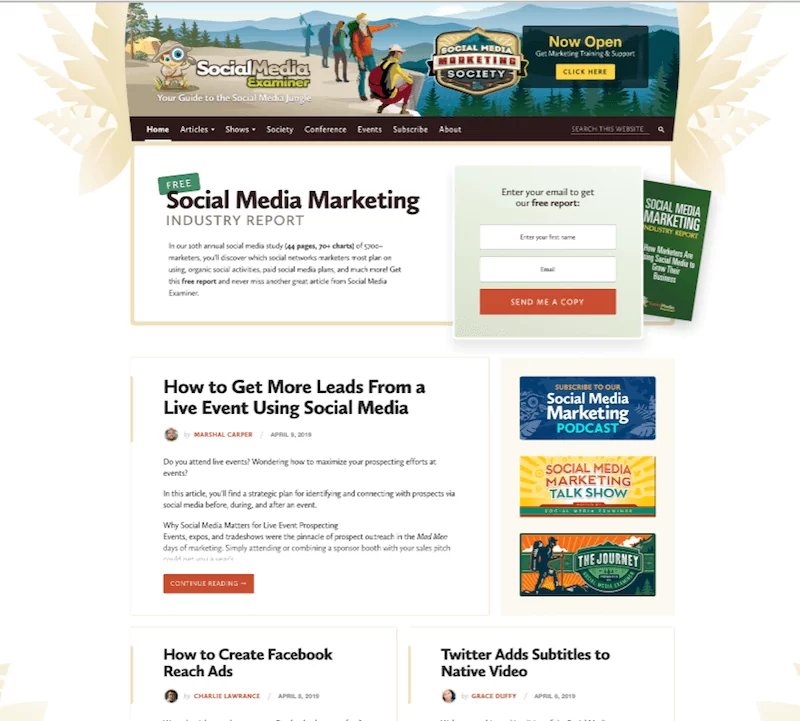 Convince and Convert
Many social media strategies and tools are discussed at Convince and Convert. The site concentrates heavily on noting many solutions for marketing that can work for your use.
The content here includes points surrounding how to work with marketing sites right and what to do to avoid many of the pitfalls people slip into when trying to handle their marketing efforts.
Features many case studies explaining how certain tasks work
Highlights different forms of marketing
Every major social media site is covered here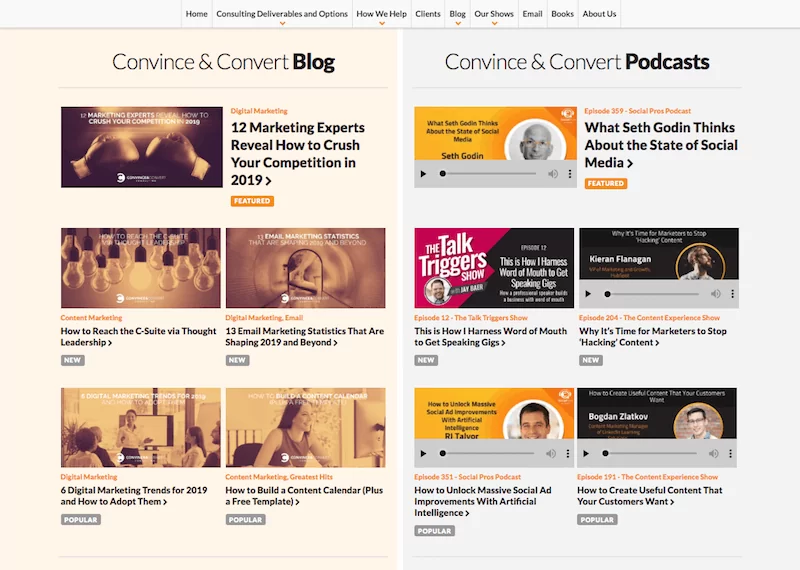 Web Strategist
Many work industries are profiled at Web Strategist. These include industries that concentrate on many specific functions for work and how they are handled.
You can use Web Strategist to particularly get details on everything involving where you might go for promotional efforts and how far you can move forward with your work at large.
Includes many infographics that simplify details
The information is arranged to where you can find details in moments
The simplified approach to work is sensible for all readers to explore
Search Engine Land
As the name of the website suggests, Search Engine Land is devoted to helping you identify ways to make your work on search engines count.
You can use Search Engine Land to find details on how to promote your work on search engines, including knowing how to adjust your social media profiles to make them easier for the most prominent search engines to find.
You can also get details on how to adjust your content to be thorough and simple for your use so you know where you will go with your content and how it can work out well.
Covers details on the latest trends in the world of search engine marketing
Offers both simplified and technical content surrounding your work
Includes highlights of major SEO conferences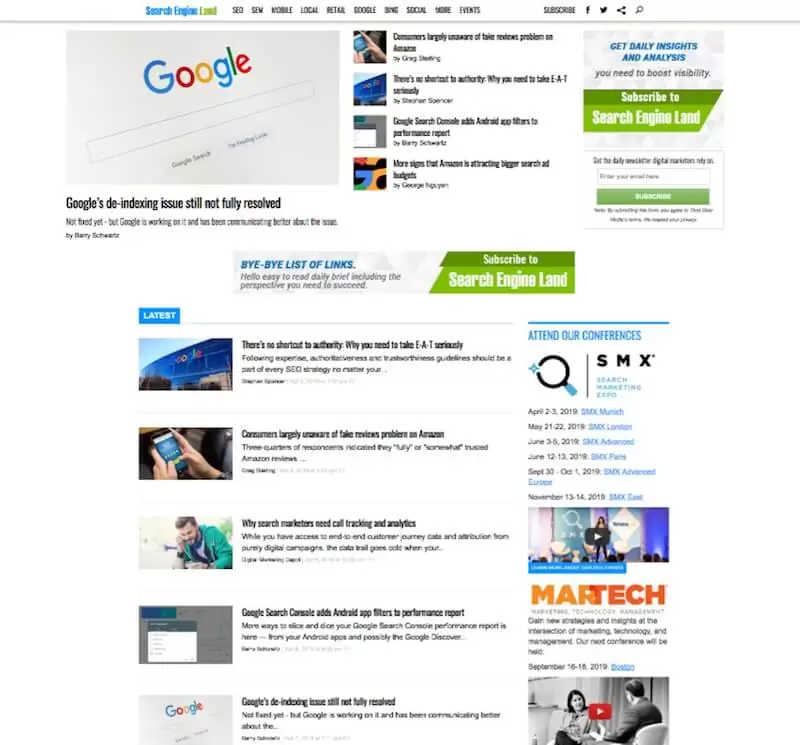 ProBlogger
ProBlogger is designed mainly for those who are interested in blogging efforts. You'll learn about how you can manage many marketing routines for your blogging work plans.
Includes an immense member community
Provides many short courses to help you learn how to make your blog work right
Features help for finding readers and producing a more technical layout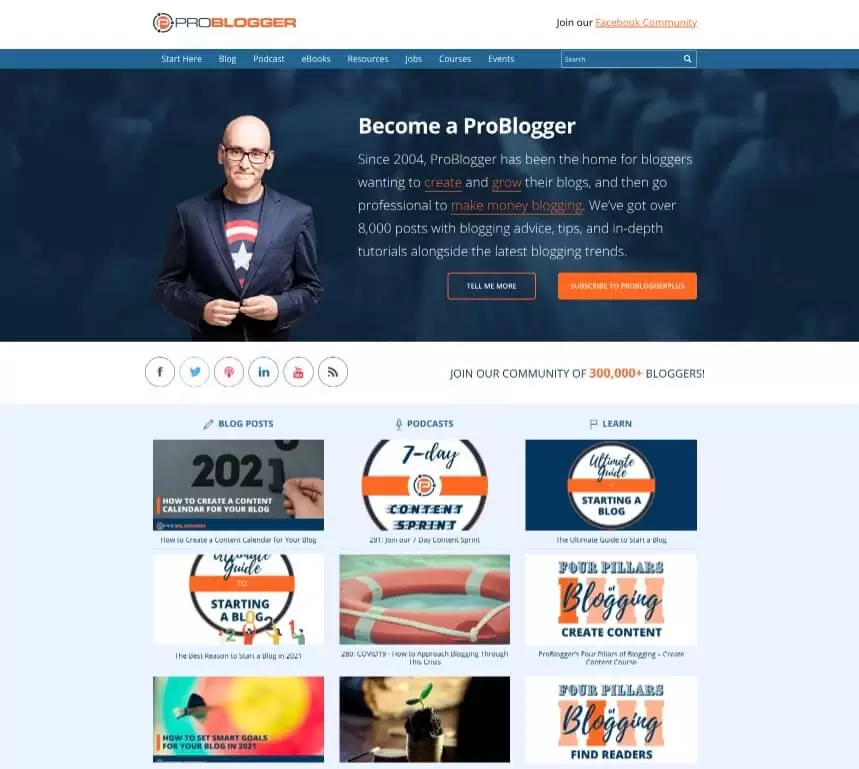 Moz Blog
Your last option to see is the Moz Blog, a place that highlights different ways how you can handle your social media marketing plans.
The content on the blog lets you see how you're going to promote your content and move forward with many marketing tasks of value to you.
Includes real-life examples of what you can and cannot do for your site
The models included are thorough and give you great ideas on what to expect out of your work
The guides here are listed with convenient steps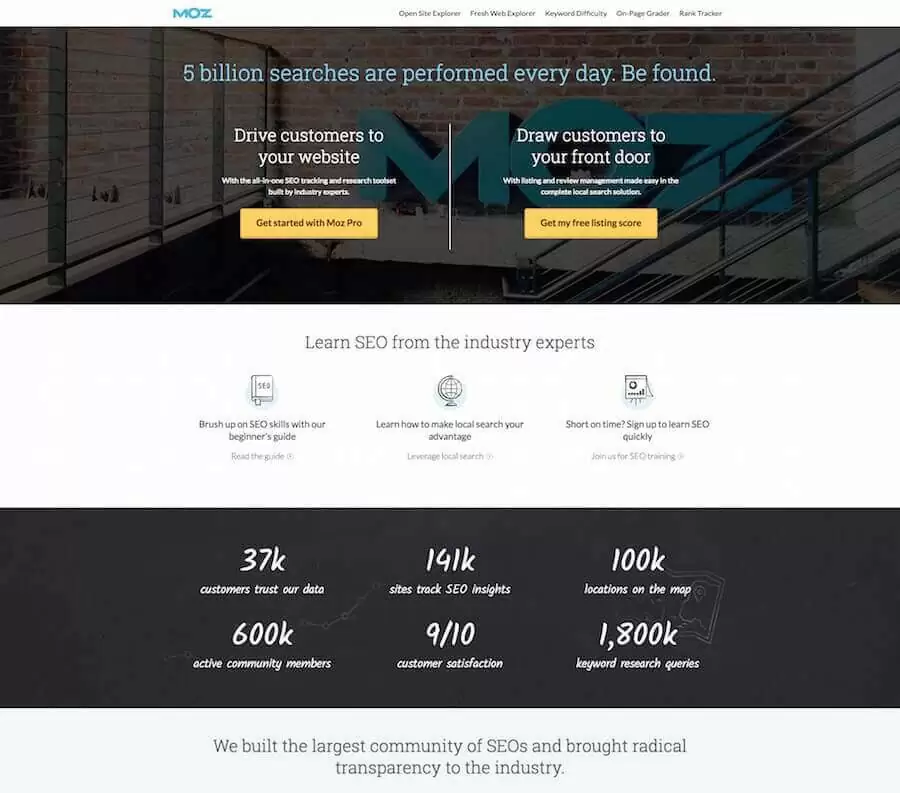 Final Word
Each of these social media marketing blogs are great places worth checking out if you're looking for a place that will help you with finding great points surrounding your social media efforts.
Take a look at these places if you need to get somewhere that will provide you with the details that you require for all your marketing and promotional needs.