The Best Proxy Software in Detail
---
Bright Data is one of the most comprehensive proxy service provider that is scalable and safe. Bright Data's Proxy Services provide a secure, fast, and reliable way to access data stored in remote locations.
Datacenter Proxies
If yo are looking to collect user data safely, the Datacenter Proxies of Bright Data is the solution for you. They offer over 1.6 million datacenter IPS to help you collect data from various sources.
It comes with a large geographical coverage and enterprise-grade scaling. You can gather large amount of public web data with total anonymity.
You can target any state or city to gather data making it a great solution for businesses.
Residential Proxies
Bright Data has over 72 million residential IPS in 195 countries. These are ethically sourced IPS with total compliance that you can use to source data.
Mobile Proxies
Bright Data also has a larger collection of Mobile Proxies that use 3G/4G connections. It can remove geo-location restrictions and bypassing CAPTCHA with automatic mobile IPs rotation.
Bright Data Proxy Features:
Over 72 million residential proxies
1.6 Million datacenter proxies
Large mobile proxies
Proxy manager
Proxy browser extension
Pros:
Wider proxy options
Completely secure & compliant
User-friendly interface
Cons:
Price:
Bright Data offers Pay as you go option to get started with their proxy services. It offers 7-day free trial.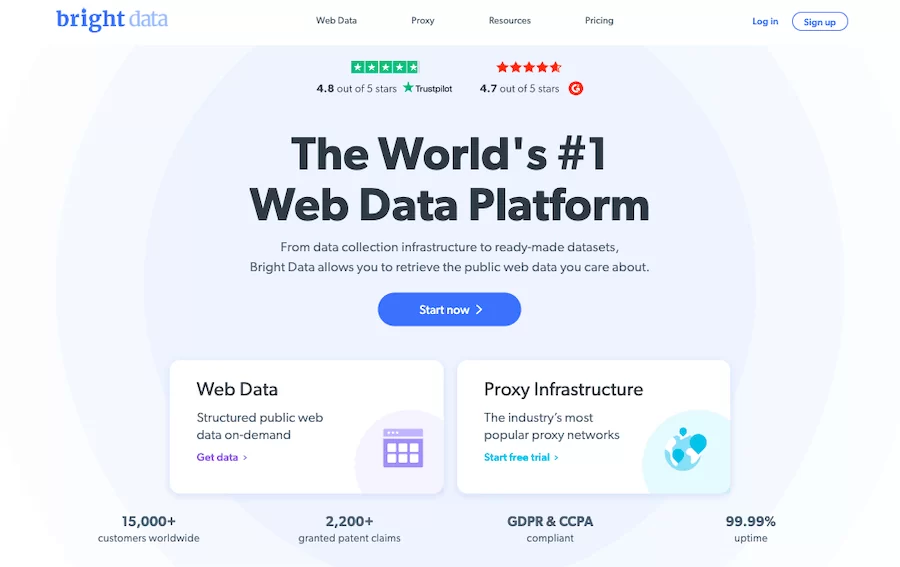 The Smartproxy is a fantastic proxy software for unblocking most restricted websites. It is also an internet accelerator that provides many advanced features like Anonymous surfing, Unrestricted access to servers and IP by country or OS, Web page translation in more than 80 languages with Google translator, Download manager, etc.
The Smartproxy has a dynamic IP changer that lets you reroute your connection to any of their worldwide servers. It also supports live video and music streaming services like YouTube, Pandora, and Grooveshark.
SmartProxy is compatible with all browsers, including Firefox, IE, and Chrome.
Smartproxy features:
The proxy server offers an anonymous browsing experience
Efficiently works with all internet connections, and it supports both IPv4 & IPv6
You can use it with almost every browser: Chrome, Firefox, Edge, and Safari
Easy to set up and launch across multiple devices
Pros:
High-speed distributed servers for fast browsing
Unblocks multiple websites with a click
Cons:
Sometimes it feels slower to connect
You might need to try multiple times to connect to specific sites sometimes
Price:
Monthly plans start from $75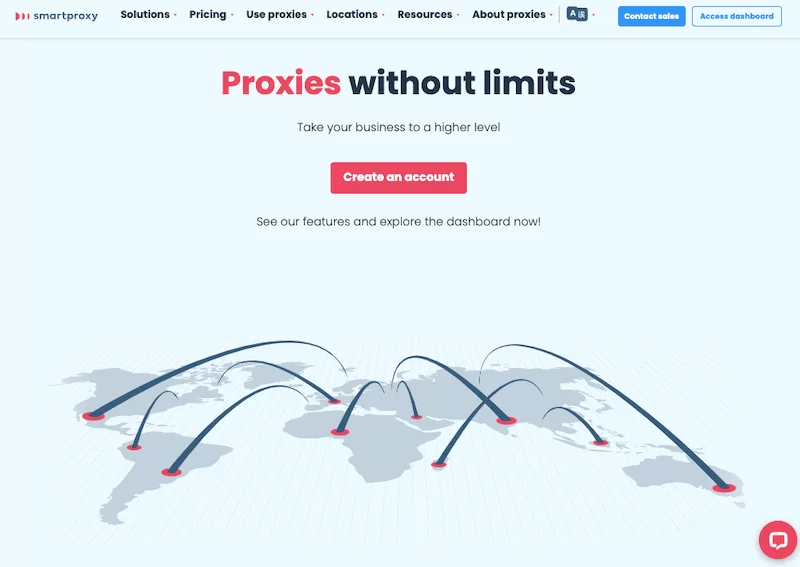 Proxy-Seller offers robust proxy software to unblock websites. The Proxy-Seller has an easy interface that lets you browse through the list of proxies by country or type.
You can select a specific region or click on a random server to access the internet anonymously.
It also allows you to change the HTTP port number if needed during the setup process. It is a pretty simple and easy-to-use proxy tool for web surfing, streaming videos, etc.
Proxy-Seller is ideal for your school, office, college, or ISP since it is compatible with all types of internet connections.
The software can easily switch between HTTP & SOCKS proxy servers. It also has a powerful download manager that supports multiple downloads simultaneously. You can use Proxy-Seller on Windows, Mac OS X, iOS, and Android devices.
Proxy-Seller Features:
Compatible with all browsers including Chrome, Firefox, Opera, Safari, Internet Explorer & Edge
Almost 4000+ different servers in multiple countries are available
Supports TCP connections over port 8080
Autoconfiguration supported for Windows OS
Pros:
Very simple to use
You can select quickly fast-performing servers based on your location
Cons:
A little slow when switching servers
You get fewer country options
Price:
Price varies based on the country and protocol you choose.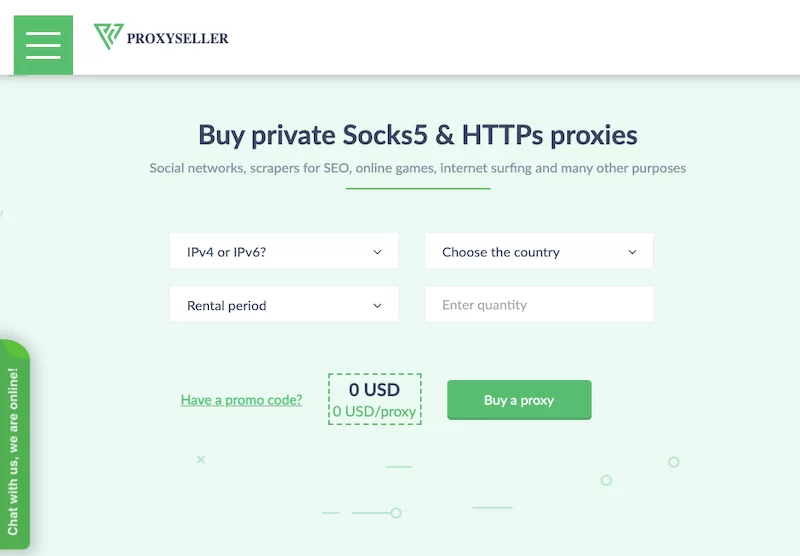 Hide.me is one of the top proxy tool providers with a secure streaming server. It means that you can view live video and music streaming services anonymously.
In addition, it has high-end encryption to protect your privacy online, making it ideal for hiding your identity online without any complications.
The Hide.me uses OpenVPN protocol along with 256-bit encryption to browse the web securely from anywhere in the world.
Hide.me is also a fast proxy tool that lets you access sites while protecting your data from hackers or snoopers. The Hide.me software can be installed on Windows, Mac OS X, iOS, and Android devices.
Hide.me Features:
VPN servers that offer strong encryption for safe browsing
Supports bypassing firewalls to unblock websites
You can use it with all web browsers, including Chrome, Opera, Safari, etc.
Quick to set up and use across devices
Pros:
A straightforward user interface for easy navigation and usage
High-speed servers available for streaming music and videos online anonymously
Cons:
Expensive plans without any discounts
Hide.me doesn't offer a free trial plan before buying the proxy service
Price:
Monthly plans start from $12.95
IPRoyal is a proxy and VPN tools combo. The software lets you surf anonymously by connecting to their servers that hide your IP address.
It has multiple plans – Free, Basic, and Elite – for different users. You can browse available websites with the free version, but it has limited connection speed and capacity.
The basic plan adds multi-servers support and unlimited global access, plus other advanced features like SmartDNS, Internet Security Suite, and more.
The best thing about the software is its customer service as it ensures good after-sales services to all customers regardless of which plan they choose.
IPRoyal proxy features:
Multiple servers based on your country of choice are available to choose from
Unrestricted access all around the world thanks to multi-servers support
Unblocks online media streaming services like Hulu or Pandora
Enhanced WebRTC leak protection & DNS leak security feature secures your connection even more!
Pros:
Multiple servers, including a random one, for maximum secure browsing experience.
Customers can also choose a specific country's server for optimum speeds.
Cons:
Limited features are available with the free plan.
The country-switching option is sometimes slower.
Price:
Price starts from 0.80USD/GB.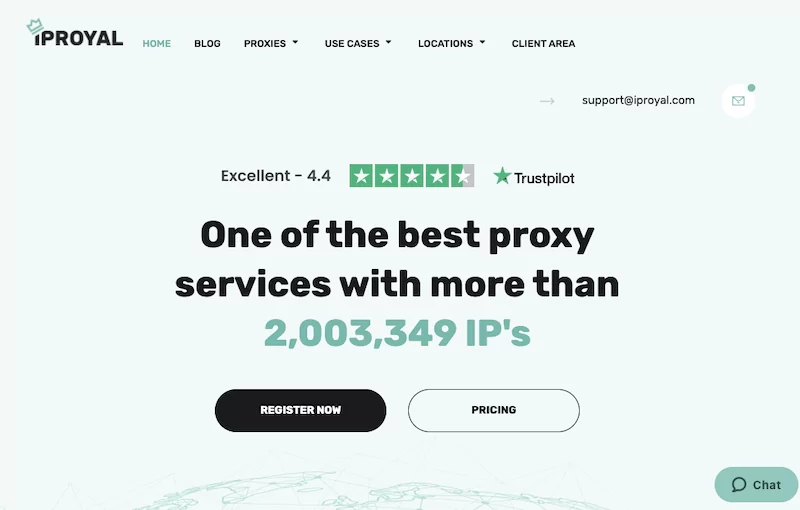 Oxylabs proxy offers a robust service that protects you from hackers and annoying advertisements.
In addition, it lets you surf anonymously by hiding your IP address and encrypting all of your personal information. With the launch of its new platform, Oxylabs now provides tailor-made solutions to each user's needs with multiple packages available for different users.
The software has three primary services – Proxy, VPN, and Mail – with individual plans available for each one. You can also choose a multi-service or custom plan according to your requirements.
This proxy tool is ideal for those who want dedicated servers since they allow you to access IP addresses and web apps using different protocols.
Oxylabs features:
256-bit AES encryption for all your data on the web
Allows you to access apps and websites using different protocols such as SOCKS5 or HTTP
Quickly unblocks all restricted sites & apps using country servers & proxy addresses.
Supports multiple WebRTC leak protection features
Pros:
Advanced features like SmartDNS and customized service plans are available for users with specific needs.
Also provides a free plan that enables anonymous browsing of major social media and search engines.
Cons:
Not compatible with some devices like Chromebooks and routers
Some users complain about laggy customer support services.
Price:
Monthly plans start from $99
PrivateProxy is a simple proxy tool that can hide your IP using private proxies & socks5 protocols. They boast of speed and security as the proxies they use are regularly checked for malware, spam, etc.
They also have advanced features like an address blacklist filter to allow access from specific addresses. On top of this, you get easy-to-use software on all platforms with 24/7 customer support service via email or live chat on their website.
PrivateProxy features:
Up to 832 different anonymous servers available in multiple countries
Stream any online media content without any issues thanks to high speeds and frequent server updates
Compatible with all major devices, including PC, Mac, Linux systems & Android devices. Also, browser extensions are available for Firefox and Chrome.
A free trial is available if you want to test the service before purchasing.
Pros:
A free trial period if you want to check out your options first.
Extremely fast proxies with servers based in multiple countries.
Cons:
Doesn't support some of the Linux devices
Some servers might sometimes be unavailable due to their dynamic nature.
Price:
Monthly plans start from $9
Smart DNS Proxy uses specific servers to unblock contents across the globe. These servers use HTTP and HTTPS proxies to protect your data while you're online.
Their service is compatible with all major devices, and they also provide free apps for Android and iOS users. In addition, you can get a free trial of their services if you want to test out their features before purchasing.
Finally, if you subscribe, you'll get access to multiple DDWRT routers as well as hardware like Amazon FireStick or Apple TV.
SmartDNS proxy features:
Allows fast streaming of content on popular video-sharing websites like YouTube and Vimeo thanks to high speeds
Comes with an easy-to-use custom VPN client for Windows PC & Mac that protects all web browsing activities
You can easily switch between different IP addresses at a click of a button.
A free trial is available for users who want to test out their services before purchasing.
Pros:
Comes with multiple servers based in significant countries for increasing your anonymity & security online.
High speeds and compatibility across devices make it helpful in streaming videos and other multimedia content.
Cons:
Some features are limited on free plans.
Advanced features not available for enterprise use
Price:
Monthly plans start from $50
NetNut is a proxy software that allows you to unblock websites and apps via SSL-based servers. It offers unlimited bandwidth for all plans, which means that you can download content using your browser or torrents without worrying about your data limit.
In addition, the software lets you hide your IP address along with the location so no one will be able to detect where you are located, allowing you to access blocked sites in multiple regions.
NetNut is ideal for users who want to encrypt their entire connection while hiding their IP address.
It also has a unique feature called proxy fusion, which lets you connect through different protocols like SOCKS4/5 or HTTP that help unblock sites and apps restricted in your region or country.
NetNut features:
Unlimited bandwidth available across different plans
Supports SSL connections as well as TCP ports on some servers
Hides your identity by masking your actual IP address & location from snoopers
Blocks annoying advertisements before they can reach your devices
Pros:
The new version comes with advanced features like SmartDNS.
Multi-service plan available for maximum protection
Cons:
The free version only allows access to major social media and search engines.
User support service can be slow at times, even during emergencies.
Price:
Monthly plans start from $20
RSocks is a premium proxy software for Windows users who want to protect their privacy and security online.
The service offers over 1000+ servers based in multiple countries, which lets you watch geo-restricted videos from different regions or access restricted & blocked websites anonymously from anywhere around the globe.
In addition to this, it features multi-ports support that allows you to use more than one port with a single server for faster switching options.
What's more, it also comes with a unique security feature called double encryption that adds a layer of protection when you connect through most RSocks servers.
RSocks has five plans – Socks Proxy Unlimited, VPN Proxy Unlimited, SSL-VPN Proxies Unlimited, RSA Avatar SOCKS5 Proxies Unlimited, and RSA Avatar VPN Proxies Unlimited.
RSocks features:
Unlimited bandwidth available across different plans
Works with all web browsers without any additional software or add-ons
Supports multi-ports & comes with a double encryption security feature when using almost every type of RSocks servers
Allows unlimited connections from a single device at a time
Pros:
Comes with five service plans so that users can choose one depending on their requirements
Includes an ad blocker and data compression enabled by default allowing faster internet speeds while browsing websites.
Cons:
A limited number of countries to choose from
Sometimes it takes longer to connect.
Price:
The price for each plan starts from $5 per month.
HideMyAss is a widely popular proxy software worldwide, which millions of users have used during extensive VPN outages & server maintenance issues.
The service offers multiple servers in various regions that let you bypass regional restrictions and enjoy a free internet experience on almost every device you use with ease.
It also features fast switching options that allow you to connect through different servers depending on your location or region so you can access websites, video streaming services, social media platforms, or other blocked sites anonymously without being tracked or traced back by third parties.
HideMyAss features:
Comes with five different service plans to fit every user's requirements
Unlimited bandwidth & fast switching options are available to bypass regional restrictions.
Seamlessly watch videos or listen to music from anywhere around the world.
Supports multiple devices using HideMyAss simultaneously
Pros:
Comes with an easy-to-use interface making it ideal for first-time VPN users
Ideal for enterprise use cases
Cons:
Some users complain about slow connection.
A fewer number of services to switch between
Price:
Monthly plans start from $11.99
Scraper API is a proxy software for Windows that allows users to unblock websites and digital media players like Kodi/XBMC.
While the service has been designed primarily for streaming purposes, it's effective for both, working as a powerful YouTube downloader as well.
It also offers VPN services directly from the same app without requiring any additional software or tool on your device, making it one of the best proxy software available.
Scraper API comes with a free plan that only lets you stream videos from significant sources like YouTube and DailyMotion but also includes a premium version that unlocks other features directly from within the main app itself – ScrapeBox – making it easy to use.
ScraperAPI features:
Unlimited bandwidth available across different plans
No speed or data caps are applied on any of its services.
Supports SSL connections as well as TCP ports on some servers
P2P sharing is allowed with a separate dedicated network that unlocks full torrent downloads.
Pros:
Comes with a free version for streaming purposes.
Ideal for large-scale enterprise usage
Cons:
A limited number of countries in which you can choose your server
Limited usage is available with the free plan.
Price:
Monthly plans start from $29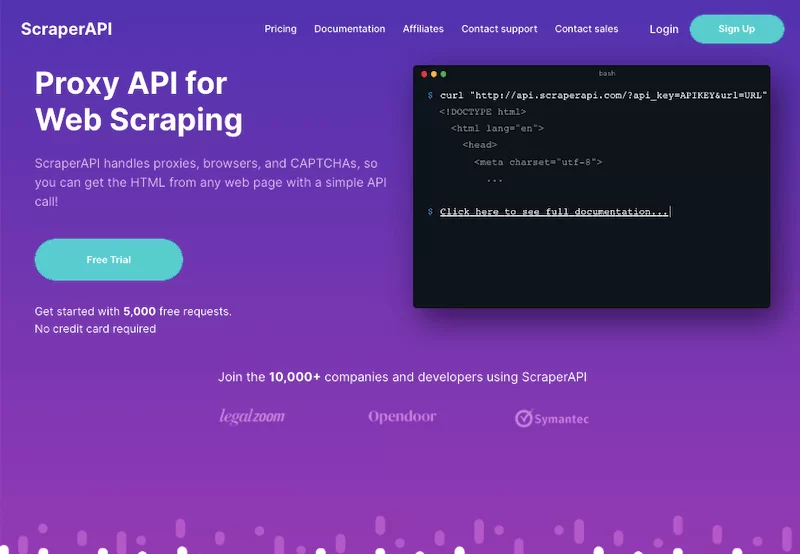 Zyte is one of the most comprehensive proxy software that provides easy use for casual users who want to enjoy online streaming or browsing without worrying about their privacy.
The service offers over 100+ servers in popular countries worldwide, which lets you access geo-restricted websites from anywhere around the globe with complete anonymity.
It also includes a unique feature called GeoFencing that locks out devices based on location.
It helps protect user security and privacy by preventing data theft even when using public WiFi networks at malls, cafes, airports, or hotels.
Zyte features:
Comes with 100+ servers across the world
Supports all standard protocols without requiring any additional software
Zero-logging policy and offers round-the-clock support for all its users.
Unlimited bandwidth and no speed caps applied on any of its services.
Pros:
Allows unlimited streaming on almost every server.
Comes with a free trial period
Cons:
Slight increase in page load times compared to other proxy software.
A little slower than other available options
Price:
Monthly plans start from $29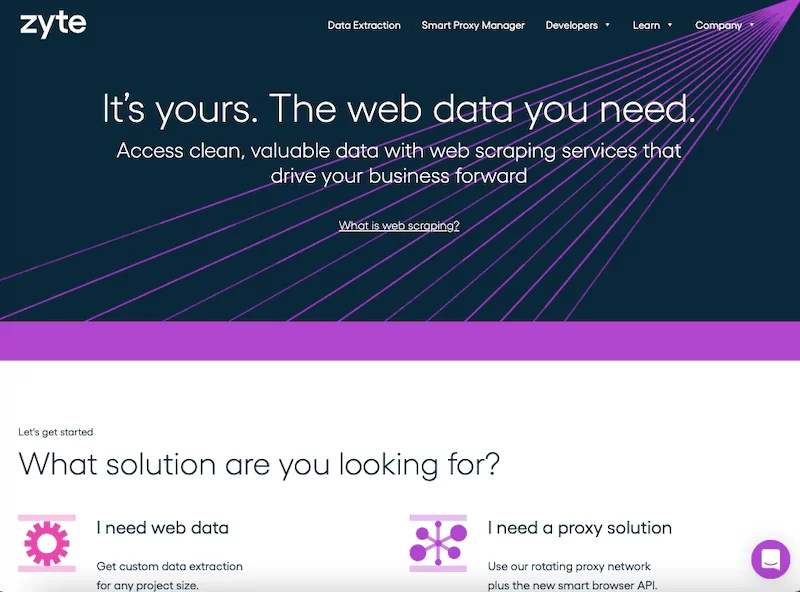 KProxy is known for its incredible speed and security, making it one of the best proxy software in the market.
The service allows you to access different types of blocked content online like video streaming sites, news portals, social media websites like Facebook & Twitter, etc., without any third-party involvement.
It also ensures that all your internet activities are completely hidden from everyone.
The software comes with an ad-blocker feature enabled by default to remove intrusive ads popping out on your screen while browsing on some websites or watching videos online.
In addition, you can choose from multiple servers located in various countries so that you can unblock geo-restricted content from anywhere around the globe.
KProxy features:
Unlimited bandwidth available across different plans
Supports SSL connections as well as TCP ports on most servers
Blocks annoying advertisements from popping out while browsing the internet
Allows multiple contacts at a time from a single device
Pros:
The service is entirely free for users up to 500MB per day.
Offers dedicated client apps for Android, iOS, and Windows platforms
Cons:
Free version available but with limited bandwidth and connection speed.
It might not be suitable for enterprise use.
Price:
Monthly plans start from $10
Hidester is a web proxy service with servers based in over 14 countries. It has an attractive user interface that makes it easy to change the proxy settings.
In addition, the software supports both HTTP and SOCKS proxies, adding more convenience for users who want to surf the internet through different protocols.
You can use Hidester as your primary or secondary tool depending on your needs; it will let you unblock sites that are blocked by your ISP (like Netflix) while hiding your identity at the same time.
The fact that there are no bandwidth restrictions also means you can browse content using torrent websites without worrying about copyright trolls looking to take legal action against pirates.
Hidester features:
Supports multiple SSL-based servers around the world.
Gives access to sites and content that are typically blocked in your region.
Enables anonymous browsing without worrying about data limits or DMCA notices.
Network architecture made from affordable web-hosting providers, ensuring good overall performance.
Pros:
Fast servers for torrenting and streaming services such as Netflix US and BBC iPlayer.
Unlimited bandwidth & speed means you can download/stream torrents without restrictions.
Cons:
Plans have a 1GB daily transfer limit.
It might not be suitable for enterprise usage.
Price:
Free to use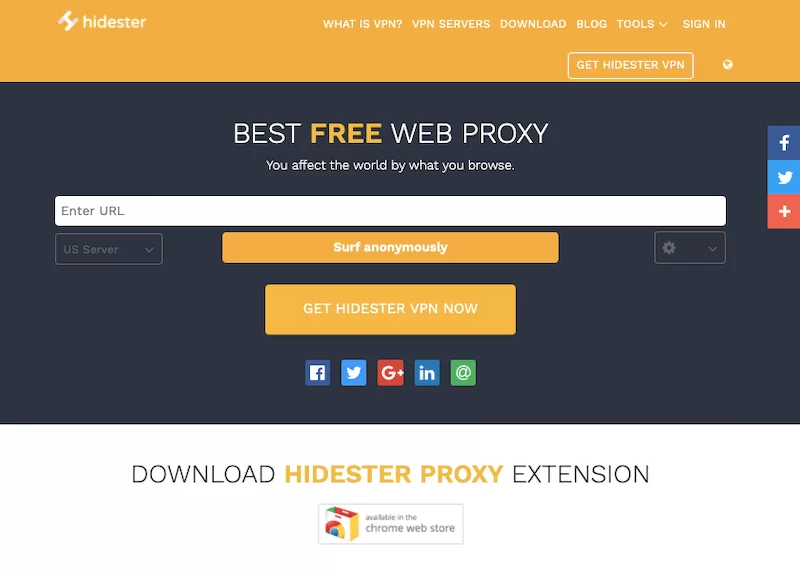 Whoer is a proxy software that can switch between 10 different tunneling protocols. The server support list includes HTTP proxy, SOCKS5, HTTPS proxy, and more. IT allows you to choose the specific protocol based on your requirement instead of committing to just one option.
For instance, you can select HTTP if you only want to unblock websites but for torrent downloads or media streaming, then go with SOCKS5. In addition, the software ensures that your IP address is not leaked while using the service.
Whoer proxy features:
Protects you when accessing public WiFi hotspots or other networks
Hides your actual location & IP address for anonymous browsing all around the world
Easy change between different tunneling protocols
Quick to connect and easy to use
Pros:
The software provides good connection speed
Ten different tunneling protocols to choose from for maximum security
Cons:
No free version is available
Sometimes it feels slower to connect
Price:
Monthly plans start from $9.90