01

. ManyChat Chatbot Details
ManyChat is a robust and advanced chatbot builder. The platform allows you to build two-way interactions for various platforms such as Instagram direct messages, Facebook messenger, and SMS.
No matter whether you're building a chatbot for Facebook Messenger or Instagram, this platform enables you to build a chatbot in minutes. You can build two-way conversations right for Instagram direct messages and Facebook Messenger.
ManyChat is built to increase sales and conversions; you can get started with many ready-to-use templates. All the templates are fully customizable and can be fully configured in minutes.
The best part is that ManyChat comes with a drag-and-drop interface, making it super easy to build personalized chatbots. What's more, ManyChat also integrates with other tools and platforms available, such as Google Sheets, Shopify, Zapier, and other email marketing tools such as ActiveCampaign, ConvertKit, etc.
Key Features:
Pricing: It has a free forever plan with limited features such as basic templates and two drip sequences. The premium plan of ManyChat costs $15/month, which includes a complete ManyChat toolbox, and it is perfect for Marketing pros.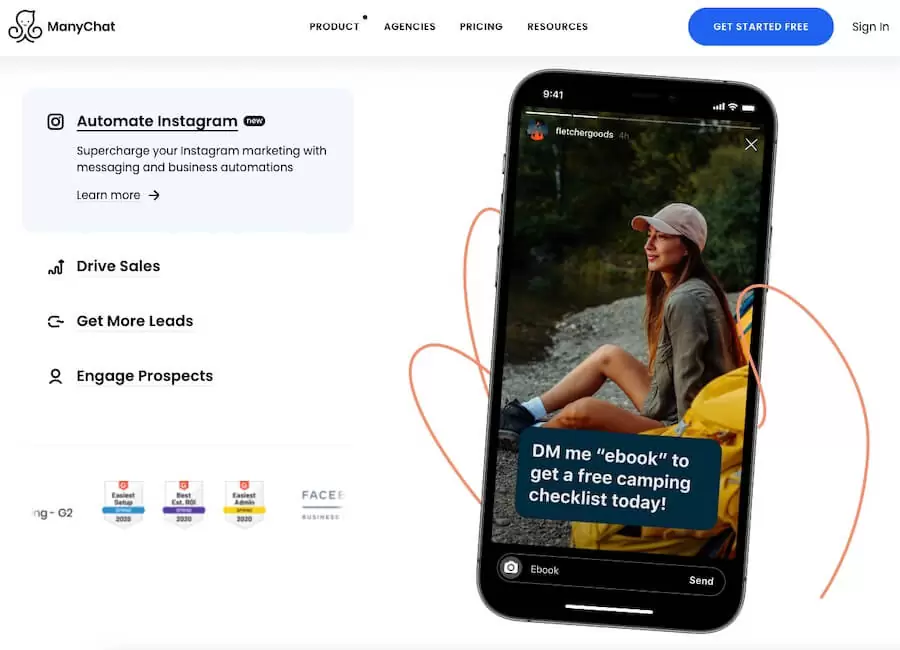 02

. ProProfs Chat Details
ProProfs Chat is a user-friendly chatbot builder software. With the ProProfs Chat, you can build human-like interactions that help you generates more leads and boost conversions. ProProf chatbot helps you — grow leads, sales, book appointments, and automated customer support 24/7.
The ProProfs chatbot builder has an easy interface and comes with flexible customization options to suit your specific business needs. Various pre-designed chatbot templates are also available.
Just drag and drop interactions to create a conversation flow that helps keep customers engaged with the chatbot. You can also make changes to the flow without writing a single line of code. All in all, you customize the chatbot as per your needs and requirements.
The chatbot customization dashboard allows you to ask users MCQs (multiple choice) and open response questions for generating leads. This helps you get qualified leads and directly helps you to grow your sales pipelines.
For customer support automation, you can connect the ProProfs chatbot with the ProProfs helpdesk to directly automate ticket creation and routing to your support team. What's more, AI-powered chatbots can quickly transfer chats to your human customer support staff.
Key Features:
Pricing: The base plan of ProProfs chat builder costs $10/month with some limitations. However, the Premium plan costs $15, including all advanced features and a live chat solution with custom branding.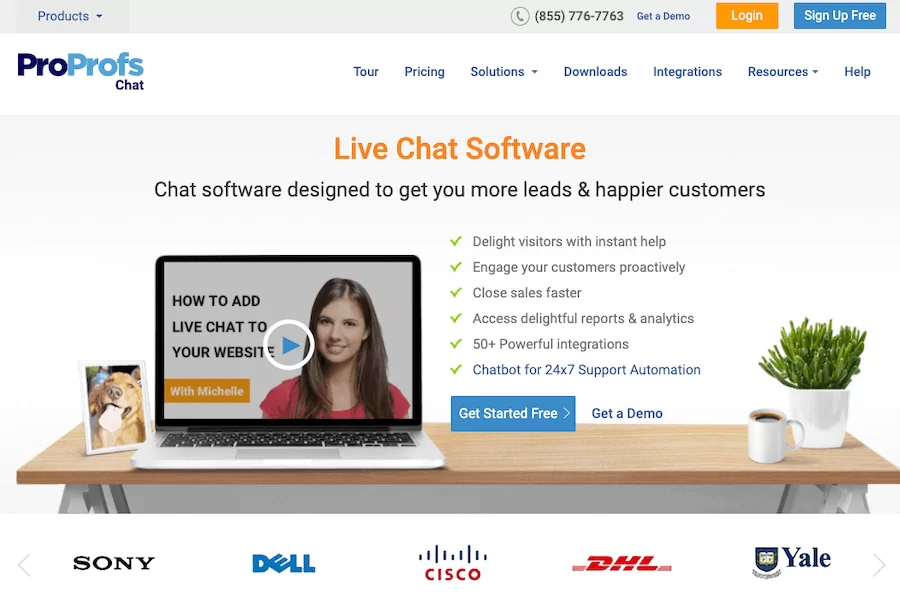 03

. ChatBot.com Details
ChatBot is a reliable platform that helps your build and launch conversational chatbots without writing a single line of code. The ChatBot allows you to build chatbots using their drag and drop interface.
Building chatbots is a breeze with this platform, as it comes with many ready-to-use chatbot templates. This makes it super easy to get up running your AI chatbot in minutes. You can choose from different templates such as bookings, lead generation customer service, recruitment, selling products, etc.
The visual builder of ChatBot makes it flexible to build conversational chatbots. You just need to drag and drop conversational elements and test them in real-time.
The best part, ChatBot also integrates with WordPress, so if you have a WordPress website, you can directly implement it to your site. What's more, you can integrate ChatBot to different communication channels such as — the website, LiveChat, Facebook Messenger, Slack, etc.
Key Features:
Pricing: ChatBot offers a 14-day of free trial without any credit card. The starter plan of ChatBot costs $42/month, and the Team plan costs $126/ month, including all essential and advanced features.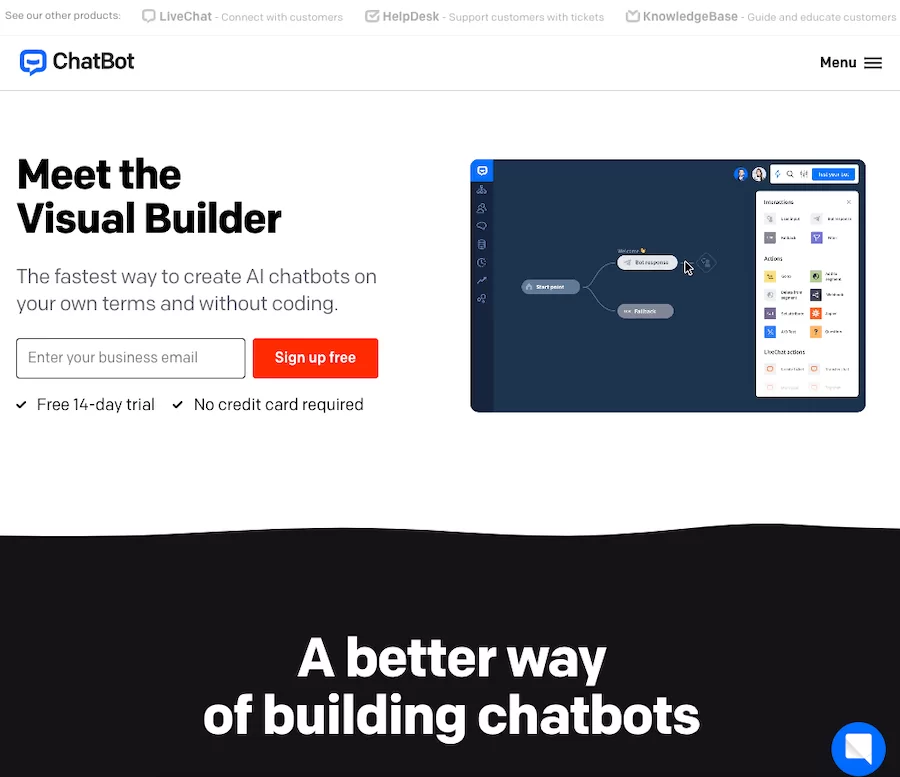 04

. Freshdesk Messaging
Freshdesk Messaging enables you to build chatbots for different channels such as — WhatsApp, Messenger, websites, mobile, etc. You can quickly build and deploy chatbots on all messaging apps and devices. Just answer questions, guide customer for a solution and even escalate the support to a human agent — automatically done.
The tech behind the Freshdesk Messaging app is Freddy — Artificial Intelligence algorithm. The algorithm is designed to analyze the intent and humanly engage with the customer. This helps you save the time of your live chat customer support team and enables you to deploy them to other essential aspects.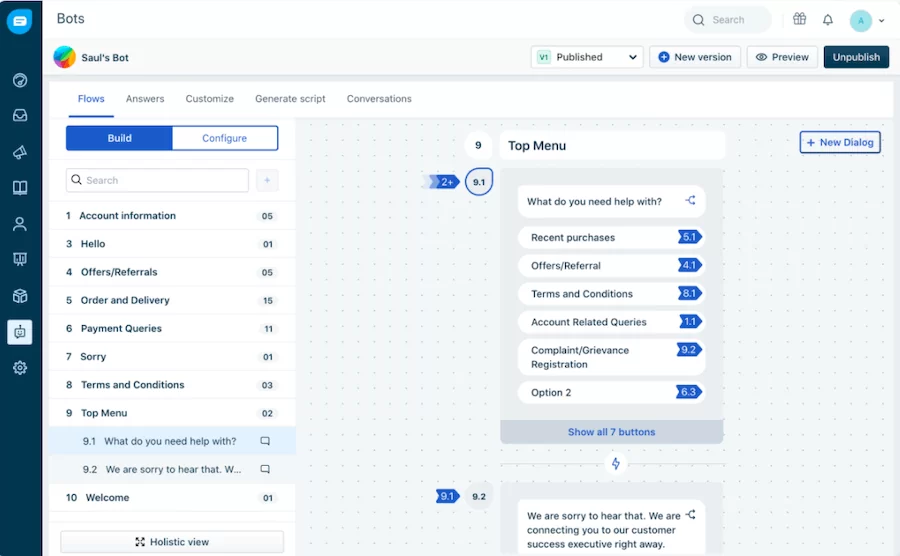 What's more, Freshdesk Messaging also enables you to manage different channel messages. You can see all messages coming from your customers in a single streamlined way. The message could be from in-app chat, Messenger, iMessage, website chat, and other apps and devices.
The platform enables you to integrate Freshdesk Messaging with other tools and marketplace apps. You will also have rich APIs, custom integrations, automated workflows, smart analytics, and so on.
Key Features:
Pricing: There is a free forever plan available. The Growth plan of Freshdesk Messaging costs $15 monthly.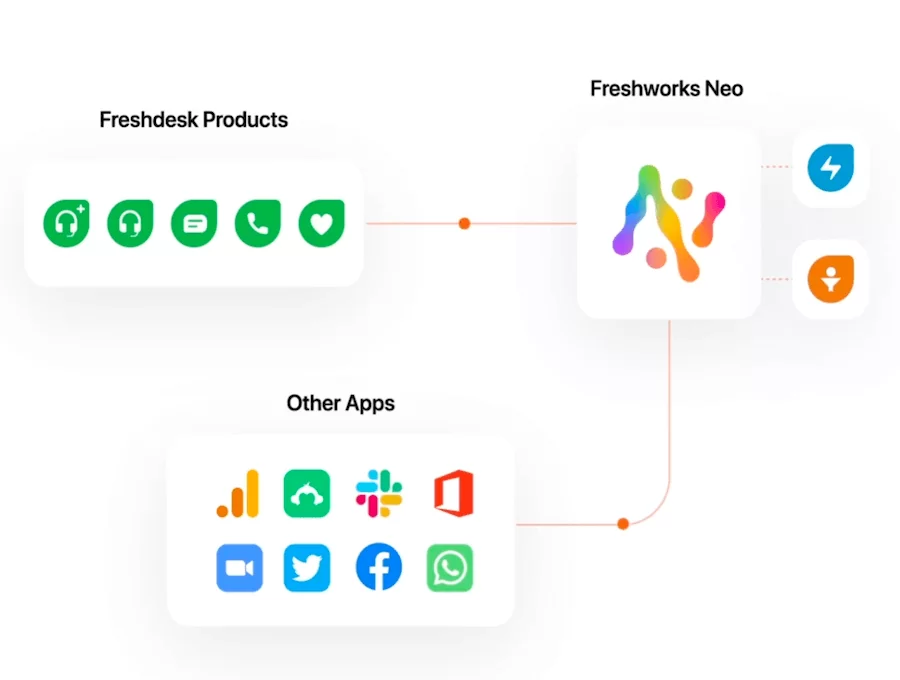 05

. Drift Chatbot
Drift allows you to merge automated chatbot and live chat. Combining these two aspects enables you to deliver exceptional chatbot services to your customers. The best part about Drift, it also integrates with other popular CRMs and email marketing services.
Building chatbots with Drift is straightforward. Once you deploy the chatbot, it can proactively start a conversation with your customers who are already engaged with your products and services. The chatbots of Drift are designed to boost conversions and help you get more sales rolling in.
The Drift chatbot platform is suitable for medium and large businesses as the pricing tag is high. If you're looking for a reliable yet affordable chatbot platform, Drift isn't the right choice for you.
Key Features:
Pricing: There is a free plan available with limited features. The Drift base plan costs $40/month when billed annually. This plan includes five users and all the essential and advanced features.
06

. Chatfuel Chatbot Details
ChatFuel is the easiest way to build chatbots without writing a single line of code. The ChatFuel platform allows you to build chatbots for different platforms such as Messenger, Facebook, and Instagram.
You can easily automate various aspects such as marketing, lead generation, and customer support with Chatfuel chatbot.
The chatbot builder of Chatfuel is streamlined and has a drag-and-drop interface. While building the chatbot, you will be able to see the changes visually, there is no coding or technical knowledge required to get started. You can add various nested faqs to the chatbot for a more streamlined interface.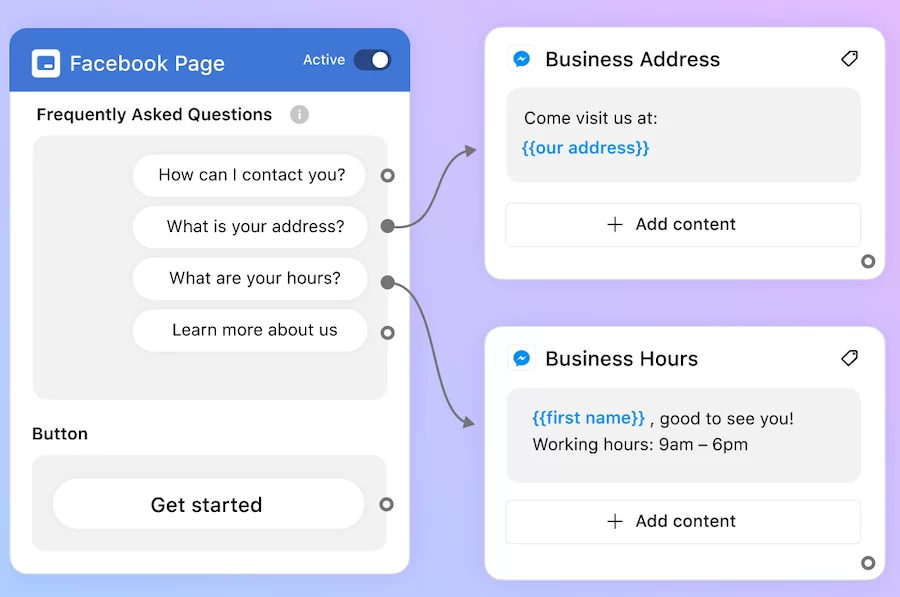 Various established brands used Chatfuel; some of them are Adidas, LEGO, T-Mobile, TechCrunch, Nivea, Nissan, VISA, and so on. What's more, there is in-depth documentation available to help you build chatbots on the go.
The ChatFuel platform comes with robust features such as — contact database, drip campaigns, and data export/import features.
Key Features:
Pricing: The base plan of ChatFuel starts at $15/month, and there is a free forever plan available with limited features.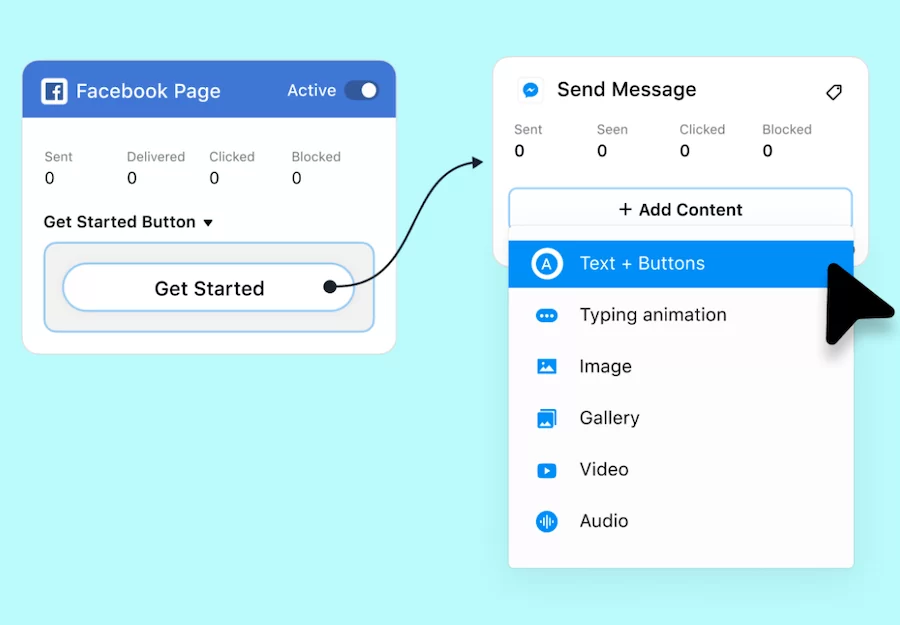 07

. MobileMonkey
MobileMonkey is an advanced chatbot-building platform with some high-end features. The platforms make use of its OmniChat technology to help you build AI-powered smart chatbots. It has a unified chat inbox for all customer communications via chat.
The MobileMonkey chatbots work like a charm on web chat, Messenger, and SMS, and text messages. This gives you the flexibility to create one chatbot which works on all the platforms. MobileMonkey also has mobile and desktop apps available; the apps will have all the messages and responses from all the channels.
With the chatbot, you can easily contact leads, and provide real-time customer support. What's more, you will have better visibility into your customer with the help of engagement analytics.
The standalone point of MobileMonkey, it also integrates with third-party tools and software. For example, it integrates with CRM software, email marketing providers, webinar platforms, etc.
Key Features:
Pricing: The base plan of MobileMonkey costs $14.25 per month, which includes all essential and advanced features. The free plan comes with limited features and modules.
08

. DialogFlow Chatbot
DialogFlow is one of the advanced chatbot software. The DialogFlow is NLP-based, and it delivers smart and intuitive virtual agent functionality. This platform is available in two flexible editions:
DialogFlow ES: it provides advanced agent types that are suitable for large enterprise and business.
DialogFlow CX: it provides the standard agent type that is suitable for small and medium businesses.
This platform is powered by leading AI from Google, and it is one of the robust platforms for easily building chatbots and voice bots. The best part is DialogFlow easily interacts manually with customers to provide a streamlined experience. Moreover, it can also be managed and scaled easily as your business grows.
With DialogFlow it's super-easy to create and deploy chatbots on the go. If you're someone looking for a reliable chatbot platform for a large enterprise or company, DialogFlow is the best available option.
Key Features:
Pricing: DialogFlow doesn't have fixed pricing; users have to pay monthly depending on the number of editions and requests.
09

. SnatchBot Details
SnatchBot is a flexible yet powerful multi-channel chatbot builder. This platform makes it super easy to build a conversational chatbot experience for your customers. SnatchBot provides robust features along with enterprise-level security for chatbots.
Building automated chatbots or Human (human hybrid) chatbot is fun and easy with SnatchBot. There are various kinds of chatbots templates available to choose from: data import Bot, Google Sheets templates, marketing bot templates, crypto bot, customer support bot, etc.
Also, you can design conversations to easily utilize "multiple" or "simple" or something simple/complex. For example, you can even add action buttons, translations, collects payments, send receipts, and so on.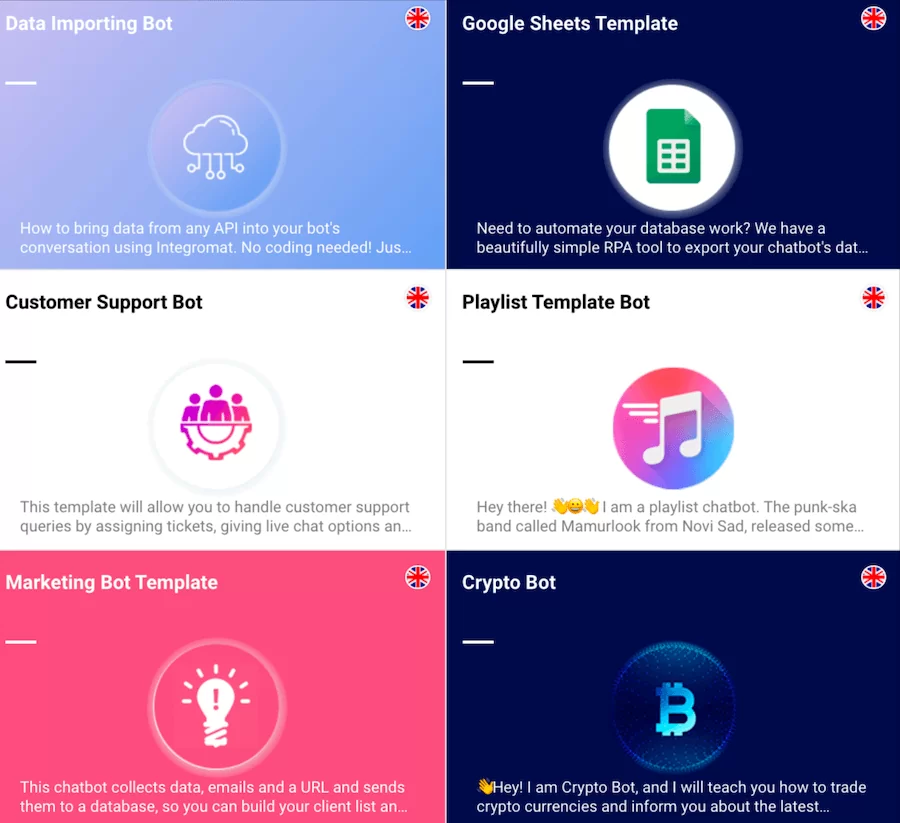 Once you're done creating chatbots, you can deploy and publish the chatbot on all the channels and platforms. SnatchBot supports all major messaging channels such as Messenger, WhatsApp, etc.
This chatbot platform has is suitable for developers, businesses and provides services for every stage in a bot lifecycle. Such as they help you at every stage from developing, testing to deploying, hosting to tracking — SnatchBot has got your back.
Key Features:
Pricing: The base plan of SnatchBot starts at $30/month. There is a free plan available with limited functionality and features.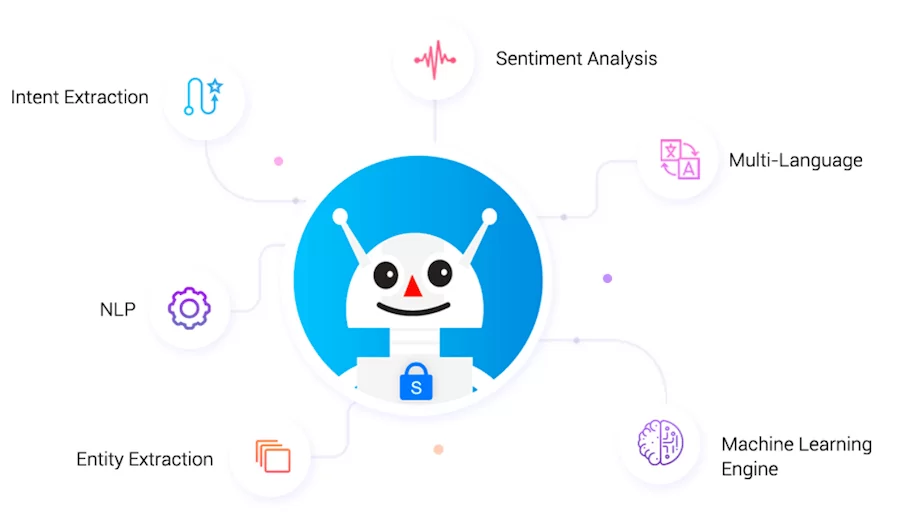 10

. Botsify Chatbot Details
Botsify is a premium yet affordable chatbot platform for everyone. It's a managed chatbot platform that provides a unified chatbot automation service for your business.
With this platform, you will get an omnichannel live-chat service-connected to multiple platforms. You can build chatbot automation for multi-channel such as websites, Messenger, WhatsApp, Telegram, WordPress, and SMS.
The Botsify page managing feature helps you attract your visitors and helps you convert them into potential leads. Also, they help you provide contextual support to potential leads to turn them into paying customers.
Botsify is a whole new way for automating support and chats. You can effectively optimize clients' journeys and provide— real-time support, drive more sales, and generate more revenue without writing a single line of code.
The best part, Botsify has a dedicated chatbot manager, which helps you get 24/7 customer support. Moreover, Botsify also integrates with hundreds of tools and services out there.
Key Features:
Pricing: Botsify comes with a 14-day free trial; right after the free trial, you have to pay $40 a month for the basic plan.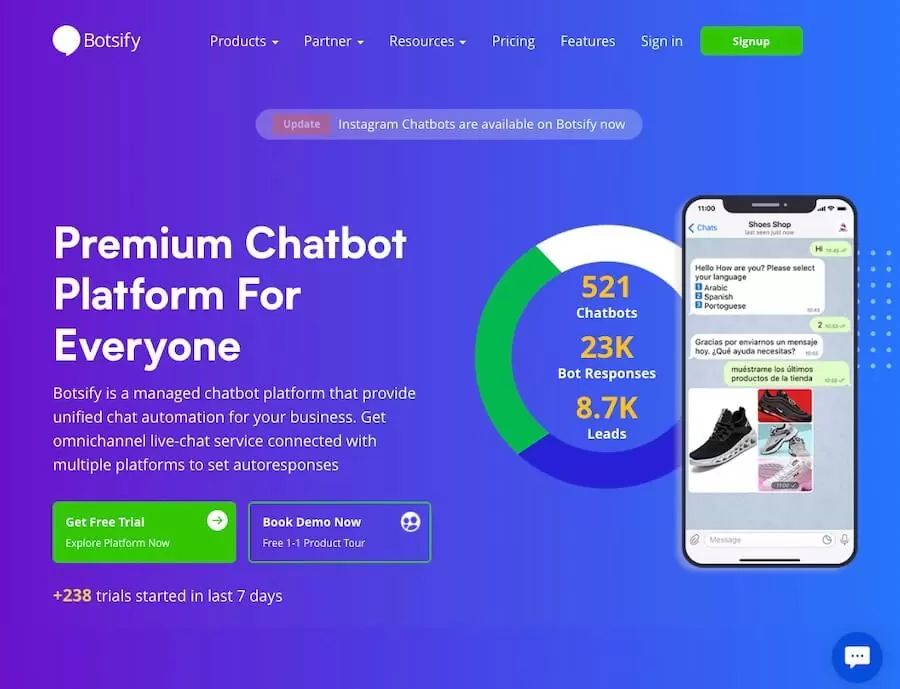 Conclusion: Which Is The Best Chatbot Software?
Well, this is our handpicked list of the best chatbot software in the market as of now. We try our best to keep our list updated in the future with flexible, affordable, and robust chat builder software.
If we have to recommend one of the best chatbot software that is affordable and flexible, we would suggest getting started with:
ManyChat — Flexible, affordable, and feature-rich, base plan starts $15/monthly
ChatBox.com — Robust, omnichannel chatbots, advanced features, the base plan starts $42/month.
Well, if these two don't fit your criteria, we suggest you get started with other listed chatbot software from the above list. All the chatbots software listed above are tried, tested, and approved by businesses all over the world.
We hope this post helped you to find the best chatbot builder software.