I hope you found some good Canva alternatives on the list. Here are details of some of the best options from the list.
01

. Adobe Express
Adobe Express is an online tool from the famous Adobe Photoshop makers. However, it does not include premium features like Photoshop or InDesign but is definitely a good Canva alternative available for free.
Adobe provides unlimited image creation and access to thousands of icons. The user interface is clean, minimalist, and easy to use. It is a good Canva alternative for anyone looking to share images instantly on social media.
Even if you are a complete newbie, you will be able to design attractive graphics using Adobe Express, unlike Photoshop where you will need a thorough understanding of the software.
It is easy to use. You can start with a ready template and design your graphic. You will have the option to select from hundreds of ready templates.
Top Features:
Price:
The paid subscription plan starts at just $9.99/month and $19.99/month for team collaboration. There is also a free trial subscription available for 14 days.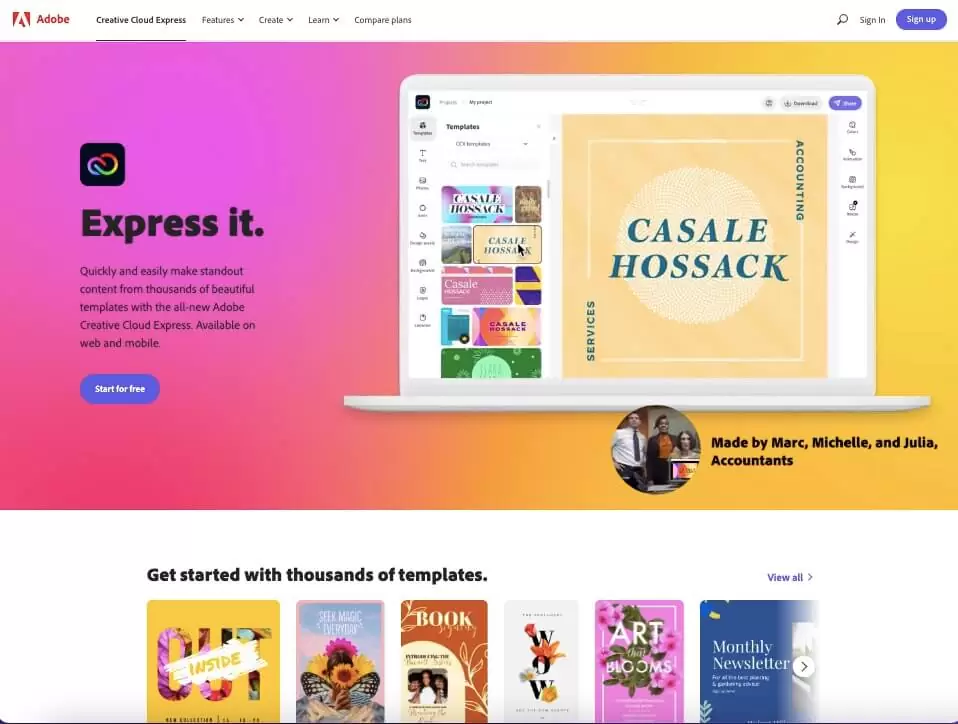 02

. Visme
Visme is a cloud software service mage creation platform, a decent Canva alternative altogether. It is best for users who need a versatile tool focusing on interactive designs by simply using a drag and drop interface.
With Visme, you can create data analysis presentations, infographics, branded documents, etc., on the go.
It is limited to creating images and posts and has the features to create on-demand videos, animations, gifs, and every type of moving effect. Visme comes bundled with 1000+ templates, themes and layouts, and video gifs, so almost any company can use them for their creatives.
Read our detailed Visme review to know about the software better.
Top Features:
Price:
Visme comes free with 100MB storing capacity, limited templates, whereas the paid versions start at $15.00/month, providing full access to templates.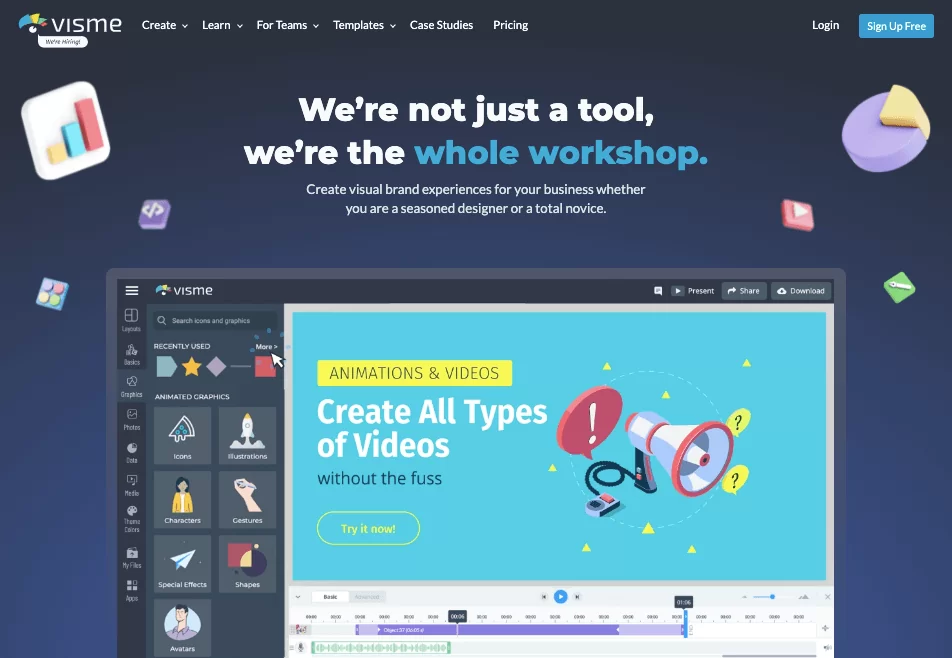 03

. Snappa
Snappa is best for users to share their designs on social media instantly. It is another alternative to canva with several templates and royalty-free photos.
Plus, you can upload your custom pictures to be included in your project. Snappa limits downloads for free members to 5 at most per month. Besides that, free users can share the graphics on social media, so you'll be better off with a premium version if you want to take advantage of everything Snappa has to offer.
Unique features:
Price:
Snappa is free for use. They even offer premium plans starting from $10/month.
04

. Picmonkey
Picmonkey is ideal for customers who want superior image modifying capabilities. It's one of the low-priced canva options due to it is consumer-pleasant interface and lets you edit photos with no hassle.
With Picmonkey, you could make commercial enterprise cards, occasion invites, collages, banner advertisements, and so on. This software has robust image editing features that allow you to perform advanced editing with several filters and effects.
With Picmonkey, you get a seven-day free trial, following which you'll be asked to pay for a premium subscription.
Unique Features:
Price:
Picmonkey comes only with a paid subscription starting at $7.99/month for a primary user, and the team plans start at $12.99/month
05

. VistaCreate
VistaCreate is best for users who want to create and share animations on social media. It's a multi-purpose graphic design software with an interface very similar to Canva.
VistaCreate lets you create graphics for social media advertising banners, animated designs, marketing materials, blog layouts, and many more.
VistaCreate offers a range of templates to pick from, including illustrations and several options for different platforms and formats.
Top Features:
Price:
VistaCreate is free, but the main features, such as the animation maker, are available in the premium plan, starting at $10/month.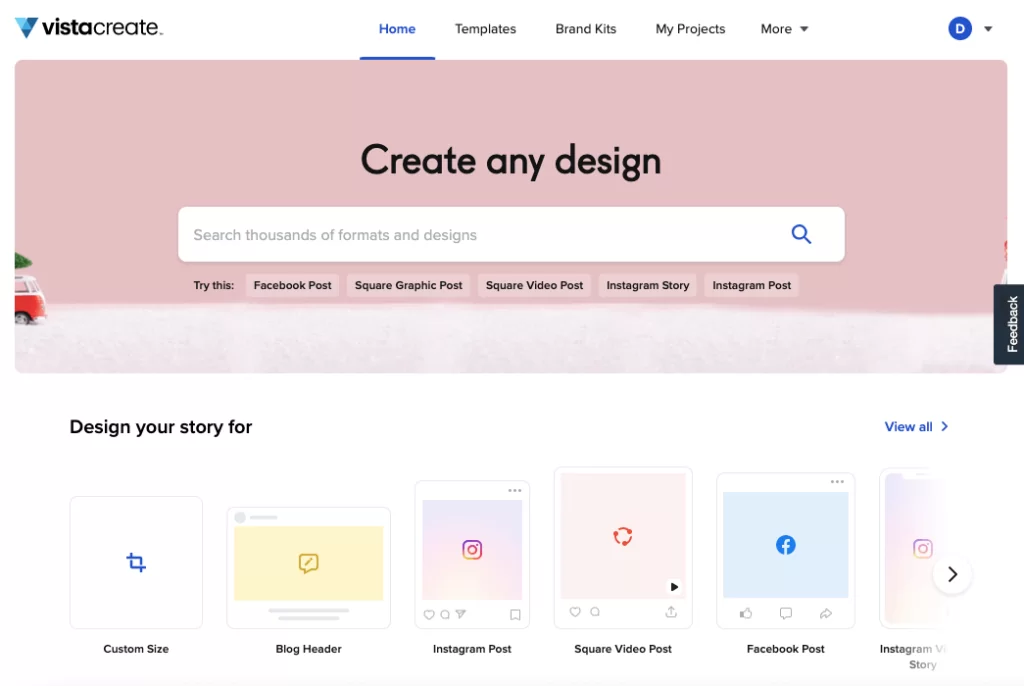 06

. Piktochart
Piktochart is a perfect tool for anyone looking to create their own charts, graphics, and infographics. It focuses more on data-related graphics like charts, line graphs, etc.
It provides access to chart makers, pie-diagram makers, and scatter plot makers, which are helpful for data representation.
It is an easy-to-use data visualization tool that offers loads of templates for creating social media images and presentation slides.
Top Features:
Price:
You can try Piktochart for free with limited access to their templates, and if you decide it's the one you and all of your data need, you can upgrade to their paid plans at just $14/month.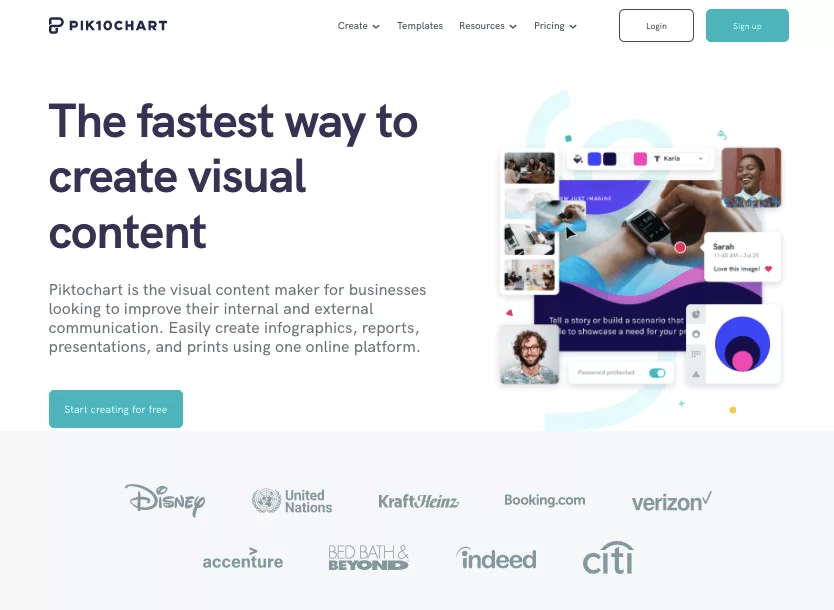 07

. Desygner
Desygner is an online tool that lets you create beautiful designs from your phone, tablet, or computer, easily for free. With Desygner, you can create social media posts, banner ads, online presentations, business cards, flyers, and so on.
Besides the basic and advanced features of the graphic design tool, the platform lists talented designers to help you out with your work.
Of course, this does not come in the free plan! But the team has crafted plenty of tutorials to speed your learning curve.
Top Features:
Price:
The primary usage is available for free, and the paid plans are pretty affordable, starting at just $4.95/month for a team of up to 6 members.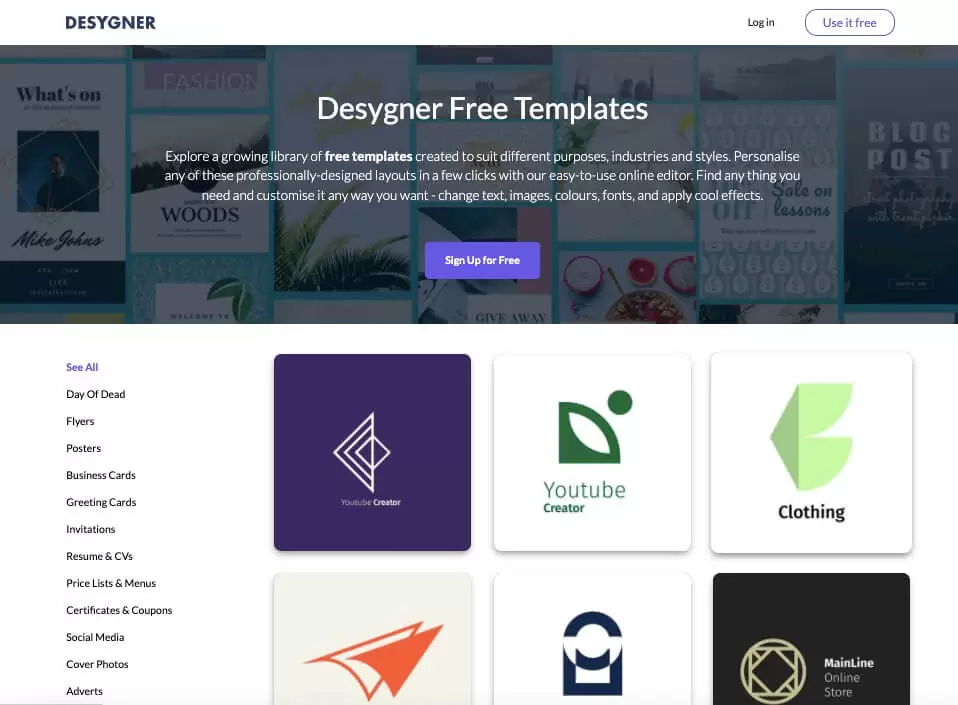 08

. Stencil
Stencil is a clean and simple social media graphics editor built for creators to share articles on social media instantly. It gives you the ability to create any social media post and integrate it seamlessly with Buffer.
Stencil claims itself faster than Canva, making it an ultimate Canva alternative platform for creating images. With Stencil, you get access to more than 50,00,000+ photos and a vast ocean of icons at a minimal price.
Not only these, but Stencil also comes with many templates built-in, so you can just edit and share with your audience faster.
Top Features:
Price:
The basic app is free to use, whereas the pro version starts at $9/month, including a 7-day money-back guarantee.
09

. Venngage
Venngage is best for professionals who need a data visualization tool for marketing
communications. It's an excellent canva alternative for users with various graphic design needs, including postcards, social media images, presentations, infographics, reports, etc.
Moreover, it has a wide range of unique templates you can pick from to start a design project. Another thing to note is that its free plan offers limited features and puts a small Venngage watermark on all your designs.
Unique features:
Price:
Venngage is free forever. However, the premium version starts at just $16/month per user.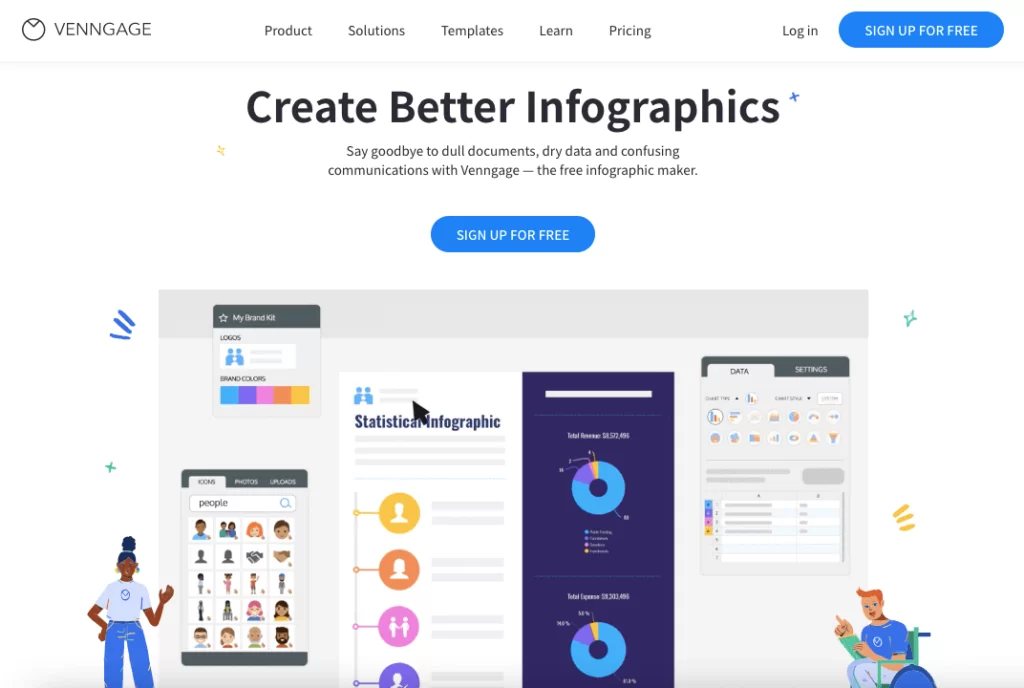 10

. Pixlr
Pixlr is best for complex photo editing at a cost less than canva. Pixlr is an excellent alternative to canva when you can access both an advanced photo editor and graphic design software. With Pixlr, you can also add accents or textures such as dust flex, glitter, and light streaks to your images.
The main highlight of Pixlr is an AI-based trim down button; if you have ever tried to remove unwanted objects from an image or blur out an ugly-looking background, you're going to love this handy feature that lets you eliminate backgrounds with a click.
Unique features:
Price:
The software is free to use, and the premium version starts at just $4.90/month.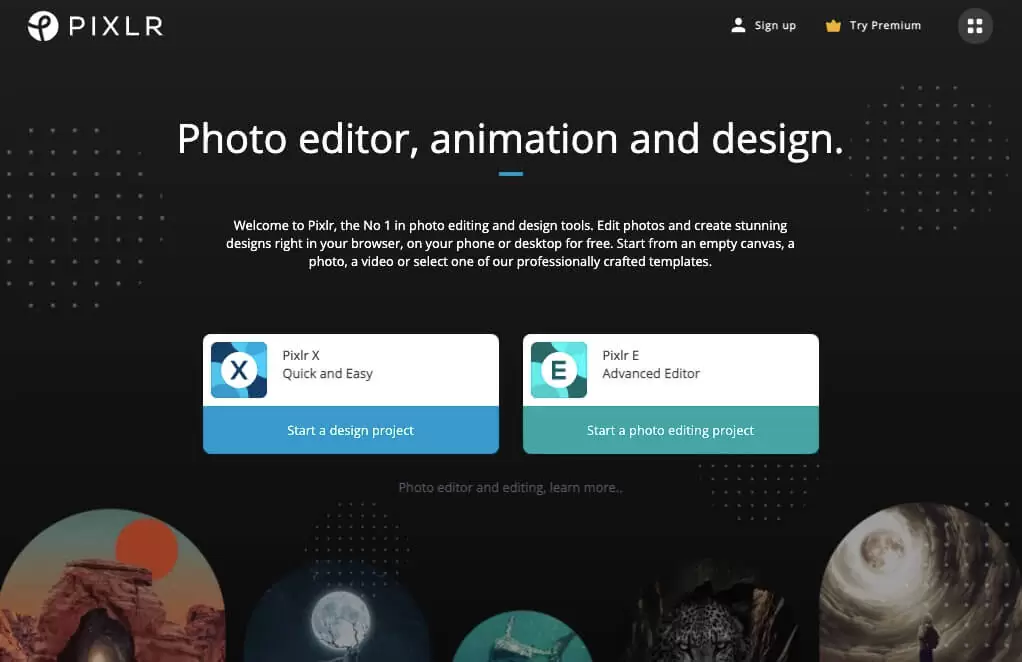 10

. DocHipo
DocHipo is a powerful graphic design software that enables users to create high-quality designs and illustrations. It offers a wide range of features and tools that make it easy to create stunning visuals.
Among its many features, DocHipo allows users to create layers, add text and images, and apply filters and effects. Additionally, it offers a wide variety of templates and shapes that users can use to create their designs. DocHipo is a great choice for both beginners and experienced designers alike.
Top DocHipo Features
DocHipo is the perfect software for anyone who wants to create stunning visuals. It offers a wide range of features and tools that make it easy to create beautiful designs. Additionally, it has a wide variety of templates and shapes that users can use to create their designs.
Price:
DocHipo offers a completely free plan with limitations. If you wish to go for the premium plan, it will cost you $10 per month with monthly billing and $7.5 with annual billing.