So, that was our list of top Ahrefs alternatives that you can try. Hope you find the best tool for your business that suits your budget.
Let's have a look at a few of the software in Detail.
Semrush is the most popular alternative to Ahrefs which comes with a similar set of tools. You can use Semrush to do detailed research on any of your competitor sites. It gives you access to the backend of any website and find out the top-performing content.
While doing manual research on any website may take a lot of time, you can use Semrush to instantly find the top traffic-driving keywords to your competitor site, also find all the backlinks along with the exact pages and anchor for those links.
You can start with a domain search to find the summary of any website, it will quickly give you the overall traffic volume, backlink data, and top competitor of any website to start your research.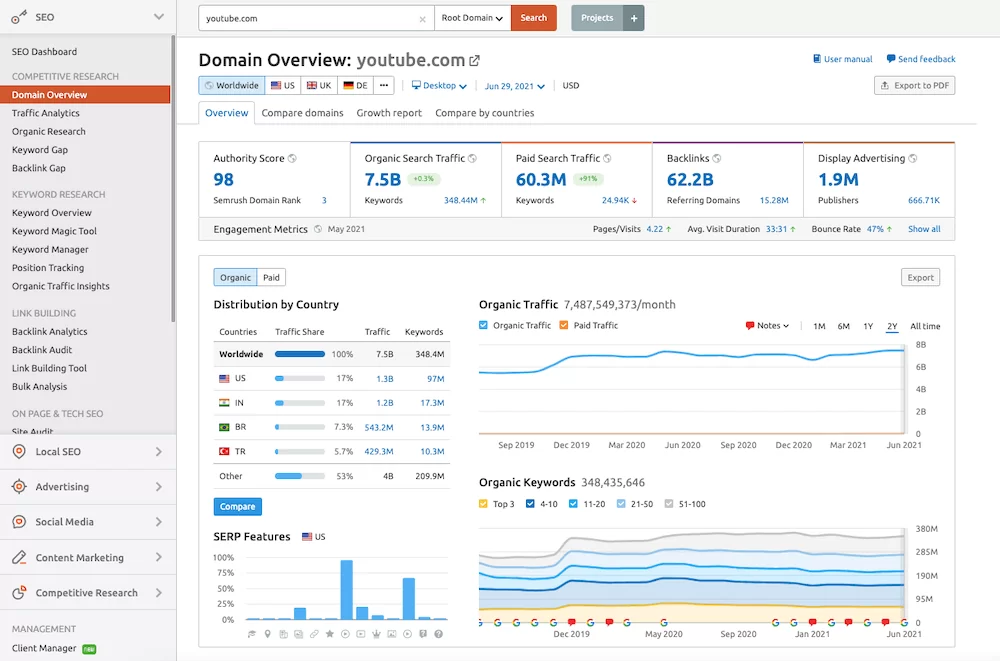 If you are just starting your online business, Semrush will be very handy to find the top link prospects. You can do research on all the top websites in your niche start shortlisting your link prospects and start your link campaign right from the Semrush dashboard.
You can use Semrush for
When it comes to comparing Semrush with Ahrefs, both the software are some in many aspects. You may find a few tools better than each other on both platforms.
When it comes to pricing, Semrush is a little more expensive than Ahrefs. The basic plan of Ahrefs starts at $99 per month whereas for Semrush it is $119 per month.
Here's are some useful content around Semrush
Serpstat is another comprehensive SEO and marketing analysis software that you can use for in-depth competitor research. The software comes with detailed kwyord research took, backlink analysis tool that will help you to find the complete backlink profile of any website.
The platform offers you accurate rank tracking tool that you can use to keep a track of all the important keywords for your site.
The keyword research tool will help you to find profitable keywords around your niche with in-depth data to help you understand the keywords that you can target.
When you compare Serpstat with Ahrefs, the database of Ahrefs is a lot more comprehensive than Serpstat while the pricing of Serpstat is a lot more affordable than Ahrefs.
Don't miss these articles related to Serpstat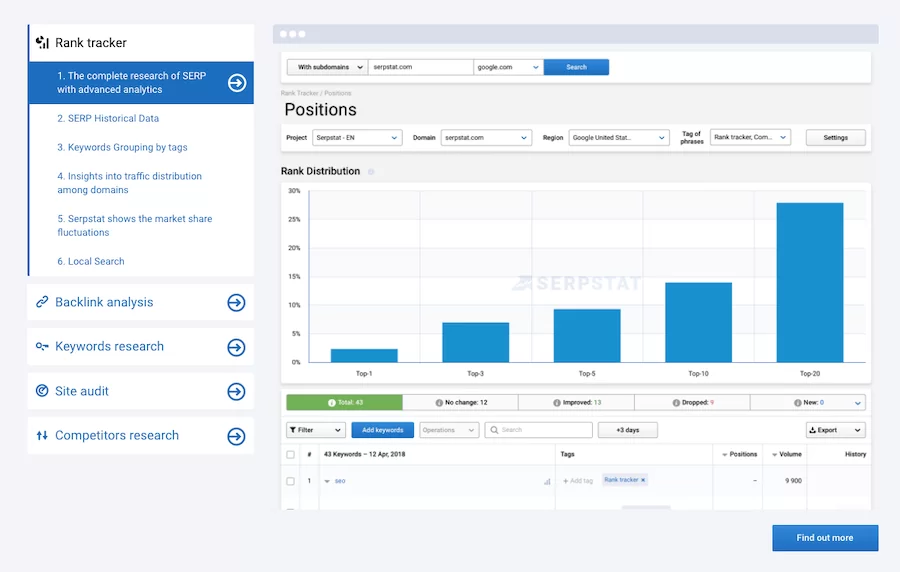 When it comes to SEO analysis software, Moz needs no introduction. One of the most popular names among with SEO and marketing platforms, Moz offers you some very handy tools that can help you grow your business.
Moz is a platform with more than 43 trillion links in the database to do your research and over 500 million keywords. So, you will have all the data that you need to do all kinds of research and grow SEO traffic to your site.
Along with the tools and data, Moz is also known for their value rich blog where you can learn about SEO in detail.
Also read: Best Moz Alternatives