With over 35% of all websites created on the WordPress platform, it is the most popular content management system with millions of users.
Ask someone to create a website, and I am sure that the answer will include WordPress. Today, in this post, we will talk about interesting facts and stats about WordPress that will blow your mind, or will at least make you wonder about it!
Before we dive deeper into it, let's first know more about the WordPress platform.
What is WordPress?
WordPress is open-source software available online, which is used for creating websites and blogs. It is the most powerful and popular Content Management system. Even though multiple Content Management Systems have emerged, no one can beat WordPress till now. 
WordPress provides both free and paid hosting solutions. The novice bloggers use the free version of WordPress and most often, professionals use the paid ones.
How Many Types of WordPress Are There?
There are two types of WordPress and their domain name can easily distinguish it.
wordpress.org is the free solution that one can use for free and then we have WordPress.com, which is a premium hosting solution.
Now that we know what exactly WordPress is let's talk about some interesting facts and figures. Are you ready to be impressed?
To ensure that you don't mix up all the facts and figures, we have neatly categorized the facts and stats into various sub-headings. I hope that you find it easier to recollect everything.
The popularity of WordPress: Facts and Stats
As we have discussed before, WordPress is the most popular CMS (Content Management System) in the world. Users from all over the globe prefer to start their blog on WordPress. 
01. WordPress powers a whopping 37.8% of the internet.
The market share of WordPress is 63.6% and it powers 37.8% of all the websites and blogs which are available. There's a huge difference between the first Content Management System, i.e., WordPress, and the second most popular Content Management System.
Shopify has occupied the second place among the usage section and its usage is only 3%. Can you see the difference? We all know who is the king of Content Management Systems.
02. Google will produce 2,060,000,000 results when you search for WordPress
Try googling WordPress, and you will never run out of the search list. So many websites and blogs about the WordPress platform that the search result is nearly 2,060,000. I guess this post will also be one of them!
03. Over 50,000 WordPress websites are launched in a day.
04. The market share of WordPress is 63.6%
We have already discussed it but this point needs to be addressed differently because 63.6% is huge! In fact, if we consider the top ten million websites on the internet, more than 30% of them are owned by WordPress alone.
05. Monthly unique visitors of WordPress are more than Amazon and Facebook
Amazon and Facebook are huge names and therefore, it is interesting that when we talk about monthly unique visitors, the figures of WordPress.com easily overshadow that of both Amazon and Facebook. Interestingly, it has far fewer staff.
06. 60 million people use WordPress
More than 60 million people have decided to use WordPress as the CMS for running their websites and blogs. Remember when I told you that WordPress will always be an answer when you ask someone where to create a website.
Still in doubt? Go and pick up your phone and ask someone!
07. 14.7% of the top 100 websites of the world are powered by WordPress.
08. WordPress.com users create more than 136.2 million monthly blog posts
The bloggers who use WordPress to power their websites and blogs are damn serious about their job. You must have heard ranking websites are tough now a day. Well, why won't it be tough when 136.2 million new blog posts are created monthly only on WordPress.
Also, the users of WordPress loves to interact with each other. The total monthly comments on WordPress is more than 77.7 million.
09. More than 20.7 billion blog pages on WordPress are viewed monthly
Yes, we are not talking about millions now; the figures have reached billions! More than 409 internet users worldwide read or view more than 20.7 billion blog pages in a month.
10. WordPress powers The New York Times, Spotify, TechCrunch, BBC America, and The White House website.
11. Every second, 17 blog posts are published on WordPress.
Development of WordPress: Facts and Figures
WordPress's popularity can be attributed to the fact that it has been in the market for a long. Not only this, it has dynamically changed to meet the ever-increasing demand of bloggers. 
12. WordPress is older than Twitter and Facebook
You might think that Twitter and Facebook have existed since forever. However, that is not the case. WordPress is older than Twitter and Facebook. WordPress was created in 2003, whereas Twitter was created in 2006, and Facebook was created in 2004.
Yes, this year WordPress has turned 17 years old!
13. No company owns WordPress
Matt Mullenweg, the co-founder of WordPress, wanted WordPress to be a non-profit organization. As a result, WordPress still comes under the umbrella of the software's open source license.
No single company owns WordPress.
14. No CEO for WordPress
Go back to the last point! We talked about a co-founder and not a CEO. Do you know why that is the case? It is because WordPress.org has no CEO.
Are you wondering who runs it then? Well, there are tons of generous developers who volunteer to improve WordPress.org. How cool is that?
15. Know how to code? Go and change the core code of WordPress
Thanks to the fact that WordPress is open-source software licensed that anyone can edit and make changes in the core code of WordPress. If you run a website on WordPress, you can give it a try?
16. WordPress is written using the PHP programming language
No matter what you want to create on a computer, you need a programming language. WordPress is created using PHP. It further uses MySQL in order to maintain its database.
17. WordPress v5 is downloaded by more than 27,229,919 users
Right at this point, when I'm writing this article, one of the latest versions of WordPress i.e., WordPress v5 has been downloaded y more than 27,229,919 users. With each passing second, the number is increasing.
Why don't you check it yourself on the WordPress Counter?
18. More than 98 versions of WordPress have been rolled out till date
WordPress strictly believes that nothing is perfect and therefore, there is always a scope of improvement. This is the reason why so many versions of WordPress are rolled out.
The first WordPress version 0.70 was rolled out on 27th May 2003, and the latest WordPress version 5.5.1 was released on 1st September 2020. There's a plan to release version 5.6 soon. The tentative month is December 2020.
19. Core updates of WordPress are rolled out in nearly 152 days
Major changes in WordPress's core updates take place in approximately 152 days, which roughly rounds to twice a year. 
During the other time of the year, minor changes are rolled out every now and then.
WordPress Community: Facts
The world is a heterogeneous place and therefore, you can expect a huge diversity in the WordPress community too. The community of WordPress is indeed very unique.
20. Harvard blogs use WordPress to run their website
Many popular universities use WordPress to run their website. One such university is Harvard University. 
Other popular websites that use WordPress include Boston University, University of Berlin, and MIT.
21. Business people love WordPress
WordPress is most common among the people involved in some sort of business, and some famous companies include Coca-Cola and Samsung.
The news websites least prefer WordPress. I wonder why is that the case?
22. Legitimate comments which are received per month by WordPress are more than 40,000,000.
23. More than 120 languages are supported by WordPress
No matter from which corner of the world you are, you can always use WordPress to host your blog and website. WordPress supports more than 120 languages.
The top languages in which blogs on WordPress are written are:
24. A total of 72 language translations are available for WordPress.
25. Non-English downloads of WordPress has now overtaken the English download of it.
26. The first WordCamp was organized in San Francisco in 2006
WordCamps are locally organized WordPress conferences. From novice bloggers to professional developers and consultants, everyone loves to attend these events.
The very first WordCamp was organized by Matt Mullenweg in San Francisco, 2006.
27. 1071 WordCamps have been organized till date
1071 WordCamps have been organized in 259 cities of 65 countries and it covers the six continents. Of course, they couldn't include Antarctica! If you want to attend or organize WordPress, you can do so from WordCamp's official website.
28. Gold Community Sponsor for WordCamp 2020 Are
Jetpack, WooCommerce, BlueHost, and GoDaddy Pro. The Silver Community Sponsors include Nexcess, GreenGeeks, GoDaddy Pro and Bluehost.
29. The responsibility of WordCamp is taken by unpaid volunteers
Not everything is about money, right? Many passionate people do things just because they love it. Similar is the case with the WordCamp volunteers.
The unpaid volunteers of WordCamp don't even take a penny. The organist it because of their pure love for WordPress.
30. The events of WordCamp can be enjoyed on WordPress.tv
In case, if you want to attend a WordCamp but are unable to do so because of restrictions or unavoidable circumstances, you don't need to miss it.
You can watch the entire recording of the WordPress event on WordPress.tv for free of cost.
31. More than 55,000 plugins
The WordPress plugin directory features more than 55,000 free plugins. We aren't even considering the paid ones! And the number is increasing every day.
You can create your very own plugin for your website on WordPress. It further helps you to host your plugin on WordPress.org.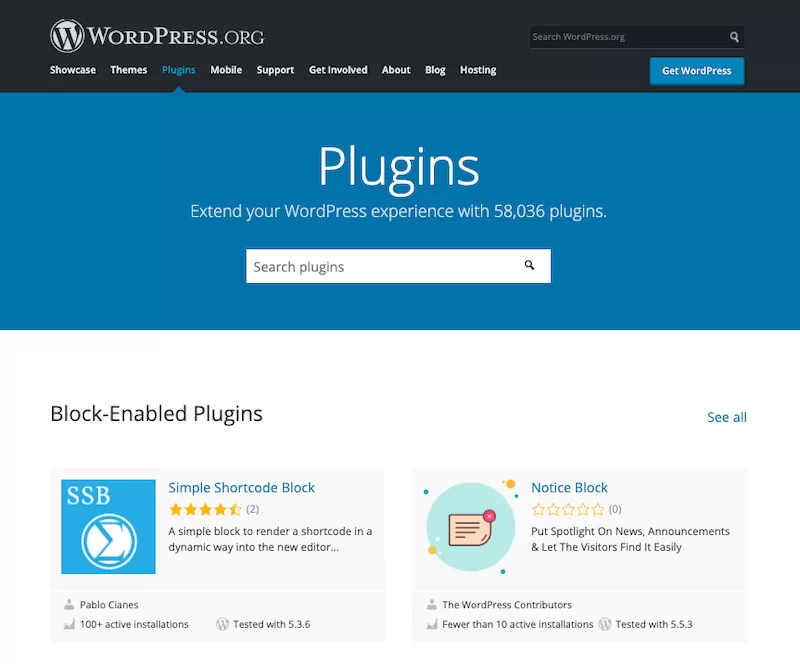 32. Five million active installations of the most popular free WordPress plugins
The most popular free plugins of WordPress are:
Contact Form 7: This plugin allows users to create contact forms on the website. Most of the contact pages in WordPress features Contact Form 7.
Yoast SEO: The SEO of your blog post and page be analyzed using Yoast SEO. It has been downloaded more than 176 million times.
Akismet Anti-Spam: Spam poses a huge problem in the comment section of the blog. The Akismet Anti-Spam plugin blocks all kinds of spam comments.
Jetpack: This plugin helps the users with the security, design and marketing of the blog.
Each of these plugins has more than five million active installations.
An honorable mention should be given to Wordfence Security which is downloaded over 121 million times. This plugin adds an extra layer of security by adding a firewall.
33. CodeCanyon supports over 6,000 premium plugins
The most popular premium plugins supported by Code Canyon are"
Out of the list, the most popular plugin is the Visual Composer which is purchased by more than 2,500 users in a week.
34. WooCommerce is the most popular eCommerce plugin
Many users use WordPress to run their online business or e-business. When dealing with online business on WordPress, WooCommerce becomes an indispensable plugin, and therefore, it is the most popular eCommerce plugin of WordPress.
WordPress is current used in more than three million websites and it has been downloaded by more than 58 million times.
Another fun fact, WooCommerce powers more than 10% of all the online stores which are built.
35. 11 plugins that have crossed more than seven million downloads
The 11 plugins which were downloaded over seven million times are:
36. Hello Dolly has been labeled as an iconic plugin
The Hello Dolly plugin displays random lyrics of a song titled Hello Dolly sung by Louis Armstrong. Even though the plugin is pretty useless, it has become an iconic plugin for some unknown reason.
WordPress Themes: Figures and Facts
Want to give your website a makeover? Well, you will need to choose a theme for that. WordPress houses both free and premium themes. The themes give your website the look that you want.
37. The very first theme was rolled out in 2005
Kubrick is the first theme that was launched by WordPress in 2005. In fact, it was then the default theme.
38. ThemeForest supports more than 11,000 WordPress themes.
The best-selling themes on ThemeForest are Avada, X and Enfold. 
39. Majority of the sales of ThemeForest come from their responsive theme. Niche themes are extremely popular in it.
40. Every year, WordPress launches its default theme
The default theme of WordPress isn't the same every year. It is changed to meet the features required of the users.
However, the busy schedule of the developers resulted in skipping the default theme in 2018! The current default theme of WordPress is named Twenty-Twenty.
41. There are 31,010 WordPress themes
If considering themes, which are available for download or purchase, the figure rounds up to 31,010 themes.
The average price of the premium themes is $77.47. there are a total of 211 themes companies in WordPress. 
The most popular WordPress themes are Divi and Genesis. They are used by more than 10% or WordPress websites.
42. ThemeForest is the most profitable WordPress theme
Avada designed by WordPress is the most purchased theme. One of the reasons for it is that it is one of the most beneficial themes. 25% of the users who use WordPress theme earns at least $2,500 in a month. 
43. WordPress themes are generally powered by WYSIWYG editor
This WYSIWYG editor allows the users to see live changes in the themes. Paul McCarthy and Shane Melaugh developed the feature.
WordPress Security: Facts and Stats
Security threats are a huge concern for WordPress because it is the most popular CMS. The limelight of WordPress has gained the attention of hackers. WordPress holds the largest market share in WordPress, it won't be surprising to know that it faces the most number of hacking attempts.
44. 83% of the websites built on CMS hacked belongs to WordPress
As discussed above, WordPress holds over 60% of the share in the CMS market and therefore, it isn't a shock that 83% of the websites which are hacked are built on WordPress. 
45. 39% of the hacking can be contributed to the usage of an outdated version of WordPress
Using an outdated version of WordPress poses a serious security threat. Whenever a new update rolls out on WordPress, make sure that you grab it.
46. Hackers love to use Revslider, TimThumb and Gravity Forms to hack a WordPress website.
47. 50% of the security vulnerability is caused by WordPress plugin
A poorly coded plugin can result in hacking. More than 50% of the hacking occurred because of poorly designed WordPress plugin which didn't have robust security.
48. Panama Papers Leak occurred because of a WordPress plugin
Panama Paper Leak is one of the largest journalist data breaches that ever occurred in history. In this leak, more than 4.8 million emails were leaked.
The leak happened because Mossack Fonseca was using a vulnerable version of Revolution Slider.
49. The Wordfence plugins prevent over 90,000 attacks on WordPress websites.
50. WordPress comes with Auto Update System
For minor updates, WordPress automatically updates itself. Further, minor updates in the plugin are also, automatically updated. 
The WordPress Business
WordPress is much more than a powerful CMS. To be honest, it is a multi-billion dollar economy. Many bloggers are earning their livelihood from WordPress. It's time to talk about money!
51. Automattic is the most profitable WordPress company
The revenue of Automattic is $1.3 billion. This billion-dollar company is followed by Evanto and WP Engine which are million-dollar companies.
52. The average salary of a WordPress job is $72,321
The highest salary in WordPress is earned by Front End Developer which is around $108,184. For an easy comparison, here's a list of other WordPress salaries.
53. If all the contributors in developing WordPress considered the total effort, it took 127 people years to develop and design WordPress. The cost of the entire project is would be more than $7,000,000.
54. The WordPress logo was designed in 2005 by Jason Santa Maria.
He is a graphic designer. He met Matt Mullenweg at SXSW and it all started with friendly conversations between them. Plenty of abstract ideas were brainstormed before finalizing the logo.
More Stats
55. The name WordPress was suggested by Christine Select Tremoulet, a friend of Mullenweg.
56. Most of the websites on WordPress are purchased on Wednesday. Interesting, it least downloaded on Sunday.
57. The unofficial mascot of WordPress is Wapuu.
58. All the major releases of WordPress are named after a Jazz musician. It is because the core developers of WordPress are a huge Jazz music fans.
59. WordPress was founded by Matt Mullenweg along with Mike Little only when he was 19 years old!'
60. Automattic manages WordPress. Guess the number of workers in the team? The number of members in the team is only 1,192.
61. The work culture at WordPress is so fascinating that it has become a book's subject.
62. The plugins which are available for WordPress were not always a part of it. It took almost a year for the developers to include the plugins. The plugins were finally added to the second version of the app.
63. WordPress ran without a logo for two years. If this doesn't come as a surprise to the marketing guys, what will? Maybe the fact that the trademark registration of the WordPress logo wasn't done until 2006.
64. The new editor of WordPress named Gutenberg is named after Johannes Gutenberg. Well, who was he? He was the printing press inventor.
65. Even though WordPress can be updated for free of cost, more than 50% of the WordPress clients still run their website on an older version. 
Wrap Up
Here's a bonus fact for you! In 2017, WordPress's San Francisco office was decided to shut down because all the 550 employees employed there preferred to work remotely.
Do you use WordPress? If yes, how many of these facts did you know? Commend your score below.