Best WordPress themes for startups that will help you create a very professional-looking design at a cheaper cost than hiring a developer and you will get free updates for life.
If you own a startup that is working on a new app, service, or any other venture, providing your users with a professional website that speaks well of your brand is a must.
There are countless WordPress themes to choose from, and we brought you nothing but the very best from hundreds of available premium themes designed specifically for startups.
Picking the right WordPress theme does not mean that you will be restricted to what the developers are offering you.
These premium themes offer complete customization options that you can tinker with at any point in time. You can create your entire website from scratch with minute aesthetic details and functionality.
What Should You Look for In a WordPress Theme for Startup?
Before we proceed with this list of best WordPress plugins for startups, you must understand the features that you should look for in the theme.
Here are some of the most important things you must consider.
Top Recommended Themes for Startups (Editor's Choice)
Well, we have listed some of the best WordPress themes that you can use for your startup. However, if you are looking for the best few picks from the list, here they are.
01

. Divi Theme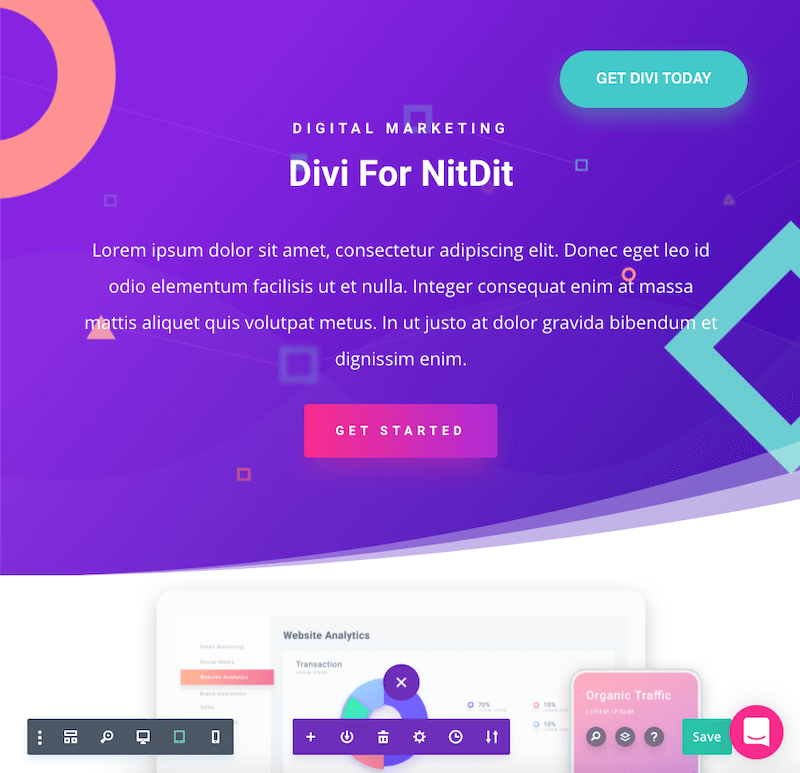 One of the most popular multipurpose WordPress themes the Divi is loaded with amazing features and options.
This is one of the top choices for startups as the theme offers you unlimited design options, modern features and it is constantly evolving with time.
The Divi theme is created with the popular ElegantThemes team who is in the WordPress product business for a long time.
The theme is powered by the amazing Divi Builder which is a drag-and-drop theme builder that you can use to create any kind of design you wish to create.
Now, you don't need a developer to create a perfectly optimized custom design for your business because you can take care of everything using the easy website builder.
The Divi Builder brings in a number of amazing modules that you can use to create your pages. Once you create a unique design, you have the option to replicate that for other pages or you can save them in the library for future use.
There is a huge community of Divi users and the community is regularly sharing amazing custom designs that you can use for free.
From header to the Footer, you can fine-tune each and every section of the theme as per your wish without writing a single line of code
Clean coding, powerful SEO presence, and security is other highlights of the Divi Theme.
Don't miss 20% discount on Divi Theme.
02

. Avada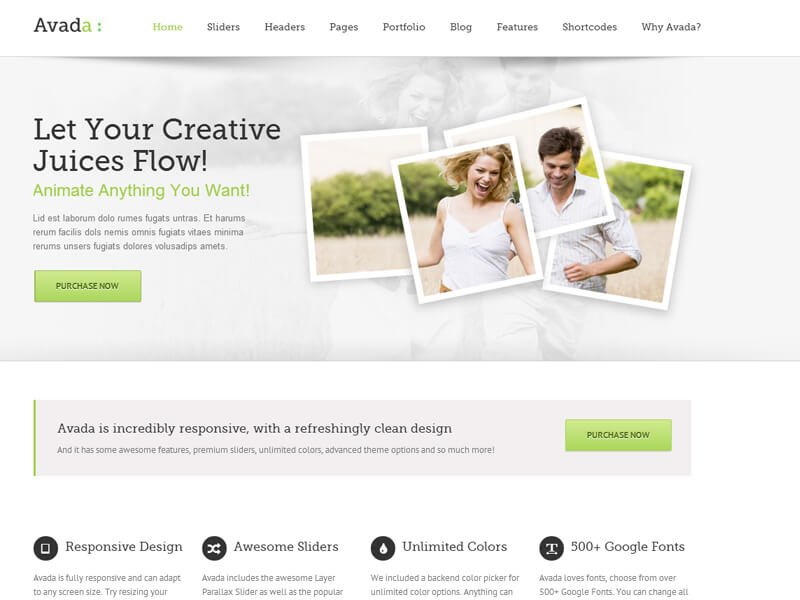 Avada is the top-selling WordPress theme in the ThemeForest marketplace. If you are looking for a theme that can do everything and offers you unlimited possibilities, Avada is the theme you need.
Avada theme can be used to create any design, so not only for the startups, you can use this theme for any niche site you wish to work on.
The theme comes with a great design, powerful theme options panel and amazing drag-and-drop builder to customize your site without writing a single line of code.
Avada theme offers you a number of ready-to-use demo design templates that can be imported with just one click.
You will also have unlimited layout possibilities from the header of your site to the footer, design every section of your site to make it perfect without writing any code.
Read our Avada theme review.
03

. Newspaper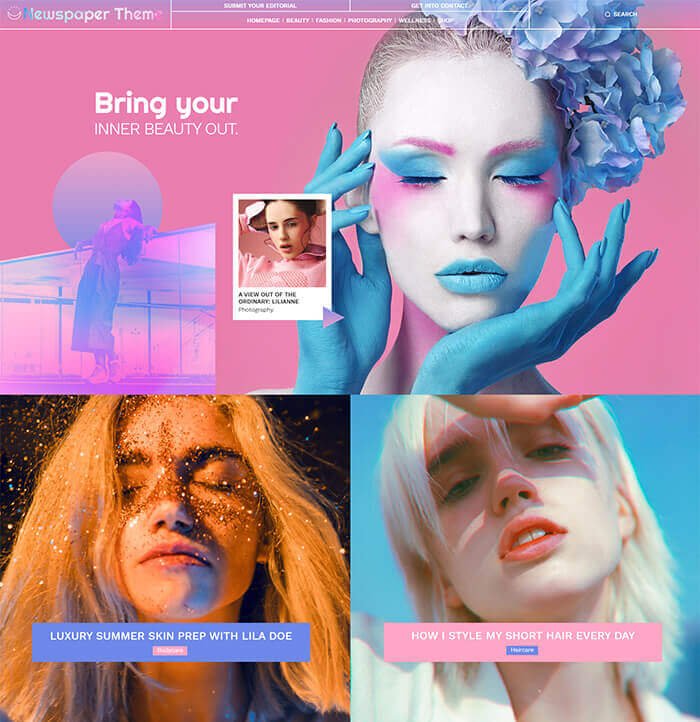 If your start is around content publishing, Newspaper is one of the best WordPress themes for you. It is already used by some of the most popular publications with millions of traffic every month, so it is good enough. (Uber, BitCoin, United Nations and more)
The theme is currently in its tenth edition. So, you can be sure to get the latest design features incorporated every time there is a change in trend. It is constantly evolving with time.
The Newspaper theme is top of the top-selling WordPress themes with a big user community around the product, so getting the answers for your potential questions will be really easy.
It is very fast loading, a well-coded theme that will surely help you to improve the overall user experience on your site. The theme comes with a big list of demo design templates that will make it quicker for you to get started with your site.
In fact, they are constantly adding more demo designs to the collection all the time. They have recently added a number of demos related to Covid-19 news.
04

. Kadence Theme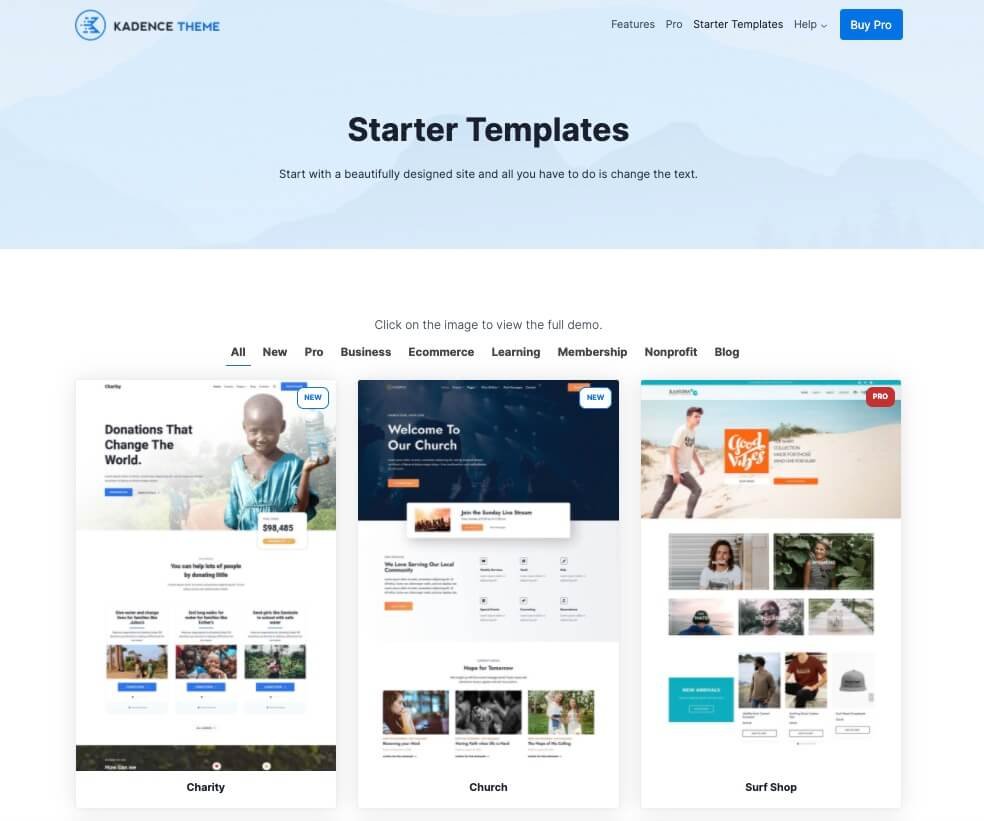 Many WordPress pros love the Kadence Theme. It is a power-packed theme with the right composition of design possibilities and performance. The Kadence Theme is loaded with a number of features that will make you fall in love with this theme.
To start with, the Kadence Theme is created to work perfectly with the Gutenberg editor and other popular website builders like Elementor. So, you will have unlimited design possibilities with this theme.
If you don't want to use any website builder, just pack it up with the Kadence Blocks and make completely unique designs that will offer you super quick loading speed and top-end SEO capabilities.
The Kadence Theme comes with a number of ready-to-use demo design templates to choose from. You can select any of these templates and make your site ready almost instantly and then take it ahead with your own customizations if needed.
The WordPress theme customizer is loaded with features and you can make sitewide changes like the color scheme, typography with just a click. In fact, there are a number of ready-to-use color palettes that you can use for your site.
The theme comes with drag and drop header builder, so you can create a completely unique header design for your site with ease. You can add buttons, menu, shopping cart, social icons and other elements as per your need.
There are tons of other possibilities that make the Kadence Theme a perfect choice for your startup.
05

. Ultra Theme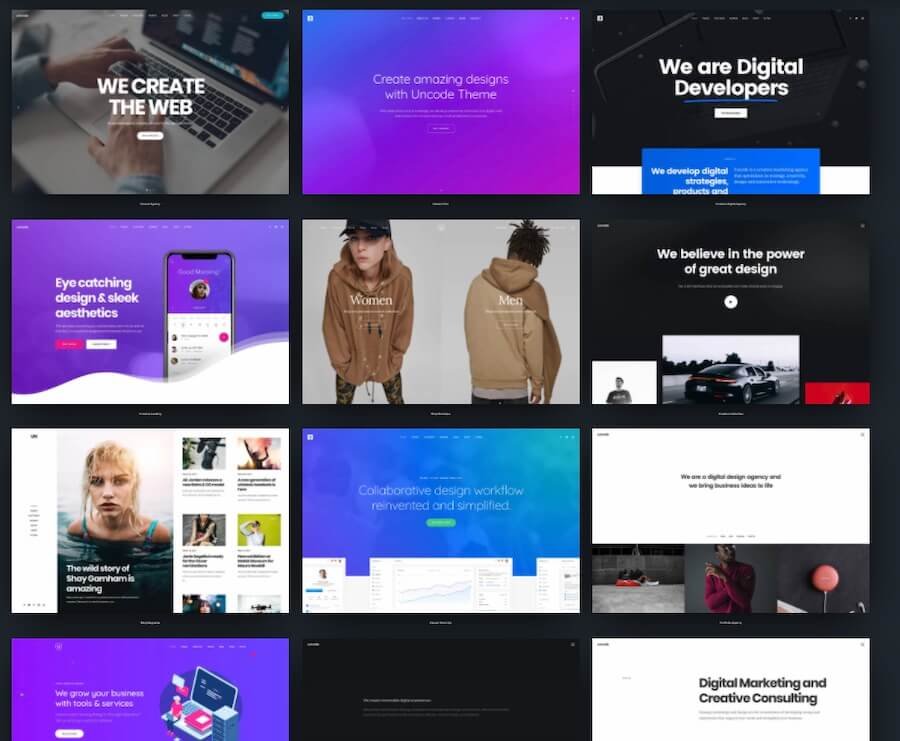 The flagship product from the Themify store, Ultra is one of the best WordPress themes for any kind of website. This is a multipurpose WordPress theme backed by the powerful Themify Builder to create any design without coding.
We have already published a detailed review of the Ultra theme that you can read to know more about the theme. This theme is already being used by many big sites and has a very good reputation among users.
The Ultra theme comes with a big collection of ready-to-use starter site templates that are created for different niche sites that you can use to create your site. So, in a way, you get access to a number of different themes when you buy this single theme.
You also get access to a number of useful add-ons with the Ultra themes that will otherwise cost you around $100. These are some useful widgets that you can add to your site as per your requirement.
The Ultra theme offers a number of different layout options to choose from when you start building your site. You can play around with the header design and layout to make your site completely unique.
It also offers a number of different post layout options to choose from. So, you will never be limited to a fixed design for your blog post and you will be able to present your content in a much better and engaging way.
06

. Uncode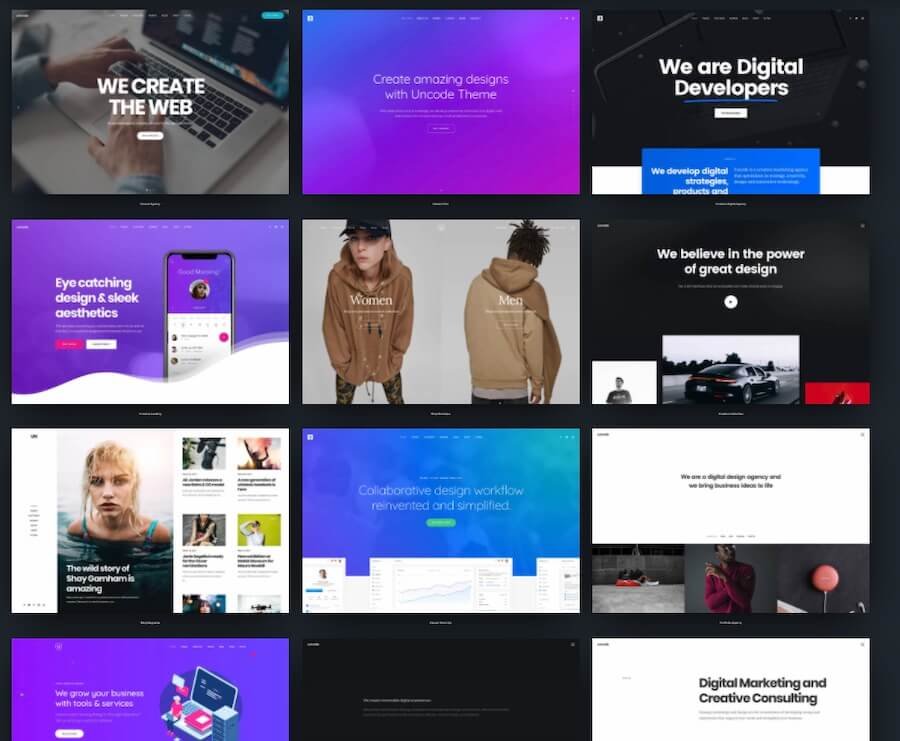 Uncode is a popular multipurpose WordPress theme that you can use to create any kind of website. If you are working on your startup site, Uncode can be the perfect theme for your business.
It offers 400 ready-to-use demo design templates that you can use to create your website. So, you don't have to start from scratch, you can select any of the ready design templates and customize them according to your
In case you don't like to use a ready template, you can use the drag and drop front-end website builder offered by the theme to create a completely custom design for your site without writing a single line of code.
You can customize each and every section of your site, be it the header, footer or any other part of the theme as per your need without any coding. The theme comes with a number of content blocks that you can use while designing your pages.
07

. Betheme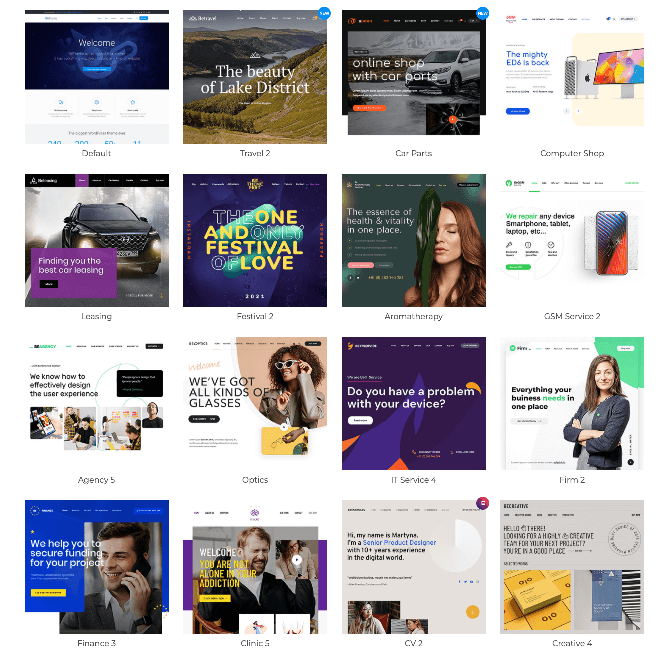 Betheme is a very popular WordPress theme with unlimited design possibilities. You can create any kind of design that you can imagine using this theme.
It offers over 600 ready-to-use demo design templates, so you can imagine the kind of design flexibility this single theme offers. You will find a ready design template for almost any niche website.
You can also create your own custom design by using the Muffin Builder which is a drag and drop page builder to create unique pages without any coding.
The website builder comes with a number of ready-to-use modules and template blocks that you can use to expedite the process of creating your pages.
When it comes to the theme admin panel, you have plenty of settings and options to fine-tune everything for your site in just a few clicks.
Don't miss our detailed review of BeTheme.
08

. REHub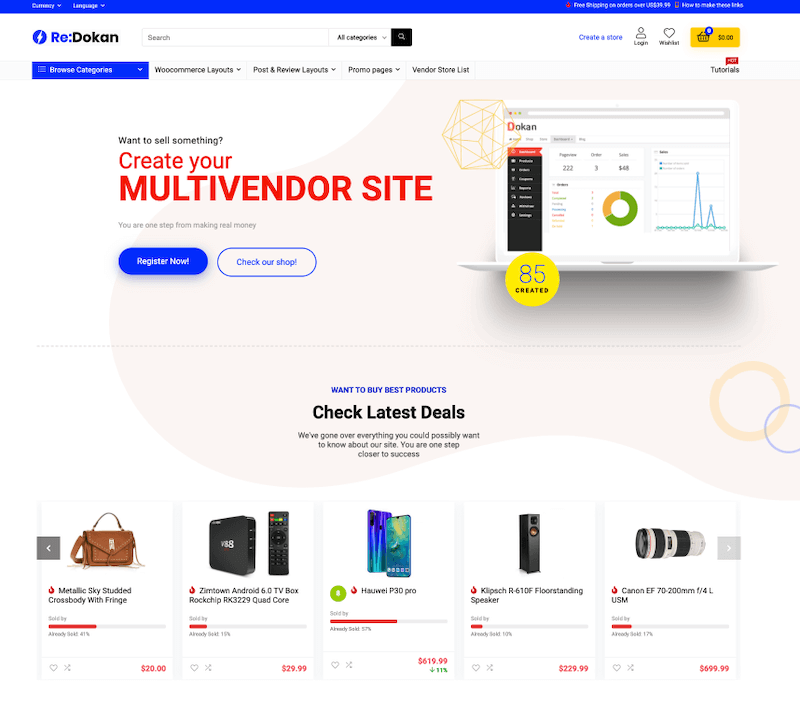 When it comes to startup business around eCommerce, pricing comparison, classified, product auction, and other similar niches, REHub is the best theme you can use.
The theme comes with a beautiful design to help you make your site look as good as the best auction or an eCommerce site within a few hours.
It comes with a number of ready design templates and over 30 different product layout options to make your product presentation look professional.
You can also create your own custom design by using the WPBakery page builder, it is a drag and drop builder to create unique custom pages without writing a single line of code.
If you plan to create a product comparison site that is a popular niche to create a successful startup, the REHub theme comes with a unique design for a comparison site as well as a quick comparison chart builder to present your product comparisons in a professional way.
Also, don't miss our collection of best auction WordPress themes.
09

. Fintech WP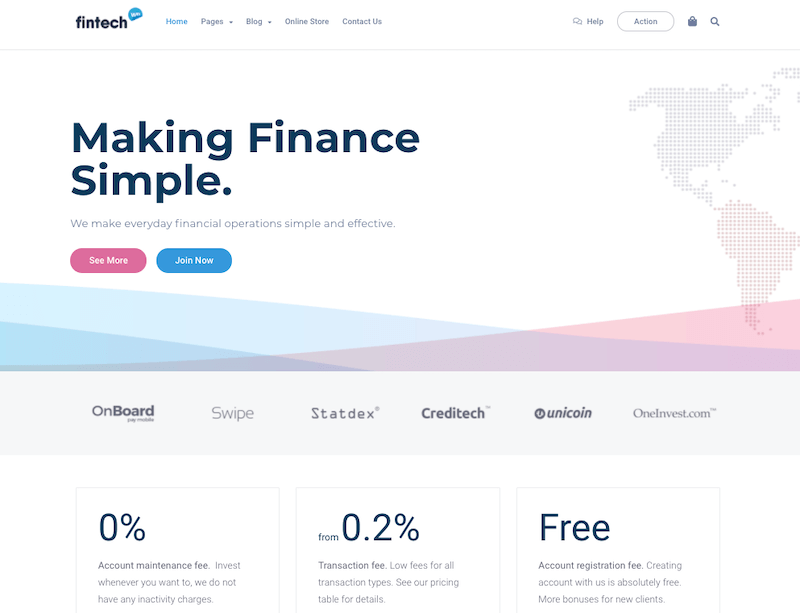 Fintech WP is a premium theme targeted towards financial institutions that want to generate an online presence.
The plugin comes with eight high quality-website demos with a host of customization options. It works seamlessly with WordPress, and the business-focused designs are highly professional.
The theme comes with a one-click content importer tool that allows you to perform a fresh theme installation. Once users import one of the demos, they can purchase the theme and get the full experience.
10

. Signflow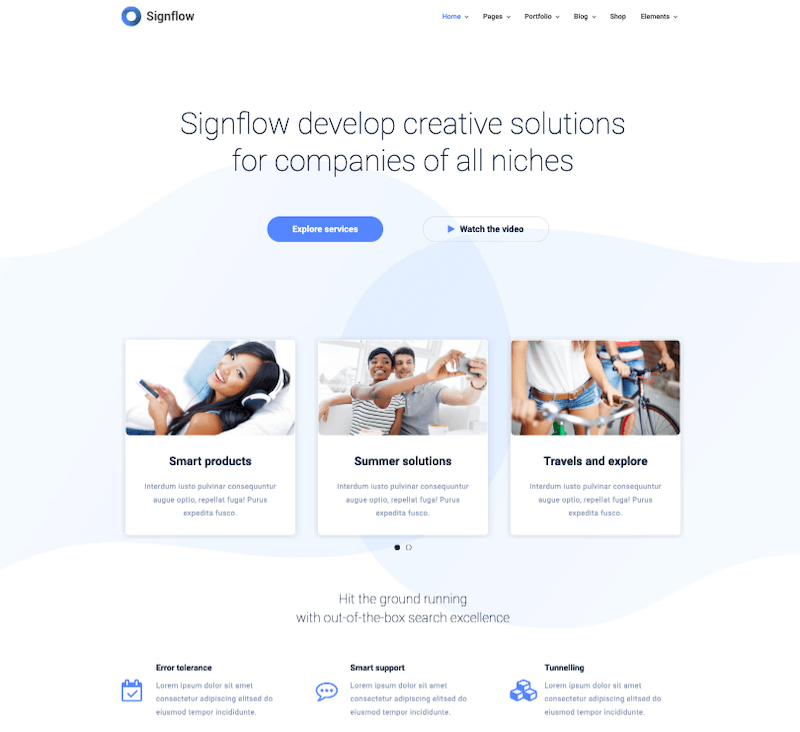 Signflow is one of the most popular and well-priced templates available for startups. Building your website using the theme is pretty straightforward, and you can choose from a number of customization options. Signflow is particularly designed to help users build online stores.
There are plenty of pre-built templates as well as the ability to include your company's logos, backgrounds, and other media. Fonts, colors, visual settings, and other UI elements are fully customizable.
11

. Fluid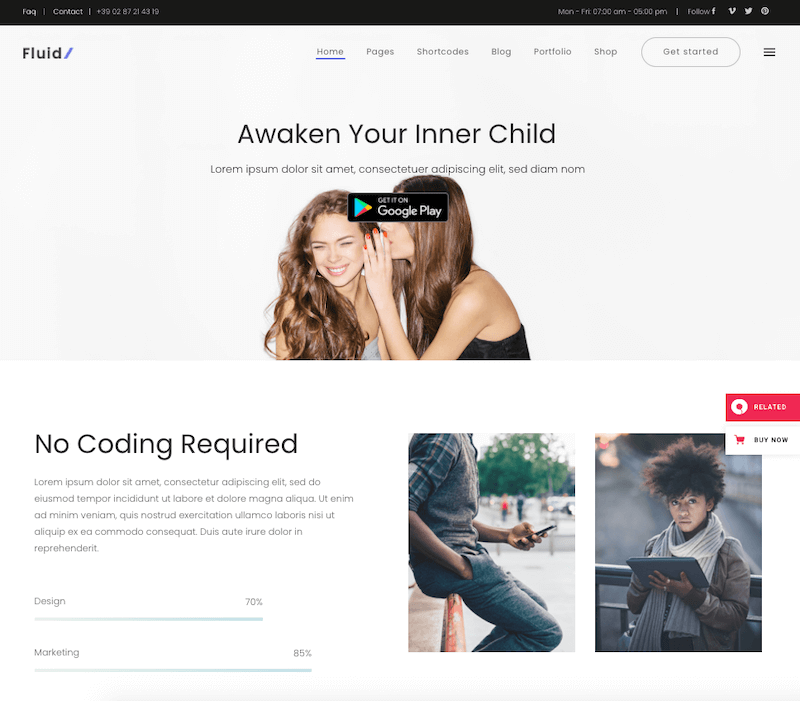 Fluid was designed specifically for digital businesses and startups. You get access to nine homepage demos along with custom designs for all the usual categories of pages.
The theme comes with e-commerce focused pages, allowing you to build an online store with just a few clicks.
There is enough pre-built content to help you build pages with no prior coding experience. There is a visual composer built-in, allowing users to build pages while seeing the end-user pages in real-time.
12

. Landkit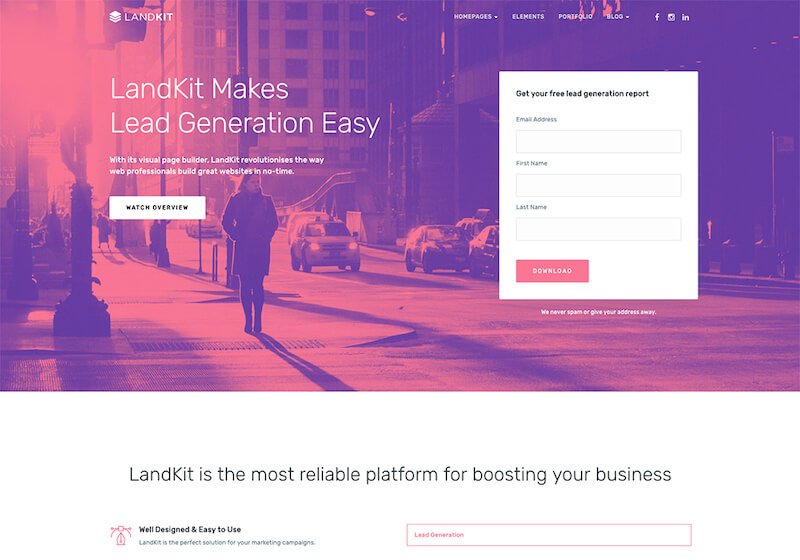 The Landkit theme package comes with modern website designs to choose from. The premium theme is designed for businesses focusing on digital products, apps, and SaaS. The theme is easily customizable thanks to its pre-built pages.
Users looking to create a custom startup website can use over 70 custom elements to fine-tune the aesthetics of their website. The intuitive drag-and-drop website builder can help you get started with making your websites look exactly how you want them to.
13

. Jevelin
Jevelin seeks to offer a multi-purpose solution for startup websites with modular website elements that can be heavily customized. There are slider menus that blend into your page and offer valuable information to your visitors.
You can showcase content through eye-catching content boxes, and multiple demos are available for one-click importing.
Global website modification can be carried out through a few simple clicks, allowing you to change the entire website's aesthetics with just a few clicks.
14

. Startuply
As the name suggests, Startuply is designed specifically for startups that want to build their first WordPress website.
If you plan on launching a new product or service and want to share your ideas, Startuply can offer you the right aesthetical appeal on your website to market yourself.
You can either choose from the pre-built themes or intricately customize every little UI element on your page to showcase your brand's identity.
The theme comes with a modal window feature that allows you to create intuitive popup menus and animations for your pages.
15

. Stack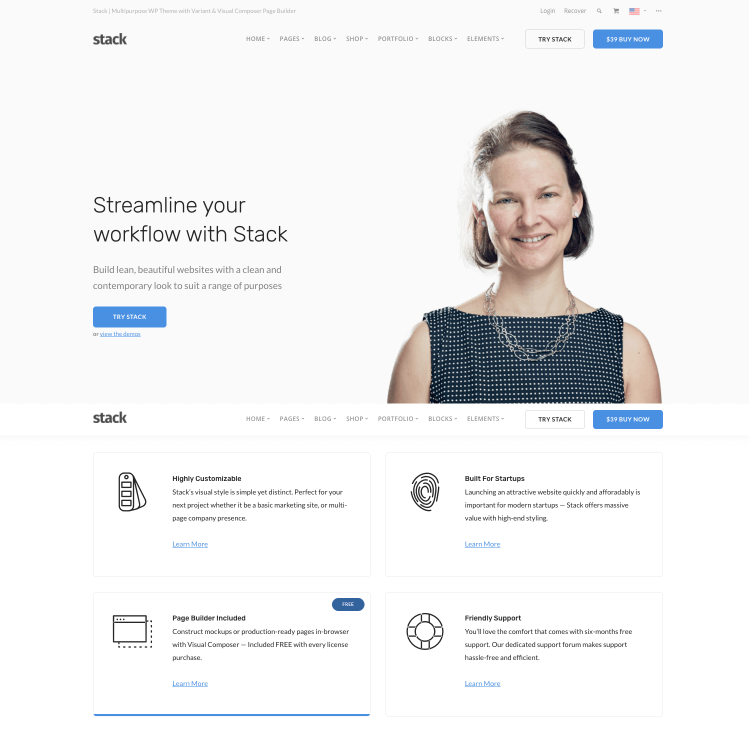 Stack is one of the newest entrants to the world of WordPress themes. The theme has made it into thousands of websites because of its focus on offering startups the ability to create responsive themes that are eye-catching and functional.
There are 30 demos to choose from, and you can simply choose one of the demos and import it to your website.
The theme is very easy to manage, and users can either use shortcodes or use the visual builder to design custom pages.
16

. Atomlab
Atomlab is a multi-purpose theme designed for startups. It includes some of the most aesthetically pleasing designs you can get for your business site. There are 21 homepage designs to choose from and 61 inner page templates for the rest of your website.
You are not restricted to using pre-built layouts, and website owners can customize all 14 available layouts for their custom pages. The page builder is easy to use and is perfect for first-time WordPress users.
17

. StartIT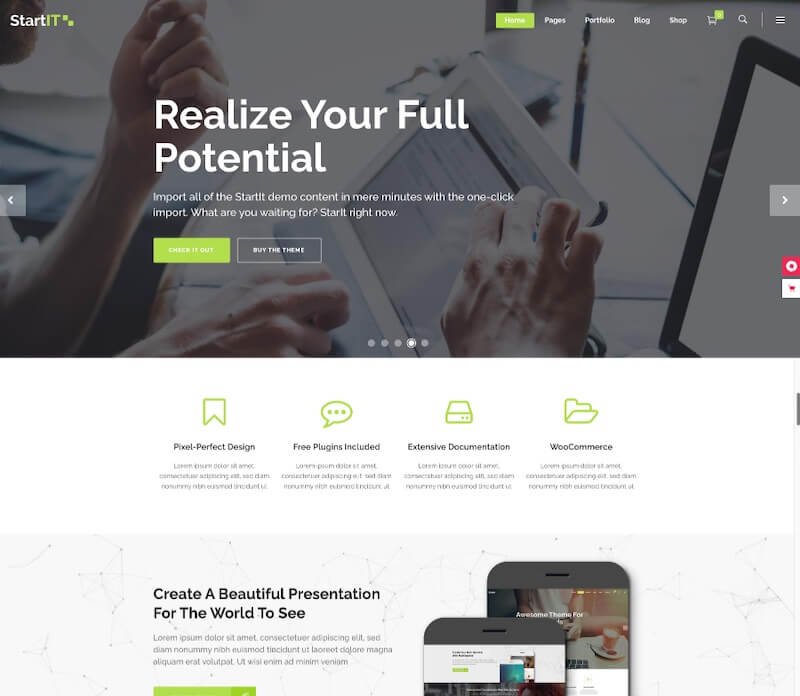 StartIT offers 21 homepage designs for startups. The premium theme is specifically designed for tech startups that want to offer online services, apps, or SaaS.
You can check out the demos on offer before purchasing the app to see how it looks on your startup website.
There are 12 color schemes to choose from by default, and it comes with a custom website builder with a visual UI for easily building your pages in no time. Using the visual composer requires no coding experience whatsoever.
The theme is perfectly compatible with the Elementor and the WPbakery website builder to make sure that you are able to create the perfect unique design for your site without writing any code.
The theme is packed with all the modern features and options to make sure that you don't need a developer to get things done anymore.
When we talk about the startup sites, the business portfolio is one of the most important sections where you can showcase your old work to attract more new clients, this theme offers you amazing portfolio design options so that you can display your work in a professional way.
18

. Hoshi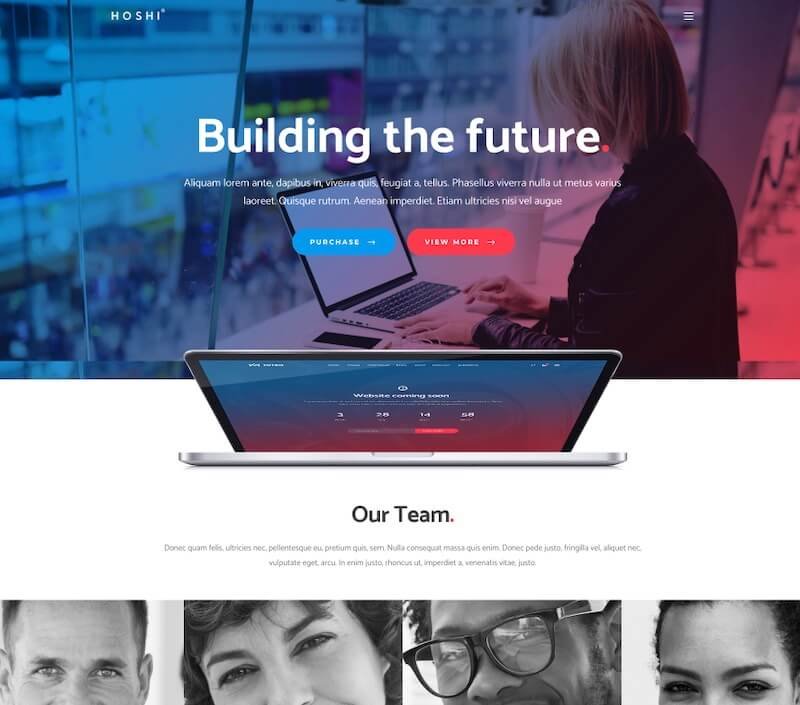 Hoshi is a modern theme designed for modern startups and freelancers. It allows users to build pages that are perfect for tech startups thanks to the homepage demos and easy-to-use page builder.
It offers slideshow pages, stylish widgets, contact forms and a host of other custom pages that you can use for your website. There are additional free plugins available with the theme as well to help you customize your website whenever you want.
19

. ForIT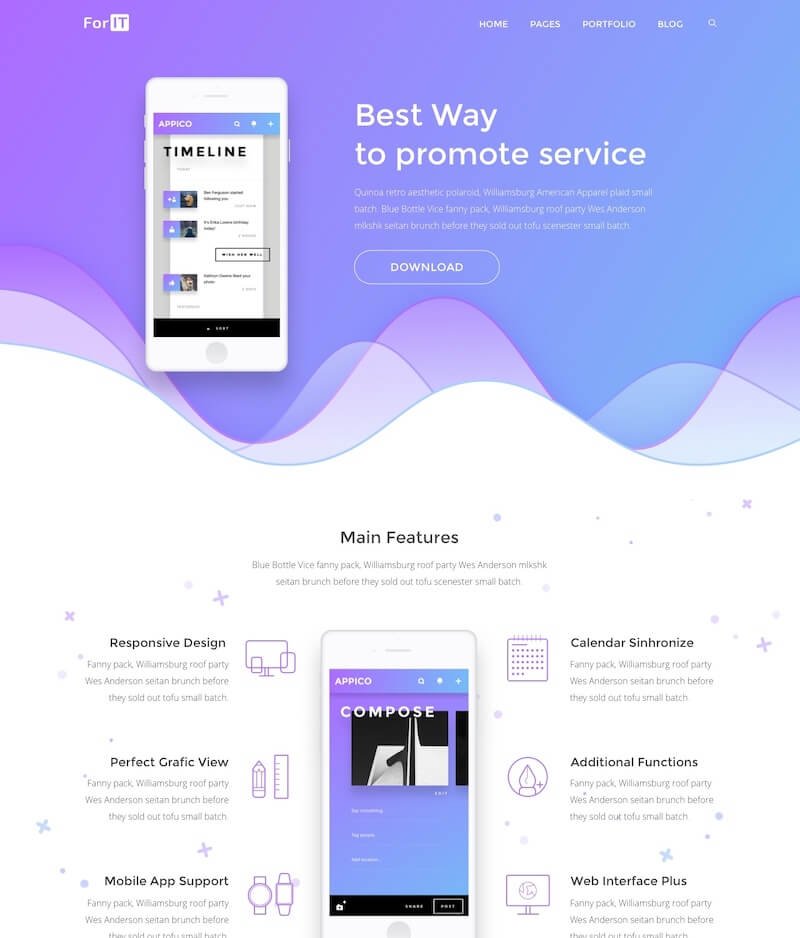 While ForIT is specifically designed for IT and technology-based startups, it can also serve the needs of other business sectors as well.
The visual composer is designed to be a quick and simple means of building your own website complete with animations and widgets.
There are plenty of additional features designed for tech startups who want to showcase their apps or services with store link widgets and sign-up pages. It also comes with a built-in video player that you can use to showcase product videos.
20

. KeySoft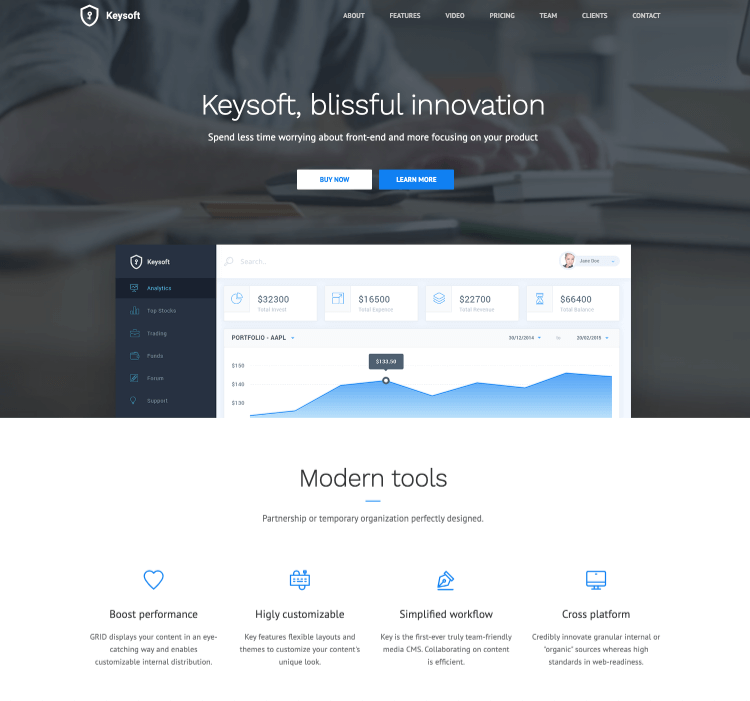 KeySoft is a very professional-looking WordPress landing page theme that you can use to create your startup site.
The theme offers you amazing design template options, you can create a site with an image background, video background, particles background which is in trend these days.
You will be able to customize the theme easily and change things around as per your need. You have nine different header variations, unlimited color options, smooth scrolling options and more.
21

. Ayro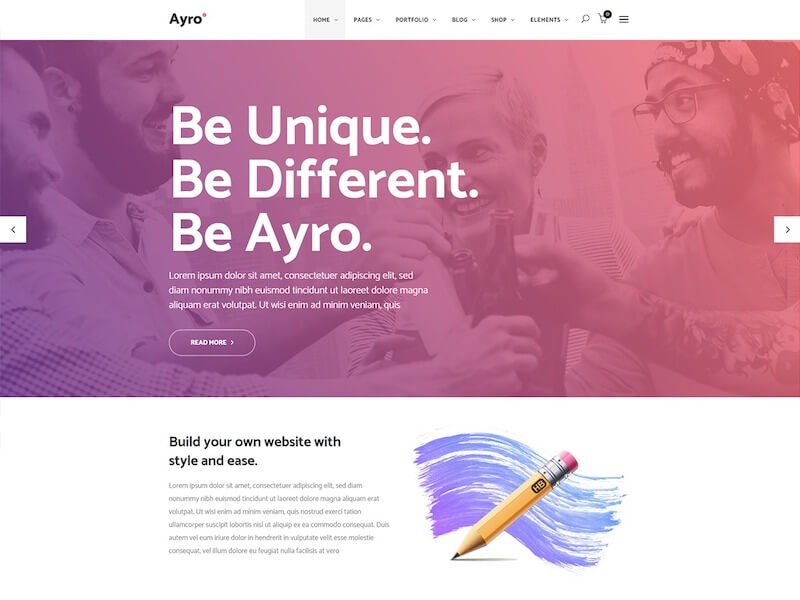 Ayro, originally known as Arlo is one of the most popular premium WordPress themes available for startups. There are a dozen homepage designs to choose from and even more templates for your other pages.
The bright and fresh designs stand out from generic websites and can leave a lasting impression on your audience.
It comes with a slider revolution slideshow plugin which is great for showcasing products and services. With full e-commerce support, you can set up an online store on your website with ease.
22

. Stratus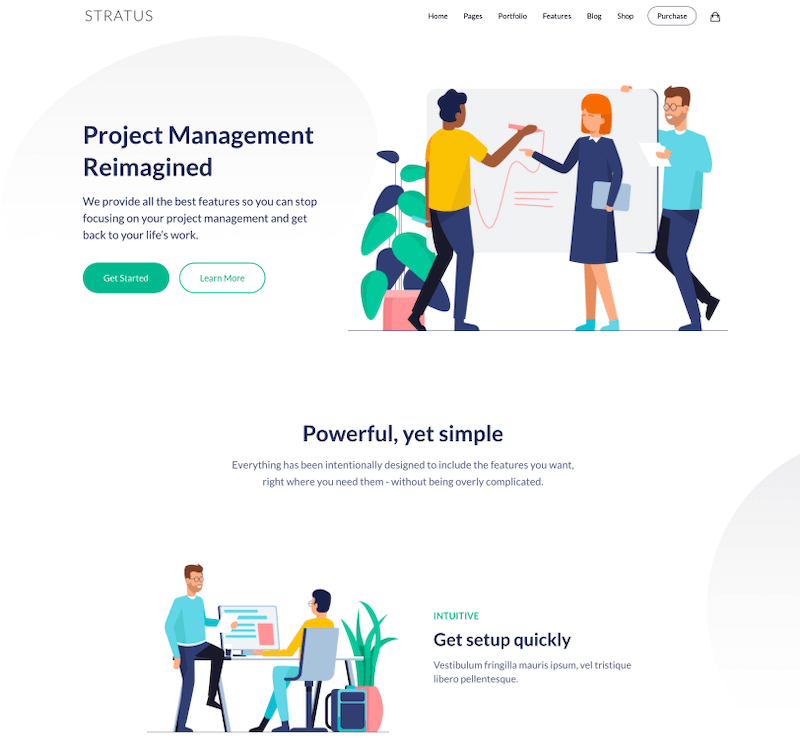 If you want your website's promotional content to stand out, Stratus is one of the best themes to showcase your apps and services with.
There are a number of homepage design options available, and the ever-growing host of templates allows you to design your page the way you want.
There are multiple layout options, and you are not restricted to pre-defined templates by any means. With over 700 fonts and dozens of page designs, you can customize your startup website in any way you want.
Conclusion
These premium WordPress themes can cater to any startup that seeks to create an online presence. They offer quality features and easy customization.
While they are not free, they offer a premium user interface for all users that can help your brand be identified in the global market.
Whenever choosing a theme, you should always opt for something that your brand can relate to. A WordPress theme should express your startup's identity and also offer best-in-class features and customization.
Hand Picked Articles to Read Next: