Are you looking for the best table builder plugins for WordPress? Well, we have listed the top options (free & premium plugins) to help you create tables on your site.
The default Gutenberg editor already offers a table block, so do I really need another table builder plugin?
The answer is yes because the default table block is very limited in terms of features. And if you look at the product comparison table or any other tables; how the top authority blogs showcase content in a table, that will not be possible with the default block.
In this article, we have included the best table builder plugins for WordPress that are custom-created to add a comprehensive table with images, logos, and all other elements to help you present your content in the most professional way.
01

. Default Gutenberg Table
Before you go ahead and look at the best table WordPress plugins, you need to ask yourself if you really need a plugin. As every additional plugin will have an impact on the loading speed of your site to a certain extent, make sure to keep it minimal.
If you don't publish a number of statistics-related content regularly where you need to showcase data in a table or add buy buttons and other related elements that need a comprehensive table builder, the default Gutenberg table should be good enough.
The Gutenberg editor comes with a simple and quick solution to add a table to your post or pages. It offers simple customizations. It doesn't give you an option to add images or buttons to the table. However, there are simple workarounds to add those elements to your table.
| | | |
| --- | --- | --- |
| Table Heading | Table Heading 1 | Table Heading 2 |
| Your data here | Your data here | Your data here |
| Your data here | Your data here | Your data here |
| Your data here | Your data here | Your data here |
| Your data here | Your data here | Your data here |
02

. WP Table Builder
A simple-looking, drag-and-drop table plugin deserved to be on the top of our list for the WordPress plugins to create tables. The amazing drag-and-drop feature will make it possible for even beginners to create the most attractive tables on the website.
Talking about the customization capabilities, the plugin allows you to change text, color, image, button, and many more elements. The biggest advantage of using this plugin is that it's free.
You can create beautiful product comparison tables using the Table Builder plugin. If you are managing an Amazon affiliate store and wish to showcase the product features, image and buy button in a table form, you can easily achieve that with the WP Table Builder plugin.
Something like this.
The drag and drop table builder makes it super simple for the users to create a great-looking table without a single line of code.
It is one of the most comprehensive table builder plugins available for WordPress.
The plugin comes with a freemium model, which means it offers a free version as well as a premium version of the plugin.
03

. wpDataTables
If we were to talk about the best-selling WordPress table plugin, wpDataTable would top everyone's list. Although the free version doesn't include attractive features, the premium version of the plugin has some of the best features to showcase. 
It is the most comprehensive plugin to create tables and charts. If you wish to create detailed data tables and charts, here is the plugin you need.
From creating a simple table by adding data manually to creating a detailed table with MySQL or Google Spreadsheet data, you can do everything with this plugin.
It offers you an advanced filtering option to make it easier for the users to sort data as per their requirements.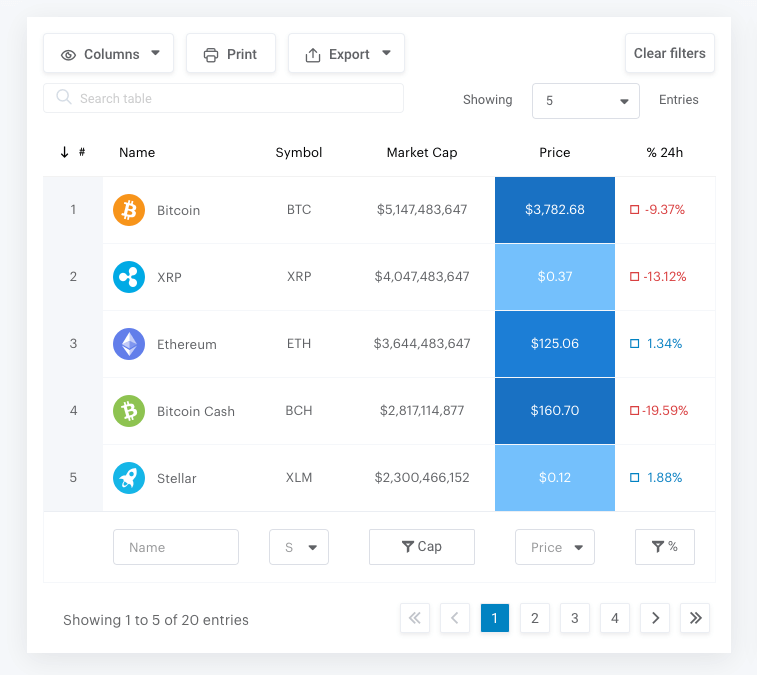 Similarly, you can create charts with the data you select. This kind of data and charts will add a lot of value to your overall content.
From creating a table that's linked to an existing source to creating a table from scratch, wpDataTable has provided you 5 options to create a table on your website.
04

. TablePress
With over 8,000,000 active installations, TablePress has all the essentials to be one of the best WordPress tables plugins. Although one would say that the best part of installing TablePress is avoiding paying an amount, it is also one of the simplest plugins to use.
The table can be embedded into posts and pages. You can even embed it by using shortcodes. Moreover, you won't face any difficulties while exporting or importing data from Excel, HTML, CSV, and JSON files.
05

. Ninja Tables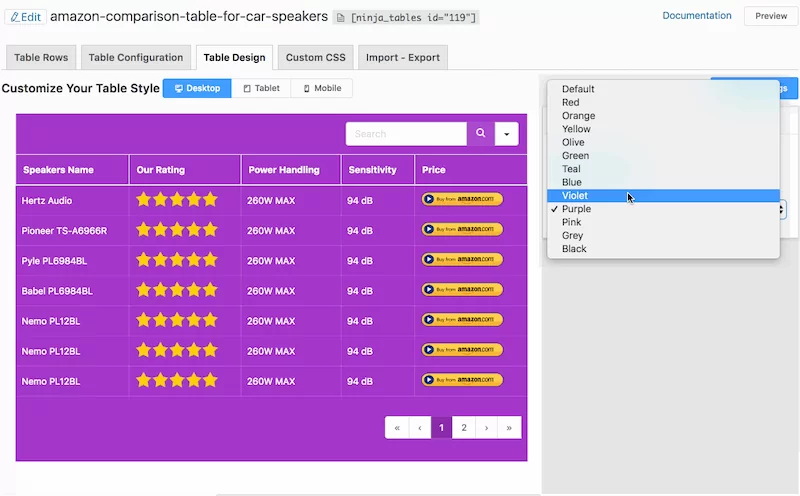 With more than 50,000 active installations, Ninja Tables has established itself as one of the most popular WordPress table plugins. It is not only a powerful plugin supporting easy customizations but also is relatively cheap.
The plugin comes with a default styling library that includes borders, descriptions, and other table elements. You can also select from the 13 color schemes offered by the plugin.
06

. ARPrice Table
ARPrice is one of the most comprehensive pricing table WordPress plugin with over 300 pricing table templates to choose from. So, if you are managing any product or service site where you need to display your packages, this is the plugin you need.
The plugin comes with an advanced and beautiful admin interface where you can manage all the features of the plugin to make the perfect pricing package table for your business.
To make it easier for the users, the plugin comes with drag and drop table builder. So, you can quickly move things around to make the table perfectly fit into your need.
ARPrice plugin is fully compatible with the Gutenberg editor and it is also compatible with the WPBakery page builder. You can make your tables look attractive with fancy animations, CSS3 ribbons, over 3000 icons and tons of other designing elements.
07

. League Table
With over 135 customizable options, League Table is the next tables plugin on our list. Whether you want to embed tables inside your posts, pages, or ever widgets, League Table is said to do the best job possible.
The plugin further allows you to hide or display specific columns based on the devices to provide maximum responsiveness. The creator of this plugin claims for you to make one table in less than 30 seconds.
08

. CSS3 Responsive Table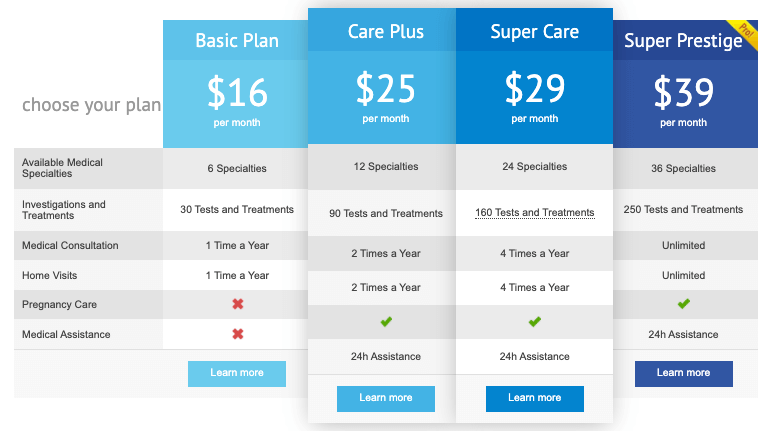 A comparison table builder plugin with intuitive builder and advanced options panel to help users create attractive product package pricing tables.
The plugin comes with two table styles and over 20 different color options to make your table look attractive. It offers you a live table builder and responsive builder so that you can make the tables look perfect on all different devices.
It also offers you features like live hover effect, table cell tooltips like the top authority sites. You will have complete flexibility in terms of the column and row designs for your table.
09

. Data Tables Generator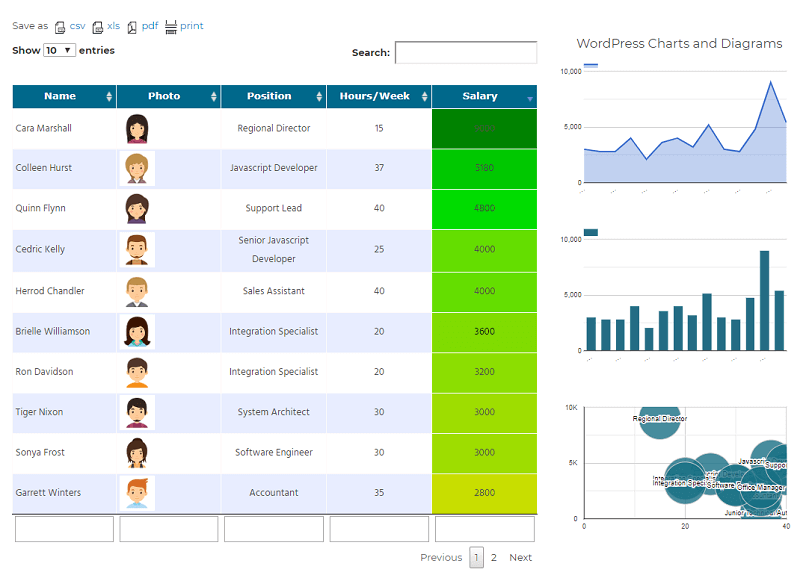 Created by Supsystic, Data Tables Generator is an ideal plugin to create visually attractive tables. Although the free plan offered by the plugin covers the necessary plugins, you can always look to upgrade to a premium version. 
Along with responsive tables, you'll get the desired supports from attractive charts, graphs, and diagrams. As far as customization is concerned, the plugin allows you to change borders, colors, and many more elements. 
10

. Visualizer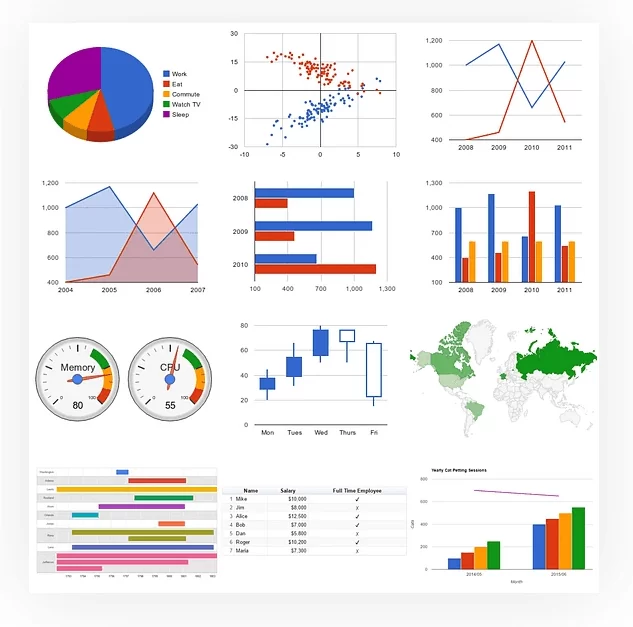 With over 40,000 users, Visualizer has gained quite a reputation. Simply put, it is a Tables and Chart Manager plugin that will allow you to create as well as edit tables or charts as per your needs.
You don't have to worry even if you're a beginner as Visualizer provides tutorials that make the plugin pretty easy to understand. The biggest advantage of using this plugin is that you can create schedules to synchronize your charts and tables with your online files.
15

. Tablenator
In terms of user-friendliness and customization, Tablenator has the potential to give tough competition to everyone plugin mentioned on this list. With the help of WP Bakery Page Builder, you'll be able to embed tables anywhere on your website.
You can start with the process of making a table by simply defining the number of rows and columns of the tables. The tables come in three layouts – tablesaw, footable, and datatable.
12

. Post Tables Pro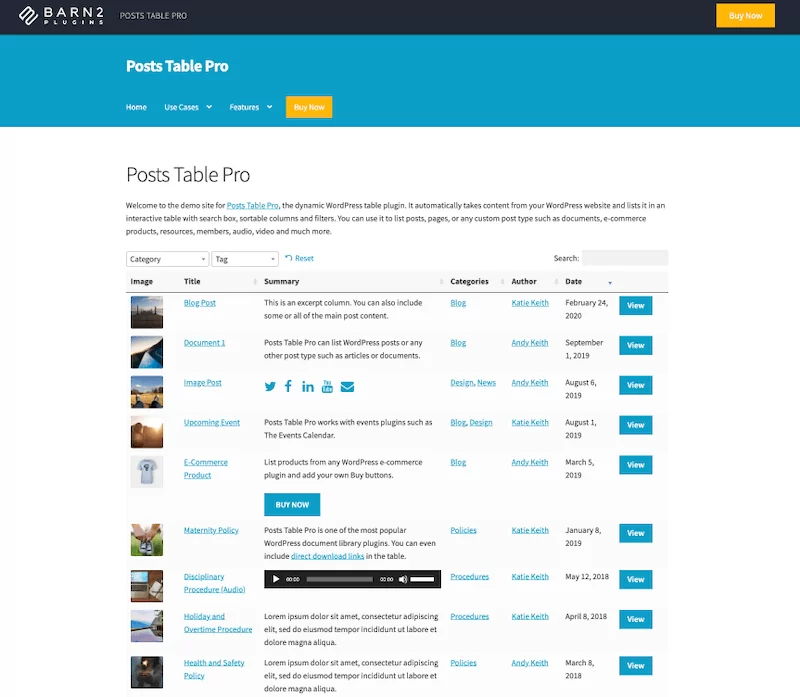 If it wasn't for the hefty price you have to pay for this plugin, this plugin would've been among the top 5 on our list. This powerfully built plugin has every essential and non-essential feature covered to make your site and table pleasing to the eyes.
With the help of a shortcode, the plugin allows you to insert the table anywhere on the website. Moreover, it can create tables listing WordPress posts, products, or any custom type.
13

. Table Widget For Elementor
If you're using Elementor for your WordPress site, you'd be familiar with the Ultimate Addons plugin. It is acknowledged as one of the best Addons plugins for Elementor. Since we are talking tables, this plugin has a pretty cool and attractive Table widget for usage.
The table widget does not only allow you to customize the styling options but also allows you to add sorting options to the table. 
14

. JTRT Responsive Tables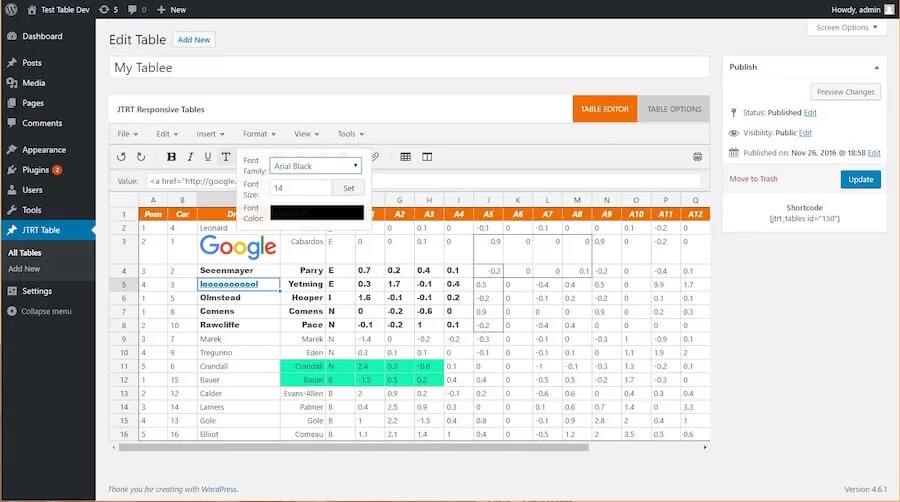 A beginner-friendly plugin, JTRT Responsive tables as the name suggests, offers 3 responsive types for different screens and devices. The plugin claims that you can convert your CSV files into HTML within a few clicks.
The biggest advantage of using this plugin is its advanced customizable options. For example, you can multi-select and multi-edit cells of your tables. Moreover, you can add custom borders, breakpoints, and alignments to the table. 
15

. TableGen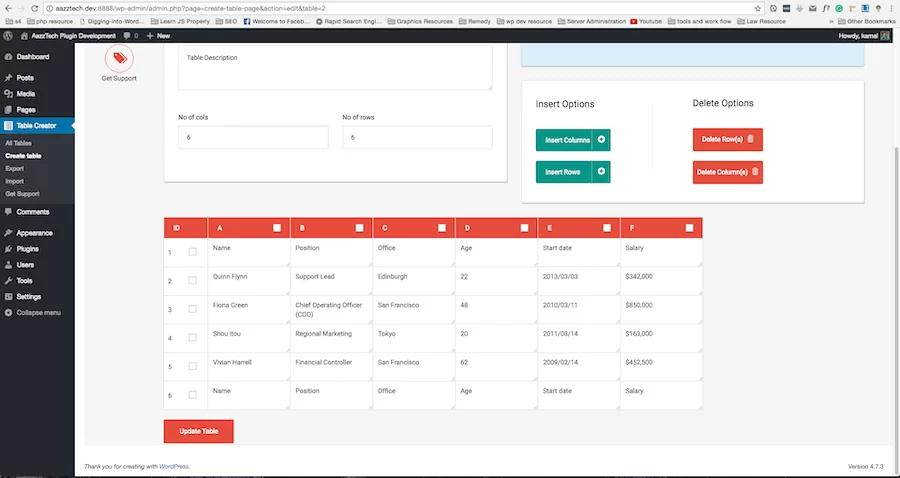 Another one from the free plugin collection, TableGen does a considerable job in providing easy-to-use tables to your WordPress website.
As far as the customization is concerned, this plugin lacks in providing any sort of styling option. However, you can buy a plugin extension for easy customization.
The interface of the plugin is very elegant. So, you won't face any difficulties while dealing with big data tables.
Final Word
We've listed some of the best table builder plugins above in the list. You can use these plugins to create attractive tables on your site and present your data in a professional way.
We will be adding more table plugins to this soon as we discover and test more option that is worth listing here. So, do check the list again soon.