With lock download all around the job of freelancers has become way more important. Everyone is looking for a freelancer to get things done & many are trying to become a freelancer.
So, if you one of those who is looking forward to starting a career as a freelancer, you must understand how it works and what are tools and services you may need to have a successful career as a freelancer.
Though you can always create a profile on any of the freelance marketplaces and start as a freelancer without having a website of your own, it is certainly an added advantage to have a website where you can promote your gigs and showcase your old work to attract more clients.
Things You Need to Know Before Starting As a Freelancer.
But at the same time, it demands a lot of discipline. Remember – you don't have to work for a boss anymore because now, you are your own boss! And so, you will have to start behaving like a boss, properly managing all the clients.
This means you have to fix deadlines and keep them, organize all your work, invoice your clients, and much more. The biggest challenge is to get clients in the first place.
However, if you are using a WordPress website then you can use plugins to help you in all these areas.
As you already know, WordPress houses a diverse array of plugins that brings a diverse collection of features to your website. Here are some of the best plugins that will help you as a freelancer.
So without further ado, let's get started:
What Are The Top WordPress Plugins for Freelancers?
There are a number of plugins that you may need to become efficient as a freelancer, we have tried to list some of the must-have plugins.
01

. WP Project Manager
As the name suggests, this is a plugin that will help you to manage your projects. I believe it is one of the must-have plugins for all freelancers as this single plugin will help you to manage your freelancing business completely.
This plugin will make the process of managing your projects simple and easier. You can use it to keep a track of all your projects, you can collaborate with your team if your team is working from remote location.
You can easily share your updated work with your clients and have discussion to make things clear.
To start with, the Project Manage plugin will make it simple for you to plan your work. Have clear discussion with your team or client by sharing files with them.
The advanced time management ststem will make sure that you are always on the track as far as completation of your project is conecerned.
The plugin gives you the option to set the access level for your team members to add the extra layer of security to your projects.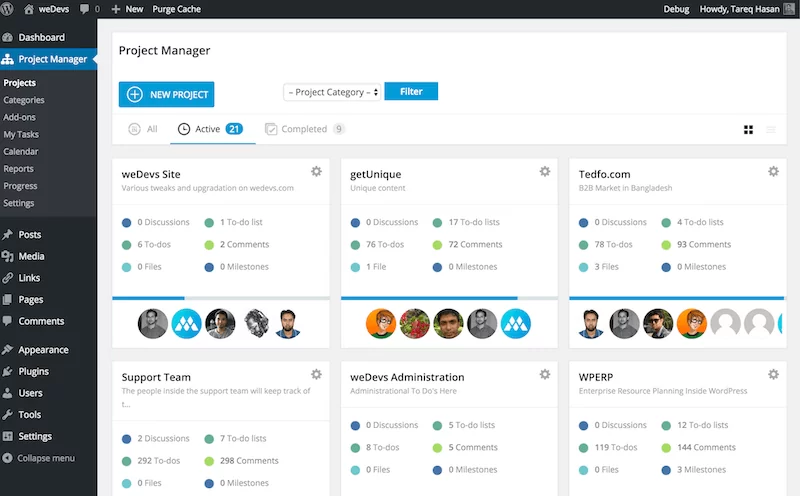 The plugin offers you a Google Drive style file sharing option to make sure that your are able to share your work with your clients or your team on the fly.
The user friendly dashboard will always keep you updated about the sytstus of your projects so that you can effectively plan your time allocation on projects.
As far as discussion with your team is concerned, it offers you open as well as private discussion. It comes with email notification options so that you or your team doesn't miss anything important.
Here are some of the key highlights of the plugin.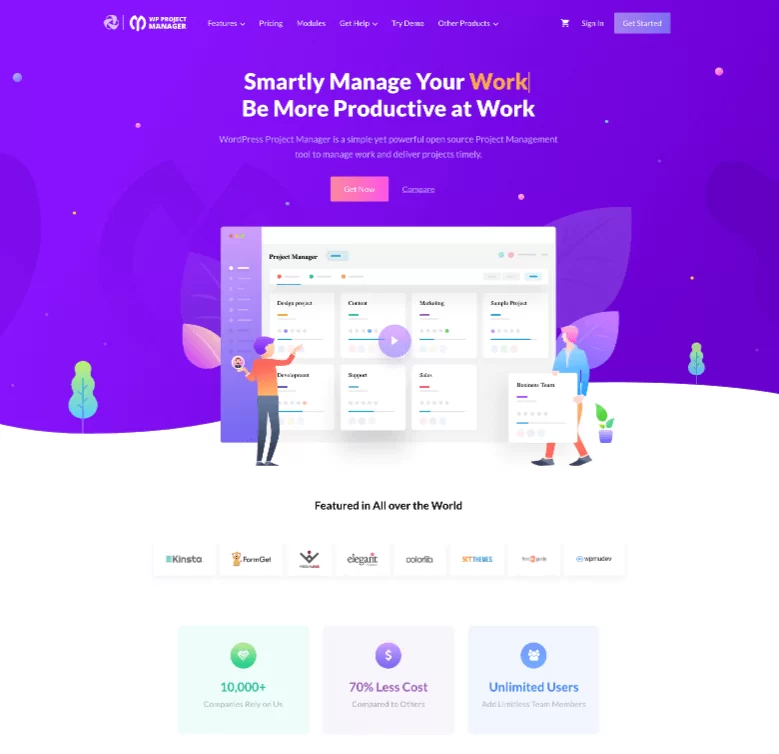 02

. Elementor
Elementor is the most popular website builder that you can use to create any kind of website. As a freelancer, you will need a portfolio site to showcase your work and Elementor is the most convenient way to create a completely custom design.
You don't need to know any coding to create your own portfolio site. You can use the easy drag-and-drop builder to create your website.
We have already published this Elementor review, you may refer to this article to understand the product better. Also, you can check the Elementor discount page to see if there is any active deal currently.
Features: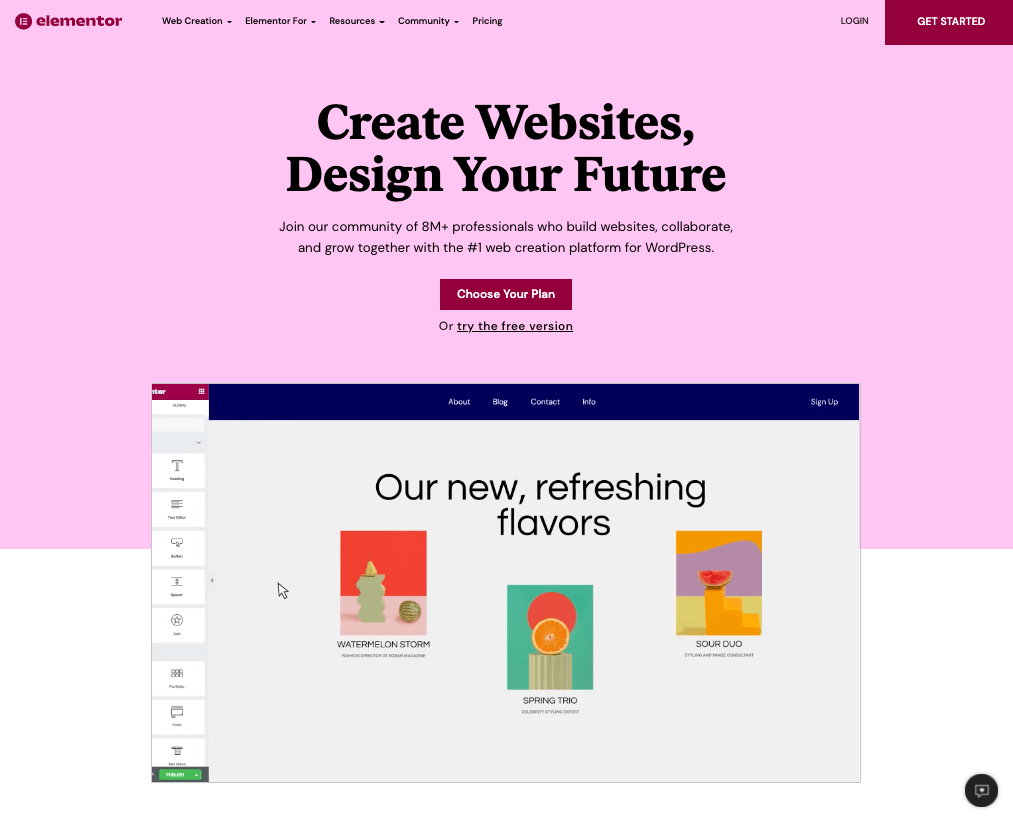 03

. Yoast SEO
The first part of being a freelancer starts with getting clients, and what could be better than getting clients directly from organic web searches. With Yoast SEO, WordPress users have the ability to optimize their site for the search engines.
The Yoast is one of the best SEO WordPress plugins and the most widely used plugin for the WordPress platform.
This will help their names or businesses to pop up on places like Google when a potential client is searching for the services you provide.
The plugin comes with a solid toolset of features and functionalities that will make you aware of all SEO problems on your site, and help you fix them. Now, it is worth considering that this is a freemium plugin.
That is to say, you get access to all the basic functionalities for free, however, if you want advanced options, then you will have to go premium.
Features: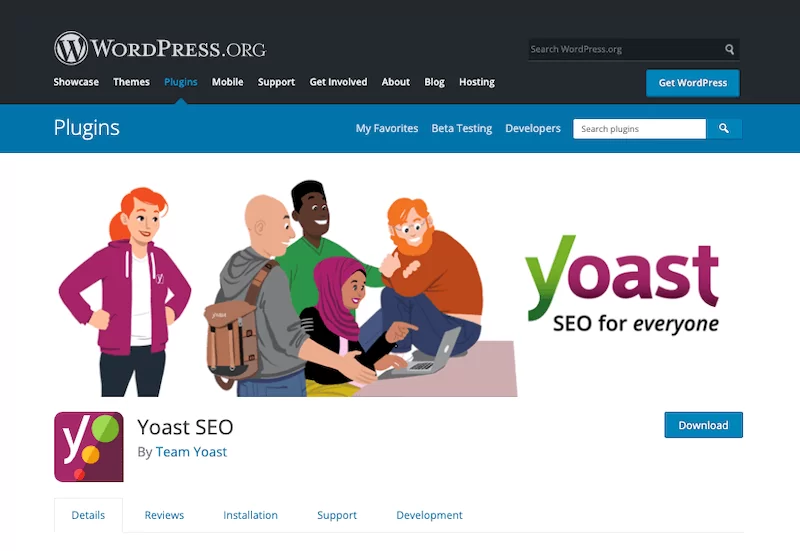 04

. Go Portfolio
If you are a full-time freelancer with a lot of projects under your belt, then you might be searching for a portfolio plugin with many advanced features.
Go Portfolio has you covered in this department. The plugin comes packed with a lot of options and features that will help you showcase your work in the best possible light.
It features a lot of starter templates which you can use to showcase your portfolios. There is also support for images, audio, and video thumbnails, to make your portfolios more enriching and make you feel like a true professional in the field. Customization options are also plentiful to create the perfect portfolios for showing off your work.
Features:
05

. DW Questions & Answers Pro
Before finalizing a deal, your potential clients might have some doubts in mind. If you don't offer a platform to clear those doubts quickly, then you may lose a gig. This is where "DW Questions & Answer Pro" WordPress plugin comes into the picture.
It is one of the best selling discussion plugins for WordPress which will help you connect with the clients currently on your website, and converse with them to clear their doubts. Once installed, it will help integrated a full-featured question and answer section to your website, similar to that which you see with Quora or StackOverflow.
Features: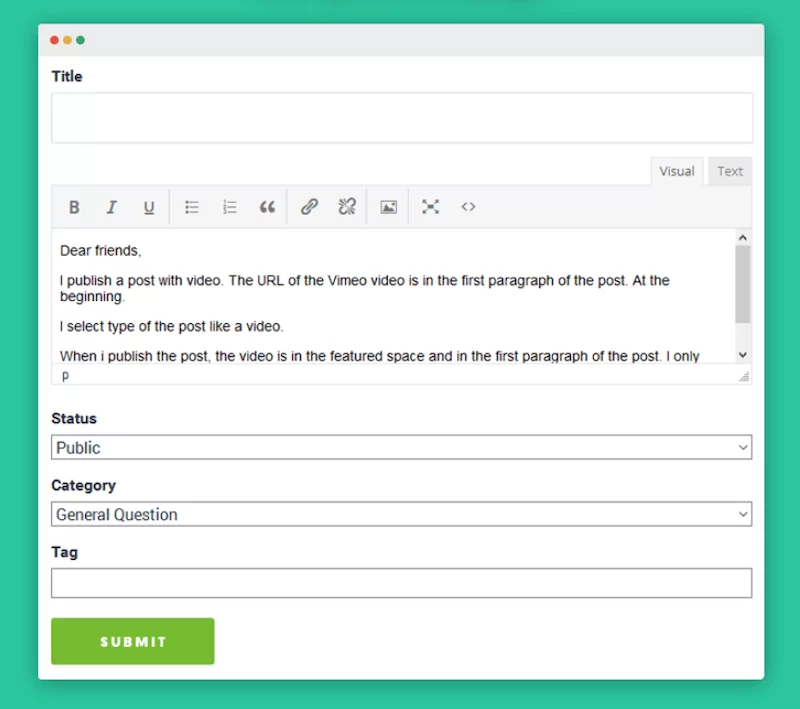 06

. Noo Timetable
As a freelancer, it is most likely that you will have multiple projects for multiple clients all with their different deadlines. Therefore it is essential to get your priorities set, and follow a strict schedule to get work done on time.
To help you out, you can use Noo Timetable, a responsive calendar and timetable plugin for WordPress.
In a few minutes, you will able to set up your own customized timetable, set with all the custom data that you have entered. All the entries will be laid out in front of you, both in a weekly as well as a monthly view. There are also plenty of other options thrown into the mix that can be helpful to different businesses.
Features: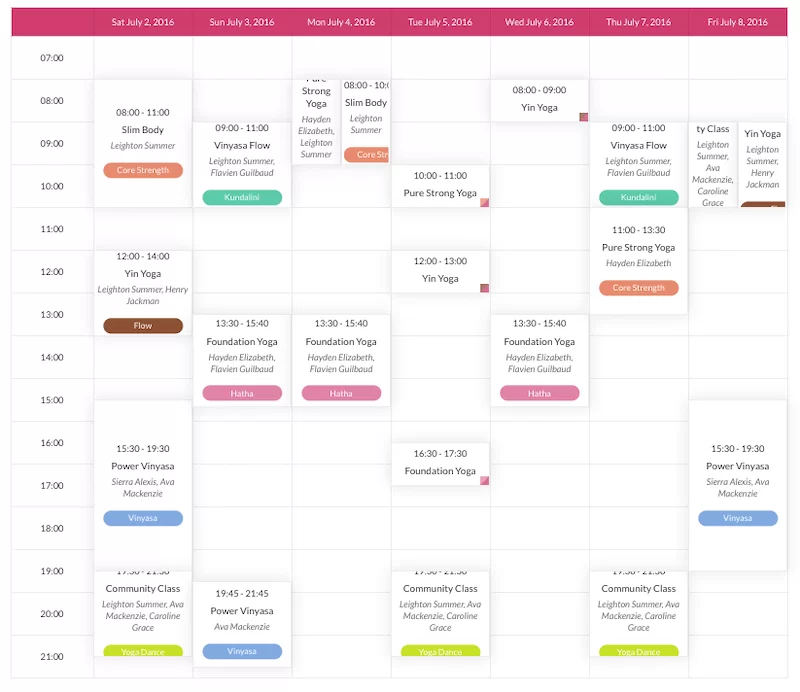 07

. Private Workrooms
Private Workrooms, a complete work management plugin for the freelancers and small businesses. You can plan and manage your projects end to end using this single plugin.
The Private Workrooms come with free as well as the pro-version of it. You can start with the free version and as per your requirement you can go for the pro version as well.
With this plugin, you can create a private discussion channel with your prospective clients, discuss all the details, create invoices, and get paid right from your website.
Once you have the Private Workrooms plugin installed, you don't need another form builder as the plugin comes with its own form builder. You can create completely custom forms that your client can fill and send you their project details.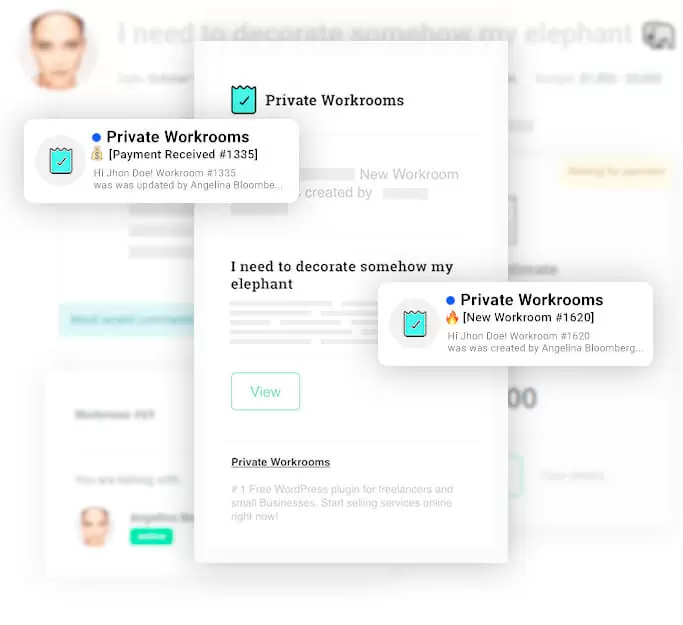 The pro version of the plugin brings in a number of amazing features to your system managing it even more useful and comprehensive.
It offers you email notification system, so your clients will be updated with the progess of the project along with sending them the welcome email from your your WOrdPress dashboard.
So, this way, you keep your data and clients right on your WordPress site.
Here are some of the key highlights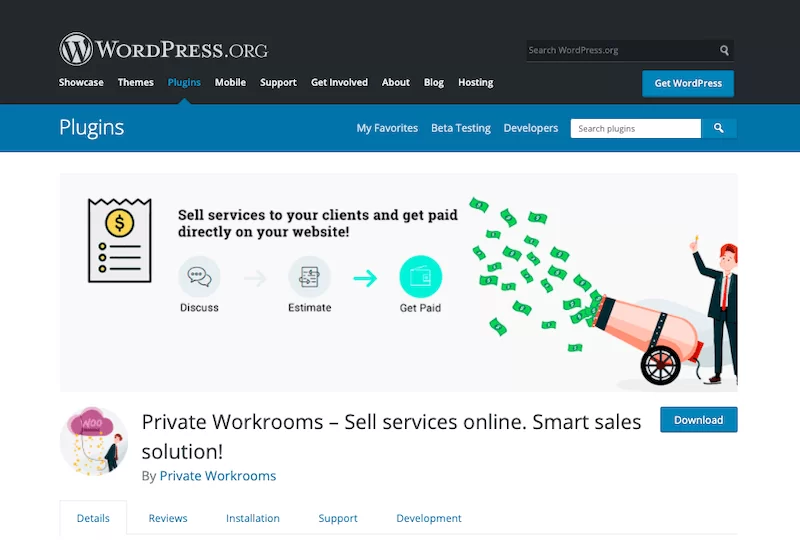 08

. MailChimp
MailChimp is one of the most well-known email marketing plugins for WordPress. From freelancers to bloggers, and generally, everyone has an online website or blog, has a MailChimp account. It allows you to keep in touch with your site visitors, or in this case, your clients.
For free, the plugin will allow you to keep an emailing list of up to two thousand people. This should be plenty as you will only be using it to create an emailing list for your best clients. You can also set up a sign-up form so that clients will give you their email addresses, so you can get in touch with them later.
Features: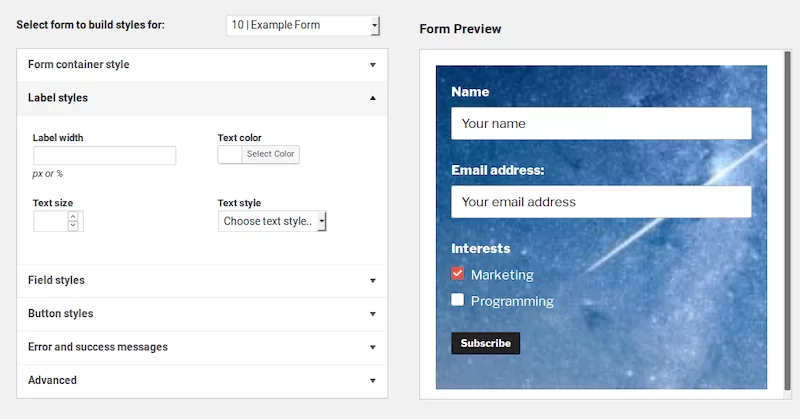 09

. Sprout Invoices
Invoicing is a part of any freelancer's daily activity. Once you complete your job or sometimes even before starting the job, you are expected to send an invoice to your client so that t becomes easy to make the payment and keep a track of it.
Here's a great solution for WordPress users to create estimate and invoice for your freelance gigs. Another advantage of this plugin is that it integrates seamlessly with the best payment gateway platforms such as PayPal (free), Stripe, Authorize.net, Square, 2Checkout, eWay and others to make the payment process smooth for your freelancing business.
Features: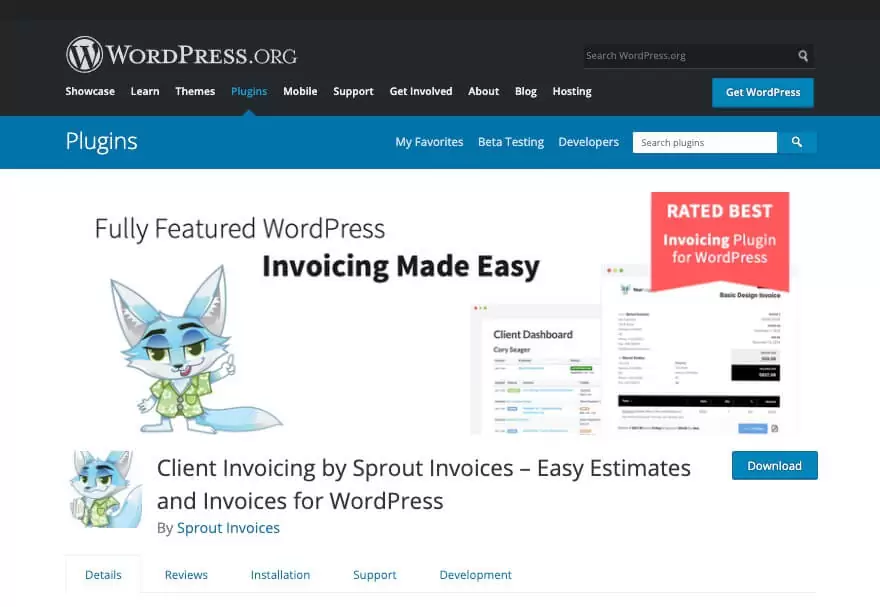 In Conclusion
So these were our picks for the best freelancing plugins for WordPress. We hope you found this read to be helpful. Don't forget to share it along with your freelancer friends to help them be more productive.
Also, if you have some or any of the plugins we have mentioned here on the list, then don't forget to write about your experience in the comments section. Your fellow readers will love to get an insight from you.