Are you in search of the best LMS Plugins for your WordPress website? The available options could get a little overwhelming as the internet is flooded with a ton of different options to choose from.
So to make things a little easier for you, here we bring you a detailed list of the best LMS plugins so you can make the most out of your online courses.
Whether you are looking for a WordPress plugin to manage your online courses or one to help you in creating new courses, the list features them all.
The internet is packed with a lot of e-learning courses that allow users to learn any kind of skill over the internet at their comfort and flexibility. 
What's more? If you have any skills that you can monetize and you think might sell online, the LMS plugins can prove to be very beneficial for you.
All you have to do is to create an online course featuring your area of expertise and simply add them to your LMS platform for selling.
LMS – Everything You Need to Know
A learning management system or an LMS is a complete software program that empowers its users to easily create, monitor, manage, and deliver online courses of all types and niches, also known as eLearning courses around the world. 
From simplifying the creation and management of eLearning courses to allowing professionals to make money online by selling courses, learning management system plugins offer it all.
A powerful and intuitive WordPress LMS plugin will not only help you with easy documentation and administration of online courses but would also streamline a lot of other functionalities like online course tracking, reporting, and delivering without any kind of useless hassle.
The best part about any WordPress LMS plugin is that it is easily accessible from your WordPress dashboard, eliminating plugin configuration and management hassle as well.
As experts from all around the world say, WordPress learning management systems are a perfect, win-win solution for all kinds of online teachers and learners. Hence expecting a downfall in this category is quite a long shot.
The WordPress plugin for LMS allows users and learners to easily log into your LMS for participating in your online tutorials and classes.
What to Look for in an Ideal WordPress LMS Plugin?
So now that we know what an LMS plugin exactly is, let's take an in-depth look into what exactly is needed in an ideal WordPress LMS plugin.
The following are some of the must-have features that you ought to have in your ideal Learning Management System, irrespective of your experience level or niche.
Course Builder Tool
One of the must-have features that you will need in an LMS is an integrated Course Builder tool, which allows you to do a lot of different things, such as uploading different types of videos, links, and contents.
In these heavy competitive times, experts always insist on making use of powerful course page builders. This is one of the simplest ways in which you can begin with your online course, in a matter of just a few clicks.
Automated Emails
Having an integrated and automated email feature enhances your capabilities to offer much more tangible and progressive online learning solutions to your students.
Quizzes with Exams
To engage your students better in your online course, it is always advised that you must include things like quizzes, exams, and tests in your LMS system.
It is also very easy to use the feature when it comes to student performance evaluation and observation. You can even establish benchmarks and qualification criteria for all of your students using an LMS plugin with quizzes functionalities.
Financial Tools
Another very important tool you must use to have an error-free and simplified online course selling a business is an intuitive Financial Tool for managing expenses and sellings.
The incomes coming in for you in the form of affiliate incomes, commissions, and coupons from your online courses has to have a streamlined management functionality.
This is also a must-have feature when you have to convenience your potential customers to make the best out of your LMS features and courses.
Payment Gateways
One of the most important features one could ever ask for in an LMS Plugin these days is a simplified payment gateway.
This not only helps you in adding flexibility in all of your payment-related functionalities but also helps you in cutting expense management costs as well. The problem here is that you have to make sure that your ideal LMS plugin offers a payment gateway facility for customers in your region as well.
Certifications
One of the newest trends in online learning, and one which is there to stay, is that modern LMS plugins are allowing users to offer certifications to their learners post completing their online courses.
You get full control over implementing certificates and giveaways at any step that you like throughout your online course.     
Additional Options for Homeworks
Managing homework seems not that of a task for online course managers. However, facts say that managing Homework is one of the toughest and most challenging tasks for online lecturers.
The challenge becomes even more daunting when users have hundreds of students to take care of. Modern LMS plugins empower you with intuitive functionalities for managing and monitoring homework.
List of Best LMS Plugins
So without any further ado, let's get started with the list of the best LMS Plugins Compared.
01

. LearnDash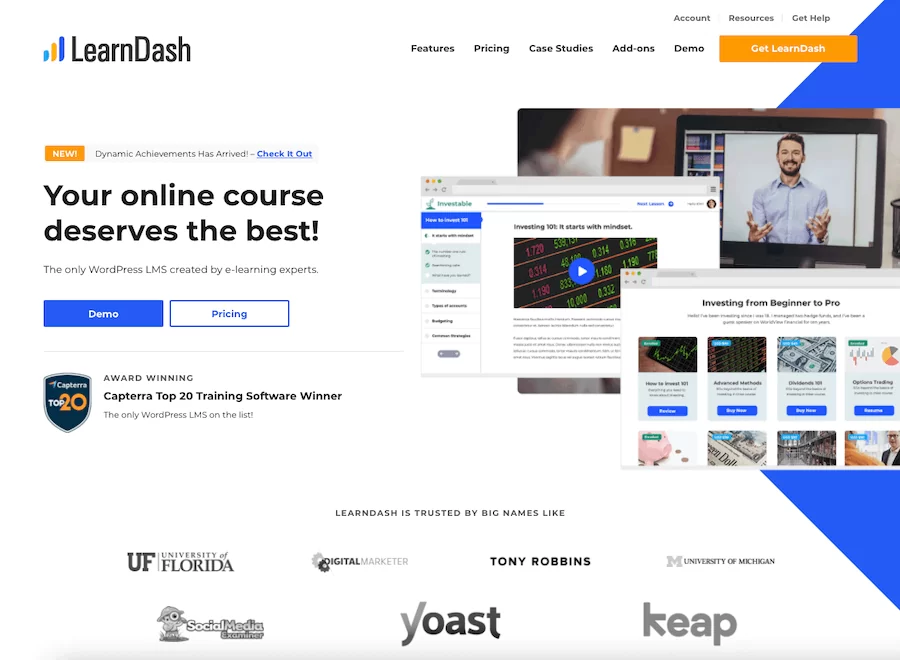 One of the most popular and easy-to-use learning management systems available for WordPress, The LearnDash WordPress plugin simplifies everything for your online learning website, such as creating and selling online courses.
LearnDash LMS plugin include Quizzes, Certificates, and so forth. You will have all the features and options tyhat you see in the leading online portal with this plugin.
The plugin allows you to offer a robust and simplified learning experience to all your members and supporters.
With the included support for the latest gamification, social learning features, and other micro-content features, LearnDash is a great solution for LMS set up in your online platform.
Whne it comes to monetizing your eLearning portail, you will have tons of options. You can create multiple pricing packages as per your requirement and start making money. You can create onetime subscriptions, course bundles, membership subscriptions and more.
You can integrate PayPal, Stripe, 2Checkout and hundreds of other payment options through WooCommerce.
The system can also send automated renewal remendires to help you make recurring revenue.
The LearnDash plugin comes with Drip feed Content option so that the students recives their lessions at a scheduled timeline automatically making it easier for the students step-bystep.
When it comes to integration and extending the capabalities of the LearnDash plugin, you will be able to integrate it with all the leading and important apps to add additional functionalities into your eLearning portal.
Read our detailed LearnDash review.
Some of the top features include:
Pros
Cons
Pricing: LearnDash price starts at $159 that will give you access to the product and you can use it on 1 site. Here's detailed pricing.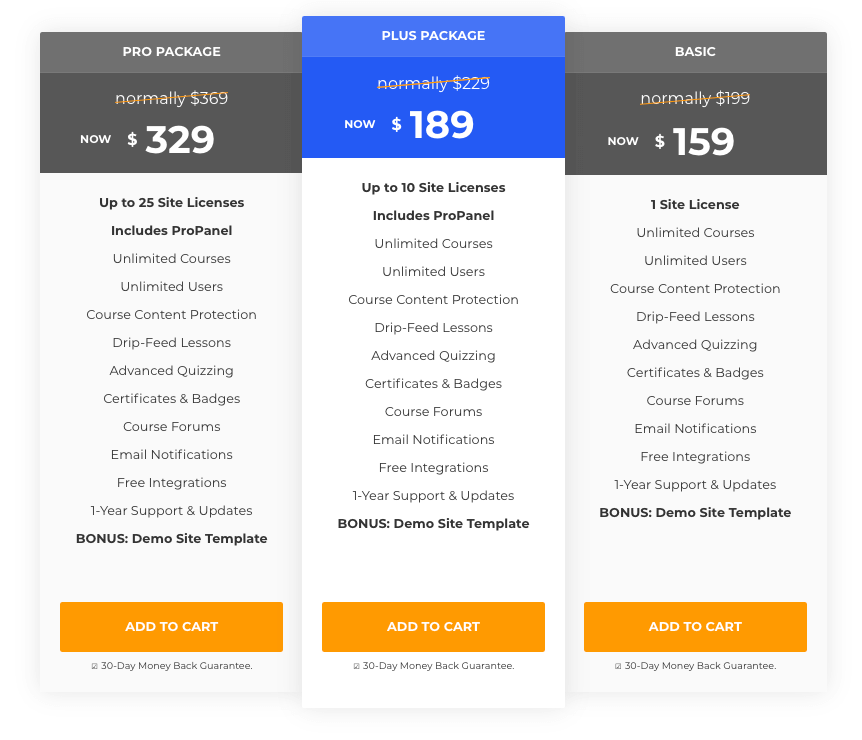 02

. LifterLMS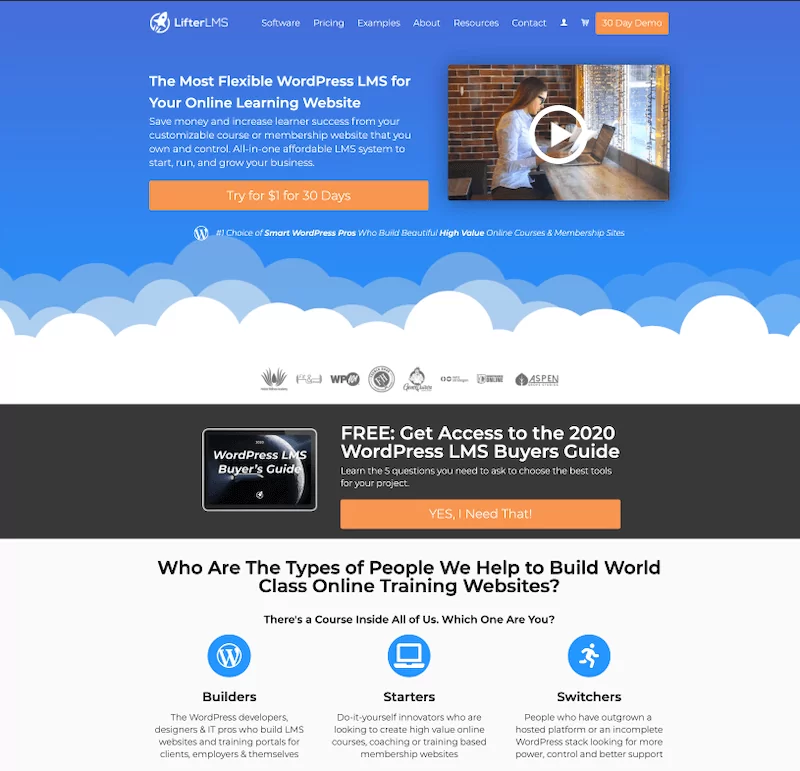 One of the most highly-rated and intuitive alternatives to LearnDash, LifterLMS offers a full bundle of learning management system features for all levels and kinds of users.
Also, the plugin allows you to add additional functionalities individually. You can save a lot of money in buying additional functionalities as each is sold for $99.
With integrations from WooCommerce and MailChimp in the plugin, LifterLMS offers a lot of services in a simple interface. With the included features, such as sample quizzes, certificates, and web configuration, Lifter LMS is an absolute beginner's LMS solution with a lot of functionalities. 
Here's a detailed review of LifterLMS.
Some of the top features include:
Pros
Cons
Pricing: LifterLMS price starts at $120. You can use the product and add-ons on a single site for this price. Here's the detaild pricing.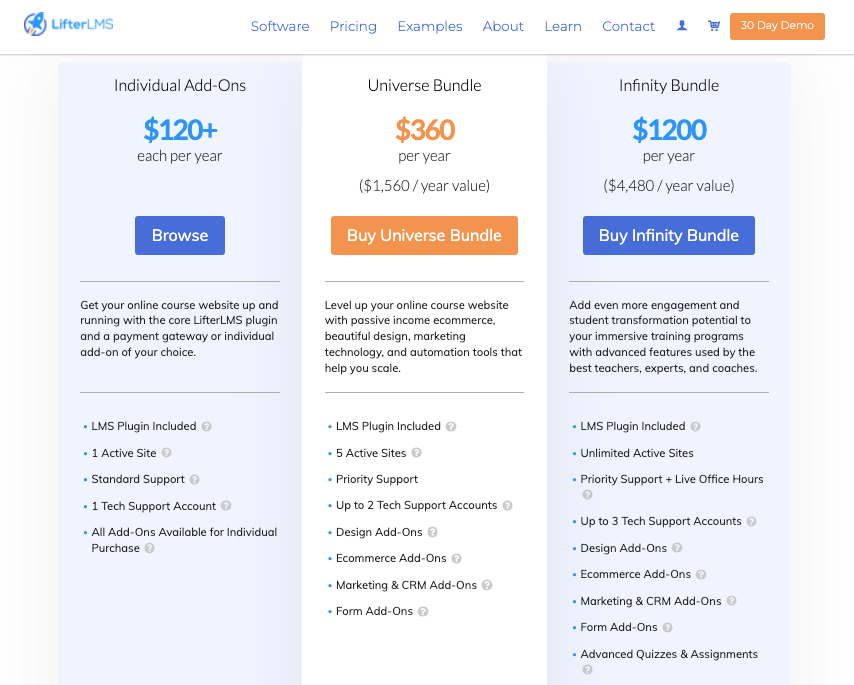 02

. LearnPress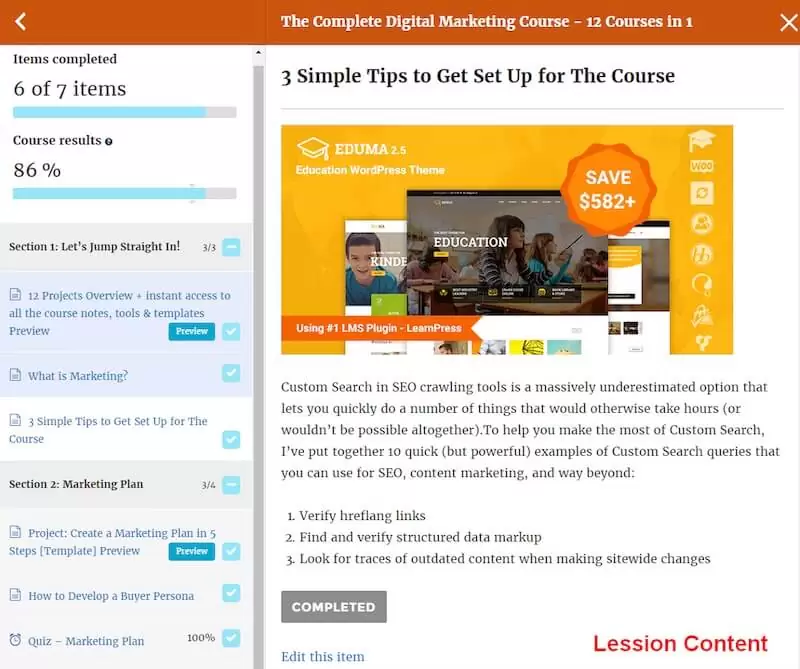 Another very famous name in this list, LearnPress offers a simple to use WordPress LMS plugin that is packed with a number of useful features. One of the cleanest interfaces in this list, LearnPress allows beginners and amateurs to easily set up online e-learning courses.
The plugin offers a completely free-to-use setup, but a LearnPress compatible theme is required. Also, you get customer support through email support, which mostly replies within 24 hours.
Some of the top features include:
Pros
Cons
Pricing: The basic LearnPress plugin is free. You will need paid add-ons to add some of the important functionalities. You get the option to buy individual add-ons or get the premium bundle.
04

. WP Courseware
Another very popular name in the plugins world, WP Courseware is a comprehensive and all-inclusive Learning Management Solution.
The plugin, as compared to other plugins, offers powerful and easy-to-use drag and drop website builder. The integrated features allow all levels of users to create courses very easily.
Similar to other LMS plugins in this list, WP Courseware allows you to create different numbers of quizzes for all kinds of students.
The plugin also offers two different types of quizzes for users, namely blocking and non-blocking, using which you can create a different tier of online courses for beginners, as well as professionals.
You can also add new user roles, known as Instructor, which you can use to add custom roles in addition to the 5 default user roles in WordPress.
Some of the top features include:
Pros
Cons
Pricing: The price starts at $129 per year. You can use the products on two sites for in this basic package.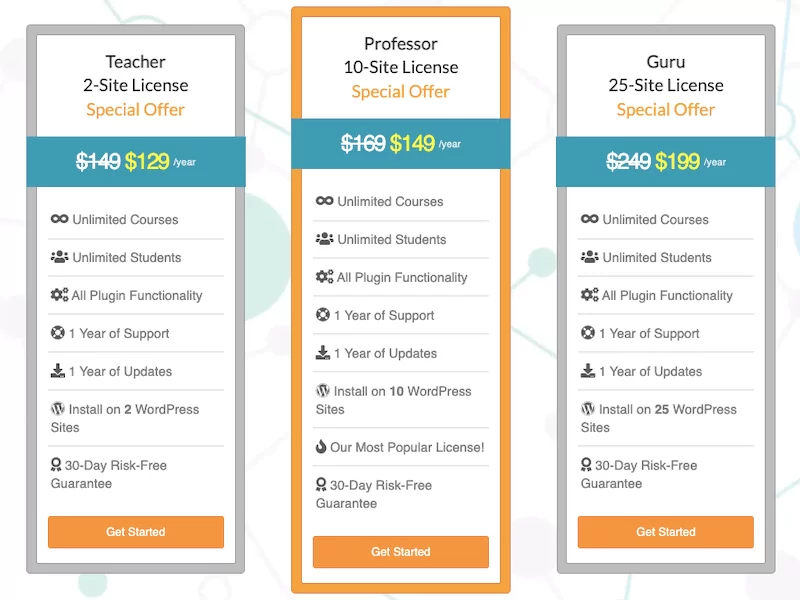 05

. Tutor LMS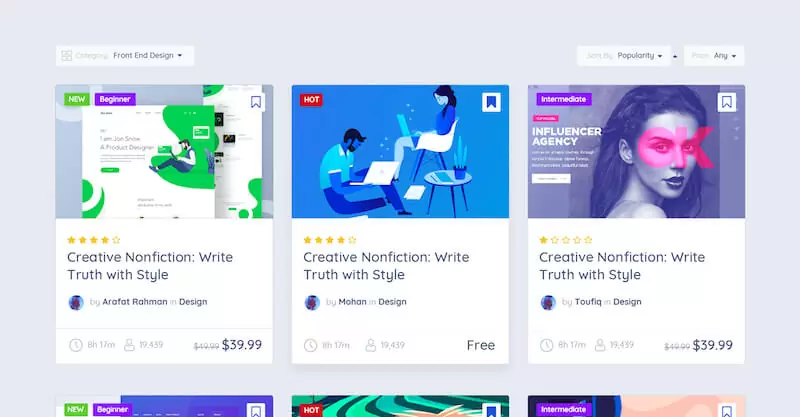 Quite a new learning management system in this list, Tutor LMS has a very simplified and easy-to-use interface. The plugin is used by over 40,000 websites currently and has a 4.5-star rating on WordPress.org. 
Building courses and using the in-built drag and drop builder simplifies a lot of different hassles in building online courses. The front-end visual interface looks amazing and ensures an easy course walkthrough. 
The extensive course builder makes it very simple vene for a complete newbie to create comprehensibe courses.
You have the option to spice up your eLearning business with a quality and professional looking theme that are created to work ou of the box with the Tutor LMS plugin.
The plugin gives you multiple paymnet gateway option and monetization methods to make money through your site.
Some of the top features include:
Pros
Cons
Pricing: You can get the Tutor LMS plugin for one site at $149. For five sites the plugin will cost $199 and $299 for unlimited sites.
06

. MasterStudy LMS
A very simple and easy-to-use LMS plugin, customizing, and building online courses with MasterStudy LMS is just a few clicks away.
Downloading and installing MasterStudy LMS is free. The plugin works with all different WordPress themes. Creating awesome video lessons, graphs, video slides, and saving time with this plugin is unparalleled to any other plugin.
Some of the top features include:
Pros
Cons
Pricing: While the core plugin is free to use, you have the option to get the premium version to get all the features. It will be priced $54.99 per year or get it for lifetime at $149.99.
07

. Good LMS
Good LMS is another LMS plugin that you can use to create your online learning site. The plugin offers you all the important features that you will need on your cource site.
You have the cource builder and quiz builder to create courses on your site. It also offers you the certification option.
You can integrate all the leading payment gateways to receive payment on your site. If you wish to offer disciunt coupons to your students, you can do that with the built-in coupon option offered by the plugin.
Some of the top features include:
Pros
Cons
Pricing: You can get the plugin for $32 from the CodeCanyon marketplace.
08

. CoursePress
The CoursePress Pro plugin is a go-to choice for users who don't have any kind of technical knowledge whatsoever. Most of the must-have and easy-to-use features are pre-integrated into the plugin. CoursePress Pro is considered one of the best alternatives to LearnDash WordPress LMS plugin in recent times.
Tons of assessment tests, quizzes, long answer Q/As, and a lot of other assessment features included in CoursePress Pro. You also get options to launch courses on a different multisite network.
Some of the top features include:
Pricing: Completely free to use.
Q1. What is LMS?
LMS stands for Learning Management System, the software that you use to create your online learning site.
Q2. Are LMS Plugins Free?
While some of the LMS plugns offfers free version with limited features, you will have to go for a premium plugin in order to craete a comprehensive eLearning site.
Q3. What Are The Best LMS Plugins?
While there are multiple quality LMS plugins these days, you can check plugins like LearnDash, LifterLMS as they are considered as top options.
Q4. Do I Need Any Technical Knowledge to Use LMS Plugins?
Most of the LMS plugins we mentioned are easy to use and comes with detailed documentationa nd tutorial to guide you through the process. So, you don't need technical knowledge as such.
Final Word
The list of the Best LMS Plugins Compared ends here. This comparison has covered a lot of different features and functionalities, including ease of configuration, features-list, customer support, and integrated payment gateways.
The choice depends on your requirement. Make sure you choose the one which not only allows you to create and manage multiple online courses but simplifies your complete online learning management complexities as well.
Got any other Learning Management System WordPress plugin that is absent from this list? Do let us know the same in the comment section below!