Are you looking for the best booking plugins for your WordPress site? Well, we have listed the top booking plugins in this article.
When we talk about a booking plugin, it should have the flexibility to add different fields as per your need. Depending on the business type the booking requirements can be different, so the plugin you select should take care of this.
A booking plugin can be used for appointment booking forms, hotel booking, ticket booking, and all other possibilities that need a booking form.
Now, when we talk about a ticket booking or a hotel booking site, there are plenty of WordPress themes that offer you a built-in option of the booking form that is customized according to teh need of that niche.
However, the issue with using a theme instead of a plugin is that you almost get locked with the theme. Whereas if you use a plugin to add the booking features, you will have the flexibility to use any theme or a complete custom design by using website builders like Elementor.
How Booking Plugin Can Help?
In case you are managing a business like yoga classes, medical sites, dentist sites, or anything else that needs an appointment booking option, these booking plugins will be very handy for you.
A self-service process where your customers can come to your site and book appointments will streamline the process for your business and you can use the human resources for other important jobs.
Likewise, if you are managing a ticket booking site; the booking form is extremely important. And it has to be highly flexible and conditional so that the users can select their options as per their needs a complete the process of booking.
The booking plugins can help you to automate your business to a large extent.
So, without any further ado, let's have a look at the top booking plugins for WordPress sites.
01

. Bookly
If you're looking for a way to streamline your online appointments and bookings, Bookly is the plugin that you should try for your WordPress website. Its fully responsive design is capable of providing a perfect look across all devices.
With the easy customization and set-up it comes with, even a beginner can manage Bookly effectively. It not only provides a simple scheduling process to your users but also integrates them with the majority of payment systems. This plugin can be used for medical appointments, hotel bookings, ticket booking, restaurant orders, and various other businesses.
You can completely customize the booking form as per your business need. You can also integrate tools like Zoon with the Bookly forms to take your business one step ahead.
Your customers will be able to book appointments by using the easy-to-use form in a few simple steps.
Best Features:
02

. Book an Appointment Online Pro
Book an Appointment Online Pro plugin has taken one step further by providing video conference features, along with several other helpful features. The plugin provides a provision for one on one video conversation so you can easily connect with an employee and a customer.
The plugin provides an attractive booking form that provides various options to add custom form fields, coupon discount fields, and even verification fields.
Best Features: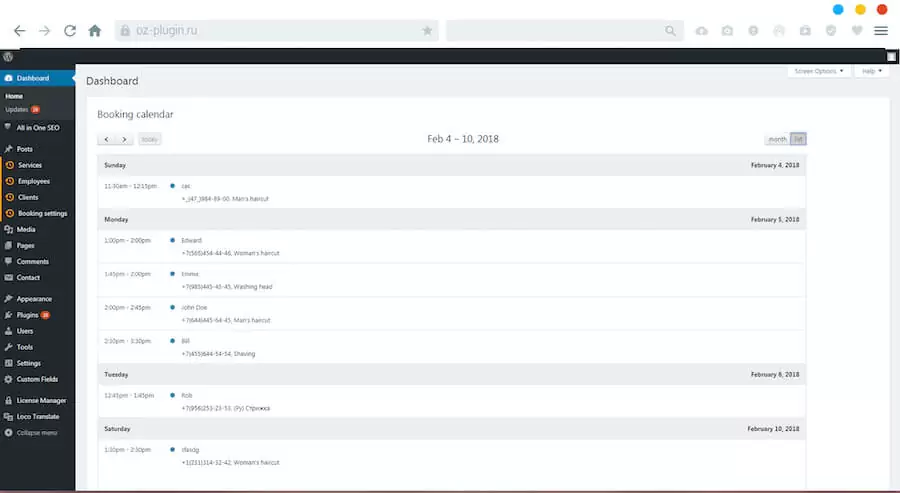 03

. MotoPress Appointment Booking
The Appointment plugin for WordPress developed by MotoPress is perfect for arranging step-by-step online scheduling on any service-dedicated business website. The plugin lets you add multiple services and unlimited employees with their personal flexible schedules. These working calendars may include lock-out hours, lunch breaks, vacations, and days off.
 
You can accept payments via Stripe, PayPal, direct bank transfer, or upon arrival. What's more, it's possible to provide coupon codes for discounts. Customers can add several services to the cart during one submission and make an appointment for a group.
Best Features: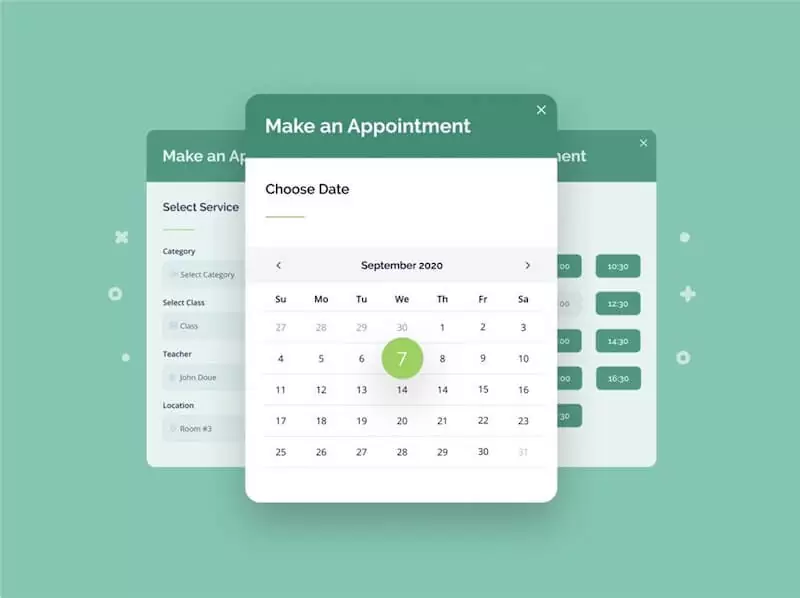 04

. Timetable Responsive Schedule for WordPress
If you want to create a timetable view of your upcoming events, there are a few better than the Timetable Responsive Schedule plugin on WordPress.
The plugin comes with events managers that include booking functionality. The booking functionality feature allows you to take online reservations for upcoming events by showing you the timetable of free slots.
You can use this plugin for events, restaurants, pubs, schools, medical appointments, and much more. As far as the time to create a timetable is concerned, you can make one in less than 3 minutes.
Best Features:
05

. Amelia
Amelia is a perfect plugin if you want to minimize the number of errors in the appointment booking process. What makes Amelia so special is its automatic booking feature that works without any active participation from your end. Simply put, it completely automates the whole process.
This plugin will work perfectly for businesses with a high number of appointments such as gym and sports complexes, medical clinics, beauty salons, and consultants.
Best Features: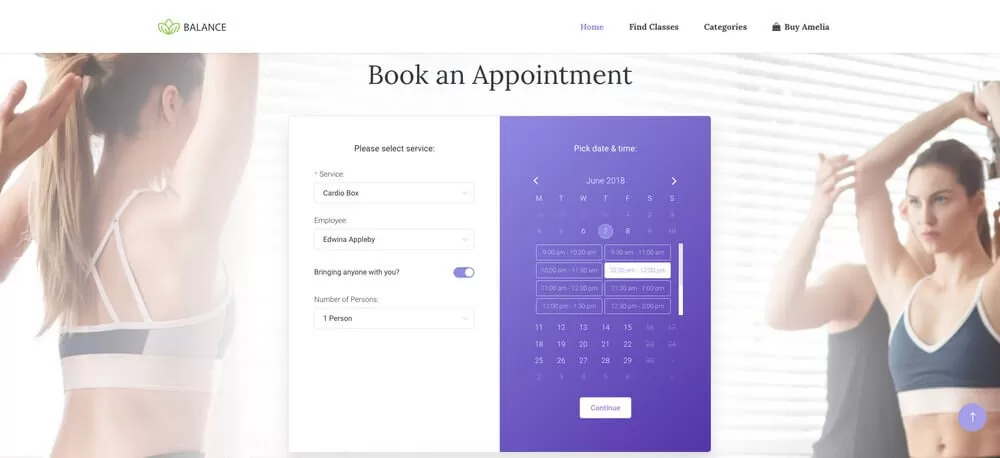 06

. Bookme
From beauty salons and fitness centers to medical and hotel booking appointments, Bookme is a multi-purpose WordPress booking plugin. This plugin is fully responsive and works perfectly well with all devices.
An easy-to-use setup and manage plugin allow your customers to check the availability and book their appointments. It has a special feature for customers where they can book different services at different prices.
Best Features:
07

. Booking Calander
In terms of active installations on WordPress, Booking Calander has one of the best numbers to showcase. With a clean and smooth interface, Booking Calander has all the essentials to be an amazing booking system for your website.
The best feature of this app is its amazing customizable ability. It allows you to use blend the plugin perfectly with your business's theme.
Best Features:
08

. WP Simple Booking Calander
As the name suggests, the WP Simple Booking Calendar is known for its simple solution for booking appointments. Although the plugin is very basic, it still manages to cover all the necessary elements to be a complete booking plugin.
Perfect for beginners, WP Simple Booking Calendar can be used for any type of booking and appointment, especially hotel/room bookings. With the help of a few clicks, your customer can check the availability in the booking calendar and communicate their decision.
Best Features: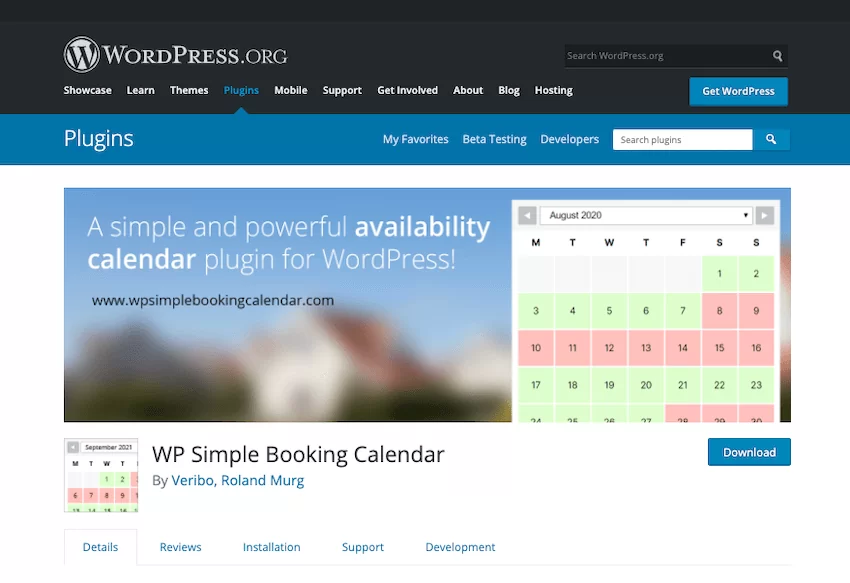 09

. Start Booking
This plugin provides a powerful connection between the Start Booking scheduling software and your WordPress site. Unlike the rest of the plugin that tells you to leave the site to confirm the booking, Start Booking lets you book your appointments without leaving the website.
Customers can not only book single appointments but also multi-appointments in a single checkout.
Best Features: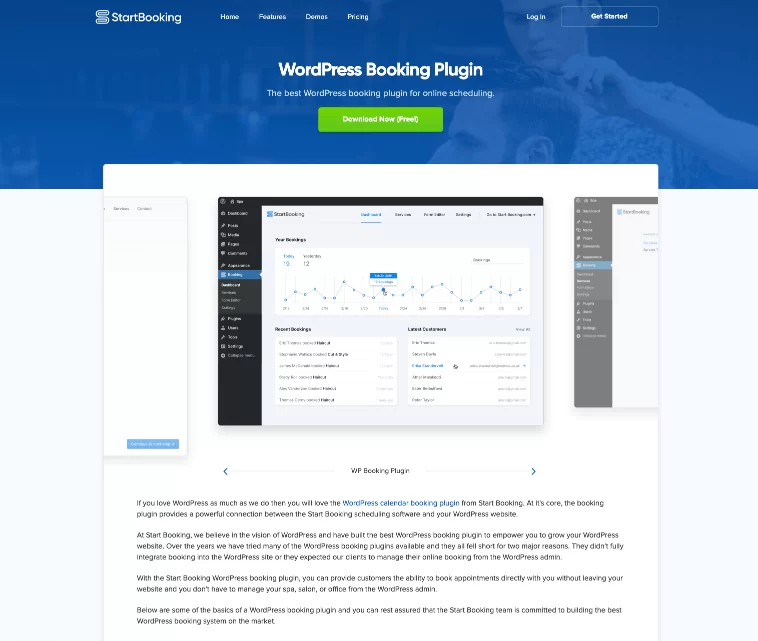 10

. Hotel Booking WordPress Plugin
As the name suggests, Hotel Booking Plugin is specifically designed as an all-in-one booking plugin for rental property websites. Simply put, it will make the process of online booking for hotels, bread and breakfast, hostel, and rental apartments easier.
The plugin has brought together thousands of hours of development for you to enjoy one of the most attractive hotel booking plugins.
Best Features:
11

. Multi Scheduler
With advanced scheduling and reporting functions, Multi Scheduler is a plugin that will fulfill your requirements for appointment scheduling in the best way possible.
As the name suggests, the Multi Scheduler plugin comes with multiple bookings, scheduling, and reporting system that can be used for various types of services. You can use it for hotel bookings, taxi services, event management bookings, and even for beauty salons.
Best Features: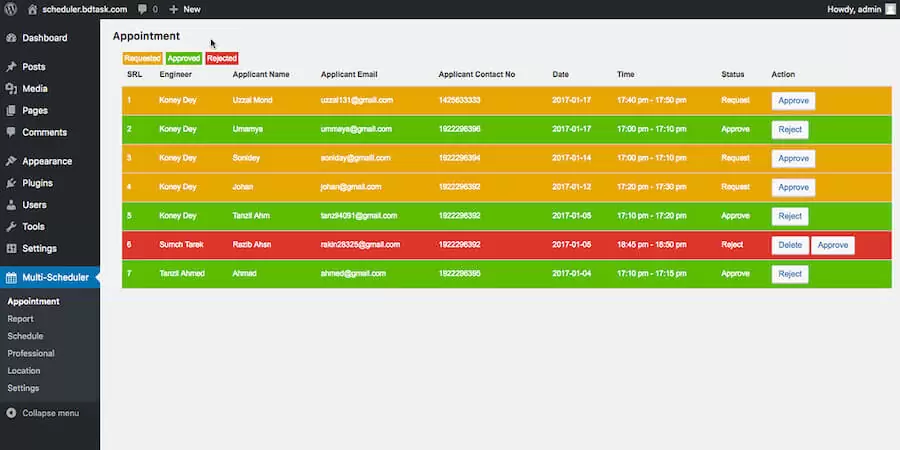 12

. Sagenda
Sagenda is a free appointment scheduler plugin and has done pretty well in providing one of the best booking appointment services. The plugin won't let you miss track of your upcoming appointments.
You can use this plugin for businesses such as education, medical services, freelancers, consultants, and various other associations.
The best feature of this plugin is that there is no restriction on the number of bookings or customers. Other key features are discussed below.
Best Features: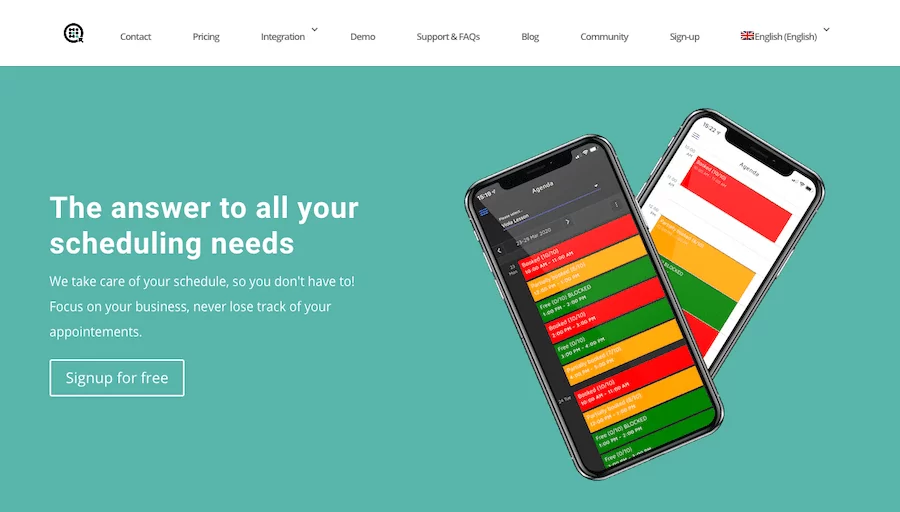 13

. Pinpoint Booking System 
Pinpoint Booking System is a simple-looking booking plugin that your customers would set up their appointments. To provide a maximum user-friendly experience, the Pinpoint Booking system provides a one-page booking system.
The plugin is ideal for both small and big business owners including medical clinics, gyms, and fitness, major events and fairs, and even hotel bookings. As part of its e-commerce support, the plugin provides complete integration with Woocommerce.
Best Features: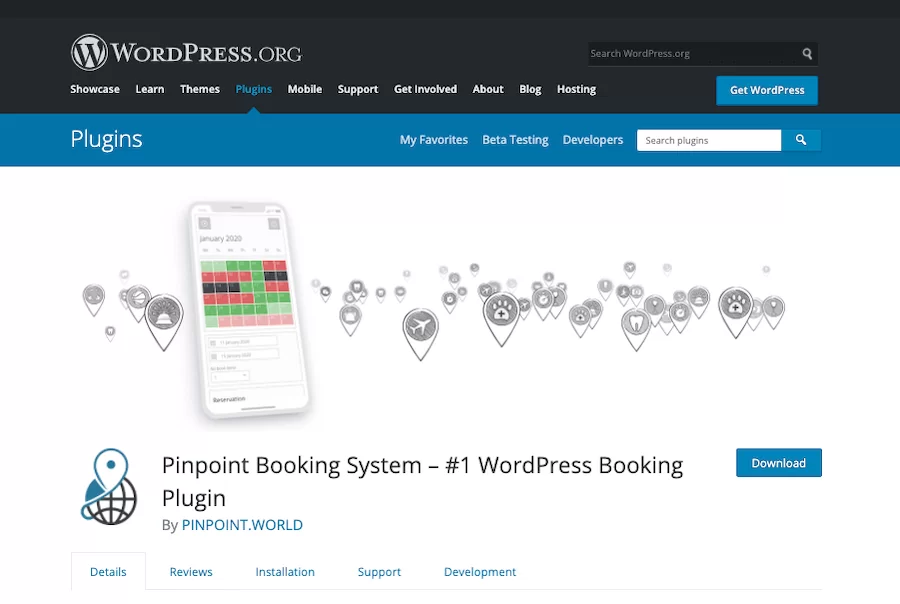 14

. Booking Package
By skipping the old-school approach of booking, Booking Package claims to easiest way to book an appointment through its digital means.
Even if you're a beginner, you won't have to worry about its setup and management as it provides a simple and intuitive operating screen.
This plugin can be used to book an appointment for a hotel, event, medical service, and in fact, for all the popular services.
Best Features: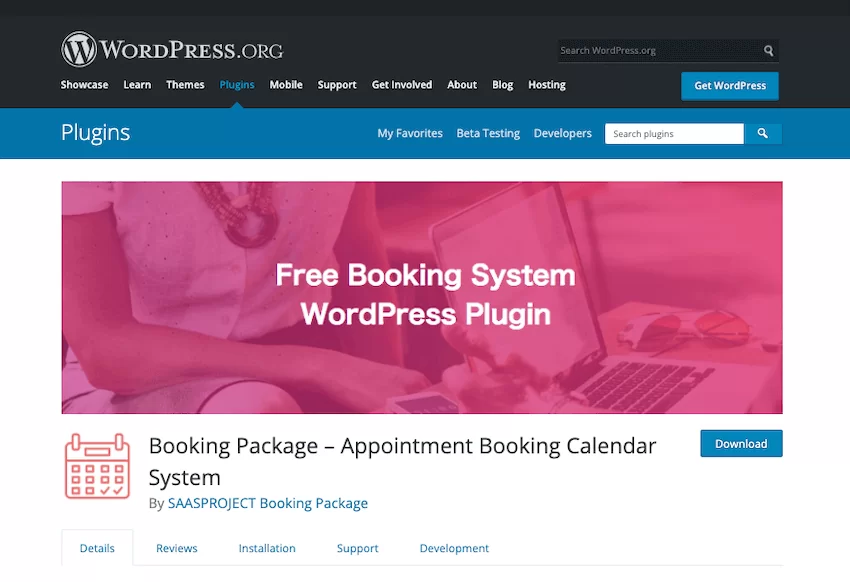 15

. Webba Booking
There are a few better than Webba Booking when it comes to making your booking system look attractive. It offers an effortless setup system and allows your clients to book appointments on any type of gadget.
The advantage of using this plugin is that it offers you unlimited access to services and schedules. With amazing support and lifetime updates, the Webba Booking plugin can be used for hotel and accommodation bookings, event bookings, medical appointments, etc.
Best Features: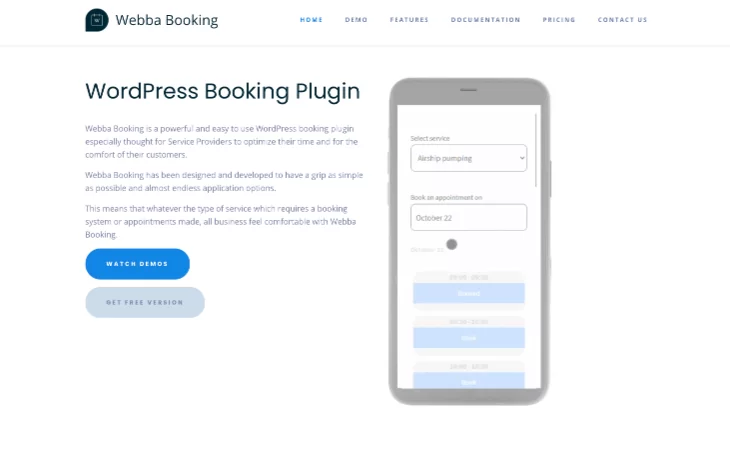 16

. Booked
Booked is another powerful yet simple-looking booking plugin that will make the appointment process easier on your website. With Booked, you not only get 6 months of support but also lifetime updates.
Booked, among its several other useful features, provides an option of guest booking to the customers. This way, your customer doesn't have to register himself/herself on the site to book an appointment.
Best Features: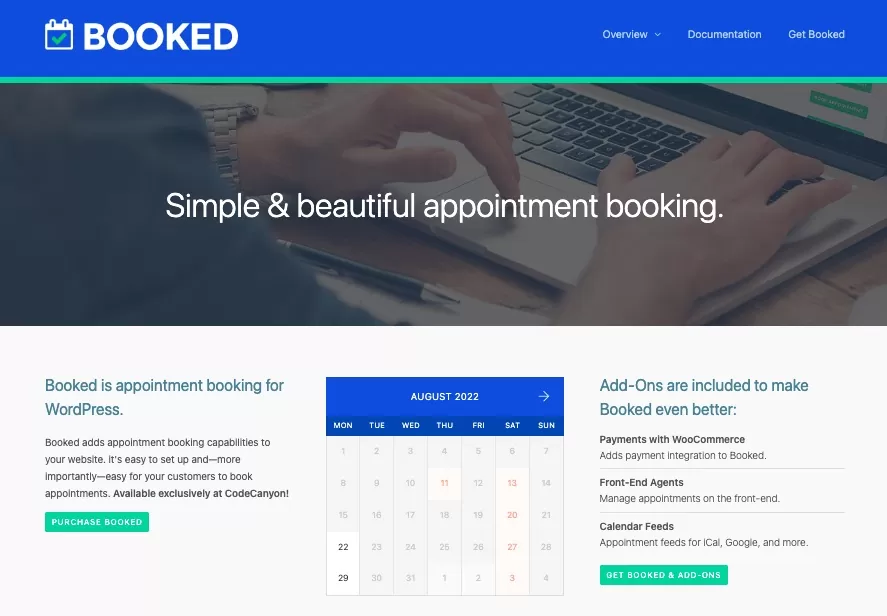 17

. Booking Ultra Pro
Whether you're looking for a booking plugin for your small business or a large business, Booking Ultra Pro will provide an eye-catching and effective booking system for your WordPress website.
To make it as user-friendly as possible, Booking Ultra Pro offers customers a 3-step process to complete their booking process. The advantage of using this plugin is that your customer's information will be stored so that you can run email campaigns.
Best Features: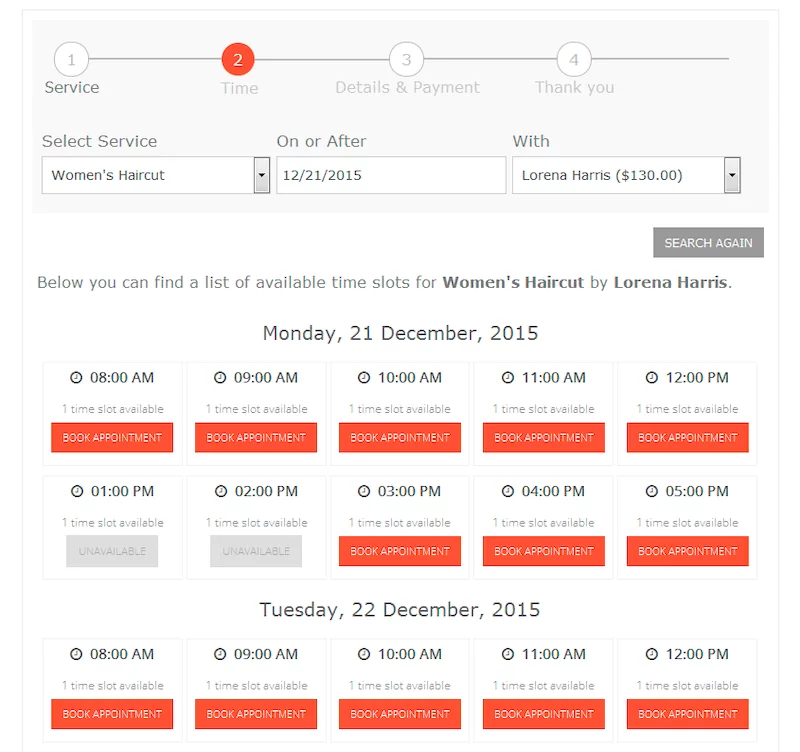 18

. RnB – WooCommerce Booking and Rental Plugin 
RnB is more than just a booking plugin. With the help of this plugin, you'll be able to add unlimited rental products on your websites such as cars, bikes, accommodations, and even gadgets.
As the name suggests, this plugin is fully compatible with WooCommerce and WPML. WPML makes your website multi-lingual.
Best Features: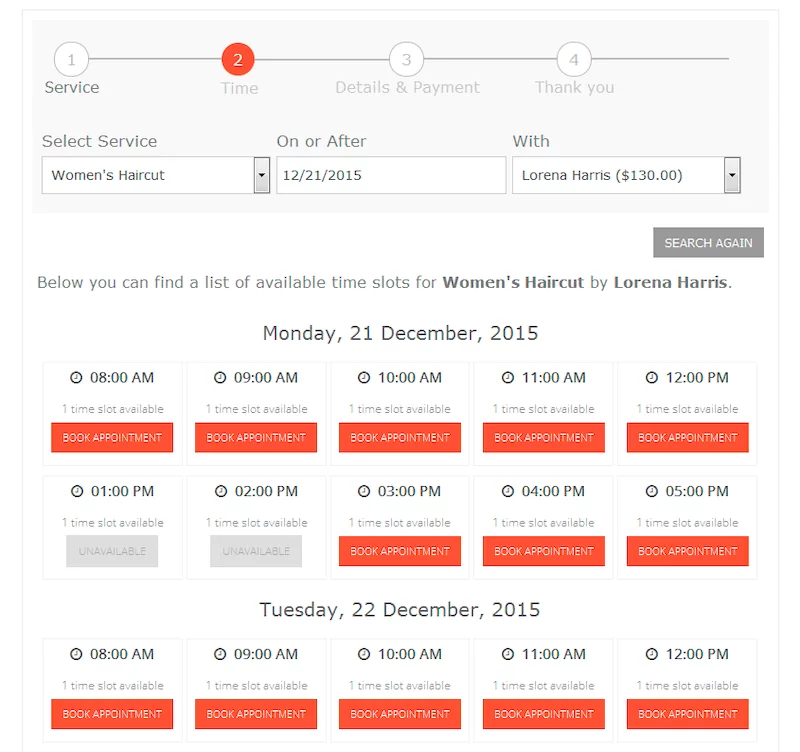 19

. Salon Booking WordPress Plugin 
Though it's needless to say that this plugin would suit perfectly a salon business, even tuitions, medical clinics, and therapists can also benefit from it. Its impressive back-end calendar will help you seamlessly manage your bookings.
The plugin allows the back-end user to set some rules that will help the customers while booking their appointments. You can manage your calendar through monthly, weekly, and daily views.
Best Features:
20.

Easy Appointments
We'll end our search for the best booking plugins with Easy Appointments. A free plugin that allows you to manage your appointments with ease deserved a spot on our list.
It is a very simple plugin that can be used for salons, lawyers, consultants, medical clinics, and even educational institutes. The plugin doesn't put any restrictions on the number of locations, services, and workers. It also supports Google Calendar and WooCommerce Integration.
Best Features: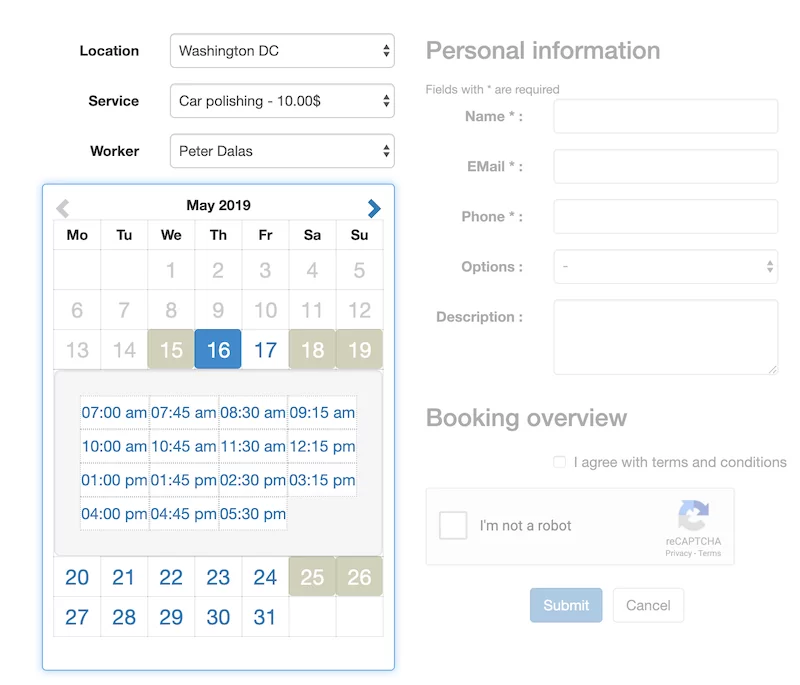 Final Word
This was our list of top booking WordPress plugins, hope you are able to find a suitable option for your business. Also, don't miss our list of the best appointment booking plugins.