Are you looking for the best WhatsApp WordPress plugins? We have listed the top plugins that you can use to promote your business through WhatsApp.
To become a successful business owner, your website needs to generate more leads and turn them into customers. Such lead generation is only possible if you provide exceptional customer service.
Although collecting email addresses via signups is a good way to provide customer service, integrating WhatsApp can be even more beneficial.
In this blog post, we've made a list of the best WhatsApp WordPress Plugins that will help your website visitors share your products and put up their questions.
Why WhatsApp?
According to Statista, WhatsApp, with over 1.5 billion monthly active users, is the most popular messaging app in the world.
Visitors need not fill a form and wait for a response that may take days. They expect immediate responses, therefore WhatsApp is the best platform for providing live chat customer service.
Let's get started!
01

. WhatsApp Chat WordPress Plugin
Among the numerous WhatsApp plugins for WordPress, the WhatsApp chat WordPress plugin has all of the requisite features to position it first on our list.
Since the plugin is lightweight, you won't face any major complications during installation. In addition, once the installation process is completed, you can personalize its various features according to your website.
Best Features:
Pricing: With 6 months of support from the NinjaTeam, this plugin is available at $25.
02

. WordPress WhatsApp Support Plugin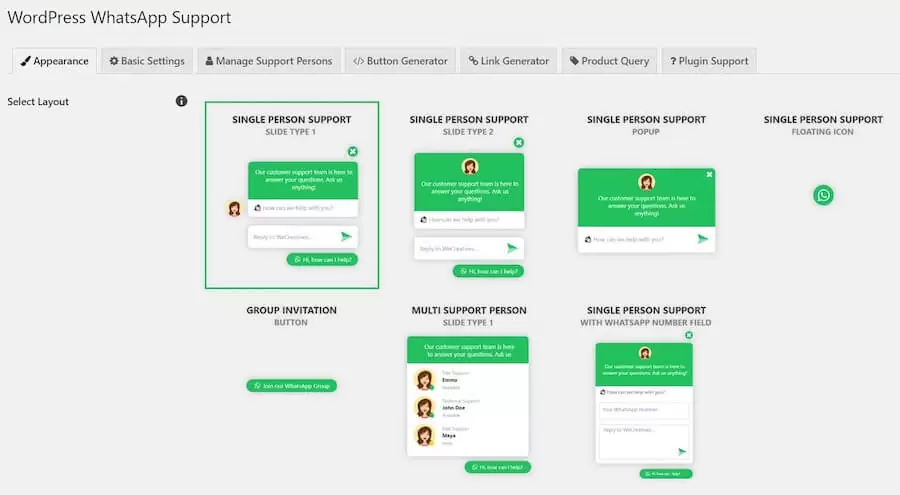 Another plugin that may help you improve your site's conversion rate is WordPress WhatsApp Support. When it comes to customization, you have the option of using pre-made templates or creating your own from scratch.
The plugin is completely responsive and comes in a number of languages. This way, you'll quickly entice your foreign clients to use your customer service.
Multiple users can work at the same time to offer support. It comes with a fully responsive and customizable interface to make sure that it suits your business.
This plugin works well for WooCommerce online stores and is compatible with GDPR.
Best Features:
Pricing: This plugin is available at $22.
03

. WooCommerce Orders on WhatsApp
If you run a WooCommerce online shop, WooCommerce Orders on WhatsApp is one of the best ways to connect with your customers.
The "add to cart" button is replaced by the "add to WhatsApp cart" button with this plugin. As a result, customers will be able to place orders through WhatsApp.
Best Features:
Pricing: This plugin is available at a one-time payment of $29.
04

. WhatsApp Click To Chat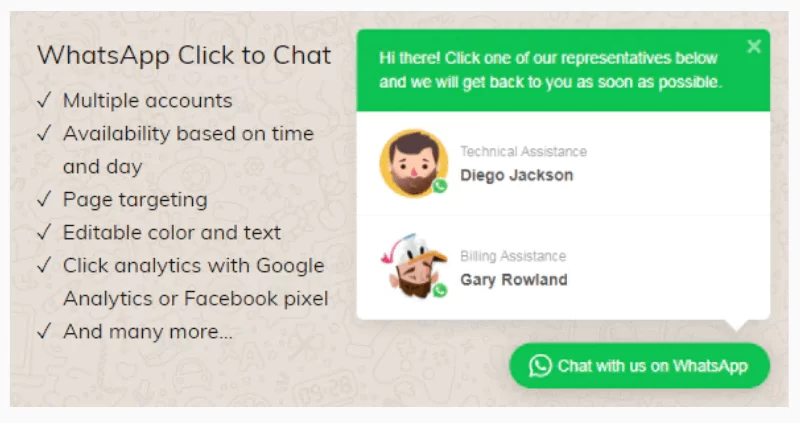 With more than 100,000 active installations, WhatsApp Click to Chat plugin is next on our list due to its extraordinary compatible features.
Just like WooCommerce orders on WhatsApp, this plugin has proved to be a pretty handful for WooCommerce communication integrations.
As far as customization is concerned, it allows you to edit the button text and colors. This plugin further allows you to use it either for the whole page or a particular post. 
Best Features:
Pricing: You can use this plugin at $19.
05

. WhatsApp Customer Chat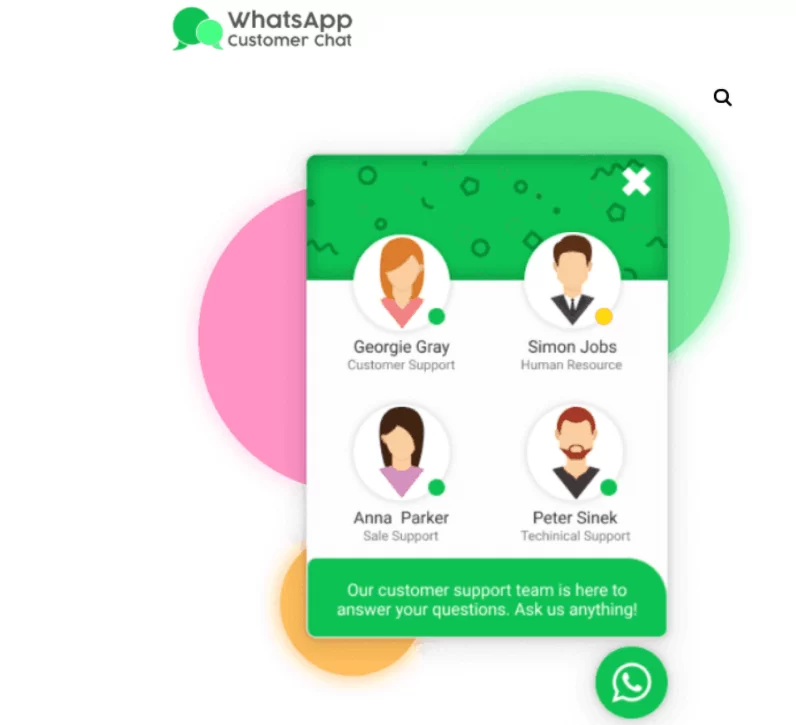 WhatsApp Customer Chat gives you full control over your website's WhatsApp communications. This plugin is compatible with both mobile and desktop.
There are no limits on the number of agents you can add to your WhatsApp help if you're working in a team. Furthermore, your users have the choice of selecting which agent they want to speak with.
Best Features:
Pricing: The cost of this plugin is $15.
06

. Userlike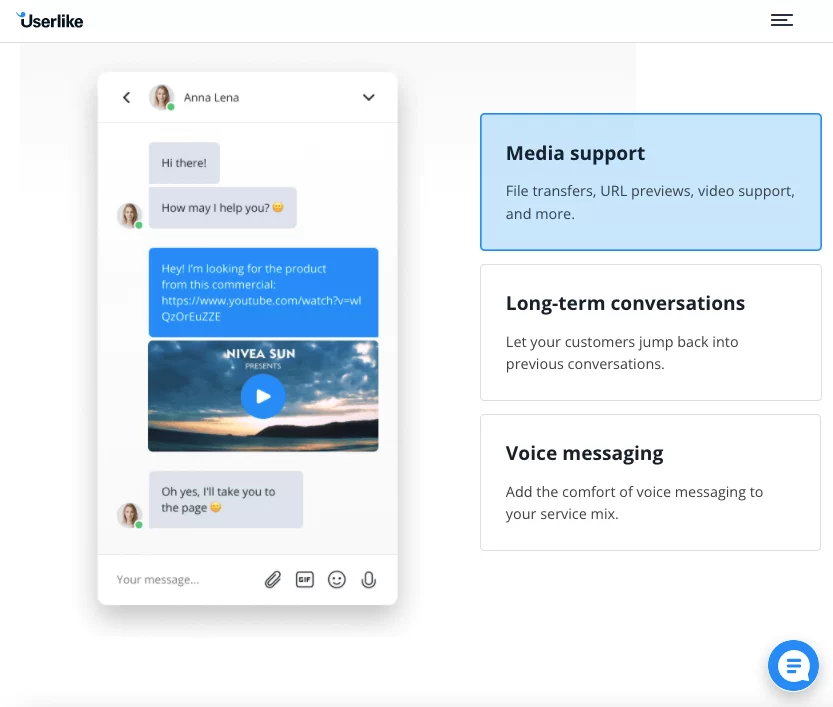 Userlike is a very handy platform that helps you with the option to add a quick live chat option or to add a chatbot to your website and name the customer support process simpler.
Other than WhatsApp, the Userlike plugin gives you the option to add a number of other chat systems to your site so that your customers have multiple options to select from.
You can add Facebook, Messenger, Telegram, SMS and other systems to your site. It will be easier for your customers and potential customers to reach out and get their queries answered quickly.
This system will have a positive impact on the overall revenue for your site. You will have the chat history to refer to.
Another best part is that you can quickly switch to a video call with your customers or clients from the chat as per need.
The platform offers you a simple WordPress plugin to make the entire process of adding Userlike chat system to your site quickly.
Best Features:
Pricing: It is available for free & the premium plans start at $90 per month.
07

. Social Tabs Live Chat For WordPress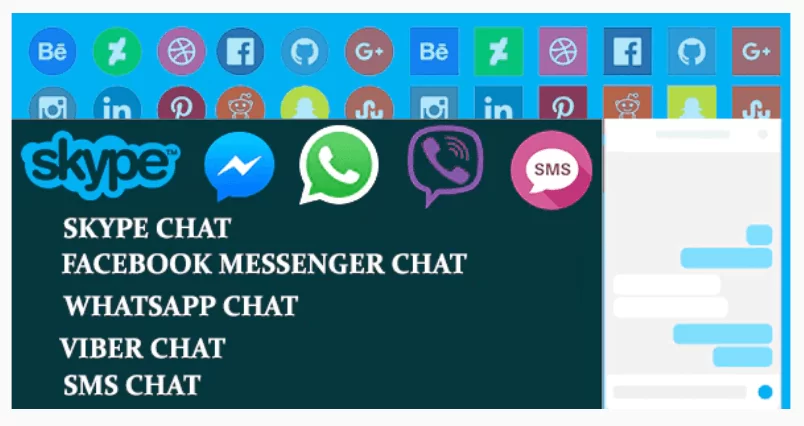 Social Tabs Live Chat isn't solely dedicated to WhatsApp chat support. It enables you to use your website's chatbox for Facebook, Skype, Viber, and even SMS.
As a result, it provides different ways for your audience to connect with you.
Its adaptive features allow your audience to use that chatbox via both desktops and mobiles.
Best Features:
Pricing: It is available for a price of $21.
08

. WP Social Chat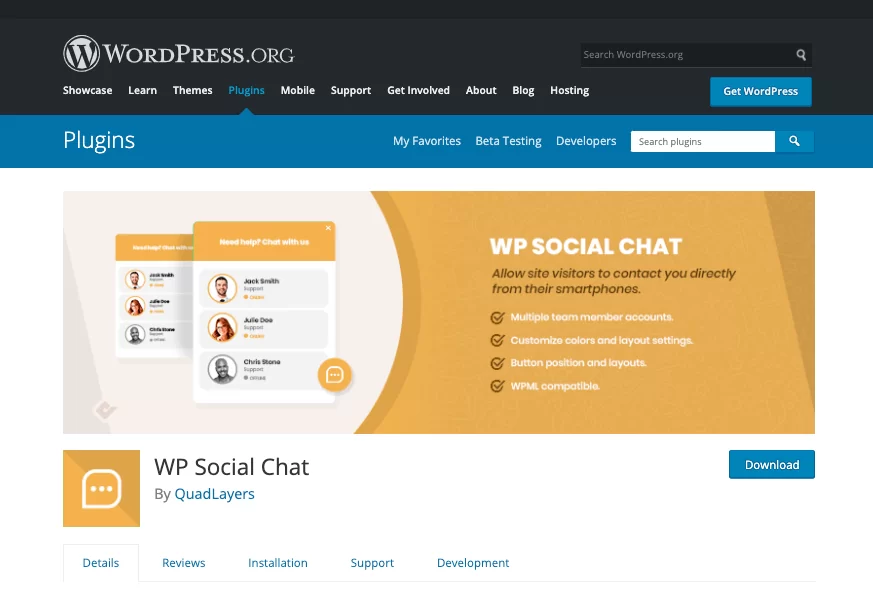 With more than 100,000 active installations, WP Social Chat created by QuadLayers is one of the most popular WhatsApp WordPress plugins. This elegant-looking plugin provides easy configuration settings to help your visitors turn into customers.
This WhatsApp chat plugin will also allow you to include multiple agents to answer customer inquiries. These agents can be distinguished based on initials and labels.
Best Features:
Pricing: This plugin has both a free and paid plan. The paid plan is available for a one-time payment of $19.
09

. Join.chat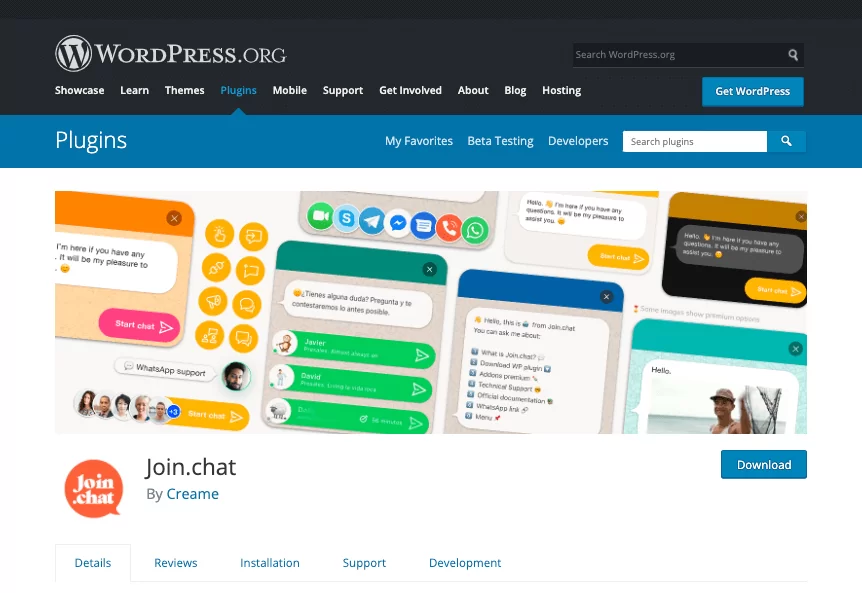 Join.chat is a highly customizable and compatible plugin that allows you to connect with your audience. It currently has over 300,000 active installations around the world. Join.chat can be used on any web page or in any position.
You can use this plugin to add icons, profile images, and even gifs. It also demonstrates WooCommerce compatibility.
Best Features:
Pricing: This plugin is available for free.
10

. Cresta Help Chat
The Cresta Help Chat plugin allows your users to send you a private message and is compatible with mobile and desktop devices.
While it has a free edition, the paid version unlocks its full potential by granting you access to all customizations.
Best Features:
Pricing: The premium version is available for $11.
11

. WP Sticky Button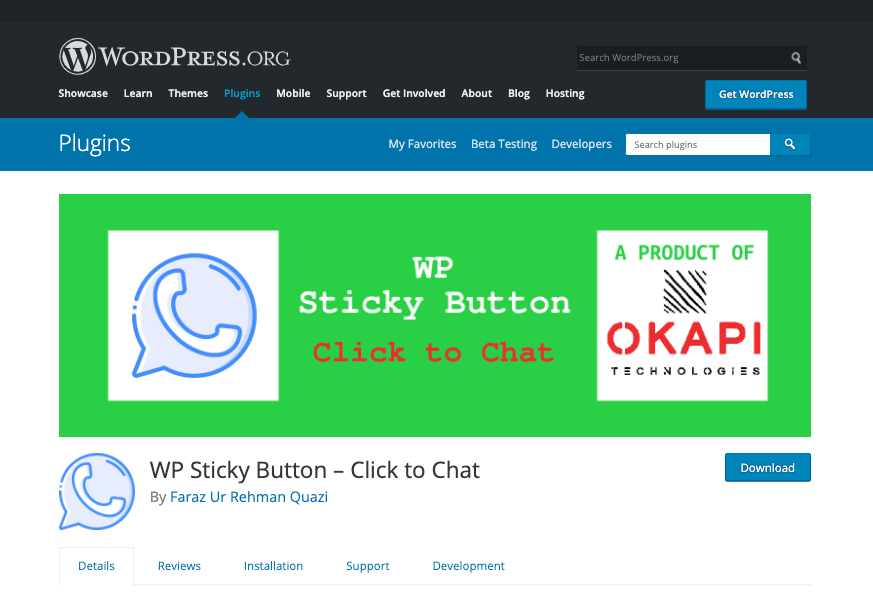 WP Sticky Button is a free and lightweight plugin that helps in displaying the WhatsApp button on the front end of your website. 
Although this plugin doesn't have the fancy features to show off, it does enough for you to accomplish any task.
Best Features:
Pricing: This plugin is available for free.
Final Words
If you want to expand your business, you'll need to generate more leads. Improving your customer service is one way to generate more leads.
WordPress WhatsApp plugins are interesting options that will not only help you connect with your customers but also increase your conversion rate. 
Based on our extensive research, we've managed to compile a list of the best WhatsApp WordPress plugins. 
We're sure you won't be disappointed with the additional benefits these plugins come with.
Happy customer interactions!