The power of video content is quite evident these days. To help you with the same, here we bring you a highly detailed and curated list of the best video player WordPress plugins.
Irrespective of the fact that you need a video for your app's tutorial or a full-fledged brand video, this medium is becoming the new normal very frantically.
However, if your goal demands you to have a lot more functionalities with your embedded videos, WordPress plugins are the best options available.
The available options in this list might overwhelm you as the internet is flooded with tons of different options.
So which is the best amongst the rest? Before just jumping at the list of the best video player WordPress plugins, let's take a look at a few things that you must know before making your selection.
Why to Use a Video Player Plugin
Before we go ahead with the collection of best WordPress video plugins, let's understand how these plugins can help your business.
For Making Sales: For selling something through your videos, or for that matter selling your videos directly online would require you to add a lot of functionalities.
This can be achieved by making use of some intuitive WordPress plugins, such as WooCommerce plugins, WooCommerce Product Table plugin, and so forth.
You can create professional videos around your products and showcase it on your site through the video plugins to engage your visitors.
For Building Directories: The internet is packed with a ton of different WordPress video gallery plugins that are specially designed for massive video directories, such as tutorials, game reviews, playlists, and so forth.
These plugins allow you to not only display your videos perfectly but even make video storing, searching, filtering, custom detailing, and so forth a cakewalk for the users.
These plugins are even packed with functionalities like offering your visitors to download your playlists and videos.
If you are into a niche business, creating a video gallery around your business can be really helpful. For example, if you are into pet related business; you can create engaging videos around pets to reach to a wider audience.
Just a Video Player: The most basic form of WordPress video plugins, these types of WordPress video plugins empower you to add a basic video player into your websites for playing videos easily.
One of the most used types of WordPress video plugins in the world, these video player plugins empower brands and organizations to make the most of their video content by adding their advertisement and brand videos all across the websites easily.
Also, if you are looking for a video WordPress plugin to run background videos on your websites, then you have to make sure that you are making use of a theme that supports background video embedding as well.
Things You Must Consider When Choosing a WordPress Video Player Plugin
Here are a few things that you must consider very seriously before choosing a WordPress video player plugin. These factors will not only help you in saving a lot of money but will prove to be a game-changer for you in the long run of embedding videos into your websites.
i) You need to look for the kind of design options and customizable skins it offers. These skins not only help you in making your overall theme beautiful but also gives a great level of control of the overall look of your video on the web page.
ii) If you are not considering to specifically upload a video onto the WordPress site, then the best option would be to go for a simple to use video WordPress plugin that helps you in embedding videos directly on to the website from different video streaming platforms, such as YouTube or Dailymotion.
This releases a ton of burden from your shoulders so that you can focus more on the content of your video rather than the technicality of publishing it.
iii) What you must not consider ignoring is the SEO capabilities of the video player WordPress plugin. It is very important that the video player plugin allows you to add different data along with the video, such as the video description, author, metadata, title, and so forth.
These things are very crucial for adding quality to your videos, as well as to help them in indexing higher on the search engine results pages.
iv) In case you are planning to use your website as a self-hosted video platform, then you must make sure that the plugin offers you easy to use social sharing capabilities as well. This allows you, as well as your viewers, to easily share the video on various online social media platforms, such as Instagram, Facebook, and Snapchat.
v) Also, there would be no harm in looking for some additional modern functionalities and features in your video WordPress plugins, such as regular updates, hosts API, number of view indicators, reviews, comments, and so forth.
This is simply because of the fact that you are paying so much for a WordPress plugin and the least you would want is that it becomes outdated in less than a year.
vi) You might be looking for the pop-up functionalities in your video WordPress plugin, which is pretty obvious as this is quite trendy these days.
Make sure you have this feature as an add-on as some vendors offer this as a default. Having a default video playing option is always very useful in case any kind of technical error occurs in your WordPress theme.
Best Video Player WordPress Plugins
So without further ado, let's get started with the list of the Best Video Player WordPress Plugins:
01. Yottie WordPress YouTube Gallery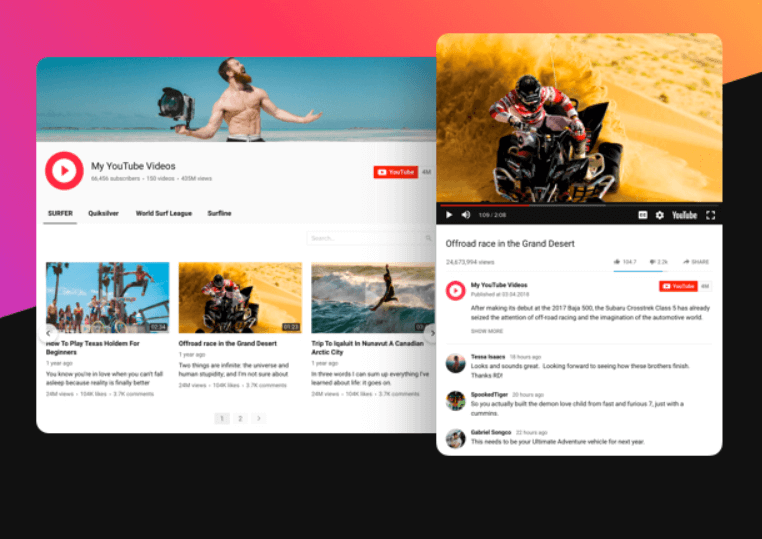 One of the most comprehensive and advanced YouTube video plugin for WordPress, the Yottie plugin offers you a number of modern features to engage your visitors.
The plugin comes with 100 different adjustable settings that you can use to make your video galleries look attractive on your WordPress site.
You have color scheme options to style it. The plugin also gives you an option to use it in 16 different languages.
You can add variety to your videos by creating different groups. It gives you the option to set different sources for your video, be it a playlist, a single video, or a particular channel.
Create video galleries from different categories using this plugin so that your users get all different types of videos at one place.
02. Video Player & FullScreen Video Background
One of the most comprehensive and easy to use video player WordPress plugin in this list, HTML5 video player adds a lot of minimalistic appeal into your webpages.
You can create a video site using this plugin. You can add YouTube, Vimeo videos into your site or you can create a self-hosted video site.
It's a fully responsive plugin that will make your video site look great on all devices.
A top-notch quality video streaming player, HTML5 Video Player works perfectly fine on all different kinds of browsers. Some other major features of this plugin are:
03. Video Player WordPress Plugin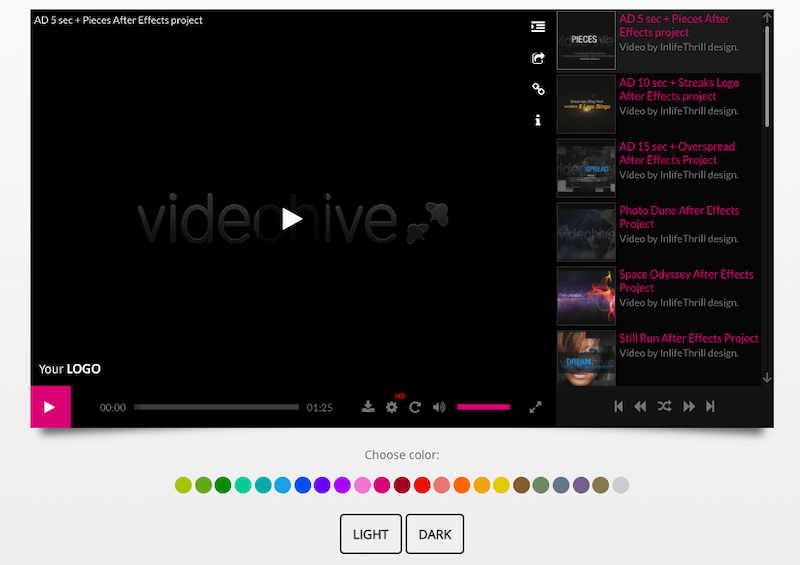 A very popular name in this list, Elite Video Player WordPress Plugin is a complete video player plugin that is packed with a lot of functionalities. This is one of the few video plugins that offer high-end support for video advertising as well.
A very modern and easy-to-use video player plugin for WordPress websites, Elite Video Player offers video embedding ability from different online platforms.
04. Youtube Playlist Video Player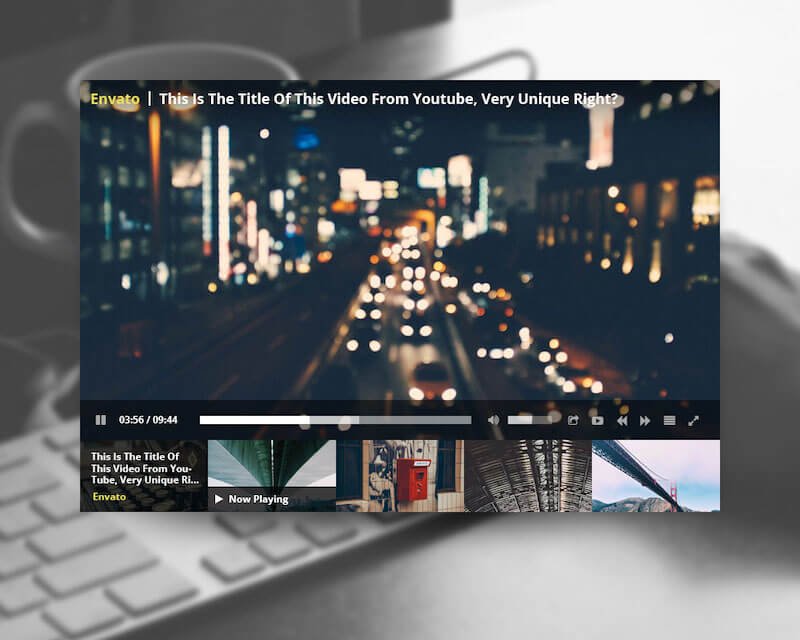 WordPress Responsive Youtube Playlist Video Player is one of the most popular names when it comes to embedding videos from YouTube into WordPress websites.
A fully responsive and resizable WordPress video plugin for all kinds of users, WordPress Responsive Youtube Playlist Video Player also offers customizable CSS options.
05. Ultimate Video Player WordPress Plugin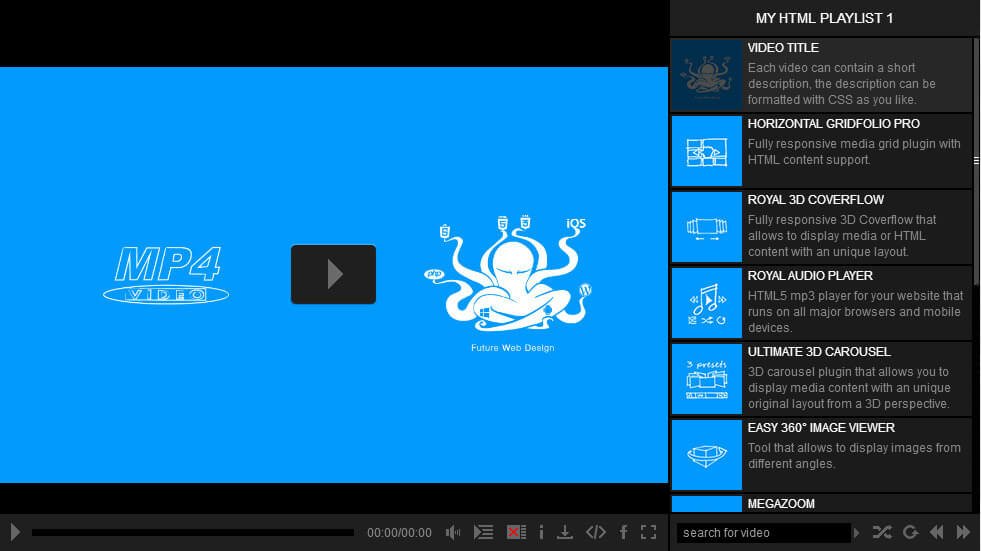 A very easy to use and powerful video player WordPress plugin, Ultimate Video Player WordPress Plugin is a comprehensive solution for all kinds of multimedia needs for all kind of users worldwide.
The plugin integrates a huge list of features, making it the most impactful and intuitive Video Player WordPress Plugin available these days.
06. Facebook Live Video Auto Embed for WordPress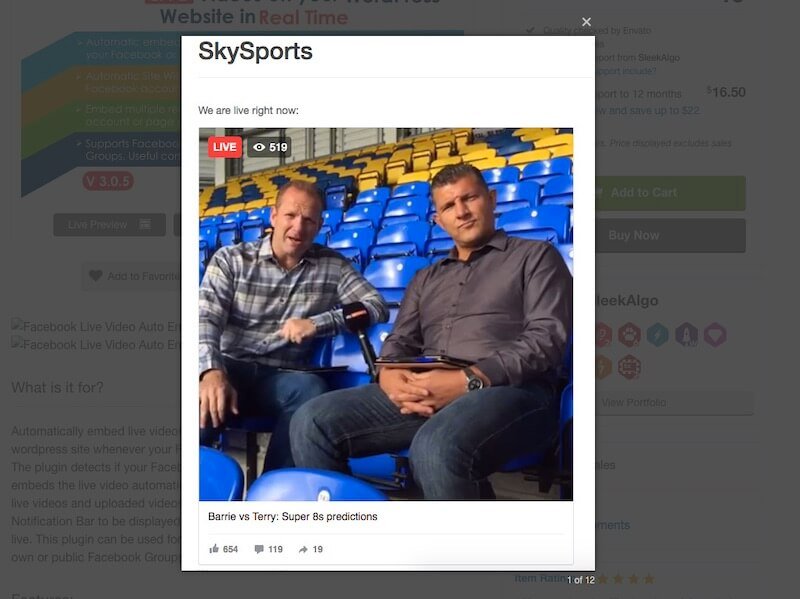 An automated and easy to use Video, as well as audio, embedding plugin for WordPress, Facebook Live Video Auto Embed for WordPress is another feasible choice for people looking for an embedding plugin.
The best part here is that you can embed Live Videos directly into your website for any Facebook user, page, or group.
07. Video Gallery WordPress Plugin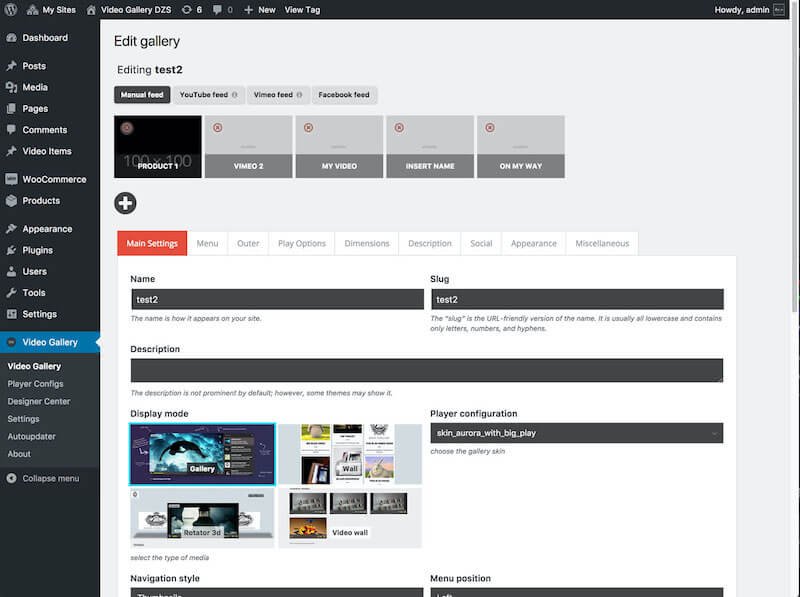 One of the most simplified and powerful video player WordPress plugins, Video Gallery has been used by thousands of people from all around the world. A great plugin for deep linking and YouTube API, Video Gallery is a great choice for all.
08. Universal Video Player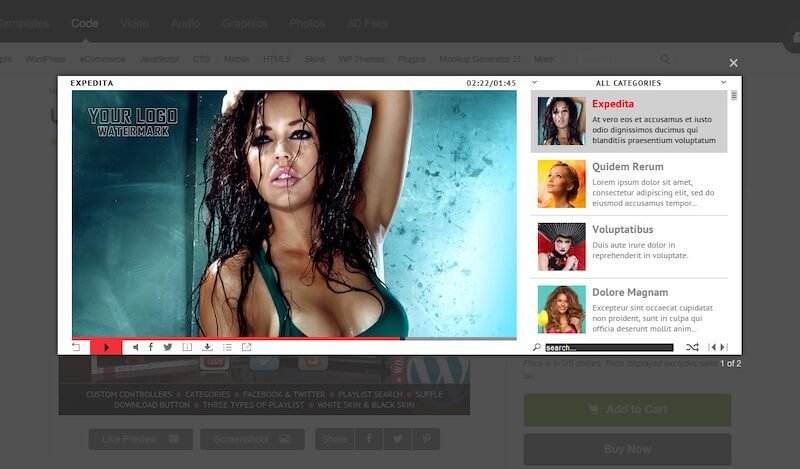 One of the few plugins offering capabilities for self-hosted and embedded videos, Universal Video Player is a great option for people with less technical knowledge. A best-seller, Universal Video Player offers support to MP4 and WEBM files.
09. ProgressionPlayer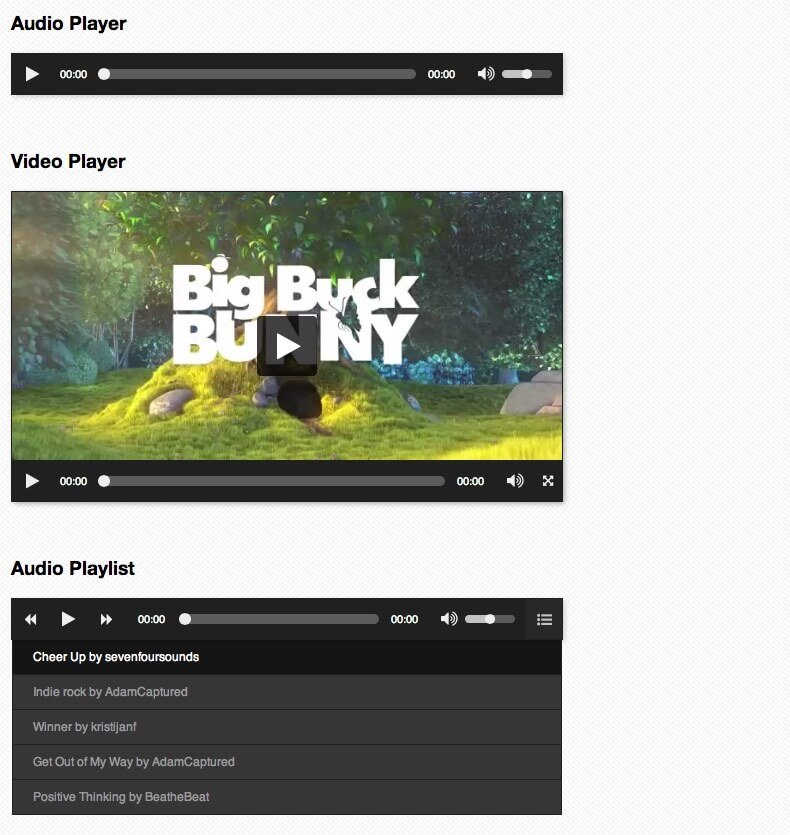 ProgressionPlayer is one of the easiest to use in this list. A full-packed intuitive suite of features, ProgressionPlayer offers an amazing responsive layout and easy to manage functionalities to all kinds of users around the world.
10. Videojs HTML5 Player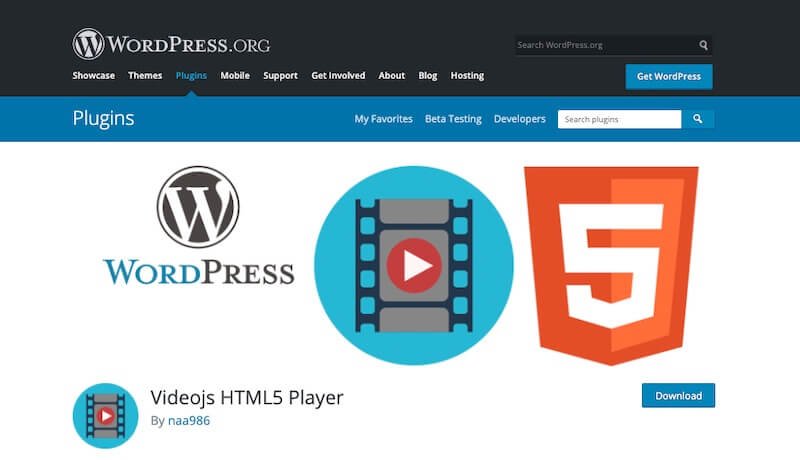 Videojs HTML5 Player is another video player WordPress plugin that offers MP4 embedding into any kind of WordPress posts and page. The plugin is very lightweight and offers a clean interface as well.
11. CP Media Player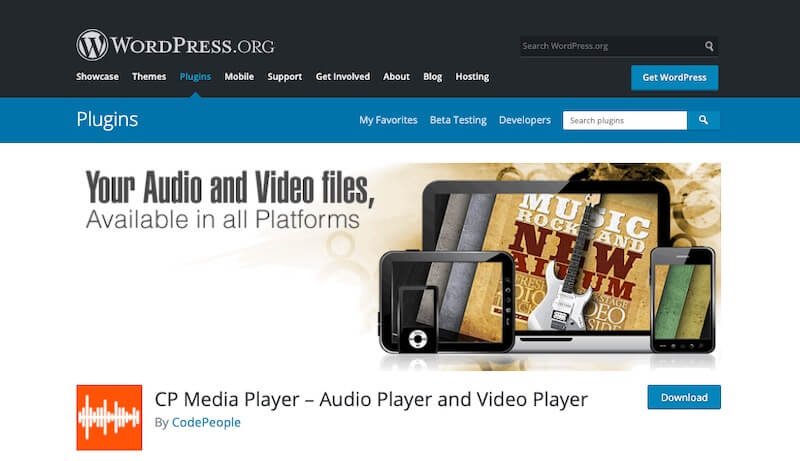 CP Media Player supports MP3, WebM, OGG, MP4, and WebSRT video types. The plugin even empowers users to play videos in standard html5 implementing browsers as well.
You can publish an audio player or a video player on your site using this plugin. It supports all the popular browers.
And to make your player look professional on your iste, the plugin offers a number of different skins that you can select from.
12. FV Flowplayer
A comprehensive solution for embedding videos into any page or post. This plugin even allows you to loop videos easily.
This is a free video player that you can use to add videos to your WordPress pages or posts. It is a fully responsive plugin, that will make your videos work perfectly on mobile devices.
Another advantage is that it offers you built-in branding option. You can add start and end screen to your videos to add any branding related content.
13. Flowplayer 6 Video Player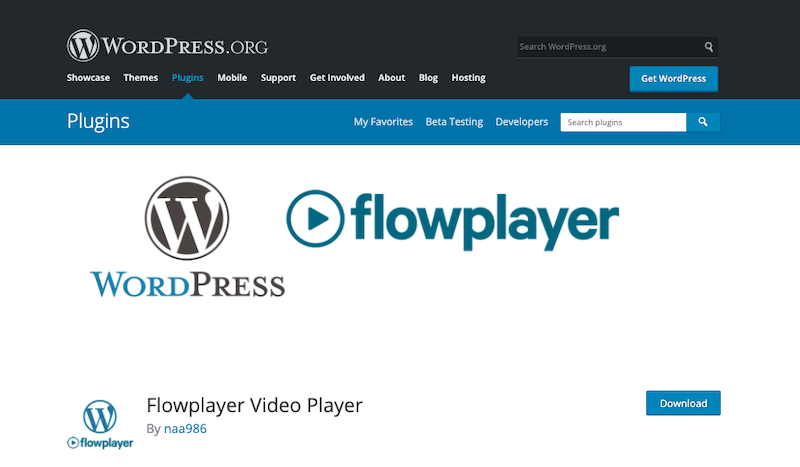 Flowplayer 6 Video Player offers a base framework that offers easy customization and great performance. The best part here is the simple user experience.
It is a very simple video player plugin that gives you quick option to add professional video player on your site.
14. WordPress Vimeo Videos
Dedicated to Vimeo, this plugin empowers users to add a full-fledged video gallery, along with video widgets, Vimeo channels, bulk import, and SEO features.
15. Frames Video Player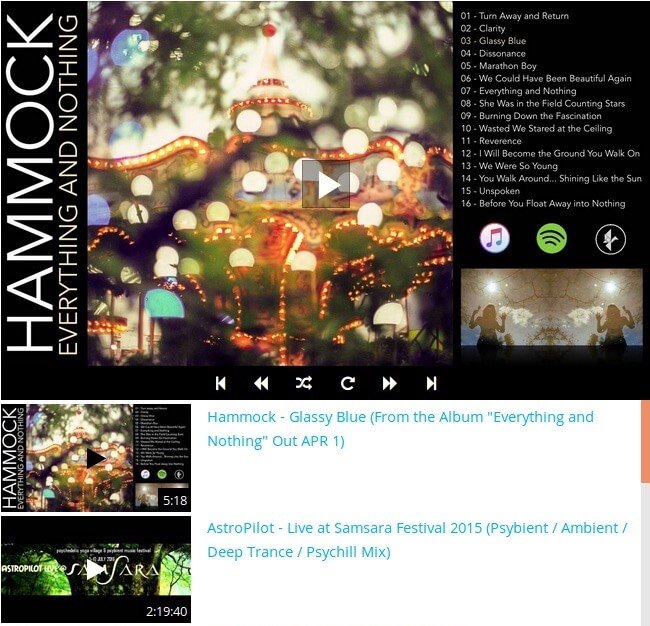 Frames Video integrates a lot of basic functionalities and empowers users to custom design video galleries. The player also has amazing SEO features as well.
16. Video Sidebar Widgets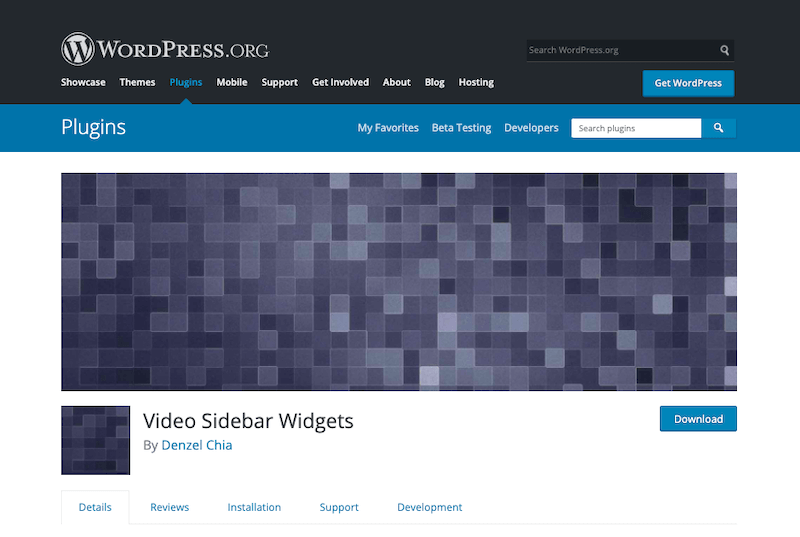 As the name suggests, this is a plugin to add videos in the sidebar using the WordPress widget. You can add videos from 14 different video platforms that includes all the top video sites such as Youtube, Vimeo, BlipTV, Google etc.
You can use this plugin to showcase the latest video from your YouTube channel to engage your users. If you are managing any product through your WordPress site, you can use this plugin to add your product intro video in the sidebar.
17. Embed Plus for YouTube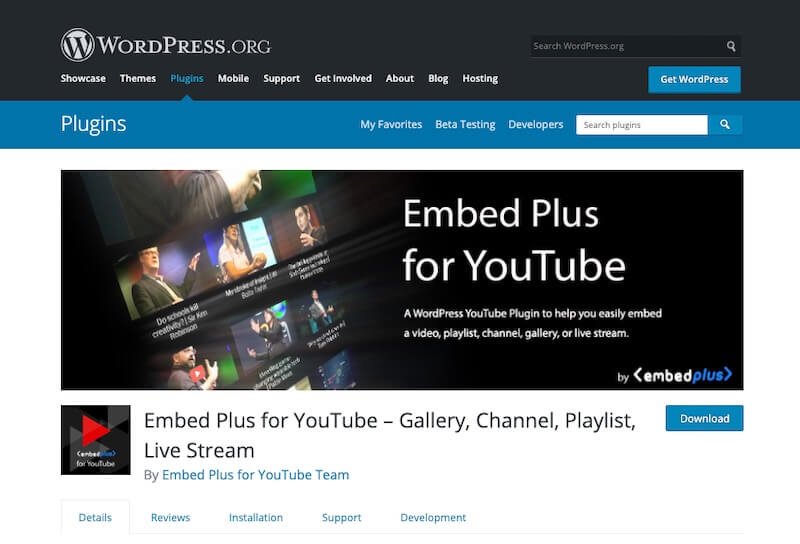 With over 200k active installations, the Embed Plus for YouTube is one of the top free video plugins for WordPress. You can use this plugin to embed videos from YouTube, you can also create your own playlist right on your WordPress blog.
If you livestream regularly on YouTube, now you can embed your livestream videos on your WordPress site using this plugin.
This plugin is fully compatible with the Gutenberg editor and it still works perfectly with the old classic editor.
Final Word
So this was the list of the best Video Player WordPress Plugins. I hope you have found a suitable video player for your WordPress site.
Let us know if you have any question using the comment form below.