Integrating a survey into your website is an excellent way to engage your audience and grow a business with a clear vision.
All in all, if you want to better serve your user better, then it is best if you just ask directly about how you can be of help.
If you are a WordPress user, then you can simply install a survey plugin to help you with the purpose. A WordPress survey plugin will integrate a survey form into your WordPress website which will help you to easily collect user feedback.
Now with that being said, the WordPress CMS is filled with a variety of different survey WordPress plugins – and all of them are advertised as the "best." This can stir up some confusion and make it hard to select the best Survey plugin that suits your needs.
And so for the purpose of this read, we have put together a diverse list of some of the best Survey plugins for WordPress.
All of them offer a diverse collection of features, alongside maintaining reliability and security. Furthermore, we have made sure to bring you a decent mix of free as well as paid plugins so that your budget doesn't become a cause of concern.
So with that being said, let's jump into our list of the best survey plugins for WordPress:
What Are The Best Survey Plugins for WordPress?
There are a number of good quality quiz and survey plugins for WordPress. We have tried to list the top survey plugins in this article.
01

. eForm
eForm is one of the most comprehensive form builder plugins for WordPress that comes with a number of free add-ons that you can use to create your surveys.
You can easily create custom forms for various requirements such as online surveys, feedback, payments, data collection of anything else that you on your site.
eForm comes with a live form builder tool to make it easier for the users to create completely custom forms for any requirement. You can add the fields that you need on your form and make it ready within a few minutes.
You can add various options depending on your requirement from multiple available options. You can connect it with a number of third-party services such as PayPal, Zapier, WooCommerce and more.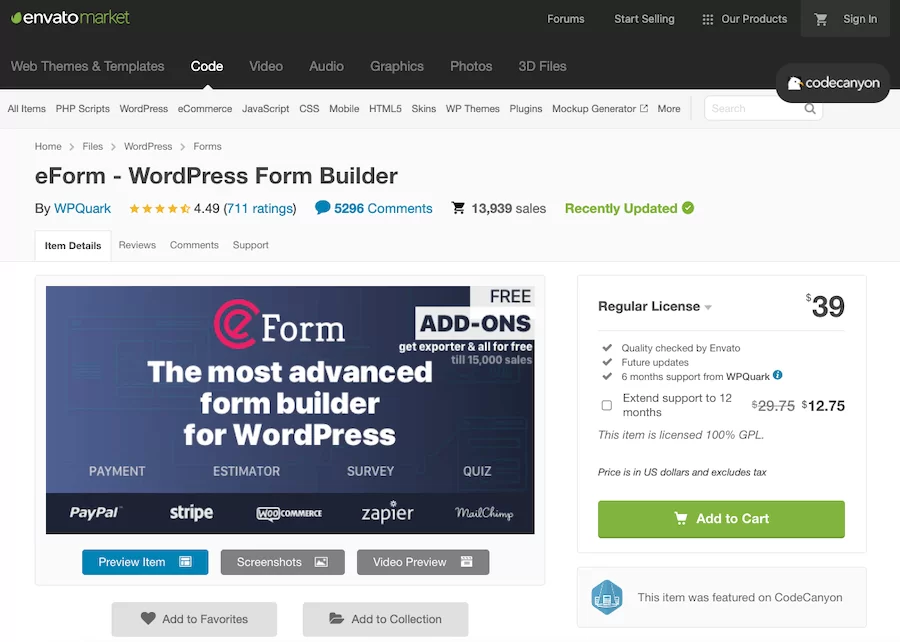 02

. WPForms
WPForms is by far one of the best and most powerful WordPress form builder plugins in the market. It features a drag and drop form builder which allows for easy creation of contact forms, order forms, donation forms, payment forms, and yes – survey forms.
The entire form builder interface is super easy to use and is extremely user-friendly. But at the same time, it packs in a whole arsenal of features which will allow you to create highly advanced and powerful survey forms.
Features: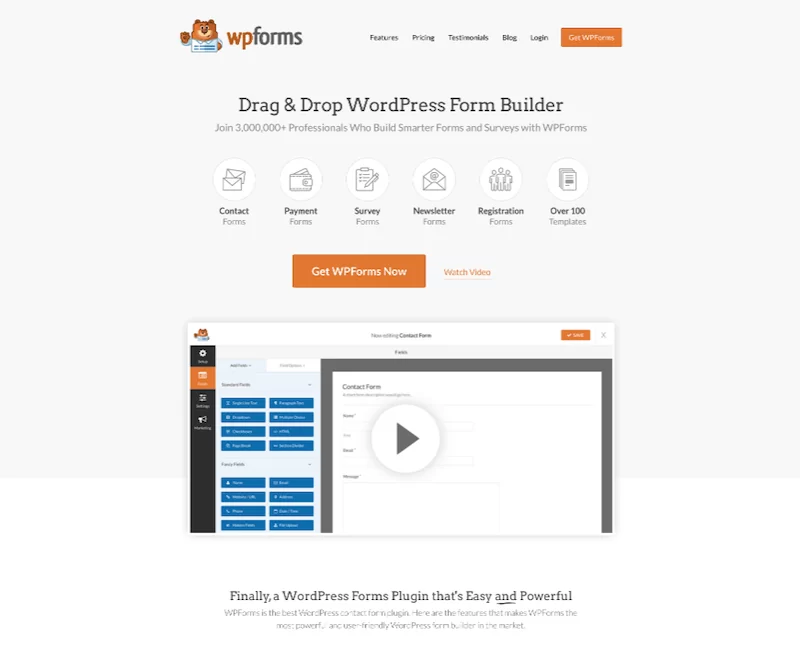 03

. Gravity Forms
Gravity Forms is another form builder plugin for WordPress featuring a lot of tools and options to help you create a variety of forms. Now, unlike some of the other plugins in the list, Gravity Forms offers all its features in the form of add-ons.
It is a paid plugin and comes in three different pricing brackets. The Elite plan comes with a dedicated add-on to help you create surveys for your website.
And although it is extremely expensive, the abundance of features that you will be getting does justify the price. If you are looking to create some of the most advanced survey forms for your website then, this is the plugin to get.
Features:
04

. Crowdsignal
Instead of surveying your users with the help of Forms, you can do the same by using Polls as well. In fact, some users might refrain from filling out long boring forms, and you might have better luck by integrating polls because they are considerably quicker and easier to fill out.
Now, when talking about WordPress and polls, Crowdsignal is one such plugin that immediately pops to mind. Created by the team behind WordPress, Crowdsignal is one of the top plugins to create engaging polls on your WordPress site.
Crowdsignal is a freemium plugin that offers a free version of the plugin that you can download from the WordPress plugin repository and if you wish for the premium version, you can get it from the Crowdsignal site.
The free version of the plugin allows you to collect up to 2,500 signals whereas the premium version can be used to collect unlimited signals.
If you are going to try the premium version of the plugin, you get a 30 days money-back guarantee.
The pro version of the plugin offers you a number of features such as 24×7 support. You can connect the data to Google Sheet to analyze it further.
Features:
05

. Formidable Forms
Next up we have Formidable Forms, another form builder plugin loaded with a lot of powerful features and functionalities. It lets you easily create simple to advanced survey forms by utilizing an arsenal of ready to use form fields.
Besides allowing you to create compelling survey forms, the plugin can also render the collected data into easily understandable charts and graphs. There is even the option to post these charts and graphs directly into your website so that your audience can view them as well.
Features: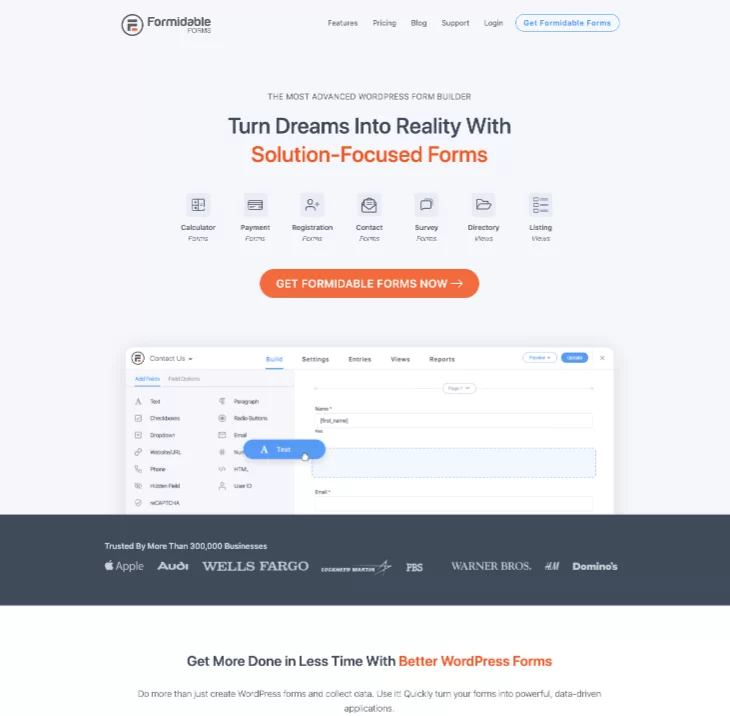 06

. Ninja Forms
Ninja Forms is another popular and quite powerful form builder plugin for WordPress. The plugin doesn't support survey building features out of the box, but you can install additional extensions for the purpose.
With that being said, it should be pointed out that the core plugin is completely free to use. And to create survey forms, you will have to install two extra add-ons for Conditional Logic and Multi-Part forms which however are paid.
But do note that you will not get any support for reporting or representing the collected data.
Features: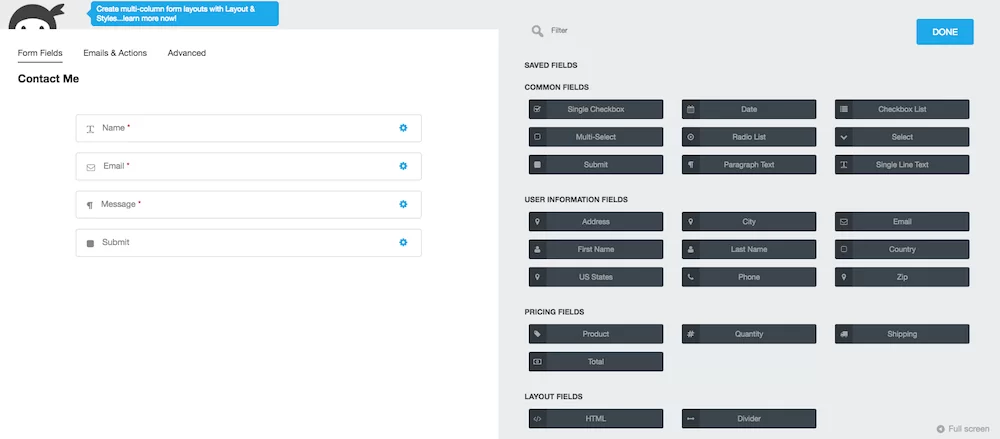 07

. WP-Polls
WP-Polls is a free-to-use polls plugin for WordPress. It features a lot of customization options to help you create some good looking polls for surveying your audience. You also get access to plenty of templates and CSS styles which can help you with the customization process even further.
Now it is here that it is worth noting that since the plugin is free it is somewhat lacking on the feature front. For example, you won't get any drag and drop builder for creating your polls. Instead, you will have to use radio buttons and checkboxes to collect user data.
Features: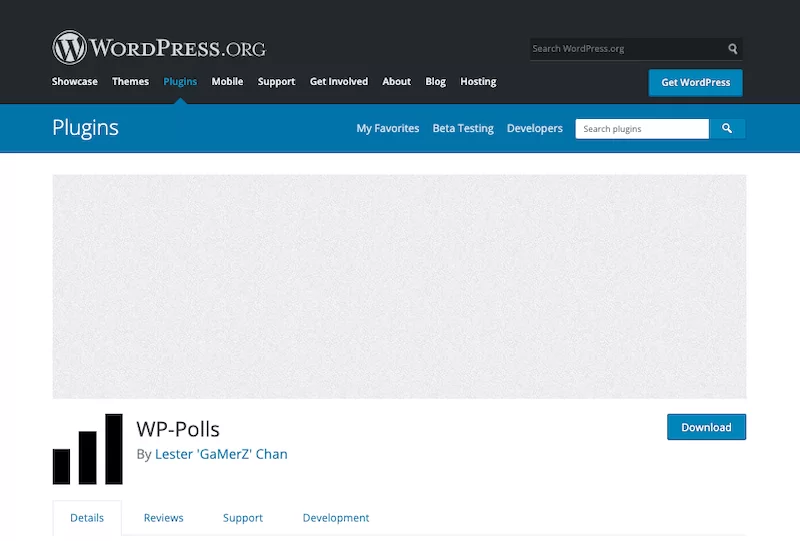 08

. Quiz and Survey Master
Quiz and Survey Master formerly went by the name Quiz Master Next. It is another free WordPress survey plugin which allows you to add surveys as well as quizzes (as the name implies) to your WordPress website.
It has a lot of features even though it is free to use. And if you want access to even more advanced functionalities, then you can pay for its premium version. However, the plugin's UI for creating these surveys and quizzes is a little messy and not be the most intuitive.
Features: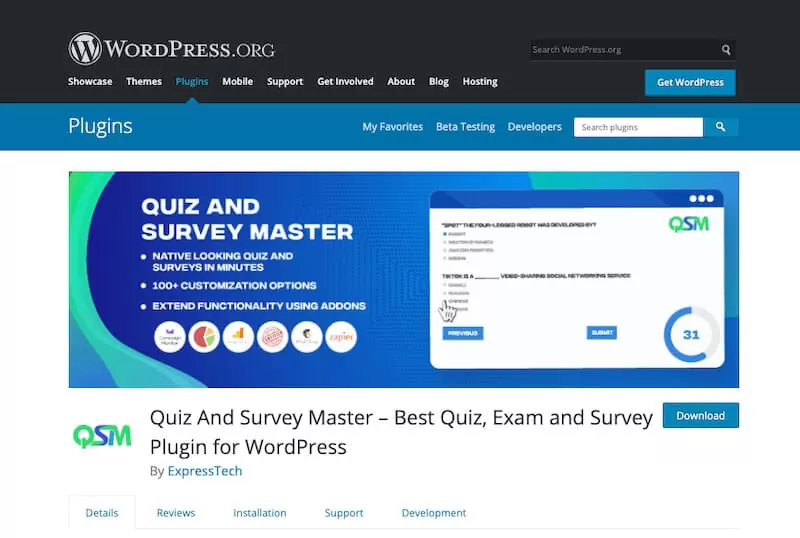 09

. Opinion Stage: Poll, Survey, Quiz, Slideshow
This plugin sports a hilariously long name but also stays true it by providing all the features mentioned in it. You can grab the plugin for free from the WordPress plugin repository.
But don't be fooled by its free pricing as it delivers a lot of advanced features to help you create stunning survey forms.
For starters, the plugin allows you to add images and videos to help create more engaging surveys. On top of that, you can include different types of questions like single or multiple-choice, open-ended and so on, to add in some diversity.
Also at the end of each survey, you can add a call-to-action for lead generation.
Features: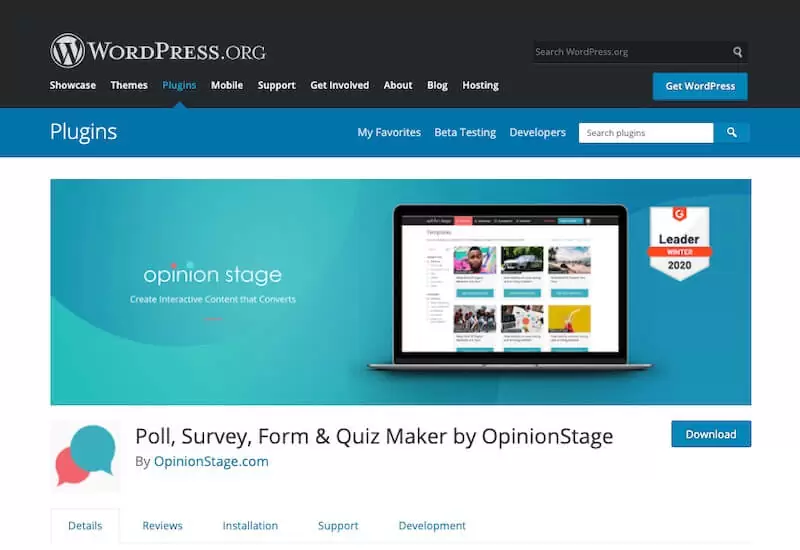 10

. Form Maker by WD
Form Maker by WD is a freemium form builder plugin for WordPress. This is to say that plugin features both a free version as well as premium version.
Depending on which version you choose, you will be greeted with a whole host of awesome features for creating powerful survey forms.
The free version features all the basic functionalities to help you create a diverse array of different forms including surveys.
All of these can be done easily by utilizing the built-in drag and drop page builder. On top of that, if you have some coding know-how, you can use the CSS editor to add in your own custom functionalities.
Features: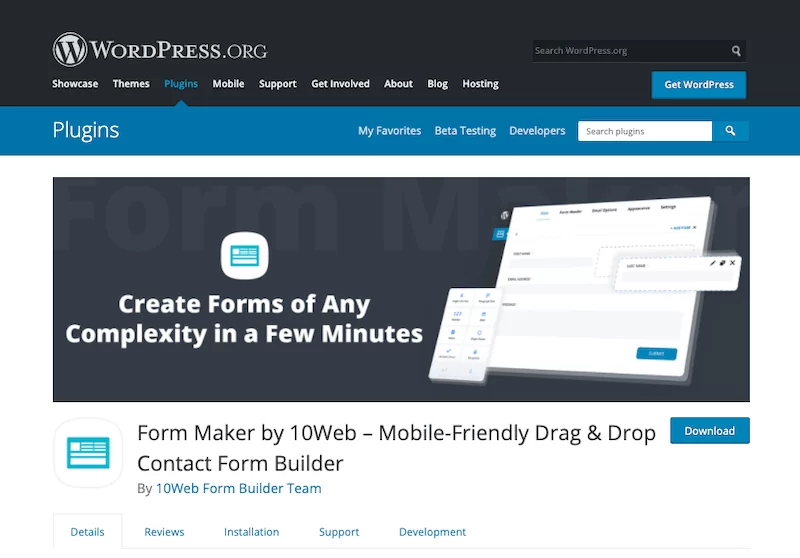 11

. Forms by CaptainForm
Forms by CaptainForm is a freemium plugin that comes with a wide array of features. It is extremely flexible in terms of functionality and can help you create diverse types of forms including survey forms.
And even though it is packed with so many features, it still manages to keep a clean and user-friendly UI for convenient usage. All the forms can be easily integrated into your blog posts, pages, sidebars, or popups.
You can also implement conditional logic and other advanced features to make them more interactive to better collect user feedback.
Features: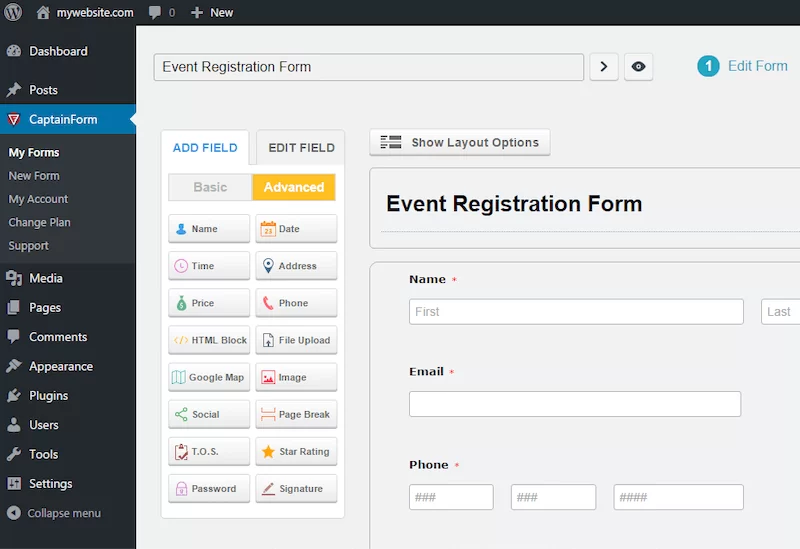 12

. YOP Poll
YOP Poll is another polls plugin for WordPress. It can help you to create surveys and polls for collecting user feedback. The backend interface is super easy to use which allows you to create polls very quickly.
After you have created the polls you can add them to your website using shortcodes or widgets. There is even the option to run multiple polls simultaneously, at the same time.
Features: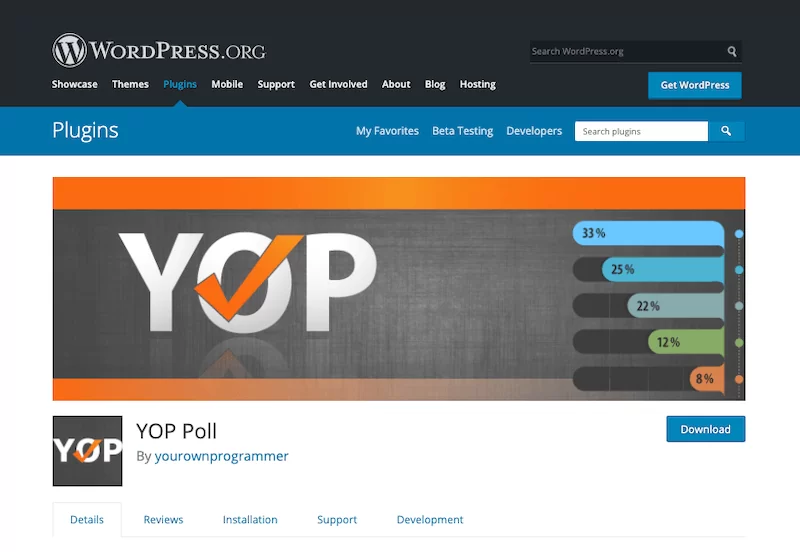 13

. NEX-Forms
And finally, we have NEX-Forms WordPress plugin. It is a premium plugin boasting a lot of premium and advanced functionalities and a ton of elements to help create stunning web forms, and yes survey forms.
With an overload of advanced options, you can use it to create any type of forms and imbue it with all the advanced features and functionalities to create something truly amazing.
Features: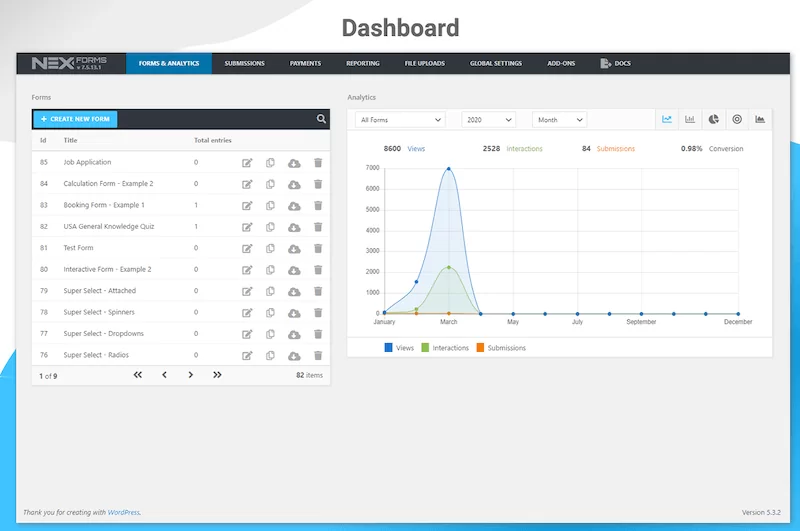 14

. Watu Quiz
A simple quiz and survey WordPress that you can use to create quizzes for your audience or your students if you are managing an eLearning site and show the answers instantly.
You will also have the option to assign grades to your audience. While putting up the questions for your survey, you can assign points to each answer and the plugin will derive the grade based on the total points scored by the user.
The plugin gives you the option to choose from the free and the pro version. The pro version of the plugin comes with a lot of features that will help you to create a complete eLearning portal.
You will have features like students' login option, a comprehensive grading system and a lot more.
Features: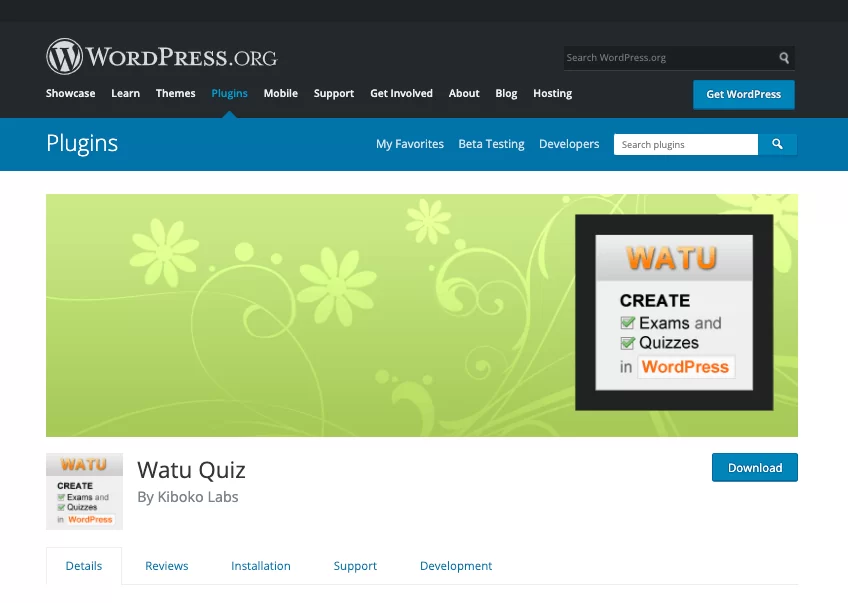 In Conclusion
So these were our picks for the top survey plugins for your WordPress website. We hope you found this read to be helpful.
If you did, don't forget to share it along with your friends and colleagues who might also need a survey plugin for their own website.
Also, if you have used any of the plugins we have mentioned here on the list, then please do write about your experience using them in the comments.
People will love to get an insight from a fellow reader and it might help them with their own judgment of which plugin to pick.