Are you looking for the best Slack alternatives that you can use for team communication? Well, we have listed the top software like Slack in the list below.
Slack is one of the best team collaboration & quick communication SaaS platforms that you can use while working on a project.
Slack has remained one of the top online workspaces in the recent past. It is used for messaging apart from collaborating with the workspace in general.
Used by millions of organizations and businesses, Slack has remained one of the top preferences. Slack was built with the belief that life is all about communication, and e-mail no longer serves all the needs. 
However, there are a number of modern alternatives to Slack if you wish to try a different platform for any reason. We have listed the best Slack alternatives in the list below.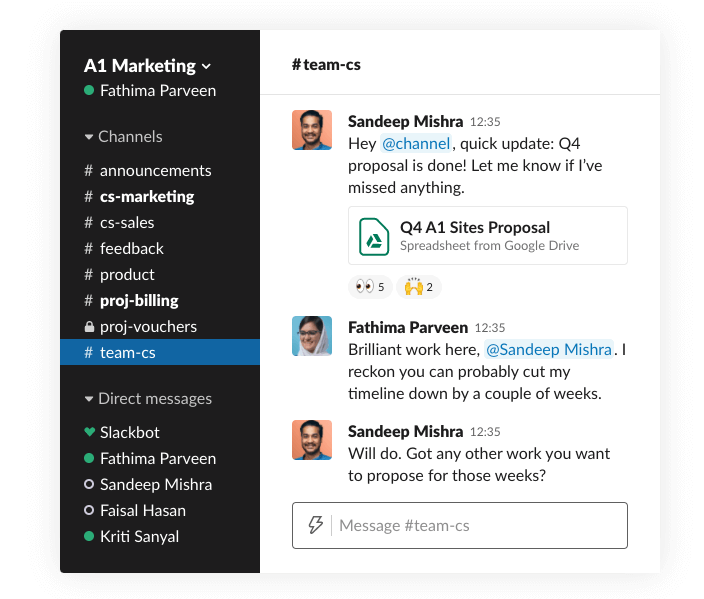 What Are The Best Slack Alternatives?
A Quick Price Comparison of Top Slack Alternatives.
| Product Name | Featured Image | Free Plan | Min Price | Mx Price | NitDit Score |
| --- | --- | --- | --- | --- | --- |
| monday.com | | Yes | $8 Seat/Month | $16 Seat/Month | 93 |
| Flock | | Yes | $4.50/Month | $4.50/Month | 93 |
| Chanty | | Yes | $3/Month | $3/Month | 93.5 |
| Microsoft Teams | | Yes | $4/User/Month | $12.50/User/Month | 92.5 |
| Workplace From Meta | | No | $4/Month | $4/Month | 92.5 |
| Rocket Chat | | Yes | $7/Month | $35/Month | 92.5 |
| Spike | | Yes | $5/Month | $10/Month | 92.5 |
| ProofHub | | No | $45/Month | $89/Month | 92 |
The best part about monday.com is that once you get along with all the features and tools integrated, you get to explore tons of different views for your project board. The basic and integrated view is called a Table view, or simply a Table. You also have access to a Map view, Calendar view, and the Kanban board. The purpose...
All-in-one solution
Complete project management & CRM solution
Easy drag and drop project planner
Over 200 ready templates
All features for remote team
Offers free plan
Learning curve for newbies
Top features are limited to higher plans
Gone are the days when email was the only solution for collaboration and team communication. Team messaging apps of modern times are simplifying the way things work today. In the presence of top players like Slack and Microsoft Teams, new players like Flock are making their presence felt. Why Flock? Flock's interface is one of the best in the category....
Offers a completely free plan
Quick communication options
Text message, voice and video calling
Group messaging and video calling option
Team collaboration option
Team video conferance
File sharing option
To-do listing creating option
Project timeline and reminders
Users complained about notification lag
Issues with file sharing
Collaboration requires ensuring that all the team members are on the same page. However, ensuring this is difficult if the communication is not streamlined. Chanty is a platform designed to streamline communication between team members without compromising quality. In short, it provides an efficient way to collaborate and boosts team productivity. Chanty is especially helpful for: Marketing Education IT specialists ...
Offers a completely free plan with unlimited messaging
User-friendly interface
Voice and video calling feature
Team video conferencing option
Complete task management option
Free version is limited
Limited integration options
Microsoft Teams has quickly become one of the most popular business communication and collaboration platforms on the market today. And it's no wonder why – with its robust feature set, ease of use, and integration with Office 365, it's a tool that can help any team work more efficiently. In this review, we'll take a look at what Microsoft Teams...
Microsoft Teams offers a completely free version
Microsoft Teams is included in all Office 365 plans, so you may already have access to it.
It's easy to use and has a very user-friendly interface.
Microsoft Teams integrates with a lot of other Microsoft products and services, such as Office 365, SharePoint, and OneDrive.
It has a robust feature set that includes video calling, task management, file sharing, and more.
The free version of Microsoft Teams is very limited.
You need an Office 365 subscription to get the most out of Microsoft Teams.
It can be difficult to find certain features, such as the screen sharing tool.
Business organizations are always looking for easy-to-use and personalized collaboration solutions. These kinds of applications not only help in enhancing productivity but also empower teams to streamline all their business complexities. Compared to the competitors, the pricing models of the Workplace from Meta are quite affordable. If you love to combine work and social media, then Workplace from Meta is...
Easy to use interface like Facebook
Newbie user friendly
Audio and video chat option
Video conference
User profile and newsfeed updates
Poll, survey option
Doesn't offer free plan
Alternatives with better security available
Now that we know the real purpose of Rocket Chat, it's time to check how exactly this platform works to provide data protection and security to its users.  Firstly, it is a comprehensive platform designed both for individual users and a team. The platform allows users to create private or public channels depending upon their need to start a conversation. ...
Offers a completely free plan
Omnichannel customer support
Unlimited push notifications
Team collaboration option
Completely customizable
Some users complained about stability issue
Premium plans can get costlier
If you are looking for software to make your email conversations better and more user-friendly, Spike is a very handy tool that will remove clutter and convert the email conversation into a chat format that is easy to read.  It makes reading emails easier, saves time and brings in the best feature of both email and chatting in one place....
Instant messaging & chat option
Priority email inbox
Video meeting option
Collaborative group inbox
Task & to-do list manager
Voice messaging option
Complete file manager
Free version is very limited
No email signature
ProofHub plays a crucial role in delivering projects on time. To understand how ProofHub works, it is essential to know why delivering projects on time usually fails. There are mainly three key reasons that contribute to the failure of a project.  Firstly, there is a weak or no plan to work on the project. Second, one of the biggest reasons...
All-in-one project management solution
User-friendly interface
Affordable pricing
Advanced features such as Gantt charts, Kanban boards, and time tracking
Limited integrations
Some features can be confusing to use
Fleep is a great software for remote team management. You can use this software for a quick meeting with your team, for messaging, conference, file sharing, and managing all daily tasks related to your business.
Fleep will help your team to be more productive and avoid to and fro emails. You can use this software for business coordination task management so that your entire team is updated with all the happenings in real-time.
Zulip is another very handy alternative to Slack. Like you create channels in Slack, you can subscribe to different streams in Zulip that combine conversations on a specific topic.
It will make your team communication a lot more productive and well organized. It is open-source software that is developed by over 700 developers from across the world. You can use Zulip through all different devices such as Desktop, Web, Android, iOS devices.
Troop Messenger is a comprehensive communication software that you can use for messaging, calling, video calling, audio messaging, screen sharing, remote desktop control, and a number of other features that make this software a great alternative to Slack for businesses.
It will nicely organize all your team communication and make sure that you can discuss & plan everything about your project with your remote team and keep a track of all updates.