In this article, we will look at some of the best SEO tools to supercharge your WordPress site and make a big success.
Now, before we move ahead with the list of SEO tools, you must understand that the tools are only to support you. You have to create meaningful content on your blog that is helpful for users.
For small businesses, SEO and search engine algorithms can be a daunting challenge, but business needs to conquer them to remain on top.
Fortunately, the Internet has provided us with a range of SEO tools to function effectively and efficiently. We've done extensive research and compiled a list of best SEO tools for your WordPress site.
There are hundreds of SEO tools these days that offers you different services related to SEO and marketing. But, it is practically not possible to use all of these tools. So, we have listed the top tools here that will offer you comprehensive solution for your business.
Have a look!
It's needless to say that installing Google Analytics on your website is still considered one of must do tasks as your site gets ready. It is still the best sources for tracking your site's traffic. Although it is a free SEO tool, it has the potential to give a tough competition to other paid tools.
Given the fact that you must be looking for a budget SEO tool for your small business, we've kept Google Analytics in the first place.
Here is a list of the best Google Analytics WordPress plugins to help you connect your site with the Analytics account. These plugins will bring in the Analytics data right on your WordPress dashboard to make things easier for you and track your traffic right on your site.
Benefits: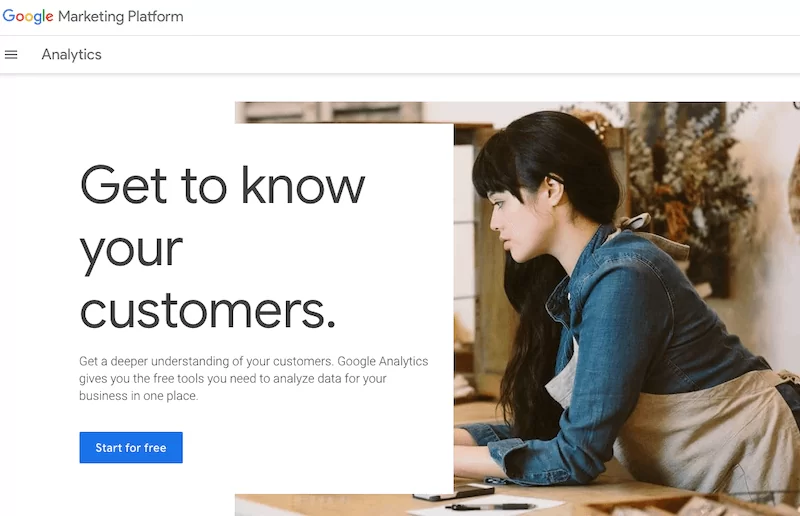 If you're looking for a tool to outrank your competition, SEMrush offers top-notch features to not just help you rank better than your competition but also help you track your competitors' strategies.
From organic and advertising research to backlink audit and content distribution, SEMrush has covered everything.
You can use SEMrush to audit your own site to make sure that it is safe and working perfectly. You can find the toxic links that might have a negative impact on your site. We have seen even bigger brands getting Google penalty for low quality links.
You can use the tool to do a detailed analysis of your competitors and find out their top performing pages. You can also find their backlink sources and try to replicate those links for your site as well.
To Analyze any domain, you can start with the domain overview report. It will give you all the important details of the domain you make a search for, such as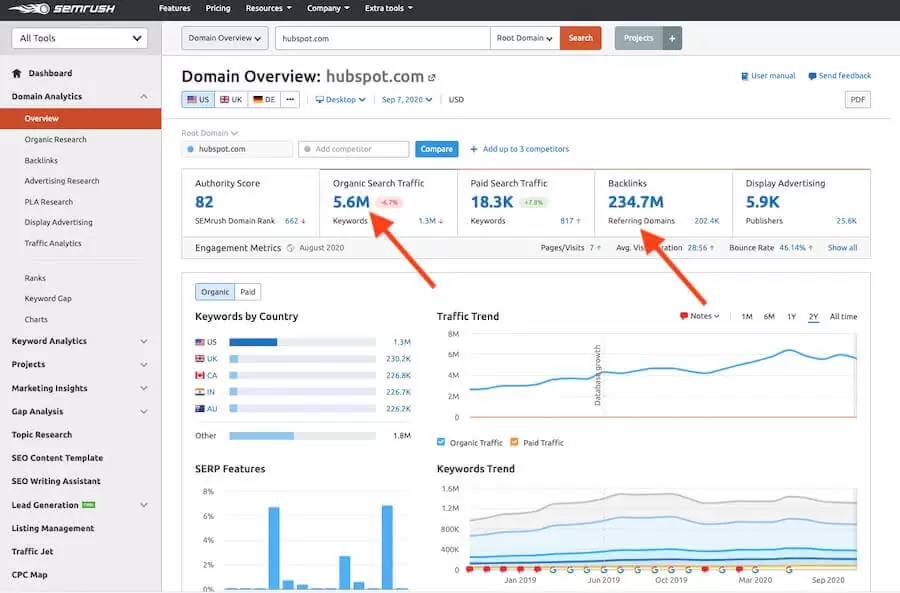 SEMrush is not just an SEO analysis tool but a complete solution for business with SEO analysis tool, paid campaign analysis to find the PPC campaigns of your competitors, social media management tool.
So, once you have SEMrush tool for your business; you will not need another tool to manage and grow your website.
Here is a detailed review of SEMrush and 50 ways to use SEMrush. This article will give you in-depth knowledge about the tool to make sure that you are able to make the best out of SEMrush.
It is also trusted by some of the business giants such as Booking.com, HP, eBay, and Quora.
Benefits: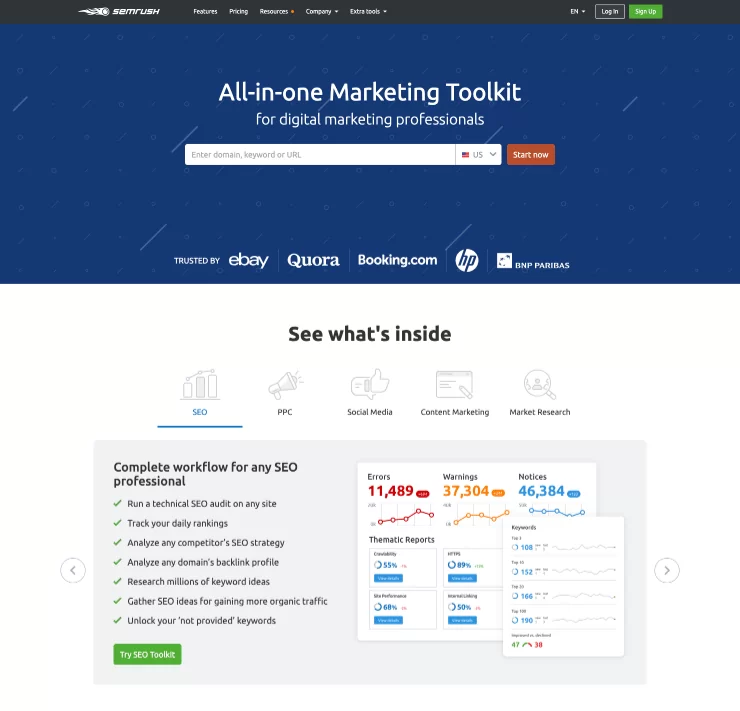 HubSpot is a marketing giant and when it comes to SEO tools, it provides an all-in-one inbound marketing solution for your small business. 
With easy integration of Google search control and HubSpot, you can get a detailed report of your performance. You can also gain valuable metrics from the tool that will help you optimize your content and rank better on the search engine.
Benefits: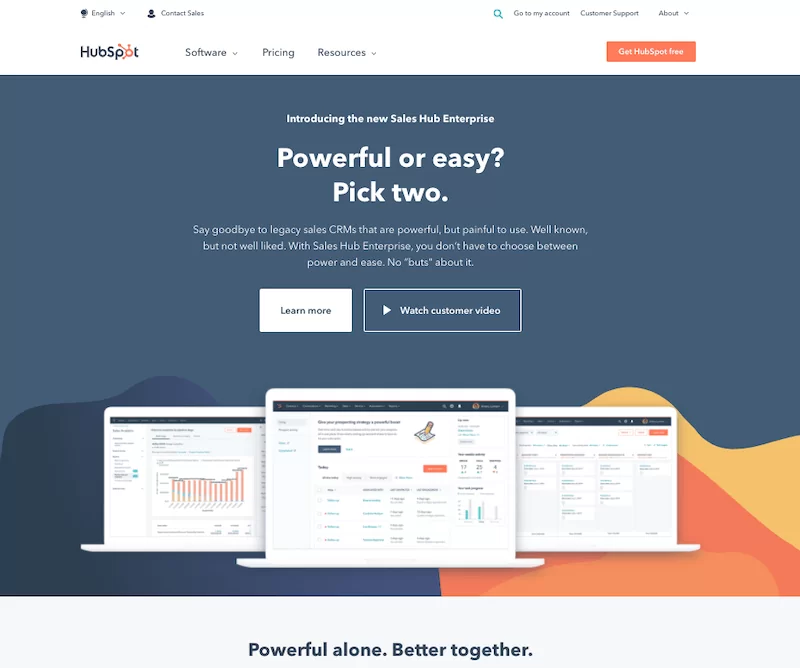 Ahrefs is another all-in-one SEO toolset that claims that you don't have to be an SEO pro to help your site rank higher. 
From tracking your ranking progress and optimizing your website to finding the best keywords and analyzing your competitors, Ahrefs has covered all the aspects of SEO. In fact, many professionals consider Ahrefs one of the best backlink research and audit toll on the web.
Ahrefs is similar to SEMrush, it offers a number of different tools that will help you go deep into your competitors site. You can analyse the best keywords that are driving the top traffic, find the source of backlinks and all other details that will help you to grow your site.
You can start by analyzing any domain.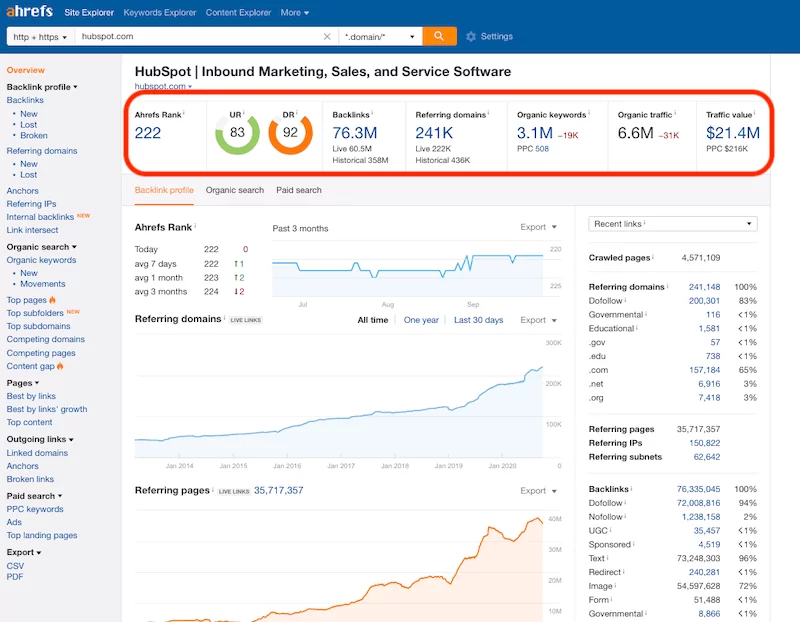 Once you have the details, you can click on the numbers and go for in-depth analysis.
There are a number of options in the left sidebar, you can use those features to understand any website better. For example, you can check the top pages of the site; this will give you some idea about the potential content that you can work on.
Benefits:
Mangools is not an all-in-one SEO tool but it covers all the necessary requirements of your small business through its features.
With Mangools, you'll get features of keyword research, SERP analysis, rank tracking, SEO metrics, and backlink analysis. The advantage of using this SEO tool is that you don't have to pay for all the services, you can pay for the feature you want for your business.
Benefits: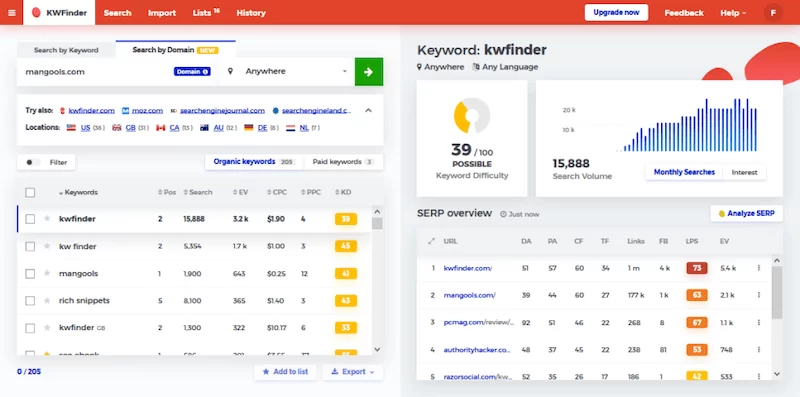 If you want to generate quality website traffic for your small business, you should definitely give a try Moz Pro. Although Moz Pro is a paid SEO tool, you can always use Moz as a free chrome extension if you have budget limits. 
Moz Pro has covered every aspect starting from keyword research and rank tracking to website crawling and optimizing. 
If you wish to find more tools like this, you can have a look at this list of top Moz alternatives.
Benefits:
Nightwatch is an affordable SEO tool that has gained more popularity in recent years. It's advanced SEO performance tracker and the analytical tool has been employed by many big companies such as Shopify, Scotia bank, and Rollbar.
Nightwatch collects data from all the major SEO and search sources so that it can provide the most accurate insights for your business.
Benefits: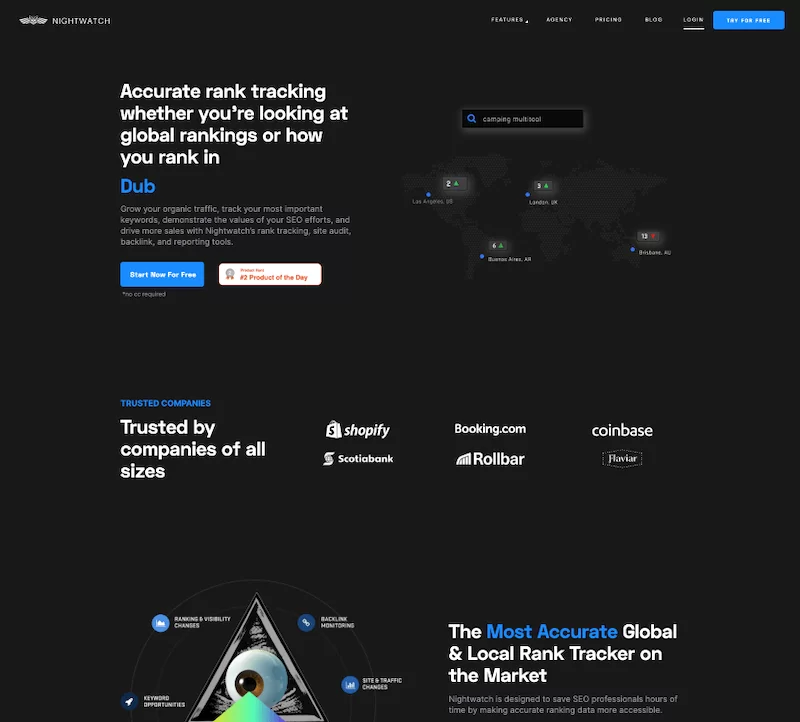 If you want to rank above your competitors on the search engine and you are dealing with budget problems, you should give Ubersuggest a try. It is 100% free and has some amazing features that you'll only see in premium tools.
Developed by Neil Patel, Ubersuggest provides you keyword finder tool, domain overview tool, and backlink data.
Benefits: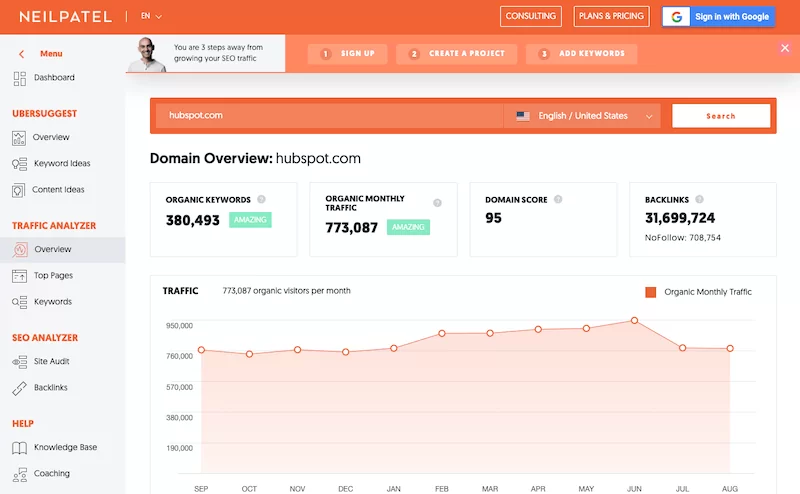 GTmetrix is somewhat different from the above-listed tools but caters to solve a critical ranking factor. We are talking about site speed and performance.
GTmetrix allows you to discover your site performance and optimization opportunities. It breakdowns your page or site performance in a summarized report that will help you perform better on the search engine.
Benefits:
Although there are plenty of keyword research tools on the internet, you'll need the one that will help you find long-tail keywords in minutes. As a small business, it will be important for you to optimize long-tail keywords to perform better in local searches.
Longtail Pro uses 3 methods for keyword research – related keywords, competitor's keywords, and manual keywords.
Benefits:
Conclusion
There are some SEO tools that will bring the best out of your marketing efforts. We know that it might be difficult for a small business to spend extensively on such tools.
Therefore, we added some high-rated free SEO tools as well. Choose the one that fits your purpose well, and supercharge your SEO.