RSS feed has been a very effective mechanism to get the latest updates from the best content sources on the internet.
People subscribe to Feedly, and other feed readers to get updates regularly. With the rise of social media and social reading platforms like Flipboard or Refind, The RSS feed mechanism is not as popular as it used to be.
However, it is still offering the quick service to bring you the best content from around the web to keep you updated.
There are a number of amazing feed online readers where you can use RSS feed of any site to get regular updates.
The RSS feed reader gives you the quick option to go through hundreds of different blogs in a few minutes rather than going to each one of them separately.
This can be very effective in keeping a track of your competitor sites to understand their content strategy.
So, here is a list of a few best RSS feed plugins that you can use.
01

. WP RSS Aggregator
With over 50k active installations, the WP RSS Aggregator has been one of the most popular RSS plugins for WordPress.
If you are planning to create an aggregator site, a news site where you wish to showcase feed from al big news site, this plugin can be very useful for you.
The WP RSS Aggregator plugin is used by many big sites that showcase content from different sites. You must have heard of Alltop which is one of the most popular content aggregator sites in the world if you wish to create a similar site you can use this plugin to get that done.
The best part about this plugin is the possibility of customizations. If you are managing a news site created with the WP RSS Aggregator, you can discover new feed without knowing the URL source.
You have the option to import only unique titles so that you can avoid duplicate news items on the list. You have the option to add custom CSS to style the feed as per your requirement.
Pros
Over 50k users are already using this plugin
Most comprehensive options panel
Discover new content
Import unique content
Available in different languages
Cons
You might need a strong server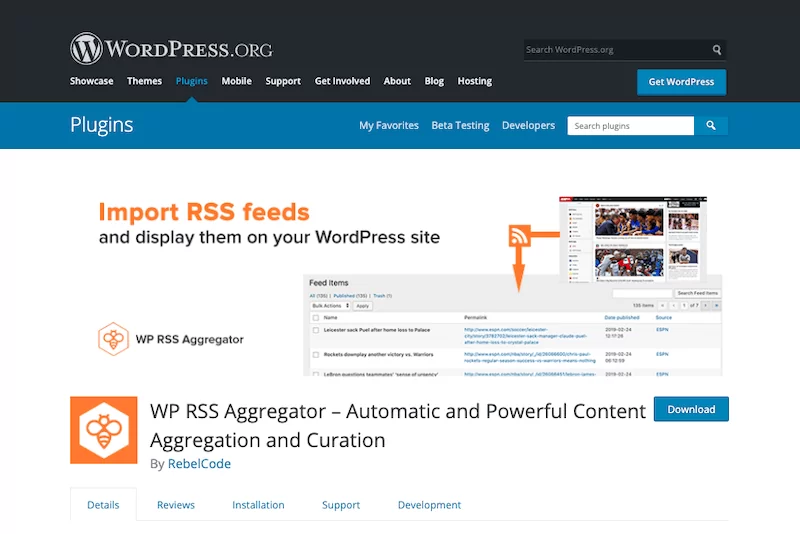 02

. FeedWordPress
A popular choice in the RSS feed section, this plugin has over 40k active installations and comes with a comprehensive solution to help you import RSS feed.
The plugin comes with extensive settings panel to help you import the feed for your choice. You can customize the feed you import, set the time interval of feed import and more.
Pros
Over 40k active installations
Easy customization
Comprehensive settings panel
Cons
You might need some technical knowledge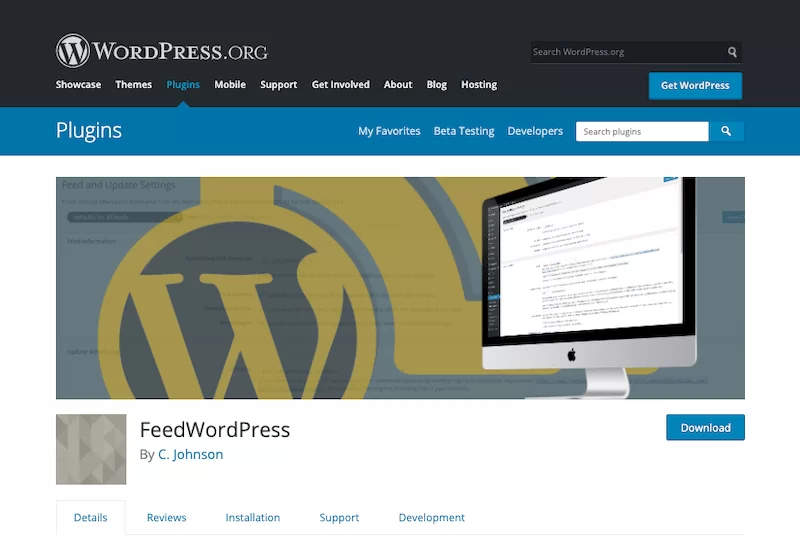 03

. CBX RSS Feed for Custom Post Types
When you uses a general RSS feed reader, it can only display the default WordPress post types. However, as as you can see in the name of this plugin, it can display posts from the custom post type.
The custom post types are very common these days. Be it a deal and discount-related site, a business listing site, or any other type of site, most of the sites use the custom post type to add these kind of post. And this plugin becomes very handy when you wish to display such posts.
Pros
Simple for free to use
Works with any custom post type
Cons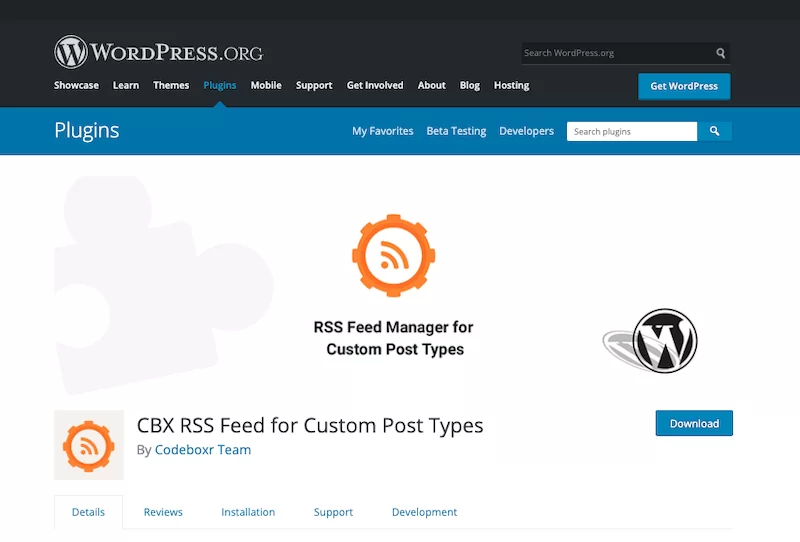 04

. FEEDZY RSS Feeds Lite
If you are planning to create an auto blogging site, the RS feed reader can be of great help to you. Like the WP RSS Aggregator plugin, this plugin can also be very effective in creating fresh new content on your site from the best sources regularly.
The plugin is simple and easy to get started. You will have a responsive design so that your users can enjoy your content through any device of their choice.
Some of the features are available only to the pro members such as the auto blogging feature, the option to import custom post types etc.
Pros
Over 20k users are already using this plugin
Easy to get started
Import content with images
Responsive design
Cons
Limited option in free version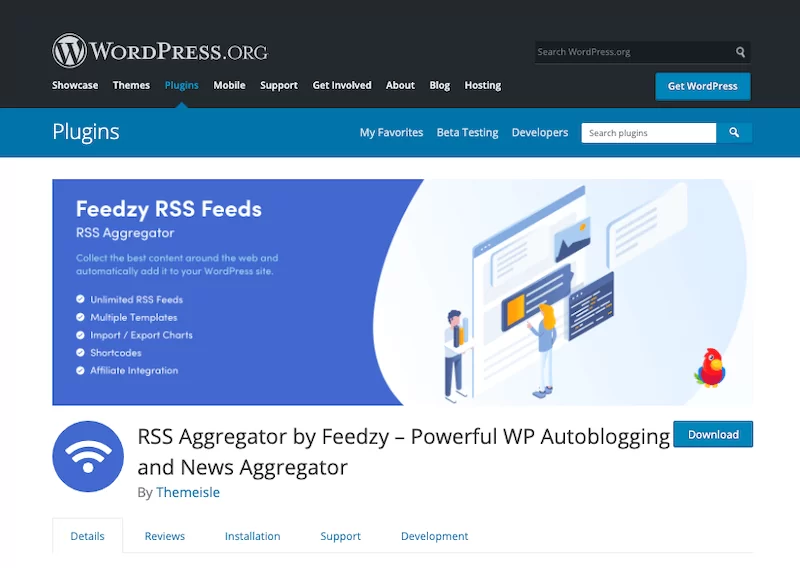 05

. RSS Just Better
Another simple yet useful RSS feed WordPress plugin that you can use to import content from different sources.
You have a number of options to showcase the feed on your site. You can use the shortcode to include the feed at any location of your site or you can use the feed only in the widget section of your site.
If you are already managing a news site in any niche, this plugin can be used to showcase news from Google News in a widget section as Google News gets fresh content more frequently to keep your site updated all the time.
Pros
Simple and easy to get started
Easy to use the shortcode
Widget support
Feed customization options
Cons
Image import not available
06

. RSS Image Feed
The advantage of this RSS feed plugin is that you will have a clickable image in the feed excerpt. Over 10k users are already using this plugin.
It is a very simple plugin that will quickly import the excerpt and image of any content that you wish to import using the RSS feed.
Pros
Over 10k users are already using
Image import option
Multisite support
Cons
Plugin not updated for recent WordPress releases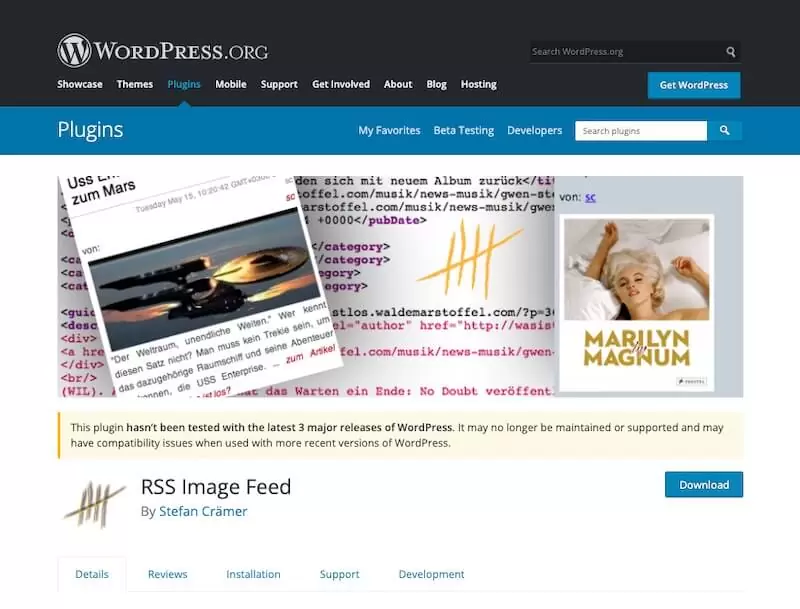 07

. Featured Images in RSS
Generally the RSS feed s are plain text and it doesn't fetch the featured image. You can make it possible with custom coding. However, it is not possible for every WordPress user to add the code.
This plugin makes it possible and very simple for you to fetch the featured image of each post in the RSS feed. This will be very handy if you need to showcase your latest blog posts by using RSS feed.
With over 30k active installations, this plugin is loved by the users.
You can output the featured image to services like Mailchimp RSS email campaigns, ActiveCampaign, Infusionsoft, Hubspot, Zoho, Feedburner, Bloglovin', Feedly, and other services that use RSS feed data
Pros
Very simple and easy to use
Free plugin to use
You can select the image position
WooCommerce compatible, instantly add the product image to feed
Cons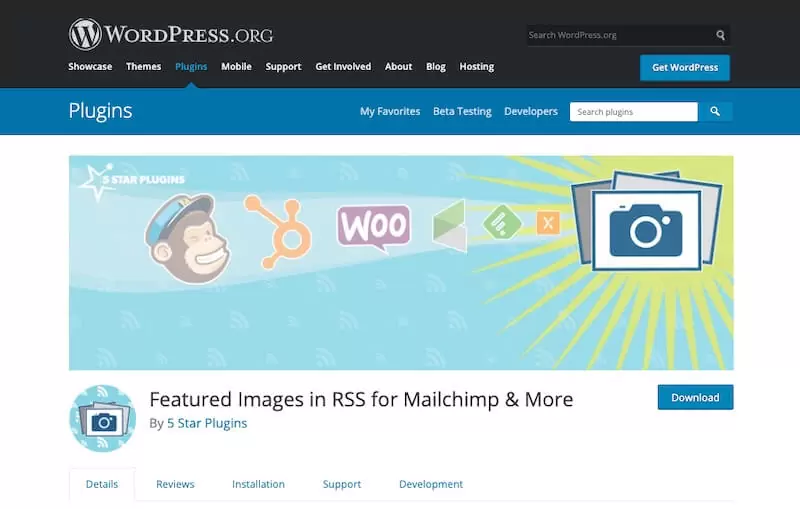 08

. Super RSS Reader
A very handy and fully customizable WordPress RSS feed widget that you can use to display latest news or your posts, comments or forum topics in a widget using multiple tabs.
So, overall, this plugin will instantly bring attention to your sider with the latest news from your industry. You can add RSS feed of any site to display the current news from those sources.
Pros
Add news ticker using the RSS feed
Add multiple tabs as per your need
Display the thumbnail of the posts
Different thumbnail positions
Multiple color theme options
Cons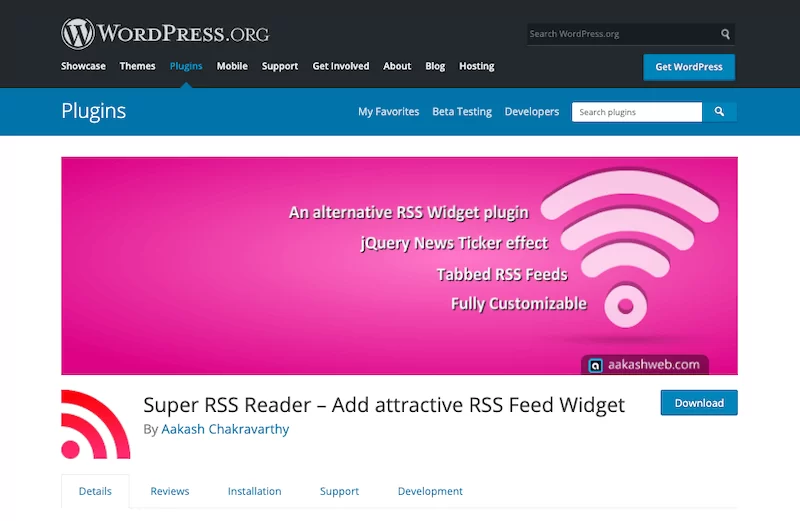 09

. RSSImport
RSSImport is a very simple RSS reader plugin. You can use this plugin to import RSS feed of any site and show it anywhere on the site using the shortcode or by editing the template.
The plugin gives you a simple code that you can customize further to make it perfect as per your requirement. Here is how it looks.
Now you can customize the code further to make it comprehensive. You can add multiple parameters to the code in the PHP template as well as the shortcode version.
The plugin comes with a quick and simple widget that you can set up in any of your widget section. You can add the Feed URL and set other parameters to show the feed from any site.
Pros
A simple free solution
Lightweight plugin
Display posts using a widget
Display posts using shortcode
Cons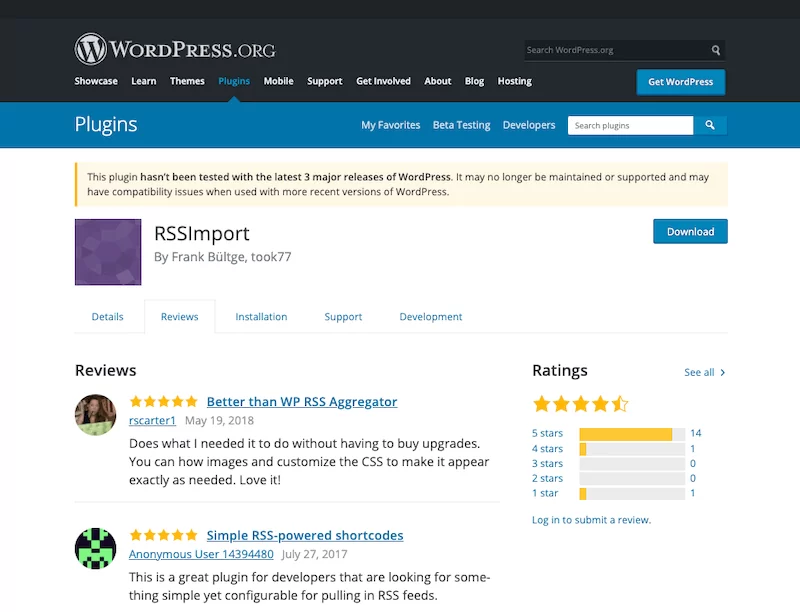 Final Word
Thes are some of the best RSS feed WordPress plugins that you can use to create your auto blog site. These plugins will help you to fetch fresh new content regularly on your site.
If you are already managing a news site, having an RSS feed section from the top sources in your niche industry can be a great addition to your site.