Looking for the best product review WordPress plugins? Well, you are in the right place. We have listed the top review plugins in this article.
This article will help you to understand how each plugin can help you and its top features.
Before we proceed with the list of plugins, we need to understand how a review site can help.
What is a Product Review Site?
These days, almost every user looks for reviews of a product before making the buying decision. So, the review sites are the hot properties on the internet that can help a general buyer.
A review site lists products with a detailed analysis of its features and how a product is different from its competitors and how it can help or not help the end-user.
The reviews give the final conclusion depending on the analysis after trying the product.
Also, there is another type of review site where the reviews are submitted by real product users making the reviews more authentic and trustworthy.
How to Create a Review Site?
As WordPress is the most popular platform to create a site, you can use it to create your review site. Here is a step-by-step guide to creating a WordPress site.
Once your WordPress site is up and running, you can install any of the review plugins that we can list in this article to create your review site.
Here are a few tips to create a successful review site.
List of Top Review WordPress Plugins
01

. WP Review Pro
WP Review Pro has everything to be on the top of our list for the Best Product reviews plugins. Designed by Mythemeshop, WP Review Pro is a user-friendly plugin that allows you to make rich snippets for your reviews.
The plugin offers comprehensive customization options and readily offers a number of design templates that you can use. It will perfectly match with the scheme of your site to make it look an integral part of the overall site.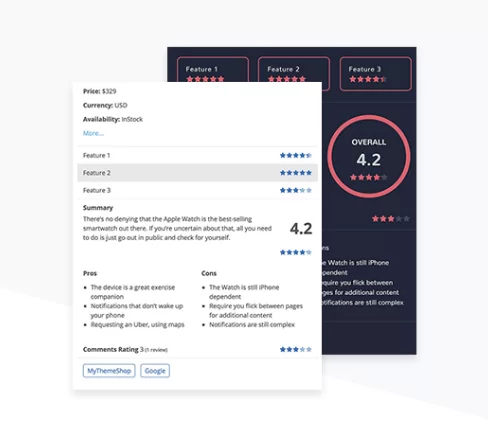 Generally, most of the review plugins allow the author of the post to submit the review, but the WP Review Pro plugin makes it possible for your users to submit their own reviews to make the overall review post more authentic.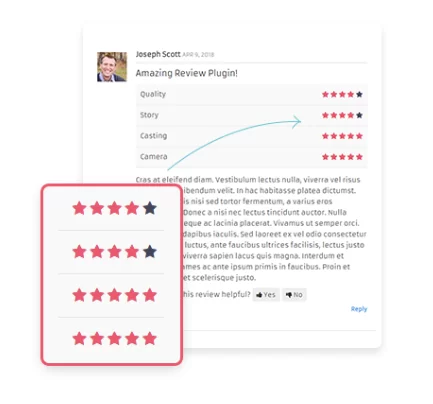 Create a table of comparisons using this review plugin. Yes, that's correct, you can create a fully optimized comparison table to showcase all different products similar to the one you are writing about and showcase how it is different in comparison to the other similar products.
When it comes to the review plugins, the WP Review Pro is the most compressive option with a lot of features to help you make a review site like the most authoritative review sites on the internet.
02

. Taqyeem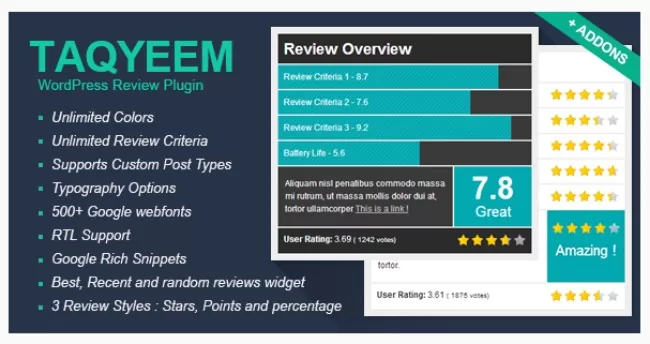 Taqyeem is a premium review plugin that was specifically designed to add creative ratings and reviews to your blog posts and pages. If you are showcasing products on your website, Taqyeem's widgets can show filters such as popular, recent, etc.
10

. Reviewer
Reviewer is an all-in-one review plugin that not only allows your users to leave their reviews in the box you've created but also allows you to include reviews in your blog post.
To build a review website, this plugin can be handy as it allows you to insert reviews and comparison tables on your blog posts.
04

. StarCat Reviews plugin
StarCat Review plugin allows you to create any kind of review website or webpage. Whether it's a blog post or a review of your WooCommerce store, this plugin will help you create smarter reviews to make your website faster and better.
Along with the author of the review post, this plugin allows users of your site to post their own reviews. You can set the review parameters such as Value For Money, Support, and all other different criteria and collect reviews from our users to make the overall review post more engaging and trustworthy.
05

. WP Customer Reviews
WP Customer Reviews plugin not only allows you to post your product reviews but also collects customer reviews on your website. The best thing about this plugin is its ability to tell search engines about the difference between such reviews.
Being lightweight and powerful, you won't have to worry about your website's loading speed after using this plugin. Also, it employs multiple anti-spam measures to prevent spam bots from submitting reviews.
06

. Schema – All in one Rich snippet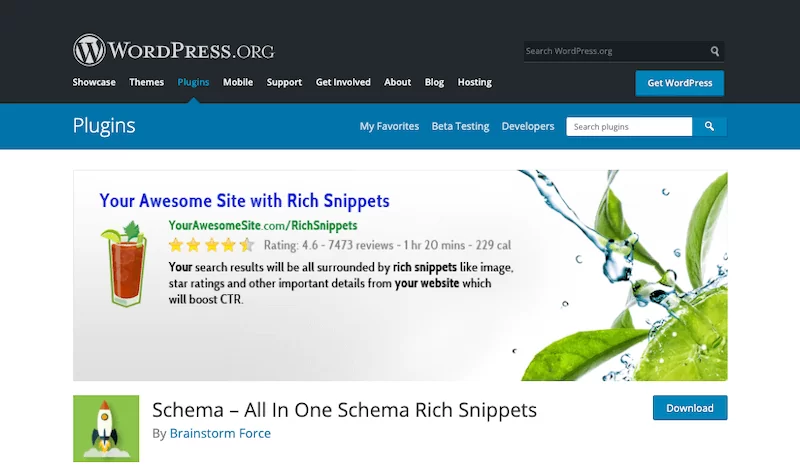 To help you stand out from your competitors on the search engine, rich snippets provide only relevant and important information to be displayed on the search results.
Schema – All in one Rich snippet is a plugin that allows you to write different types of posts such as product reviews while using rich snippets.
It is also one of the best Schema Markup WordPress plugins that you can use on your site.
07

. Customer Reviews for WooCommerce
Although this free WordPress plugin can work without WooCommerce integration, it works significantly well with WooCommerce as its partner.
Like any e-Commerce business, your store will need public reviews and this plugin would encourage your customers to leave reviews that will help in increasing your conversion.
08

. Google Places Reviews Pro
To make a good impression on your customers and increase customer loyalty, you need a plugin like Google Places Reviews pro. It easily displays Google reviews on your WordPress website with the help of an intuitive widget.
This plugin will help you increase the trust factor amongst your local customers, especially if you have a website for restaurants, real estate firms, hotels, and retail stores.
09

. Reviews Plus
Reviews Plus is a great option to start a product or service review site. The plugin is simple and free to use. Once you install the plugin, you can replace the regular WordPress comment with the review form so that users can submit their own reviews.
As the admin, you will have the option to moderate the reviews, and edit as per requirement.
Along with normal WordPress post types, this plugin works perfectly with the custom post types on your site. It also works with the WooCommerce plugin, so you can add this plugin to your online store to enable users to submit product reviews.
10

. Site Reviews
Site Reviews is a rather simple but effective plugin for your visitors to submit reviews. The plugin provides widgets and blocks to make your customer reviews look attractive.
To keep the spam reviews under control, the Site Reviews plugin makes it compulsory for users to log in to the site before leaving a comment. 
11

. Author hReview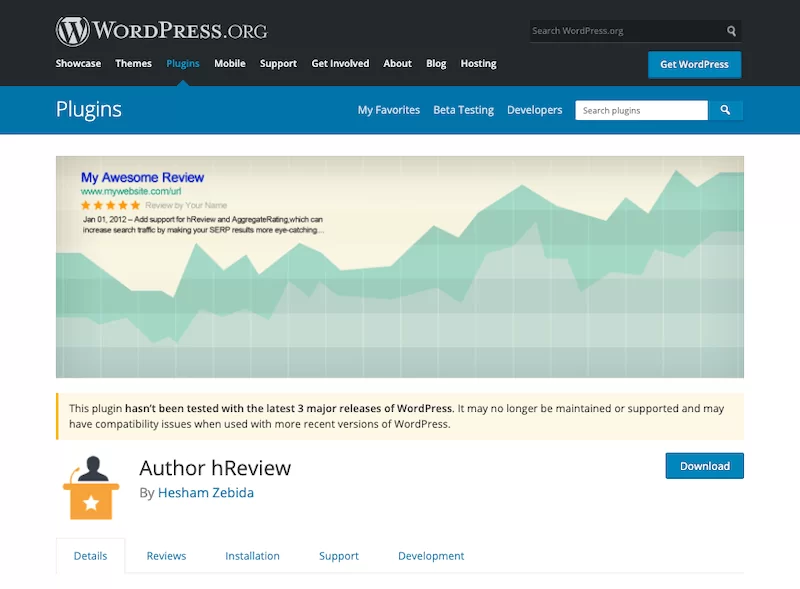 Unlike the other review plugins we discussed, Author hReview is made specifically for site owners and not for site visitors. The plugin can be helpful for only review sites.
The advantage of having this plugin is that you won't have to deal with hundreds of settings and customizations.
12

. Kk Star Ratings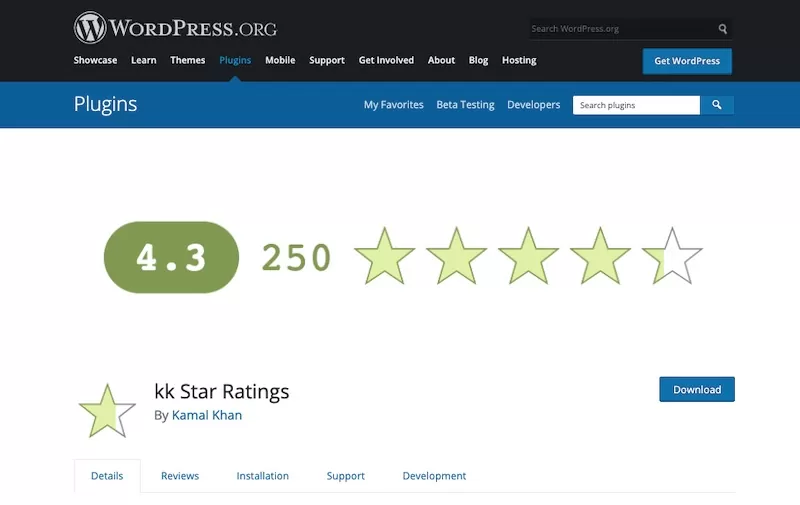 A simple-looking product review plugin that has been on the internet for a long time, kk Star Ratings works perfectly well for every niche business site.
The plugin comes with Google-rich snippets and built-in widgets to show your visitors the top-rated posts on your site. With this plugin, you won't have to deal with too many customizations as it has kept the procedure very simple.
13

. Starfish Review Plugin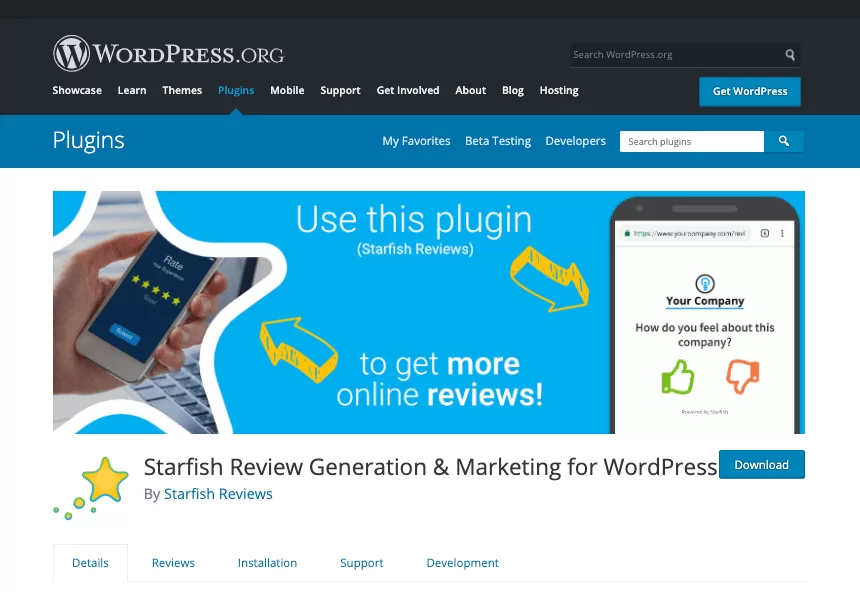 Reviews are very helpful for businesses as they can encourage other users to take action, buy your product or subscribe to your services. However, at the same time, if your business has a lot of negative feedback, it will discourage users and send them away.
This is where a plugin like Starfish Review Generation & Marketing for WordPress plugin can be helpful. You can use this plugin to create a custom funnel on your WordPress dashboard send it to your customers, and subscribers.
If a user is not happy they can leave valuable feedback so that you can improve on that and if a user likes your service or your product, you can redirect them to a review page where they can leave a 5-star review for your business.
14

. Easy Testimonials 
As the name suggests, Easy Testimonial is an easy-to-use plugin that allows your site users to leave their testimonials on your site. Users can add testimonials either on the sidebar, as a widget, or even embed them on the web page.
For a beginner who doesn't want to complicate things, Easy Testimonials can be an ideal product review plugin.
15

. Ultimate Reviews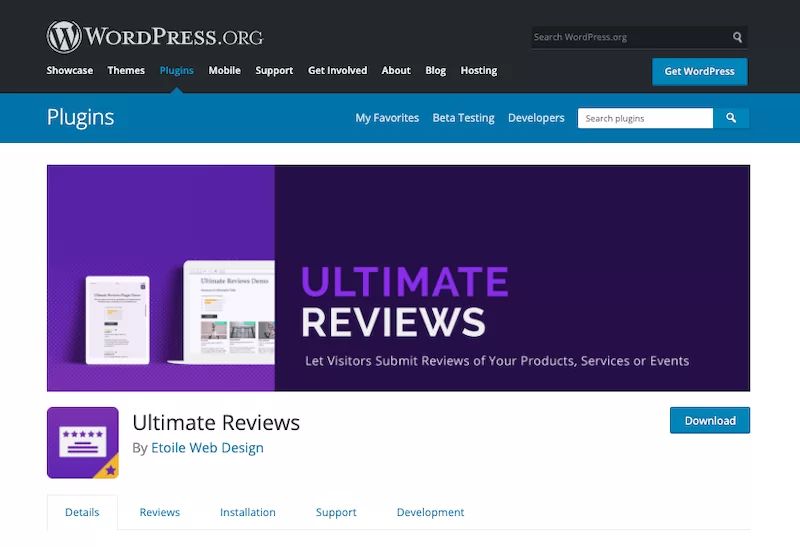 Another feature-packed review plugin, Ultimate Reviews, is renowned for its simple setup.
You just need to set up two smart shortcodes. One shortcode will show the reviews and the other shortcode will show the form in which users can upload their reviews. The best part is that this plugin supports WooCommerce stores as well.
16

. Widget for Google Reviews
As the name suggests, you can use this plugin to add a widget on your sidebar to display Google Business reviews. This is a very handy review plugin that has over 90K active installations.
It has the option to save the reviews on your own server so that it is no more dependent on Google services to display the review on your site. It will attract more users and customers to your business by displaying proof of quality.
17

. Photo Reviews for WooCommerce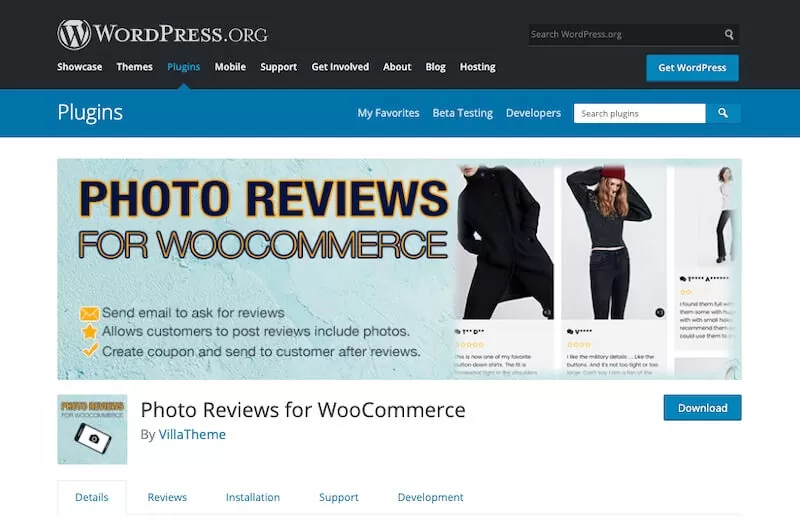 If you're running an online WooCommerce store and would like your users to send photos in their reviews, there are a few better than Photo Reviews for WooCommerce.
While photo reviews have become a trend, it opens up a new horizon of marketing for online store owners.
19

. Let's Review 
Let's Review is a product review plugin that provides your reviews with a modern appeal.
Through the notable features provided by Let's Review, you can design some of the best-looking reviews that will make your users submit their reviews.
20

. Comments – wpDiscuz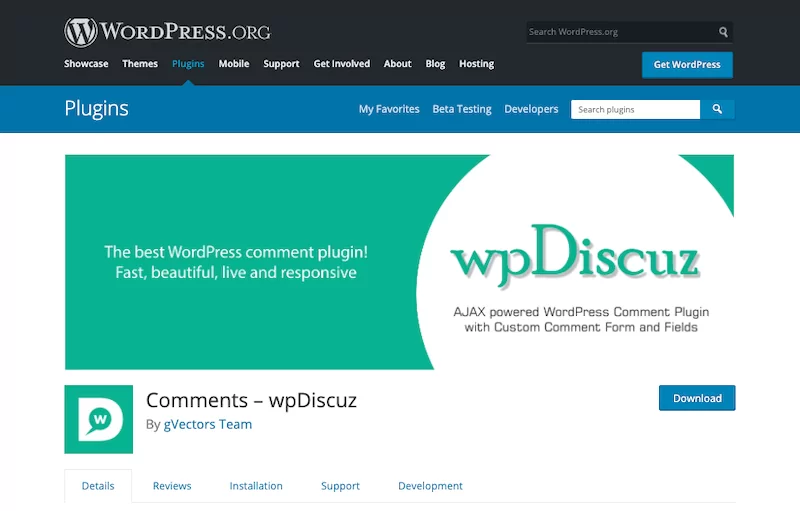 With a dozen features and a user-friendly interface, the Comments – wp Discuz plugin had to be included in our list of best product review plugins. 
The latest version of this plugin has brought some astonishing features that will bring more audience to your website. The advantage of using this plugin on your WordPress site is that it fully integrates with social network login plugins.
Q1. What is a Review Plugin?
A review plugin is used to add the user review option to a WordPress site. You can use a quality review plugin to add star reviews to your site. You as the admin as well as the users of your site can write reviews on any post you publish.
Q2. Can Review Plugin Add Rich Snippet?
Yes, most of the quality review plugins add the required schema markup and enable the rich snippet option to your posts so that they stand out in the SERP.
Q3. Are Review Plugins Free to Use?
Yes, there are multiple quality-free options when it comes to product review plugins. You can choose from this list of review plugins, we have listed many free options.
Q4. What Are The Best Free Review Plugins?
There are a number of free product review plugins. You can use free plugins such as WP Customer Reviews, KK Star Rating, Review Plus, Site Reviews, etc.
Final Word
We have listed the best review plugins for WordPress above, you can select any of these plugins are start your own review site.
These are the top and regularly updated plugins with great support. So, even if you face any issue, you will have great support to help you through.