A collection of the best live chat WordPress plugins that you can use to make it easier for your users to get in touch with you.
Did you know that nearly 67% of your own visitors don't make a purchase because of some lingering doubts that they have in their minds?
Now, you might include a pretty comprehensive FAQ section or write a really detailed copy, but there is always the possibility that you leave behind certain unanswered questions which might be potential deal-breakers for some customers.
This entire guesswork can be solved if you just have a dedicated Live Chat functionality on your site.
For WordPress users, it can be easily integrated by simply installing a Live Chat plugin. The process takes hardly over a couple of minutes but adds complete live chat functionality to your website.
You will be able to chat with customers on your websites in real-time, address all their issues, and improve your conversion rates.
All in all, if you own an online business, or if you are an online service provider, then having live chat functionality is a must if you want to provide great customer service.
Now, with all that being said, which Live Chat WordPress plugin should you get for your website? There are a plethora of plugins that advertise themselves to be the best Live Chat plugin for your WordPress websites.
But there is no need to get stuck in the paralysis of choice. We have done the research for you and created a diverse shortlist of powerful and feature-rich Live Chat plugins for your WordPress website.
You are bound to find something that is perfect for your personal needs.
So without further ado, let's get on with our list of Best Live Chat WordPress plugins:
Don't miss our collection of the best Chatbot software.
01

. Olark
Olark is another popular WordPress live chat plugin curated to help online business owners. The plugin is super easy to use.
All you have to do is install and activate the plugin and it will set up the entire system into your site. It also provides support with other popular business services like Zendesk, SalesForce, Highrise, and so on.
02

. Live Chat Unlimited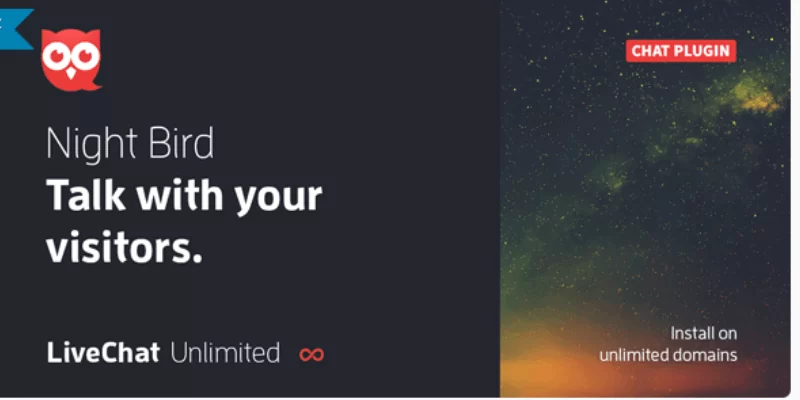 Live Chat Unlimited is a premium live chat solution for WordPress. It is super lightweight and works in iFrame which really helps with the performance.
However, this allows carries along with it some limitations. For example, only 100 users can be active at the same time which includes 10 operators and 90 visitors. Judging by these figures, the plugin is mostly suited for small businesses.
03

. ZenDesk Chat
ZenDesk Chat used to be known as Zopim and is among the most popular live chat solutions for WordPress users. The plugin is free to use and you can get it directly from the WordPress repository.
However, it also has a premium version which packs in a lot more advanced options which are worth taking a look at.
04

. Tawk.To Live Chat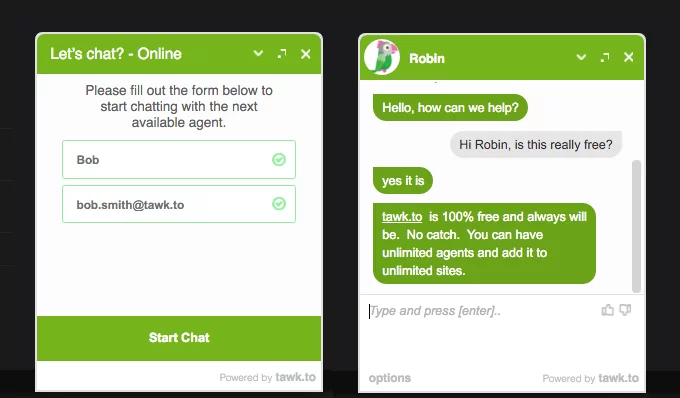 Tawk.To Live Chat is another one of the best most popular and free-to-use WordPress live chat plugins in the market. The plugin allows you to monitor visitor activity on your websites apart from letting you chat with them and provide real-time support.
05

. WP Live Chat Support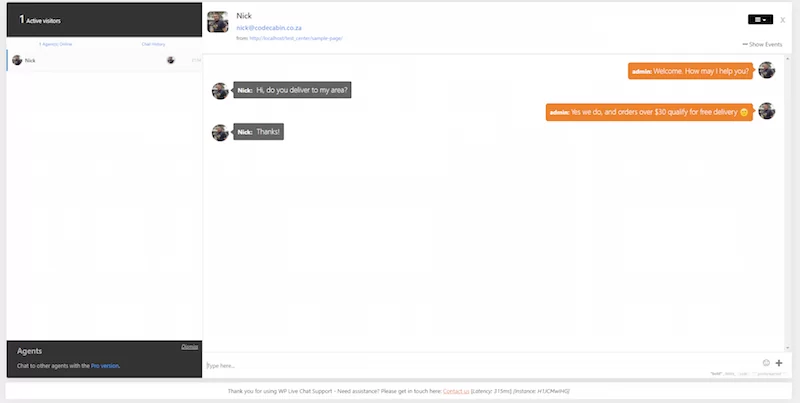 WP Live Chat Support is a freemium Live Chat plugin for WordPress users. This means it comes both in a paid version as well as a free version.
With the free version alone, you will get all the basic functionalities to implement a complete live chat system on your site.
However, if you crave some advanced functionalities, then you will have to go with the Pro version.
Since the paid version of the plugin is inclusive of all the features that you will get with the free version, here is an overview of all the features available with WP Live Chat Support.
06

. Tidio Live Chat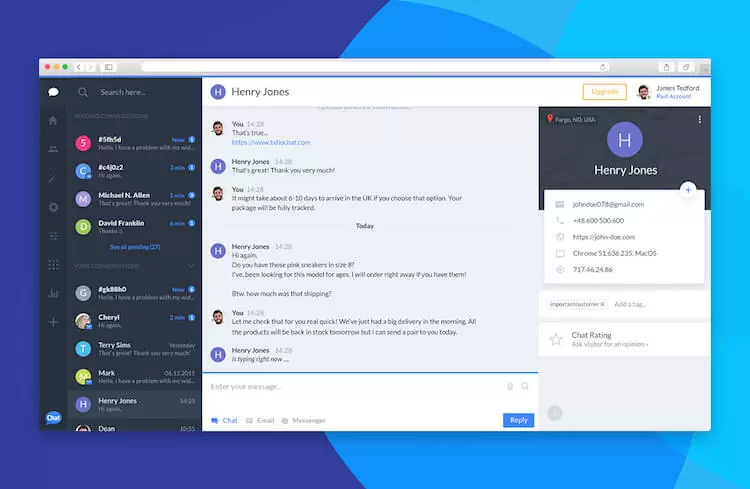 Tidio Live Chat is a completely free live chat solution for WordPress users. It allows you to easily communicate with your customers, get insight into user activity while they are on your website, and much more.
One more key selling point of the plugin would be its seamless integration with all the popular platforms like Zendesk, GetResponse, SalesForce, MailChimp, and many more.
07

. Live Chat with Facebook Messenger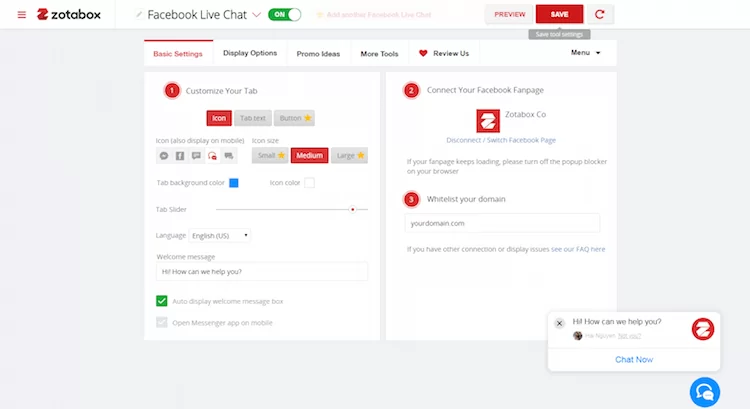 Live Chat with Facebook Messenger lives up to its name. It is an excellent plugin if you wish to incorporate Facebook Messenger into your website.
It comes from the team of developers over at Zotabox who are known to create powerful tools for internet entrepreneurs to boost their sales and conversions.
08

. JivoChat Live Chat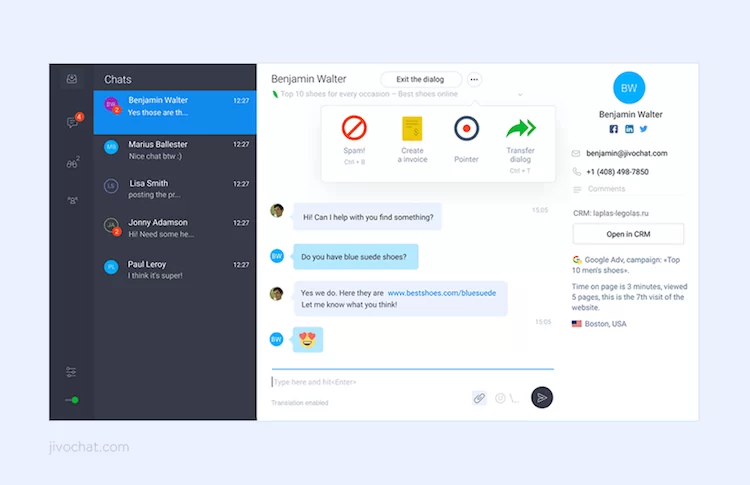 JivoChat Live Chat WordPress plugin is designed to help you chat with your visitors in real-time, either through your websites or different social media handles. Currently, it has support for Facebook, Viber, and Telegram.
Apart from helping you communicate with your online visitors, it also comes packed with plenty of functionalities curated especially for online businesses. With the plugin on board, you will see a noticeable increase in your sales and conversion rates.
09

. LiveChat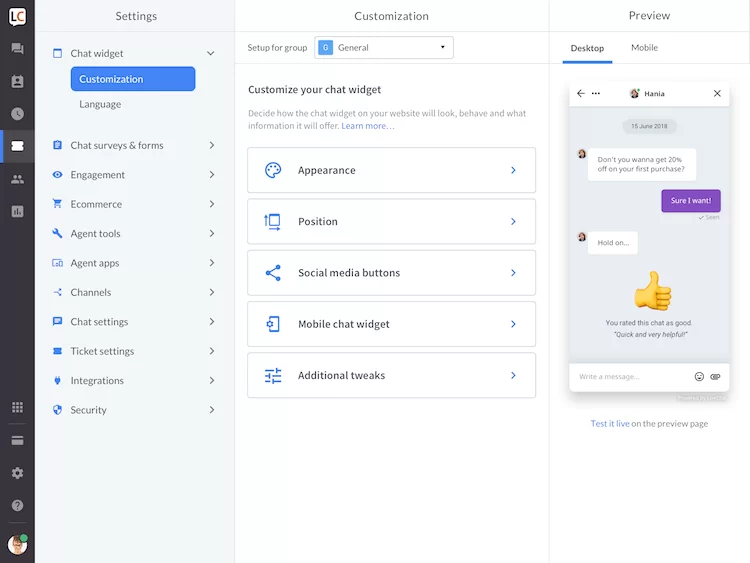 The appropriate named LiveChat plugin helps you integrate live chat functionalities to your WordPress website. It is a free plugin but comes with a comprehensive set of tools that can help you provide better customer service to your website visitors.
The plugin even comes with an accompanying mobile application. You can use it to keep in touch with your customers even if you are on the go.
10

. Pure Chat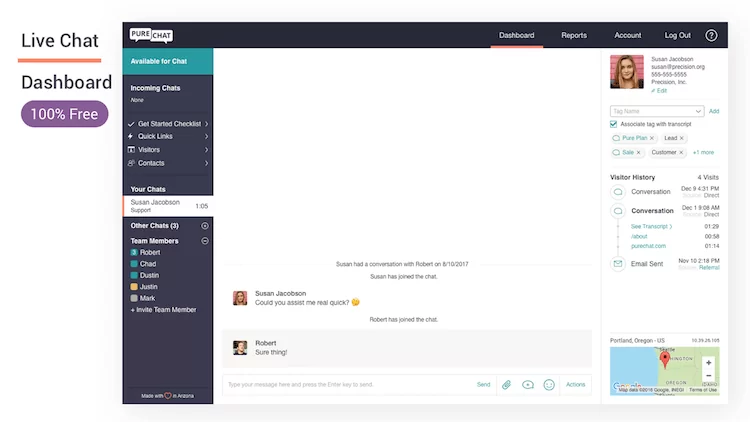 Pure Chat is another freemium live chat plugin for WordPress. However, the free version is more sufficient to handle all the live chat necessities of a small budding business.
For free, you get support for unlimited chats and up to three users. If you upgrade to the pro version, you get support for unlimited users, along with many more advanced functions.
11

. WP Chatbot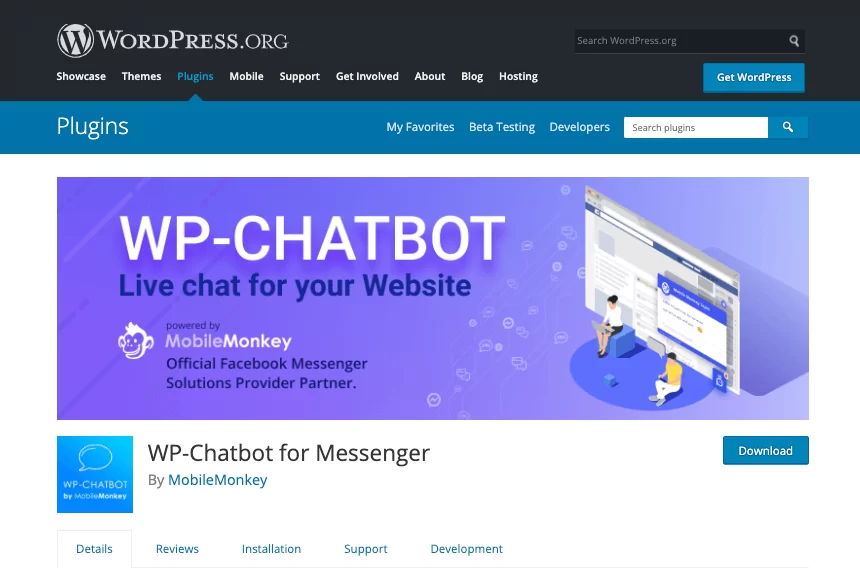 This one is a mouthful, but the name does efficiently define the utility of the plugin. Once installed, it will integrate Facebook Messenger into your WordPress website and allow you to chat with your customers using the popular messaging service.
Now, get the basic Facebook Messenger integration for free, but if you want access to the advanced chatbot, then you will have to get your hands on the premium version of the plugin.
12

. Reve Chat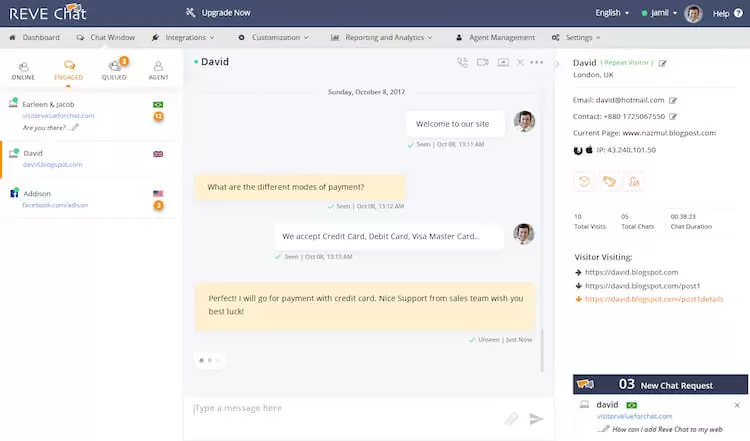 Reve Chat is essentially a multi-channel live chat solution that is cloud-based. It can help you provide excellent customer support and service to your online customers using various channels including voice/video chat, Facebook Messenger, Viber, and much more.
It is fitted with a lot of unique and advanced options which opens up new doors to providing excellent customer support.
13

. Zoho SalesIQ Live Chat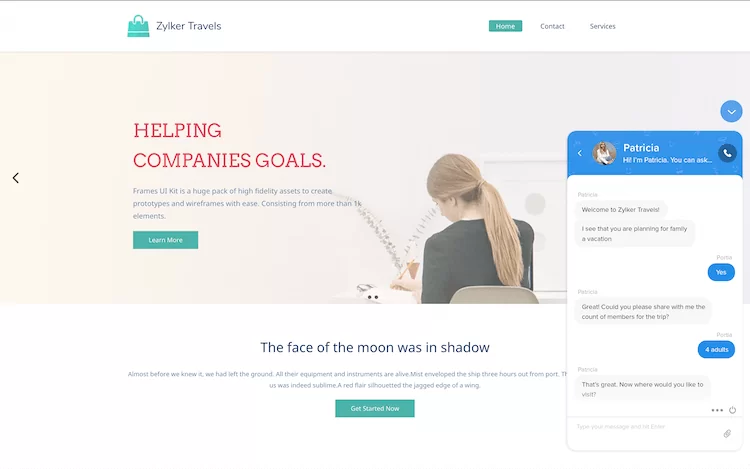 Not just a live chat system but a complete sales management that you can use free of cost. If you are managing an online store using WordPress, this plugin can be very effective for you.
The Zoho plugin comes with its own intelligence system to gather the data of your visitors and trigger them auto support chat to keep them engaged.
In Conclusion
So these were our picks for the top Live Chat plugins for WordPress. We hope you found the read to be helpful, and if you did, don't forget to share it with your friends who might benefit from this information.
Also, if you have used any of the plugins mentioned in the list, then don't forget to share your personal experience in the comments. Your knowledge will help your fellow readers with their own purchases.
If you find the article helpful, don't forget to share it with your friends.
Also Read: