If you are looking for the best Instagram WordPress plugins, we have listed the top options in this article.
Instagram has made a name for itself as one of the top social media sites around. People love sharing their images with others in many forms.
The outstanding world of WordPress makes it so you'll have an easier time making the most out of your website. So, don't you think it would be a great idea for you to link the two together?
The great news is that it's not overly hard for you to make the most out of your work on Instagram and WordPress when you use the twelve plugins featured in this profile.
These are all useful plugins that make it easier for you to stay online and to make more out of your content.
When you manage any business, be it an online business or offline business social media is extremely important these days.
With social media, you can increase your audience base by using social media channels like Instagram, Facebook, Twitter etc.
If you are selling any product, you can increase your customers and sell your products to someone living far from you.
If you are managing any online business, be it a blog, services, or a product site; the social proof is important. So, make sure to use the best social proof plugin so that other users get confident.
The best part of all of these plugins is that you can get them through the WordPress website at wordpress.org.
Be advised that while many of these plugins are indeed free for you to hire, you will have to look at some expenses involved with others.
These include some choices that might cost extra for you to hire based on the features that you want to incorporate in your work.
01

. Social Stream for WordPress
Social Stream for WordPress is one of the best social media stream plugins with over 20K sales in the CodeCanyon marketplace. With this plugin, you can create a social media feed stream for Instagram and a number of other platforms like Facebook YouTube etc.
The plugin comes with built-in tools to create amazing card designs for your social stream and engage your users. It supports over 40 different feed types making it one of the most comprehensive plugins to add social media to your WordPress site.
02

. Envira Gallery
Envira Gallery is a very popular WordPress gallery plugin that you can use to display images on your site in a very professional-looking gallery design. The plugin comes with multiple templates to make things easier for you.
It offers you a custom add-on for Instagram that you can use to display images from any Instagram account in an attractive gallery.
If you are managing a travel blog, a food blog, fitness and have an active Instagram profile, you can display those images on your WordPress site using the Envira Gallery plugin.
The plugin can automate the process of importing images from your Instagram profile and display them on your site in a great-looking gallery design.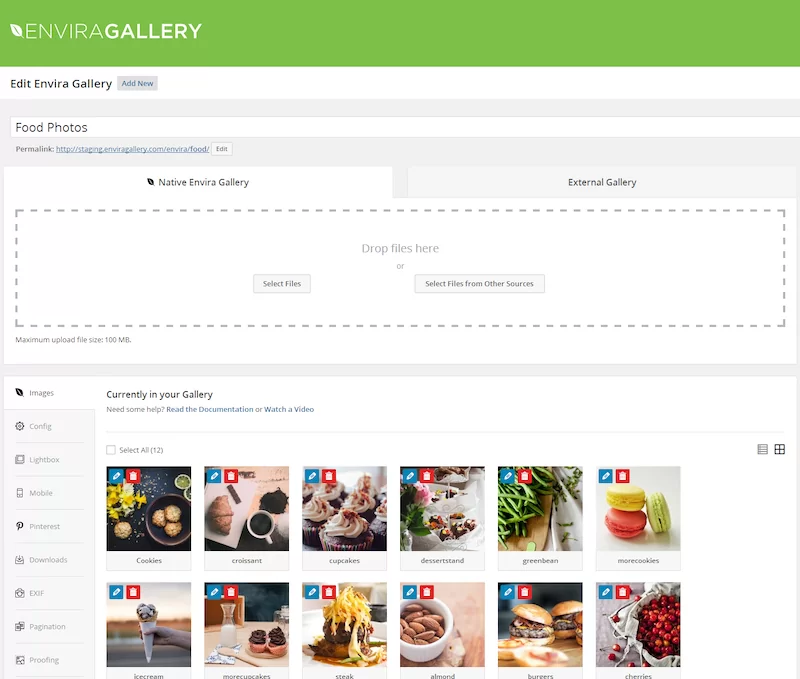 03

. Feed Them Social
Start your search for the best Instagram WordPress plugins with Feed Them Social. You can use this to create unique social feeds on your WordPress page.
You can produce feeds that incorporate all your Instagram photos. You can add these photos to any sidebar or page on your site.
You can also use Feed Them Social to share other social media content details that you have, including ones for Pinterest, Twitter, and wherever else you might be while online.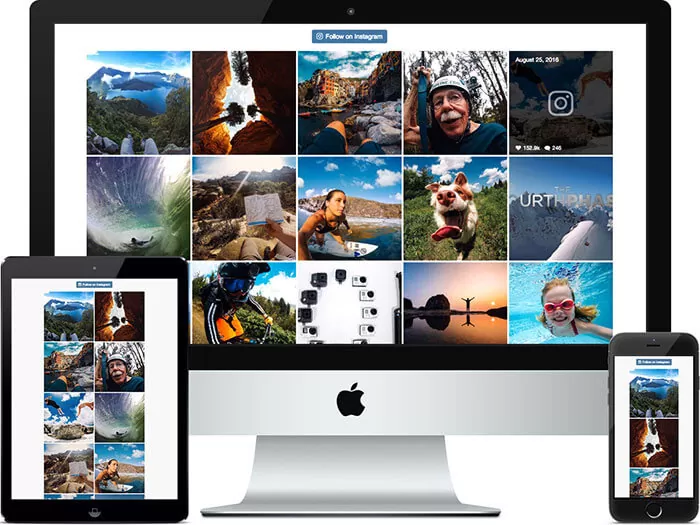 04

. Smash Balloon Social Photo Feed
With over 1 million active installations, Smash Balloon Social Photo Feed is a leading WordPress plugin for Instagram integration.
Once the plugin is active on your site, you can start displaying photos from your Instagram account on your WordPress site. You can showcase photo streams from multiple Instagram accounts.
It is a completely responsive plugin that will make your photos look great on desktop as well as mobile devices.
You can customize the height, width of the photos and make them look great on your site. You have the option to display the thumbnail, medium size images, or full photos as per your need.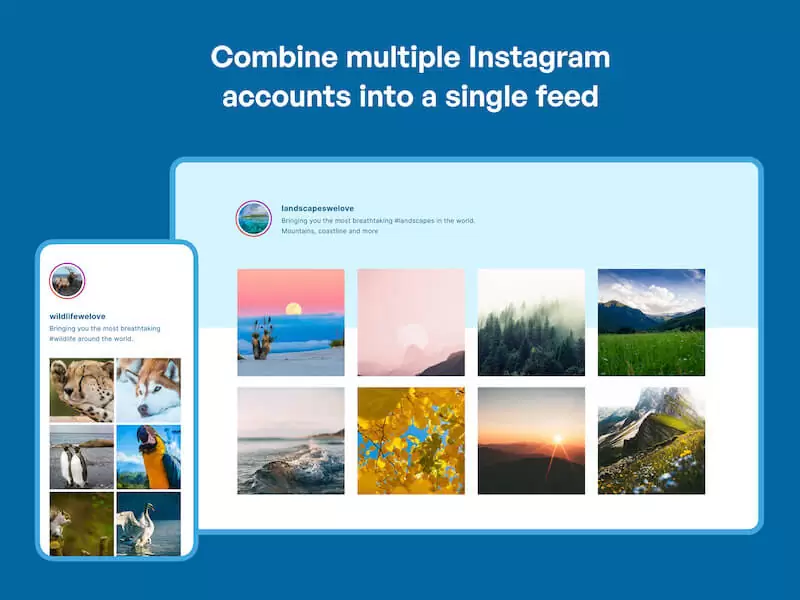 05

. Slider and Carousel Plus Widget
With so many Instagram photos on your account, you might want to find a way to display them well while being interesting.
The Slider and Carousel Plus Widget plugin lets you display your Instagram photos in many ways.
You can use the widget to display items with a grid or slider layout. The shortcodes included in this widget let you control many things that you can do for your display purposes.
You can produce limits on how many images you want to show on the slider or carousel as well. The widget is useful for people aiming to create more unique pages.
06

. Spotlight
Spotlight is a very handy Instagram WordPress plugin that you can use to embed multiple Instagram feed into your WordPress site. You can add different accounts in different feeds or you can combine multiple accounts and display them in a single feed.
You can display photos, videos, and IGTV videos from any Instagram account. You have the choice to create unlimited feeds as per your need.
You have the freedom to display the posts as per your need, you can filter them as per date, popularity, or at random. You can set the number of posts you want to display in a feed, you also have the option to display the bio link and profile image of the account you use in the feed.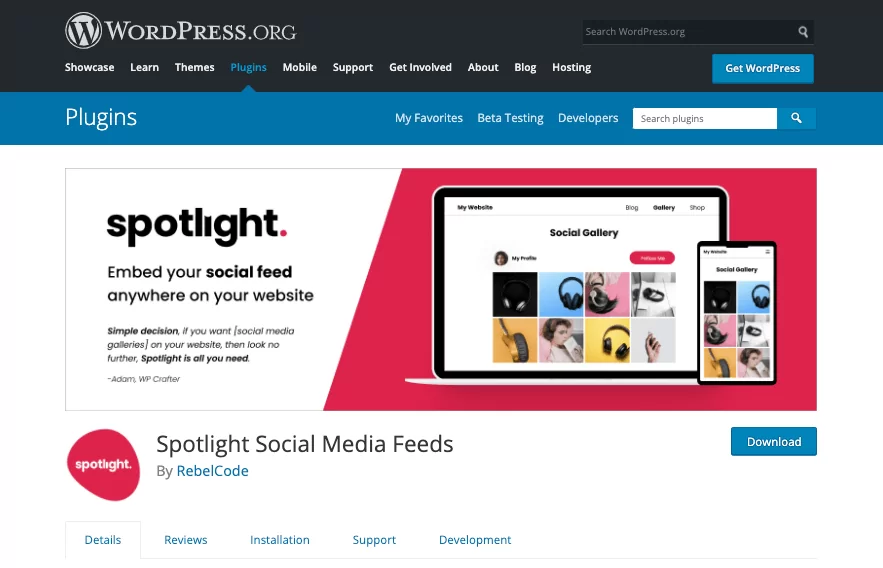 07

. WPZOOM Widget For Instagram
The customization feature that you'll get out of WPZOOM Widget For Instagram lets you adjust how your Instagram photos are going to appear on your work.
The design of the widget lets you display things on not only your feed but also up to twelve photos from different feeds. The feature is useful if you're trying to promote your content and your general social outreach efforts.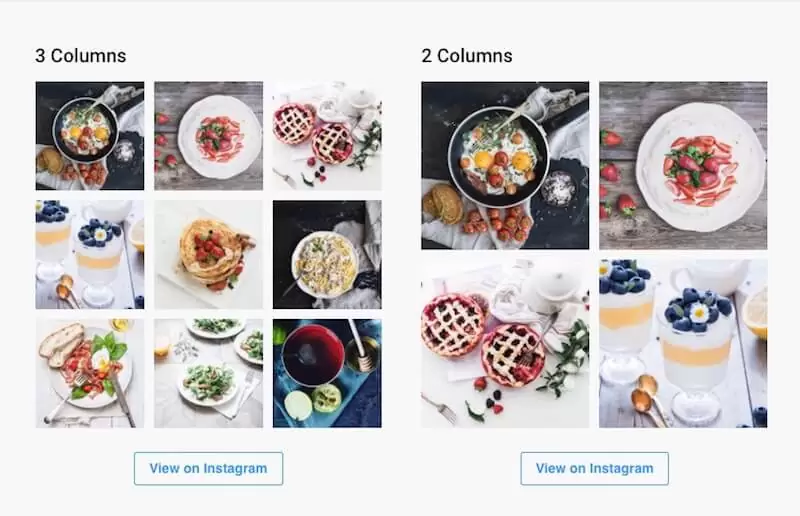 08

. Custom Feeds For Instagram
Custom Feeds For Instagram has been used quite well as a program for many Instagram usage needs.
The system was originally known as Instagram Feed. The plugin helps you to maintain your social engagement and keep it moving.
You can add a header to your feed and also include a button that lets people choose to follow you on Instagram, thus adding to the interactivity of the program.
09

. Photonic Gallery and Lightbox
The Photonic plugin works for more than Instagram. You can also use Photonic for handling photos for Flickr, SmugMug, and Google Photos among other places.
The helpful functionality of Photonic is ideal for all your photo display uses. The ability of Photonic to read as many needs as necessary and to update your WordPress page as new images come along will especially be to your benefit.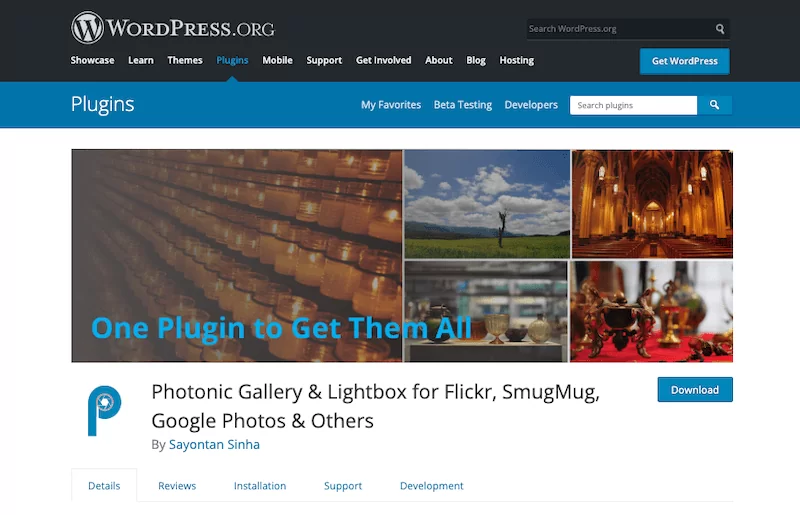 10

. 10Web Social Feed
You can enjoy the use of 10Web Social Feed when you're looking to produce a more valuable and unique layout for your content.
10Web lets you enhance your social engagement and works with different layouts based on what you might prefer to use. You can get mixed feeds or single feeds depending on what you might prefer to use on your site.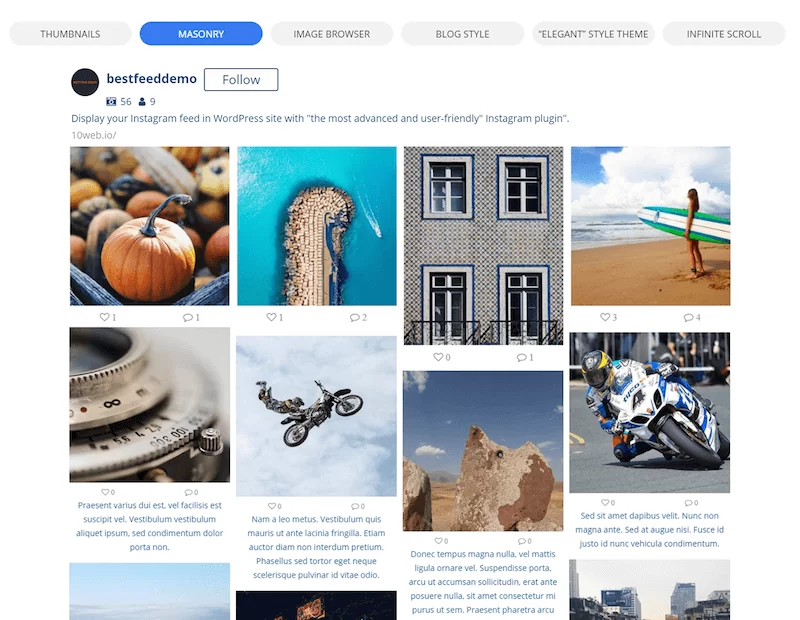 11

. Enjoy Plugin
Enjoy provides a good layout for helping you to get your Instagram content to be more noticeable and useful. With Enjoy, you can produce a shortcode for posts and page data.
You can use many grid view effects, including ones that allow for fade-ins and unique resolution settings.
The design is perfect for those who might want to see your content on low-resolution screens, especially as this will not take as much time to load up as what you might get elsewhere.
12

. BlossomThemes
The shortcut and widget functionality of BlossomThemes makes it a helpful choice when you're trying to find an Instagram WordPress plugin.
With BlossomThemes, you can get up to five photos in a single row. You can get a total of twenty photos displayed at a time.
You can take multiple Instagram feeds are arrange them by different rows. This works if you've got many accounts and you need extra help with keeping the content secure and open.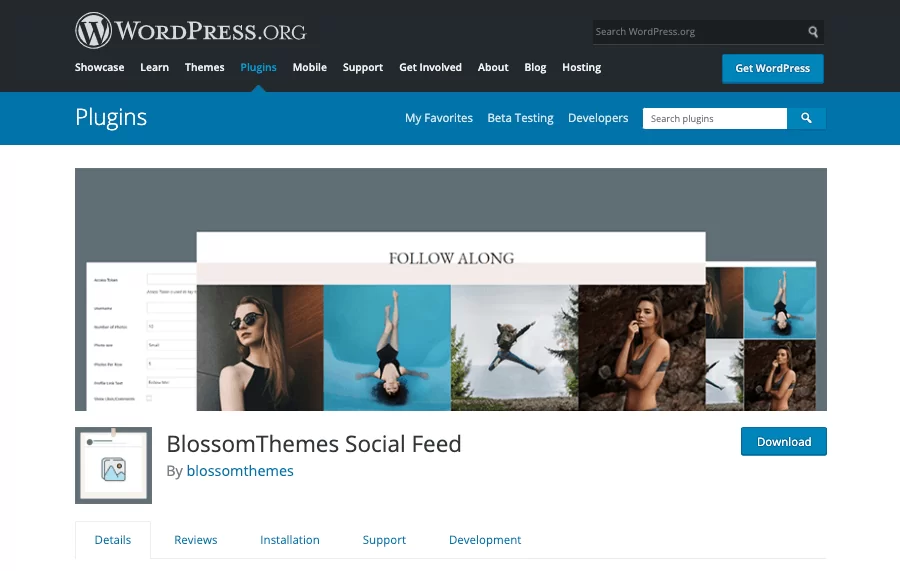 13

. Photo Gallery
The Photo Gallery plugin offers what it says it promotes. The plugin lets you produce a distinct image layout that includes a convenient design for highlighting your work.
You can also load the metadata and tags on your Instagram site to your WordPress page through Photo Galley. The added tag and meta content makes it easier for your site to be visible on a search.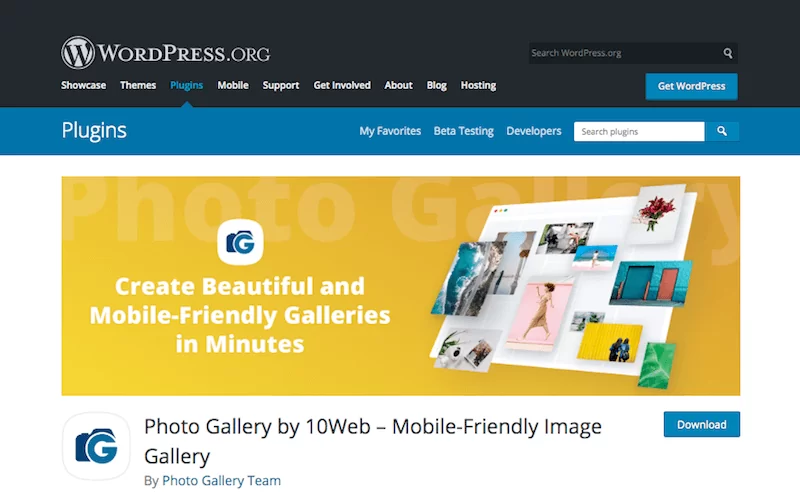 14

. Gallery For Instagram
Your last choice for a WordPress plugin that links to your Instagram page is Gallery For Instagram. The universal design of the plugin provides help for all major web browsers, as well as most mobile browsers.
The layout adjusts the resolution display based on the type of photo being posted and how well the content may appear. You can also use many Instagram usernames or hashtags in your work as you prefer.
The unlimited array of layouts and colors is also helpful, although you can adjust these to your preference as necessary.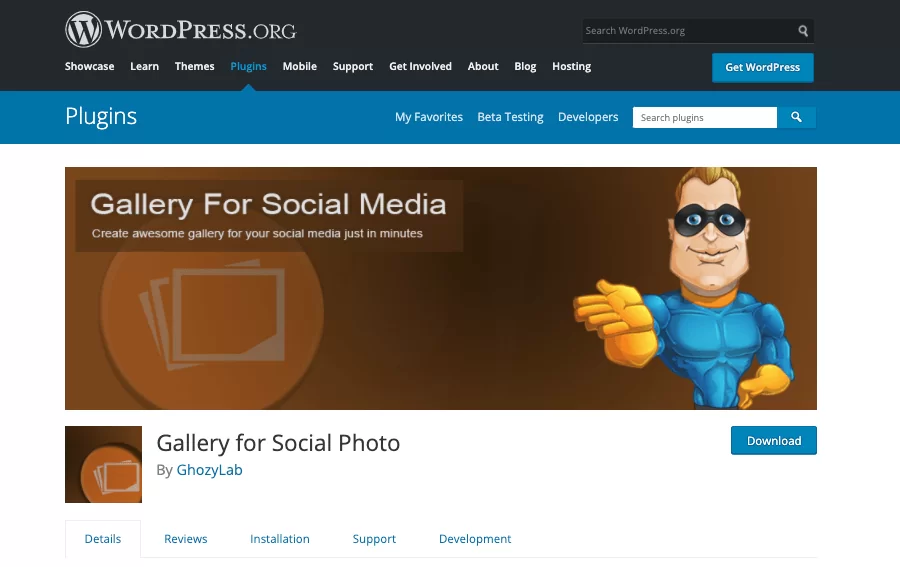 Final Word
These are some of the best Instagram WordPress plugins that you can use on your WordPress site to add the widget to showcase pictures from any Instagram account.