Optimizing the images on your site is very important as it is one of the most common components that showdown websites.
Speed optimization of a website has many aspects involved it but image optimization is one of the most important ones. And image optimization requires you to use Image Optimization Plugins
The faster your site loads, the better will be the overall user experience and SEO of your site.
As Images are a very important component of any blog post, you must use proper images on your content. However, you need to make sure that they are well-optimized.
You should consider serving all the images on your site in the next-generation image formats that are recommended by Google such as the WebP. Some of the plugins listed in this article can convert all your images to the WebP version.
Therefore, choosing the right image formats, sizes, and dimensions becomes very important to decrease the page load time.
This is a list of the best image optimization plugins. While some of these plugins are all-in-one image optimizers, the rest is rather simple solving the basic needs.
All of them have their strengths and weaknesses that are highlighted in our list of best image optimization plugins.
Let's get started!
01

. Smush
Smush is one of the most popular image optimization plugins for WordPress. Whether it's the free version or the paid version, you'll get the best quality compressed images.
It's an all-in-one, award-winning solution that caters to lossless compression, incorrect size image detection, lazy load, bulk smush, and many more such needs of a WordPress website.
Unlike some other image optimization plugin that damages the quality of the image by 30%, Smush does the best job in providing the best quality images for a website.
What makes it the best WordPress image optimizer?
It is the unmatched features it comes with that makes it completely unique in the segment. Have a look! 
02

. ShortPixel Image Optimizer
To increase your website's ranking, ShortPixel Image Optimizer is another plugin that performs consistently well in almost every department. It not only allows you to compress images but also PDF documents in just a single click.
With one of the nicest interfaces in this list, this plugin also enables you to choose between lossy and lossless compression methods.
Over 200k WordPress sites are already using this plugin. It offers you both free and the premium version can optimize images as well as PDF files.
It can help you compress all the images that are already present on your site in a click (JPG, PNG, GIF, and WebP) files and the PDf files.
Also, it will automatically compress all the images that you upload in the future.
0

3

. Optimole
Optimole is one of the leading solutions when it comes to image optimization tools. You can scale your images and reduce size up to 80% without losing the quality.
You can use the Optimole plugin to optimize the images on your site automatically. The plugin will serve the best image with the right size every time a user visits your page.
It also offers image CDN, so your page with images will be served lightning-fast to improve the overall user experience.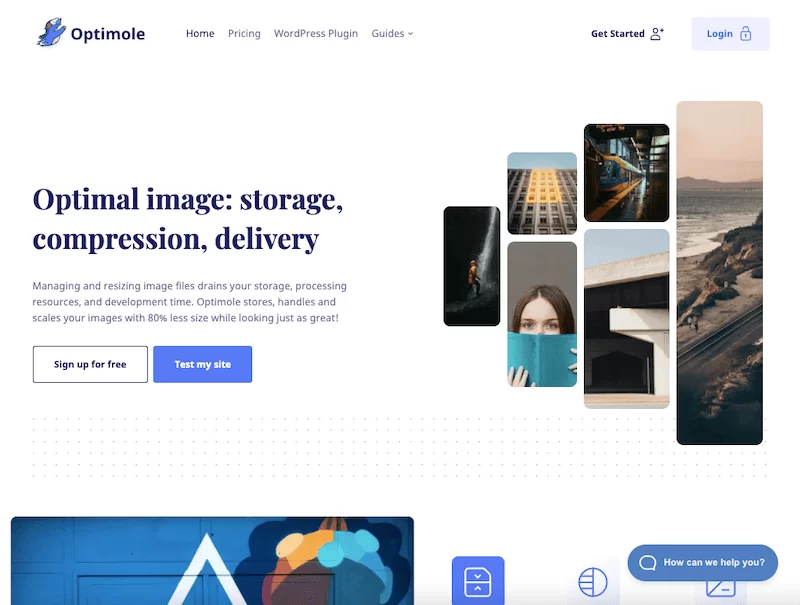 You can quickly get started with the Optimole WordPress plugins and make your site load a lot quicker than before.
0

4

. EWWW Image Optimizer
If there's someone who can give a healthy competition to Smush and ShortPixel, it has to be EWWW Image Optimizer. If functions similarly to both the above plugins, it also automatically optimizes all the images uploaded on your site.
Instead of connecting with third-party servers, the optimization in EWWW Image Optimizer takes place within your own servers.
The plugin offers you a premium version with a lot of features and up to 80% compression to make your site quicker.
The plugin supports all the regular image formats.
05

. Optimus
Optimus is a perfect image optimization plugin to solve your bandwidth concerns. This plugin uses its own servers to optimize your image to up to 70%. Without compromising the quality of the image, these savings will help your site load faster.
Once you have the Optimus plugin installed on your WordPress site, your images go through the Optimus server.
The plugin sends every image to Optimus server and servers the optimized version of the image back to your site which is stored on the media folder.
The temporary files on the Optimus server get deleted in some time.
06

. TinyPNG Compress JPEG & PNG images
With more than 200,000 active installations, TinyPNG fulfills your image optimization needs with the help of the popular image compression services TinyPNG and TinyJPG.
Whether it is automatic optimization or bulk optimization, this plugin uses lossy compression methods to provide a drastic reduction in the file sizes. 
While an average JPEG image can be compressed by 40%-60%, a PNG image can be compressed up to 80% without damaging the quality of the image.
TinyPNG also offers an option to optimize your site using their website.
07

. Imagify
Imagify is making a name for itself in the market as it already has over 300,000 active installations. With a limit of 25 MB for images in the free plan, Imagify has done pretty well to compete with its competitors.
By providing you with three methods of compression, Imagify has given you more power to select the degree of the quality and file size of the image.  
It also gives you the option to convert the images to WebP version that is recommended by Google.
08

. Imsanity
Imsanity doesn't get the amount of popularity it should get. Maybe, it is because of the freaky feature image it has.
Imsanity is a rather simple plugin that solves the need for image optimization. With more than 300,000 active installations, Imsanity is definitely one of the best image optimization plugins.
Imsanity gives you an option to set the max height and width of the images so that when a user upload a larger image than that, it will automatically be optimized to the set version.
This will be really helpful if you are managing a site where you allow your audience to submit content on your site.
09

. WP Retina 2X
To make your website look beautiful and crisp on every device, WP Retina 2X automatically generates retina images and serves them on retina devices.
It is very unique in its functions as its responsive images and PictureFill methods help in creating image files for different devices.
10

. reSmush.it
An official WordPress plugin is not only supported by WordPress but also by Drupal, Magento, and Joomla.
Although its name and function are very familiar to Smush plugin, there are a lot of differences. Unlike its competitors, it doesn't have too much to offer but it still does a pretty good job in providing effective image optimization.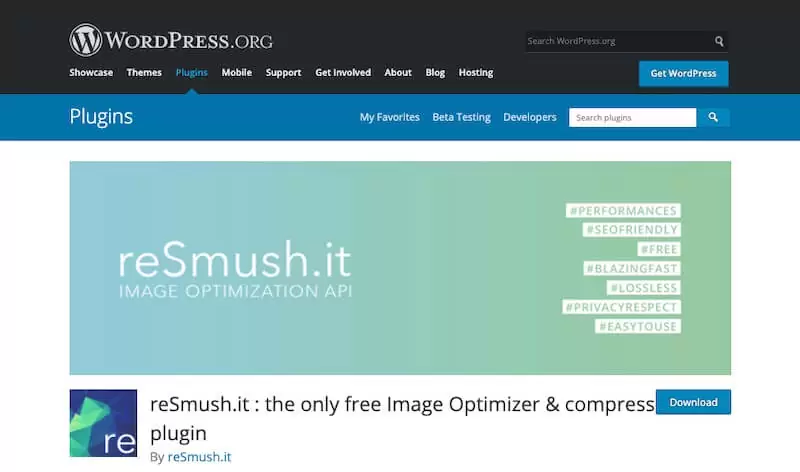 Conclusion
So, these were the top WordPress image optimization plugins that you can use on your site.
While it is recommended to keep the number of plugins to a minimum in a WordPress site, an image optimization plugin is important that you shouldn't avoid.
We have listed all the free versions of the plugins to make this list newbie-friendly. You can always upgrade your plan with a rather small fee.
I hope you find the article helpful. Do share your comment, feedback using the comment form below.