Are you looking for the best free CDN providers? Well, here we have the list of top free CDN providers that you can use to speed up your WordPress site.
Here's the good news, these CDN services can help you with everything you need that your basic hosting plan doesn't provide to speed up your site. This article will cover the best free CDN providers to help you deliver fast-paced content to your user.
The fact that you want your user in Asia to access your site as quickly as your user in North America and a quality CDN service can help you achieve that.
A CDN uses site components such as images and videos or data such as CSS and JavaScript files and displays them on a visitor's browser instead of using the original web host. This way, your web host can handle more requests and provide a better user experience.
What is a CDN – Content Delivery Network?
Before we go ahead with the list of free CDN providers, let's understand what CDN is and how it can help your WordPress site.
Well, CDN (Content Delivery Network) is a service that will serve your website through different servers located at different locations in the world so that your content is served to your users instantly. So, basically, it is used to speed up the loading process and improve the user experience.
For example, if your main server is located in New York, a user who tries to access your site in India will not load as quickly as someone who accesses the site in New York or a city close to the server location.
So, the CDN provider helps you to resolve this issue by serving your site through a different server that is closed to the user.
Is CDN Free?
It depends on the option you select. There are a number of CDN providers that offer completely free plans along with paid options. You can check and get started with a free option like Cloudflare.
Does All CDN Work Well With WordPress?
Yes, almost all the CDN platforms work perfectly with the WordPress platform.
How CDN is Going to Help My Site?
CDN will improve the user experience and make the loading much quicker. So, your content will have SEO benefits as well. CDN will route your site through servers at different locations and when a user lands on your site, it will be searched from the nearest server making it load much quicker.
So, let's find out what are the best free CDN providers you can use to boost your online presence:
01

. G-Core Labs
G-Core Labs CDN network is present across 140+ points across the world and over 6300+ peer-to-peer networks making it one of the most comprehensive solutions when it comes to Content Delivery Networks.
It's a highly secure network to protect your business through a number of security checks while delivering your pages.
They offer CDN solutions for all types of different online businesses, be it a simple WordPress site or a streaming solution, G-Core Labs will deliver your content to the end-users instantly by using their wide network.
G-Core Labs offers a completely free CDN plan with 28 PoPs. You can use this plan to get started and upgrade to a paid plan as your website grows.
Best Features:
Easy to use user interface
Quick real-time statistics
Wide delivery network across the world
Offers free CDN option with 28 PoPs & 1,000 GB free traffic
HTTP/2 & IPv6 support
Free SSL Certificate
Pros:
30 ms average response time worldwide
100% uptime guarantee
Strong defense against DDoS attacks, malware bots
Real-time analytics
WordPress plugin
Completely free plan
Cons:
While G-Core is simple, it can be a little overwhelming for newbie users initially.
02

. Cloudflare
Any blog that doesn't have Cloudflare keeping first place in the best CDN list is unreliable. With Cloudflare, improved agility and control make the delivery of content faster and more efficient.
Sites that don't have the budget to invest in a CDN provider can use Cloudflare free plan to accelerate their sites.
Many hosting providers route the sites hosted on their sites through Cloudflare by default. Do, you don't need to do anything extra in order to get the CDN option for your site.
make sure to check with the hosting provider you select for your site about the CDN options and if they support Cloudflare.
Best Features:
Use the HTTP/3 encryption protocol for more stable connections.
Supports the Etag header and CMAF video files.
Restful APIs for consumers to conveniently configure catch depending on their needs.
PROs:
With a highly customizable CDN, you can set up your site with Cloudflare in minutes.
By serving content through the Cloudflare data center, the bandwidth consumption is minimized.
CONs:
Customers face difficulties while viewing their own site's content.
Pricing – It is available for free.
03

. ArvanCloud
ArvanCloud excels in offering various security solutions along with the use of its servers to deliver content from the closest locations.
Best Features:
Prevents cyber attacks and hacking attempts by providing adequate security solutions.
Shows the maintenance page if the site needs a design change or the origin servers are not working.
The free plan allows 200 GB of traffic per month.
PROs:
Free Wildcard SSL certificates and redirection from HTTP to HTTPS.
Provides segment-best image optimization and content compression.
CONs:
It takes a comparatively longer time to set up your site with this CDN.
Pricing – It is free for a personal website but you have to pay £13/month for a low-traffic website.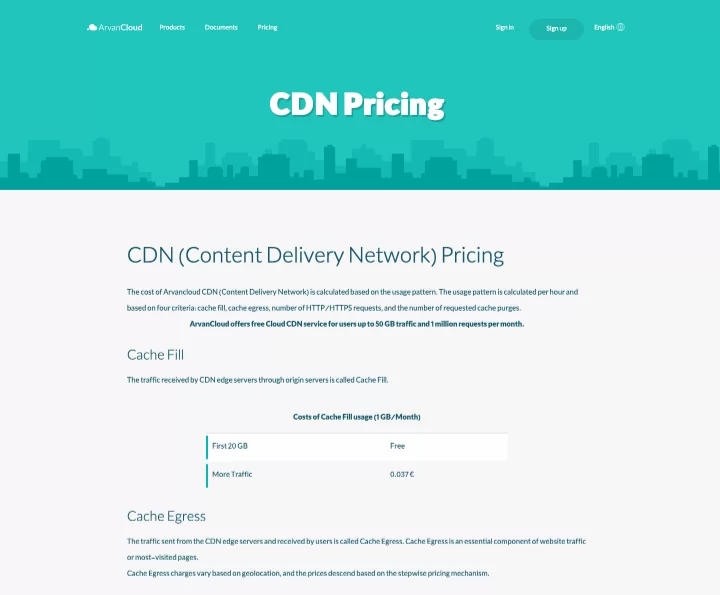 04

. Netlify
Netlify is offering services to more than 900,000 customers, Netlify has been one of the best CDNs to deliver fast sites.
Best Features:
It employs Global CDN servers and blazing-fast DNS.
Built-in applications for analytics and large media.
It offers DDoS protection and Let's Encrypt certificate in its free plan.
PROs:
It allows you to install powerful plugins while building your website.
It facilitates easy setup and continuous deployments.
CONs:
If you don't have a static website, this CDN provider might not be ideal.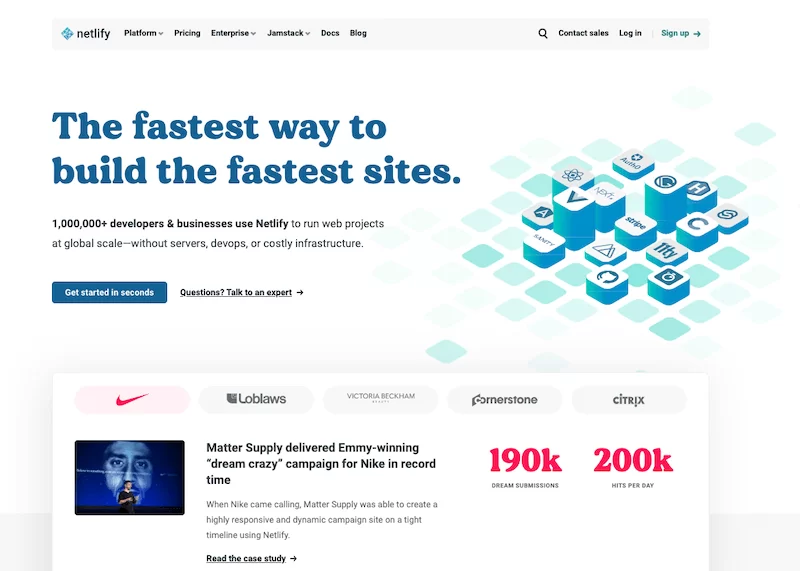 05

. Optimole
Optimole is a WordPress Plugin image optimization solution that serves images free of charge from a global CDN. The free plan allows you to use more than 40 locations of global edge servers.
Best Features:
Detects and resizes the image according to the visitor's device size.
It supports all image formats.
One-click setup and minimal footprint to deliver high-quality images.
PROs:
To prevent image thefts, it adds watermarks to the site's images.
It uses Amazon Web services (AWS) in its paid plan to deliver more than 200 global locations.
CONs:
While it focuses more on image optimization, it doesn't prevent cyberattacks and DDoS attacks.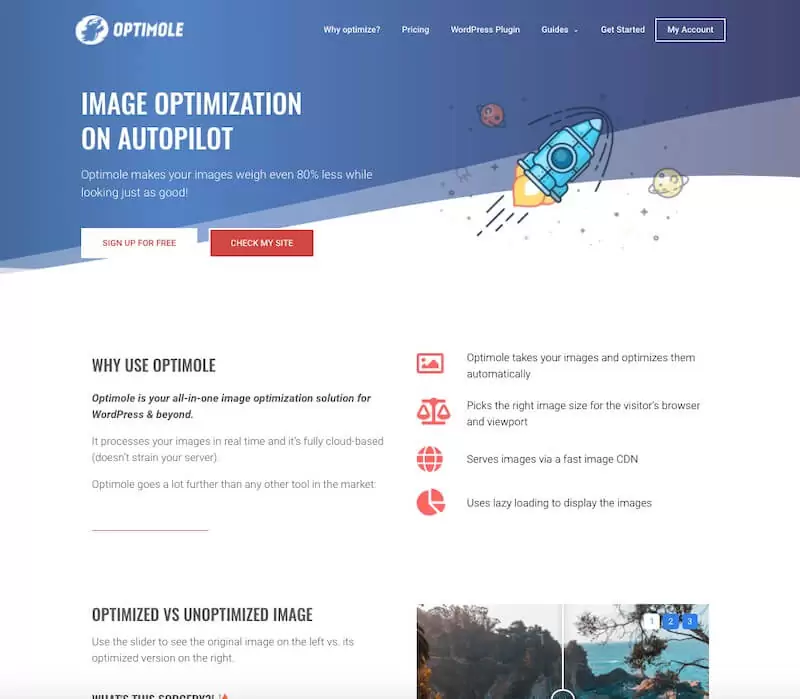 06

. Hostry
Without extra payment, you can have an advanced CDN with global coverage that maintains faultless performance.
Best Features:
It uses 48 PoPs in 5 continents to enable faster loading time and decreased latency.
It facilitates an intuitive control panel for easy management.
PROs:
The control panel can be set as both simple and expert mode for better utilization.
It delivers video content by 20X faster speed.
CONs:
The setup process may be a bit difficult for a beginner.
Pricing – The free package allows you to use 10 GB worth traffic.
07

. QUIC.cloud
A complete WordPress caching CDN that uses QUIC as a transfer protocol to make your website faster and more secure.
Best Features:
It uses LiteSpeed technology for the caching of dynamic pages.
SSL encryption and protection against DDoS attacks.
It uses next-generation HTTP/3 technology to boost the website's performance.
PROs:
Avoid cyber brute-force attacks through effective security measures.
For both the mobile view and the desktop view, the cache is separated.
CONs:
The effective use of this CDN requires a little more knowledge than its competitors.
Pricing – The free package includes 20 GB of bandwidth.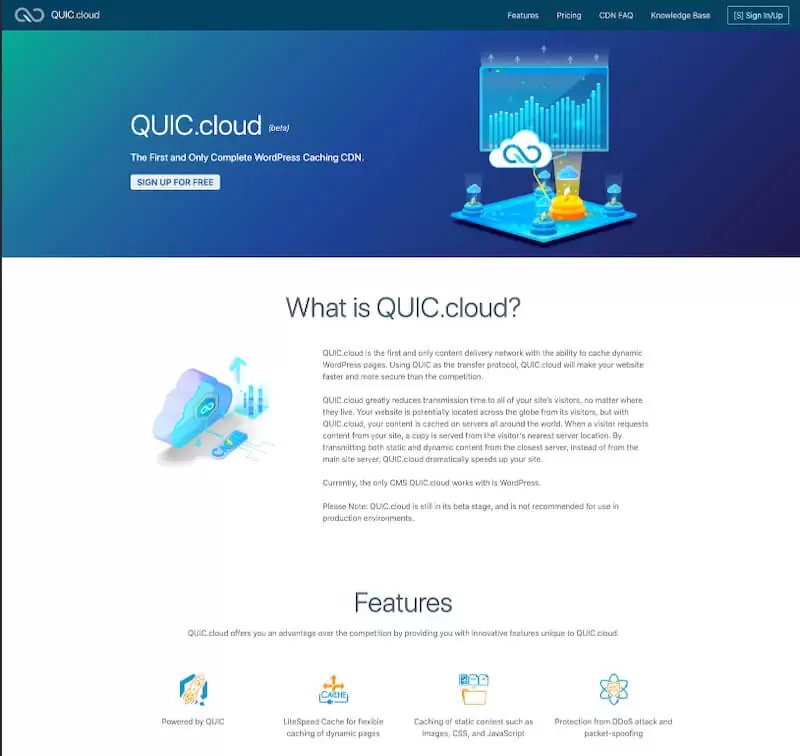 08

. Fastly
Fastly facilitates an improved user experience by moving data and applications closer to the users. From content and images to videos, Fastly scale even the most demanding videos effectively.
Best Features:
Real-time traffic insights into the quick decision process.
It shows protected HTTPS sites across all of your assets.
It facilitates quick configuration and streamlining of applications.
PROs:
The fast speed and global network location are best suited for big organizations.
It keeps the data and information on your website safe from DDoS and bots attacks.
CONs:
The trickiest part of using Fastly is the setup process.
Pricing – Although you can try Fastly for free, it sends a minimum bill of $50 on the basis of bandwidth used.
09

. jsDeliver
jsDeliver is a free CDN for open source that servers more than 75 billion requests per month.
Best Features:
The CDN provider facilitates more than 750 points of reference.
It helps the user to offload Javascript libraries, fonts, CSS, and much more.
There is no restriction on the amount of website traffic.
PROs:
It is very developer-friendly as it provides services such as source-map support and usage statistics.
With the help of a WordPress plugin, it provides WordPress websites with the best facilities.
CONs:
Unlike any other CDN provider, jsDeliver fails to provide adequate protective measures to websites.
Pricing – It is available for free.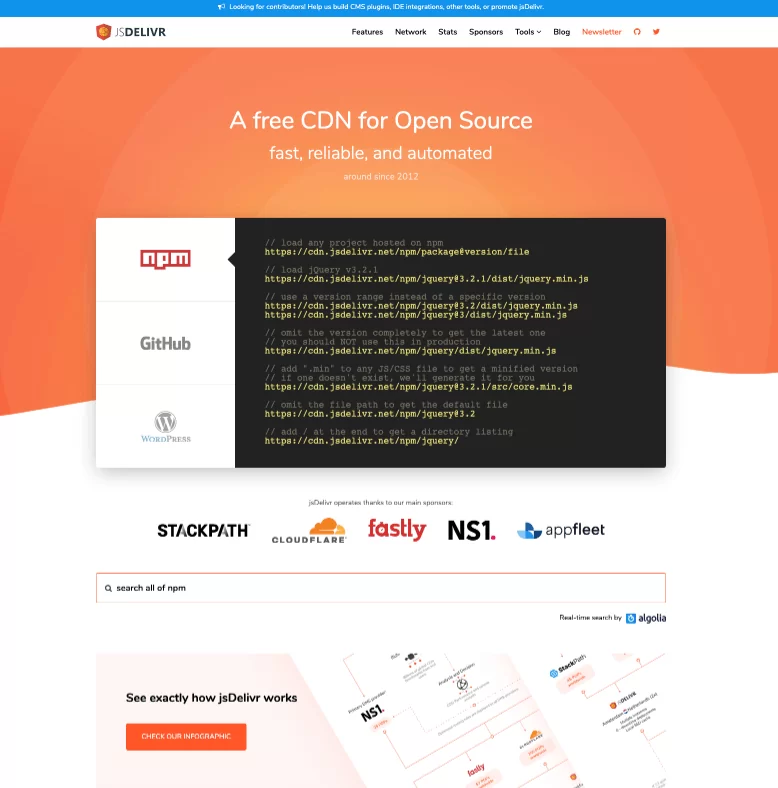 10

. Jetpack Site Accelerator
The WordPress.com team has created a WordPress plugin to serve the content of your site through its global servers.
Best Features:
The free package includes basic protection against unwanted attacks and unauthorized logins.
Optimizes both images and static files to reduce page loading time.
It offers specialized tools for site management.
PROs:
Regular automated backups and threat resolutions help keep your site secure.
Hundreds of themes and configuration tools for effortless web management.
CONs:
There are a limited number of network servers.
Pricing – It is available for free.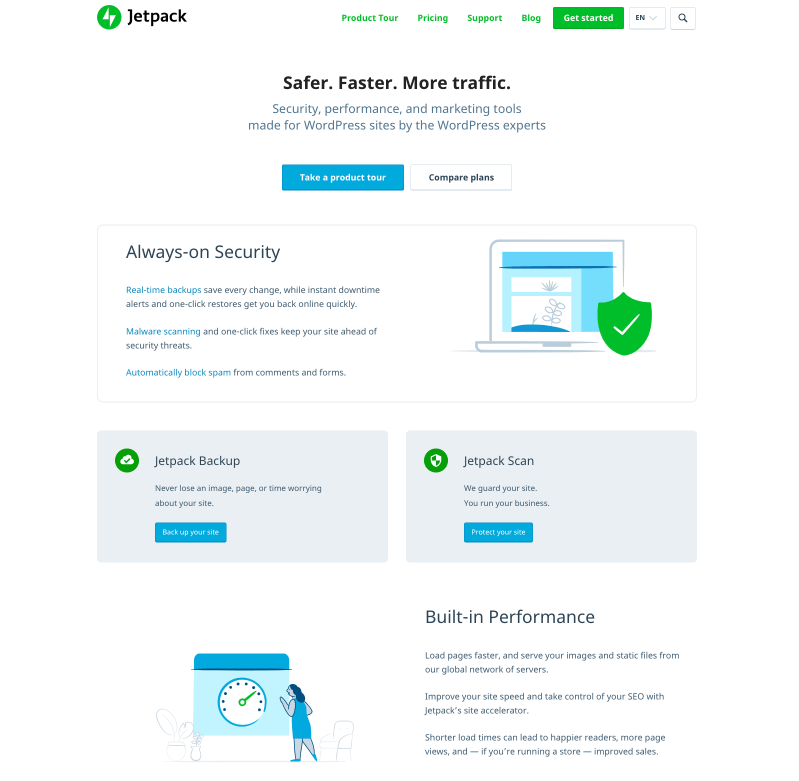 11

. Amazon CloudFront
Amazon CloudFront incorporates AWS for its content delivery system by providing a fast platform for distributing data, videos, and applications.
Best Features:
The free package defines 50 GB of data transfers for the first year.
Uses AWS Protection, Firewall, and Route 53 as a security layer to avoid DDoS attacks.
Optimizes for both dynamic and static content.
PROs:
Built-in security measures for no additional cost.
Uses highly-efficient Amazon networks for superior performance.
CONs:
The free CDN package is not advisable for high-traffic websites.
Pricing – It is available for free.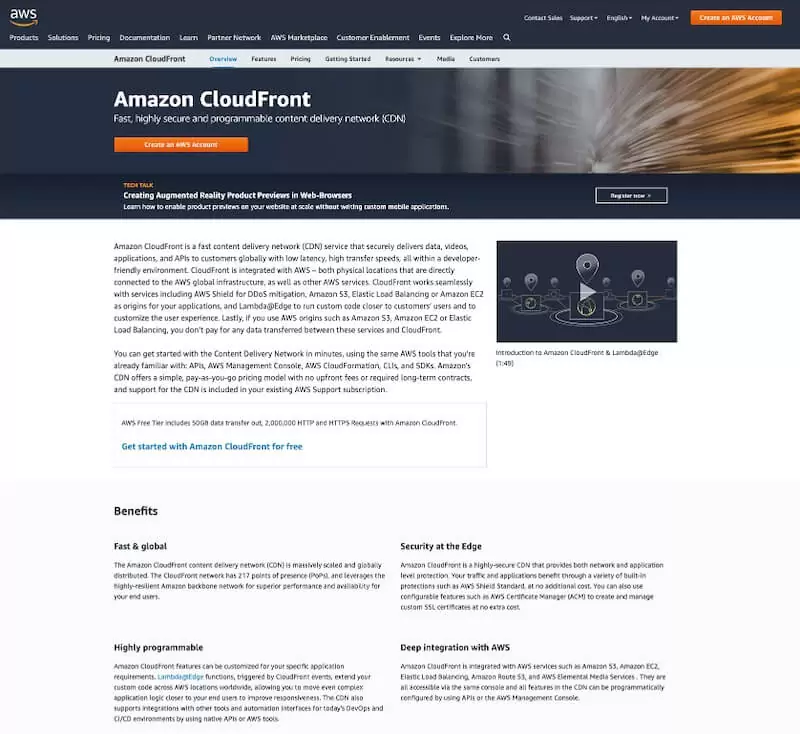 12

. CoralCDN
This peer-to-peer CDN redirects the browsers to catch proxies so that the load on web server is reduced.
Best Features:
It uses the peer-to-peer indexing technique to find cached objects.
Coral's indexing infrastructure is used to prevent hot spots in the infrastructure.
PROs:
It uses an easy setup technique as a user can simply append .nyud.net to the hostname in the URL.
Through the use of DNS infrastructure, it allows the system to inter-operate.
CONs:
This CDN provider doesn't provide for professionalism and protection.
Pricing – It is available for free.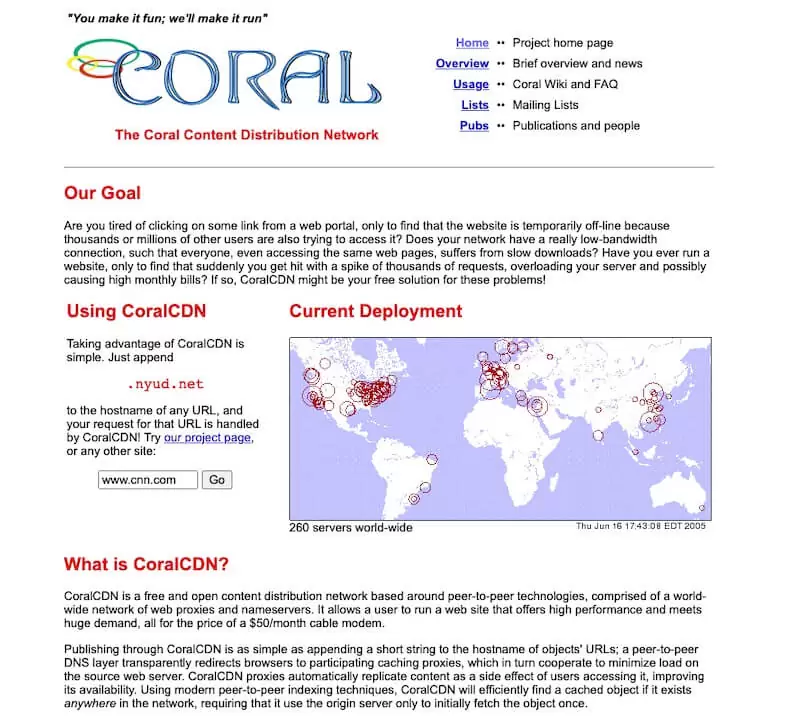 13

. Swarmify
Swarmify is a CDN provider that makes flashing fast videos easier for users on your website. It's probably the best CDN available for video delivery.
Best Features:
It allows you to auto-import videos from different platforms such as Youtube and WordPress.
It facilitates free video hosting services.
PROs:
Reduces the stall outs 8 times as compared to other video platforms.
The setup doesn't require any encoding or programming.
CONs:
Unprofessional video playback leads to bad user experience.
Pricing – It is available for free.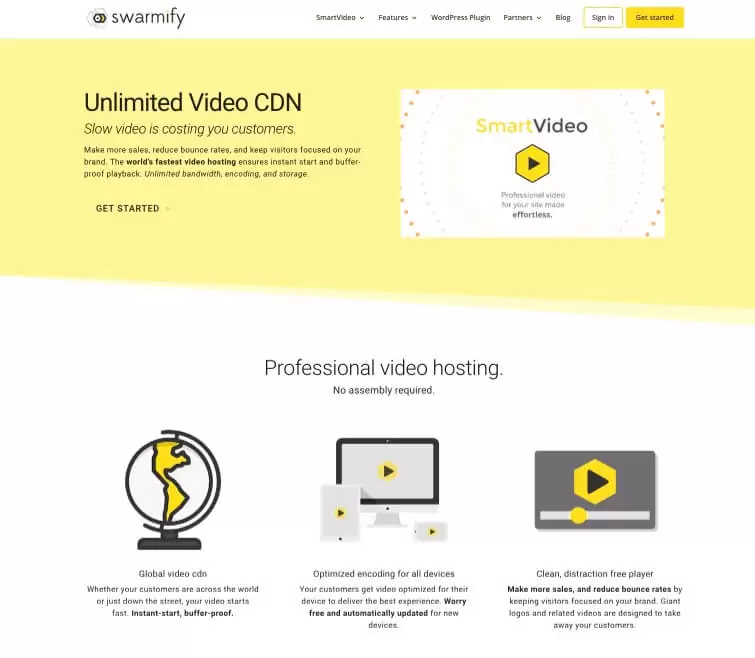 14

. KeyCDN
With over 34 data centers, KeyCDN uses advanced TCP stack servers to deliver high-performance content. While this provider is not free, you can make the most of the 14-days trial period.
Best Features:
It uses HTTP/2 and IPv6 support to deliver content at blazing fast speed.
Configures the site with DDoS protection and SSL certificate to prevent digital threats.
It allows quick integration with the majority of the CMS.
PROs:
The setup process is divided into simple steps that take a few minutes to complete.
It speeds up the delivery of images by optimizing in next-gen formats.
CONs:
The plans may prove to be costly for beginners.
Pricing – For North America and Europe, it will cost $.04/GBfor for the first 10 TB.
15

. Google Cloud CDN
A Google CDN service that helps you deliver web content as well as video content through their single IP global address.
Best Features:
It uses HTTP/2 and QUIC to improve the site performance for mobile users.
It provides built-in free SSL certificates.
PROs:
One-click solution for easy setup across different content management systems.
It uses Google's high-performance caching infrastructure to deliver content hosted on other servers.
CONs:
The plans can be expensive if the traffic on your website is high.
Pricing – Although you can avail Google Cloud CDN on a free trial, you've to pay $0.02 GB to $0.20 GB for cache egress.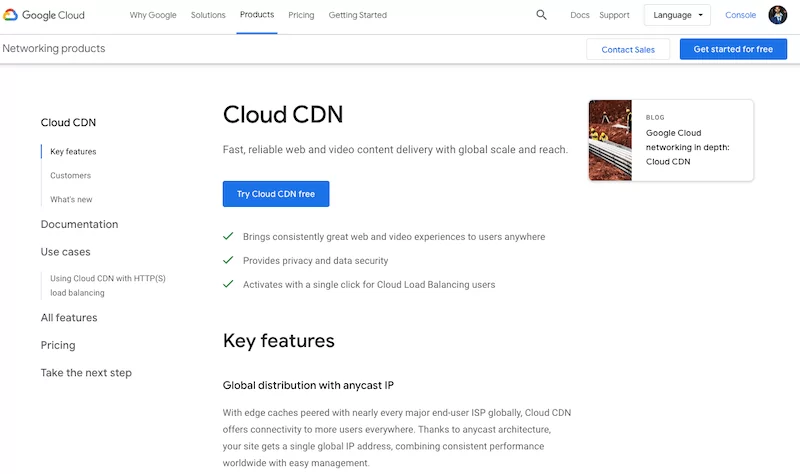 Conclusion
Not only does the aforementioned list promote the rapid loading of websites, but it also defends against cyberattacks. While we have managed to cover most free CDN options, there are a few that require payment after the initial trial period.
Did we miss any of the free CDN providers? Tell us in the comments.