Taking regular backup of your WordPress site is extremely important even if your hosting company offers you the backup option.
A big number of websites are created on WordPress CMS these days, so WordPress is one of the most attacked CMS at the same time.
Technology has its downside, and one such downside is the risks that websites face regarding getting hacked or things going wrong while hosting the same.
Backup plugins are available for websites created using WordPress to make sure that your site is safe all the time. These plugins ensure that the affected websites are made live with all its contents and updates at all points of time.
What is a WordPress Backup Plugin?
A WordPress backup plugins are used to take the backup of your WordPress site. This will help you to get back your website quickly if your site gets hacked or you lose any content on your site due to any kind of malicious actively.
In this post, we have collected some of the best backup plugins for WordPress that will ensure the safety of your content & your site.
What Are The Best backup & Restore Plugins for WordPress?
Here is the list of the best WordPress backup and restore plugins that you can use to take regular backup of your site.
My WP Backup Pro
My WP Backup Pro is a WordPress backup plugin created by MyThemeShop. If you are managing a very active site, downtime due to data loss can cost you a lot of money, so why not make sure that your site is safe.
This plugin will help you to take regular backup of your site files and content and set it to you through email, or you can take the backup of third-party services like Dropbox, Google Drive, Amazon S3, etc.
It comes with huge flexibility and changes the settings as per your requirement; you can include or exclude files as per your requirement. The plugin comes with a video tutorial as well as complete documentation to make things easier for the users.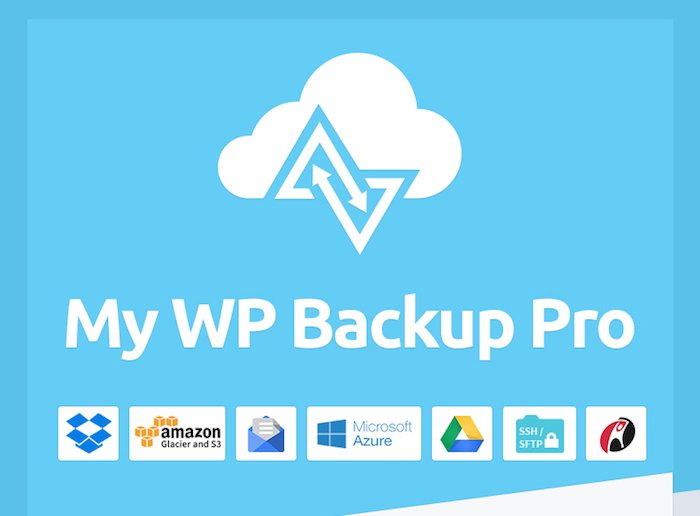 VaultPress
VaultPress is more than just a backup plugin. This tools will take care of the security of your site to a huge extent and make sure that your site is safe from viruses, malware. This plugin will scan your site and eliminate the viruses, malware to make sure that your site is safe.
VaultPress automatically detect and eliminate viruses, malware on your site and eliminate those. It will also repair the files that are affected on the go, so a huge amount of your tension is well-taken care by this plugin.
It will protect your brand and make it spam free. As far as the backup of your site is concerned, you can set an automated real-time backup of your site data to make sure that your site is up and running all the time.
This plugin will cost you $3.50 which is an extremely affordable price for such amazing features.
BackupBuddy
BackupBuddy is one of the most popular and old backup plugins for WordPress. However, it's a little expensive for general users; the price starts from $80 per year.
This plugin will help you to keep your site safe, and it will make the process easier if you are migrating your site to a new host.
This plugin will keep your site in safe custody, and offer you the flexibility that you need to take backup of every file on your site. If you are managing a high-end site that runs on WordPress, this is a nice option for you.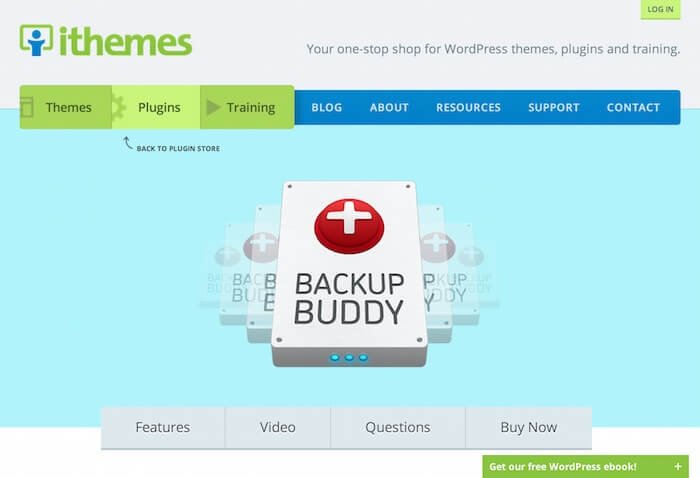 Backup & Restore
Backup and Restore is an astonishing plugin which helps users restore the complete website even when it crashes totally.
When the website crashes, website owners will not be able to access the site through dashboard since the same will not get displayed.
When this plugin is installed, by just clicking once on the backup-and-restore/settings/others section, the crash key can be generated using which the website can be brought back to life. Backup and Restore allow users to schedule the backup of websites as per their timings.
Users can opt for the automatic backup as well as deletion as per their choice. Backup and Restore regular version are available for $35. The cost of the extended license is $150.
WooCommerce Settings Backup and Migration
WooSettings can be highly useful to safeguard eCommerce websites. By configuring a WooCommerce store, all settings related to the same gets stored in a unique database which can be extracted and exported to a CSV file whenever required.
Using the CSV file, data can be imported at a later time when needed. This data can also be moved to a different WooCommerce store for added protection and convenience. While WooCommerce regular license costs $36, the extended license cost $370.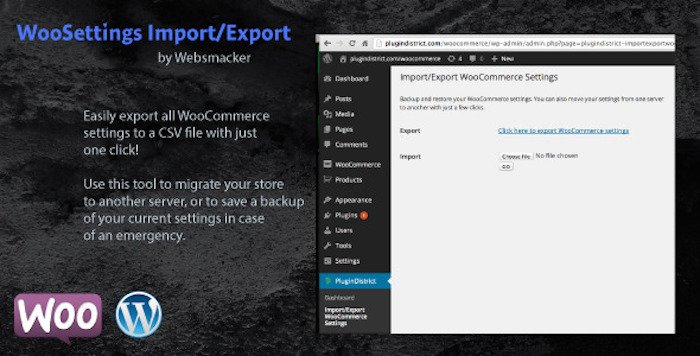 Super Backup & Clone
Being the only plugin available on CodeCanyon, Super Backup offers a streamlined backup and cloning experience for its users.
It is considered to be the number one best selling plugin that provides backup solutions. Super Backup & Clone helps users to backup their complete website in just a couple of clicks.
It helps users to establish cloud connections between any two websites created using WordPress. It allows users to backup the site on an hourly daily as well as on a weekly basis with the help of the built-in backup scheduler.
Restoration of the lost website can be done within seconds with the help of saved snapshots or through file upload.
Super Backup & Clone regular license is available for $34, and the extended version can be purchased for $190.
Ether Backup
Ether Backup is a wordPress plugin that allows complete customization of backups. Users can easily upload or download backups in a quick manner using Ether Backup. It is considered to be a highly versatile and user-friendly backup plugin when compared with other similar products available for use.
Ether Backup works flawlessly in all type of server environments. The regular license of Ether Backup plugin costs $23, and the extended license costs $115.
Backup My WP to Dropbox
Backup, My WP to Dropbox, helps webpage/website owners to backup the complete database with just a simple click.
It not only allows database backup but also helps backing up all files related to WordPress website. It enables backing up files in the zip as well as E-Mail formats.
It provides E-Mail notifications about backups to the user in a periodic manner. Backup, My WP to Dropbox, offers support to multiple websites simultaneously.
Backup my WP to Dropbox regular license costs $18, and extended license costs $90.
WP Anti-Hack File Monitor
WP Anti-Hack File Monitor is a three in one plugin that performs in a Trifold manner to safeguard the website created in WordPress. It allows periodical backing up of the website to safeguard the contents of the same in case it gets hacked by hackers.
The built-in comparing tool lets the user know the exact places that have been modified by the hackers so you can quickly retrieve the original portions. These changes can be noticed even without logging in via FTP.
The regular license of this plugin costs $10, and the extended license costs $50.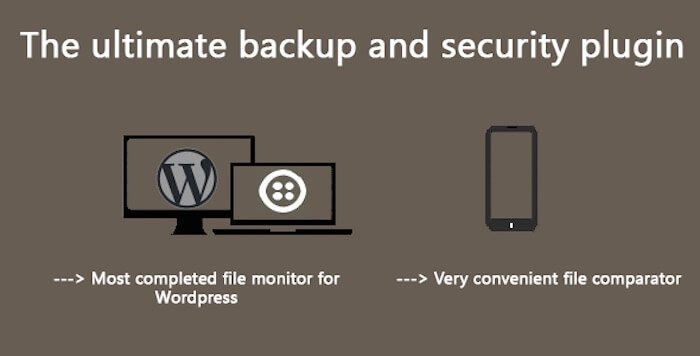 Filetrip
Filetrip is a backup plugin that allows uploading and synching of digital files easily. It is fully integrated with cloud computing. It allows users to browse and select destinations that need to be backed up as well as restored.
This plugin allows instant uploading and forwarding of files and databases to Google Drive, FTP, WordPress and Dropbox. Filetrip lets users build custom forms to collect information that is bound to digital files. Filetrip is capable of creating subfolders in Dropbox that correspond with the uploaders.
Filetrip regular license is available for $24, and the extended license costs $220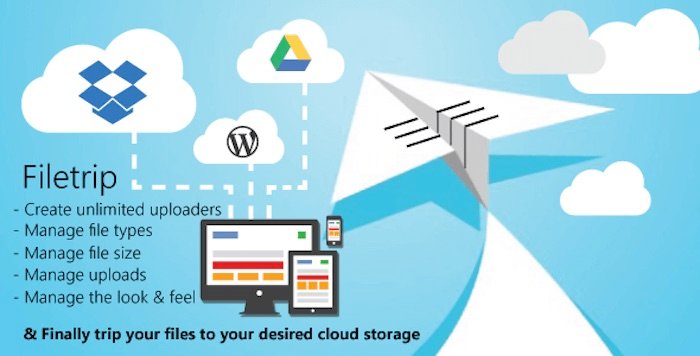 Export Data
Export Data plugin is specifically designed to export the WordPress data of the website to an Excel file or a CSV file. The interface of Export Data is so user-friendly that it allows users to export the data with minimal effort easily.
Export Data offers support to export every single data in the website using WordPress, Postmedia, Usermeta, comments, pages, and post.
Export Data is so perfectly built that it is capable of specifying the desirable order of column for the Excel or CSV files. It also allows export of user passwords in an encrypted form.
Export Data regular license costs $17 and provides support for a 12 months period at an extra cost of $4.88.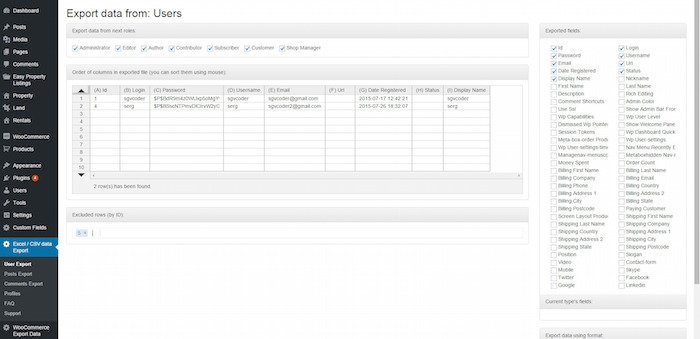 Plugin Backup & Restore
Plugin Backup & Restore is easy to restore plugin which can restore data in just a single click. It is a one-stop solution for taking backup of different types of plugins. It allows users to install multiple plugins all at the same time and saves a lot of time in the installation of the same.
Plugin Backup & Restore allows the users to backup their choice of plugins or all the plugins installed on the website in a periodic manner. Plugin Backup & Restore allows the users to restore all plugins that are backed up whenever required.
Plugin Backup & Restore regular license costs $23, and the extended license costs $115.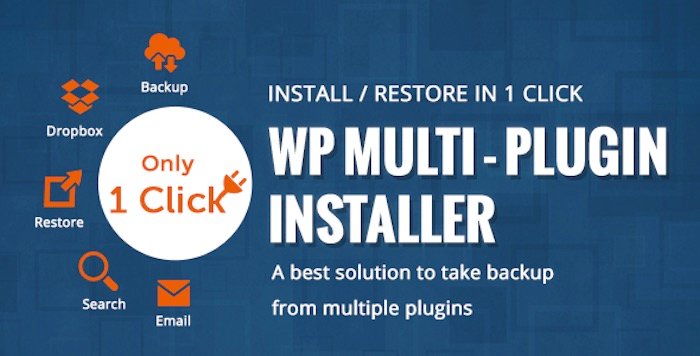 WP Bulkier
WP Bulkier is a plugin that can be used for importing and exporting posts and media that are bulky. It helps WordPress site administrators who do bulk work regarding editing innumerable pages, posts, users and custom post types.
WP Bulkier helps administrators avoid editing individual items like posts. It helps them download all the posts into an Excel file format and import the edited data back to WordPress.
This will save the administrators from performing tasks in a repeated manner which may be monotonous and mind-boggling.
WP Bulkier regular license costs $20, and extended license costs $90.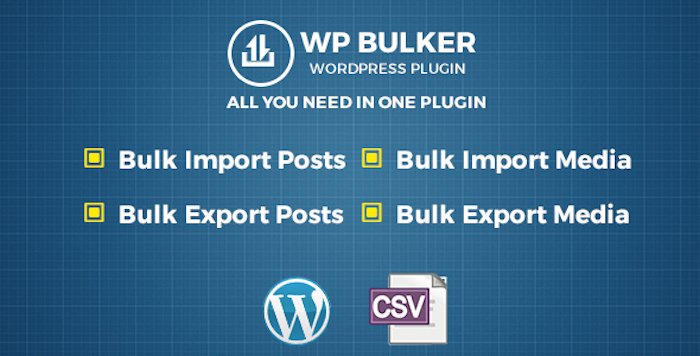 Final Word
Backup plugins are a high utility value add-on that offers huge value to the website and blog owners by safeguarding their data. Make the fullest use of these plugins to avoid losing your website data at any points in time.