Your search for the best Amazon Affiliate WordPress Plugins ends right here. We bring you a highly-curated and well-researched list of the best Amazon Affiliate Plugins that will help you throughout your affiliate earnings journey.
The global online market is jam-packed with a ton of amazing affiliate plugins for affiliates of all types and niches.
Succeeding and making money with Affiliate marketing might sound very easy but could become very complex, especially for beginners around the world.
These affiliate plugins will help you in promoting your Amazon Affiliate products, managing Affiliate links, maintaining compliance with Amazon Associates rules, and so forth.
Making Money With Amazon Affiliate Business: An Overview
If you are familiar with the concept of affiliate marketing, you might very well know that it is overall a very easy way to earn money from your own website.
Amazon runs its very own affiliate program better known as Amazon Associates. All you have to do is to sign up on the Amazon Associates program and start promoting different Amazon products.
You can easily generate affiliate links for each product on Amazon that you want to promote in just a few clicks. All you have to do is to paste the links on your website where you wish to promote that product.
Each and every affiliate link generated via Amazon contains a unique tracking code. Whenever anyone clicks on those links and purchases a product from Amazon, a percentage of the sale goes to the affiliate, which is directly into your personal account.
The percentage of the share varies from country to country as well as the product that you are going to sell.
You can go to Amazon Associate central and signup as an affiliate.
Please Note: You have to signup for different countries separately if you wish to be an affiliate for more than one country.
How to Create an Amazon Affiliate Site With WordPress?
Starting an Amazon affiliate website is very easy. And this becomes even easier when you use the most popular Content Management System in the world, WordPress. Simply get started with the following steps:
01

. Get Started with Your Website
First and foremost, you'll have to build a website for selling Amazon affiliate products online. Start it off by buying a domain name and web hosting for your website.
Also, since you are looking to make sales online, make sure you get an SSL certificate for your website as well.
Now just simply set up WordPress CMS for your website, which hardly takes a few minutes. After installing WordPress, you will reach the WordPress dashboard, from where you can make changes to your site effortlessly.
Here is a detailed guide to starting a WordPress site.
02

. Install the WooCommerce Plugin
Now, simply search for the WooCommerce plugin and install it into your WordPress site. After the installation, you'll be asked to set up the WooCommerce store on your website.
WooCommerce will initiate the setup wizard, where you'll have to choose your currency type, payment methods, your location, and so forth.
Now simply click on "Not right now" hyperlink at the bottom of the setup wizard to move ahead. You can make changes in your WooCommerce anytime you like.
Please Note: It is not mandatory to use WooCommerce to create an Amazon affiliate store. You can create a store even without this plugin. However, using WooCommerce makes it easier to showcase products in a professional way.
03

. Create Your Amazon Affiliate Account
So after installing WordPress and WooCommerce on your website, you will have to sign up on Amazon Associates as an affiliate to start selling products from Amazon.
Simply Sign up on Amazon Affiliate Program's official website via the "Join Now for Free" button. You can also sign up with your existing Amazon account if you have one. And in case you don't have one, simply create one, which hardly takes a few seconds.
After logging into your Amazon Associates account, you will have to enter your payee information and answer a few questions about your online platform. Simply follow the on-screen instructions to complete your registration.
04

. Add Amazon Affiliate Products
Creating and adding the Amazon affiliate link on your site is very simple. Once you are an active Amazon affiliate, you can copy the affiliate link and paste it onto your site.
Search for the product like you usually do on Amazon and then click on the "Get Link" button to generate the affiliate link for the Amazon product.
When you are logged in to your Amazon account, and check any product; you will see a new option at the top bar for the affiliate link.
Here is how it looks.
Now just copy the URL and past it on the article that you are writing. Make sure that you leave the "Price" field completely blank, which allows the user to directly check the price of the product via Amazon.
You will also have to enter a short description of all of your products. Also, you can add a product image for each and every product on your website. Now just click on the "Publish" button to make your product go live on your website.
Repeat this process for all of your Amazon affiliate products to create a full-fledged affiliate store on Amazon.
05

. Customize Your Amazon Affiliate Store
WordPress, on the very first installation, comes with a very basic design with very limited WooCommerce support.
You can use a custom WordPress theme that offers you a quick option to customize the design.
The internet is packed with a ton of different WordPress themes that you can use to customize your WordPress website.
Also, there are a ton of different WooCommerce plugins available using which you can customize and add functionalities to your website.
Best Amazon Affiliate Plugins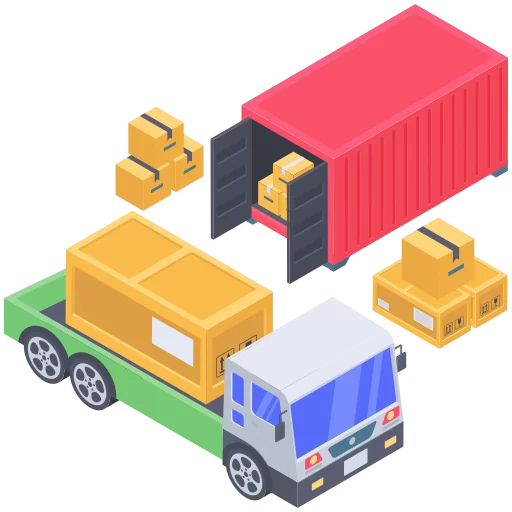 01

. Lasso
Lasso is an all-in-one affiliate management WordPress plugin that you can use to manage all the affiliate programs you join n and increase your revenue.
If you have 100 or 1000 articles on your site, it becomes difficult to track every article to find potential link opportunities even if the most suitable keyword is in there in the content. Lasso can make the process easier for you by recommending you all the posts where you can add your affiliate link and it will link to the ones that you select.
So, in simple words, Lasso can help you to increase revenue with the same amount of traffic. And this is just another feature offered by the Lasso plugin, there is a lot more to offer.
Create affiliate Link Boxes
With Lasso, you can create custom affiliate link boxes that you can place anywhere in your content. These boxes are not just the link but a little information about the link and the product that you are linking to so that you can retain the user's trust by offering them a clear idea about the link.
You can create single or multiple link boxes in one so that it attracts your users' attention quickly. Here's how the link boxes look like.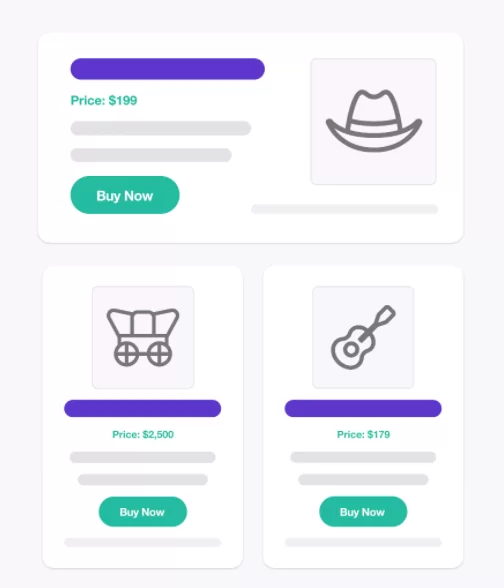 Different Affiliate List Themes
Lasso offers a number of different theme designs to choose from when it comes to the listing of your affiliate products. If you are managing an Amazon affiliate site, the themes will help you to showcase the products to attract attention with a great-looking list and the product description.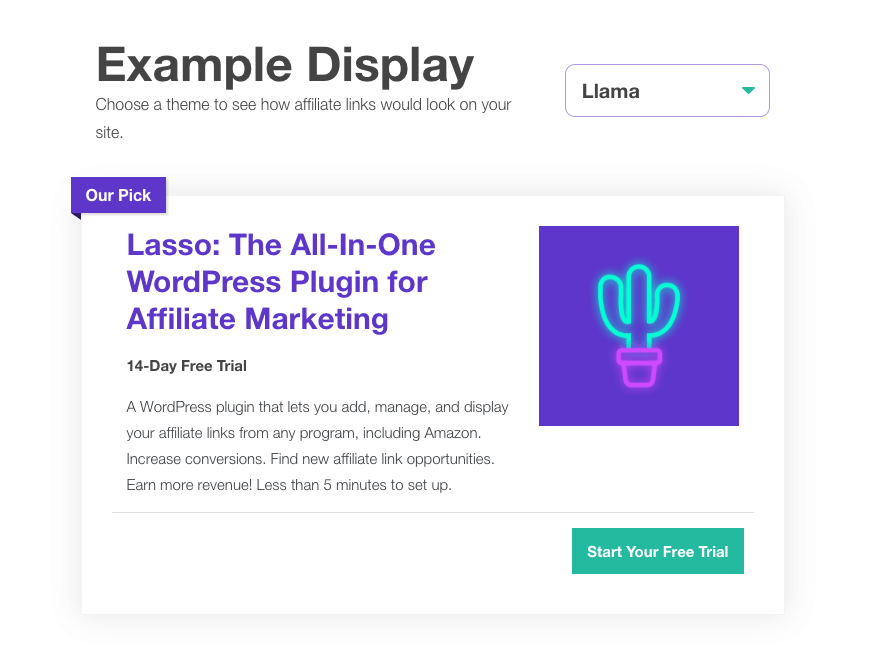 Affiliate Link Cloaking
When you are managing an affiliate site, one of the most important aspects is to create SEO-friendly, clean links for your affiliate products. Generally, the affiliate links are ugly with a number of tracking components in them. Also, search engine link Google will never like a page with multip,e affiliate links in it.
So, you must consider cloaking your affiliate links (it is the process to create SEO-friendly shorter links, primarily with your domain name) before you publish your content.
The Lasso plugin makes it quick and easy for you to cloak all your affiliate links. However, when it comes to the Amazon affiliate program, please check the terms if they allow cloaking the links.
Top Features
Pros & Cons
Pros: All important affiliate marketing management features in one plugin.
Cons: Nothing as such
02

. AAWP – Amazon Affiliate WordPress Plugin
Undoubtedly, one of the most popular names on this list, this Amazon Affiliate WordPress plugin is definitely a great choice for new and semi-professional Amazon affiliates.
The primary idea of AAWP, that is Amazon Affiliate WordPress Plugin is to help increase the total revenue of your Amazon affiliate products.
The plugin offers you a lot of different functionalities which allow you to display your products in a better way, increasing your chances of selling more on your website.
This plugin helps you automate the process of updating your Amazon affiliate site with the description of the products and other details.
It will help you to generate the affiliate links, update the details of the product, and refresh the theme every time there is a discount.
Other than data automation, this plugin offers you a number of templates to design your affiliate site very professionally.
Create Product Comparison Table
It gives you the option to create an amazing comparison table for the different products so that your content offers a very clear idea about the best products.
Here is how the product comparison tables work.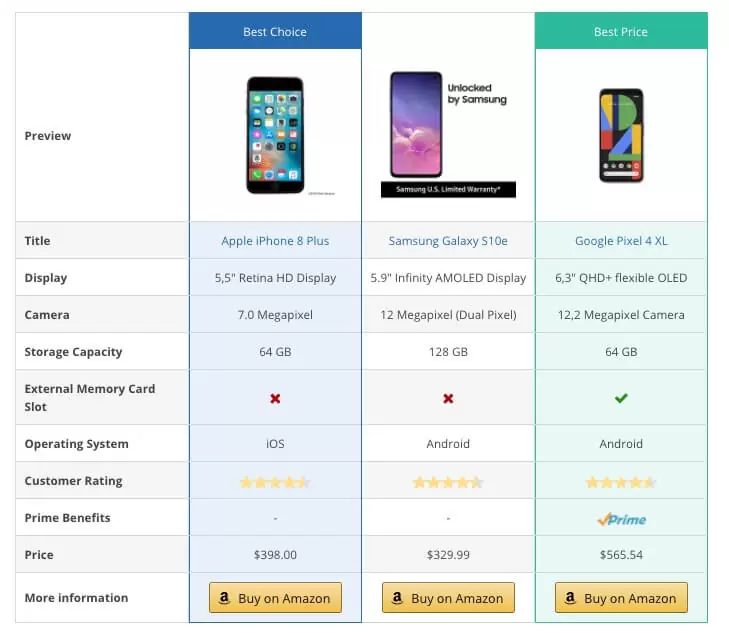 You also enable you to easily create the best seller product list to attract your user. This feature will help you to earn some additional revenue while a user comes with an intention to shop.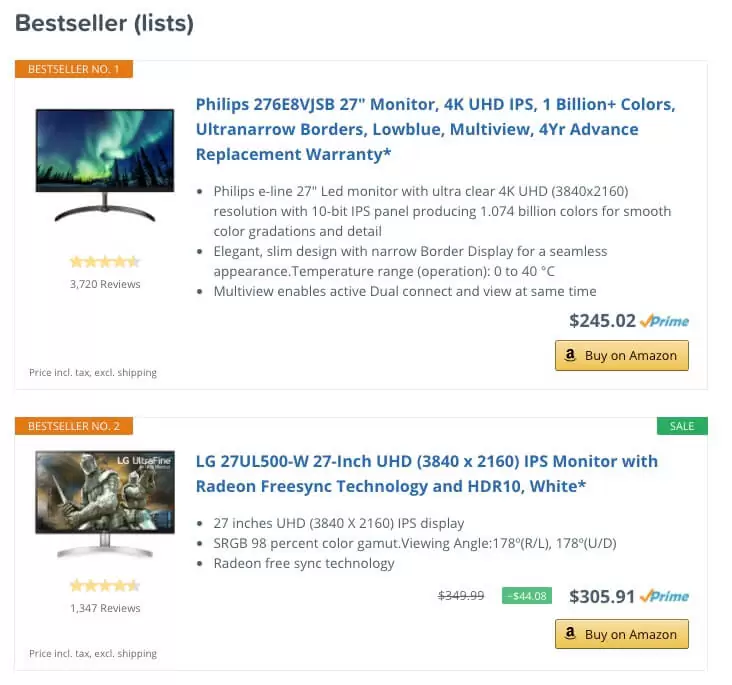 Top Features
Pros & Cons
Pros: Features like Caching and Google Accelerated Mobile Pages boost the overall performance on mobile devices
Cons: AAWP starts from €39 for one-site, which is very costly for beginners
03

. WooCommerce Amazon Affiliate Plugin
One of the top-selling Amazon affiliate plugins, this WooCommerce Amazon affiliate plugin will help you to create a fully-featured Amazon store quickly.
Using WZone, you can create a sort of pseudo arrangement for dropshipping, using which you can automatically sync your Amazon products as WooCommerce products. As soon as the visitor goes to the cart, the user will be taken on to the Amazon website to complete the checkout.
You can also create a dropshipping arrangement where users can purchase their items easily on the website. This method requires you to manually put effort into earning Amazon associates commission.
You can display the product in a very professional way using this plugin. It comes with a unique badge option that enables you to add custom badges to the product image to attract more customers.
This will be useful to showcase new arrivals or discounted products so that the visitors instantly get attracted to those products.
Product Import Feature
One of the most important and unique features of this plugin is the product import option. You can import products right from your WordPress dashboard.
So, no more manual work. This is great because you can do this even without API access.
This quite unique at the moment.
The product import system will make sure that no duplicate product is imported to your site, it comes with the filter option to detect and avoid duplicate products.
Top Features
Pros & Cons
Pros:
Automated product import option.
Geo Targeting option
Cons:
There is a learning curve for newbie users
Price: $49
04

. AzonPress
AzonPress is an all-inclusive plugin that is very easy to use. Integrating and installing it in your Amazon WordPress is very easy. The plugin is packed with a lot of different and unique features.
A lot of functionalities are made easy, such as you can create complete Amazon affiliate stores in just a few clicks.
The plugin even makes navigation through different products very easy. You can even send your customers onto the Amazon website via the "Buy Button".
Create a Detailed Comparison Table
With this plugin, you can create a product comparison table like a pro to make it easier for visitors to make an informed buying decision.
These comparison tables are fully responsive, so your tables will look great on all devices.
You can also create the product showcase tables that you see on the high authority sites. The product listing takes makes it easier for you to display all the important features of the product nicely.
Take Advantage of Geotargeting
Amazon is available in multiple different countries. So, when a user lands on your site, this plugin will redirect them to the country-specific shop.
This feature will help you to increase your overall revenue.
Get comparison tables easily integrated
Automate product updates
Generate responsive tables for all screen sizes
Top Features
Pros & Cons
Pros:
Automatic product update
Professional comparison tables
Beautiful product tables
24/7 Priority Support
100% No-Risk Money Back Guarantee
Cons:
Newbie users will have a learning curve
No product import option
Price: $39
06

. WP Table Builder
Creating a product comparison table is very important for Amazon affiliate sites. If you check top authority Amazon affiliate sites you will understand how they showcase the products in a comparison table to make it easier for the users to make an informed decision.
The WP Table Builder, a free WordPress plugin to create tables on your WordPress site will make it very simple for you to create a product comparison table with different features of the products.
And not just a comparison table, you can add a table with the product details, rating, and the buy button at the top or bottom of your articles to make it easier for the users to just go through each product.
Here is a how a product showcase table looks like.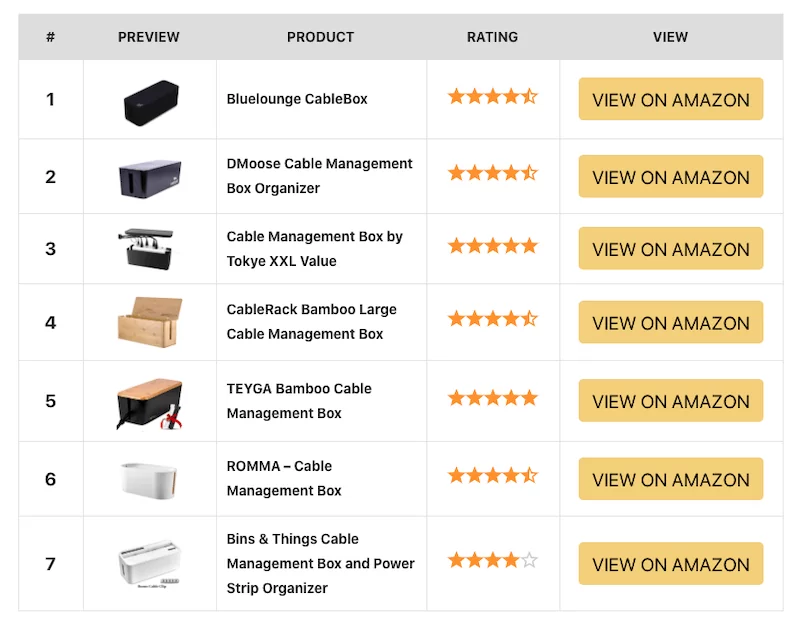 WP Table Builder will help you to create a fully responsive table on your site. The drag and drop table builder will make sure that you don't have to write any code to create a fully custom table for showcasing your products.
You can fully customize the look and feel of the table to make sure that it becomes an integral part of your website.
To make your table look attractive and engaging, you can add a product logo or other image, you can add a star rating, quickly duplicate the table, and more.
Once your table is ready, you can add the table anywhere on your posts or pages using the shortcode.
Top Features
Pros & Cons
Pros:
Simple and easy to use
Create a beautiful comparison table
Add an image, star rating, and buy button
Cons:
Price: Free
07

. ThirstyAffiliates
One of the must-have plugins for any affiliate site, ThirstyAffiliates will make things easier for you while you manage your affiliate site.
If you have a blog and you are adding an Amazon affiliate link or any other link to your posts, you can use this plugin to create an SEO-friendly link.
This plugin is primarily used to mask the affiliate links and make them SEO-friendly.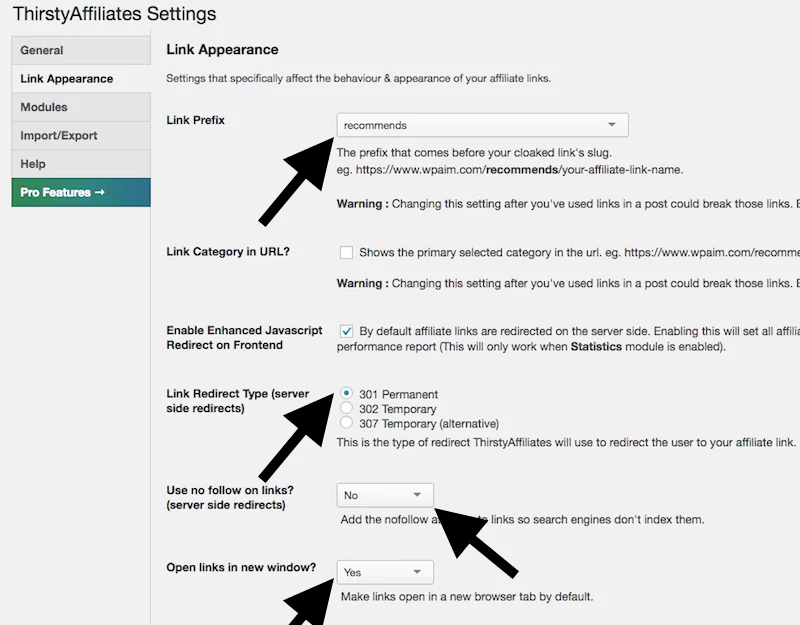 Why Affiliate Link Cloaking is Important?
If you are a newbie user and don't have much knowledge about how to use the affiliate like. You must do a little research on the best practices of affiliate marketing.
And while you do your research, you will surely come across the topic of cloaking your affiliate link.
The princess of link cloaking is nothing but adding a musk to those ugly affiliate links to make them SEO-friendly. Generally, you do this by redirecting them to your own domain extension.
This is important because search engines like Google don't like a post with a number of affiliate links on it. So, don't forget to cloak your links.
Please Note: Amazon doesn't allow you to cloak their links, please read their terms for more information about it.
Autolink Keywords
The ThirstyAffiliates plugin can also help you by auto-adding affiliate links to the keywords on your site where you have not yet added an affiliate link.
This will make sure that you don't miss any potential revenue.
You can set the keywords on the plugin settings, and the plugin will do the rest.
Geo-Targeting
ThirstyAffiliates also gives you the country-based geo-targeting option. So, you can easily send users to specific countries based on their location.
Don't miss our detailed review of ThirstyAffiliates plugin.
Top Features
Pros & Cons
Pros:
Geo targetting
Complete statistics
Easy to use
protect your commission
100% No-Risk Guarantee
Cons:
Price: $49
08

. Amazon eStore Affiliates Plugin
Another comprehensive Amazon WordPress plugin, you can use the Amazon eStore Affiliates Plugin to create an Amazon affiliate store.
The plugin comes with a number of useful modules such as the direct product import option, you can simply add the keywords and the number of products you wish to import and leave it. The plugin will automate the process to import the products.
It also offers you a content spinner module to make sure that you can change the auto-import content to avoid duplicate content issues.
Overall, this plugin can help you set up a completely automated online store with Amazon products.
09

. Amazon Link Engine
The plugin is developed to help you boost your sales and commission easily. The plugin localizes all of your links in just a few clicks. The plugin is known to be used by top brands like BMW, NBC, and Ryan Holiday.
The users who click the link on your site will be bought to the proper Amazon storefront. All you have to do here is to install, activate your plugin, and connect your Amazon Associates IDs.
The plugin works quite uniquely than any other plugin.
Top Features
Pros & Cons
Pros:
Easy to setup
Free to download and use
Advanced reports
Cons:
The localization will only work through Geniuslink Account
Price: Free
10

.

EasyAzon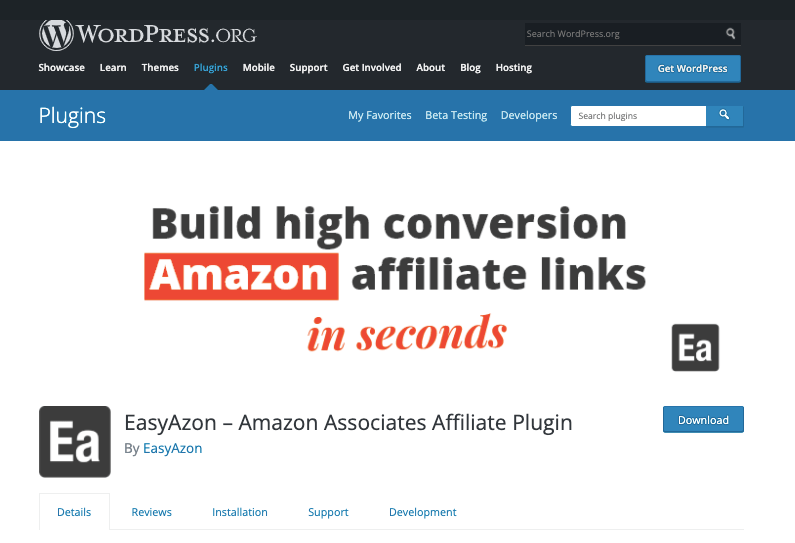 One of the easiest to use, EasyAzon simplifies creating Amazon affiliate links from within your WordPress dashboard only.
The plugin saves a lot of time and effort, where you just have to log in to your Amazon Associates Account. You will have to manually create an affiliate link to sell on Amazon.
You can also create affiliate links on images as well. Also, you can create product block links that showcase the features of all of your products. Additionally, you can add links to your Call to Action buttons.
Top Features
Pros & Cons
Pros:
Free version available
Very easy to use and creates links in just a few seconds
Cons:
Features are quite limited on the Free Version
Price: Free
11

. Amazon Auto Links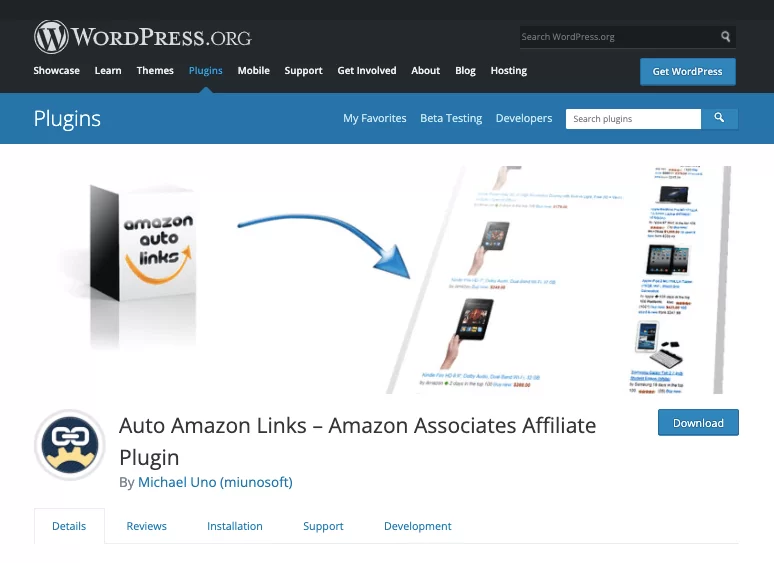 This is a very handy Amazon affiliate plugin that you can use for free. If you are still doing the manual work to get the Amazon link and find it difficult to manage, this free plugin will solve your problem.
This simple plugin will help you to manage a very active Amazon store site and make handsome revenue.
All you have to do is to pick the categories that you wish to display products from and the plugin will do the rest for you.
It will start displaying the latest products from the chosen categories with the links that will have your Amazon associate ID so that you don't miss your revenue.
Top Features
Pros & Cons
Pros:
Automate the complete process
Support all Amazon locations
Supports the latest API
Cons:
Price: Free
12

. AmaLinks Pro
AmaLinks Pro is a premium Amazon affiliate plugin that enables you to insert Amazon product details on your WordPress site without leaving your site with a few clicks.
As the details are imported from Amazon, there will be no issue with the accuracy of the data. You can edit the details a little to make it even better.
You can add the product retails, rating, reviews, and optimized buy button on a showcase box to increase your sales.
The plugin also offers you a table builder add-on that you can use to create product showcase tables to optimize your article and increase click-through.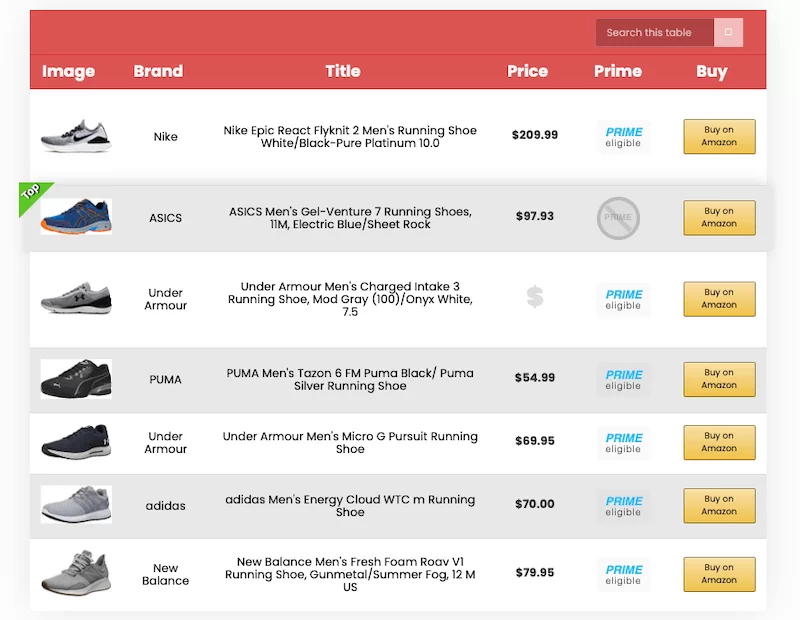 Top Features
Pros & Cons
Pros:
Easy and simple to use
Detailed documentation
Interactive table builder
Quick support
Updated API support
Cons:
Price: Free
Q1. What is Amazon Associate?
Amazon Associate is the affiliate program by Amazon. You can create an associate account and start earning revenue by referring buyers to the Amazon store.
Q2. Is Amazon Associate Program Free to Join?
Yes, the Amazon Associate program is free and simple to get started. If you are managing any blog, YouTube channel, or even a mobile app, you can start earning money by referring other buyers to the store.
Q3. How Much Can I Earn From Amazon Affiliate Program?
You can make up to 10% in referral fees for every sale. How much you can earn will depend on the overall conversion and traffic you send to the store.
Q4. Can Amazon Affiliate Store be a Profitable Business?
Yes, the Amazon Affiliate program can be a profitable business. There are so many Amazon Affiliate stores managing thousands of dollars every month.
Q5. How to Make Money Through Amazon Affiliate Program?
While there are a number of factors that can influence the overall earnings from your Amazon Affiliate store, finding a less competitive niche is one of the most important points. So, start with proper research around different products and niches that you can go for.
Final Word
With the boom in the regular online shoppers and the rise of the localized e-commerce industry around the globe, the need for high-end and state-of-the-art WordPress Amazon Affiliate Plugins is sure to reach some great heights in the near future.
These are some of the best Amazon Affiliate Plugins that are packed with future-proof and intuitive features, designed and developed especially to help the users in making the most of their eCommerce website investment.
Make sure you choose the one which fulfills all of your needs and fits right into your budget.