Soliloquy is one of the most popular slider WordPress plugins that you can use to create great-looking sliders on your site.
While you might not need a slider plugin for a personal blog, it is an important component for eCommerce-related websites, photography websites, and lifestyle, or a food blogs.
There are a number of popular slider plugins for WordPress, but you have to make sure that the plugin you select is well coded and lightweight; otherwise, it will severely impact the loading speed of your site.
Why Should You Use a Slider?
Though it is not mandatory to use a slider on your site, you can't deny the fact that a well-created slider can make your site look better. It becomes even more important when you are showcasing a product.
You can also use a slider to showcase the best content on your site so that you can drive more traffic to those articles, you can also use it to display custom offers.
Many top authority sites make use of a slider to showcase the latest content with great images. If you are in the lifestyle niche, food blogging or a media niche, the sliders are very important.
Soliloquy Slider Types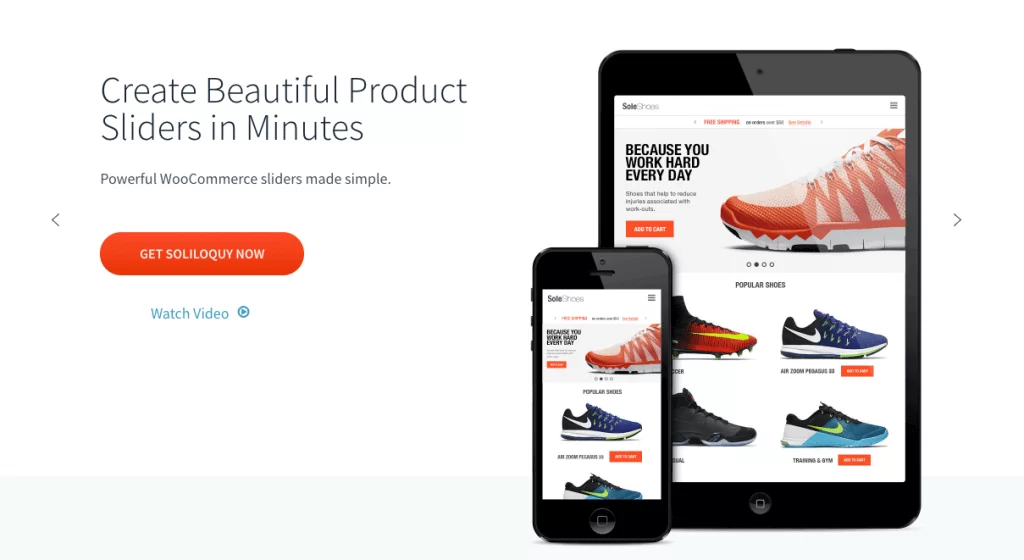 Soliloquy gives you the quick option to create a number of different slider types on your site. No matter what kind of site you are managing, this plugin will perfectly fit your requirement. It is a fully responsive plugin so your slides will look great on all devices.
Getting Started
Unlike many other slider plugins, the Soliloquy plugin is easier to understand for newbie users and the process of creating a slider is also quick and easy.
The Soliloquy Slider plugin works like a custom post type. Once you activate the plugin, you will get the new Soliloquy option on your WordPress dashboard. You can click on Soliloquy >> Add new option to create your slider.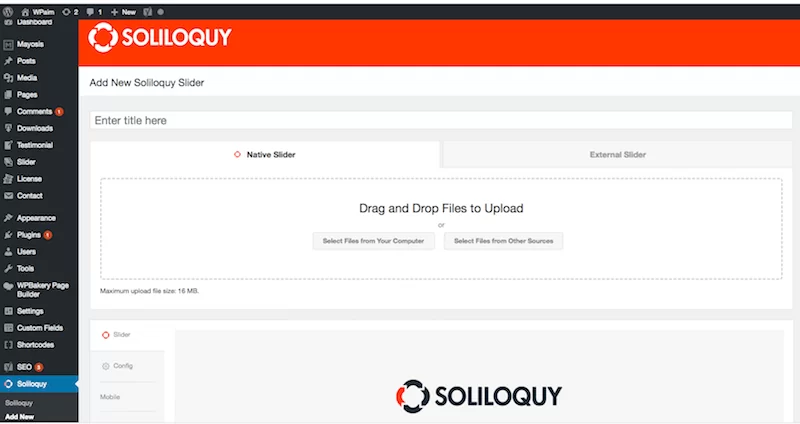 When you go for creating your first slider, you have the option to choose from image sources. You can upload new images from your computer or you can use the readily uploaded images from your media library.
After importing the images for the slider, you can visit each image and edit them further, add a description, and caption if you need to.
As you can see, the process of adding images to the slider is effortless and the settings are even simpler. You can easily understand the options given in the slider settings. You have basic important options like slider transition, duration, slider dimensions, etc.
Slider Speed
Whenever you use a slider plugin on your site, one of the key issues is the loading speed of the site. It is well known that many slider plugins affect the loading time of a site to a great extent.
Soliloquy Slider plugin has addressed this issue quite effectively and made sure that the slider doesn't affect your site's speed.
Features Add-Ons
As already mentioned, the Soliloquy Slider plugin comes with a number of different add-ons that will enhance the overall performance of your slider and bring a number of amazing options to the table.
Featured Content Addon
This is a very important add-on that will help you to showcase the featured content on your site in a great-looking slider. You can use this add-on to drive more traffic to the money-making posts on your site.
Beautiful Carousel Slider Add-On
Create a great-looking Carousel slider with this add-on. You can use the Carousel slider in between posts or anywhere on the page to attract more visitors to your important pages on your site. You have the option to add a caption, and link the images to any URL of your choice.
Create PDF Slider
Are you aware of the site Slideshare.net, it has been one of the top PDF and slideshow sharing sites that were taken over by LinkedIn.
You can create a similar kind of site with this Soliloquy add-on. You can create a PDF version of your content and show it in a great-looking slider. This can be helpful in many ways.
Generally, people like visual content more than text, so why not create a great-looking PDF slider for your content and showcase it in the most engaging way. It will also make it easier for you to share your content on social media sites.
The process of creating a PDf slider is quite simple. After installing the PDF add-on, all you have to do is to import the PDFs like any other image and create the slider. Once you have the slider you can show it anywhere on your site with the provided shortcode.
WooCommerce Add-On
If you are managing a WooCommerce store, this Soliloquy add-on will be very handy for you. With this add-on, you can create a slider for your products on automation.
When it comes to selling products, the presentation makes a lot of difference.
The process of creating a WooCommerce slider is very simple. You can create a new slider using Soliloquy and then select WooCommerce as the source.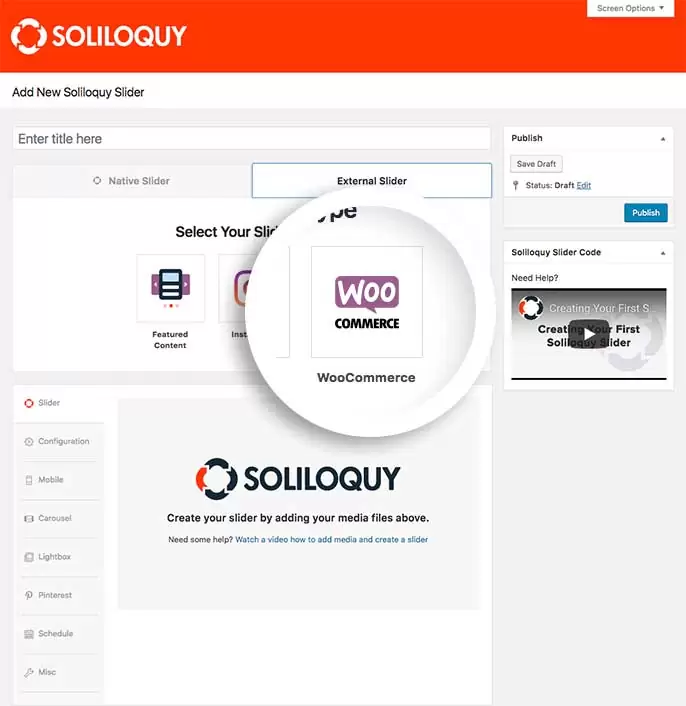 There are a number of other add-ons that you can use on your site.