That was our list of top Zoom alternatives that you can use for video conferences. Let's look at some of the popular options in detail below.
But before that, here're a few Q & As
1. What are the best alternatives to Zoom for conducting business-related video conferences?
You can use the following apps for business video-calls:
2. What are the top alternatives to Zoom to enjoy a video call with friends and family?
For staying in touch with your friends and family, you do not need an app with tons of features. A simple app that suffices the basic requirement will serve the purpose.
You can use the following apps for staying in touch with your friends and family:
Even Instagram supports video calls with tons of fun filters.
3. What is some etiquette for attending a video conference?
Are you afraid that you will embarrass yourself at a video conference? Worry not, here are few simple tips that will prepare you for the next video conference.
4. What are the best-encrypted video conference apps?
It is important to ensure that the app that you have decided to use for making a video conference is secure. Listed below are the best-encrypted video conference apps along with their security mechanism.
5. What is end-to-end encryption?
End-to-end encryption is a form of security that ensures that the message that you are sharing remains only between you and that person.
In short, nobody in between will be able to read the message. The messages that you send are protected through a lock and only the recipient can unlock and read those messages.
All of this happens automatically and therefore; the conversation takes place seamlessly.
It is one of the highest quality video calling apps. The interface of the app is pretty simple and hence, highly reliable. It can be used on the web, computers, smartphones, tablets, and iPads.
Currently, Google Duo supports up to 32 people for a group video call. In case, the numbers of participants are more than 32; Google Duo would not be the right fit.
With Google Duo, it becomes possible to enjoy a video call even when the lighting is poor. It is a cross-platform app, and therefore, staying in touch won't be difficult. The connections created through Google Duo is secured by end-to-end encryption.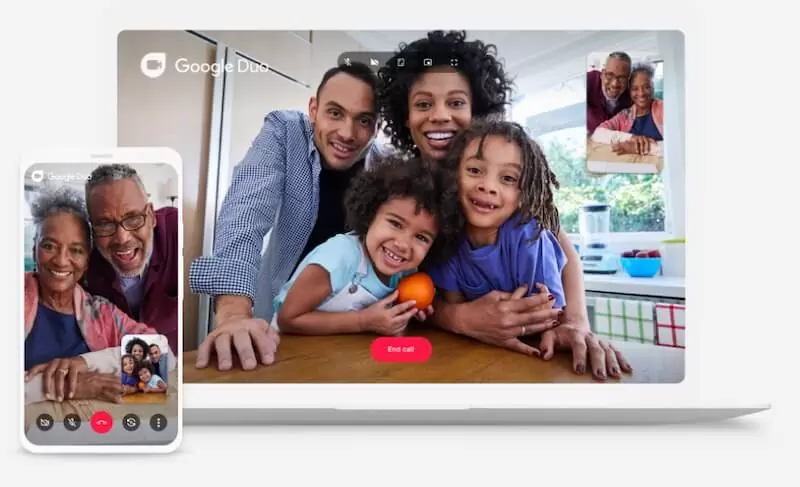 Microsoft Teams is a hub for teamwork. From private to group conversation, Microsoft Teams supports everything. Even keeping all the team members in the loop is easy on Microsoft Teams.
You can connect face to face and enjoy HD video call on Microsoft Teams. The app is perfect for conduction all the important video calls. With just a link, one can also join meetings.
Further working on your team's document is an easy job on Microsoft Teams. In terms of security and privacy, Microsoft Teams protects your:
Privacy by design
Identity and account information
Data from cybersecurity threats.
You can also blur your background to avoid an embarrassing situation during a video call.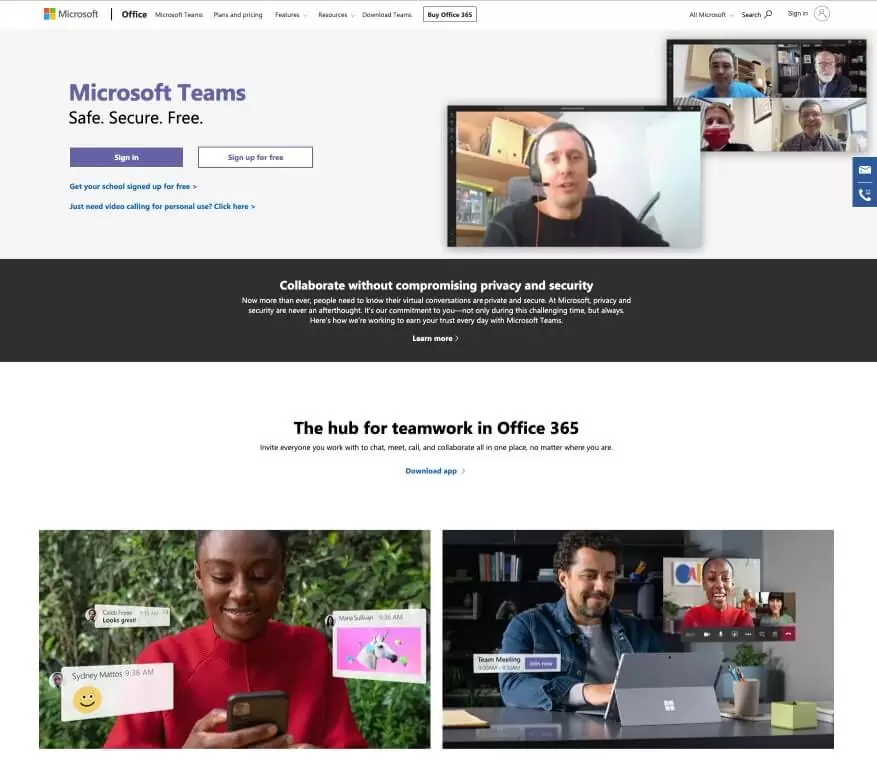 Skype was always the king of all the video calling apps. With Skype, you can seamlessly make HD video calls. The app further supports smart messaging.
Skype supports up to 100 participants in a video conference. Just like Zoom, Skype also supports free conference call that requires no registration or account. Just click on the link and join the video CALLS.
Additional features of Skype include instant chat, file-sharing, voice calls, emoticons, and live transcription. What makes Skype different is the fact that it can be used even on Amazon Echo and Xbox One.
Hangouts is another Google product that supports video calls. Just like other apps listed here, it supports a group conversation.
You can connect anytime with free voice and video calls. It supports a group chat with 150 members. However, the group video call is limited to 10 people.
A Chrome extension is also available for Hangouts.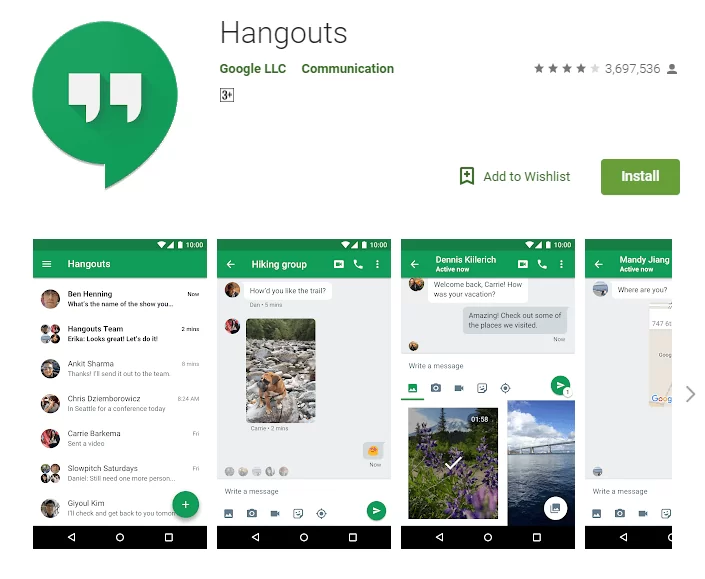 If you want to connect, collaborate and communicate, the Cisco Webex Meetings app is here. You can create your very own personalized meeting room on the Cisco Webex Meetings app.
The app can be customized for webinars, video calls, and remote support.
Let's now talk about the encryption technology of Cisco Webex Meetings. The app supports three encryption mechanisms:
128-bit Secure Sockets Layer (SSL)
End-to-end (E2E) encryption
12-bit AES
Cisco Webex Meetings supports one-click meeting access. It is a cross-platform app and therefore, it can be used seamlessly across all platforms.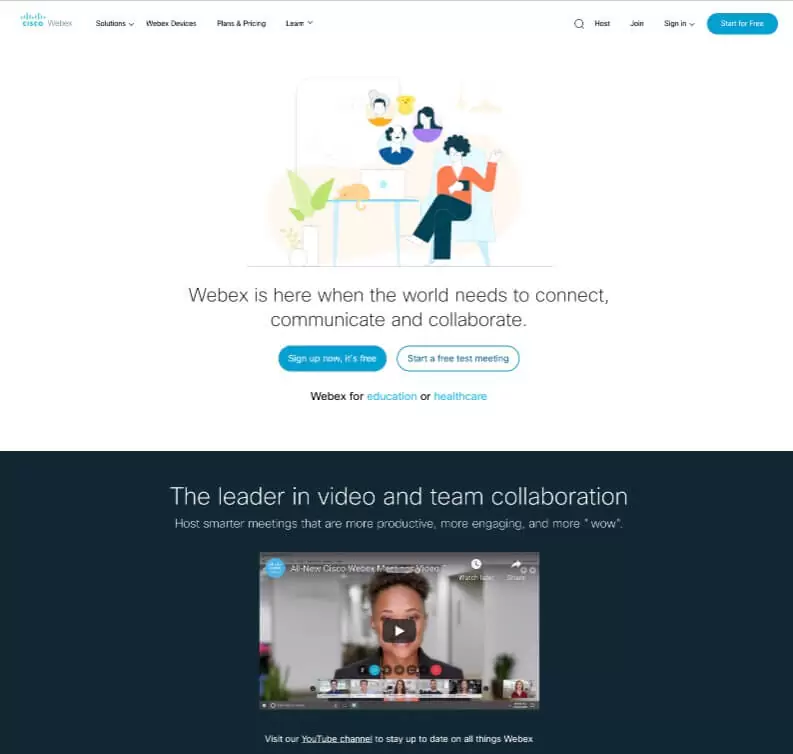 If the meeting that you want to conduct includes people who own Apple devices, then there is no better app than Facetime. Firstly, it is the native video call app of Apple. Secondly, the security of the app is robust.
You can connect with others on Facetime, either through their phone number or Apple IDs. The app supports both audio and video calls.
In terms of group FaceTime, a total of 32 people are supported. You can further add a fun element by using Animoji.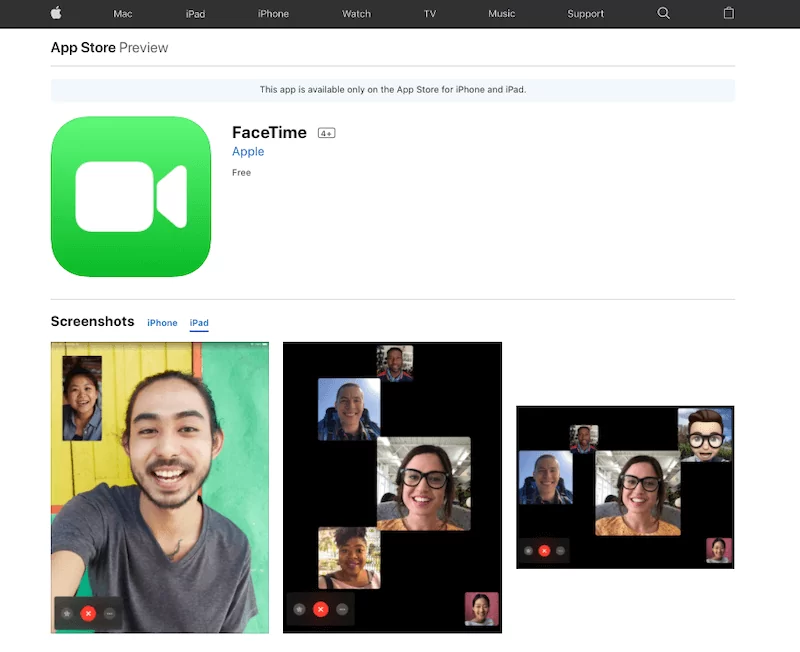 Trusted by more than a billion people, Messenger is one of the most popular messaging apps. Apart from sending text messages, you can further use the Messenger app for video calls and voice calls.
From a one-to-one video call to group video calls, you can do it all in the Messenger app. You can further add fun filters while you are on a video call.
The app supports a video call with up to eight members. Messenger supports both high-definition audio and video calls.
In addition to that, a wide number of face filters are available on Messenger. You can make unlimited phone calls and send unlimited texts through Messenger.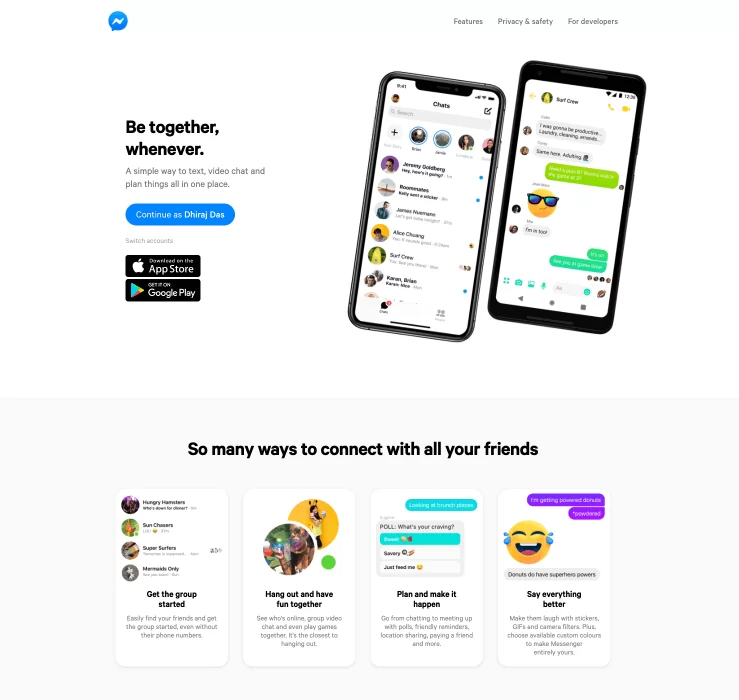 There is no other best way to stay in touch with your friends and families other than WhatsApp. It is the most popular messaging app available out there.
Thanks to its user-friendly interface and simplicity, the app can be used by everyone.
WhatsApp supports free video calls which makes having face-to-face conversations such an easy job. WhatsApp supports security by default. The app supports end-to-end encryption which makes it highly reliable and secure.
Additional features of WhatsApp include group chats, web and desktop support, free voice and video calls, voice messages, and easy document sharing.
Don't miss our list of best WhatsApp alternatives.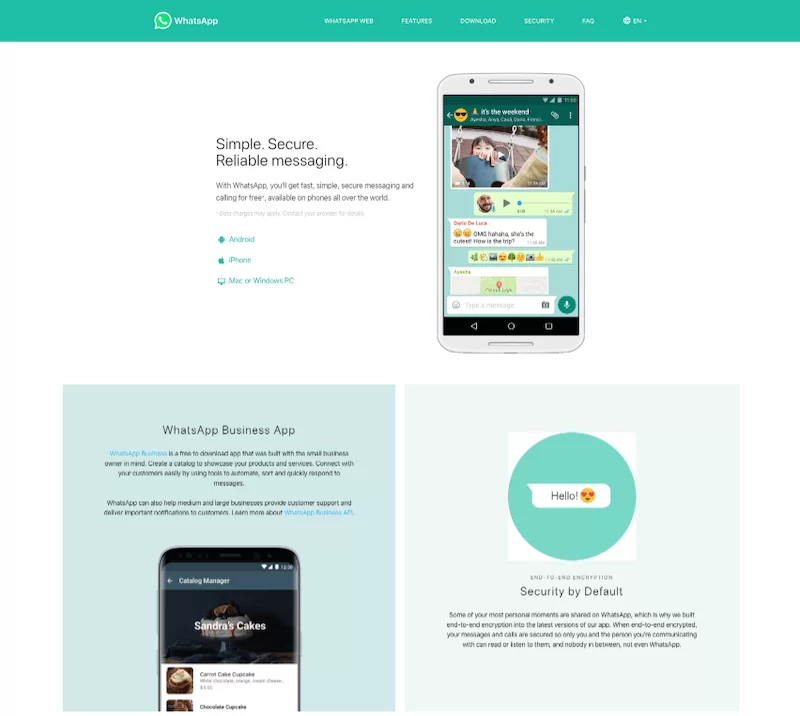 If you are already using Slack, you must be familiar with its video conferencing features. Not many people know about the fact that Slack also supports video conferencing.
Now, when you are working from home, make the most of your time by using Slack. In fact, Slack can prove to be one of the best alternatives to the Zoom app.
The Slack app supports not only video calls but also screen sharing. You can now share your screen while you are attending video conference calls. This makes it easier to communicate complex ideas in an easy manner.
Don't miss our Slack Review and best Slack alternatives list.
With the Slack app, you can only make video calls to the members of your workspace. The video call feature of The desktop version of the app only supports slack. Data in the Slack app is protected through:
Encryption
Slack Enterprise Key Management
A maximum of 15 members can participate in a video conference call on Slack.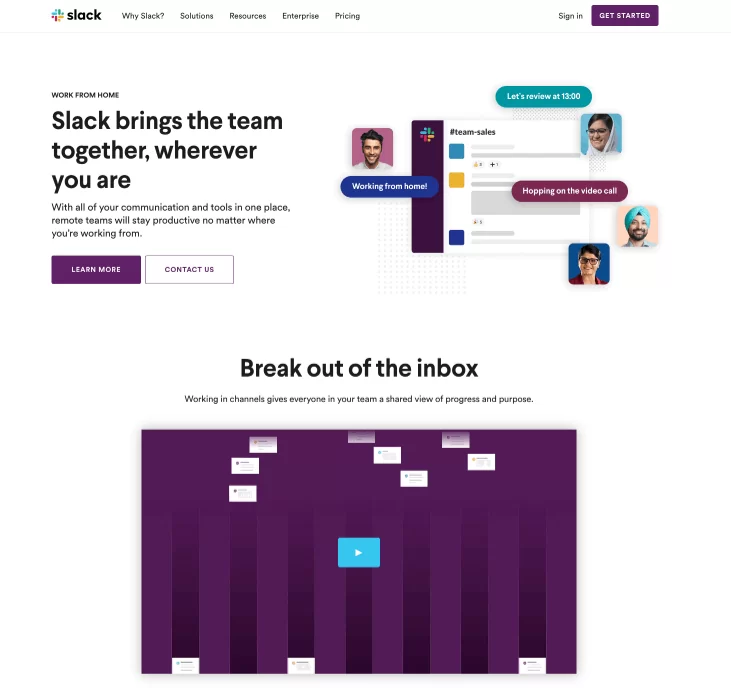 It is an open-source video conferencing service. The video calls conducted through Zoho Meeting are supported through end-to-end encryption along with industry-standard SSL/128-bit AES protocols.
Zoho Meetings supports video conference calls for 100 people. The members don't need to sign up or log in for attending the meetings.
Just like Zoom, Zoho Meeting allows the users to join the video conference through a link. Different features of Zoho Meetings include:
Screen sharing
Call recording
Moderation
Document sharing
Integration with Zoho's Office suite
Further, the app can be used for delivering presentations and webinars.
Now that, we have the list of the top alternatives of Zoom, let's talk about the frequently asked questions. In case, we missed any queries, feel free to ask your question in the comment sections.
What to choose?
Now that you have made your mind to replace the Zoom app with other video conference apps, it's time for you to choose a video conferencing call.
The very first criterion that you need to include is that of security. The good thing is that all the apps which are listed above are secure. So, you don't have to worry about it.
Secondly, you need to ask how many people will be attending the video conference. Based on the answer, you can choose an alternative app for Zoom.
Thirdly, do you want to use a free version or the paid version? Please note that the free version of the video conferencing apps will have limited features. If you are holding business calls, you should go for the premium versions.
In case, you want to have a casual chit-chat with your friends and family, you can use everyday apps like Messenger, Skype, FaceTime, and WhatsApp.