There are many reasons why someone might want to find an alternative to Wikipedia. Maybe you're looking for more accurate or up-to-date information on a particular topic.
Or maybe you're just tired of the same old thing and you're looking for something new. Whatever the reason, there are plenty of great alternatives to Wikipedia out there.
Hope you are able to find the top Wikipedia alternatives in this list.
Details of top Wikipedia Alternatives
Citizendium
Citizendium is an online encyclopedia project that aims to create a collaborative, authoritative reference work. Its stated goal is to improve upon the accuracy and quality of the information found on the Internet.
How Can Citizendium Help?
Citizendium can help by providing a reliable, up-to-date source of information on a variety of topics. The project's articles are written and edited by experts in their respective fields, and all articles undergo a rigorous review process before being published.
As a result, Citizendium articles are generally more accurate and comprehensive than those found on other online encyclopedia sites.
In addition to its reference articles, Citizendium also features a number of other resources that can be helpful for students and researchers, including a directory of experts, a timeline of events, and a glossary of terms.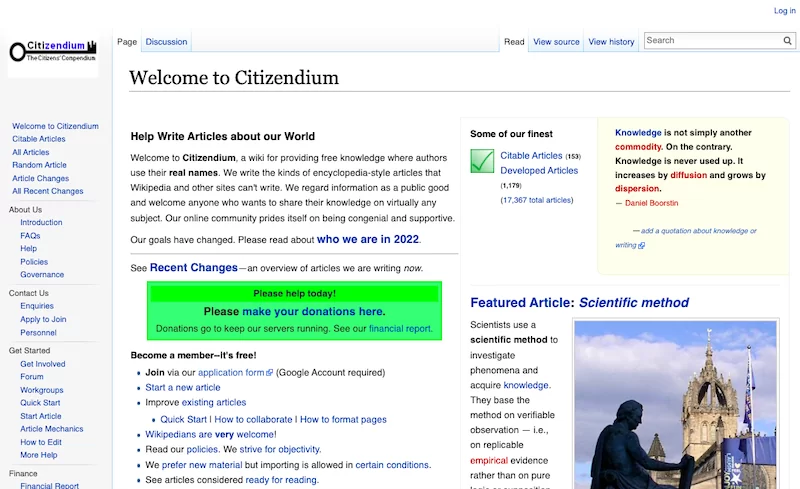 Encyclopedia Britannica
Encyclopedia Britannica is an online encyclopedia that provides users with comprehensive and authoritative information on a variety of topics such as history, science, and culture.
Encyclopedia Britannica was founded in 1768 by a Scottish doctor named William Smellie. The first edition of the encyclopedia was published in 1771 and contained just three volumes.
The encyclopedia quickly became popular, and by the mid-19th century, it had expanded to include 24 volumes. Today, the Encyclopedia Britannica is published online and includes more than 100,000 articles.
Encyclopedia Britannica is a trusted source of information for students, researchers, and educators around the world.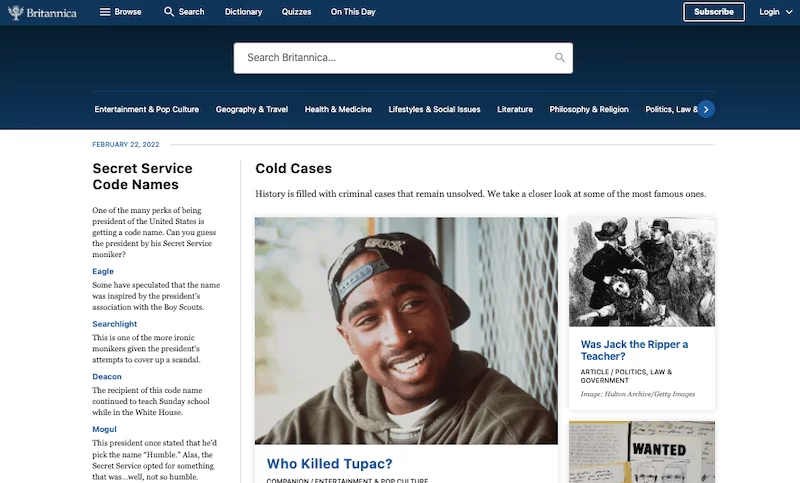 TheFreeDictionary
TheFreeDictionary is one of the most comprehensive encyclopedia sites on the web where you can find information about almost any topic. Along with a number of very handy directories, it comes with a complete encyclopedia section where you can find more details about any topic.
If you wish to learn the English language, the TheFreeDictionary comes with a complete directory where you can find the meanings of different words as well as the correct way of writing sentences.
It offers a number of niche directories such as legal, medical, and others to help you know more about those topics.
you can access the site in a number of different languages. Overall, TheFreeDictionary is a very handy resource on the web.