Top Apps Like Tinder
Here's is a list of top apps like Tinder that you can use to find your date.
01

. Coffee Meets Bagel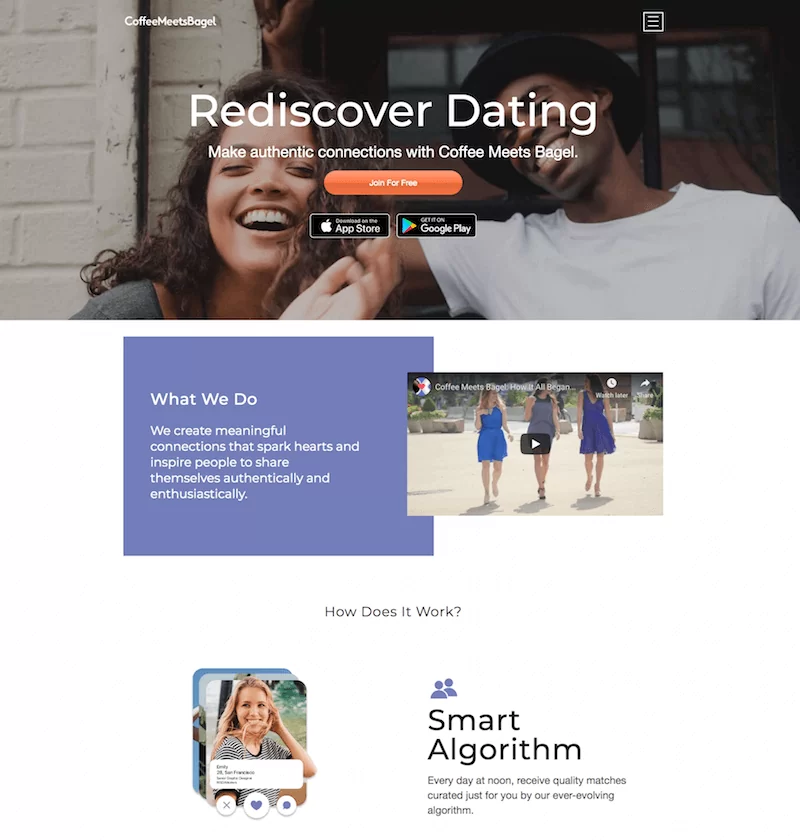 Coffee Meets Bagel is attractive for how it uses a smarter algorithm for use. You will get matches designed on a full algorithm based on people who are interested in you.
This works with detailed profiles that are established to help you convey details to others about everything you want to show off to others.
You have the option to like or pass the matches on your account. The key is to ensure that you have only the best matches.
02

. Happn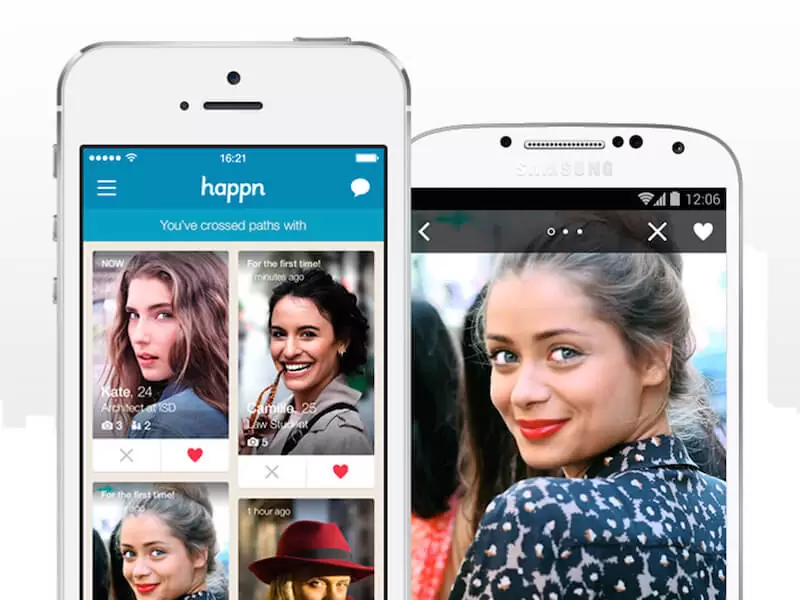 You can also use Happn to find people where you are. Happn is a located-based option that lets you like or dislike others. You can chat with a person if that someone likes you back.
Much of this works by tracking the people you notice when going down the street or doing other things while the app is active. Happn makes it so you will never have to miss a connection again.
Also, you can choose the Cross option on Happn so you will not come across another person that you are not interested in again, thus giving you more control over your experiences when using Happn.
03

. Hinge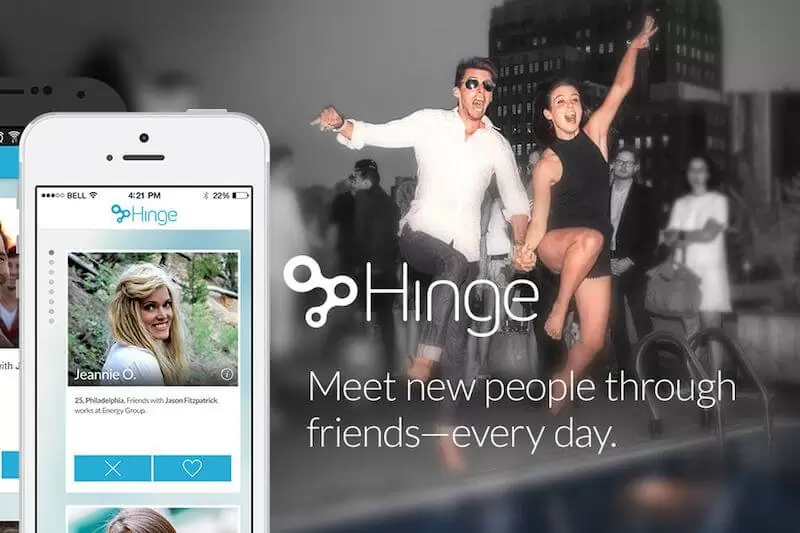 The interesting thing about Hinge is that the people behind it say that it is designed to get people off of that app and into real dates. Hinge uses a more human approach to finding people.
A timeline-based profile for each user shows off various interests and other things of value. The design encourages fluid and more relaxed way to interact with someone.
More importantly, the design facilitates a better sense of communication without all the pressure that might come with trying to get in touch with someone.
04

. Plenty of Fish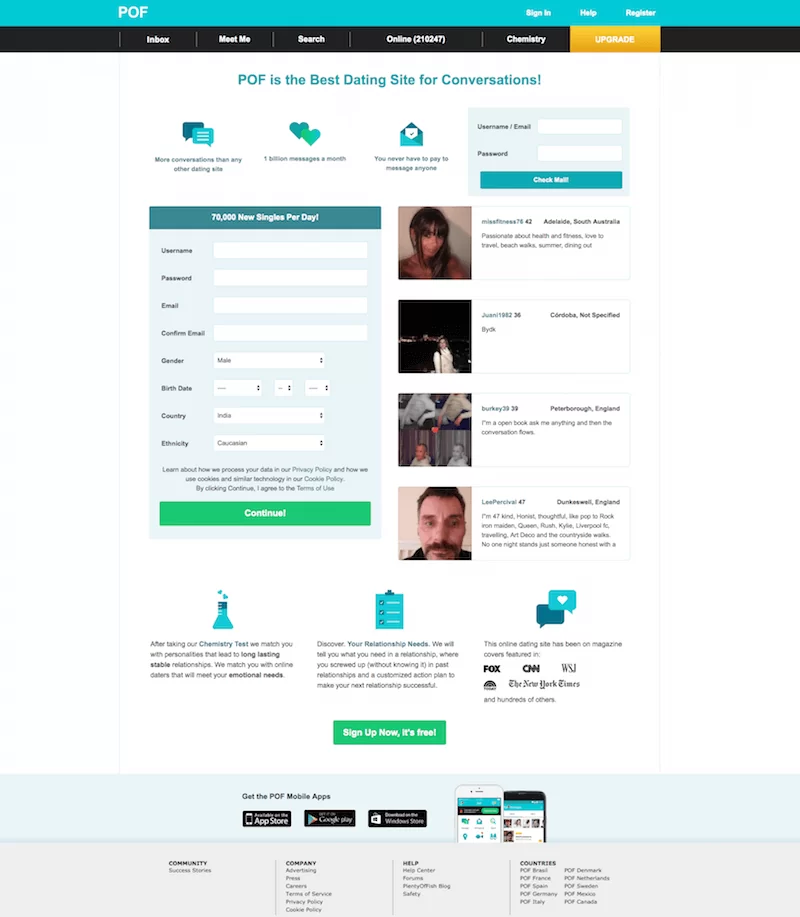 Plenty of Fish has been working for years as a grouping that can help people with finding many ways to manage different points for finding great dates.
You can use Plenty of Fish to send messages to others and to review many profiles. With more than 70 million profiles, you can find many options for people that you might be interested in getting in touch with.
05

. Bumble
The helpful layout of Bumble works with a location-based setup. With this, you can communicate with others in moments. But an important part of Bumble is that female user is only able to make the first contact with male users when working in heterosexual relationships.
A same-sex relationship entails either person having the ability to send a message first. The Bumble Bizz feature also helps you with expanding a network of people you want to reach, a point that may be worthwhile if
you're a busy professional who needs to find great people to work with. Bumble BFF is also useful for when you need help with finding useful friendships with other people who have the same interests as you.
06

. Blendr
You can also work with Blendr when you're aiming to make more out of your work. Blendr is actually designed to be like Grindr, what with the person who created Grindr also having produced Blendr.
But the big difference is that Blendr is for straight relationships. Blendr focuses more on positive relationships with people and is about basic meeting points of value.
The important thing here is that Blendr does not entail people looking for casual sex, as it focuses more on those who are more into the emotional and friendship standards of relationships.
07

. badoo
badoo is intriguing in that it focuses mainly on helping you find people in places that you frequent. The app has a Tinder-like look, but it does more with locations.
You can search for people based on each location that you frequent. You can send messages to those people so it would become easier for you to highlight your work with others.
08

. Skout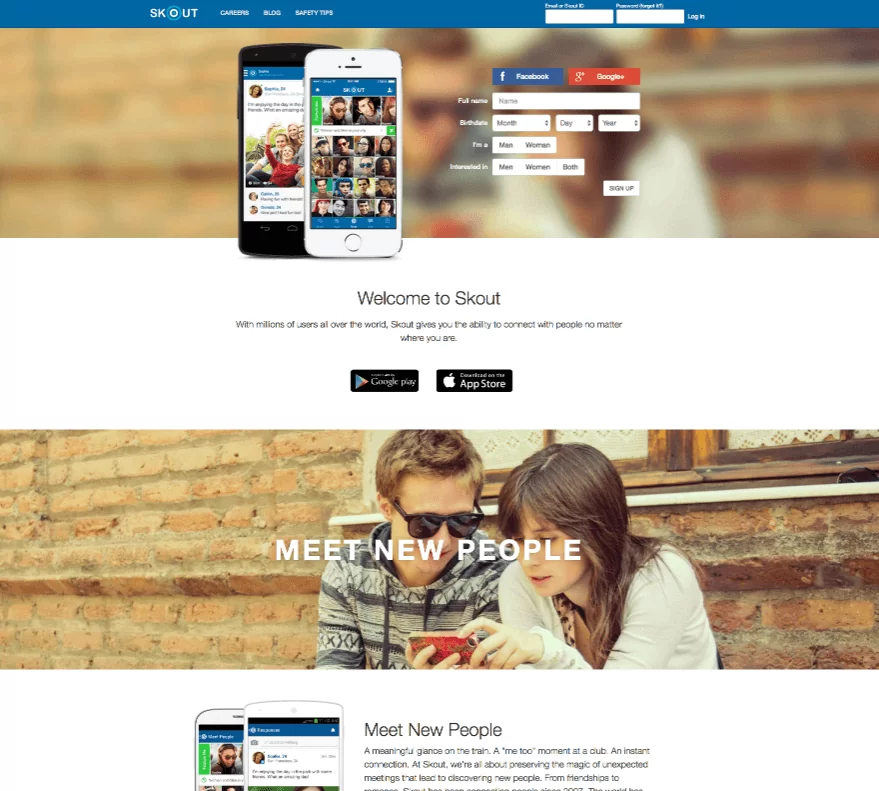 Skout is another good site worth noting. The program focuses on a safer approach for handling your content online.
You can use Skout to get information on many people where you are, not to mention those who might be interested in your profile or anything else of value on your site.
09

. EliteSingles

Your next option to see is EliteSingles, an app that focuses mainly on professionals who are looking for love.

With EliteSingles, you can get in touch with other singles who might be interested in getting in touch with you based on your hobbies or interests among other things of value.

The things that you can do on EliteSingles include many things that focus mainly on communicating, but the best part of what EliteSingles offers is that the setup helps people to find great matches based on the things that they are interested in the most.

This is useful for those who want to experience better results when getting online and finding good singles of value.
10

. Jaumo
Jaumo is the last choice to notice when finding a great app like Tinder. Jaumo is about flirting and chatting for the most part.
The design is popular enough to where tens of thousands of people have come online to check out what's available.
11

. OkCupid
OkCupid is a popular dating app that will connect you with the perfect match depending on interests & beliefs. This is a very popular alternative to Tinder that you can use to find a date.
OkCupid is available for both Android and iOS platforms. You can create your account, fill in your details and start browsing possible dates. This app is simple to use and much like Tinder, it will give you the option to message a user only after a match.
Here, you will find a lot more detailed profile of users than many other dating apps, so that you can understand a person much better before you show your interest.
12

. eHarmony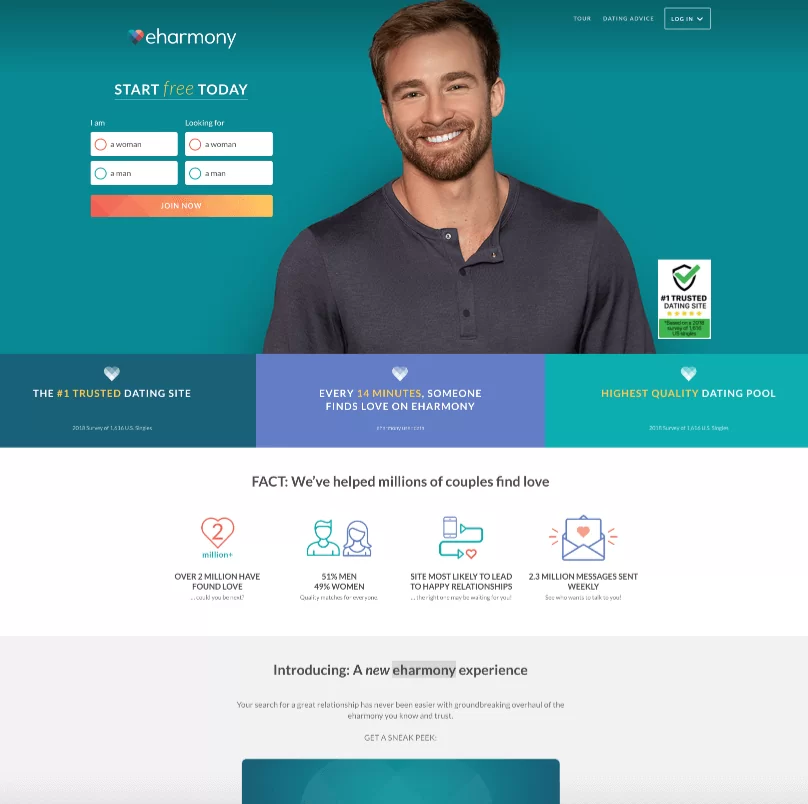 eHarmony is another popular dating platform. Millions of users are already using the platform to find love.
The platform comes with a unique compatibility score system to help you find the perfect match for you.
eHarmony offers you a mobile app for both iOS and Android platforms. So, you can start using this dating platform and find your love.
13

. Match.com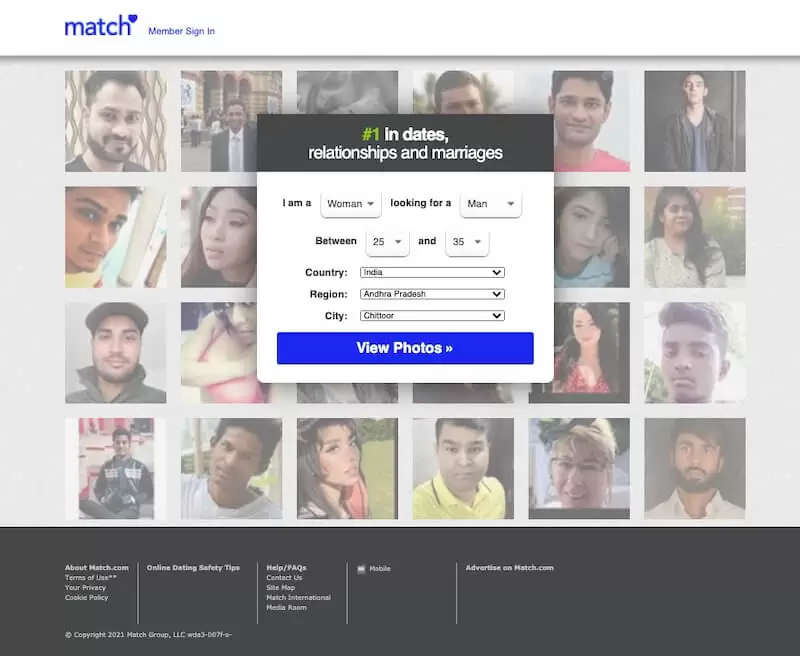 As the name suggests, Match.com is an online dating platform that you can use to find your partner. A popular dating platform that started in the year 1995, so it is one of the oldest platforms in the dating niche and has served millions of users to find love.
It is a great dating platform for all age categories starting from adult to old users. The site has a big international community of users who come to find a suitable partner on this platform.
14

. The League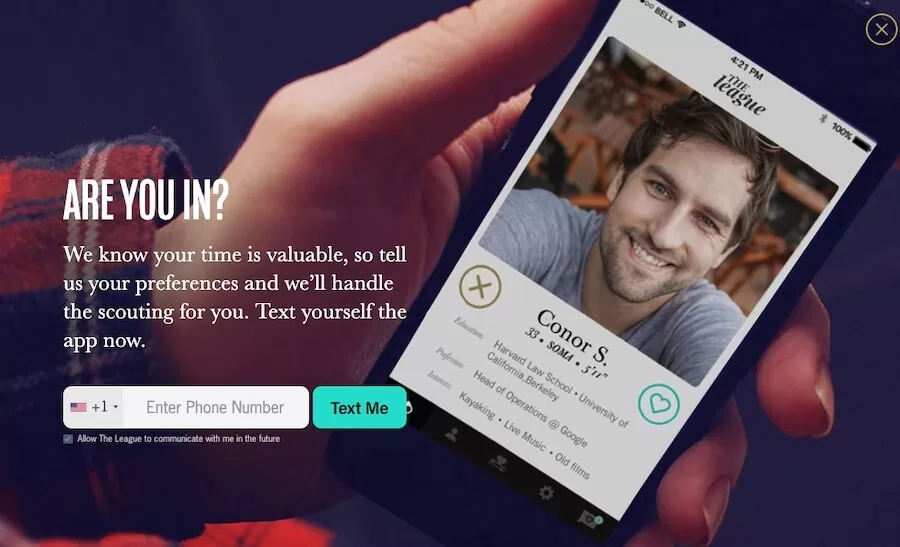 A match-making platform created for high-profile users with good education, passion and drive. The League may not be the right platform for you if you are not well-read.
The League believes in introducing you to the right kind of people for serious connection then random dating. This platform gives you the option of one-to-one video dating from the comfort of your home.
What About the Alternative Spots?
It is true that there are plenty of Tinder-like apps that focus on some more intense relationship points. Grindr is particularly about casual sex, while Feeld is all about alternative sexual activities and kink among other points.
Those alternative spots are places of note, but they are spots that might be difficult for some people to trust or utilize.
You would be better off using some of the other things on this list instead, especially since places like Feeld and Grindr might be far too risky to utilize when you consider how well certain actions might occur.
All of these apps are useful if you want a place that is like Tinder but is easier to use or works a little better for the particular standards you have to work with.
Be sure you look around at what you will get out of an app that will help you with getting in touch with great people that you might be rather interested in being with.
Be sure you look around at what you will get out of an app that will help you with getting in touch with great people that you might be rather interested in being with.
If you are an introvert and not sure what to say to your Tinder match, here is a guide about what to say on Tinder.
If you are based in India and looking for dedicated dating apps, here is a list of top dating apps.